Christmas is the time of year where you get your loved ones special gifts, usually something they wouldn't ever buy for themselves. You can go all out and get super cool Christmas gifts for the men in your life that they've only ever dreamed of! The best holiday gifts for guys are items related to their interests, something they can use year-round, and definitely have a cool factor. Even if you're searching for last minute Christmas gifts for him, you've got to make sure that you're getting him something awesome! Looking for an amazing holiday gift for your boyfriend or husband? Wondering what to get for your dad who has everything? Relax, we've got them all!
Cool Christmas Gifts for Men Who Love Whiskey and Cigars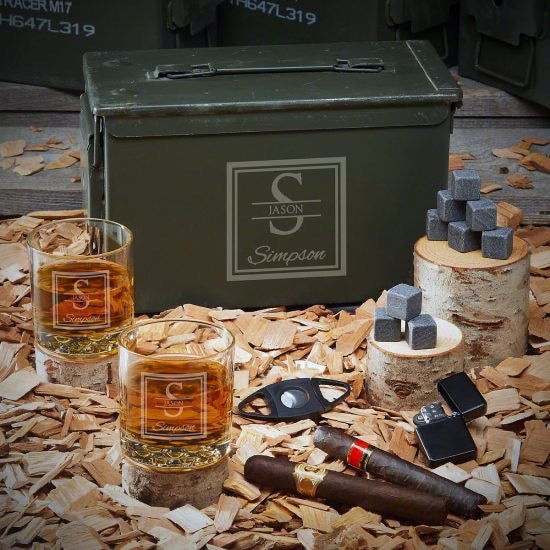 Men who smoke cigars and drink whiskey are sophisticated and cool, like this gift set! The man in your life will love lighting up a stogie with your dad or brother on Christmas Day and toasting to a great day together with the rocks glasses. They can try out the whiskey stones too, which chill their drinks but don't water them down so that they can enjoy the full flavors. Your man can use the ammo can for all kinds of things, such as storing ammunition of course, but also for storing tools, winter gear, or keepsakes. Overall, this ammo can gift set is a pretty cool Christmas gift for men!
The Ultimate Christmas Gift for Home Brewers and Beer Lovers
Whether he's into brewing his own beer from home or frequents craft breweries, he'll love getting this cool beer set for Christmas. The two pint glasses are perfect for sharing a cold one with a loved one during the holidays and year-round watching sports games together. The amber growler is ideal for storing beer as its glass is specially designed to prevent contaminating UV rays from shining through and affecting the flavor, and it features a sealed twist cap. It's also great for transporting beer to beer tasting parties, cookouts, the lake, and more! This amazing beer gift set is such a cool Christmas gift for men who love their beer.
Ultimate Christmas Gift Set for Cigar Fans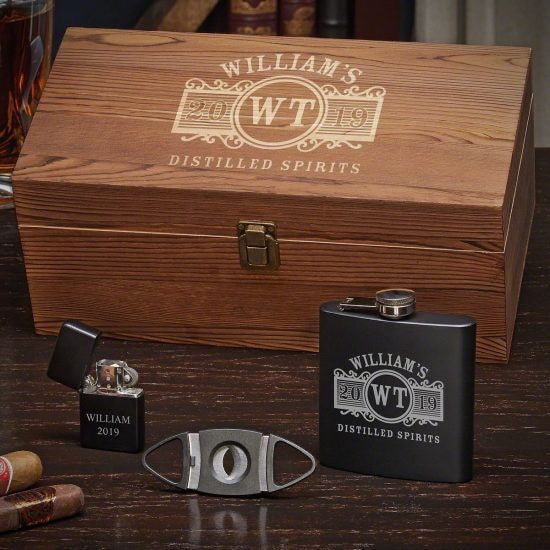 On a cold winter day, there's nothing like a shot of Fireball and a lit stogie. This gift set is perfect for men who love their cigars, especially if they frequently travel. He'll always be prepared with the liquor flask, cigar cutter, and lighter in this set in case he gets a little too cold or just feels like a smoke. Also ideal for special occasions such as Christmas, he can cut and light a couple of stogies for the two of you to enjoy in celebration of the holidays. This set is one of the best last minute Christmas gifts for him if you're crunched for time!
His Own Home Theater Sign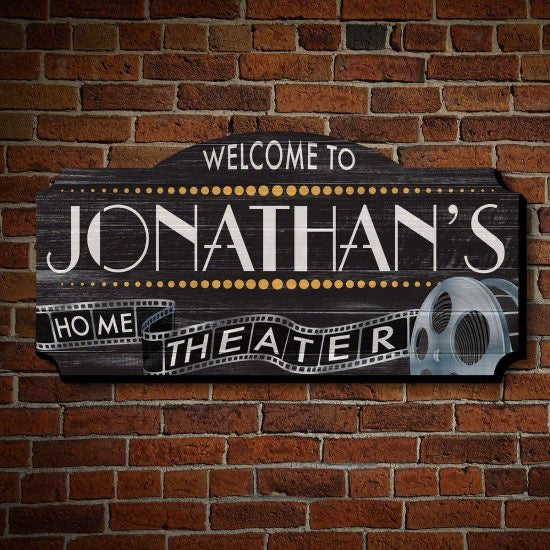 This is a really cool Christmas gift for men who are movie buffs! Now he'll have an official home theater with this awesome wooden sign. He'll love gathering the whole family together to watch Christmas movies, host movie marathons, and binge watch his favorite TV shows in his very own home theater.
Glencairn Whiskey Gift Set for the Holidays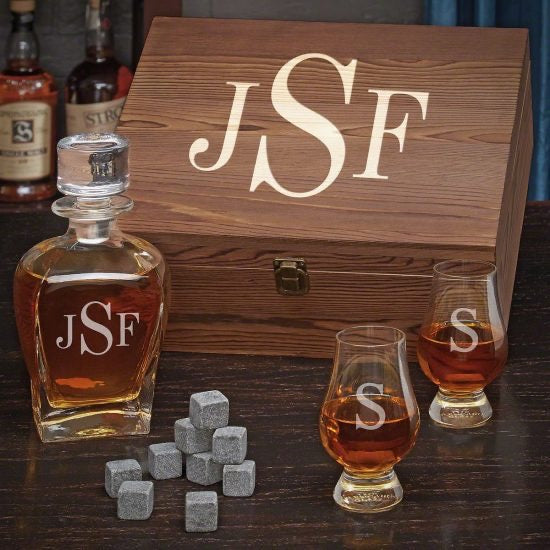 Whether he's a whiskey connoisseur in the making or just getting into drinking it, he'll love this awesome gift set. The Glencairn glasses in this set are specially designed to enhance and improve the flavors of whiskey, making his drinking experience better than ever. Toss in a couple of whiskey stones to chill his scotch or bourbon and he's got a nice drink to enjoy by the fire or at Christmas dinner. He'll love displaying the decanter in his home bar and using it to serve his friends or family a round of drinks in style. Plus, he can reuse the wooden box to store all kinds of things from special holiday ornaments to Christmas cards. All in all, this is a really cool Christmas gift for men who enjoy whiskey.
413+ AMAZING GIFT SETS AND GIFT BASKETS FOR CHRISTMAS>
Fossil Smart Watch
Need a last minute Christmas gift for him? Smart watches are all the rage in 2019, and Fossil has created a remarkably cool one that will make an incredible gift for the man in your life. The watch is swim-proof, tracks heart rate, steps, GPS, app notifications, music control, customizable screen, and it's compatible with both Androids and iPhones! Does it get any better than this?
Pair of Rocks Glasses for Sharing Holiday Cocktails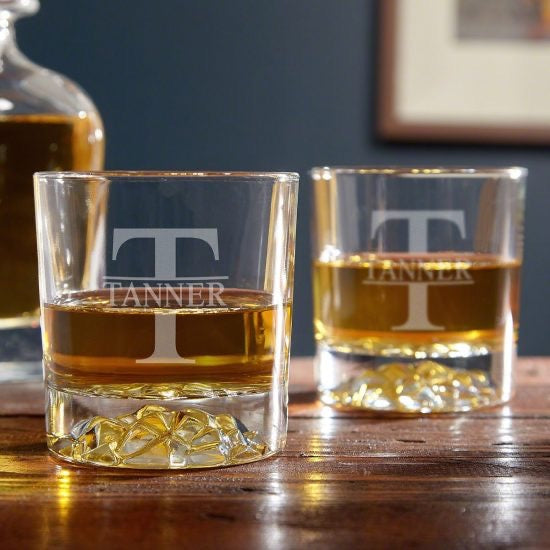 Whether your man enjoys whiskey on the rocks or mixed drinks, these handsome whiskey glasses are way too cool. The thick base of the glass features a beautifully carved glacier design which reflects the colors of the drink in such a way that it looks like the sun is setting over the peaks. Talk about top notch! While perfect for sharing a glass of whiskey or a holiday cocktail with you or a loved one, your man will love using these high quality glasses for Christmas and year round! These glasses are perfect last minute Christmas gifts for men if you don't have the time to shop.
Unique Cutting Board for the Man Who Cooks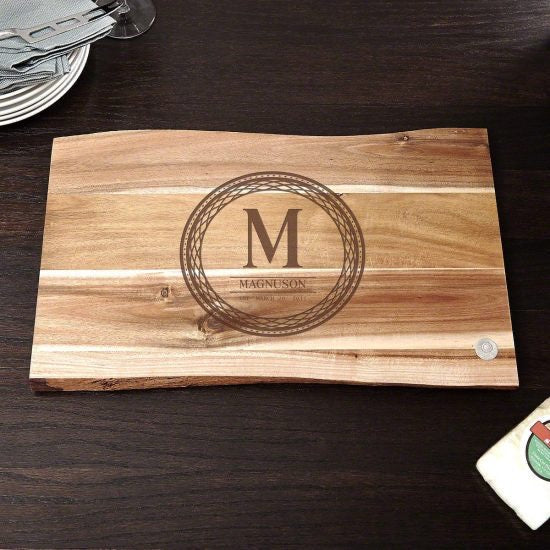 Need a quick and easy last minute Christmas gift for him? This cutting board is perfect for the guy who loves to cook! Now he'll have a clean place to do all of his chopping and seasoning when preparing Christmas dinner. The natural style of this hefty cutting board makes it look like you went out back and cut it from a tree yourself!
Insulated Growler for Beer Lovers on the Go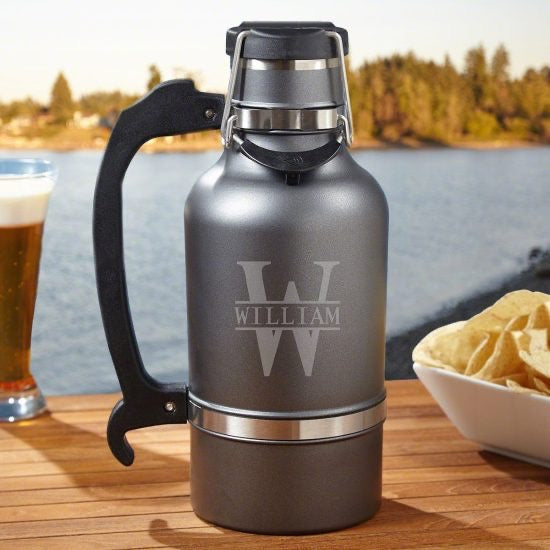 Does your husband or boyfriend enjoy bringing his favorite beer to cookouts, the lake, parties, and such? With this growler, he'll never have to lug around a six pack and a cooler ever again. The growler is made of double-walled, vacuum-insulated stainless steel, ensuring that his beer stays cold for up to 24 hours. Plus, it holds 64 ounces! Plenty of beer for him to share with your dad, his brother, and his friends at Christmas dinner. He'll love having cold beer everywhere he goes!
Incredible Globe Decanter with a Sailing Ship
This remarkably cool whiskey decanter set has one of the most amazing decanters on the market. Laser-etched with a map of the world on it, this decanter also has a gorgeous glass blown ship sailing through your liquor! How cool is that? Even the matching glasses are beautifully etched with the finest details of our globe. He'll love having such an incredible work of art displayed in his home office or living room. Talk about a cool Christmas gift for men!
The Newest Legend of Zelda Game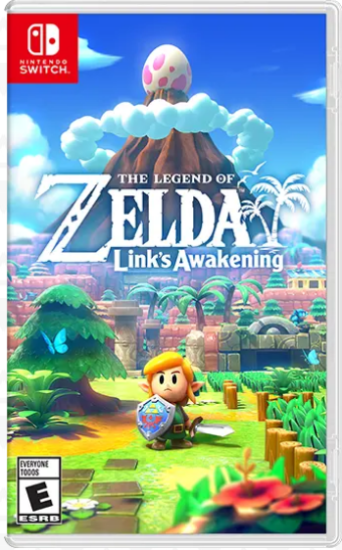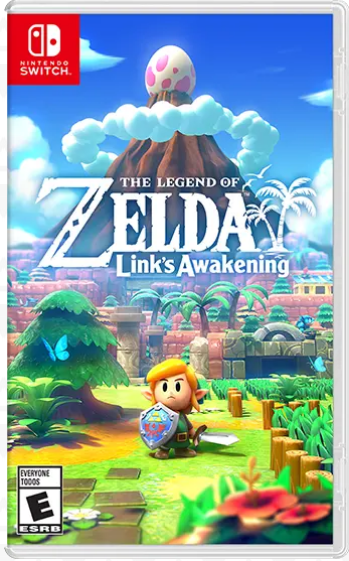 Move over Borderlands 3, this is the hottest video game in 2019. Featuring an all-new island, story, characters, and style of gaming, this new Legend of Zelda game is absolutely amazing. This is the perfect Christmas gift for men who love video games, especially if they're a diehard Zelda fan. Once he unwraps this amazing Christmas gift, he won't want to open any other presents and get right to playing it! Video games are the easiest last minute Christmas gifts for him, especially when they've just been released because you already know he wants it!
Beautiful Whiskey Decanter Set for Guys with Class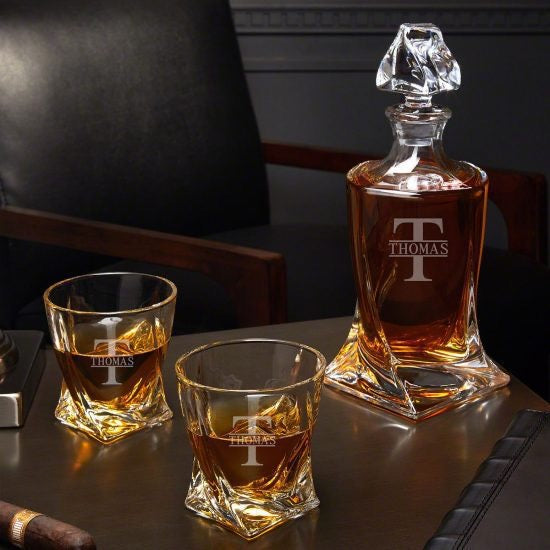 Does the man in your life pride himself on being a classy, sophisticated guy? You can't get fancier than this decanter set! The gorgeous twisted design is incredibly attractive and unique, so you know that he won't have anything like it already. He can pour a glass or two of his finest scotch from this decanter and keep it proudly on display in his home bar, lounge area, or bar cart. Once he unwraps it and fills up the decanter, he can pour the two of you a couple of Christmas cocktails or holiday liquor to try out the set right away!
499+ WHISKEY GIFTS HE WILL LOVE>
Enormous Cocktail Shaker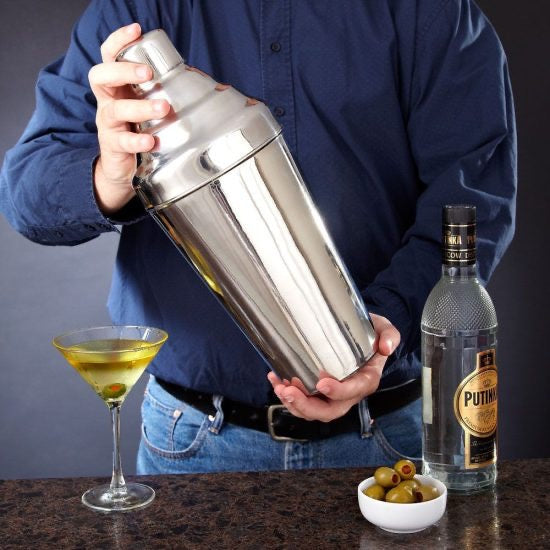 This is the cocktail shaker for men who like big drinks and they cannot lie. Seriously though, this shaker is ridiculously huge and perfect for parties! He can mix up a huge batch of holiday drinks for everyone to enjoy as soon as he unwraps this monster. How big is it? It stands 15" tall and holds up to 110 ounces, which is 10 margaritas or martinis at once! The man in your life will love bringing this over to his friends' houses, cookouts, and parties to entertain everybody with.
The Only Cool Christmas Gift for Men They'll Want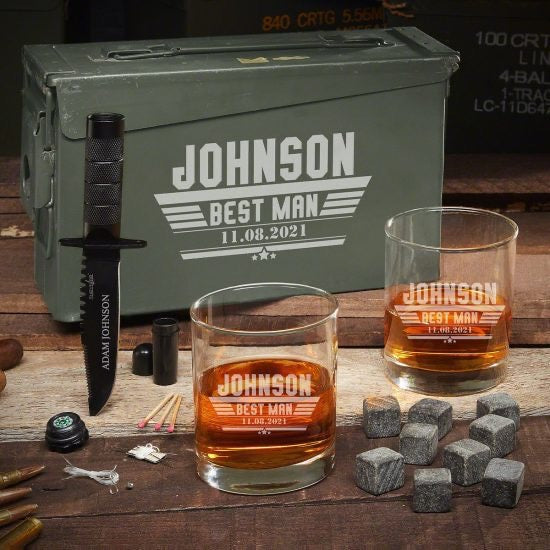 Christmas is all about giving outstanding gifts to the loved ones in your life, and the guys in your life are no exception. For your manly and awesome husband, boyfriend, father, or brother, this Top Gun-inspired ammo can set is such a cool Christmas gift for men! They will love the fun design on the whiskey glasses and the 30 caliber ammo can. The gnarly tactical survival knife is perfect for bringing on outdoor adventures year-round, or just to have on hand in the car in case of an emergency. They can use the ammo can to store anything from live rounds to their favorite tools. Thanks to your incredibly Christmas gift, they can enjoy a proper scotch on the rocks without having to mess with ice diluting the flavor!
Stout Glasses for Holiday Beers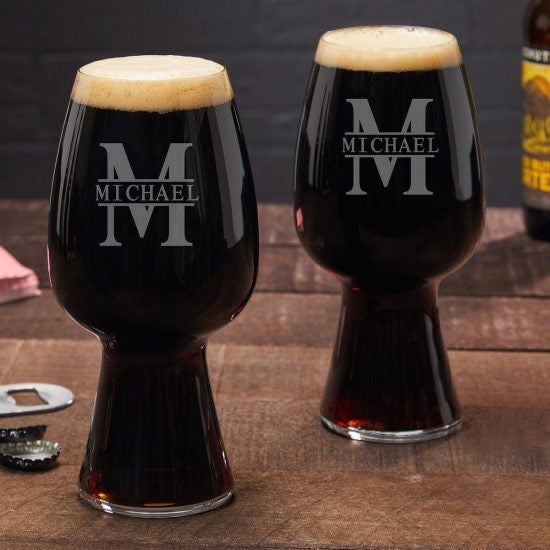 There's nothing like a dark, rich stout beer on a cold winter day. This set of two stout glasses are cool Christmas gifts for men who love their stouts, such as your boyfriend, father, husband, or brother. The two of you or he and a friend can enjoy their stouts in style at Christmas dinner and all winter long with these cool glasses. He will be amazed at how much better his favorite stout beer tastes in a Spiegelau glass compared to a regular old bottle or pint glass as these are specially designed to improve the flavors and aroma through their shape. He won't drink stout beer any other way once he tries it in these glasses!
Vintage Marshall Bluetooth Speaker
Christmas shopping for a guy who loves music and technology? Look no further. This Marshall speaker is designed to look like a classic amplifier and is just as loud! Your music-loving man can enjoy wireless music for up to 20 hours and customize how much treble and bass he wants. It's great for traveling, playing Christmas music at grandma's while everyone opens presents, and rocking out. Talk about a cool Christmas gift for men!
Stainless Steel Drink Tumblers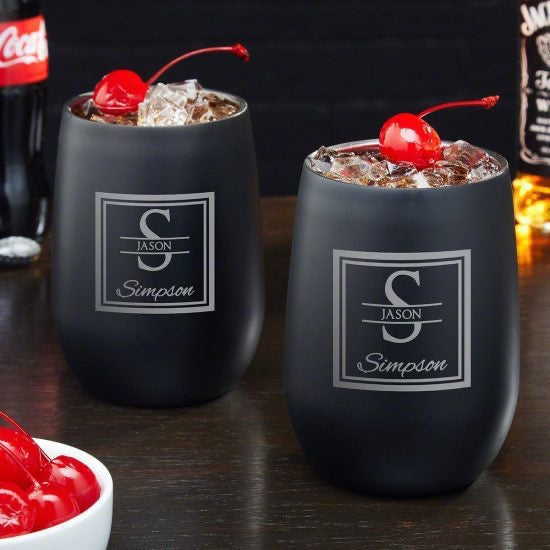 Whether the man in your life enjoys cocktails or not, you can't go wrong with a pair of stainless steel insulated drink tumblers! The double-walled steel insulates his drinks so that they stay cold for hours, and never product condensation. A pretty cool Christmas gift for men, right? He can use the tumblers to share a holiday cocktail with you at Christmas dinner and enjoy a chilled drink poolside in the summer. The durability of the tumblers means that they are also perfect for traveling and will never be broken. Talk about a can't-go-wrong gift!
Set of Glencairn Glasses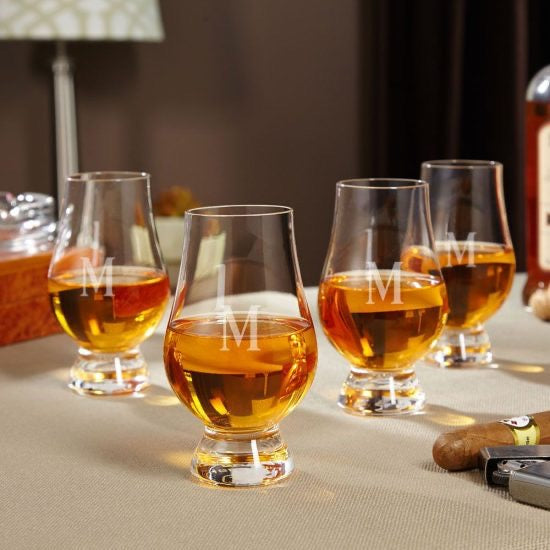 With this set of four Glencairn glasses, all of his friends or family can enjoy a delicious glass of whiskey together like never before. The glasses are specially designed to enhance the flavors and aromas of whiskey, making the drinking experience so much better. Your husband or dad can propose a holiday toast with these beautiful glasses on Christmas Day with you and a couple of family members right after he unwraps this set.
Bottle Cap Sign for Beer Lovers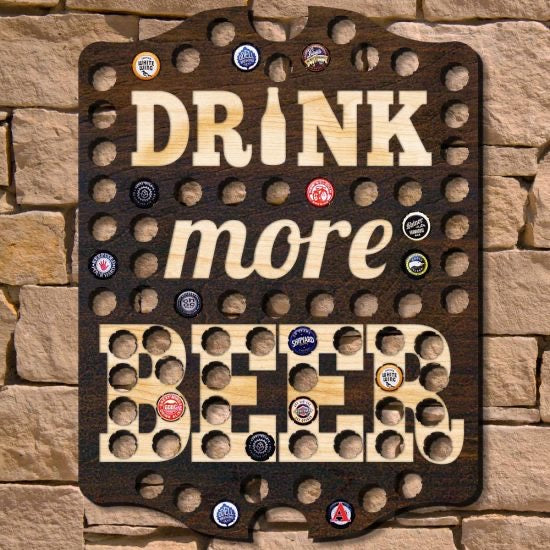 Is your guy a beer lover? Then this bottle cap collection sign will be a huge hit for Christmas! He can show off his beer bottle caps with this unique piece of wall decor. It'll look great in his man cave, home bar, or kitchen. It holds 77 caps, so make sure you give him his favorite six pack so that he can have a Christmas beer and get started on his collection right away!
Ultimate Gift Set for Coffee Lovers
Does the man in your life love coffee more than anything else? This is coffee gift set is such a cool Christmas gift for men who have to have more than their morning cup of Joe to keep going through the day. This set comes with two large coffee mugs and a travel carafe. Now he can have his go-to mug at home, another one at work, and a large supply of coffee to keep him energized throughout the day! The carafe made of stainless steel and holds 64 ounces of hot coffee that will stay piping hot for up to 6 hours. He'll love having plenty of his favorite blend with him at work, when traveling, long road trips, anywhere! If he prefers iced coffee, the carafe will keep it chilled for up to 24 hours!
3D Printer
Is the man you're shopping for really into technology? Then a 3D printer in his very own home will be one of the coolest Christmas gifts! This awesome gadget comes assembled, calibrated, and ready to use as soon as he unwraps it on Christmas Day. He can print all kinds of things from plastic figurines to parts for replacing broken objects in the home. If he's really creative, he can invent something entirely new. This is by far one of the coolest Christmas gifts for men you can give to a tech fan!
Manly Gift Set for Christmas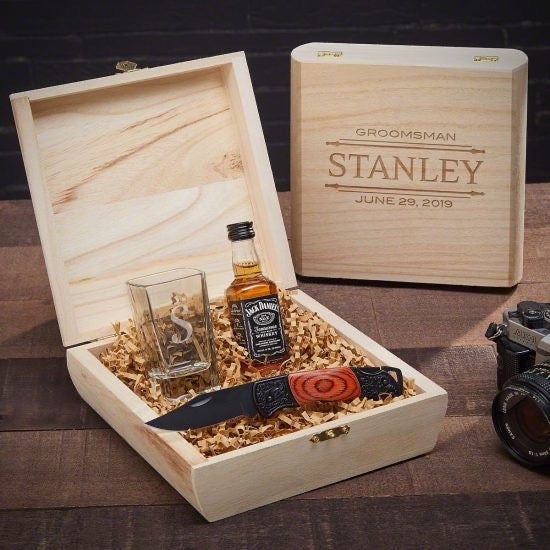 Is the man in your life a manly guy who likes cigars, drinking, and tools? This is the perfect Christmas gift for him! He'll love the cool square shot glass and razor sharp pocket knife, but he'll especially love the gift box! While it looks like an ordinary wooden box, it's actually a cigar case! Now he'll have a handy place to store his cigars that will keep them fresh and organized.
(Literally) Cool Stainless Steel Gift Set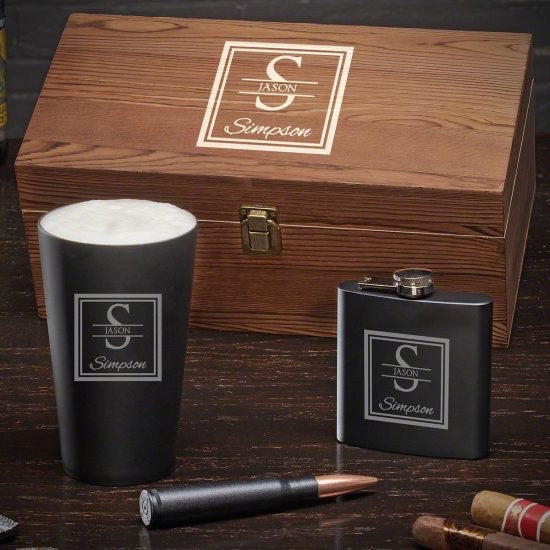 With this insulated stainless steel pint glass, your beer lover will never have a warm beer again! The double walled insulation ensures that his favorite IPA stays cool for up to four hours as he watches his favorite holiday movies. It's perfect for hot beverages too! He'll also enjoy the cool bottle opener made from a 50 caliber bullet to crack open all of his beers. When he feels like liquor instead, his trusty new flask will be by his side. Everything in this set make great last minute Christmas gifts for him, especially since you can get a set for all of the guys in your life for the holidays! They're all sure to love it.
327+BEER GIFTS HE WILL LOVE THIS CHRISTMAS>
Warm Him Up With Cognac and Cigars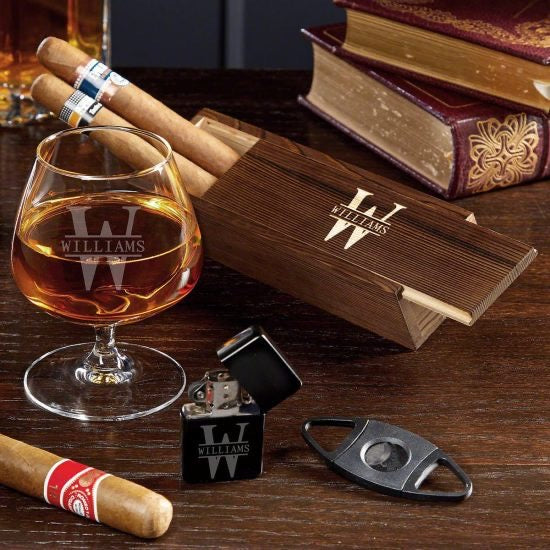 There's nothing better than a warm brandy and a cigar on a cold winter day. After spending the day outside having snowball fights with the kids, shoveling snow out of the driveway, and de-icing the sidewalks, he'll want something to warm him up! This cognac and cigar gift set is perfect. Cognac or brandy is best enjoyed in a snifter that's been gently warmed either with a brandy warmer or just through the heat from his hands. He'll love having a nice box to store his cigars in, especially since he has a brand new cigar cutter and lighter to prepare them with. This cool Christmas gift for men will warm him right up!
Shadow Box for Starting a New Collection This Christmas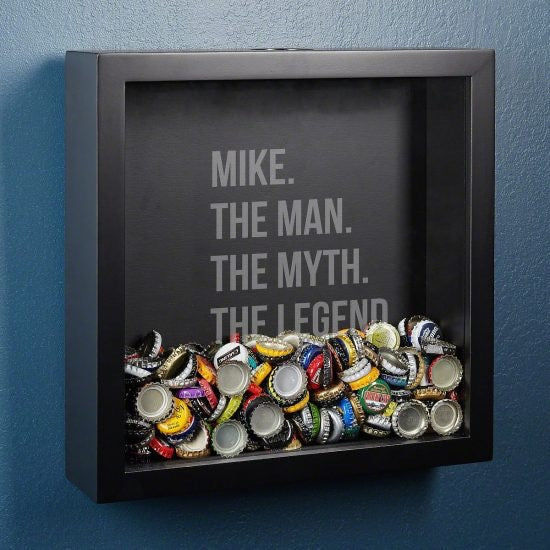 Whether the man you're shopping for loves wine or beer, he can start his very own collection with this awesome shadow box! He can collect wine corks, beer bottle caps, golf balls, shotgun shells, movie or event ticket stubs, marbles, almost anything! This shadow box is a really cool Christmas gift for men because he now has a convenient place to start and store a collection while also showing it off as a unique piece of decor! He'll love watching his collection grow from this Christmas until the next. You can collect things together and make it a fun new hobby!
Home Beer Brewing Kit for the Guy Who Wants to Start a Brewery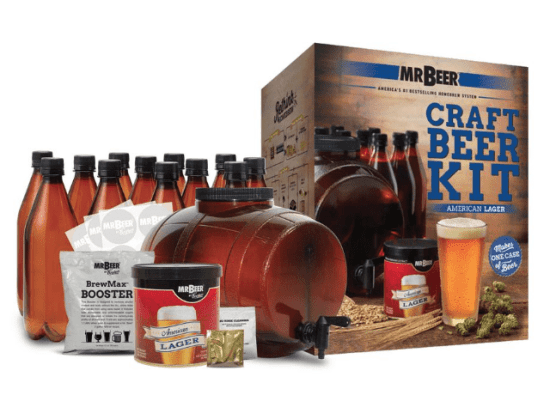 This home brewing kit is the best Christmas gift for men who have always wanted to try home brewing. It comes with everything he needs to get started: a fermenter, bottles, brewing extract, carbonation drops, and even a cleanser. This kit yields 2 gallons of beer, plenty for the whole family to try! In 6 weeks when it's done fermenting and ready to drink, he can host a beer tasting party to see how his very first home brew turned out. Who knows, this could become his new hobby!
Insulated Drink Tumbler for Guys Who Travel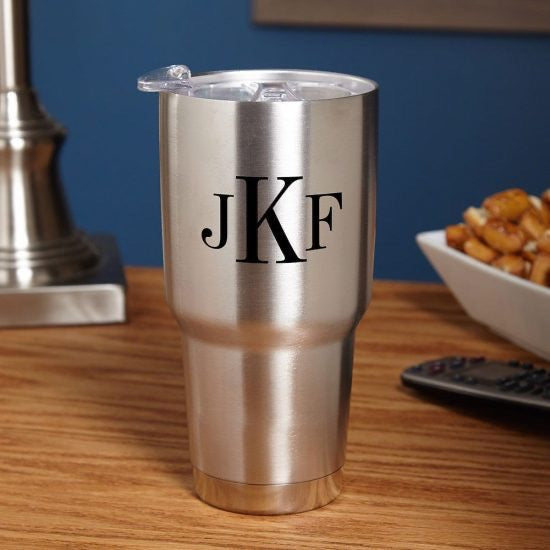 Is the man your life constantly traveling for work or leisure? Then an insulated drink tumbler is a must-have for him! With this Yeti-style tumbler, he'll never go thirsty again! Made of 18/8 double-walled and vacuum insulated stainless steel, his cold beverages will stay chilled for up to 24 hours and hot beverages piping for up to 6. Whether he's drinking ice water or hot coffee, he can enjoy it at the same temperature for hours on end. This is perfect for the long car ride to grandma's for Christmas or visiting the in-laws for the holidays. Insulated tumblers are perfect gifts for men and women, and make the best stocking stuffers or last minute Christmas gifts.
Tap Handle for Men Who Home Brew or Have Home Bars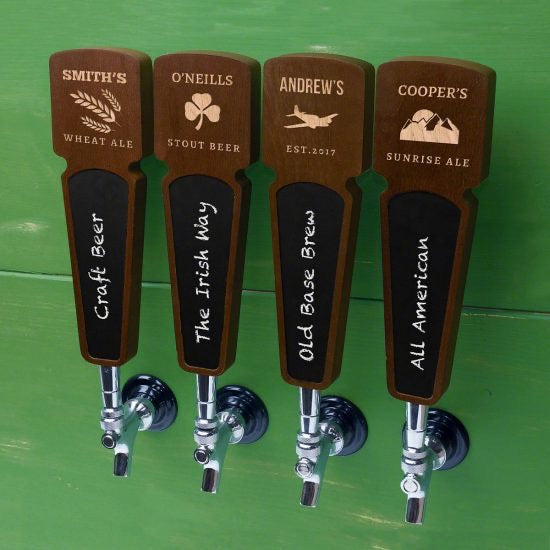 A man's home brewing or home bar isn't complete without a super cool beer tap handle to serve with! With one of these awesome chalkboard tap handles, he'll feel like an official bartender. Tap handles are a cool Christmas gift for men who enjoy entertaining or just want an easier way to pour beer from their keg. Ideal for home brewers as well, he can host beer tastings and parties with ease. He'll love being able to write what batch or beer he is serving on the handle so that everyone knows what they're drinking.
Whiskey Gift Set for Men Who Love America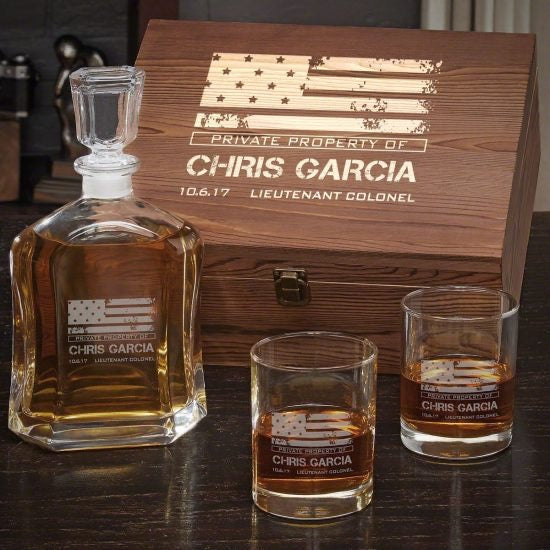 Whether he's in the military or just loves 'Murica, this whiskey gift set is pretty awesome. Nothing shows off patriotism like a custom engraved decanter set with a cool American flag design! This would make an amazing Christmas gift for your dad, brother, grandfather, or husband. He'll love the handsome decanter that he can display when not using it to pour everyone a round of drinks. He can share a drink with you or a loved one at dinner and toast to a great American Christmas with the two rocks glasses.
AMC Stubs A-List Membership
Don't have time to shop for the movie buff in your life? This is one of the most amazing last minute Christmas gifts for him: an AMC Stubs A-List Membership! Now he can see up to three movies a week in any type of theater (Dolby, IMAX, Real3D), make free ticket reservations online, 10% back on concession purchases, free size upgrades on popcorn and fountain drinks, and have Priority Lane access! With Top Gun: Maverick, the remake of Dune, Godzilla vs Kong, a new Rambo, and more incredibly promising movies coming out in 2020, he'll have plenty of movies to see.
Traditional German Beer Stein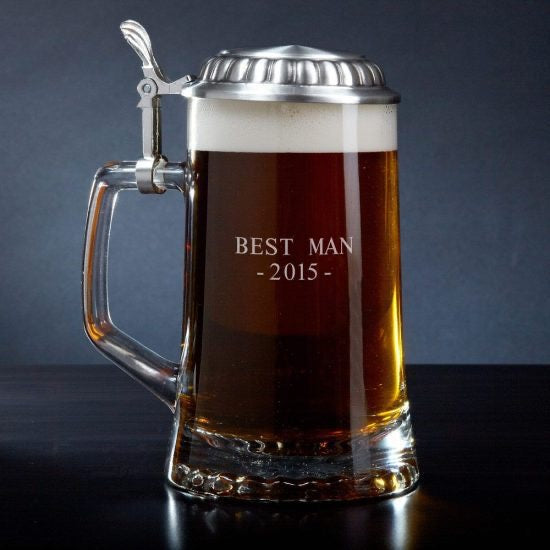 Not sure what to get the beer-loving man in your life? A beer stein is a really cool Christmas gift for men who love all things beer. This holiday season, your beer lover can enjoy a cold one in style with this lidded stein. The pewter lid ensures that his beer stays fresh and cold so that he can sip it as long as he likes. The thick glass mug also insulated his drink and has a unique base that prevents condensation rings.