Whether it be a friend or family member, you are proud of the lawyer in your life. They work so incredibly hard, with long hours and a lot of reading and research. When you're considering what to buy for them as a gift, you obviously want to buy them the best gift you possibly can. The best gifts for lawyers are personal and allow them a way to relax during their down time—after all, they deserve it. They should also be gifts that are lawyer-related, because their profession is part of who they are, and they want to be able to display that in their home or at their office. But in what ways do lawyers like to relax? What lawyer-related gifts would they want or even need? You can be sure that these lawyer gifts are the absolute best there are beyond a reasonable doubt.
Sophisticated Gifts for Lawyers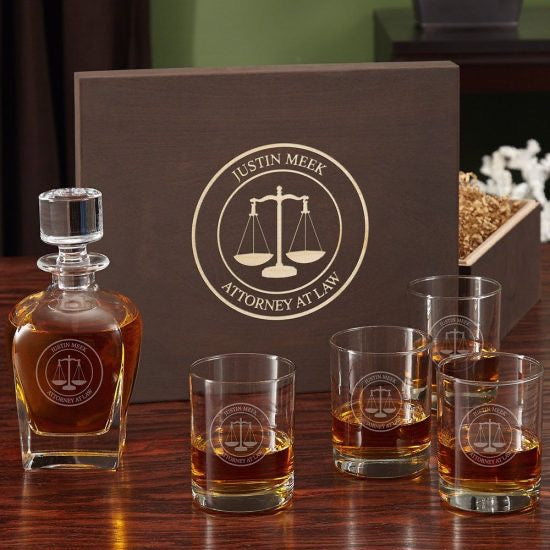 Since lawyers are sophisticated individuals, they like to receive sophisticated, classy gifts. This whiskey glassware set is the classiest of the classy. The decanter is stunning, crafted from premium glass, and your lawyer's whiskey will look delicious inside. Four round whiskey glasses come with it, making enjoying whiskey with friends easy and convenient when they want to celebrate an accomplishment at work. All glassware comes inside this incredibly attractive wooden box, great for the lawyer to display in their home. This is the perfect gift for the lawyer in your life to celebrate becoming a partner at a new firm.
Coolest Lawyer Gift Ever
While the lawyer in your life may plead the fifth when asked what gift they want, you know that they want a gift that's super unique and cool. This deluxe drink smoker system is the amazing gift they've been craving. His whiskey will taste smoky and delicious after using this, and he'll love relaxing with a smoky glass of whiskey after work. All his lawyer and non-lawyer friends will be incredibly envious of this cool gift.
Ammo Can Full of Lawyer Gifts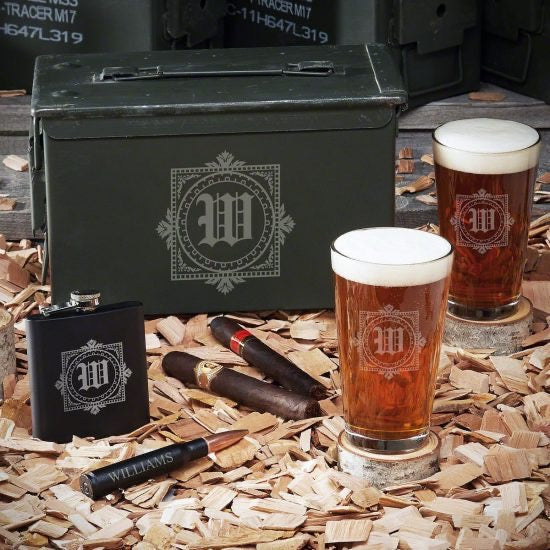 You want to buy the most amazing lawyer you know a relaxation-inducing gift that the most hard working people deserve. This gift set comes inside an ammo can and has awesome, useful tools for relaxation. The flask is a necessity for taking liquor on-the-go. It can easily blend in with any lawyer's clothing, so he can be discreet with it. When he has a rare off day, he'll love relaxing with a pint of his favorite beer.
Presentation is Key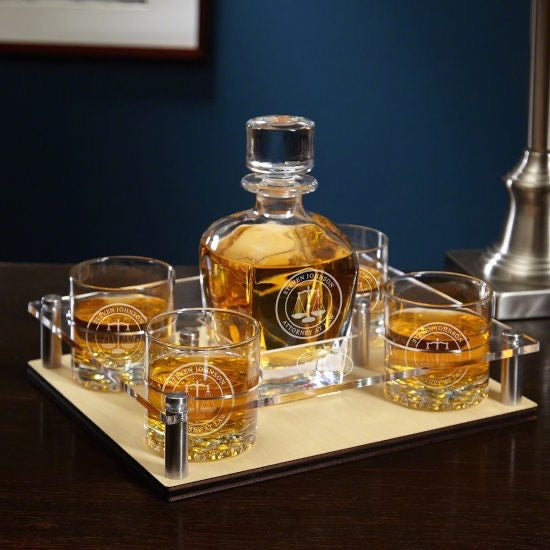 For some people, the presentation of their drinks is just as important as how the drinks taste. Buy the attorney in your life this whiskey presentation set that they can use when serving guests at home or for a classy display at the office. He and his coworkers can use it to celebrate winning a big case or at home to unwind after a long day. This set makes a fantastic gift for the lawyer in your life.
428+ WHISKEY GLASSWARE GIFTS FOR WHISKEY LOVERS>
Useful Gift for Lawyers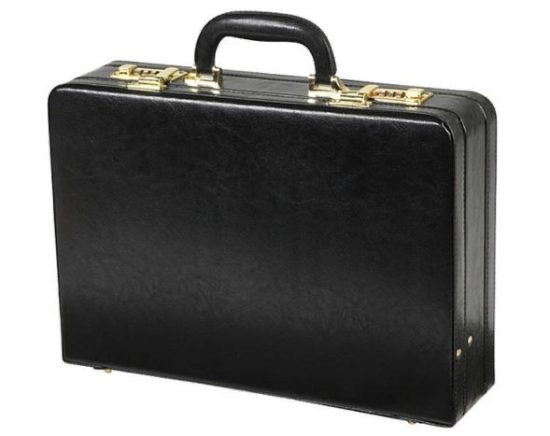 Because of all the legal documents that lawyers have to sift through on a daily basis, having a reliable briefcase is a must for carrying those important papers. This large business attache case is just the thing that your special lawyer needs, especially if their current one is worn out and in need of replacement. It's made from PU leather and has a hardwood frame, making it extremely sturdy. Inside the lid are compartments for file folders, pens, and a pocket, so the recipient of this case will be able to keep all their belongings organized inside. On the outside, there's a dual combination lock entry, so no one can open the case to take a peak at any documents. The lawyer you know will find this gift for attorneys extremely useful and classy.
Work Hard, Play Hard
All work and no play makes . . . lawyers dull people, right? No matter what the saying is, lawyers are just like everybody else in that they love to play a fun card game once in a while. This marvelous poker gift set is the perfect gift for your lawyer friend that enjoys relaxing with friends and playing the classic game of poker. The set contains all the essentials for enjoying a fun round or two of the classic game. These items come inside a classy faux leather case, so your friend can easily take it on the go. As a bonus, this set comes with a cigar glass, making it easy for your friend to enjoy a cigar and a glass of whiskey at the same time while also schooling you in poker.
Sophisticated Set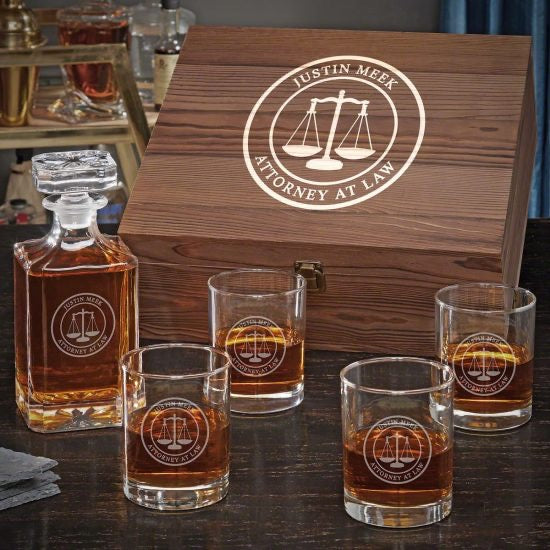 It is borderline misconduct that the lawyer in your life doesn't have a proper whiskey gift set. Right that egregious wrong by buying them this amazing box set, designed specifically as a gift for attorneys. This stately decanter is perfect for someone as dignified as a hard-working lawyer, and the four whiskey glasses that accompany it have a refined look to them as well, sure to make the lawyer in your life feel like the coolest person around. This glassware comes inside this handsome wooden box that can be used to store legal briefs or whatever the lawyer's heart desires.
Cigar Accessory Lawyer Gifts
Cigars are universally known as great tools for relaxation, and he is a huge fan. He's a very hard working lawyer, so he definitely deserves to indulge in his favorite stogies. A good way to store and transport cigars is important, so this bullet-shaped cigar holder is a great gift. It's extremely unique, crafted from stainless steel with tight lids to ensure that his cigars stay intact inside. When he's finished smoking his cigars, he can display the cigar bands with this awesome shadow box. This box can easily hang on the wall in his home and act as both a way to collect bands but also as a unique decor item that will make all of his judge and attorney friends extremely jealous. He will love receiving these cigar gifts for his birthday or to celebrate the ending of a huge case.
For the Grand Desk
Lawyers require large, dignified desks for all the important work they do while sitting at them. Because of this, they love decorating their desks with amazing, sophisticated items. This pen stand is a fantastic gift for lawyers who want only the classiest items on their desk. This marble-crafted stand contains a golden pen, gold accented pen holder, and a notebook holder along with the gold Scales of Justice emblem, giving it an elegant look that is unmatched. The lawyer in your life will love placing this on their desk after they receive it from you on their birthday or over the holidays.
Lawyer Man Cave Spruce Up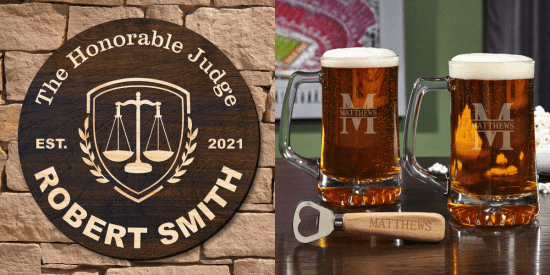 He doesn't have too much down time, but when he does, he's either spending it with you or relaxing in his man cave. Surprise him with these two lawyer gifts that will spruce up his man cave! This round sign is simple yet gorgeous with customization, making it super personal and a fantastic piece of wall decor that will make your husband extremely happy and proud. He will love enjoying his favorite beer out of his new mug with you or a buddy in his man cave, gazing at his new favorite sign and in total relaxation mode.
For Limited Down Time
Lawyers are constantly working on projects while thinking about their next case or lawsuit, so when they do have time to relax, they have to take full advantage of that limited time. This cigar gift set is one of the most fantastic gifts for lawyers because it makes it possible to enjoy cigars and whiskey simultaneously. This cigar case is small enough to fit in a pocket and can fit three cigars plus a cigar cutter, so no matter where the lawyer in your life is, they can be enjoying a cigar at a moment's notice. The cigar glass makes it easy for them to enjoy whiskey and cigars easily and at the same time. That means your special lawyer can smoke a cigar and drink whiskey with one hand effortlessly. They will be extremely grateful for this awesome gift when you gift it to them for celebrating an accomplishment at work.
What Time is It?
He is the most hardworking person you know, and he has a fantastic office at his firm that he loves to decorate. Buy what will quickly become his favorite decor piece yet: this crystal clock. This stunning item is crafted from thick glass, clear on most of it with the exception of a gorgeous red piece below the clock face. Not only will this look amazing on his desk or a shelf, but it will help him ensure that he's always on time for every meeting and court hearing!
Only the Best Lawyer Gifts
Earning the title of "lawyer" or "judge" isn't easy at all, so for those who have earned these prestigious titles, only the best gifts should be given. This majestic whiskey gift set is the perfect gift for attorneys or judges because it's fancy and will provide to them a fantastic way to relax. The whiskey glasses are uniquely twisted to provide optimal grip on them, helping to avoid dropping and shattering them. Also included in the set are nine whiskey stones, which are vital tools when it comes to drinking chilled whiskey. No one wants their whiskey diluted by ice, especially not hard-working lawyers who are in desperate need of good relaxation time. These stones and glasses come inside a personalized wooden box that the lawyer in your life will love using to store mementos from their time doing their exhausting but rewarding job.
23+ AWESOME GIFTS SPECIFICALLY FOR LAWYERS>