Woo! That time has finally come around for someone in your life, they got the promotion they have been after for months or even years! You know what that means? You need to celebrate and get them a gift to congratulate them on all the hard work they've put in to earn their new position, privileges, and salary. Use one of these awesome promotion gift ideas that we have found to make them truly feel like they've earned their raise while also giving them something unique to make their position even better or to help them unwind when they are away from the office. These promotion gifts ideas are sure to top anything else they'll see from any of their coworkers, so give the best business gifts for clients and for your staff to show how happy for them you are!
Congratulate Them With a Stein
Start things off in their new position the right way with a toast! This personalized beer stein is the best way for them to celebrate finally getting their raise and new responsibilities. Plus, thanks to the monogram on the crest, they'll always have the perfect reminder of this monumental time. After a night of brews and celebration, this is the perfect way for them to throw back a couple of stouts or it can also become their most unique centerpiece since beer steins are also gorgeous pieces of glass that fit into any home decor!
Custom Promotion Gifts Ideas
Toast your coworker for achieving their dreams with the classiest whiskey gift set they've ever seen! Inside the gorgeous black keepsake box, they'll find matching customized whiskey glasses so they can begin celebrating immediately! Talk about confident promotion gifts ideas. Thanks to you, they'll be able to toast everyone who helped them along their journey with their unique gift.
Presenting the Coolest Promotion Gift Idea
Wow! They've finally been moved up with that massive promotion they have been after for years. When you're in need of monumental promotion gifts ideas, an engraved six-piece presentation set is exactly what you need! This is the perfect gift that they can use when they've clocked out but they could also keep it in their new corner office. They could use this corporate gift to celebrate this quarter's numbers with their boss or save it for special occasions and major deals with clients.
A Promotion Gift That Mat-Ters
Since this is a guide for giving gifts at work, what could be more fitting than a personalized leather desk mat? After all, they'll get to see and use this gift all day, every day! This simple gift is a great way to make their desk feel that much classier while also helping keep them organized!
A Warm Cognac Promotion Gift
They've been busting their humps for weeks to finally get that promotion, so your promotion gift idea should be something that lets them bask in the fruits of their labors which is exactly why this engraved cognac box set is great when someone has finally gotten their dream job! The night they get this gift, they'll love nothing more than to reflect on h
517+ GIFT BOXES FOR PROMOTIONS>
Have Them Chill Out After Their Raise
Got a coworker who has been on a hot streak for months? Have them cool down before they start a fire with this personalized whiskey stone gift set. Nothing will reward a job well done like a good drink and thanks to this set, they'll always be able to enjoy a chilled whiskey or one of their favorite cocktails at any time!
Help Them Not Suck
While everyone wants to be a manager, not everyone is naturally cut out for it. But that is okay! Make sure they don't suck with a manager book that promises, well, exactly that! Thanks to this easy and informative read, they'll be able to smoothly transition into the team lead they know they can be.
Tools for Their Trade
For every job, there is a proper tool. Now that your coworker got all these new responsibilities with their promotion, they are going to need a lot more tools. So, give them a ceremonial gift that has nearly every tool they could ever need in life with this adjustable wrench multi tool! From opening letters to fixing the loose screw at their desk, they can do it all! You can even personalize the wood handle with any message you want, so wish them well in the best way you know how to with this custom wrench multi tool!
A Classy Promotion Gift Idea
Ensure that they are able to start every morning off on the right foot with a personalized leather watch case! Nothing will make getting ready for work or showing up on time quite as easy as a gift that keeps everything they need to look their best in one spot! Now, thanks to this useful promotion gift idea, they'll always be able to look their best at work by finding the perfect watch for their outfit!
Their Most Timely Gift
Speaking of timely promotion gifts ideas, an engraved watch congratulating them on their accomplishment would be one of the most fitting gifts to pair with the watch case above. This gift is like a trophy of achievement, but the only difference is they get to wear it around all day and look incredibly stylish while doing so!
The Coolest Pen Ever
Make their promotion gift a blast with this transforming rocket pen! Sure to be the coolest way for them to mark down their John Hancock, this space-age styled pen will be the most unique gift they will have ever gotten for a promotion. Not only will it be great for signing their name or making down numbers, but it will be a great way for them to decorate and add some personality to their desk too.
Celebratory Box Set for Promotions
They finally got their promotion. Do you know what that means? A celebration is in order! Make sure this is an occasion they will never forget with a custom whiskey box set as one of the best promotion gift ideas for him! With their name (or title) and date engraved on the lid, there will be no mistaking how important this life event was for them. So bring along a bottle of whiskey and the two of you can toast to their new, bright future with this phenomenal gift!
A Custom Gift Box
Make your promotion gifts ideas for them as unique as possible by stuffing this custom gift box with everything you have collected to commemorate their huge achievement. Whether it is just you or the whole office has decided to pitch in, there is plenty of room inside this large gift box for new coffee mugs, game tickets, bottles of liquor, holiday photos, anything you think they will love you can fit inside this awesome gift box!
Celebratory Stogie Kit of Promotion Gift Ideas for Him
Help them celebrate the sweet success of victory with a monogrammed cigar and whisky gift set that even comes with its own matching marble ashtray. Few things in the world will taste as sweet as their first stogie and scotch combo after finally climbing to new heights on the corporate ladder. Plus, they can use this gift again and again, whether it is for their next promotion or when they simply want to kick their feet up after a job well done!
Top-Quality Messenger Bag
Now that they have been promoted, they are going to be held to a slightly higher standard. Make sure that every time they walk in the room they make an impression that shows that they are large and in charge with a unique leather messenger bag. Every morning they walk through the office doors, they are sure to have the classiest way to bring in their laptop, notes, or other work tools thanks to this awesome leather messenger bag!
The Coolest Box Full of Promotion Gifts Ideas
Got a whole lot of things for a promotion gift idea that you want to give to them all at once? Make them feel like the king of the office by filling this custom ammo can full of all the gifts you've been saving! Photos, mementos, maybe even a bottle of their favorite liquor to celebrate are all great things to place inside! They can even use the ammo can as the coolest desktop organizer too. Talk about getting one of the most unique promotion gift ideas for him!
Their Biggest Promotion Gift Ever
A monumental occasion calls for an equally impressive and large gift, such as this customized colossal beer mug! Sure, it may look a little big in the picture, but this mug can actually hold 3 liters of beer, how cool is that? Thanks to you, they won't need to worry about getting a refill until their next promotion!
Personalized Promotion Decanter Set
Help them unwind from their new position with a gift that is perfect for their home or office with this engraved decanter gift set of top-quality promotion gift ideas for him. While they love the new benefits, responsibilities, and of course salary, things can still be stressful. So, a gift that makes them feel like the classy boss while allowing them to unwind like one is exactly what they need! This decanter set is a perfect gift for them to leave out on their home bar or desk too. Not only for a drink but to remind them just how far they've come!
Moving Up Tastes Sweet
So, you know earlier when it was said few things taste as sweet as the victory of a promotion? Well, this gift may be the only thing that can give victory a run for its money since it is a chocolate tower gift basket! From Swiss rolls to chocolate pretzels to truffle balls, this gift has plenty of sweetness to hold them over until their next promotion!
A Superb Stogie Box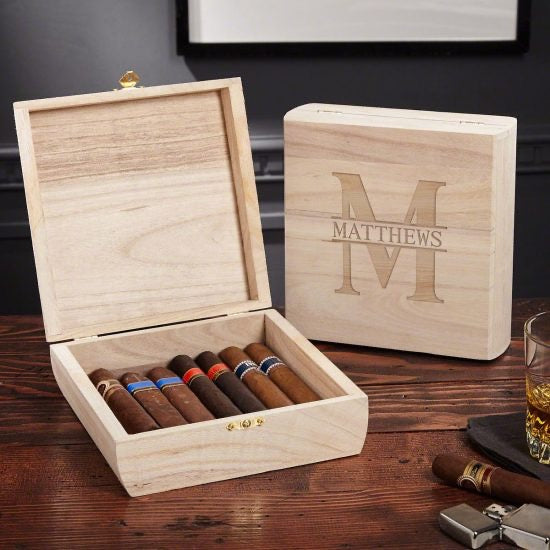 Cigars are known for being something you give to someone who is in need of celebration but a cigar gift box is the gift you give when you know they just had a huge achievement in life! They won't be enjoying an occasional cigar anymore. Thanks to their promotion and this awesome gift, they'll be enjoying cigars more than ever. Fill this custom cigar gift box with a few Padrons or Cohibas, and you'll have given one of the best promotion gift ideas ever!
Badass Promotion Gifts Ideas
To make it to the top they have had to be tough as nails, a bit of a badass some might say. Don't give them a gift that doesn't reflect that. Make sure they know you know just how hard they worked to get there with this blackout custom wine tumbler gift set. These nearly indestructible glasses are the perfect representation of the unbending will they had to make it to their new promotion.
Bring Them Some Brews
This gift is so practical that when you give it to them for their promotion it only makes sense to wrap it with a bow, this way you can fill this personalized wooden beer caddy with their favorite craft or micro beers. Now, they can get down to business and enjoy their new gift with you right away! After the promotion, this gift will be great anytime they take some PTO and take this to a campsite, on a hike, or even tailgating.
They'll Like the Sound of This Gift
In their new corner office, they can finally ditch the headphones and jam out to some tunes! Well, even if their promotion didn't come with a top floor corner office, they'll love having this portable Bose speaker to enjoy music, audiobooks, and podcasts around the house! Plus, with a 10-hour battery life, this wireless speaker is sure to get them through even the longest workdays!
A Gift for On and Off the Clock
Keep them fueled and ready to survive their new life after their promotion with this legendary set of promotion gift ideas for him: a coffee tumbler, flask, and survival knife gift set. A great gift for the person on the go, they'll be able to take part of this awesome kit with them no matter where they are. From hot coffee for the office to surviving in the woods at a company retreat, this set has everything!
For All Their New Memories
An engraved shadow box gift set is one of the best ways for them to keep track of time. While they've been busting their butt, time just seems to fly. Help them appreciate all the days and nights they put in with a piece of home decor that also serves to present some of their favorite memories through their collection. Whether they collect beer caps, movie tickets, or photos, they'll appreciate seeing their display each time they put their feet up with a pint!
79+ MEMORABLE SHADOW BOXES FOR PROMOTIONS>
The Toughest Promotion Gift Idea
To make it to the top they had to be tough. The most fitting gift for the badass coworker is a gift that symbolizes just how strong they are with this bull decanter gift set! Everyone in the office will be in awe of this fantastic gift that your newly promoted coworker leaves at work for a toast to important clients or for after-work drinks for a superb quarter. You can be sure for the tough coworker, this gift simply will not disappoint!
A Relaxing Box Set
They've been working so hard to get this promotion and you still want to get them a great gift, but you definitely don't want it to be work-related. Instead of something for the office, let them rejuvenate and relax with this spa day gift basket! It'll feel so rewarding to treat themselves after finally succeeding after all the hard work they put in!
Dress Up a Bottle
Of course, one of the best gifts for a promotion gift idea is a bottle of their favorite liquor! Who wouldn't love to find they've got a little liquid celebration on deck once they share the good news of sealing the deal of their new job. So give them their bottle in the coolest way possible, inside this personalized gift box! It'll be the perfect way for them to store a bottle for their next promotion or keepsakes.
Classiest Promotion Gift Idea
Whether they got a full title and position change or it is a slightly smaller promotion, have them feeling like a top executive with this engraved cigar and whiskey gift set! The twist glass combined with the leather-wrapped cigar case will surely make any coworker feel the classiest they've ever been! Plus, at the party for their raise, this is the perfect gift for them to celebrate right away with. Just make sure to add a few surprise stogies inside their cigar case to give this gift a little extra kick!
The Most Useful Promotion Gift Idea
Does the person you are getting these gifts for love to stay organized? This notebook, cardholder, and pen are made from actual wood giving this set a refined feel. Perfect for their desk, these gifts will make them look like the classiest new executive or manager on the rise!
Golfing is Part of Being Promoted
Now that they've been promoted, you know that they'll be hanging out with the big wigs and if there is one thing about managers and executives, you know they love golf. With this travel putting set, your coworker will be able to jump right into the endless rounds of golf without missing a stroke on the card! Make them the putting master with an epically good promotion gift idea!