23 Popular Personalized Gifts for Dad
Pops. Papa. Daddio. No matter what you call him, your dad is one of the most important people in your life, so you want to make sure you give him only the best gifts. When considering personalized gifts for dad, you need to focus on custom gifts that will complement what he likes and show him how special he is to you! Of course, the personalization also has to be perfect for him. We know dads can be some of the hardest people to shop for, which is why we looked far and wide for the absolute greatest engraved gifts for dads!
From His Cub
He wears a lot of hats in life, but his favorite is being your dad, and he'd love a gift that shows that off. When your "papa bear" sees this whiskey decanter set, he'll feel overwhelmed with gratitude. It's a fantastic engraved gift for dad that he'll love using to indulge in whiskey whenever he pleases. It will mean so much to him that you bought him such a phenomenal, thoughtful gift.
Meaty Personalized Gifts for Dad
Whether your dad is new to the grilling game or he is a seasoned barbecuer (no pun intended), these customized grilling tools are sure to get him out putting food to flame as soon as possible He'll love having a matching set of grill tools; however, you know he is going to find his personalized engraving on the case incredibly special. Make each time he goes out to make food for himself, friends, or family even more memorable for him with this custom grill tool set!
He's the Most Deserving of Fun
This poker gift set is a fantastic gift for all of the hard-working dads like yours who deserve to have some fun once in a while. Help him unwind with his buddies and some cards by getting him this monogrammed poker gift set. He can even look like the biggest card shark at the table thanks to his custom cigar whiskey glass. Your dad will love this gift set because it shows him you recognize how hard he works and that you see just how deserving he is of this amazing, customized gift.
Dad Can Now Enjoy Chilled Whiskey
You don't want to give a gift that's just a small piece of a good gift; you want to give the whole package. A fantastic personalized gift for dad is this whiskey gift set because it has all the makings of a complete and awesome gift, including the special personalization on the box and glasses! Your father will absolutely love using this set knowing that you went to the effort to buy him such a fantastic personalized gift.
661+ AMAZING WHISKEY GIFTS HE'LL LOVE>
Just Personalize It
What's better than a name brand backpack? A custom name brand backpack! This personalized Nike backpack is a fantastic personalized gift for dad that he'll really like wearing on his back when he goes to the gym, on a road trip, or anywhere else he needs to bring things. He'll love having his name on the back and be so grateful for this gift!
A Strength-Filled Engraved Gift for Dad
You want to get him a gift that he likes so much that he can't help but show it to other people. This bull decanter set is the best kind of personalized gifts for dad, because it'll make him feel special and allows him to drink whiskey. He won't be able to stop talking about it! The bull decanter will fill him with awe as he fills it with his favorite whiskey. This gift will definitely be his favorite gift he's ever gotten, and he'll love sharing a drink of whiskey with you from the glasses with his name on them!
Most Blessed Dad
While he may have a lot of titles, "dad" is by far his favorite, which is why this custom wall sign is a very meaningful personalized gift for dad. He'll love gazing upon it proudly all the time with his kids' names and birthdays engraved on it. He'll feel so happy getting such a fantastic gift!
Rustic Gift Dad Will Love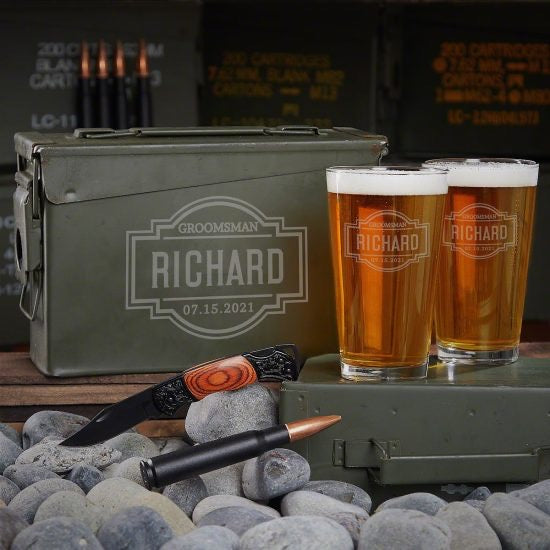 It's a fact that any dad will immediately fall in love with this ammo can gift set when he sees it! With the customization on the can and pint glasses, he'll love this gift even more. You can be sure that after he opens this gift he'll be wanting to fill his personalized pint glasses ASAP! As far as the ammo can, he will without a doubt take this to the range, carry his tools, or make it a unique keepsake and show it off to anyone he can. Can you ask for a better reaction to such a cool gift set?
An Any-Occasion Gift
You want your gift to make your dad happy not just for a day or two but for a long time. Make your father's entire year when you get him this personalized decanter set! He will love having the names of his children on everything in this set. Nothing will fill him with more joy than sipping on a glass of whiskey and reading the names of his biggest blessings on the glass!
Timepiece of Love
No matter how busy you get in life, you'll always have time for your dad. Get him a gift that signifies just that—this personalized watch. Your dad will love how classy and cool this watch looks, and he will feel super cool having his name on it and a message on the back of this handsome watch. He'll love keeping it on his wrist as a constant reminder of your love for him.
Personalized Gift for Dad's Game Room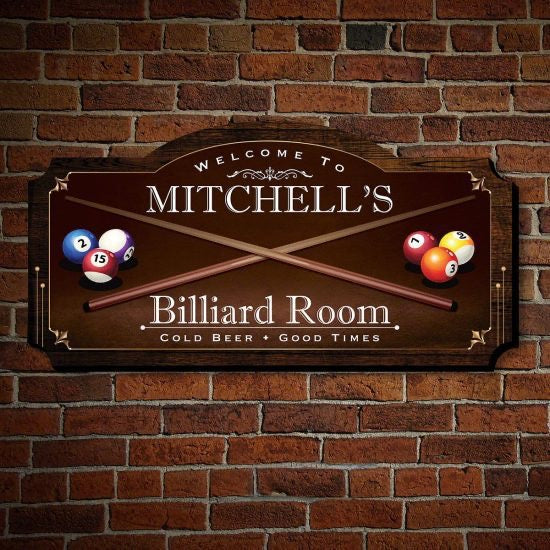 Whether your dad has a full-blown game room or just a pool table in the basement, a sign that shows that it's his personal space will make him extraordinarily happy. This customized game room sign is perfect to put on display, no matter where his game room is. He'll love having such an attractive sign that has his name on it hanging up on the wall for the whole family to see. It will bring him so much happiness and add an awesome, authentic vibe to the space!
Carry the Beer
Dads are all about practicality, so they love receiving cool gifts they find useful. This wooden beer tote is an attractive, creative, and useful gift your dad will really like, especially because it has his name on it. He'll be a big fan of how convenient it is to carry beer bottles inside it, and he'll love being the hit of the party for always bringing the beer in his awesome personalized caddy!
Liquor Engraved Gifts for Dad
If there's one thing tons of dads have in common, it is that they are always busy. It doesn't matter if he is on the phone with a plumber, finishing up a project, or simply always on the move. He'll love getting a personalized gift with his initials from you. Have him tuck this custom flask in his pocket for a quick nip whenever he needs it and when he gets home, he's even got shot glasses in case he wants to share.
Dad at the Top
Dads love a gift that makes them feel appreciated and that also shows off that they're a dad. A gift he will be obsessed with is this whiskey glasses box set that has a special engraving just for him. That personalization will make your dad feel like a "top dad", and he'll love showing it off to all his buddies as he brags about how awesome his kid is!
Save Memories Forever
Whether your dad is super sentimental or not, chances are he would love a gift that brings good memories to his mind. One of the most fantastic ideas for personalized gifts for your dad is this attractive shadow box! It's the perfect way for him to collect mementos, whether that's cigar bands, bottle caps, photographs, or whatever he chooses to collect! Not only does the custom engraving make this unique for him, but his collection that he fills the box with will be a fantastic way to show off what he loves!
Home is Where the Heart is
Dads can enjoy simple gifts. In fact, sometimes a gift that is straight to the point is better than anything else. Show off how proud he is of his hometown with this simplistic but meaningful piece of home decor. This US state map is an amazing gift your dad will love having hung up on the wall in his home. The little star on his hometown will make this awesome gift even better.
Your Dad's New Favorite Gift
To really surprise your dad, think outside the box and get him this ammo can gift set which is full of awesome engraved gifts for your dad! It's such a rare gift that he will want to use as often as he possibly can. The awesome, personalized can is perfect for carrying around anything he wants to transport, and he'll really like showing off his cool gift as he does.
93+ AWESOME AMMO CAN SETS HE'LL LOVE>
Griller-In-Chief
There's nothing like a gift that will make your dad feel more confident in a skill. Thanks to you, he will enjoy grilling like never before after you give him this amazing personalized cutting board! It will bring him so much joy chopping up various meats and other foods on this manly cutting board with his name etched into it. He'll feel like the coolest dad and most talented griller in the world.
Engraved Beer Trio
Few gifts are better than a gift set that helps your dad enjoy his favorite beverage. That's why this beer growler and pint glasses set are awesome engraved gifts for dad. His drinks will taste better than ever when he pours them from his engraved growler and into his matching glasses. You know that will also make him feel like the coolest person in the room each time he enjoys this gift. You could even take him to the brewery after giving it to him, this way he can use his set right away!
Wine Sign
When it comes to gifts for dads, you can't go wrong with a personalized sign to show him how special he is to you. This personalized wine cellar sign is a fantastic choice because it's simple and attractive. Whether he puts it in a wine cellar, the kitchen, or even his man cave, your dad will love the way it looks hanging on the wall with his name on it, and he'll feel proud of the work he's put into his wine collection.
Custom Clothing Carrier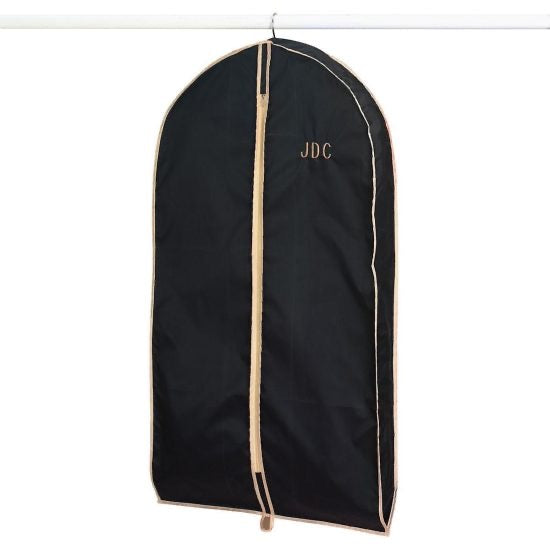 Find a personalized gift for dad that is all about functionality, like a garment bag! Your pops will greatly enjoy using this bag to transport nice clothes when he's traveling or simply needing to change clothes away from home. His monogram on the side adds an awesome touch that he will really love and ensure that no one mistakes his bag for their own.
Engraved Gifts for Dad and His Wine Needs
What could be a cooler gift than the most awesome thing he's ever laid eyes on? Your dad has never seen a gift as great as this custom stainless steel wine glasses set! Whether it's a special occasion and he wants to celebrate with a glass, or if he just wants to relax after a long day of work, these wine tumblers will come in very handy. He'll love the thoughtfulness of buying him a stunning set of unique wine glasses that are engraved to perfection, and he'll really enjoy sharing a glass of wine with you using them.
Wow Him with a Gift
You want your dad's reaction to his gift to be one of absolute awe because of how much he loves it. Well, when your dad sees this monogrammed whiskey and cigar set, his jaw will definitely drop! He'll be so excited to use it to enjoy his favorite whiskey and stogies using the best accessories that have his initials on them. His two favorite vices will be more awesome than ever before after you give him this set of amazing engraved gifts for dads.
611+ POPULAR PERSONALIZED GIFTS FOR DAD>