27 Personalized Practical Gifts
Giving a good gift can be hard enough but trying to give one that is going to be useful too? Whew, that can feel downright impossible. However, when you do get your finger on the pulse, practical gifts are some of the best you can give. These gifts are things they can use around the house, on the go, or really anywhere; all that matters is that your gift makes their lives easier! Better still, these useful gifts don't have to be boring, they can be unique items or even personalized presents too. Make your next gift-giving occasional special with these personalized practical gifts!
An Ammo Can Full of Practical Gifts
Practical gifts are not always about being up for just one job. Some are all about versatility. Oh, think an ammo can can only carry bullets? Wrong! This repurposed, personalized United States military ammo can not only carry the awesome whiskey and cigar gifts but he can use it for anything! This gift can become their dedicated storage space for their vices, where they keep their poker set, their new toolbox, or even a badass fishing tackle. Talk about practicality!
Cutting Boards Are Some of the Most Useful Gifts Ever
Keep your gifts useful by making sure they can serve multiple purposes. For example, that old plastic cutting board they have works okay but it isn't super presentable. So, when you want to spice up their kitchen life, you simply must check out this engraved cutting and charcuterie board! Perfect for chopping and slicing, it is equally as good as a serving tray for fancy cheese and crackers!
Engraved Copper Wine Tumbler Set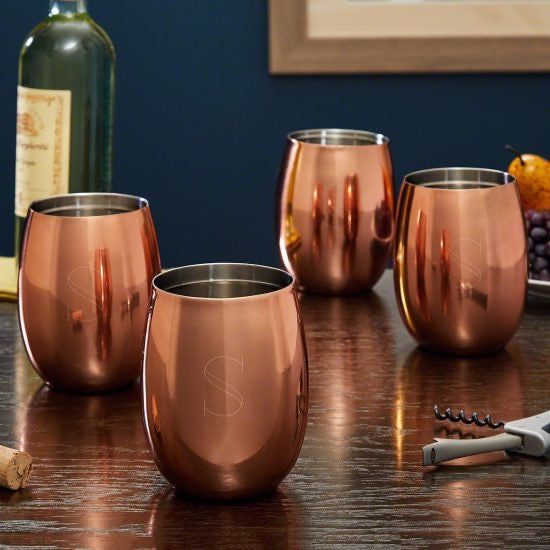 Fancy wine glasses are cool and all, but when you're giving someone a practical gift, you want things that are going to last forever. While a set of glassware certainly can last for a while, you know that without a doubt these copper and stainless steel wine tumblers are going to be the set of tumblers in their cabinets for years to come. From fancy Rieslings to a soda after work, they'll love using this set every time they need to keep a drink cool.
A Gift Set for the Memories
One of the most useful gifts you can give someone is one that keeps their memories alive. After all, memories are what matter the most to you. You can help them keep that great conversation they had, a date night at the movies, or a holiday get together fresh in their head with this personalized shadow box gift set. Inside the box, they can store mementos from any event they want and see them displayed in their office or on their wall every day. The set even comes with matching pint glasses, now that is true practicality.
Organize Their Life
Next up for these amazing practical gifts is this personalized valet and watch case. Sure, this gift will look amazing when it is full of their timepieces, cufflinks, earrings, and other accessories. However, how much will they appreciate it when getting ready in the morning is 10x easier thanks to this gift. Now, they'll never be searching for wherever they left their watch or tie-clip, instead, they can be looking their best before their hair even dries from the shower.
Embossed Leather Catchall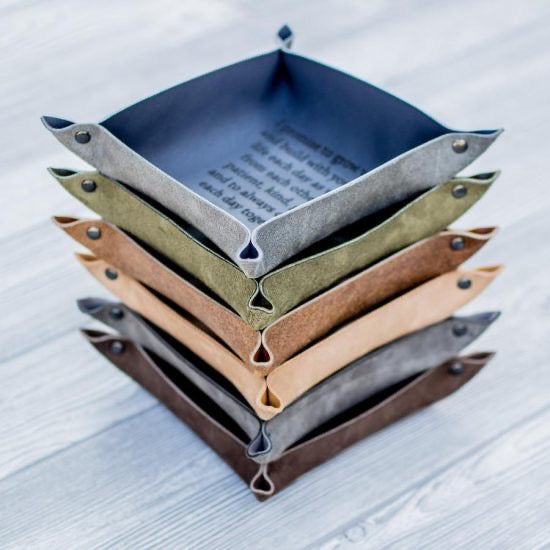 Keeping with the theme of organization, a leather catchall tray is a perfect gift for any occasion and for anyone. Embossed with a special message, they'll use this gift every day. Each time they walk in or out the door, they'll be reaching inside to grab their essentials like their keys, wallet, or sunglasses.
Monogrammed Practical Gift for Cigar Lovers
Usefulness is not all about it being a boring gift or something to make chores easier, in fact, you can give badass useful gifts like this monogrammed cigar glass and ashtray gift set! For the person who loves cigars, there is nothing more practical! Now, they can scroll through Instagram or Facebook with one hand while the cigar glass allows them to smoke and drink with the other.
Humidors Are Useful Gifts You Must-Have
You've heard cigar fans talk about how they didn't get to a stogie in time and it was spoiled by the time they finally wanted to use it. Never let that happen again with this incredibly useful and practical gift, an engraved ammo can humidor. Not only will this gift protect their precious cigars from the humid or dry air, but it will also protect them from anything else too! This tough humidor is made from a real ammo can which means they'll never have to worry about a damaged cigar ever again.
Help Them Establish Rules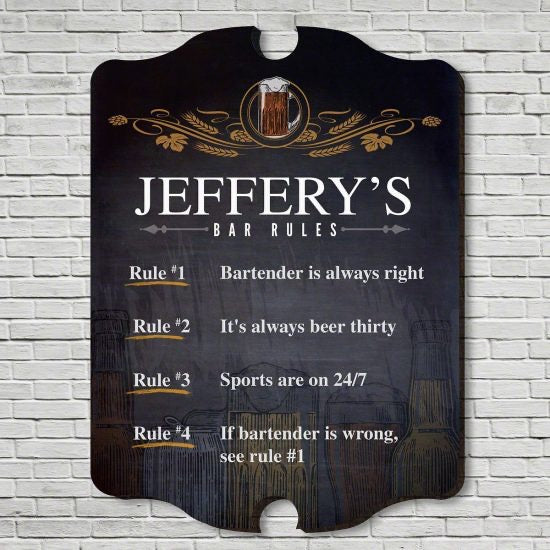 Put a smile on their face with a gift that is as practical as it is fun! This personalized bar sign is the perfect gift for the host who always has people over. However, now instead of explaining the house rules, all they will have to do is point to the sign and everyone will know that they must drink with their off-hand, and finish their drink when the Browns score a touchdown.
Personalized Twist Decanter Set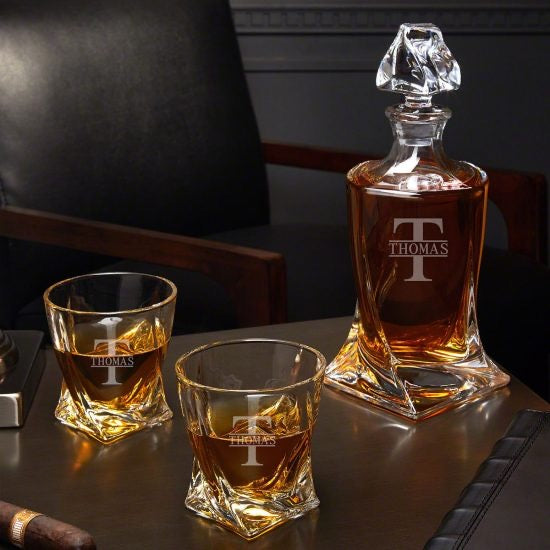 Got a friend or someone you know who is trying to create a super classy room in their house? Help them spiff it up with this engraved twist decanter set! This will look perfect in any home bar, game room, sitting room, or even out on a coffee table. Now, they can have that sophisticated, refined feeling they've been wanting each time they go for their Macallan or Glenfiddich.
Everyone Needs a Blanket
Just as the title says, everyone needs a blanket. However, thanks to these knitted throw blankets, you can get a gift that isn't only practical but has their favorite logo on it too! Logo Knits does full custom work on a blanket, so you can gift these so the person you're giving it to can rock their favorite sports team, band logo, or literally anything else you can think of!
Monogrammed Beer Stein is Practical for All Occasions
Wow, a stein on a blog about practical gifts? That is suspicious, right? Nope! These are fantastic dual-purpose gifts. Sure, you primarily drink beer out of them but they also make great home decor when you're not using it. Especially when you get a sweet monogrammed beer stein like this one. Now, you can have an awesome centerpiece on your mantle during the day and a kickass stein for your nightly brew!
Useful Gifts for Cold Drinks
Make enjoying wine a truly badass experience when it comes from this personalized stainless steel wine tumbler box set. This set isn't all looks either, thanks to the stainless steel, these glasses are as tough as the person you're gifting the set to! Perfect for enjoying an ice-cold drink at home, this set is so tough you can even use them when you go camping, to a friend's house, or on any other adventure imaginable since they'll never break!
Custom Bamboo Chopping Block
Everyone has to make food in the kitchen at some point which means that a personalized cutting board is one of those gifs you know will end up being useful. Now, this hefty board will help them become a master chef each time they need to do some heavy cutting or even precision slices. Plus, it is gorgeous, so a gift that is useful and looks great, what more could they want?
The Coolest Practical Gifts
Help them chill out with this set of ice-cold gifts! Perfect for the person who loves a nightly whiskey or cocktail, this engraved whiskey stone set ensures that even if they forget to chill the bottle of booze, they'll always have a drink at the perfect temperature.
389+ EVERYTHING ELSE PRACTICAL YOU COULD NEED>
Masks are the Most Useful Gifts of 2021
Facemasks, they're not going anywhere anytime soon. This means everyone needs them, making them one of the most practical gifts you can give. But, this is all about personalization, after all. So, take that standard facemask and leave it at home and instead get them a facemask that you can fully customize. Whether you want to put text, a logo, or even a custom image on it, you can!
Marble & Wooden Coaster Set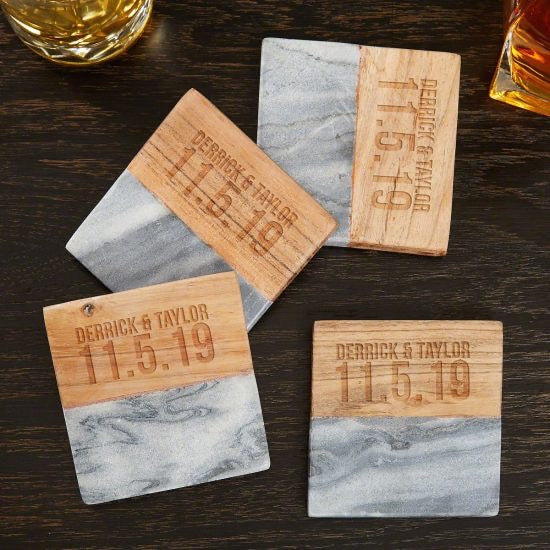 No one likes to have condensation rings on their table, especially when they stain it. Never let that happen again when you get them this simple, yet thoughtful and useful gift, engraved marble and wood coasters! These are a great way to take a living room or home bar and make it one of the classiest places they could ever enjoy a drink, just by the coasters alone!
Sophisticated Cognac Gift Set
There is something special about having set aside just for the times in life when you really want to celebrate something or specifically for when you need to unwind. This custom cognac gift set can be that gift for you or someone you know who needs to be able to take a sip of cognac and have the iconic "Ah," sigh of relief. Make their year with this gift set that allows them to relax in style with their partner or friend with this gorgeous black box set!
A Tool for Every Occasion
What could be more useful than a multi-tool? How about this one that is more than your standard multi-tool, it is customized and has a freaking wrench on it as well! Now, nothing will stand in your way from fixing that leaky faucet, installing the new television mount, or anything else you come across. Plus, it fits easily in your pocket or dashboard, making it one of the most useful gifts out there!
A Wine Box of Practical Gifts
Don't just give a bottle of wine, a bottle is only useful for a short amount of time. Class your gift up by not only upping the presentation but by making it long-lasting too! This wine presentation box is the perfect spot for you to rest your merlot or pinot noir you're gifting, but wait, there's more! Inside the custom box are all the tools they'll need to enjoy a bottle of wine. Now, they've got a spot to keep a bottle they're saving for a special occasion like an anniversary or holiday as well as every tool they need!
A Practical Gift to Go
Not every practical gift is for at-home use, some are fantastic for the person who is on the move. However, that doesn't mean you can't keep them classy. This custom hip liquor flask is the easiest way for them to not only bring a bit of their favorite booze with them for when the occasion calls but also two cigars too, how neat is that?
Custom Wine Decanter Set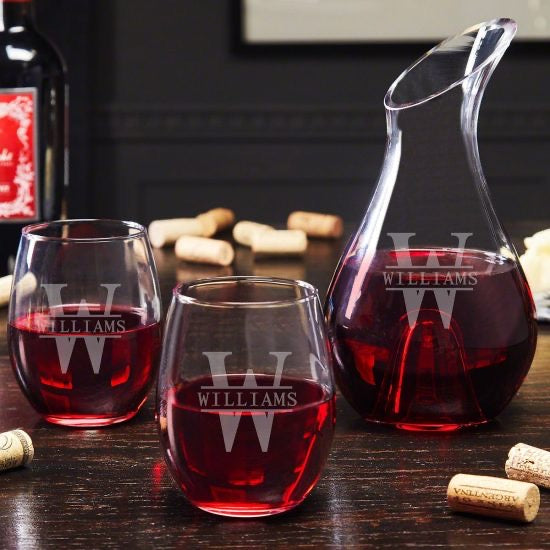 There is simply no excuse for you not to get this set of practical gifts for the person you know who absolutely loves wine. They don't even have to be a true aficionado to need this gift. A personalized decanter set is the best way for them to finally experience fully aerated and oxidized wine. This is a great gift that will keep on giving since their wine will taste like the bottle should cost at least $20 more each time they use this decanter and the glasses!
The Most Useful Gifts for Beer Lovers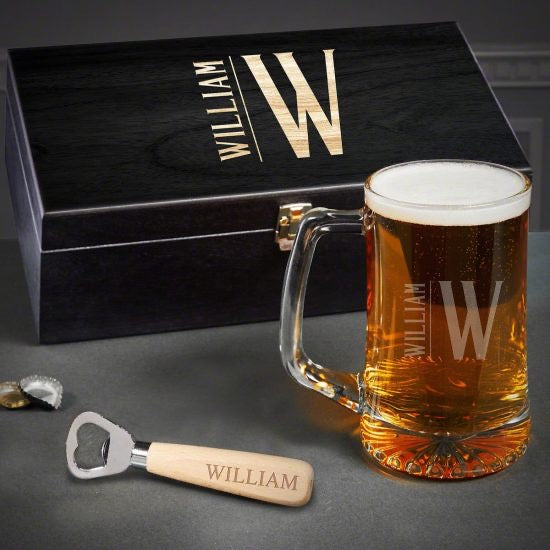 Keep things practical for the beer lover you know with an engraved beer mug box set that will have them feeling like they're only ever drinking at the finest drinking establishment in town! The classy black box will be the perfect presentation for their matching beer mug and bottle opener. Now, every beer they have will feel like a special occasion. It doesn't matter if it is the most expensive craft beer or around or their go-to macro brew, each time they use this mug it'll be their favorite way to enjoy a good brew.
Personalized Corn Hole Game Set
Practical can be fun, right? Of course. it can! This personalized cornhole gift set makes having a great time easier than ever since in just a few seconds you, your friends, and family can all have a fantastic competitive game going. From backyard BBQs to bonfires, this is one of the best ways to get the party started and keep it going as everyone is going to want a turn at your epic game set!
Practical Gifts for the Person on the Go
No matter where life takes them, they'll always be prepared thanks to these useful gifts that you not only found but made custom just for them! Whether they're on their way to their 9-5 and need some coffee or heading out on an adventurous week with their friends (hopefully including you after such a great gift) they'll have everything they need to not only have a great time but survive and celebrate too!
Shoes are Always Practical Gifts
Shoes are always useful! But, since this is all about personalization too, check out these Chuck Taylor Converse All-Stars that are 100% customizable. They make great gifts to go with your friends' style, regardless of how they dress. Whether they're formal, informal, or somewhere in-between, you can design these to fit them perfectly.
The Perfect Box for any Practical or Useful Gift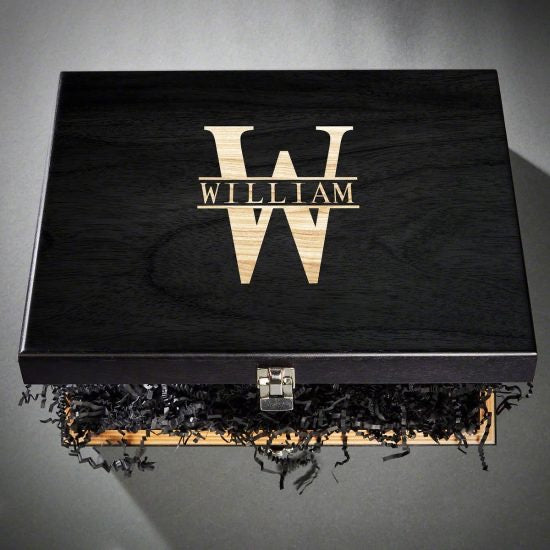 Sometimes, you have had the practical gifts you needed to give all along. But, that doesn't mean you can't take them to an eleven on the scales of good gift-giving by placing them inside their own custom gift box! Think about how good those items you've set aside will look when they are presented inside this gorgeous box!