Your grandparents are some of the most important people in your life. They're always there for you when you need them. They've given you tons of amazing gifts over the years, too, and now you want to give them a gift back that's perfect for them. You want to find them an amazing, personalized present to show them how much they mean to you. The best personalized gift for grandparents will be one that the two of them can use together and has been customized just for them, so they know you got it with them in mind! We scoured the web to track down the greatest personalized grandparent gifts that will warm both of their hearts.
Out-of-this-World Whiskey Gift Set
Personalized grandparents gifts that make them feel classy and sophisticated are always fantastic choices! This custom globe decanter and glasses set is the perfect gift to do just that. Your grandparents will love how fancy they feel with this unique globe decanter filled to the brim with their favorite spirit, and using the one-of-a-kind glasses to sip on that spirit will add a new dimension to their usual enjoyment of drinks together.
Personalized Gift for Grandparents to Hang in Their Home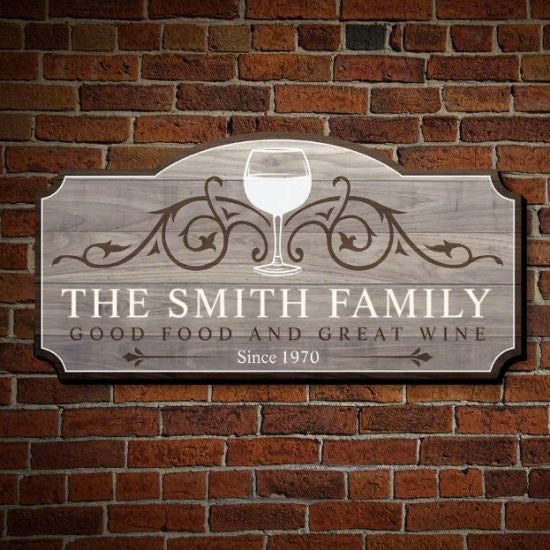 Brighten up their kitchen or home bar with this gorgeous family name wine sign! Your grandmother and grandfather will adore how unique this sign is, especially with their family name on it. It'll look fantastic hanging up in their kitchen, wine cellar, or dining room, a constant reminder of their amazing family, including their awesome grandchildren who give the best gifts!
Super Useful Watch Case
You know your grandparents have wedding rings, watches, and other accessories that they're worried they may lose at some point. That's why you can't go wrong with this leather valet box, one of the best personalized grandparent gifts. It'll definitely come in handy to keep their watches and any other accessories all in one safe spot. Their monogram being on the top will be a nice touch on such a useful present that'll keep them very organized and put them at ease.
A Custom Gift for the Kitchen
Get them a handsome gift that helps them out in the kitchen! This bamboo charcuterie board is a fantastic personalized gift for grandparents that they'll love using when they're serving food to their beloved children and grandchildren! Whether it's appetizers before the big Thanksgiving or Christmas meal, hors d'oeuvres during a family birthday party, or finger foods during a tea party with friends, they'll love how easy it is to serve them on this handsome, engraved board.
Wine Set of Personalized Grandparent Gifts
Both grandma's and grandpa's jaws will drop when they see this amazing personalized gift! This custom wine glass gift set is the perfect set for them to use when they want to enjoy Merlot or Riesling together. Also, the miniature barrel holds all the wine tools they need! They'll think it's so convenient that their wine tools fit inside this little wooden barrel, Now, they won't have to go looking all over the house when they want to enjoy a glass of wine together.
155+ STUNNING PERSONALIZED WINE GLASSES>
Make a Mold of Their Hands
Get them one of the most unique personalized grandparent gifts out there. This plaster statue kit will let them create a statue of their hands as they hold each other's. They'll think it's so special having this statue displayed in their home, a constant reminder that they'll always have each other, no matter what.
Personalized Gift for Grandparents in Their Home Bar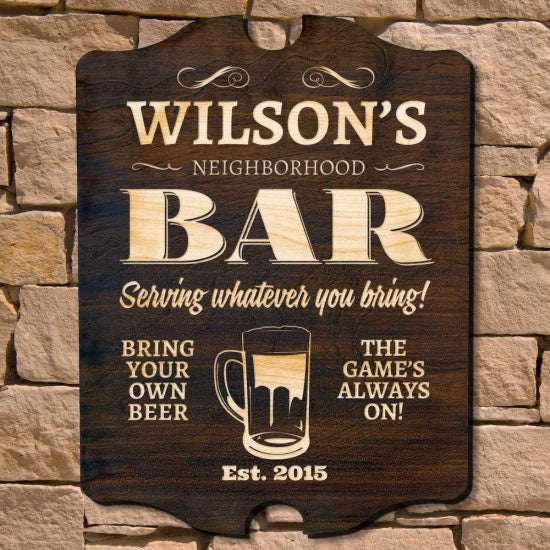 If there's one place in the home that your grandparents love, it's their home bar area! This personalized wooden bar sign will make their day when you give it to them and every day after. It's a fun reminder for them that they can do anything together, including run their own neighborhood bar right in their home! It's the perfect sign to have hung up in their kitchen or home bar.
Classy Presentation Set of Personalized Grandparent Gifts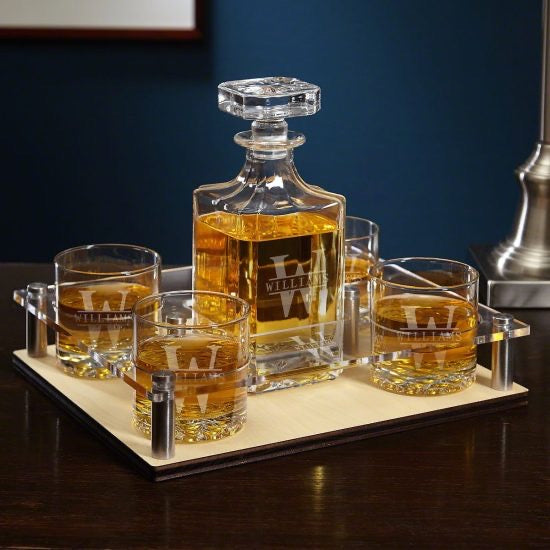 Your grandparents know that life is too short to have to go to a lot of effort to have a drink when they want. That's why you know they'll love this custom whiskey presentation set! They'll be big fans of how convenient it is for them to pour themselves a drink while sitting on their couch using this aesthetically pleasing set. Plus, it makes it so easy for them to serve drinks to guests when they're over!
For Keeping Mementos
Grandparents are all about making memories with their children and grandchildren. That's why this personalized shadow box is an amazing personalized gift for grandparents! They can keep any small items inside this box, whether that's bottle caps, photographs, flowers, or anything else, each one representing a touching moment or fun experience they have with one of their beloved family members. They'll absolutely adore the way this shadow box looks hanging in their living room or kitchen, always reminding them of those valuable memories.
Best Way to Gift a Bottle
You know they'd love a bottle of their favorite spirit, but you also know they greatly appreciate gifts that are more sentimental than that. That's why this engraved liquor bottle gift box is such a fantastic gift idea! It'll mean so much to them seeing that you had this handsome black box customized just for them. They'll treasure it for the rest of their lives knowing that their amazing grandchild gave them a beautiful, personal box they can use to store a bottle of liquor for a special occasion.
A Sign for Their Grandchildren's Names
Their favorite people on earth are their grandchildren. That's why you know this multi-name canvas is one of the coolest personalized grandparent gifts there is! They'll absolutely love seeing their grandkids' names on this handsome canvas, showing off to every guest who enters their home the names of the people in the world who mean the most to them.
One-of-a-Kind Personalized Grandparents Gifts
Your grandparents are one-of-a-kind people, so they deserve one-of-a-kind whiskey glasses! This custom twisted whiskey glass box set is a gift that will stun them because of how unique it is! They'll be so impressed with the rare shape of these glasses that makes drinking Manhattans, Sidecars, and any other drink more fun and classy than any other set of glasses. Your grandmother and grandfather will love using these glasses when they're celebrating a special occasion or even when they're having a date night in.
Their New Favorite Decor Item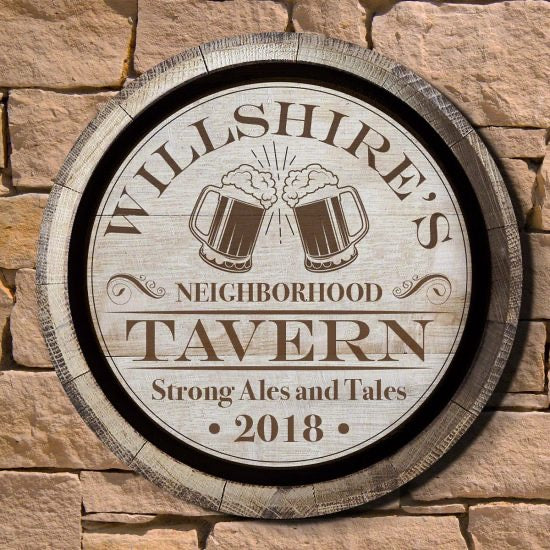 Get your grandparents their new favorite decor item in their entire home! This custom tavern sign is a fantastic personalized gift for grandparents that will look awesome in their home bar, dining room, or kitchen. They'll love the classic tavern vibe it gives to the space, and it'll make their family and friends want to stay and have a drink!
Keep Cocktails Cold
Your grandparents may be up there in age, but that doesn't mean they don't know how to party! Make any party they throw better than ever with this personalized ice bucket and cocktail gift set! They'll very much appreciate always having an insulated bucket to keep ice inside, whether they're at the pool or doing any other outdoor activities. Drinking their Mai Tai or Old Fashioned cocktails from these matching customized glasses will make them happy every single time!
Sleek and Cool Personalized Gifts for Grandparents
Your grandparents will feel so modern and cool when you give them this gift! This personalized stainless steel wine tumbler set is a gift they'll use again and again. The glasses will also keep their wine or other beverages chilled until the last drop, which they'll greatly appreciate. Your grandma and grandpa will really enjoy using their matching personalized glasses together whenever they get the chance!
Wrap Themselves in this Gift
This custom sherpa blanket is a fantastic personalized gift for grandparents that they'll treasure forever! Seeing their names embroidered into this blanket will make them feel like the most beloved grandparents ever, especially when they're on the couch or in bed and have this blanket keeping them warm!
Engraved His and Hers Glasses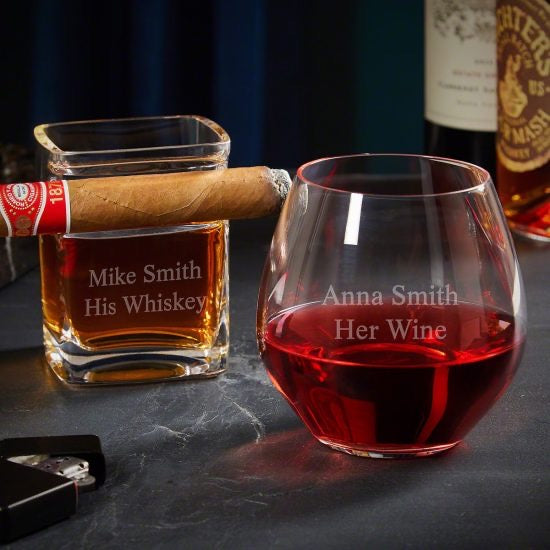 Get your grandparents a gift that lets them enjoy a drink together, even when they aren't in the mood for the same drink! This engraved cigar glass and wine glass set is just the gift they need! While she's drinking her wine and he's sipping on his whiskey, or vice versa, they'll love reminiscing on all of their years together and how they have the best grandchildren in the world!
275+ AMAZING PERSONALIZED GIFT FOR GRANDPARENTS>