What's the best way to show off your prized collection of ticket stubs or display your wedding bouquet forever? With a shadow box, of course! Shadow boxes are the ideal way to store and display collections and keepsakes because not only do they make unique decorations, but they'll keep your items safe. Whether you're looking for something cool to display every golf ball you hit a hole-in-one with or a fun twist on a wedding guest book, we found plenty of display boxes and ideas to suit your needs!
Start a Collection with Your Spouse
Review by Angela: Bought this as a wedding gift and it is even perfect!! Looks even nicer than in the pictures!! I love it and they loved it!!
One of the most romantic ways to use a shadow box is by storing a collection in it that you and your significant other built together! This adorable display box is perfect for showing every wine cork or bottle cap from the drinks you two enjoyed together over the years. Don't have a collection yet? Give it as an anniversary gift and you can start the collection together right away! Who knows how full it will be by your next anniversary?
The Best Shadow Box for a Beer Lover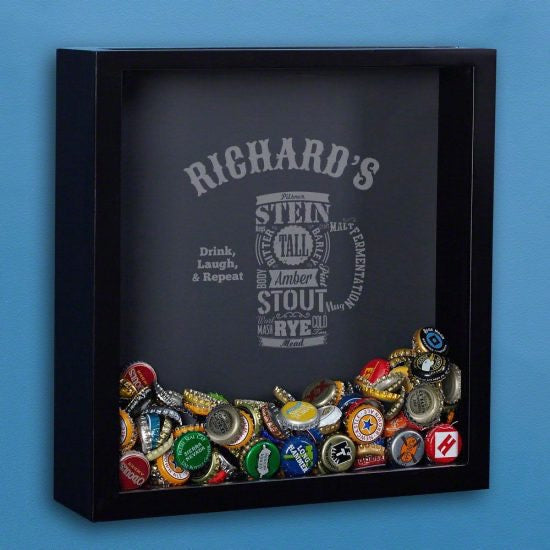 Review by Jeff:High quality and shipped with lightning speed! Looks just like the picture (with the name I chose of course), and shipped in well packed box. Highly recommended product/seller!
For those of you looking specifically for a box to hold a bottle cap collection, look no further! This one's got the perfect design on it and plenty of room for bottle caps. Whether it's displayed in your kitchen, dining room, home bar, or man cave, this is the best way to both store and add to your collection.
Unique Way to Remember Every Event
Review by Cadency: LOVE them. Beyond impressed! VERY quick shipping and high quality product.
Do you like to hang on to your ticket stubs from every game you go to? Show them off in a display case! This one is specifically meant for keeping all of your football, baseball, soccer, hockey, and other game tickets. You can also store your prized trading cards inside! This is a must-have for any sports fan.
Shadow Boxes Are Great for Cigar Bands Too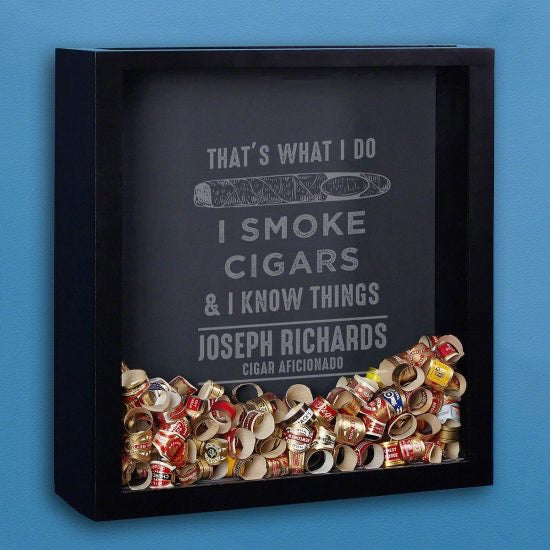 Review: This is a very nice Shadow Box. Engraving is etched in glass nicely, and it holds a surprisingly huge volume of cigar bands.
Cigars are the perfect way to celebrate special occasions, but they're also a classy hobby to enjoy from time to time. Saving the colorful bands from them is a great way to keep a piece of a special moment from your life forever, and displaying them in this box is the perfect way to treasure them! Even the casual cigar smoker will enjoy this fun piece of decor, especially since it holds so many cigar bands.
A Shadow Box Set for Wine Lovers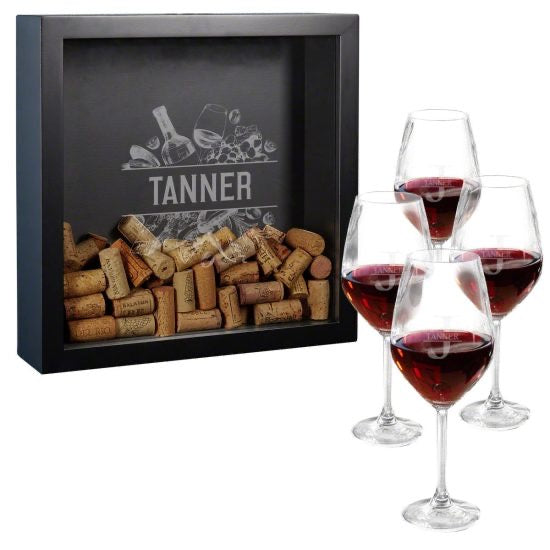 Review by John: A great gift that I ordered for my wife. It came as expected and on time. A great company to deal with.
There's nothing like sharing a bottle of wine with your significant other or a couple of friends. Don't you wish you could remember those fun times forever? By keeping the wine corks from every bottle of wine you enjoy, you can! This lovely wine glass and cork collection box gift set is the ideal pairing for a double date night with friends or a romantic dinner with the one you love. You will be able to watch as your box fills up over time with wine corks as a unique representation of every fun time with a bottle of wine, how cool is that?
Decorative Shadow Box for Medals and Awards
Display your achievements with pride in an extra fancy shadow box! Whether you're in the military or a professional sport, you want to be able to show off every medal you've been awarded in style. This large display box is professional with its lovely frame, which makes it ideal to display anywhere in the home or office. The felt backing allows you to easily arrange and display your pins and medals in any arrangement you desire.
One of the Coolest Custom Shadow Boxes
Review by Dominique: Item looks just like the picture and I received it within a week of placing my order.
One of the best ways to collect any kind of item is by storing the entire collection in one of these custom shadow boxes! This one is perfect for the man who wants to save every bottle cap, wine cork, golf ball, ticket stub, cigar band, or just about anything else he wants. He will love the awesome design engraved on the box, especially since it's perfect for his room or man cave.
To Show Off Your Taste in Fine Cigars
Review by Danielle: great gift for a cigar lover!! Husband absolutely loved it!! Would definitely buy from this company again, great customer service, fast shipping!!!
Anyone who enjoys a quality cigar deserves a shadow box to display their collection of handsome bands! Each colorful wrapper will remind them of when they enjoyed that particular stogie whether it was to treat themselves after a long day or for a celebration.
Classy Way to Store a Collection
Review by Swilkey: product arrived timely and was beautifully done. Priced well and will be enjoyed for years to come.
Do you have a distinguished collection that needs an equally classy display box? This is it! Whether you need somewhere to display the corks of your finest wines or the cigar bands from your priceless cigars, this one of the classiest shadow boxes you can use. If that doesn't convince you, the large wax seal design on the glass looks like you've stamped it with your own wax letter seal, which is just too cool.
Show Off Your Holes-in-One
Review by Michele: This is the perfect piece for my dad's celebration of life. He loved golf so much. Everyone is going to write a short memory on a golf ball that will go in this. This turned out amazing with fast shipping time.
Every avid golfer wants to save the golf ball used for every hole-in-one they've shot, and a shadow box is the perfect way to do so! This awesome display will show off every one of your miracle shots whether you're a professional golfer or you just enjoy it as a hobby. Over time, your display box will be an awesome presentation of your golfing skills.
You Can Never Go Wrong with Jersey Shadow Boxes
Every sports fan dreams of having a signed jersey from their favorite player. Such a priceless keepsake should be kept safe and secure, but it deserves to be shown off as well. The solution? A jersey shadow box! This unique wall decor is the ultimate keepsake for a sports fan, and will look awesome whether they display it in their office or game room.
Unique Wedding Guest Book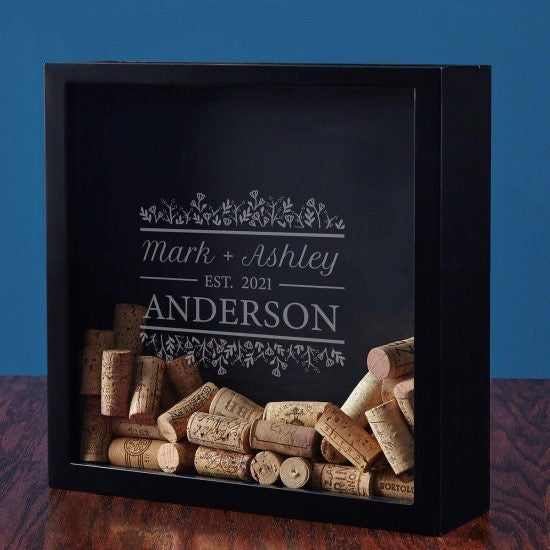 Yes, you read that right! Shadow boxes are the perfect way to treasure wedding keepsakes, even the guest book. In fact, it's become a rising trend for people to sign a small object such as a little wooden heart or a wine cork and drop it in the box as the guest book. It's an adorable, unique way to remember all of the special people who attended your wedding!
Keep Track of Your Greatest Hunts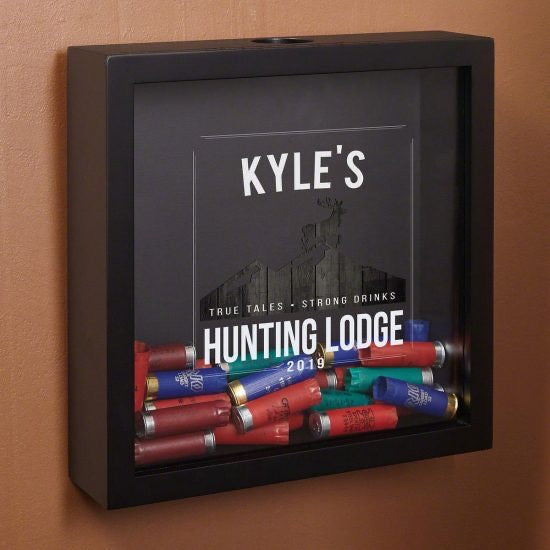 Sure, you've got trophies from your most successful hunting trips such as antlers and the delicious meat, but you should save your shotgun shells too! This badass shadow box is the perfect place to display the shells from every successful trip. Or, if you're more into shooting clays than going hunting, you can keep those perfect on-target shots to display with pride.
For the Cigar Fan
Review by Brenda: My husband absolutely loved it!!! He put all of his bands that he had been collecting in it immediately.
Display your cigar band collection with class and pride with this awesome shadow box! Everyone who sees it will know without a doubt that you are a cool, sophisticated guy. This box makes a fantastic gift for any cigar-loving man for his cigar lounge or man cave.
For the Future Brewer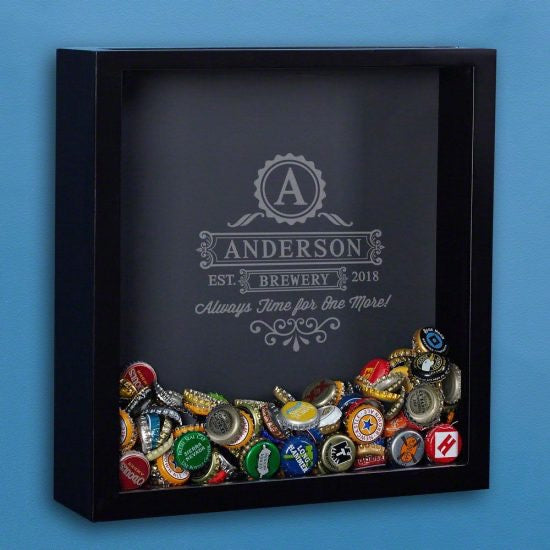 Review by Grace: Bought this for my boyfriend for Christmas and it's perfect! A really nice way to display bottle caps with a personalized touch. Love it!
Dreaming of having your own brewery is a popular fantasy for beer drinkers. However, some make it happen for real by starting to brew from home! Whether you're a home brewer or just love to drink beer, you can show off the bottle caps of your beers in style with this nifty shadow box.
Flag Shadow Box with a Secret
Some shadow boxes have a specific purpose to display a particular item, like this flag case. Designed to fit a folded flag, this display is the perfect mantle piece for anyone who wants to show off a special flag with honor. Plus, it has a secret concealed compartment to hold a firearm or anything else you wish. It can't get any cooler than this!
A Place to Store a Collection Together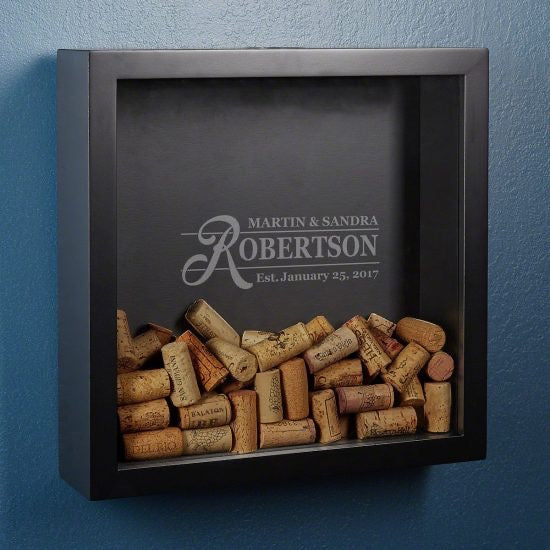 Review by Jaime: The perfect anniversary gift. We collect corks all year and there is plenty of room.
Do you and your sweetheart like to collect things together? Display them in this beautifully personalized shadow box! Whether you enjoy saving every wine cork from date nights, pretty stones from walks on the beach, bottle caps, or something else, this lovely piece of decor is a great way to treasure those important keepsakes. This box also makes a fantastic Valentine's Day or anniversary gift for your loved one so that you can start a collection on a special occasion together.
The Perfect Place to Display Bottle Caps
Whether you're a home brewer, craft beer snob, or simply a beer fan, collecting bottle caps is a widely enjoyed hobby of beer lovers. One of the best ways to display bottle caps is with this awesome custom shadow box! The fun design will make you feel like you're showing off the many beers you've enjoyed from your very own brewery (if that's actually the case, this is doubly awesome!).
Fun Way to Display Shotgun Shells
Review by Heather: My husband is going to love this! It's a perfect addition to his hunting/man cave!
One of the best ways to show off your hunting skills is with a custom display of your shotgun shells! Certainly one of the most unique shadow boxes, this is a fun way to collect keepsakes from your most successful hunting trips or shotgun shooting event.
Endless Ways to Display Your Keepsakes
If you're looking for a cute shadow box but you're not quite sure what to put in it, this one is adorable and great for all kinds of things! You could easily store wine corks, ticket stubs, buttons, marbles, fortunes, bottle caps, cards, or anything else that comes to mind. It doesn't have to be one specific thing, either, you can toss any important keepsake inside or use it as a piggy bank to save up money for something special. Your options are truly endless!
Wedding Dress Preservation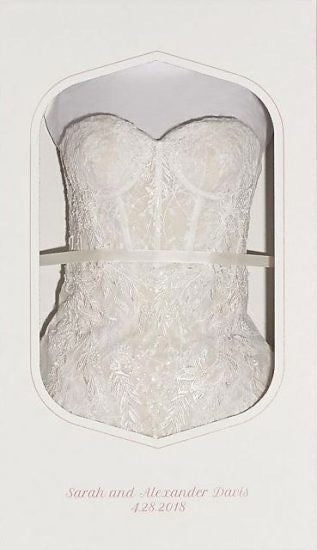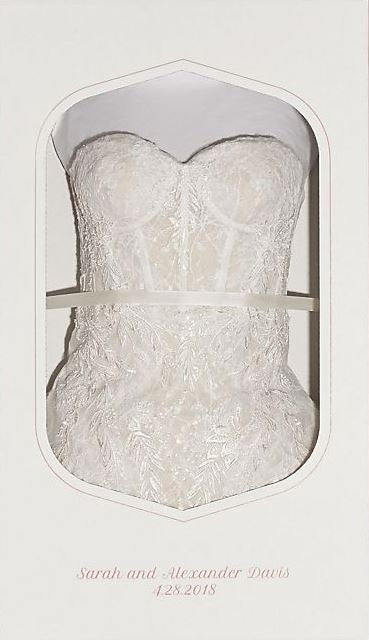 Did you know that you can preserve your wedding dress in a shadow box? Some companies do both the preservation process and framing as a service and others just do the preservation, but it's such a cool way to hold on to your dress forever! The preservation process keeps it intact so that it looks exactly the same as it does in your pictures even after 30 years. This is certainly one of the most unique display boxes you can have, but also one of the most meaningful!
Every Hole in One Deserves to Be Commemorated
Review by Star: Great product. The glass is heavy and sturdy and the engraving is perfect. My boyfriend loves it! Customer service was amazing and shipped fast. Packing was also great.
It doesn't matter if you're a casual golfer or a professional player, one thing is certain: a hole-in-one is a special shot that deserves to be remembered whether you make them frequently or very rarely. With a custom shadow box , you can display every single hole-in-one you've ever made with the golf balls you made each shot with!
The Perfect Date Night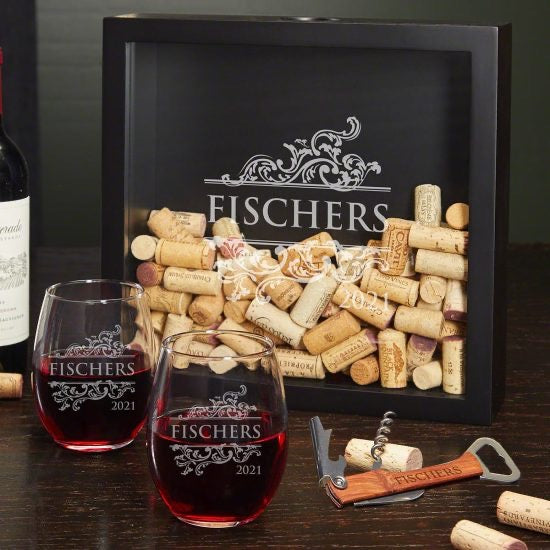 Picture this: you and your significant other are having a romantic dinner. You open a bottle of wine with the bartender's key, pour it into the engraved stemless wine glasses, and then drop the cork into the shadow box. How romantic is that? This gorgeous wine glass gift set is simply stunning, and sure to be part of every date night, anniversary, and special occasion from now on.
Unique Way to Show Off Your Hero
Review by Jordan: Bought it as a gift and it turned out perfect!
Whether you're looking for a cool display for your hero's medals or a patriotic gift he can store keepsakes in, this is one of the coolest shadow boxes for military and law enforcement! The gnarly American flag design makes it a manly, badass gift unlike any other.
For the Sophisticated Cigar Fan
Review by Cristi: Absolutely beautiful! My husband loved the custom cigar shadow box.
Do you enjoy the occasion stogie? With or without a top hat on, smoking cigars is a classy pastime that you indulge in from time to time, and you always make sure to save the band. Make sure your cigar bands get a proper display with this suave display box! The box holds a surprising amount of cigar bands so that you have plenty of room to show off your favorite stogies.
Shadow Boxes Can Be Art Too
Did you know that shadow boxes make great works of art? Whether you want something unique to display like this lovely paper art from Target or you want to frame one of your own works, a shadow box is a really cool way to display something 3D. You can make a layered picture, a terrarium, or a sculpture with this unique display box, and those are just a few of endless ideas.
Start a Marriage with a Collection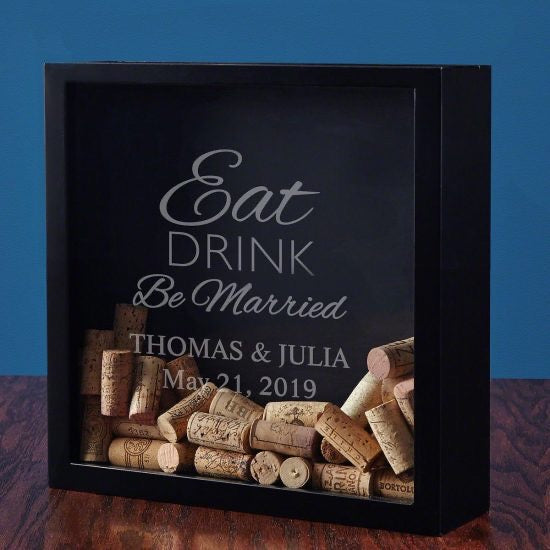 One of the best ways to bond with your new spouse is by doing a collection together! This lovely shadow box is the perfect place for you two to keep special tokens of your relationship or shared activities. You can keep every cork from the bottles of wine you drink together, every bottle cap from beers, ticket stubs from events you both attend, or anything else you wish! This thoughtful keepsake box is one of the sweetest wedding gifts you can give to the happy couple.
Exquisite Decanter Set
Review by Melissa: The quality on the decanter, glasses, and cigar shadow box were just incredible. The engraving was crisp and clear, the box was great and sturdy. I would absolutely, 100% order from WetBar again. They're also true to their shipping statement. I ordered and received it within the span of a week.
There's nothing like a couple of drinks with friends or family, especially when it's from your finest decanter set that's custom engraved with your name! Anyone you serve with this five piece decanter set will be impressed by your class and sophistication, especially after they see your matching display box. Whether you're collecting cigar bands or other classy keepsakes, this suave set will make you and your guests feel like royalty.
Unique Golf Ball Shadow Box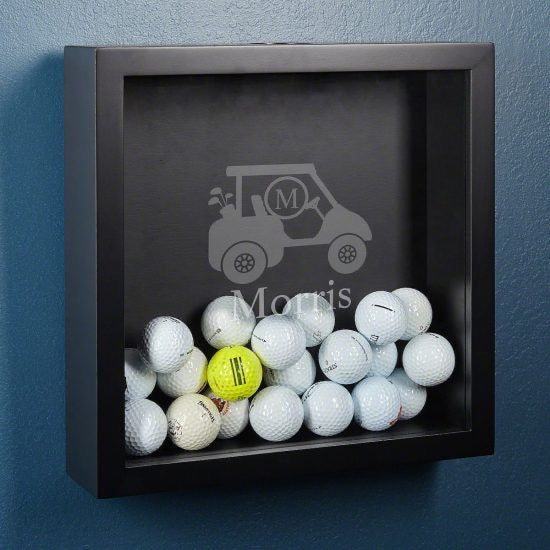 Review by Louise: The display case was given as a retirement gift to my supervisor, with all employees contributing a signed golf ball. He loved it! The quality of this piece was amazing, and carefully packed for shipping. Thank you!
Create a one-of-a-kind keepsake of your best shots on the golf course with this golf ball display! This fun piece of decor is one of the most unique shadow boxes, especially for golfers. This cool display is perfect for showing off the golf balls you shot holes-in-one with or makes an amazing gift.
Bottle Cap Display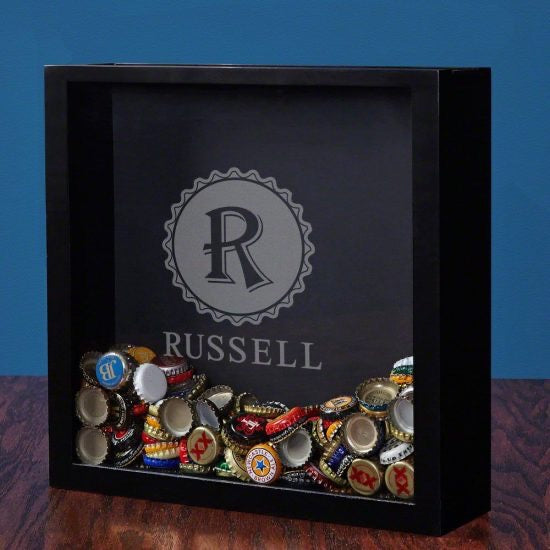 Review by Kaytie: Very impressed with this. It's a great personalized gift for the beer lover; luckily there are two of us in our household so this is going to fill up fast!
Show off your favorite beers with their bottle caps in this awesome display box! As one of the simplest shadow boxes you've seen so far, this classic box is perfect for holding hundreds of beer bottle caps. Whether you have it in the man cave, home bar, or even the dining room, this display is a must-have for beer lovers.
Shelved Shadow Box for Organized Display
Are you searching for a display case that can show off your prized possessions but they're too fragile for tossing in a box? Then you need one with shelves! This display case is perfect for showcasing small decorative sculptures, pocket watches, medals, bells, and more! This way, you can display your items while keeping them organized and secure at the same time.
Wedding Shadow Box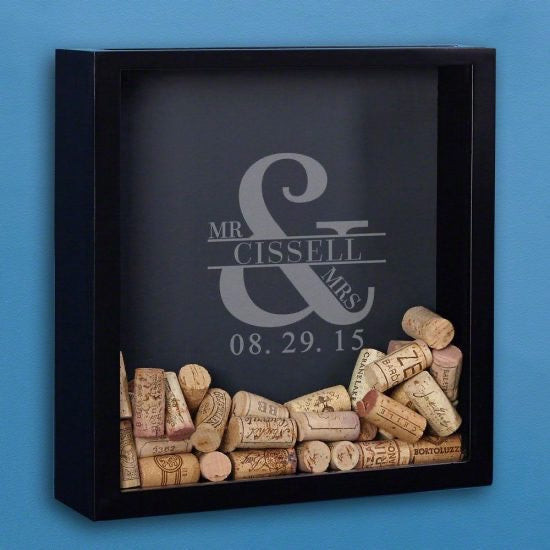 Review by Kelly: Exactly what I wanted for a wedding shower gift! And shipped right on time.
Looking for something special to display keepsakes from your wedding or bridal shower? Shadow boxes are great for storing flowers, the invitation, favors, or even the veil! The lovely engraving makes it the perfect wedding keepsake to treasure forever.
The Best Beer Lover Shadow Box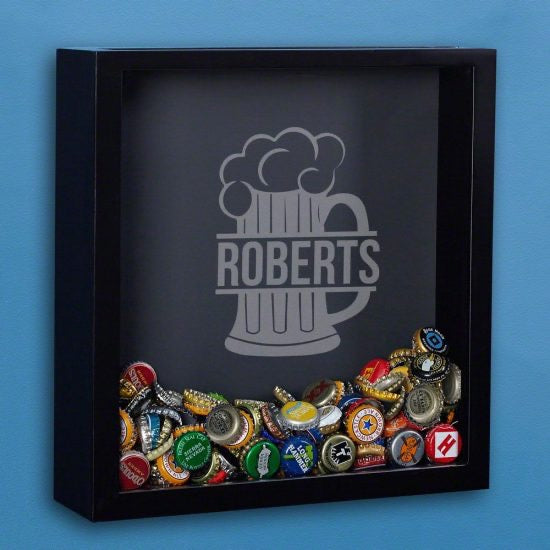 Review by Borkowski: Exactly what I wanted for a wedding shower gift! And shipped right on time.
One of the best ways to show off your love of beer is with a bottle cap collection from your favorite brews! This cool shadow box is a great way to display your collection, even if you're still adding to it or haven't started one yet. This custom display case will look great in your home bar or kitchen, especially since everyone who comes over can admire it!
39+ PERFECT SHADOW BOXES FOR COLLECTIONS>