Moving is a stressful task, and your job as a guest of a housewarming party or a friend or someone who just moved is to get them something nice! It can be a gift that helps them settle into their new home, something to welcome them to their new location, or even something relaxing to help them unwind after unpacking. The best of all however, are personalized housewarming gifts! Giving someone a gift that's made uniquely for them will add a personal, homey feel to their new place. Every time they look at it, they'll feel like they're truly home. Whether you're in search of unique housewarming gift ideas for a close friend, newlyweds, or a relative, we have found plenty of thoughtful gifts that anyone would adore!
Luxurious Decanter Set for Their New Home Bar
There's nothing like a drink after hours of unpacking boxes and rearranging furniture. The person you know who just moved would absolutely love a drink to help them relax as they settle into their new home, which makes this monogrammed decanter set the perfect personalized housewarming gift! Not only is it engraved with their initials, but this decanter set is so stunning that it is meant to be displayed prominently in their new home bar. They'll love showing it off to guests at the housewarming party and when they have family visit as it certainly adds a classy, luxurious touch to their home.
A Personalized Housewarming Gift for Their Kitchen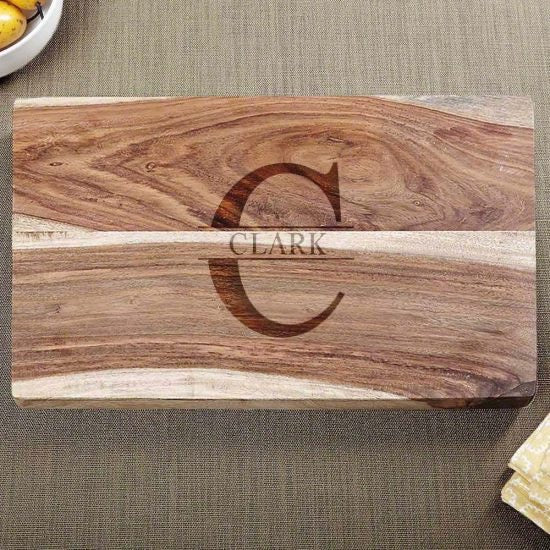 Help your host feel at home with something uniquely personalized that they'll use every day, like a custom cutting board! They'll use this lovely kitchen accessory for chopping up veggies for morning omelettes, assembling snacks and sandwiches for lunch, and preparing for a delicious dinner. When they're not using it for cooking, the cutting board looks great on the counter as a unique, personalized piece of decor. Everyone who visits will want their own custom hardwood cutting board too! Make sure you also get the board oil to keep their new kitchen accessory smooth and clean as well so that it will last even longer. This classic housewarming gift is guaranteed to please the host no matter what!
Unique Housewarming Gift Idea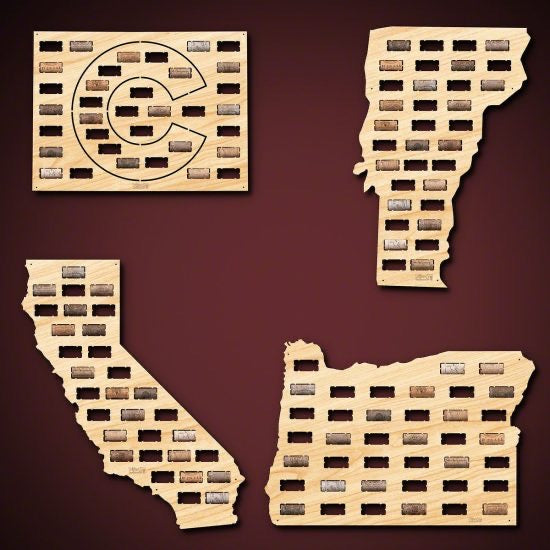 The best way to make someone feel at home is with a gift that reminds them of the home they had to leave or that helps them settle into their new location. With a wine cork map of their state, they'll have a fun new collection to start. You can get them the state they call home or the state they just moved to, either way they will love having such a cool and interactive piece of decor. With a map of the state they've moved to, they can put corks of local wines into it to help them explore and get to know their new home. As a map of their home state, it'll be a fun piece of decor that will always remind them of where they came from. Whichever one you pick, it will be one of the sweetest and most unique housewarming gift ideas!
They Don't Have a Home Bar? Get Them a Bar Cart!
Older homes tend to have home bars or wet bars built-in, but nowadays it's not easy to find a new place with one. For the person you know who wants a home bar but their new place didn't come with one, get them an awesome globe bar cart! This classy, unique housewarming gift idea is one of the most impressive pieces anyone can have in their home. The antique style of the globe makes any room feel luxurious and classy, and the hidden bar storage is just too cool. The person or couple you give this bar cart will be amazed by this spectacular bar cart and they'll want to show it off to everyone who visits!
Personalized Housewarming Gifts for a Couple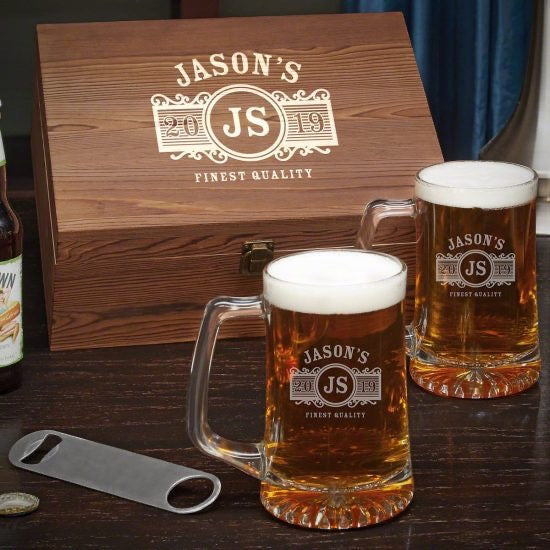 Looking for something nice to give as a housewarming gift for a couple who just moved into a new place together? You'll want to get them something they can both enjoy, like this beer mug gift set! Certainly the best personalized housewarming gift for a pair of beer-drinking lovebirds, this lovely beer set is both practical and thoughtful. They will love using these mugs for their game day drinks or dinner beverages, especially since these mugs are quite large! They will definitely appreciate the bottle opener and custom gift box, which they can use to store keepsakes or even start a bottle cap collection together.
399+ GIFT SETS AND GIFT BASKETS FOR HOUSEWARMINGS>
Lovely Gift Basket Full of Goodies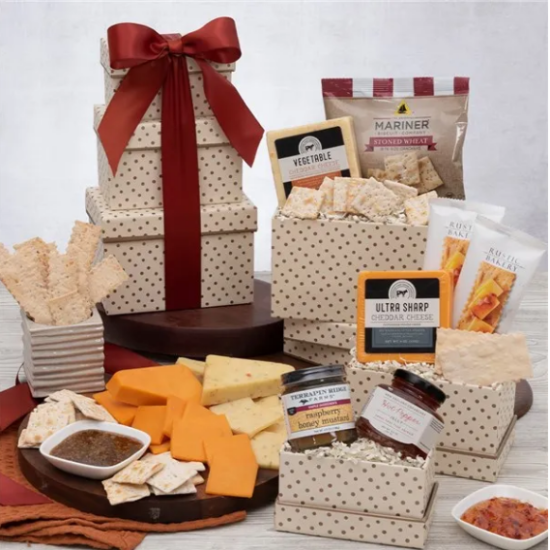 You can never go wrong with a gift basket full of delicious snacks and treats! This beautiful gift basket is shaped like a house (how cute!) and comes with all kinds of cookies, nuts, cheeses, and more delectable morsels. You can also add a custom gift message or card to make this amazing gift basket an even better personalized housewarming gift. Anyone who's just relocated will adore this sweet basket!
Everyone Needs Coasters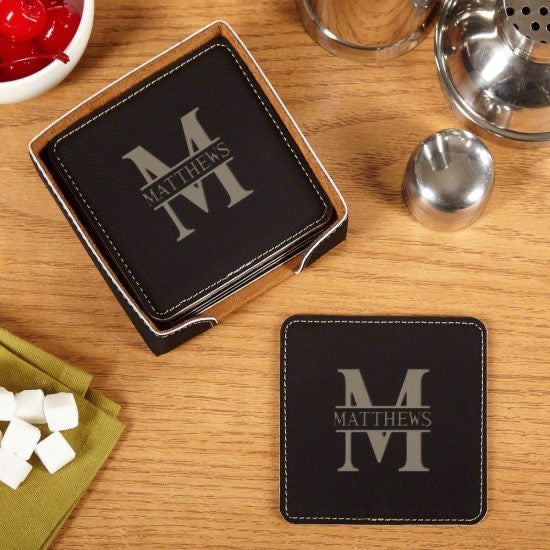 Coasters are one of the most underrated gifts. Everyone uses them and needs them, but they often get forgotten when moving into a new place! Make sure that your housewarming gift is unique and unforgettable with these custom leather coasters. This set of six is modern, attractive, and above all, very useful. Your hosts will be so pleased with this set whether they keep it in the living room, dining room, or even the home bar. The simplistic personalization makes this unique housewarming gift idea even more thoughtful as it adds a subtle personal touch to the room. These coasters will certainly be your new go-to housewarming gifts because they're guaranteed to please anyone!
Elegant Wine Chiller
There's nothing worse than wanting a glass of wine only to find that the bottle you have isn't in the refrigerator! Make sure your hosts are fully prepared for their housewarming party and future guests with a chilled bottle every time thanks to this custom marble wine chiller! This beautiful genuine marble chiller is easy to use and the classiest way to chill wine. It looks lovely in the kitchen or dining room even when it's not being used, making it an all-around winning gift. Just make sure you give a bottle of wine with this chiller, too!
The Ultimate Beer Lover Housewarming Gift
Looking for an awesome housewarming gift for the beer lover in your life? Well, you've found it! This incredible beer gift set has it all: a growler, pint glasses, and even bottle-opener coasters. Thanks to your impressively personalized housewarming gifts, the beer lover in your life will feel right at home in their new place. They'll have everything they need to enjoy a classic imported beer on game day as well as the necessary tools to bring home some craft beer to enjoy from a local brewery.
For the Guy Who Loves to Grill
Looking for a unique housewarming gift idea for someone who loves their grill? The best possible gift for them is this custom set of grilling tools! The lightweight, smooth bamboo on the entire set makes them easier to hold. They will love using the set for backyard grilling, but they can also take it to their parents' house for the family reunion or even on a camping trip thanks to the handy case. They'll never want to use their old banged up grilling tools again after getting this handsome set to celebrate their new home.
A Personalized Welcome Into Their Home
When someone moves to a new place, they don't quite feel like they're home for the first few weeks. Help your loved one settle into their new place with a personalized welcome mat! Once they see their name on this cute doormat, they'll feel right at home. Everyone who visits will feel personally welcomed in, too! Newlyweds and couples would especially enjoy seeing their new shared name on the doormat of their home together as they settle in. This is another fantastic go-to housewarming gift that will make anyone's new place a little homier!
Classic Personalized Housewarming Gifts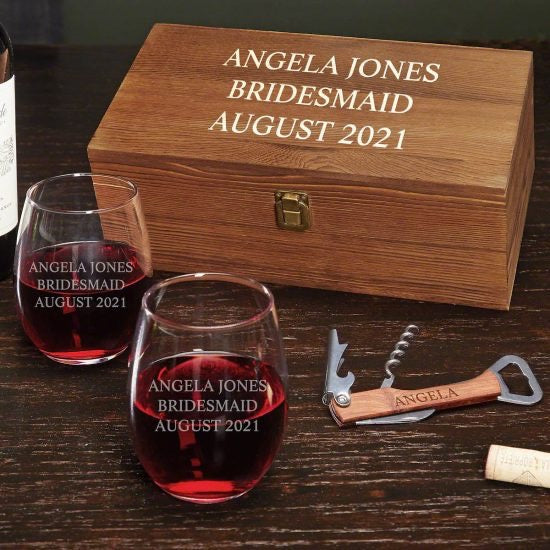 When you think of housewarming gifts, you probably think about wine glasses. They make great gifts for new homeowners, but you can make them even better by getting personalized ones! These custom stemless wine glasses are totally customizable so that you can make them especially unique for the recipient. The set also comes with a handy corkscrew multi-tool so that they can easily open a bottle of wine or beer, meaning they have one less tool to buy! This beautiful set of wine glasses is one of the best housewarming gifts, especially for a couple who just bought a home together!
Fun Game to Play at the Housewarming Party
Make sure that your host has a fun game to entertain guests with at the upcoming housewarming party and future events with this custom bean bag toss game! This classic, easy to play game is great for all ages. They can set it up inside or outside, take it tailgating, and even bring it on a road trip thanks to its lightweight and easily portable design. Your host will love being able to entertain their family, friends, and neighbors every time they host a cookout or party at their new home.
Eye-Catching Decanter Set
Now that they've unpacked and decorated their new home, the new homeowner has probably found a few places that could use something decorative. One of the best and most unique housewarming gift ideas is a luxurious whiskey decanter set! This three piece set is as decorative as it is functional. The detailed etching of the map of the world is absolutely stunning, and there's even a glass-blown ship sailing through the liquor inside the decanter! How neat is that? This set is quite the conversation piece that they will want to show off to every guest.
Cute Sign for Their Front Door
Getting decor for the outside of a new house is just as important as new decor inside! This adorable wooden sign will look great hanging on their front door, and it's a great way for visitors to know which house to go to. Once you give this sign to the person who just relocated, they'll feel right at home as soon as they reach the front door every day. This cute outdoor decor is one of the most thoughtful and adorable personalized housewarming gifts!
301+ PERSONALIZED SIGNS FOR THEIR NEW HOME>
A Unique Painting of Their New Home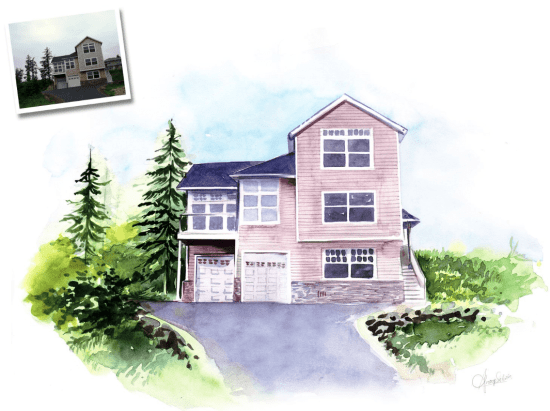 Whether you're the realtor who sold the house or you're a relative of the new homeowner, one of the most unique housewarming gift ideas is a custom painting of their new house! This special keepsake will remind them of the day they bought their home, which is especially important for first-time homeowners or a newlywed couple. Giving them a lovely watercolor painting of their beautiful place is a memorable, fun gift that will be the hit of their housewarming party! They'll want to display it right in their entryway or living room so that they can admire it every day. Plus, if they end up painting the outside or make major changes, they'll have a unique picture of it to remind them of what the house looked like when they first bought it.
Must-Have Personalized Housewarming Gifts
Are you still struggling to find the perfect housewarming gift? You can't go wrong with engraved wine glasses! This set of four stemless wine glasses are great for red or white wines, and they're definitely nice enough for formal occasions. The person you give these lovely wine glasses to will enjoy using them for their housewarming party, dinners with the family, and for entertaining friends.
Beautiful Custom Wood Sign for the Home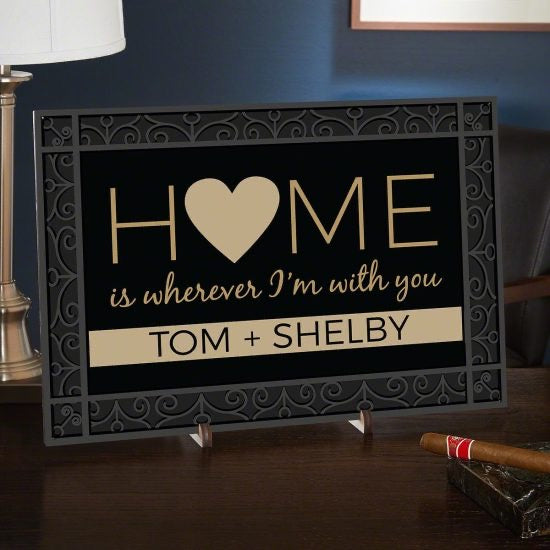 One of the best ways to make someone feel settled and at home in a new place is with a new piece of decor! This adorable custom sign is the perfect housewarming gift for any couple. The touching phrase "Home is wherever I'm with you" is just so sweet, and will make any lovebirds feel at home every time they see it. Moving is stressful, after all, especially for couples and families! This thoughtful piece of decor will give a sweet, personal touch to their new place.
Modern Bar Tool Set
Bar tools are absolutely essential for entertaining, so make sure the newly relocated recipient is fully prepared for their upcoming housewarming party and future events with this complete set! They'll have everything they need to make great cocktails for their guests with this modern stainless steel set. Throw in a set of cocktail mixers or a few bottles of liquor and they'll be ready to show off their bartending skills in no time!
A New Hobby for Their New Home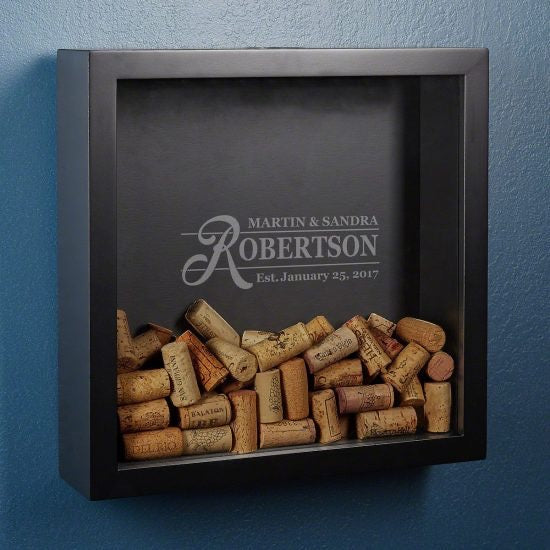 What do you get as a housewarming gift for someone who has everything? A fun new hobby to start in their new home! Moving to a new place is a great time to start a collection, especially with a shadow box. This way, as they get settled in, they can watch their new collection grow over time. The longer they live there, the bigger their collection will be! Plus, it's a really cool piece of decor. They can start collecting just about anything, such as wine corks, golf balls, bottle caps, ticket stubs, cigar bands, or whatever else they want! This fun housewarming gift is sure to please anyone you give it to.
A Cute Piece of Decor for Their Yard
Bring a unique, personal touch to their yard with this adorable personalized sign! Such a unique housewarming gift idea is a great piece of decor for the happy couple's new home, especially if they display it in their yard for everyone to see and go "Aww!" When visitors come over to their new house, they'll know exactly which home to go to thanks to the handy sign that points them in the right direction! Whether they're newlyweds or longtime sweethearts, any couple would be thrilled to get such a cute housewarming gift.
You Can't Go Wrong with a Cheese Board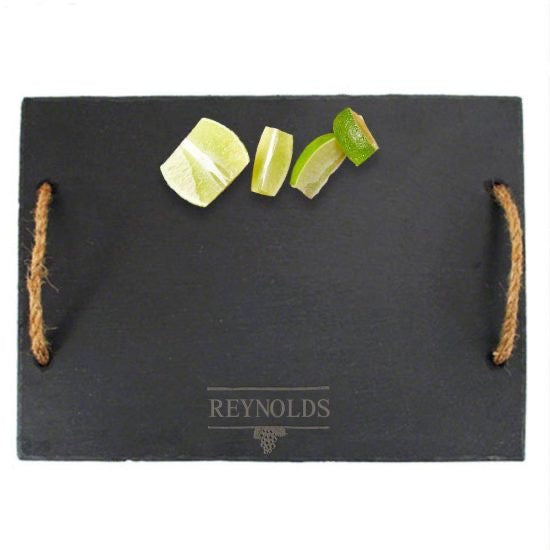 Make sure your host is serving in style with this lovely personalized cheese board! The convenient rope handles make transporting hors d'oeuvres so much more convenient. The slate can even be written on with chalk for identifying which snacks they're serving. This lovely kitchen accessory will be the new homeowner's favorite new thing to use at parties!
Upgrade Your Bottle of Wine Gift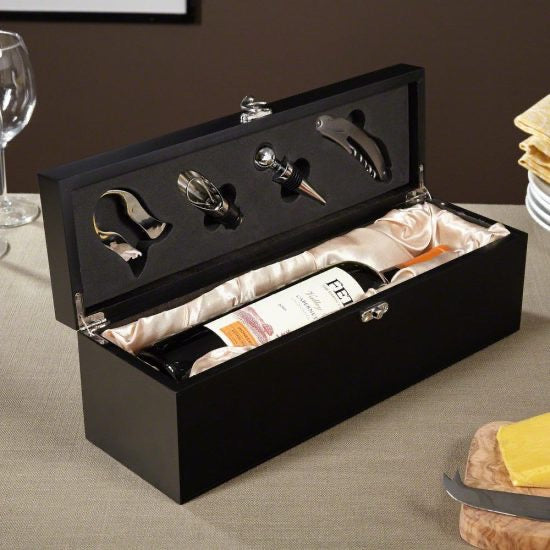 When in doubt, a bottle of wine is always a well-received housewarming gift. However, you can step it up a notch and present the bottle in style! This amazing wine bottle gift box isn't just a personalized box, but it also comes with essential wine tools: aerator, foil cutter, and a stopper. This way, your host can enjoy a bottle of wine as they unpack without having to search through their kitchen boxes for a corkscrew. This thoughtful and amazing personalized housewarming gift is a guaranteed win for anyone!