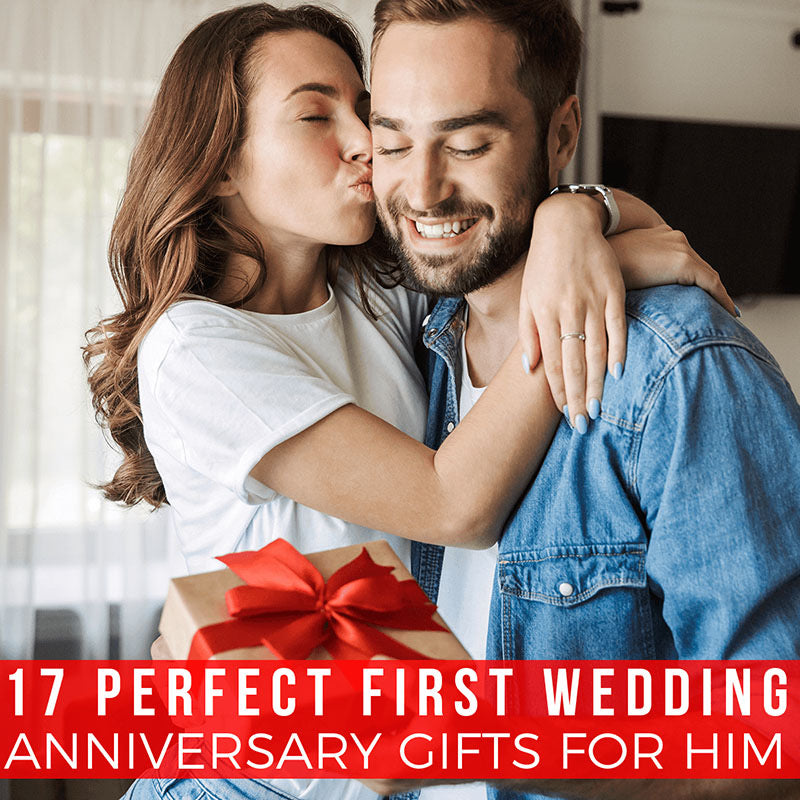 17 Perfect First Wedding Anniversary Gifts for Him
Celebrate Your Spouse with Awesome First Wedding Anniversary Gifts for Him
Congratulations on your first year of marriage! It's a big deal to reach that first milestone and it calls for an extra special gift. A good first wedding anniversary gift for him should focus on how much you love and appreciate him, but that doesn't mean you have to get him something cheesy or overly romantic. By paying attention to the things he likes and getting him a gift that you know he'll enjoy, it shows that you really care! The traditional 1 year wedding anniversary gifts for him are something made of paper, or you could go the modern route and get him a clock gift. Of course, you can get him something non-traditional as well if you like. No matter what kind of gift you decide to get him, he will love that you went to so much effort to make your first anniversary special.
Creative 1 Year Wedding Anniversary Gifts for Him
How cool is this custom whiskey gift set? Perfect for the husband who enjoys a scotch on the rocks now and then or an Old Fashioned when he goes out with his friends, this customizable set allows him to enjoy his favorite drink to the fullest in his own home. The lid of the wooden gift box is engravable with up to two lines of text in your choice of font so that you can make it as romantic, funny, or unique as you want. He will especially love sharing a drink with you to celebrate your first anniversary together using his new custom glasses!
The Coolest First Wedding Anniversary Gift for Him
Every man deserves to feel manly and strong as he drinks his ale, and your first anniversary is the perfect occasion to treat your husband to his very own beer stein so that he can enjoy his favorite brew like the King of Vikings! This unique stein is designed to resemble the traditional German-style beer steins used in the Fatherland of beer, which makes it ideal for displaying in the kitchen or his home bar when he's not using it. Once he uses this cool, sturdy stein to drink his favorite beer from, he'll never want to drink out of a regular glass or bottle ever again!
Impressive Anniversary Gifts for Him
Looking for a traditional first wedding anniversary gift for him that he'll really enjoy? He'll love this awesome poker set and cigar-holding whiskey glass! The playing cards and cigar bands from his cigars are more of a subtle kind of paper gift, but you know that he'll enjoy them for sure. He's always wanted to host a weekly poker game with his friends, after all, and now he'll have a gorgeous set to do so!
Unique Home Bar Sign
For as long as you've known your husband, he's always wanted to build his own home bar. Now that you're married and in your first home together, you can help make his dream come true! Let him know that you fully support his dream by giving him the very first piece of his home bar: a custom sign! Perfect for surprising him with on your 1st anniversary, he'll be so excited that you are on board with his idea and will get started right away. As soon as his home bar is built, he'll proudly display the custom sign you gave him front-and-center for all to see.
The Best 1 Year Wedding Anniversary Gifts for Him
How awesome is this custom beer mug box set? Your husband will be over the moon when he opens up the classy black box to find these matching personalized mugs inside! He'll immediately want to try them out, so make sure you've got plenty of his favorite beer on hand. He'll love sharing these awesome beer mugs with a friend as they watch the game on TV or play video games together. In fact, thanks to your amazing anniversary gift, he'll never want to drink beer any other way from now on!
499+ AMAZING GIFT SETS FOR HIM>
A Sweet Paper Anniversary Gift
How cute is this upcycled dictionary page? A work of art made from the page of an old dictionary, even the manliest husband can't help but say "Aww!" when he opens up this unique gift. This adorable print is ideal for hanging in your bedroom or displaying in the living room, and every time he looks at it he'll be reminded of your love for him. He will treasure this traditional paper anniversary gift from your 1st anniversary until your 51st and beyond!
Cool First Wedding Anniversary Gift for Him
One of the most thoughtful first anniversary gifts you can give is something that will help your husband relax after a long day. You know he likes to unwind with a nice scotch on the rocks, so a custom rocks glass and whiskey stone set is the ideal gift! He will love using these personalized glasses that are specially engraved just for him and how they make his usual drink even cooler. Thanks to your thoughtful 1 year anniversary gifts for him, he can enjoy his favorite drink to the fullest and relax more than ever before.
Not Your Typical Paper Anniversary Gift
So, you want to get your husband a traditional gift that has something to do with paper? You can't go wrong with a cigar band shadow box! With the paper aspect being the cigar bands he saved from every stogie, this shadow box is a cool way to collect and display them. He can display this unique decoration in his office and will enjoy watching his collection grow over the years. As a subtle reminder of your very first wedding anniversary as well as a thoughtful gift that relates to one of his hobbies, this amazing shadow box is one of the best 1 year anniversary gifts for him.
Badass Anniversary Gifts He'll Love
Is your husband an outdoorsy kind of man? Then for your first anniversary, get him something he really wants: a custom ammo can set that comes with a hunting knife, hatchet, and cigar flask! This badass set of manly gifts are perfect for taking on his outdoor adventures whether he's hiking, hunting, camping, or fishing. He'll never leave home without his trusty new hunting knife and cigar flask so that he's always prepared to put together a tent in a flash or celebrate a great trip with a drink and a stogie.
An Interactive Gift He'll Enjoy
You know that your husband loves beer, but he's got plenty of beer glasses, bottle openers, a few growlers, and even an assortment of koozies. One of the coolest 1 year wedding anniversary gifts for him you can get a beer lover who has everything is a beer bottle cap sign! This cool wooden sign is an interactive work of art he'll love filling up with all of the bottle caps from his favorite beers. Who knows? By your 2nd anniversary he might have it filled up so that you can get him a new one.
For the Husband Who Loves to Grill
He's already got a grill and plenty of BBQ tools, but does he have a set of unique meat rubs and spices? Now he will! This amazingly manly BBQ gift set is one of the coolest first wedding anniversary gifts for him because he'll want to start grilling up a couple of steaks to enjoy on your anniversary using some of these new sauces right away. The cool tool box these sauces come in is perfect for storing all of his grilling tools or actual tools, and he'll have so much fun trying out each and every bottle in the set to see which flavors he likes the best. The perfect companion to this amazing gift set is a cutting board, like the one below!
Upgrade His Cutting Board
You and your husband probably got a cutting board for your wedding, but now it's a year later and it's pretty worn. Your hubby loves to cook and uses the cutting board all the time, but it just can't withstand his chopping skills for much longer. What he needs is a butcher block, and this monogrammed acacia cutting board is the perfect upgrade! As soon as you give it to him on your first anniversary, he'll want to get started on a delicious dinner right away so that he can try it out.
Stunning First Wedding Anniversary Gift for Him
One of the best ways to show your husband how much you love him is by making him feel like royalty on your anniversary. Starting with this impressive crystal decanter set, he will feel like a king as he sips on his favorite whiskey from the stunning glasses! This regal whiskey decanter set will look amazing on display in his office or home bar, and the sparkling crystal will make any whiskey look like liquid gold. Whether he's having a drink or just admiring the set, he'll feel like King Midas himself thanks to your stunning 1 year anniversary gifts for him!
A Place for His Watches
Now that you've been married for a year, you've noticed some of your husband's habits like leaving his watches strewn about the house or him constantly misplacing his favorite watch because it keeps falling behind the nightstand. One way you can solve his problem and give him a nice gift is with this custom watch case! He will love being able to keep all of his watches in a convenient place that also keeps them clean and organized. The engraving on the glass is the cherry on top of this thoughtful and practical clock anniversary gift!
Cool Anniversary Gifts He Really Wants
Your husband might appreciate a hand-written set of love notes, but what he'd really enjoy as an anniversary gift is this badass ammo can set! He will enjoy drinking his favorite beer from the custom pint glasses almost as much as he'll love using the awesome bullet-turned-bottle opener to crack open the bottles. The next time he goes camping or hunting, he'll be sure to take along his custom ammo can full of gear and his new pocket knife at his side. Rest assured, he'll be using each and every item in this incredible set for years to come!
A New Watch
Whether you're looking for something to go with the watch case above or you haven't decided on the perfect first wedding anniversary gift for him, this Samsung Galaxy Watch 3 is ideal! Designed to look like a regular watch with all of the capabilities of a high-end smart watch, the Galaxy Watch 3 is one of the coolest accessories on the market. Not only will he be able to stay updated on his notifications, emails, weather, and activity, but this watch will also detect any falls and even his heart rhythm! This way, you can rest assured that your husband is keeping an eye on his health and looks stylish all at the same time. Plus, it goes with the modern theme of the clock gift!
Dress Up Your Gift
Do you already have the best 1 year anniversary gifts for him and you're looking for something to go with them or are you totally stumped on what to get your husband? Either way, this custom wooden gift box is the ideal way to give your anniversary gift to him! Filled with your unique gifts or a nice bottle of his favorite spirit, this handsome gift box that you can customize shows just how much you appreciate and love your wonderful husband. He will certainly enjoy using this gift box to store his keepsakes or to display a collection for years to come!