Etsy is an online store known for hand-made, customized gifts that you can't get anywhere else. When you are in need of the perfect gift, look no further than these excellent Etsy gift for men! You'll find gifts that are customized and perfectly personalized that you cannot get anywhere else. Go all out for this gift by getting a unique present from Etsy that you know he wouldn't be able to get anywhere else! Any guy you are buying for will love receiving such a special and uncommon gift from you. However, we know Etsy is a big website and it may be daunting to try and find the perfect gift. Don't sweat it! We've found the absolute best Etsy gifts that any man will go crazy for.
A Gift Set to Stun Him
Nothing roars "amazing Etsy gift for men" like this bull decanter set! No man will be able to resist the jaw-dropping beauty of this glassware set, and they'll want to show it off to all their friends. It will make him feel like the coolest person ever to have such a unique gift in his home that he can use to enjoy his favorite whiskey.
Attractive Sign for His Home
Home signs are popular Etsy gifts for him because the personalization makes them super cool and special, and all men who receive them will hang them up on their walls with pride. This brewery sign looks so awesome that any man will want it hanging in his home bar, kitchen, or dining room. Give his home a unique piece of decoration he'll treasure forever with this custom sign!
Spherical Amazingness
Classiness is a factor that's important when gift-giving, which is why Etsy gifts for men are such phenomenal gift ideas. This fancy rocks glass with whiskey spheres will chill his whiskey in a unique and effective way that he'll find insanely cool. He'll never want to enjoy whiskey ever again without these uncommon spheres cooling down his whiskey in his new personalized glass.
The Ultimate Humidor
Ensure he has the coolest humidor with one that is not only personalized, but is a repurposed ammo can too! This is a phenomenal gift for keeping all of his sensitive collection at the perfect temperature and humidity. Sure, these are purpose built for cigars; however, they keep everything fresh. Even if he loves collectable baseball cards, comics, and anything else, he can keep it perfectly stored and protected in his custom ammo can humidor!
Etsy Gifts for Men that Drink Beer
You know you can't miss with a gift box that has been jam-packed with personalized gifts, so you know he will love this custom beer gift set! This box set that is filled with the ultimate beer gifts has been made just for him, and the engraving on each piece really shows that! This is an excellent choice because for any guy because he can take beer on-the-go or drink it at home whenever they please. Plus, his coasters have bottle openers built-in, how cool is that?
489+ SUPER COOL GIFT BOX SETS FOR HIM>
A Host's Best Friend
Without the proper tools, he won't be able to keep his drinks cold. That's why this personalized ice bucket set is an excellent Etsy gift for him! Instead of an ordinary ice bucket or ice chest next to the pool, this handsome, insulated bucket with his name on it will keep the cocktails in these glasses chill no matter how hot it is outside.
Monogrammed Perfection
When everything in a set is personalized, it makes it that much more special to the recipient. The box, glass, and flask in this whiskey gift set are all monogrammed, so he will feel incredibly loved when he receives this gift. He'll want to use this gift to sip his favorite liquor every chance he gets.
Custom Whiskey Glassware Etsy Gifts for Him
Etsy specializes in personalized items, and what man wouldn't want a handsome, personalized whiskey decanter set? This unique set will make any man feel like the most sophisticated man of all time when he is sipping his favorite whiskey while gazing at his decanter displayed on the home bar or mantle.
Etsy Gift for Him and His Barbecues
Everyday tools are made so much cooler when they're personalized. This is most definitely the case with this set of bamboo BBQ tools. This set may look like a normal BBQ tool set, but the classy customization will catch the eye of any man, whether he grills all the time or he's never touched a grill in his life. He'll love using these tools while showing off their case with his name on it.
Bet on this Gift
This personalized poker set is a phenomenal Etsy gift because it will provide him and his buddies hours of fun. They'll all be super impressed with the quality and the fact that he has one of the finest quality cases customized with his name! All the poker nights he will plan when he gets this set is sure to show you that this is one of his favorite gifts he's ever gotten!
Refined and Rugged Etsy Gift for Men
Help him be ahead of the cutting and chopping game with this engraved cutting board. You know he spends time in the kitchen making food, so why not make it more awesome by having him work with his own personalized cutting board. This insanely handsome and rugged gift will have him feeling like a 3-star Michellin chef when he is in the kitchen cutting food on it.
His Name on Everything
Whether he wants to celebrate a special occasion, relax on the couch, or anything in between, he'll definitely reach for this cigar and beer gift set every single time. This set has all the necessities for sipping on a brew and smoking a stogie regardless of the occasion. This makes an even more fantastic gift because his name is on all the accessories.
Rustic and Adventurous Gift Set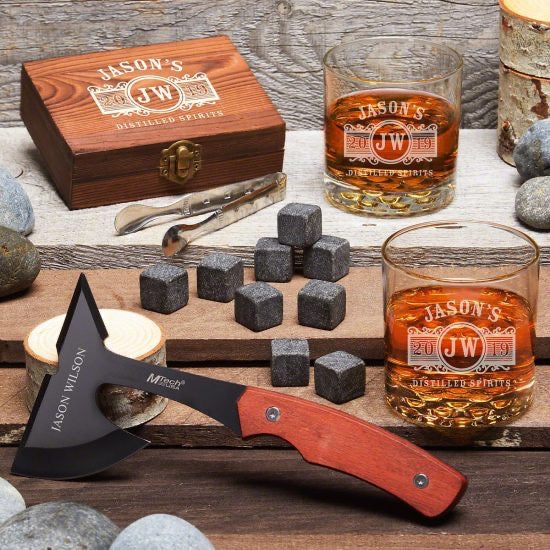 A lot of the coolest Etsy gifts for him are both very unique and useful, which is what makes people love them so much. He'll love this whiskey gift set that will help him enjoy deliciously chilled whiskey in his personalized glasses, and the axe adds a unique twist to the gift that he'll really appreciate.
Beverage Accessory of His Dreams
Make his beverage hopes and dreams come true with a drink growler that is perfect for bringing his favorite drink with him wherever he goes. Whether it's for ice cold beer, piping hot coffee, or anything else, he'll This Etsy gift for him will make him extremely happy and full of something delicious.
For the Most Legendary of Men
If there's anything that will bring a man joy, it's a personalized whiskey gift set. This gift set is a perfect Etsy gift for any "legendary" man, and he'll really enjoy using it all the time. He'll love this gift set and agree that it's an awesome gift because of how much it'll help him enjoy whiskey.
643+ AWESOME WHISKEY GIFTS FOR MEN>
Macho Wine Gift Set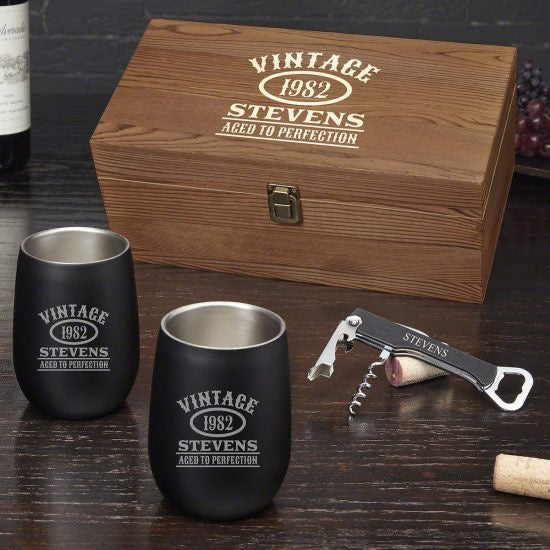 Wine can be a manly beverage, but most wine glasses are dainty and frail—that's where Etsy comes in to save the day! These ultra-handsome stainless steel wine glasses are super masculine and awesome, and any man who drinks wine from them will feel like the coolest dude of all time. He'll be extremely grateful that you got him this macho wine gift set.
Impress the Party
Transporting beer bottles will never be easier than when he uses this custom wooden beer caddy! He'll feel totally awesome bringing this to the barbecue, party, or any other occasion, and everyone who sees his unique beer caddy will be very impressed by this incredible Etsy gift for men.
Insanely Beautiful Etsy Gift for Him
When you're looking to get him a fantastic Etsy gift, you better go big or go home. This personalized whiskey decanter set is an insanely beautiful gift set that he won't be able to stop looking at. Nothing will bring him more joy than pouring whiskey from his personalized decanter and sipping whiskey from these stunning crystal Glencairn glasses.
Their Own Special Tool Box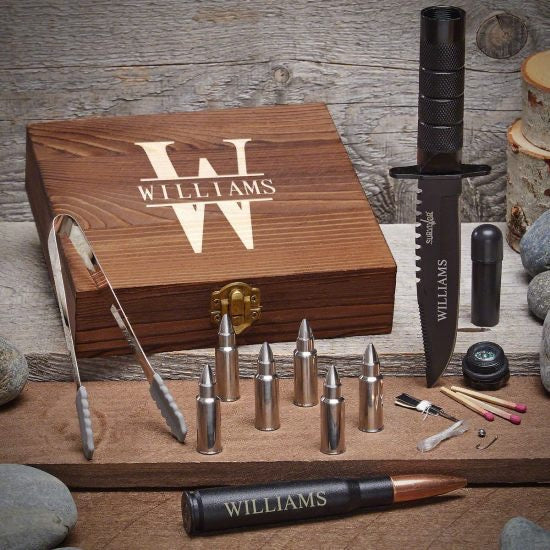 Men tend to love useful, unique tools that make their lives easier and better. That's why the perfect Etsy gifts for men are these customized tool sets that are full of amazing items. He will love that the box and a couple of the tools are engraved with his name, and he'll greatly enjoy using these tools whenever possible.
Best of the Best Beer Gift Set Etsy Gift for Men
Etsy has some of the best beer gifts, and this beer gift set is the best of the best! The growler makes it easy for him to get beer from the brewery and enjoy it from the comfort of his own home. He'll be a huge fan of having his name on all the items in this set because it will make him feel extremely cool and special!
Novel Whiskey Glasses
When a man wants to drink whiskey, he doesn't want to drink it out of any old glass. Get him his new favorite glasses: these personalized whiskey glasses. The leather wrapping adds a unique touch that he'll really like, and he'll gaze at his monogram with a huge smile on his face as he sips his favorite whiskey.
Transform His Movie-Viewing Area
You can't go wrong with a customized home sign, especially one that makes his home theater so much cooler. Whether he has a fancy theater in his home or just a television in his living room, this stunning theater sign will make the space feel like the fanciest theater in the world.
Ultimate Manly Etsy Gift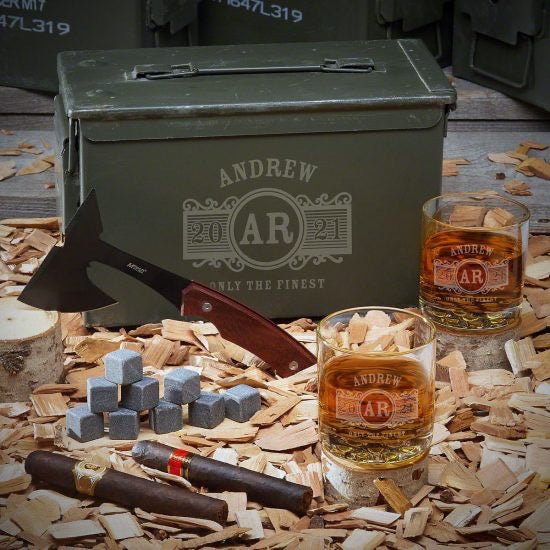 The only thing that makes an awesome whiskey gift set even more awesome is the container the items come inside. This ammo can gift set is such a phenomenal Etsy gift for him because the personalization separates it from any other whiskey gift set, and he'll feel really special when he receives such a personal gift. He'll want to use the ammo can as a container for all his whiskey accessories!