Finding the perfect Christmas present for one person can be hard enough, but searching for a Christmas gift for a couple? Talk about challenging! Christmas gifts for couples should be exceptionally nice, personal, and perfect for both halves of the couple to enjoy together. But what separates a nice gift from just an okay one? What kinds of gifts can couples enjoy together, especially around the holidays? We found gifts that are high quality and unique, so we know that couples will be able to spend their holiday time together using these amazing gifts. These Christmas gift ideas for couples will give them so much holiday cheer that you will feel like Santa Clause himself because of how good your gifts are!
A Decanter Set for Under the Tree
When it comes to the perfect gift for couples this Christmas, you can't go wrong with a gift that lets them celebrate together! They'll love the classy personalization on this whiskey decanter set. On Christmas, as well as on other special occasions, the couple will greatly enjoy sipping a drink together using their matching glasses. They'll create many lasting memories using this gift set!
Most Useful Couples Gift
A gift that's both useful and gorgeous? That's just perfect! This leather valet box is one of the best Christmas gifts for couples because they will love how convenient it makes storing their watches, rings, tie clips, bracelets, etc. They will greatly appreciate no longer having to keep track of the location of all of these small items. It'll also look fantastic sitting atop their dresser or on their bedside table.
Merry Christmas, Have Some Wine
A gift that's beautiful and has their name on it? Say no more! One of the best Christmas gift ideas for couples is this wine decanter set because of how gorgeous it is and how it provides them a way to really enjoy their time together. Whether the two of them are just occasional wine drinkers or basically sommeliers, they'll greatly appreciate the best wine glassware out there. When they're having a date night or celebrating an anniversary, they'll love using this gorgeous set to enjoy wine together.
On the Wall Gift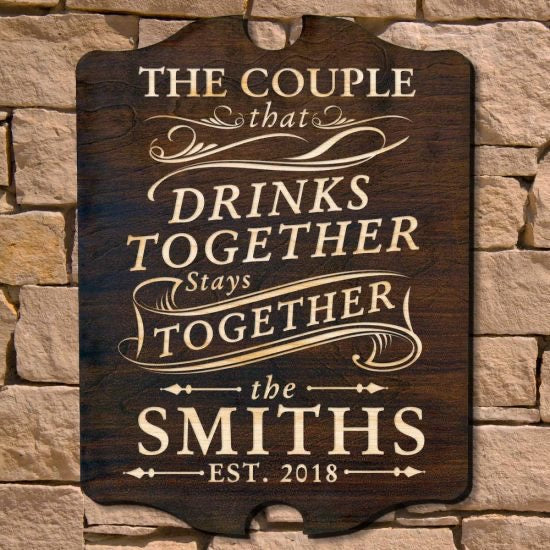 There couldn't be more truth to the words on this sign, and the couple would definitely agree! This handsome personalized wall sign is the perfect piece of decor for their home bar or kitchen that will brighten up the space like no other. They'll absolutely love the way it looks in their home, and they'll greatly appreciate such a unique Christmas present.
Gifts for Couples to Enjoy Their Favorite Spirits
When two people are a couple, they go through many different occasions together. From celebrations like Christmas to their children graduating and getting married to times when they simply need to relax, they'll be going through it together. One of the best gifts for couples is something they can use together no matter what the occasion—this whiskey glass box set. With their matching glasses, they'll have a toast to whatever they're going through in life, together.
555+ PERSONALIZED WHISKEY GLASSES COUPLES WILL LOVE>
Games, Games, and More Games
When couples have been together a long time, sometimes, they run out of things to do together. That's why this 8 game wooden game box is a phenomenal Christmas gift idea for couples! The couple will have loads of fun playing these games together, and it will provide them hours and hours of fun bonding time. They'll also have a blast playing with friends on game nights!
Chopping Around the Christmas Tree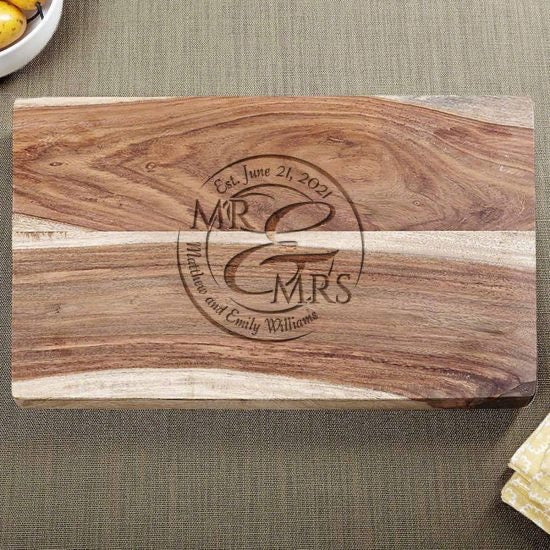 Just as puzzles are a great way to spend time together, so is cooking in the kitchen! With this personalized cutting board, any couple will have such a fantastic time cooking together, creating a delicious meal that the two of them can share together. When they're finished eating and onto the clean-up, they'll rinse off this beautiful board and display it in their kitchen for all to see. It's such an amazing gift that's both perfect for cooking and for decor in their home!
Just a Couple of Cognacs
As special as Christmas and other holidays are, having a glassware set stored away just for special occasions make those days seem even more significant. This cognac box set is one of the absolute best Christmas gift ideas for couples because they'll love pulling it out a few times a year and having a glass of cognac and a cigar to really celebrate the occasion. They'll love sharing those special moments together throughout the year, like birthdays and their anniversary.
Christmas Cocktails
What is one thing a couple loves more than enjoying time together? Making some delicious cocktails together with this large cocktail shaker! They'll have a blast figuring out how to whip up their favorite mixed drinks using this super unique gift. By next Christmas they'll be experts and want to make everyone holiday drinks!
A Christmas Gift in a Can for Him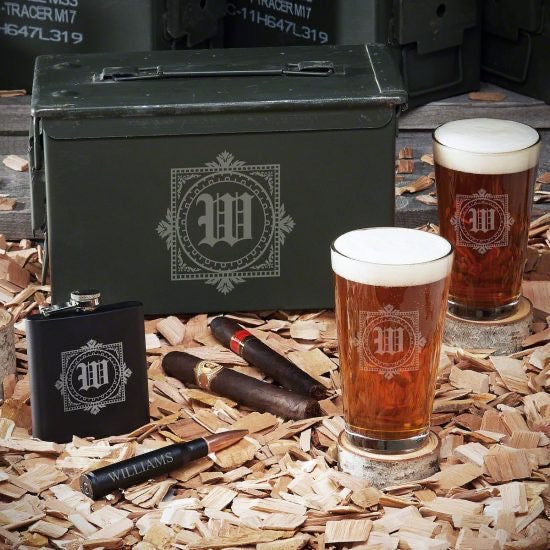 When the man half of the couple opens a gift from you, you want his reaction to show how much he loves it. When he sees this ammo can gift set, his face will say it all—he LOVES it! The customized ammo can is very special, and he'll really like using it to store photographs, drinking accessories, or anything else they want. He'll have a great time around the holidays sipping beer from the personalized pint glasses.
Hottest Holiday Gift You Can Buy
Talk about a hot Christmas present! This fire pit with a dome screen is an excellent couples' gift that is the perfect finishing touch to their backyard, and will be especially useful during the cold winter months! They'll love being able to make s'mores or other campfire foods, or they'll simply relax and feel the heat as they sit by the fire together. They'll be so surprised by this exceptional fire pit and be very thankful to receive one of the most unique Christmas gift ideas for couples out there.
A Box Set They'll Love
You want a gift that will knock their socks off. Well, you're in luck. This whiskey decanter set is guaranteed to brighten up their faces as soon as they rip open the wrapping paper! They won't be able to wait to pour themselves a glass of any spirit that's on hand into these awesome personalized glasses! This will instantly become their favorite glassware set to use. They can have a couple of friends over to drink with them as well!
Gifts for Couples Who Want to Cherish Memories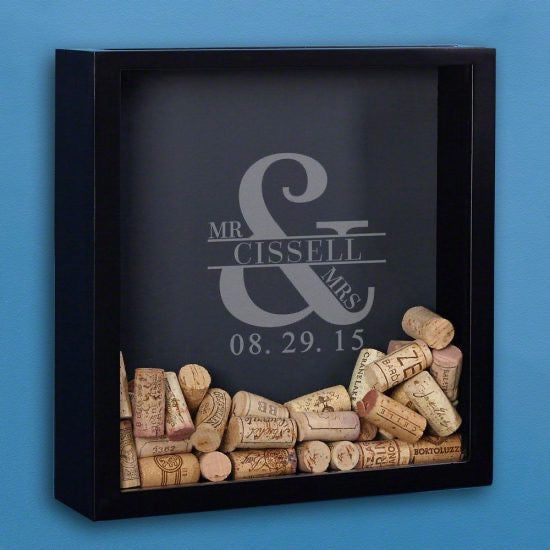 It's important that couples are able to cherish memories together. With this shadow box as a Christmas gift, they'll be able to tangibly save memories! Whether it's wine corks, bottle caps, photographs, ticket stubs, or anything else, they can keep them in this shadow box so that the memory is physically preserved. It makes a terrific, meaningful decor item that they'll adore having hanging on the wall in their home.
His and Hers from Santa Clause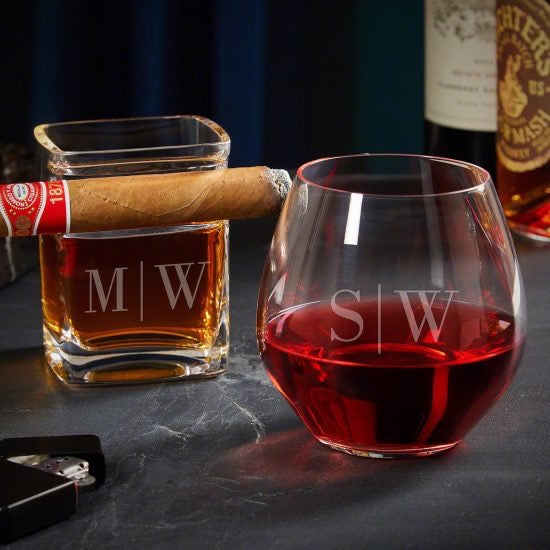 Maybe he likes scotch, but she can't stand it and prefers wine. When both halves of the couples couple don't like the same things, gifts for couples need to have a little variety. This cigar and wine glass set is absolutely perfect! They'll love having their own glass to enjoy their favorite beverages, and their own personalization makes it even more special. They'll greatly enjoy spending time together, sipping their respective glasses.
163+ TOTALLY AWESOME WINE GLASSES>
Who Doesn't Want a Bottle of Liquor
You know any couple would love a bottle of nice scotch or other liquor, but you don't want to just hand it over. That's where this personalized gift box comes into play! This box is the perfect way to gift a delicious bottle of liquor while also giving them an extra gift too. Once they have taken out the bottle, they'll love using the personalized box to store Christmas memories, photographs, or anything else they desire.
Put Yourselves Together
Puzzles are a great way for couples to spend time together. That's why this photo jigsaw puzzle is one of the most awesome Christmas gifts for couples! They'll have such a blast putting together a picture of the two of them, or their dog, or anything else you know they'd love!
Best Gift on the Globe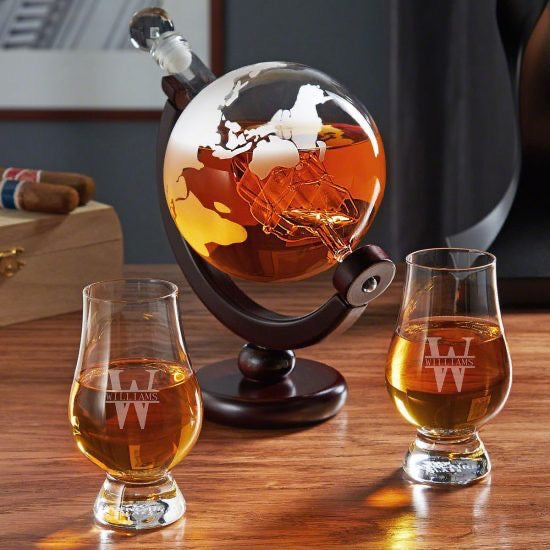 When you see this globe decanter set, you'll immediately know it's a fantastic gift for couples. The gorgeous globe decanter will have them dreaming of their future travels together and keep them motivated to one day take that trip they've always wanted! As they sip whiskey from the handsome Glencairn glasses, they'll start planning their trip excitedly.
Make Their Wall Beautiful
Nothing makes a couple happier than a beautiful piece of home decor that has their name on it! This personalized bar sign is absolutely gorgeous, and it will look fantastic hung up on the wall in their home. It'll brighten up their home in a way that no other piece of decor could, and they'll really appreciate such a unique and lovely Christmas present that not only brightens up their holiday spirits, but their spirits every single day!
Set of Wine Christmas Gift Ideas for Couples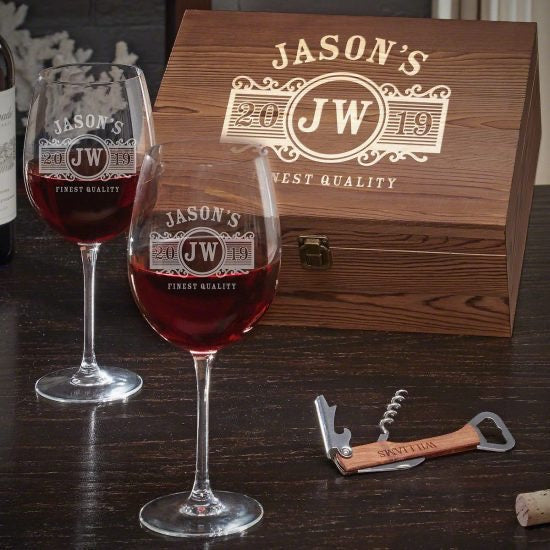 Classy gifts are always good go-tos around Christmastime because people are feeling fancy during the holidays. This wine gift box is such an incredibly classy gift, the couple you gave it to won't be able to believe it! The elegant stems of the personalized glasses will make the couple feel so sophisticated as they sip their wine. They'll be so thankful for such a fancy gift that makes their life feel a little more elegant.
Very Chill Holiday Gift
Maybe you have his gift picked out, but you still aren't sure about hers. Go with something you know she'll love—this personalized marble wine chiller! Not only is it absolutely gorgeous and customized just for her, but it'll keep her favorite bottle of wine cold for hours! No more pouring herself another glass on Christmas or any other special occasion and finding out it's room temperature!
Cozy Christmas Couple Present
Few things are better than snuggling up underneath a blanket with someone you love, especially if it's a weighted blanket. That's what makes this gravity blanket one of the most amazing gifts for couples this holiday season. As one of the most popular kinds of blankets, this weighted blanket will help them sleep better than they ever have in their lives. It's such a simple, easy gift that will make them happy for a very long time!
Toss the Bean Bags
One thing couples love to do is compete against each other in fun games. This bean bag toss game set is one of the most terrific Christmas gift ideas for couples because it will give them the opportunity for hours and hours of competitive fun! They'll have a blast playing this game together as well as with family and friends.
Cheesy Christmas Gift Ideas for Couples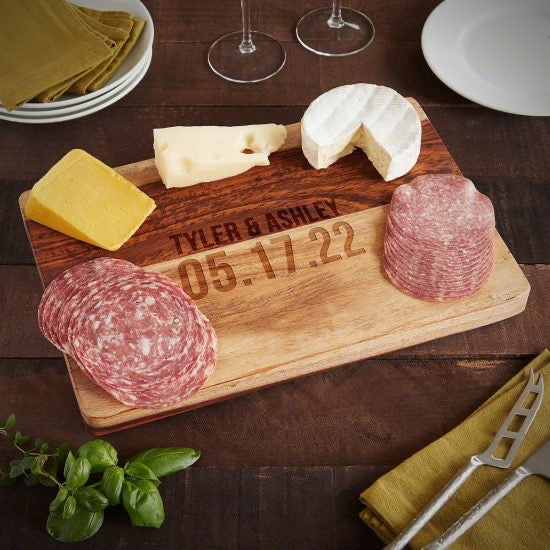 This personalized charcuterie board is absolutely gorgeous, and any couple you're buying for will fall in love with it immediately. When they have friends over for the holidays, they'll really like having hors d'oeuvres on this special board. When they're celebrating their anniversary together or just having a quiet evening to themselves, they can make their own special cheese and meat spread and enjoy it together.