9 Of the Best Personalized Wedding Glasses
Whether you're in search of glasses for the entire wedding party, just the bride and groom, or even as favors to all of the guests, you've got to get some that are personalized! By giving a personalized wedding glass, you're giving the best wedding gift and keepsake that's both unique and practical so that it can be enjoyed for years to come. You have tons of options to choose from for unique wedding glasses: champagne flutes, wine glasses, beer mugs, rocks glasses, and more! You could even get different glasses for certain people in the wedding party such as flutes for the bride and groom, beer mugs for the groomsmen, and wine glasses for the bridesmaids! Whatever you choose, these engraved wedding glasses are sure to be a huge hit for everyone you give them to.
A Personalized Wedding Glass for The Bride and Groom Each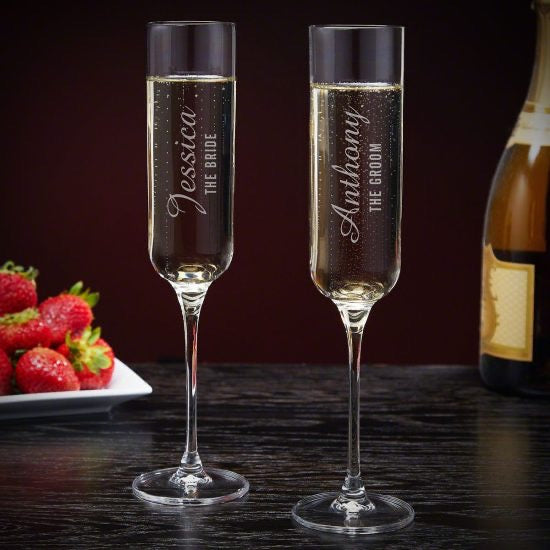 You can't have a wedding without a wedding toast, and the bride and groom deserve to have a truly special moment with their own custom champagne flutes! This beautiful pair of engraved wedding glasses is perfect for using at their wedding reception and for every anniversary for the rest of their lives. Every time they use them, they'll fondly remember the moment they raised their glasses with all of their loved ones and enjoyed a drink together as husband and wife for the first time.
His and Hers Custom Glasses
How cute are these matching glasses? Perfect for the bride and groom with different tastes in spirits, these adorable personalized glasses are sure to be their favorite ones to use every night together. The bride and groom each gets their own personalized wedding glass featuring their name and initial using the same design so that the pair matches while also being different. After they use these his and hers glasses on their wedding day, they'll want to use them every night at dinner, too.
Complete Wedding Glass Gift Set
Want to get the happy couple something really special? Go all out and get them this incredible personalized wine gift set! Complete with personalized wine glasses, a matching gift box, and even an engraved wine stopper, this set is sure to leave them speechless when you give it to them. You know they'll be so excited to enjoy a bottle of wine together as husband and wife for the first time using this unique wedding gift set, and it's sure to be enjoyed at every special occasion such as their anniversary from now on!
Monogrammed Decanter Set for the Newlyweds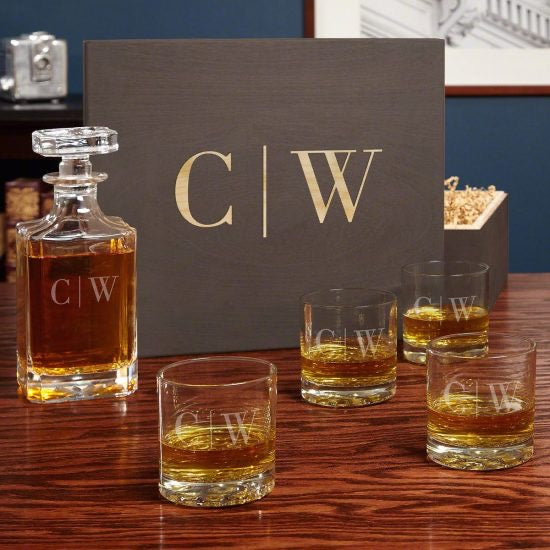 Just giving glasses doesn't seem like enough of a wedding gift? Get the bride and groom this stunning decanter set! They can share a romantic drink together as newlyweds or a celebratory toast with their loved ones using this six piece set. Elegantly engraved with their initials, this classy crystal set is bound to be displayed prominently in their home for the rest of their lives in between uses.
Engraved Wedding Glasses for the Wedding Party
Looking for custom glasses to give to the wedding party? Look no further than this impressive set of five beer mugs! Each mug is engraved with the groomsman's name, title, and the date of the wedding. This way, they'll have an awesome keepsake to remember the wedding forever and how fun it was to be the groomsmen. Perfect for giving at the bachelor party or the reception, the groomsmen will be stoked to get such awesome gifts! Bonus: you can get this same design on a set of five wine glasses for the bridesmaids!
Personalized Wedding Toast Gift Set
Make sure the bride and groom has everything they need for their wedding reception with this thoughtful gift set! They will adore having these gorgeous stainless steel champagne flutes for their wedding toast as well as the portable chiller to keep their drinks at the perfect temperature. This beautiful gift set will be an important part of their wedding day and will be treasured forever!
Romantic Wedding Wine Decanter Set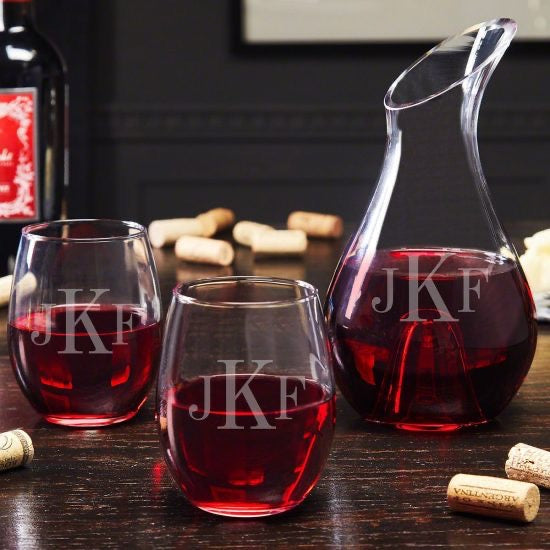 When a couple gets married, they usually end up sharing a last name. Celebrate their new initials by getting them monogrammed on this gorgeous wine decanter set! The perfect wedding gift, this three piece set is ideal for enjoying a nice bottle of wine together as newlyweds. When they're not using this beautiful decanter set for after-dinner drinks and celebrating special occasions, it will look lovely on display in their kitchen or dining room.
Engraved Wedding Glasses The Bride and Groom Will Adore
The best way to have a wedding toast is with a custom champagne flute, and this lovely gift set is perfect for such occasions! The bride and groom get to have their own unique glass with their name on it, and the beautiful engraved gift box will make sure that their flutes stay together forever just like them. Once they use this set for their wedding, they'll make sure to enjoy it every year from now on for their wedding anniversary!
Everyone Gets a Custom Glass
How awesome are these custom rocks glasses? Perfect for giving everyone in the wedding party from the groomsmen to the ushers, this unique set is fully customizable so that everyone gets their own uniquely engraved glass! In fact, you could do a bulk order and give them out as wedding favors for all of the guests. Having custom glasses at the wedding is sure to lead to many fun pictures and memories, and everyone will remember the amazing day each time they use their glass.
117+ OF THE BEST PERSONALIZED WEDDING GLASSES>