Although parents appreciate all the help they can get with their newborn, non-baby gifts for new parents are fantastic because they help mom and dad relax, feel like adults again, or even provide a much-needed break from the fussy feedings and dirty diapers. At this point, they believe they have all the diapers and formula they could ever need, and what they really could use is a way to unwind after dealing with all the duties and responsibilities of being an adult. So, make these new parents feel like people again with these awesome non-baby gifts. We've put together the very best gifts for new parents, that they will love as much as their first child!
At Home Date Night Kit
A great non-baby gift for new parents is one that allows them to recapture the romantic date nights they used to go out on. Using the gifts in this wine gift set, they can share a bottle of wine, and even save the rest for later since they won't want to drink too much in case the baby wakes. If they pair this with a nice meal, it'll be like they're at their favorite restaurant once again, all they'll be missing is the waiter!
Cocktail Gift for New Parents
When the baby is down for the night, both parents won't be able to contain their excitement when they get a refreshing cocktail after a long day of parenting. This whiskey stone set is the perfect non-baby gift for new parents because they can drink their glass of neat whiskey or have their favorite mixed drink at the end of the day. The stones are ideal for the busy parent too because they may not remember to have the bottle chilled or even have ice cubes in the refrigerator. When they need a cocktail at the end of the day, look no further than this gift set!
Make Their Home Feel Like Their Own Brewery
Having a newborn at home makes getting to their favorite watering hole pretty difficult, they may only be able to get out once a month but that doesn't mean they can't enjoy a pint at home. So, get them their very own personalized brewery sign to have their home feel like their favorite drinking establishment! Sharing a glass or two of their favorite drink under their brewery sign will make them feel like they're back out having a night on the town, but this way, they won't have to deal with the headache of finding a babysitter.
Surviving Parenthood
A lot of gifts for new parents are geared toward mom, but what about dad? He'll need all the tools and accessories that are packed inside his new custom ammo can to make the most out of being a parent! Thanks to the cigar accessories, he'll be 100% prepared to celebrate when his child is born and his pint glasses will be his go-to method of relaxing after a long day of changing diapers. This set will make him feel like he is being readily prepared to be in the trenches of fatherhood!
The Perfect Gift Box
A fantastic way to celebrate starting a family together is with a bottle of wine, it makes a great gift; however, you want to dress up your bottle with more than just a bow. Give them a swanky wine box that not only gently cradles their bottle as well as a crib for children does, but it also comes with all the tools they could ever want! When they are becoming parents for the first time, organization may be a little hard to come by in life, and a set that has a bottle of wine, corkscrews, and other tools to enjoy a drink will be much appreciated.
175+ UNIQUE WINE GIFTS FOR NEW PARENTS>
A Common Scents Gift
When people have a child, there are going to be lots of changes in their daily lives, these can be stressful for sure. Help them to relax by giving them a gift that makes their home smell wonderful! These Scentsy warmers melt scented wax in a variety of aromas. Pair this with a few bars of smells you know they love, and this gift that keeps their home smelling amazing will be a gift that keeps on giving
When Their Child is Their World
Make the new mom and dad feel classy with quite literally one of the worldliest gifts they will ever receive. This globe decanter set will be the perfect way for them to enjoy a sip of their favorite liquor when they decide to stay in for a drink. The elegant wood and etched glass create a perfect contrast to a house full of baby toys. They may still be on the clock parents, but this non-baby gift for new parents will have them feeling like they are on top of the world whenever they see their classy gift!
For the Established Family
Having a child is a big deal, like a BIG deal. Give them a gift that will always let them see when they became a family with their own personalized sign! This is one of those gifts that they will keep for years in their living room and always get a smile when they see the custom engraving. Give a gift that will create instant nostalgia with this custom sign!
Custom Wine Decanter Gift for New Parents
Make each occasion she wants to have a bottle of wine feel almost as special as the day her child was born with this perfect wine decanter set for mom. She may not have time anymore to let a bottle breathe on its own, so a decanter is a great gift to speed up the process. Plus, she can easily indulge in a glass when her husband is on baby duty, and she may even share a glass with him later in the night!
For His Handicap
Don't let his short game suffer now that he doesn't have as much time to make his weekly round of golf. When he has a spare few minutes, this non-baby gift for new parents will have him honing in on his puts. His friends will be blown away that even with a newborn he is still able to putt better than all of them. Besides, what is more challenging: A natural green or a home with baby toys and other obstacles between him and the hole?
Keepin' Tidy
As much as they love them, every parent will admit that children are messy. Kids can't help it though. But you can help the parents keep things nice and clean with a vacuum perfect for all the small messes in life! This handheld vacuum makes a great gift for the busy set of parents who want to keep things as clean as they can before the next mess comes along. Make their lives easy with a gift that is prepared to suck up any spill!
A Top Dad Gift
Dad will love relaxing with his own novelty whiskey stone set that makes him feel like the coolest father around. Whether he is a bigger fan of Goose or Maverick, he'll certainly be throwing out Top Gun quotes between sips of his favorite cocktail. Non-baby gifts for parents like these help them still feel like people who like to enjoy their favorite drink, and maybe even their favorite film in-between shifts of work and taking care of their newborn.
A Memorable Gift for New Parents
The early years of a child's life are so focused on memories with new parents. They will be looking for everything from their first tooth, first word, and first steps. You may not be able to help capture those memories, but you can give them a gift that lets them show off their favorite tokens of memories they've made together or of their child. A shadow box makes the perfect gift for new parents because it is easy to hang anywhere in the house and will always bring a smile to their face.
A Pick Me Up Parental Gift
Between work and adjusting to the always changing sleep-cycle of a newborn, the new parents you're getting a fantastic gift for are going to need some liquid energy. The carafe is the perfect coffee gift for them, holding 64 ounces, which is enough coffee for both mom and dad to make it through the afternoon after an exhausting night. Better still, they can share their morning cup out of their matching set of mugs too!
Engraved Beer Mug Set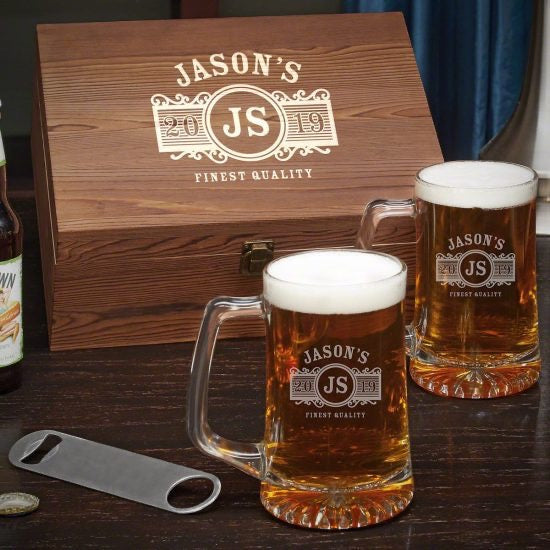 Gifts for new parents should really make them hoppy! Okay, sorry about the pun but it was needed. You know a toast with a beer mug filled with their favorite ice-cold beer will be a great way for these parents to put their feet up. When they open the gift, and see the engraved set, they can practically hear the "Psst" of a bottle cap flying off the bottle!
343+ BEST BEER GIFTS FOR PARENTS>
Delivered Snacks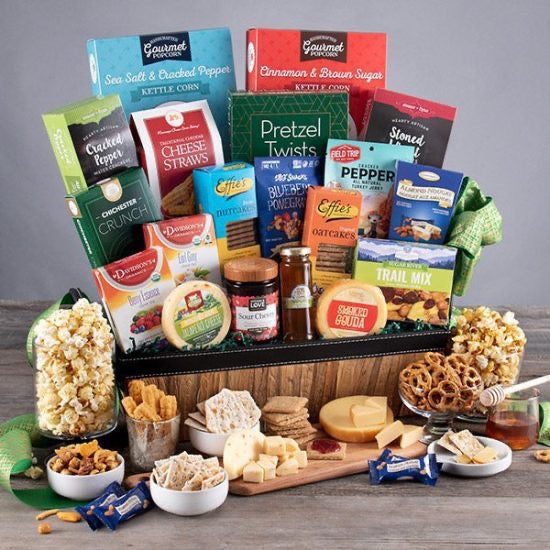 The first few weeks that their new child is home, the new parents simply are not going to have time to get around to making any snacks for themselves. Instead of surviving on junk food or having them find time to make a quick run to the store, send them a gift basket that is stuffed full of tasty, healthy snacks!
For the New Papa Bear
Make the new dad feel proud with a gift that shows off his love for his family with this personalized sign! He will love getting a non-baby gift as a new parent, although he appreciates the diapers, baby food, and clothes, a gift that is just for him will make him so happy! He won't be able to wait to hang this up in his home office or even man cave. He'll love nothing more than a gift that shows off his pride for being the best dad!
A Taste of Parenthood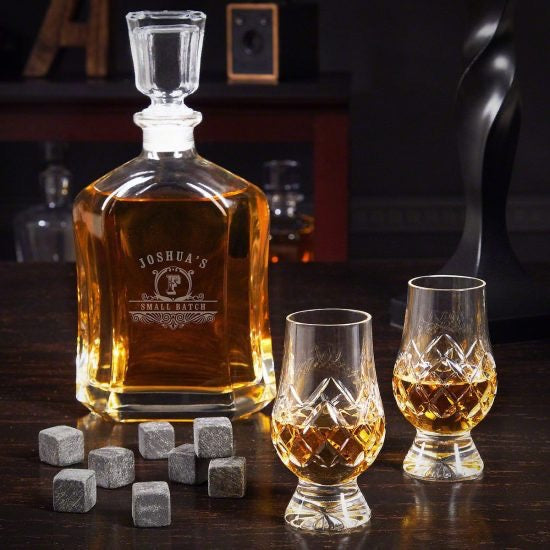 When people become parents, they don't stop being who they are. Allow them to enjoy some of their favorite flavors in life in a whole new way with a whiskey tasting set! These glasses won't just make their drinks taste better, but they'll feel refined when they drink too! Plus, the whiskey stones are the perfect addition to chill their drink. When they have to go pick up the baby or do other parenting activities at a moment's notice, their drink will stay chilled without becoming diluted, no matter how long they're away from it!
An Aerator for Mom
Moms—especially with newborns—are busy. They work, they've got regular adult duties, and now they have a child to take care of. Get them an aerator so even in the midst of all the craziness that is adulting, they are able to enjoy a perfectly oxidized glass of wine. This decanter speeds up the oxidation process, meaning the mom you're buying for won't have to wait around. What gift could make their relaxing glass of wine better?
A Super Useful Gift for New Parents
Before, they cooked for two, and now they cook for three. They're going to need even more prep space for food now, and you know they'll want a quality set up; so, start them off on the right foot with this cutting board! This wooden cutting board makes a fantastic gift for new parents because they'll be making and preparing food constantly and you know they'll use this every day. Plus, since it is wood, it cleans up easily and quickly which makes their hectic lives just that much easier
Therapeutic Stress Relief
Adjusting to crazy sleep schedules and other life changes that come with a child can be stressful, and carrying around stress just isn't helpful or healthy. When grandma and grandpa decide they want to babysit for the afternoon, send these two new parents to the spa for some much-needed TLC. They won't just be unwinding, as a couple's massage day, it'll also be a date day for them as well!
A Gift for Dad's Favorite Drink
Dads can often be pushed to the wayside when people are looking for both baby and non-baby gifts for new parents. He will be thrilled when he opens his gift marked "Dad," and inside it has his own decanter set! This will always be out on his home bar or on an end-table, ready for a quick nip when the baby has gone to bed and for when he wants to share drink with his wife or even a friend!
Outdoor Fun
Just because they're parents doesn't mean they won't be out having a good time. Whether they are hosting or bringing things over to a BBQ or outdoor party, they'll be so super excited to play their custom game of bags! Engraved with their initials, this gift makes everything about the couple once again; however, that doesn't mean you can't put their newborns birth year or their anniversary date onto the boards as well!
The Coolest Tumblers
Once they have kids in the house, they'll realize sometimes things spill or break; that won't be the case with your awesome gift! This tumbler gift set is a child proof gift for new parents! They've got all they need to enjoy a fine bottle of wine or to pour their favorite cocktail. The stainless steel tumblers are near indestructible which makes them perfect for a home with a newborn. Plus, it comes with a gorgeous keepsake box too, this gift truly has everything they could want!
The Perfect Presentation Box
Sometimes giving a great gift all has to do with the packaging, and that is exactly what this presentation box is all about. They'll feel like they're opening a treasure when they open the lid to see their favorite drink inside! You know that when the day is winding down, they always look forward to a quick cocktail from their favorite bottle of liquor. That is why this gift is perfect! They can store their favorite bottle inside the presentation box, or even fill it with a bottle specifically for a special occasion.
Help Them Tell Their Story
Don't let them miss out on a moment of their child's life with a baby scrapbook! This personalized gift will have them inserting pictures and writing out memorable occasions inside. This book isn't just a great gift for the moment either. Parents can reflect on all the big moments of their child growing up, and later in life give their kid their very own baby book!
Beer Gifts for New Parents
Every adult deserves to be able to have a sip of their favorite beer when the time calls for it. Using this growler gift set, the new parents can always have their favorite beer on tap at home. This way, when they baby goes down for a nap or is asleep for the night, they can share a pint together while enjoying a nice tasty snack; it'll be just like when they used to go and frequent their favorite bar!