21 Must-See Wine Glass Sets
As a lover of all things wine, you know that using the right wine glasses is important. You want a new set of wine glasses, but it can be hard to know which set is right for you. The best wine glass set has fantastic wine glasses, sometimes paired with wine accessories, that look great, allow you to drink wine with friends and family, and help you become a more sophisticated wine drinker. These are a lot of factors to take into account, so let us help you find your must-have wine gift set and unique wine glasses. Here you'll find the perfect set of wine glasses that meets all your needs.
Chilled Out White Wine Glass Pair
For you, maintaining the temperature of your wine is extremely important, and the best way to accomplish that is with stainless steel wine glasses. When you pour your chilled Chardonnay into these glasses, for example, it will stay cold for hours. You can fully relax, not having to worry about your wine becoming room temperature. These glasses also help prevent pesky condensation, so you don't have to worry about it getting on your hands or furniture surfaces. You'll feel so awesome with one of these glasses in your hand, sipping on your favorite wine.
Elegant Wine Glass Set
Elegance is an important factor to you when it comes to your wine glassware. These beautiful wine glasses have long stems that bring an air of sophistication to your wine. Your Merlot or Pinot Noir will look lovely in these gorgeous glasses, and what is better than feeling extremely elegant while using this stunning wine glass set? This beautiful custom wine glass set has everything you need to enjoy a romantic evening with your significant other. 
Expertly Sculpted Wine Glasses
All who catch a glimpse of these sculpted glasses will immediately stop in their tracks because of how lovely they are. The curves are designed to ensure a solid grip on the glasses, but they also make these glasses stunningly beautiful. You'll absolutely love sipping your Chardonnay or Sauvignon Blanc from these sculpted glasses because of both their aesthetic and functionality.
Decant Your Reds
Wine decanters make red wines taste better because they separate the wine from bitter sediments. Your Cabernet Sauvignon or Merlot will taste more delicious than ever after you've aerated it in this wine decanter. The stemless wine glasses are perfect for you and a friend to enjoy your decanted wine together. When you aren't using it for wine, you'll still want this personalized wine decanter gift set displayed on your home bar or kitchen counter because of how beautiful it is.
Maintain Proper Temperature with this Wine Glass Set
Since wine is one of your very favorite indulgences, you deserve to be indulging in it in style. With this wine glass set, you'll have a much easier time with that. These handsome glasses are incredibly attractive, so you'll feel extremely cool as you sip your wine from them. You'll thank yourself for buying this awesome set!
Wooden Wine Glass Duo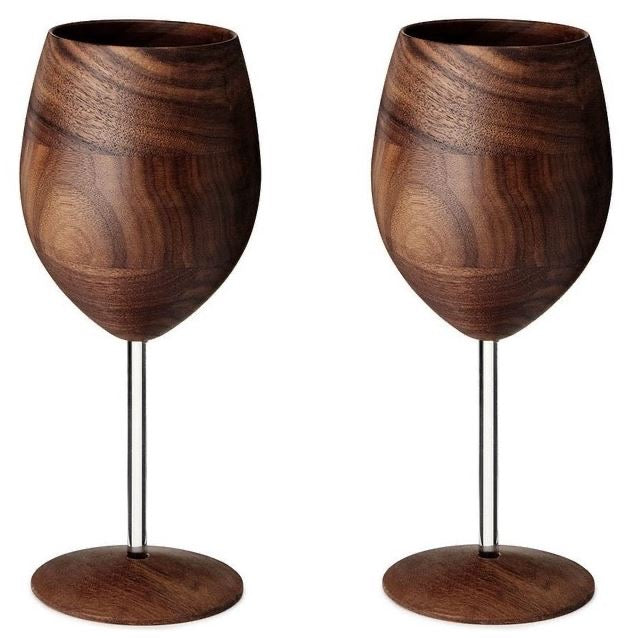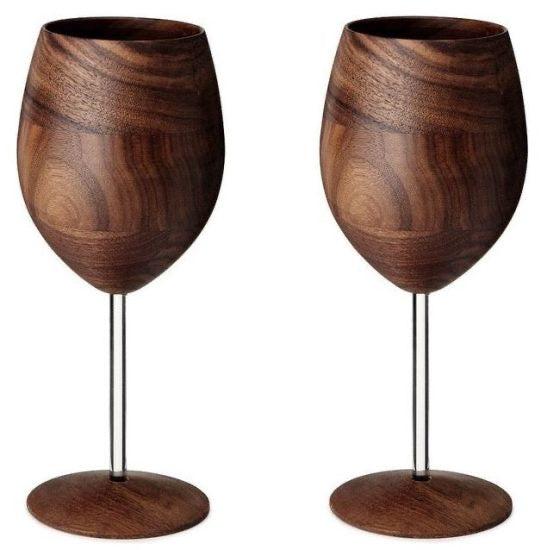 Your taste in glassware can be described as very unique, so you know you'll immediately fall in love with these wooden wine glasses. You'll also love these glasses because the wood gives your wine extra insulation, so your chilled white wines will stay chilled inside. Everyone who sees these glasses in your home is sure to do a double take because of how unique they are. They'll be very impressed with your exquisite taste in glassware.
Beauty and Functionality in Rolling Glasses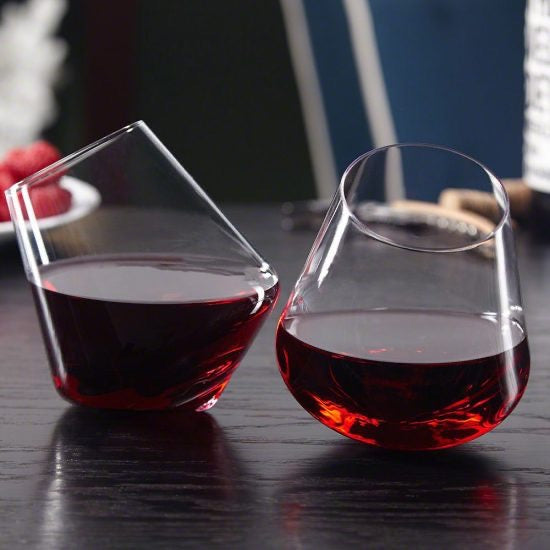 You're all about both function and aesthetic, so these rolling wine glasses are what you need. As they roll without spilling, they aerate your Merlot or Syrah with no effort on your part. They are also stunningly beautiful, with the unique shape making them very impressive. You can be entertained simply watching these unique glasses roll. You'll never want to drink wine out of any other wine glass!
Refined Elegance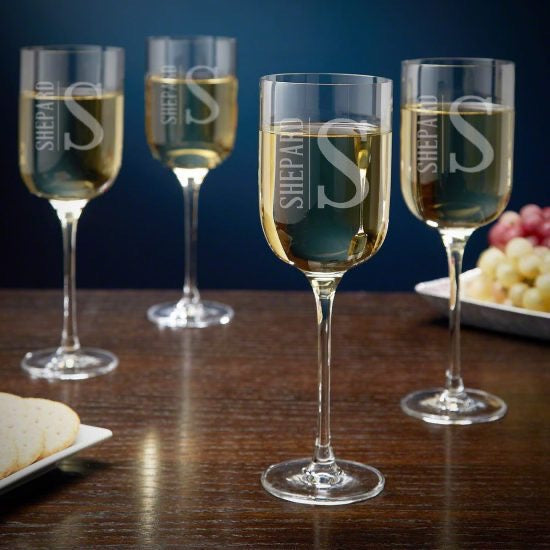 In a way, your favorite wine glasses should represent you. You are refined, elegant, and like to stand out in a crowd. These tall wine glasses are perfect for you. They are extremely classy, with a different bowl shape than the typical wine glass. The small opening directs aromas to your nose, ensuring that you can taste and enjoy every nuance in your Riesling or Pinot Grigio. You'll want to use these glasses to toast each and every celebration or simply enjoy white wine on a quiet evening.
Perfect Wine Tasting Set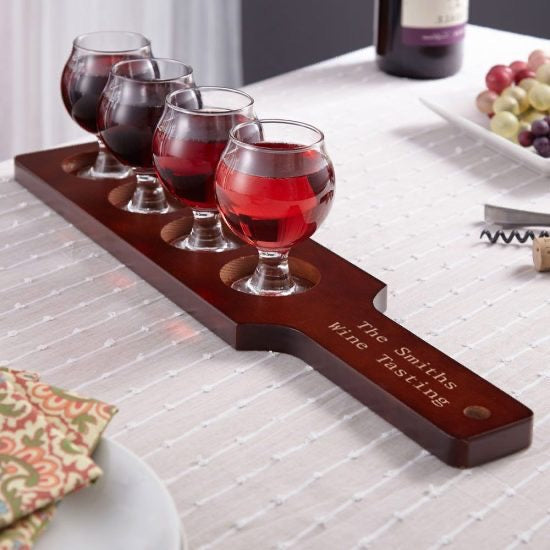 You are a true entertainer, and you love hosting wine tastings with your friends. For the proper wine tasting, though, you need the proper tools. This wine flight set has a wooden paddle with four holes in it that the wine goblets fit perfectly inside. This makes it super easy for you to pour different wines into the goblets and then serve them to your guests to sample.
Hilarious Wine Glasses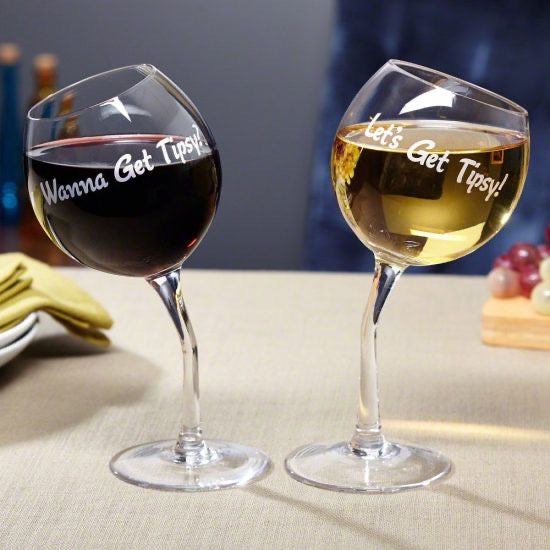 When your glassware makes you laugh, then you know you've made an amazing purchase. These tipsy wine glasses will get a chuckle out of you every time you use them! They're called tipsy wine glasses because there's a bend in the stem, causing them to look slightly tipped over, how clever is that? They are great for any wine that you choose, although you might be laughing so hard at these glasses that it comes out of your nose!
Most Beautiful Wine Glassware
You prefer your glassware to sparkle from across the room, possibly looking like it was stolen from a palace. This beautiful decanter set is truly stunning, and whichever wine you choose to pour into the decanter and glasses will look absolutely delectable. You'll feel like royalty sipping your favorite wine out of these lovely crystal wine glasses, and any guest you have in your home will immediately want to use one of these breathtaking glasses.
Stunning Stainless Steel
Real glass isn't always what you want for a wine glass. Sometimes you want something sturdier and more insulated than glass. These stainless steel wine glasses are very unique glasses that are also extremely durable; so they won't break if you or a guest accidentally drops them. They'll also keep your Moscato or Prosecco chilled for longer than any glasses that are made of glass, which is great, because everyone knows room temperature white wine is the WORST. These awesome monogrammed glasses will make you want to show them off to everyone you meet.
Warmer Wine Glass Set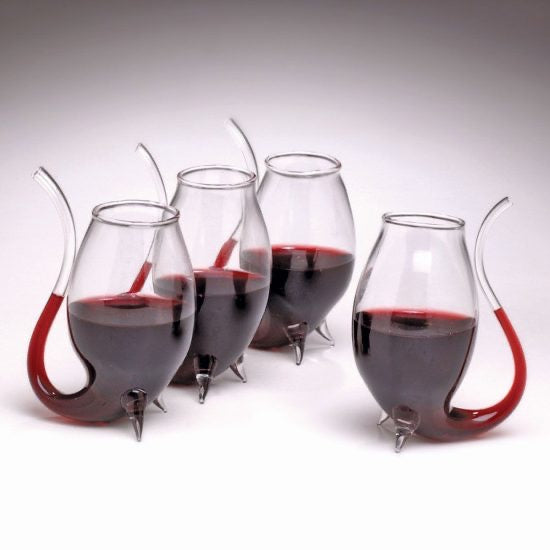 You are someone who loves wines that are typically consumed at warmer temperatures, such as Bordeaux and Cabernet Sauvignon. These ingenious wine glasses are perfect for you! As you sip through the unique stem, the warmth from your hands transfers through the glass into the wine, warming it to perfection. You will love showing off this set of four to your friends, and they'll be extremely grateful to use one for a bit!
The Wine Glass Pair You Need
You're tired of dainty wine glasses and instead want something larger and heftier. These balloon wine glasses are the absolute best ones for you because they are much larger than standard-sized wine glasses, so you won't have to get up from your comfy chair for tons of refills. The large surface area that these glasses provide helps oxidize your wine, so it will taste more delicious than when it is consumed out of a normal wine glass. Life is too short for you to continue to use wine glasses that don't make you happy!
Red Wine Goblets Set
There's just something about the classy look of a goblet that appeals to you. These red wine goblets will bring that sophisticated feeling right to your dinner table. These goblets are perfect for red wine because the wide mouth allows your favorite reds to breathe, making them taste even better. This set of four goblets is fantastic for your next intimate gathering with friends.
157+ AMAZING PERSONALIZED WINE GLASSES>
Casual Glassware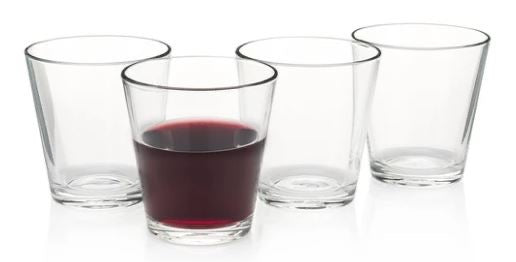 Wine glasses aren't always about impressing guests. Sometimes, you just want the best low-key, modern glassware for your wine needs. These Italian wine glasses are just what you need to maintain that nonchalant vibe. They're stemless and without flair which are the ideal characteristics for non-showy glassware. These glasses are also extremely versatile, so any type of wine you love will taste great inside them. Embrace the low-key!
Raise Your Glass
While there are several kinds of wine you love, your absolute favorite are sparkling wines, such as champagne. Don't go through another toast or cheers without the right glasses. These beautiful stemless champagne flutes will make your champagne experiences better than ever because of how lovely they are. The aesthetic of these glasses will bring you immense joy, and the shape of this glass preserves the delicious bubbles that make champagne truly lovable.
Couple's Wine Glass Set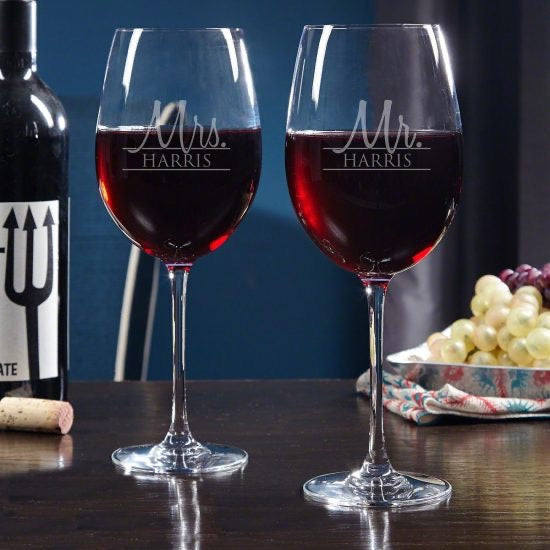 Sharing a glass of Bordeaux Blend or Pinotage with your spouse is one of your favorite pastimes. You can make that special activity more meaningful than ever with these gorgeous stemmed red wine glasses. They are lovely and elegant, with the long stems bringing a refined quality to them. With your last name engraved on them, this set will be very near and dear to both of your hearts. Your spouse will be overjoyed when you gift them this thoughtful wine glass pair.
Multicolored Wine Glass Set

People in your life have often described you as "colorful," and you can't blame them. You are a lively, animated, colorful person, and you would like some wine glasses that represent that. These colorful stemless wine glasses are absolutely perfect for you! Their vibrant colors will make everyone who sees them stop and stare because of how amazing they are. You know that everyone will agree that they match your personality perfectly!
Beautiful Champagne Flutes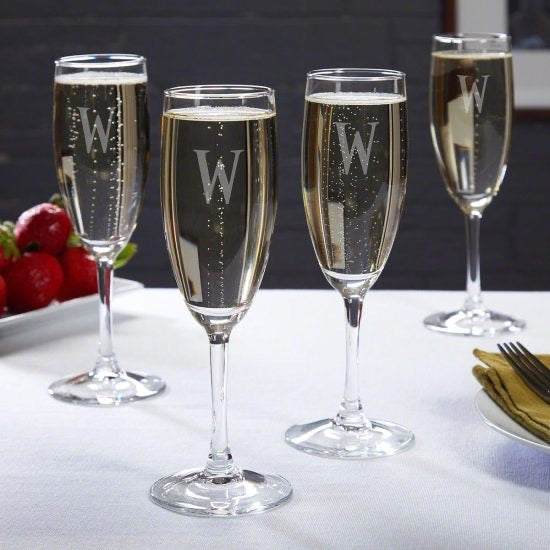 Champagne is a type of sparkling wine that is so delicious, it needs its very own, unique glass. These four champagne glasses are fantastic for any sparkling wine. Their shape is specifically designed to keep the bubbles intact. You can even add some juice to the champagne to make delicious mimosas. These brilliant glasses will make any wedding reception or New Year's Eve party the best it can be.
Large-Bowled Wine Glass Set
Wine just tastes better with the right glassware, and why wouldn't you want it to taste the best it can? These stemless wine glasses have a wider bowl than typical wine glasses, making it easy for you to swirl your red wine inside it to aerate it. They also hold more wine than typical wine glasses, so you can sit back, relax, and not worry about having to get up all the time for refills. You won't regret buying these unique wine glasses!
173+ MUST SEE WINE GLASS SETS>