Whether he's just now starting on his man cave or you want to get him something new to add to it, it's never a bad time to give a guy a gift for his favorite room in the house! Man cave gifts are usually decor, but they can also be cool tech upgrades, furniture, and even barware! Does his dude lounge have a theme? Is he wanting to add a bar to his man cave? What would make his man cave even better? These are all questions you need to consider before choosing his gift but don't worry, we found the best man cave essentials for any guy!
The Sign Every Man Cave Needs
No matter what his man cave's theme is, one thing is for certain: he needs this personalized man cave sign! This awesome wood sign will not only make his space official, but it also makes it unique too. He will want to hang up this sign somewhere everyone will see it, such as above the door to his man cave or above his TV.
Ultimate Box Set of Man Cave Gifts
Whether he's a casual whiskey fan or is really into whiskey tasting, he will be considered a connoisseur of whiskey as soon as he tries out your incredible gift! This complete set of twist whiskey tasting glasses is one of the best man cave essentials out there because these gorgeous whiskey glasses will have each drink feeling like the classiest ever! Since the set comes with two glasses, he can even share a drink when he has a buddy or spouse in his man cave with him! He can also use the set to host whiskey tastings or even display it in his man cave when he's not using them. This is truly a must-have gift set for any man cave!
A Bar Cart Unlike Any Other
Bar carts are man cave essentials! If the room isn't already equipped with a built-in wet bar, then this globe bar cart is by far the coolest one money can buy! Designed to look like a priceless antique globe, the globe actually opens up to reveal hidden storage for glassware, liquor bottles, and bar tools. There's even room at the bottom for him to keep his prized bottles of whiskey or extra glasses. He can also move the cart around the room to serve guests, and it looks awesome as decor when he's not using it.
The Biggest Beer Mug He's Ever Seen
Make sure he always has enough beer to drink by giving him this giant beer mug for his man cave! This huge glass holds a whopping liter of beer, which means he can kick back in his favorite chair and watch a football game on TV until halftime without needing to get up for a refill. Once his buddies see him use this incredibly huge mug, they'll all want one, so you might as well get him a whole set to share!
Badass Bullet Stones
Every man cave could use a set of whiskey stones, and you won't find cooler (literally) whiskey stones than these! Designed to look like bullets, these badass whiskey stones and personalized glasses are definitely the best man cave gifts. This set is perfect for any kind of man cave because it makes his space manlier and cooler than before, and he will love that he can share a drink with one of his bros thanks to the extra glass and whiskey stones.
Stereo Systems Are Man Cave Essentials He Needs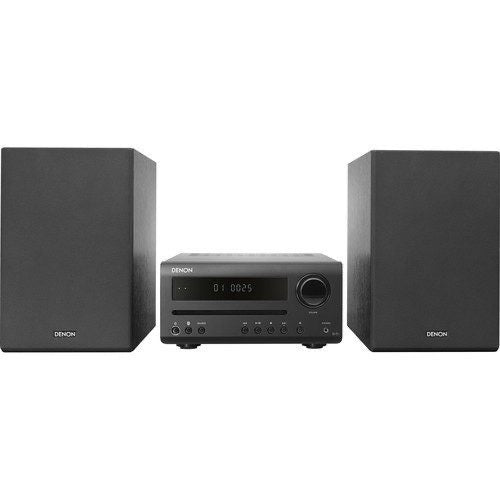 Whether his man cave is more like a home theater, a game room, or even a sports bar, one thing is for certain: he needs a quality stereo system! This three piece set will ensure that everyone in the room will feel like they're really there when they're watching the Super Bowl or playing the newest Super Smash Bros. game thanks to the incredible immersive sound. He doesn't even need to bother with an aux cord as this stereo is equipped with Bluetooth so that he can stream music from his phone or from his game console with ease.
The Must-Have Gadget of The Year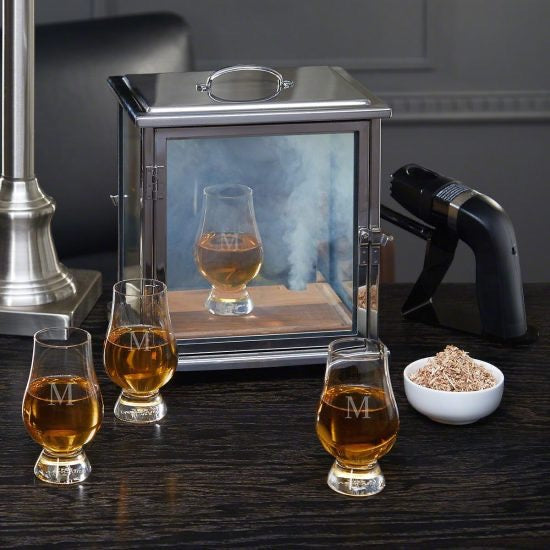 One of the best man cave gifts you can give is the smoke box system because it is great for trying new flavors on his own or with friends! He simply places a drink inside the box, chooses a complimentary type of wood chip, and voila! His Jack on the Rocks has a subtle, smoky hint of cherry. How awesome is that? He will love experimenting with different drinks and wood chips to discover which pairings taste best, and his bros will certainly enjoy trying his new concoctions too! With the four included Glencairn glasses, he and his friends can enjoy whiskey like never before because the glasses are designed to enhance the flavors, which means that with the addition of the smoky flavor it will be a whole new experience unlike any other with each sip!
The Perfect Set for Enjoying Whiskey and Cigars
There's nothing like a glass of scotch and a cigar after a long day, especially in his man cave where he can unwind and relax to his heart's content. With this awesome decanter set, he can enjoy the perfect pairing like never before! The unique cigar-holding whiskey glass allows him to sip on his whiskey and puff on his cigar in one hand so that he can use the other to flip through channels on the TV or catch up on the news on his phone. There's even an extra glass so that he can share a classy drink and stogie with a friend! This way, he can relax to the fullest and will feel like a classy gentleman while doing so. Even when he's not using the set, the handsome crystal decanter looks so sophisticated on display in his man cave.
Beer Totes Are Man Cave Essentials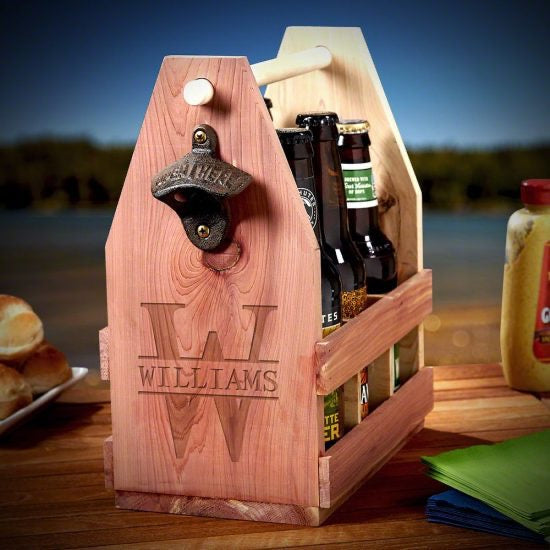 One thing that every man cave needs is something to carry or store beer in, like this beer tote! Made of sturdy wood and even has a built-in bottle opener, this reliable caddy will ensure that he can bring his favorite bottles of beer anywhere without worrying about dropping them. Even when he doesn't need to travel with them, this tote will keep his brew safe and sound.
Every Man Needs a Complete Decanter Set
Man caves are all about having a place to get away from and relax, usually with friends. To make his man cave truly awesome, one of the things he needs is a decanter set so that he can serve his buddies drinks! This amazing decanter box set has it all from a decanter with a sealed stopper to four stunning glasses that are perfect for cocktails or a hefty serving of a double scotch on the rocks. He will want to keep this complete set on display in the center of the room when he's not using it, but he'll love showing it off to his friends when they come over, especially the unique personalization on the entire set.
The Perfect Gifts for a Gamer Themed Man Cave
Looking for a gift for a guy who loves video games? Look no further than this Pac-Man arcade game for his man cave! By far one of the most incredible man cave gifts out there, this nostalgic game will remind him of the many hours he spent at the local arcade playing this very game to get the highest score. His friends will be fighting over who gets to play next and they can compete to beat his high score every time they visit.
Nothing Beats a Classic Game of Cornhole
He and the guys play cornhole at their favorite bar all the time, but you can let them play any time they want with this custom set! This large cornhole set is perfect for using indoors or outdoors so that even when it's cold outside, they can enjoy their favorite game in his man cave. This set is built to last so that he can teach his kids to play this fun, easy game someday and even bring it to family reunions to share with everyone!
The Most Impressive Man Cave Gifts
The best man cave gifts make him feel like the king of his man cave every time he enters the room, like this stunning monogrammed decanter set! Designed to be displayed as a decorative piece or easily carried around the room to serve drinks, this amazing presentation set will make him and everyone he serves feel like royalty. He'll want to keep the set front-and-center for all to see on his bar or coffee table when he's not using it to pour drinks for everyone because it's so incredible!
You Can't Go Wrong with Custom Coasters
Whether his man cave is fully furnished or he's just starting to get it together, one thing you can make sure he doesn't forget to have is a set of coasters! These custom bamboo coasters will keep his awesome furniture free of pesky condensation rings and they add a nice personal touch to his space. Plus, bamboo goes with anything no matter what kind of decor or theme he has going on. You just can't go wrong with these man cave essentials!
A Game to Play with His Bros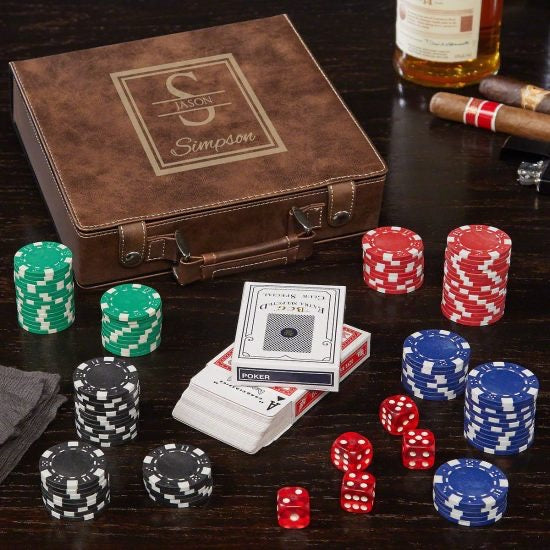 A man cave should have the following: a TV, a bar, a game console, and a set of classic playing cards or a board game. If he doesn't have the latter quite yet, surprise him with this custom poker set! This way, he'll have three types of games available to play with his friends: card, dice, and poker. This complete set ensures that he can host a weekly poker night with the guys or even just enjoy a classic game of Go Fish with a buddy while his Xbox updates.
499+ AWESOME BOX SETS FOR HIM>
Must-Have Mini-Fridge
Make sure he never has to leave the comfort of his man cave to get a cold beer by giving him a mini-fridge! This little cooler has a surprisingly large capacity (up to 126 cans!) so that he has more than enough beers and sodas to go around when he has the guys over. By far one of the best man cave essentials, he will be set for his movie marathon or Super Bowl watch party thanks to this mini-fridge.
The Classiest Ashtray
Whether he's the kind of guy who smokes cigarettes regularly or just enjoys the occasional cigar, he needs a nice ashtray for his man cave. Look no further than this exceptionally classy marble ashtray! Made of genuine marble, this hefty ashtray is even monogrammed with his initials. Perfect for enjoying a couple of stogies with his friends, this handsome ashtray will make him feel classier than James Bond every time he uses it.
The Best Glassware for His Man Cave
Forget pint glasses, he needs a set of hefty beer mugs for his man cave! This way, he'll feel like he's in his favorite pub while he gulps down some refreshing cold brew but he's really in the comfort of his man cave. With this custom set of four, he and his best bros will all have a quality glass to enjoy their beer from! Besides, they can clink these mugs together and toast to everything from their team winning the game or even just for winning a round of Rocket League, and you just can't do that with regular old pint glasses.
The Most Unique Humidor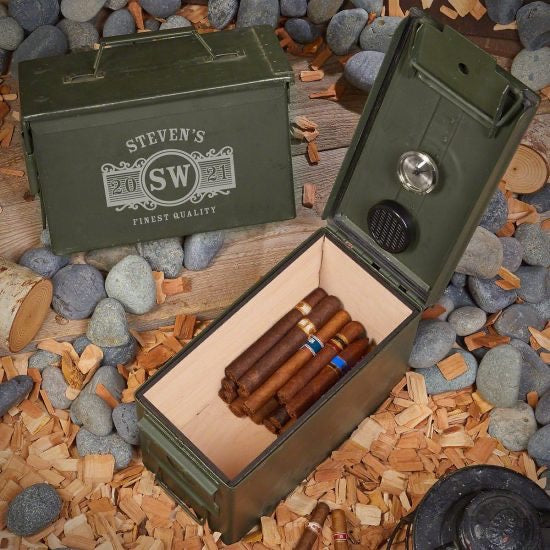 Whether his man cave is more like a cigar lounge or he only has stogies on special occasions, he needs a humidor to keep his cigars in! You won't find a humidor cooler than this custom made ammo can humidor! Plus, when he sees this gift, he will want to have a cigar right away just so he can use his badass humidor. His friends will be amazed by this awesome handmade humidor, and they'll all want one themselves too! So, make sure you tell him where you bought his incredible gift so that he can get one for each of his bros! As far as man cave gifts go, this custom humidor is by far one of the most unique.
Make His Man Cave Feel Like a Real Bar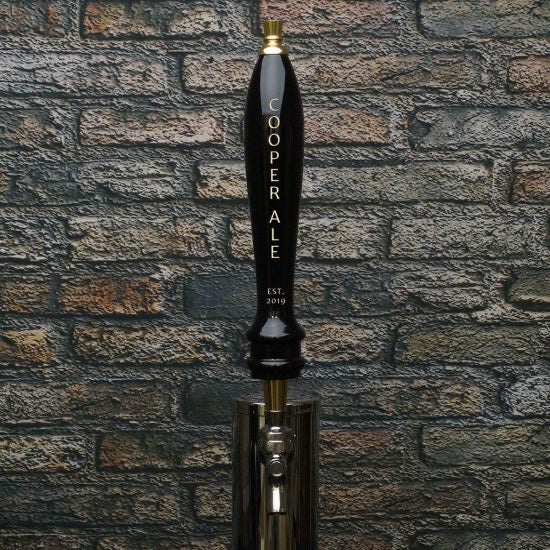 What man hasn't dreamt of having a fully stocked home bar in their own man cave? You can help that dream come true by giving him a tap handle or two so that he can keep plenty of beer on tap to serve his friends like a bartender. You can even customize the tap handle with any text you like to make him a one-of-a-kind tap handle no one else will have!
The Best Bar Stools
Sure, he's got the big TV and an insanely comfortable couch, but you know what he doesn't have? Bar stools for the bar area of his man cave! These Budweiser bar stools are the perfect addition to his man cave because they're super cool decorations and the most comfortable bar stools around. When he and his friends are hanging out at the bar, they'll forget they were actually in his man cave instead of their usual pub thanks to these bar stools!
Man Cave Essentials Whiskey Set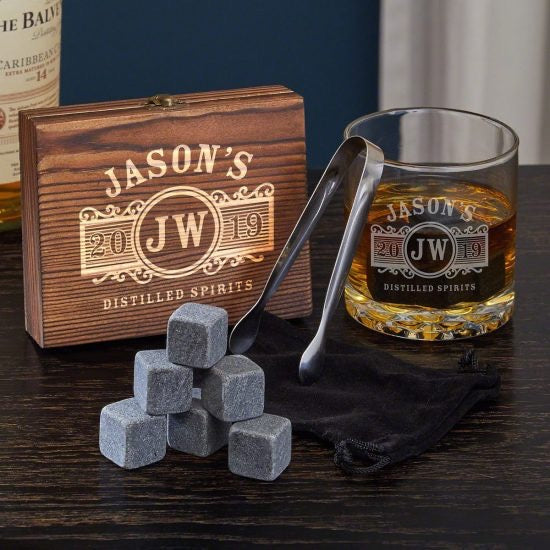 Having a man cave is all about enjoying his own private space, relaxing, and forgetting about the outside world. Well, he can't do any of those things without a proper drink in hand, and this whiskey set will ensure that each Jack on the Rocks is the best one ever. The custom double old-fashioned glass is engraved with his name so that no one but him can use it, and it's ideal for his usual double bourbon or even a Whiskey Sour when he's feeling like a cocktail. He will love that his drink never gets watered down, even when he's down to the last drop thanks to the whiskey stones.
The Coolest Sign for Any Man Cave
One of the best ways to either start or finish a man cave is with a custom wooden sign! This funny cigar sign is a must-have for any cigar lounge-themed or classy man cave, but it honestly works in any type or theme. The best part about this fun piece of decor is that whenever someone asks him a question like "Do you know how to make an Old Fashioned?" he can just point at the sign as his answer. He'll get a kick out of this sign every time he sees it, even years from now!
Bar Tools Are Essential to Every Man Cave
Just because he's more of a straight whiskey or beer kind of guy doesn't mean he never drinks cocktails, but more importantly, his guests might want a mixed drink when they visit! Make sure he's prepared to serve up any kind of cocktail with this essential bar tool set! Whether he's making a round of margaritas for everyone or even just fixing himself a Tequila Sunrise, this complete set has everything he needs—even a cheat sheet of cocktail recipes on the shaker!
The Coolest Whiskey Gift Set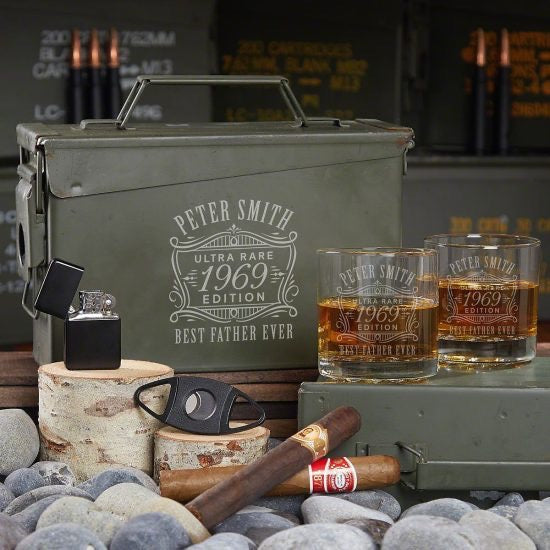 One of the best ways to ensure that his man cave is cooler than anyone else's is with an awesome centerpiece, like this personalized ammo can whiskey gift set! The custom ammo can will look badass on his coffee table, bar, or even above his TV. He will enjoy using the pair of personalized glasses to treat himself to a quality drink alongside a friend, especially since he can use his new cigar accessories to prepare a couple of stogies to go with their scotch! When he isn't using the glasses, he can keep them by the ammo can on display so that they create the coolest matching centerpiece.
Forget the TV and Get Him a Projector
While most man caves have a giant flat-screen TV, he can have an even bigger screen by using this projector! With a built-in DVD player, speakers, and easy hookups for his other devices, this projector is essentially a compact home entertainment center! He can watch football games, play video games, or even movies on the biggest wall in the room instead of being confined to a small screen. This projector is one of the best man cave essentials for men who have just started putting together their man cave, but it also works great as an upgrade to existing man caves that have a small TV!
The Perfect Board Game for a Man Cave
Why settle for a regular old game of Monopoly when he can play Beeropoly instead? This awesome wooden board game is unlike any other because it combines drinking beer and the classic Monopoly strategy! He and his friends will love playing this fun, unique game together every time they come over. This game can even be kept out on the table or bar so that they can play it whenever as its wooden design makes a unique decoration when not being played!