You've known these people for years, and whether it's a holiday, anniversary, or some other special occasion, you've decided to buy an awesome gift for a married couple. You want to get them a gift that you know they can both enjoy. However, you don't want to get something simple, you are looking to give them a gift that is personal to them and is all about what they like. One of the best places to start for gift ideas for married couples are things around the house. These are the items you know both of them will love and can use. Getting them something they can see or use every day will have them cherishing your gift above anything else they have ever been given before.
A Wino Couple's Gift
What drink has ever brought a couple together more than wine? This is one of the most perfect gifts for married couples. The wine set allows them to share a glass of Merlot or Riesling together; or, if they want, they can even share their drinks with two more people! Another awesome feature of this wine gift set is that it comes in a beautiful display box which is perfect for their mantle or end-table. The engraving will always have them thinking about the fantastic set of matching glasses that they have.
Their Most Elegant Decanter Set
Grant them the most elegant whiskey drinking experience as a couple they've ever had with this fantastic twist decanter set! They may have drank from a decanter before, but no way is it one that looks as good as this. They'll marvel at the beautiful twist in both of their matching glasses as they drink their whiskey sours or old-fashioneds. Bring a whiskey loving couple even closer together with their very own elegant twist decanter set!
A Personalized Drinking Sign
If you're struggling to come up with any good gift ideas for married couples, look no further! This sign gives them a new piece of home decor they are sure to love! Whether he prefers beer and she is more of a wine gal, they'll love sharing a drink under their new sign. For the couple who has made clicking a set of glasses together at the end of the day their hobby, you won't be able to find a better gift.
The Best Bourbon Gift Idea for Married Couples
Make the couple who absolutely cannot live without their bourbon as happy as humanly possible with their very own bourbon decanter set! The matching decanter with their new glasses will be their favorite way to enjoy their liquor from now on! Make the next time, and all the times to follow, feel like an event when they take their best bottle of Weller's or Buffalo Trace off the shelf to have a drink out of this bourbon gift set!
The Ultimate Beer Set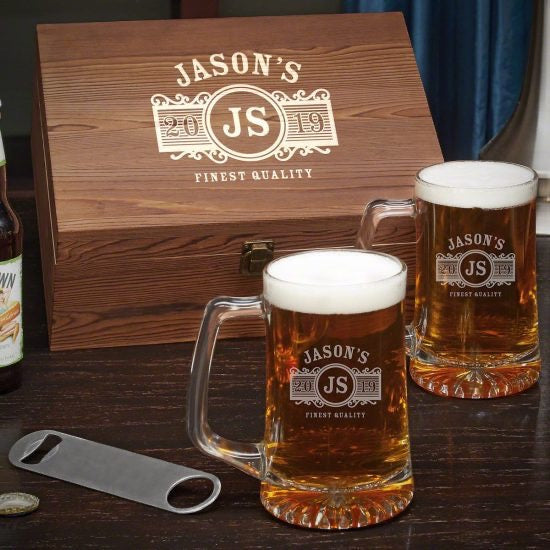 Every time you see them, the married couple you know always seems to have a beer in-hand or at the furthest, nearby. Get them the ultimate beer lover gifts for married couples with this beer set! Nevermore will they have to keep filling up their pint glasses all night. Now they have two awesome mugs to drink their favorite pilsner or stouts from, while they've even got a display box to store their beer caps or any of their beer accessories.
The Perfect Piece of Home Decor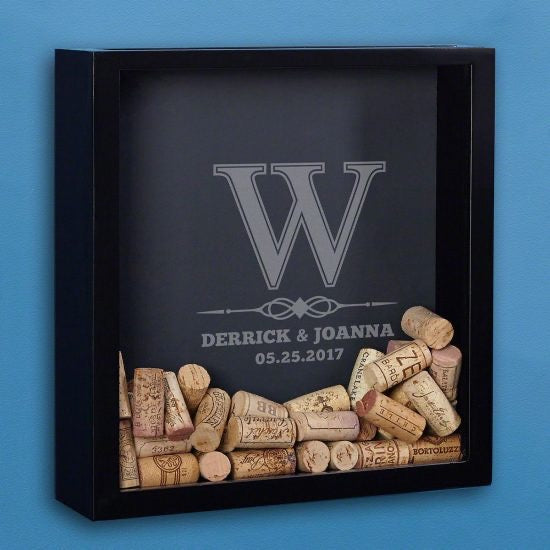 When you're buying for a couple, home decor is usually a pretty safe bet. However, safe doesn't have to be boring. This fantastic shadow box is a great way for them to show off one of their collections on their wall! Every day they can add beer caps, wine corks, even cigar bands, and see how much their collection grows. This isn't something they can hang up and forget about, this awesome gift keeps them coming back to fill it up time and time again!
An Effortless House Cleaning
Keep them from ever arguing over who should do the vacuuming ever again with a self-driving vacuum! Charge this baby up and set it loose in their house! They won't have to worry about this shark eating any of their pets, just their dander. Perfect for a busy house, help them keep things clean with ease with their own self-guided, self-propelled vacuum.
The Perfect Wine Gift for Married Couples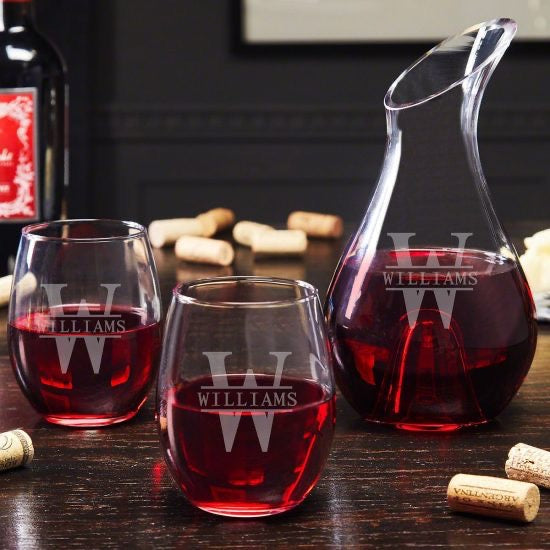 Gift ideas for married couples should focus on what they like to do together. For the wine-aficionado couple, get them a gift you know they can't live without. This decanter and wine glass set will have them experiencing flavors of their favorite wines that they never knew even existed! Oxidizing their wine in the decanter enhances the flavor, making an old-favorite seem like a new exciting wine. Give them a wine gift that keeps on giving with this decanter set they can use for years to come!
A Personalized Pub Sign
One thing any couple who enjoys their beer won't be able to help but love will be an old English style pub sign! This gift for married couples will have them toasting pints of lager or stouts at home in no time! What makes it great is they can hang it in any room! This could be the newest edition to the living room or even the finishing touch to their home bar, the possibilities are endless; just like the enjoyment they're bound to get out of their new sign!
A Sophisticated Scotch Gift
Some couples really need to get a refined gift because refined products are all they put onto their palate. For those people, a scotch serving tray with their very own decanter is the perfect gift for married couples. Whether they are drinking as a couple, or they have a few guests, this serving tray will give them a jaw-dropping presentation that can only be beaten by the fantastic taste of the whiskey inside! Give the classy couple you know the classiest gift you'll find with this scotch decanter set.
For Beer Loving Couples
This beer box set is perfect for any level of beer-lover; no matter if they are just now exploring outside the traditional name brand beers or have been a craft brew hunter for years. The beer enthusiast couple can take their personalized beer growler to their favorite brewery, top it off with an awesome craft beer, come home and enjoy it in their new glasses! Any beer-loving couple will be thrilled that they can taste beer from their favorite brewery, or even open their favorite bottle of beer and drink it, all with this one beer set!
Their New Handsfree Assistant
In today's day and age, who doesn't need a little extra help around the house? Alexa is there to help the buys couple you know out with the little things in life, like having the right song on, making calls, or even helping them create this week's grocery list. Lend a helping invisible hand by giving them their very own wireless helper!
Wine and Whiskey Set
You've seen his and hers gifts before but not like this. Pair these gift boxes with each of the couple's favorite liquor and you've given them one of the best gifts they've gotten all year. The alcohol may only last for a few drinks, but they'll always have a custom set of display boxes that they can keep new bottles in, or merely leave out as fantastic pieces of display art!
A Fantastic Beer Gift for Married Couples
Use these beer gifts for married couples to keep them from ever going thirsty again. They may be taking their favorite beer home or even camping, when they do, you know they'll have a kickass growler set to drink from. The double-walled stainless steel is the perfect way to travel with a beer they will want to drink at the right temperature, since it'll keep it cold for 24 hours! As a gift for the beer loving couple, what is better than guaranteed ice-cold beer on demand?
Cinema of A'Snacktion
Make date night a sight to behold with their own movie sign! What couple wouldn't love seeing their name up on a marquee sign? This is a great gift for newly wed couples. Instead of going to the theaters, they can throw on their favorite film, pop some corn, and relax! They'll still be glowing from the wedding, so make them feel like a star the rest of their lives with this great gift!
143+ PERFECTLY PERSONALIZED HOME DECOR SIGNS>
The Classiest Wine Gift
Give them the royal treatment with an exquisite wine set! This is the perfect gift idea for married couples who love their wine! They'll have a matching set of glasses to share a bottle of their favorite wine from, and even if they don't finish it, now they have a gorgeous wine stopper to enjoy it another day! These glasses will be great for any occasion of drinking, whether it is a night in, or they have decided to show them off at a fancy dinner, these glasses are sure to be the best looking around!
Superior Streaming Gift
Everyone enjoys putting their feet up at the end of the day and watching their favorite show or movie. Make that experience better than before with a Roku set perfect for all of their streaming needs. Not only will they be able to watch all of their shows, from near any provider, they'll have improved sound with these two awesome speakers. Thanks to this gift they'll feel like they have the world's movies and TV shows at the fingertips, and that's because they do!
His & Hers Gift Set for Married Couples
Sometimes a standard gift set just won't do. On those occasions, you need to have a collection of creative gift ideas for married couples. Give them the best refined his and her gift set they've ever with this classy date night set! They can have a few drinks from their his and hers glasses and they make dinner on their new personalized cutting board. All the while, they have a display box that they can collect wine corks, beer caps, or anything else that helps them fondly remember some of the best dates together in their lives!
A Hole Bag of Fun
Is there really any outdoor activity more fun than a game of bags? This cornhole set is perfect for literally anytime. A date night for the couple, tailgating, camping, even graduation parties; they can break this set out and turn the party into a fantastic time! This is one of those gifts for married couples that they will be using for years and will never get tired of it!
101+ MUST-HAVE GIFTS FOR MARRIED COUPLES>
David Harrington is a seasoned researcher with a degree in English literature. He uses his extensive training and research skills to evaluate thousands of gifts a year. He then narrows that list down to a select few, choosing unique gifts that will surprise and delight his readers and their gift recipients.