When it comes to buying gifts for someone who loves coffee as much as they love their significant other, the more coffee-themed your gift is, the better! Don't just stop at a new mug or a box of their favorite K-cups, get them a gift set! A coffee gift set is an assortment of coffee, sometimes a mug or a tumbler, sweet treats that complement a cup of coffee, or even all of the above! Any kind of gift that's all about their favorite coffee or even trying new flavors is a good idea, but a coffee gift should be centered around the experience of enjoying coffee. Don't worry about having to find these gifts though, we tracked down the best of the best coffee gifts and gift sets that any coffee fan will adore!
Classic Coffee Gift Set
Whether you're getting a gift for a pair of coffee lovers or just someone who you know will appreciate having two personalized mugs, this three-piece gift set is awesome! With two mugs and an insulated 64-ounce carafe, this set has everything a coffee drinker needs for their daily serving. The large carafe is perfect for bringing their favorite brew to work, on a road trip, or just on the go so that they have more than enough java to keep them energized.
Practical Coffee Gift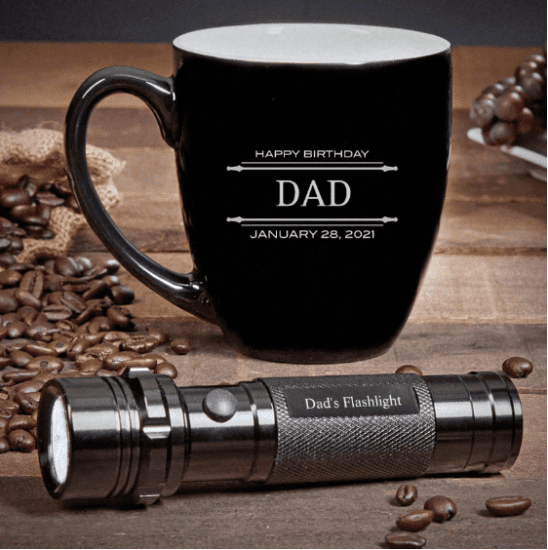 It's never easy finding a gift for a coffee lover who is always about the practical things in life, until now! Get the coffee drinker who's impossible to buy for this handy coffee set to go with their usual box of K-cups, they'll never expect it. Every coffee lover needs a personalized mug, after all, and who could say no to a custom LED flashlight? This unique gift set is the perfect gift for anyone you know who drinks coffee and always says they don't need anything for their birthday or for Christmas.
A Gift Set All About Coffee and Golf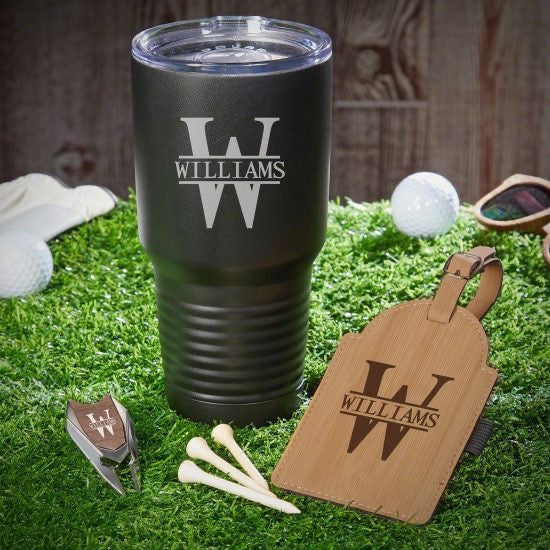 Do you know someone who loves playing golf as much as they love drinking coffee? Then this is the ultimate gift for them! They will be over the moon when they get this set and will want to take it on the green right away to try out each and every piece. Now, when they go golfing with their buddies, they will always know which bag is theirs thanks to the custom golf tag. Plus, they'll be energized through all 18 holes now that they have a large insulated tumbler to take with them. After all, there's nothing quite like a hot coffee to beat the chill at tee time!
Coffee That Tastes Like Luxurious Chocolate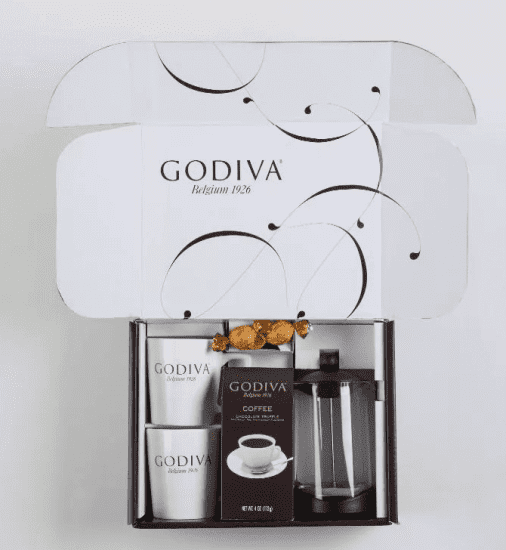 Everyone knows that Godiva chocolate is the best tasting, most luxurious chocolate you can buy. Well, they also make coffee that tastes just like their famous truffles! Any coffee lover who enjoys chocolate will be in heaven once they try their new French press with the gourmet chocolate truffle coffee, especially when they have the actual chocolate truffles along with their coffee! This amazing coffee gift set is one of the best gifts for coffee lovers, especially for a couple so that they can share this delectable set.
Coffee Bar Essentials
Whether you're looking for a unique coffee gift for a housewarming or you know someone who has always wanted their own coffee bar at home, this pair is perfect! The custom wood sign is fully customizable to create a one-of-a-kind piece of decor for their home that they can treasure forever, and it will certainly make their new coffee bar official! Plus, a matching personalized mug is an ideal addition to their mug collection. In fact, they might want one for every coffee drinker in the family!
319+ PERSONALIZED SIGNS FOR THEIR HOME>
Coffee Tumblers for Everyone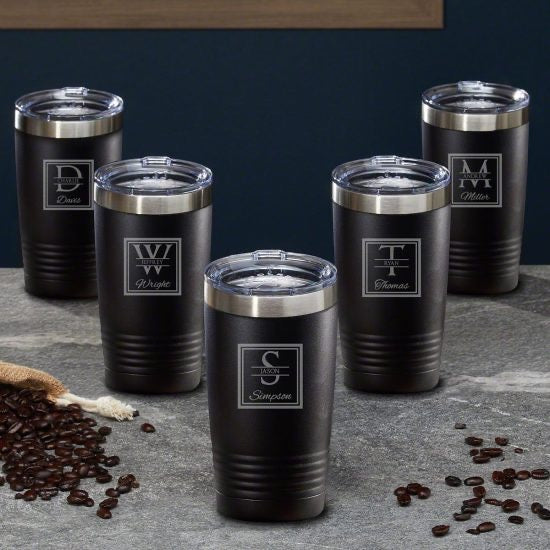 Need a bunch of gifts for a group of people who all drink coffee? Save some money by buying each of them a personalized coffee gift in a bulk order! This set of five custom 20-ounce tumblers is perfect for giving a group of employees for Christmas, welcome gifts for new clients, or even your whole wedding party. If the tumblers aren't quite what you're looking for, there's always a set of five coffee mugs instead!
The Most Legendary Coffee Gift Set for Him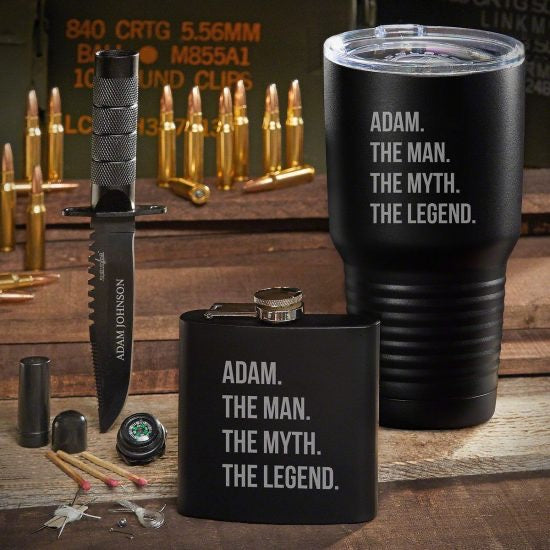 Look no further, the guy in your life who loves coffee will be absolutely speechless when you give him this incredible gift! The whole set is personalized and will make him feel like a badass whether he's sipping on Black Rifle Coffee or enjoying a shot of whiskey from his flask. He'll want to take this set everywhere he goes because it's awesome, practical, and makes him look cooler than ever before.
Tasty Coffee Gift Basket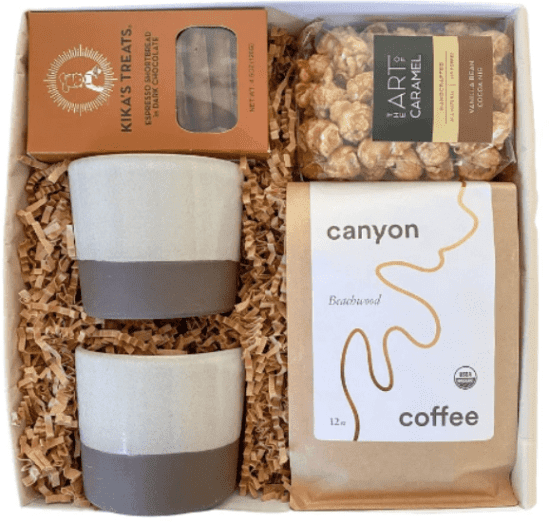 There's nothing like a piping hot cup of coffee and a sweet treat, and this gift basket is all about that delectable pairing! The person you give this lovely gift basket will enjoy sharing their cool new stoneware cups, Canyon coffee, caramel popcorn, and chocolate-covered shortbread with you or a friend as soon as they open it! This thoughtful, tasty gift basket is guaranteed to please any coffee lover you know whether you're trying to find a nice Secret Santa gift for a coworker or a Mother's Day gift for mom!
A Classic Gift Set You Can't Go Wrong With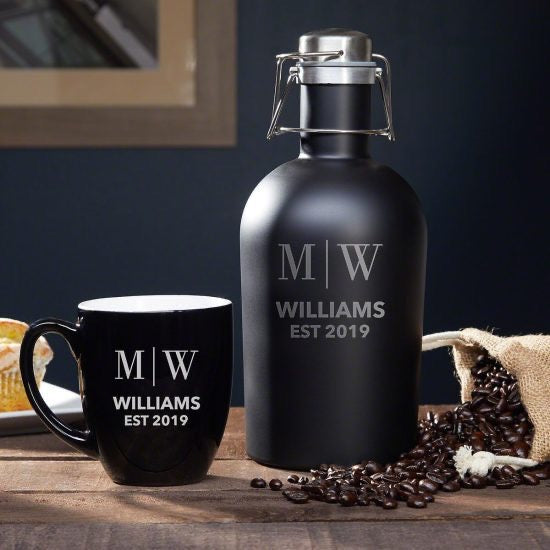 When in doubt of a good gift for someone who enjoys coffee, get them a personalized mug and carafe set! The unique engraving on both pieces is fully customizable so that you can create a truly one-of-a-kind gift for them that no one else in the world will have, especially if they're always fighting over the mugs in the office break room with their coworkers. Now, they will have their own personal mug to enjoy! Plus, the insulated carafe holds more than enough of their favorite coffee so that they can stay energized all day long. To make this pair of gifts even better, include a box of their favorite K-cups and you've got yourself the ultimate gift set!
The Perfect Travel Set
Are you looking for unique coffee gifts for someone who is always traveling? They will love this coffee and cigar gift set! With a matching tumbler, cigar case, cigar stand, and a cool new pair of sunglasses, they have everything they need for their next journey. This set is actually a DIY set that you can put together yourself with each unique gift, but when put together in a gift box or bag it looks like the whole set was destined to be together. Just don't forget to put a few stogies inside the cigar case before you give the coffee lover in your life this amazing gift set!
Only the Essentials
The best way to enjoy coffee on the go is with a tumbler, and if the coffee lover in your life doesn't have one already then now is the time to get them one! However, they can't go anywhere without a trusty flask at their side as well so that they can make their coffee Irish. With this essential gift set, the coffee lover in your life will have everything they need to properly enjoy their favorite beverage plus a cool pocket knife they can keep on hand everywhere they go!
New Coffee They've Never Tried Before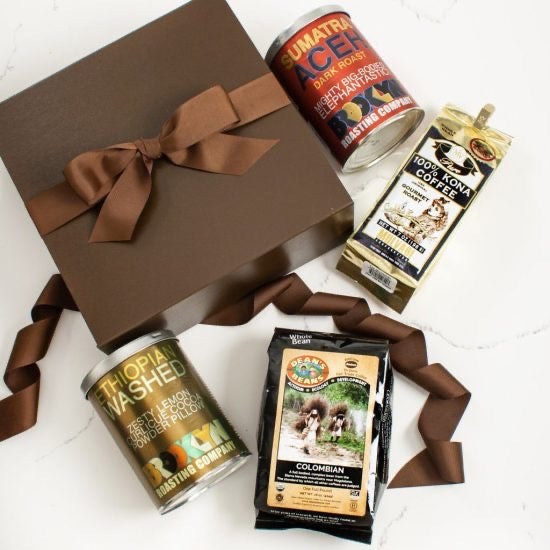 The best kind of coffee gift set you can give is an assortment of new coffee for them to try, like this one that features four unique packages of ground coffee from all over the world! With a rich dark roast from Sumatra to a sweet lemon blend from Ethiopia, this gourmet coffee set will allow them to taste unique coffee unlike any other they've tried before. Who knows? One of these blends might become their new favorite!
The Perfect Pairing
A good coffee gift doesn't have to be anything extravagant, it can be something as simple as a personalized mug and flask! This simple but thoughtful duo of gifts is perfect for the coffee fan who enjoys Irish coffee especially, but anyone you know who loves coffee will appreciate this unique gift. You can get really creative with the lines of text on each gift to make it funny, sweet, simple, or cool, which means you can easily get this set for every coffee drinker you know and no two people will have the exact same set!