Christmas is a fantastic time of year to get presents for your loved ones. Everyone knows that. However, you don't always have to go for crazy luxury gifts or something from the far left field to surprise them. Often, some of the best Christmas gifts are useful ones! When a gift is useful to them, it shows just how much thought was put into your gift! So, get useful Christmas gifts that help them solve a problem, replace a product they've been wanting for a while, or are simply useful because your gift is incredibly thoughtful. So, whether you get them that new snazzy set of glassware or tool for the project they've been trying to complete, these unique and thoughtful Christmas gifts are sure to be a hit!
An Ammo Can Full of the Most Useful Christmas Gifts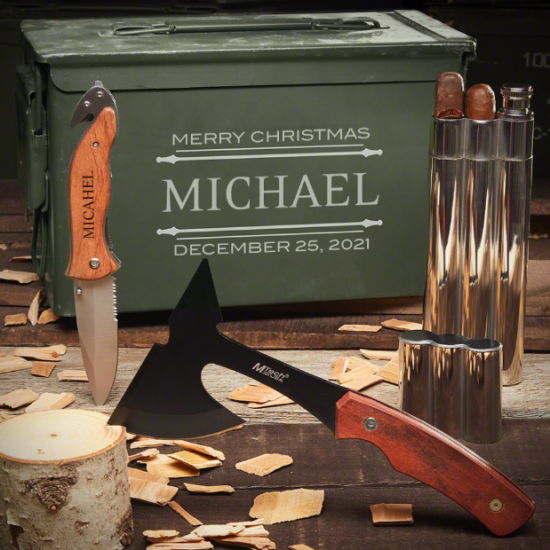 This year, for Christmas, you want to do more than simply getting them a cool gift, you also want to get them one that is useful too! However, with this personalized ammo can gift set, you can do both! Thanks to your gift, they can always be prepared for anything that comes their way thanks to the folding knife and they will definitely be in the holiday spirit the rest of the Christmas season thanks to the cigar flask! When they find this custom gift under the tree, they'll know you wanted to find the perfect gift they will use all the time!
The Perfect Christmas Present for Whiskey and Cigar Lovers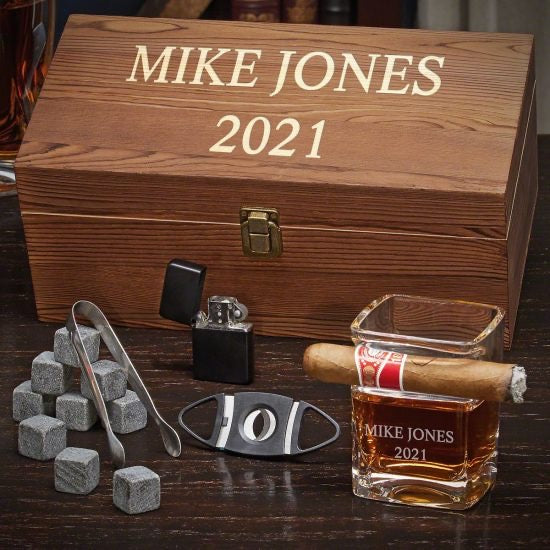 When searching out gifts for the holiday season, don't forget that the weather outside is likely to be frightful. Between clearing off cars, snow shoveling, or building a snowman, they're bound to experience some chills. Give them the most thoughtful Christmas gifts imaginable with this custom cigar whiskey glass gift set! Now, when they come inside from the bitter cold, they'll be able to warm themselves from the inside out with a nice glass of whiskey as well as their favorite stogie!
Everyone Needs a Monogrammed Cutting Board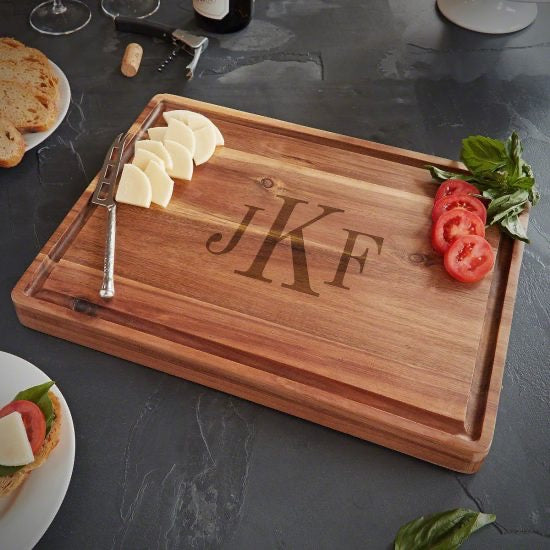 One place holiday cheer is guaranteed to come from each year is in the kitchen, and of course, every Christmas meal starts at the cutting board. So, get them a gift that they can use for years that will help bring joy to their world with this monogrammed acacia cutting board! This is the perfect place for them to work as they toast holiday nuts, make a Christmas ham, or prepare their signature dessert. Cutting boards this good looking aren't only useful Christmas gifts, they also double as a unique piece of decor for the kitchen, too!
The Sharpest and Most Thoughtful Christmas Gifts
Speaking of working in the kitchen, replace their old dull knife set with this quality Wusthof set. They'll be able to chop, dice, mince, peel, or any other knife movement they could possibly think of! These chef-quality knives will make them want to use their cutting board above more than ever.
A Personalized Watch Case Gift Set
Useful Christmas gifts aren't just solo gifts, a lot of them come in sets too! This personalized watch case with flask and rocks glass is a gift that gives them a little bit of everything this Christmas season. From getting ready in the morning to celebrating at night, this awesome gift has them covered! They can even bring some holiday spirit with them when they have to travel thanks to the matching flask
The Perfect Tool for Every Job
What is more useful than a multi tool for Christmas? How about one that has an adjustable wrench on it too? This unique multi tool will put all over tools to shame! Now, instead of carrying a whole toolbox or kit around, they'll simply be able to leave this tool in their glove compartment, in their go-to drawer, or their pocket, so no matter what emergency repair comes up, they can fix it! From cutting a loose thread to helping Santa get his sleigh back on track, this gift can do everything.
Recharge Them From the Holidays
Traveling for the holidays can leave us all feeling a little bit drained, so get them a gift that recharges their batteries with this leather wireless charging pad. This is the perfect gift that you know for a fact they will use every single day, because who doesn't charge their phone daily? Plus, they will always have it in a convenient spot, whether it is the bedroom, by their favorite chair, or by the door when they come in, this gift is sure to keep them ready to go!
A Tough & Custom Cigar Humidor
An incredibly thoughtful Christmas gift for a person who simply can't get enough of their stogies has got to be an engraved ammo can humidor. Now, even if they are gone all of the winter season spreading holiday cheer, they can come back to find that their Cohbias and Padrons have been stored perfectly and are in just as good of condition as the day they got them. Nothing will put a bigger smile on their face this holiday season quite like this unique and useful gift!
A Set for the Badass Wino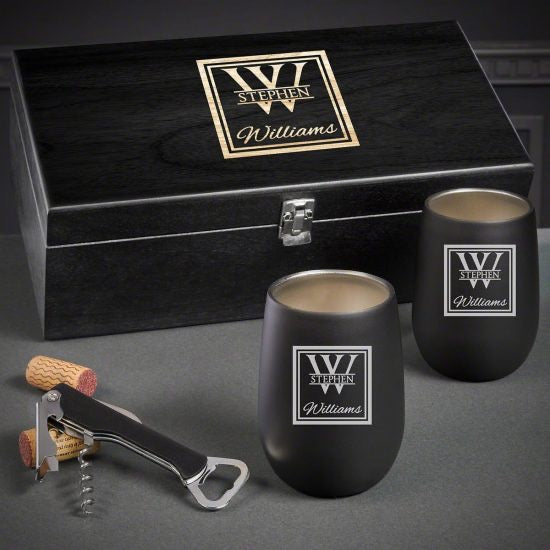 Useful Christmas gifts can also be about how your present makes them feel. For example, this awesome wine tumbler box set is a gift that will not only make them feel like Johnny Cash each time they go to it but they'll also feel super fancy each time they pull the wine tumblers from the matching blackout box. In fact, they may love the look of the glasses so much, they'll never put them back! Leaving the box as the perfect keepsake for things like Christmas cards, small ornaments for the tree, or holiday photos.
Custom Coasters are Useful Christmas Gifts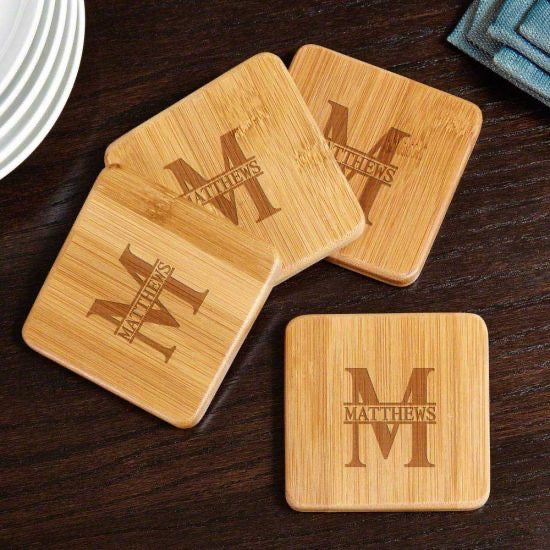 Although the weather outside is frightful, their drinks inside are as cold as icicles! Don't let the downer of this holiday season be ring stains on their favorite table with the coolest looking custom coaster set they've ever seen! With their name and initial on them, they'll love having these out, not just to be used but to show off their favorite gift. These thoughtful Christmas gifts even work well as a stocking stuffer!
Unique Leather Messenger Bag
The easiest and classiest way to give someone a gift they'll find useful is by getting a messenger bag. A unique leather messenger bag isn't only a great gift for anyone you know but it is also incredibly useful! From important meetings requiring safe travel of documents to daily commutes to the office with their laptop, a messenger bag has them covered. Plus, when you get one that looks this good, they'll always look like a class act!
A Whiskey Gift That Rocks!
Spread the holiday cheer this year with this personalized whiskey stone gift box! These thoughtful Christmas gifts are sure to be clicking all night long with toasts and won't stop until New Year's day! A gorgeous gift like this set is a simple but great way to show how much you care this holiday season.
Thoughtful Christmas Gifts are Fun for All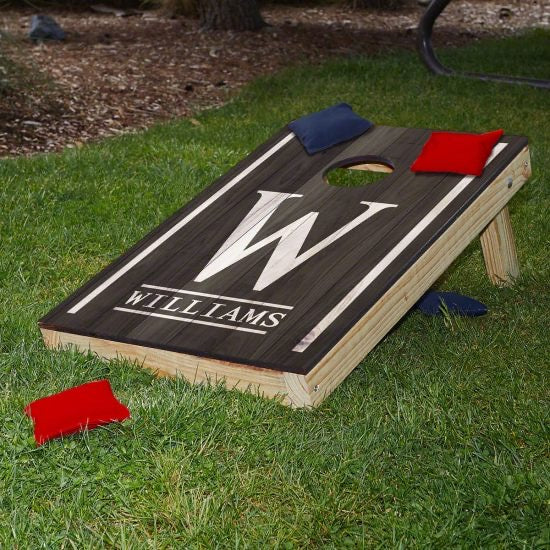 Get a gift that is useful for their whole family with a bean bag toss game set! Perfect for year-round fun, this game will have everyone up and wanting to play one another! This is ideal for get-togethers such as the holidays, cookouts, or tailgating events! Just don't be surprised when whoever you gave this to becomes a sharpshooter and nearly unbeatable with all the practice they'll get owning their own set.
A New Office Chair
The amount of people who work from home has been sky-rocketing over the last few years, so if you know a remote worker, what could be better than a gift they get to use for eight hours a day minimum? A quality desk chair is a thoughtful Christmas gift that they'll thank you for each day! So get them the gift you know they've been thinking about all year long but simply haven't been able to pull the trigger on with a high-quality desk chair!
The Classiest Christmas Gift Set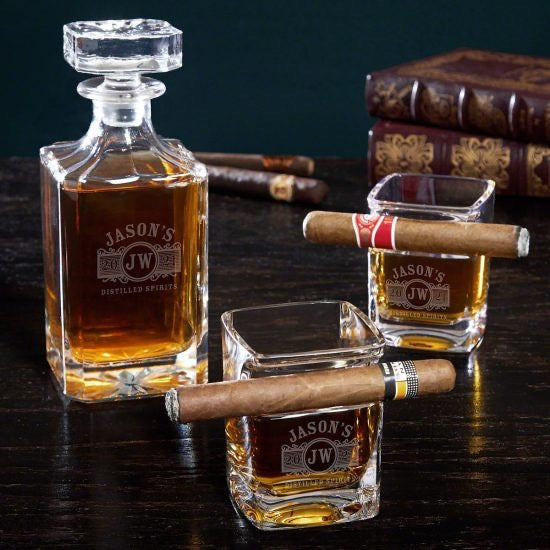 Have them feeling the classiest person while filling them with holiday spirits during Christmastime with an engraved cigar whiskey decanter gift set! These Christmas gifts will be out on display and for use long past the holiday season. For the person who loves to share a drink, this set will be on their home bar or counter-top year-round! It is the perfect useful gift as well as a thoughtful one too, not only because they can drink and smoke with one hand, but the engraving shows you really went the extra mile as well!
Personalized Shadow Box for Holiday Memories
The holidays are all about making memories, so a useful and thoughtful gift that is all about collecting and showing off memories only makes sense. This custom shadow box is a great way to display wine corks, beer caps, movie tickets, or anything else from your traditional holiday get-togethers. The glass case makes looking at these items just as easy as watching television, while the box is easy to set up on a wall display or on a desk.
Engraved Rocks Glass Gift Set
In need of a smaller gift for Christmas that will pack as large of a punch as some of the bigger sets? This engraved rocks glass gift set is the perfect way to give a thoughtful gift while also not breaking the bank! Each time they have a drink they'll be thinking of you and the Christmas they got this unique and thoughtful gift!
Keep Them Fit with Thoughtful Christmas Gifts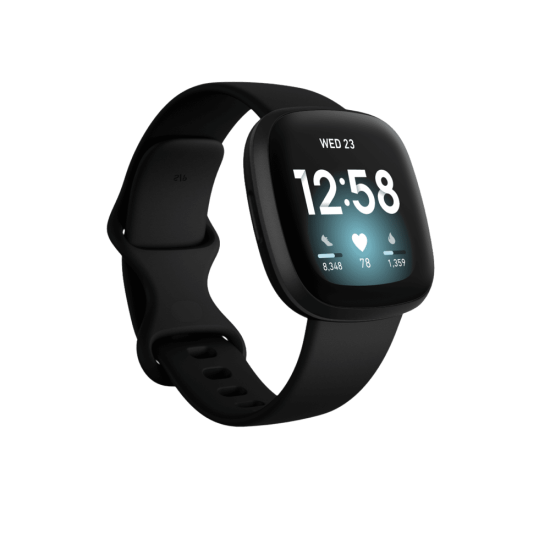 Getting in shape can feel like such a burden sometimes. Keeping track of the amount of exercise you get in isn't always the first thing on your mind either. However, with this Fitbit, keeping track of fitness has become the easiest part of working out! Now, they'll be able to see if they need more activity, their heart beat, all while having an awesome looking watch too!
Show Off Their State Pride
Make their favorite spot of the house feel even more unique with one of these thoughtful Christmas gifts, a beer cap map of their favorite state! This is the perfect interactive gift for the holidays too! They can fill their state with all the beer caps from beer shared with friends and family. After the holiday season, they could start over or finish it off at the next family gathering!
A Snack for the Holiday Season
For some, the holiday season can feel super stressful because they are doing so much for other people. Help them to feel loved during Christmas with a snack basket. Each time they bring a tasty pear or sweet snack to their mouth, they'll remember that there is someone out there hoping their holidays are going as well as they can!
Useful Christmas Gifts for the Whole Year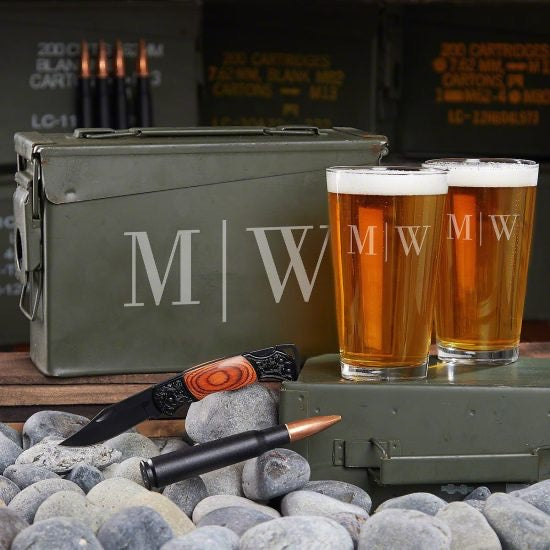 Arm them for the holiday season with this set of useful Christmas gifts that is sure to have any beer-lover ready for the amount of craft beer and six-packs about to come flying their way! Now, they'll be ready to do battle with IPAs and lagers alike. No amount of beer can stand in their way when they've been prepared with this initialed ammo can full of matching pint glasses, a badass bottle opener, and even a folding knife!