When it comes to giving gifts for people who love wine, you don't want to just give them a bottle of wine. Wine lovers enjoy getting gifts related to their favorite evening treat, but not just anything will do! Gifts for wine lovers should be unique, especially if it can help them show off their love of wine. You don't want to give them a random, cheap wine gift that you can find in any department store. A gift for a wine lover should be nice and enhance their wine drinking experience so that they can enjoy it even more. Looking for wine gadgets and tools? What about gifts for a couple who loves wine? Are wine glasses good gifts? What about trying to find one of the best wine gift set ?You'll find everything you need and more below for all of the wine lovers in your life no matter what occasion you're giving them!
Classic Gifts for Wine Lovers: Glasses and a Decanter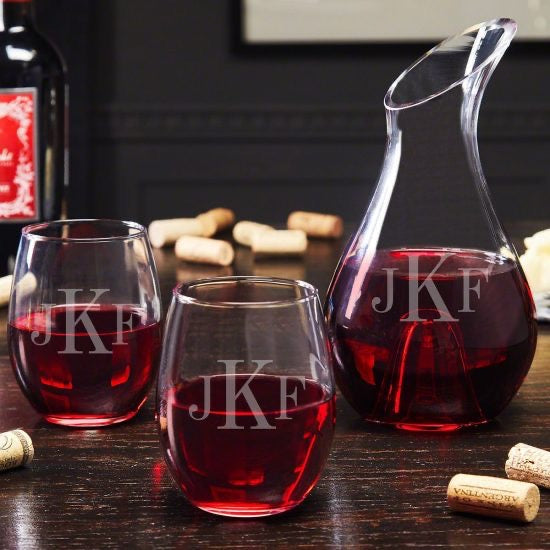 Anyone who drinks red wine knows that it's important to let the wine breathe a little before consumption, but it's even better when decanted! Whether they're just getting into drinking Merlots or they have been exclusively enjoying Cabernet Sauvignon for years, a red wine decanter set is one of the best gifts for wine lovers. This gorgeous monogrammed set is perfect for two to enjoy a robust Burgundy with dinner! The decanter is quite easy to use and expertly aerates red wine through a two-step process. Simply pour as much wine you want to drink into the decanter, swirl it around a little, let it rest, and then pour into glasses. You'll notice that the tannins are much smoother, allowing you to properly enjoy the bouquet. This lovely wine decanter set is the perfect wedding, anniversary, or holiday gift for a pair of wine lovers!
The Stylish Way to Chill Wine
Not everyone has a wine fridge or room in their regular refrigerator to store bottles of wine. The classiest, simplest, and proper way to chill wine is with an actual wine chiller! This gorgeous marble wine chiller just needs to be stored in the freezer for an hour and two while you get dinner ready and it'll ensure that the entire bottle is the perfect temperature within minutes. When you're not using it to chill wine or storing it in the freezer, this elegant chiller makes a great piece of decor. You can keep a bottle in it on the counter to dress up the kitchen a bit, or even use it to keep your wine-opening tools handy. The simple engraving of your name and initial is just the cherry on top of this beautiful wine gift!
You Can Never Go Wrong with Wine Decor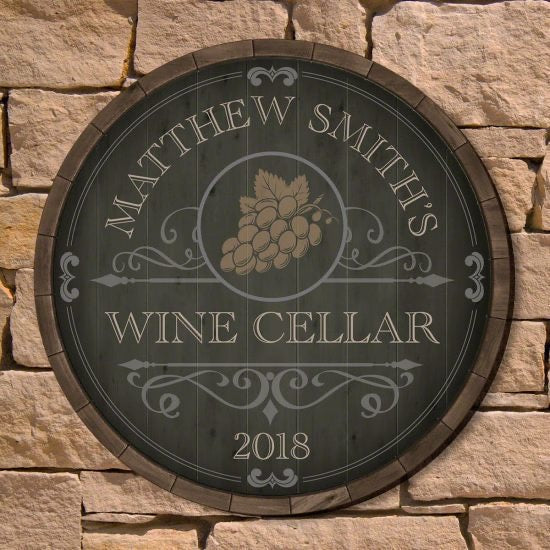 People who love wine enjoy decorating their home with anything to do with wine whether it's whimsical DIY wine cork trinkets, wine bottles filled with string lights, or signs like this one! Designed to look like a wine barrel, this lovely sign is the perfect gift for a wine lover because it's customizable, elegant, and shows off their love for wine. It comes in two different color schemes too, the green one as shown and a white version with red elements. The green version kind of represents white wines such as Chardonnay while the red is more for Merlot fans.
Don't Give Just a Wine Bottle
Want to give a special bottle of wine to someone hosting a nice party, bought a house, or is getting married? Don't just give the bottle, give them a complete wine gift! This beautiful personalized wine gift box comes with all of the essential tools to enjoy the bottle while presenting the bottle itself as a gift in a more tasteful and personal way. Whoever you give this lovely gift will be amazed that you went above and beyond to give a really nice bottle of wine! They will want to keep the box on display to house the tools as well as their next bottle or a wine cork collection.
Fun Novelty Glasses
Wine lovers typically enjoy novelty wine gifts like these funny glasses! The quirky tilted design is unique and fun, especially so for younger wine drinkers in their 20s. However, anyone older will get a kick out of them too! This set of two novelty wine glasses are the perfect 21st birthday gift or holiday gag gift for a wine lover. They will love using these fun glasses, and they make for a great Instagram post!
181+ MORE WINE GLASSES YOU WILL LOVE>
The Ultimate Wine Subscription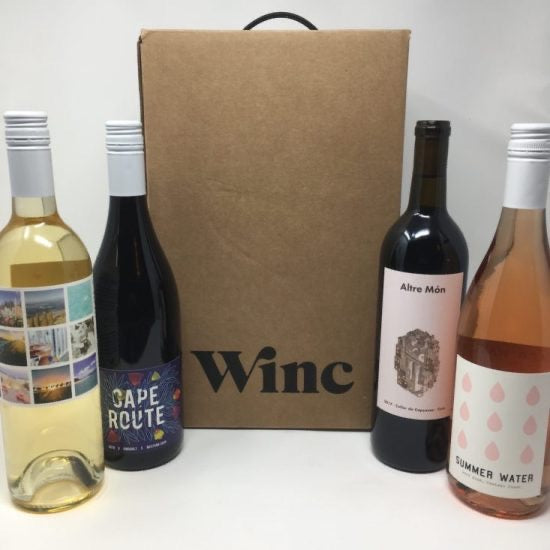 Looking for gifts for wine lovers that just keep on giving? Try a wine subscription! Winc is by far the best wine bottle subscription around because each month, you get exactly the kind of wine you enjoy. Before signing up, you take a quiz to determine the types of wine you would best enjoy: reds, whites, sweet blends, florals, dry, types, and more. Every month, your wine lover can get three or more bottles that Winc suggests. They can pick out their own bottles, too! The membership is easy to use, and will give them something delicious to look forward to each month. After a month or two of Winc, they might not ever go to the store for wine again!
No Aerator or Decanter Needed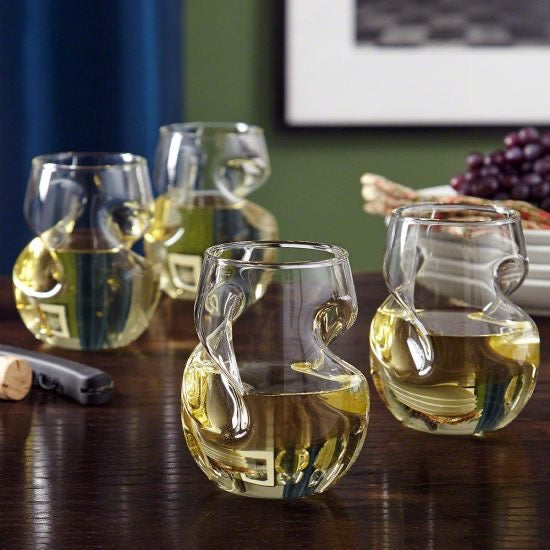 You won't need an aerator or decanter to enjoy wine again thanks to these self-aerating wine glasses! The delicate curves of each unique glass pushes the wine around your glass as you swirl and sip, unlocking the flavors and smoothing the tannins. You can use them for red or white wines, and you won't want to use regular old round glasses again after trying them out. The set of four is perfect for wine tastings on your own or with friends, and anyone who sees these works of art will be jealous! Thanks to these aerating glasses, you're well on your way to being a true sommelier. These glasses are great wine gifts for a housewarming or Christmas.
Lovely Gifts for Wine Lovers for Any Occasion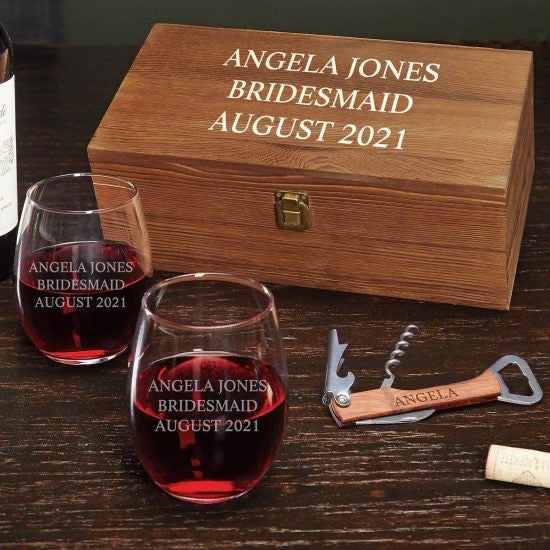 Wine is relaxing on your own, but it's way more fun to share with a loved one or a friend. Whether it's for a date night, girls' night, or catching up with an old friend, this stemless wine glass set is the perfect wine lover gift! The nifty multi tool has two different kinds of bottle openers, a corkscrew, and a foil cutter blade. This way, the wine lover in your life is prepared for wine or beer! The best part about this gift set is that the stemless wine glasses and the wooden gift box are all personalized with three lines of text of your choosing. You can have the set say "Jessica Smith, Best Friend, Since 2002" or "If You Can Read This, I Need More Wine Glass, – Ashley's Wine Glass." This allows you to be super creative and customize the set to be unique for the occasion and the person you gift it to! How awesome is this uncommon wine gift set?
Make Sure Your Wine is Chilled On the Go
Do you enjoy bringing a bottle of wine to a friend's house to enjoy or on a weekend getaway to the mountains with your partner? You need an insulated and portable wine chiller! After all, there's no reason to have to settle for lukewarm white wine or hot red wine. This handy chiller is made of insulated stainless steel and will keep your wine cold for up to 24 hours. The best way to use the cooler is by keeping the wine bottle in the fridge and then placing it in the cooler before you leave. The chiller will keep the cold in, ensuring that it stays the perfect temperature. This portable cooler is the perfect gift for a wine lover who loves to travel with their favorite wine!
Create Your Own Unique Wine Gift Set
Not seeing the right gift for the wine drinker in your life? Create your own unique gift set for them! For example, an electric corkscrew, wine decanter, giant stemless wine glass, and a cork shadow box are all fantastic gifts for wine lovers. The giant glass actually holds an entire bottle of wine, can you believe it? After opening the bottle with the handy electric corkscrew, they can decant the wine with the unique hammered decanter. Then, they can pour all of the wine into the giant glass or just however much they want to drink for the evening (they probably won't need a refill!). After that, they can toss the cork into the shadow box! Using these items will become a regular routine for your wine lover.
Edible Wine Gift Basket
Sometimes, the best gifts for wine lovers are simply wine, but why not step it up a notch and get them a whole gift basket full of delicious snacks to enjoy too? This gorgeous, opulent gift basket is rather impressive. It comes with a Cabernet Sauvignon, Zinfandel, and an assortment of sweet treats and savory bites. Such an extravagant wine gift basket is best to celebrate the holidays, a promotion, or retirement.
A New Way to Drink Wine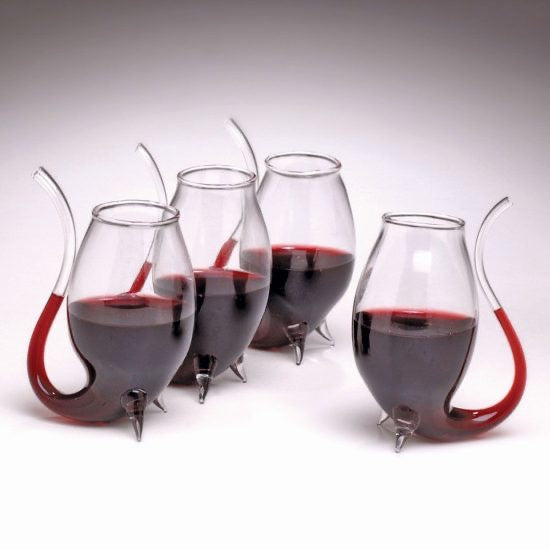 Novelty wine glasses are fun gifts for wine drinkers, sure, but what about unique glasses like these? You've probably never seen any wine glasses like them! With built-in straws and convenient little feet to stand on, you can sip wine in a more fun and different way than ever before. Anyone who drinks wine would love to try them out! They're great for entertaining friends and family, too, as they've probably never tried them before. These cute little sippers are like the adult version of cups with bendy straws!
Classy Wine-Themed Decor
When it comes to wine-themed decor, it has to be classy, unique, and all about wine. Whether it's wind chimes made from recycled wine bottles with corks as the chimes or a cute sculpture made of wine corks, every wine lover needs a fun decorative wine-related piece in their home. With this unique custom sign, they can show off their love of wine in a classy, tasteful way. The cool graphic is a wine glass created with different wine terms, but you can personalize the name and year around it. This modern wine sign is great for displaying in the kitchen, home bar, or dining area in a wine lover's home.
Wine Tumblers Are All the Rage
Step into the 21st century, where wine glasses don't have to be fragile and can keep your wine chilled all the way through dinner. Stainless steel wine tumblers are quite popular right now because you can travel with them, drop them, and enjoy wine in the pool without having to worry about breaking glass! Everything in this wine tumbler set are great wine lover gifts because they can take the tumblers and the multi tool anywhere, worry-free. They can bring them on vacation so that they can drink wine in their hotel room or AirBnb from actual glasses instead of the cheap plastic cups provided for them. They'll want to bring the handy corkscrew multi tool along as well! This set is a great wedding, anniversary, or holiday gift for any wine drinker you know who could benefit from indestructible wine glasses.
Gorgeous Wine Decanter
Decanting wine is a necessary step if you want to properly enjoy red wine. However, it doesn't have to be boring! Turn your decanting into a fun, beautiful activity with this gorgeous decanter! By far the most visually appealing aerator you've ever seen, you will love using it. Watching the wine pour down the decanter and flowing through all of the twists and turns is just so satisfying! Like those videos of people cutting soap, you can enjoy you wine in the most enjoyable and visually appealing way. When you pour the wine from the bottle into the decanter, the beautiful curves help bring air into the wine and open the bouquet, letting it breathe. As you pour from the decanter into the glass, the second aeration smooths the tannins and enhances the flavor. Thanks to this work of art, your wine time will be both more enjoyable and more delicious!
Preserve Your Wine
Want to keep your wine as fresh as humanly possible? Enter the Coravin Wine System. This totally awesome high-tech gadget actually allows you to enjoy wine without opening the bottle. Yeah, you read that right! Using a needle and pressurized Argon gas, the Coravin draws wine through the machine to pour from a spout while also filling the extra space in the bottle with the gas. This ensures that your wine stays pressurized and sealed so that you can enjoy the flavor of a freshly-opened bottle every time! How awesome is that? This gadget is definitely one of the coolest gifts for wine lovers!
Rustic and Unique Gifts for Wine Lovers
You've found a couple of small gifts for the wine drinker in your life, but you're not sure which one to choose. Well, you don't have to! Get them all and create your own personally curated gift set! Is your wine lover really into DIY crafts, rustic decor, and unique wine glasses? This gift set is perfect for them. They will love using the gravity-defying wine bottle holder to display their next bottle of wine in the kitchen or bar area. When it's time to open it, they'll want to use the beautiful bamboo tool set! Then, they'll pour the wine into not regular old wine glasses, but these fun rolling ones that teeter and totter on the table without spilling a drop. Now that they cork is free, they can use it with their DIY wine cork trivet that they assembled with their own unique pattern. Seriously, can a gift for a wine lover get any more perfect than this?
The Perfect Gift for a Couple Who Loves Wine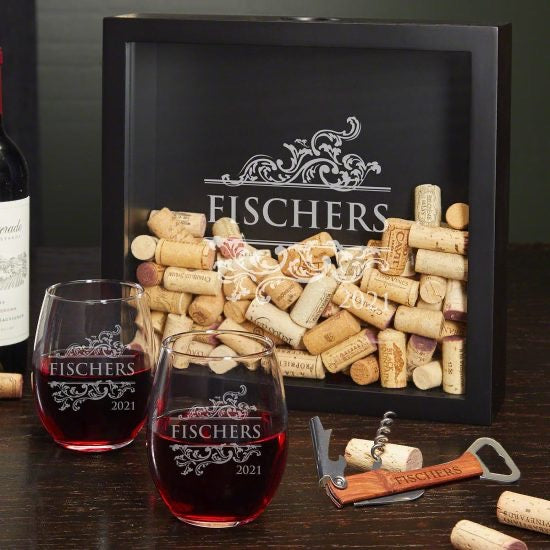 When looking for gifts for a couple who loves drinking wine together, you shouldn't just settle for an expensive bottle of wine and some glasses. Take it to the next level and get them an entire personalized set that they'll treasure forever! This incredibly beautiful shadow box gift set is all about enjoying wine together and preserving the memories of each and every bottle. The happy couple will love the personalized stemless wine glasses as they are great for both red and white wines and hold a substantial 20 ounces. They will enjoy storing their collection of wine corks in the shadow box even more because it's a fun new hobby that they can look forward to every date night! Once the shadow box is full, they can dispose of the corks or use them to create a cute cork craft together. Such wonderful gifts for wine lovers are ideal to give for a wedding or anniversary!
Decorative Wine Decanter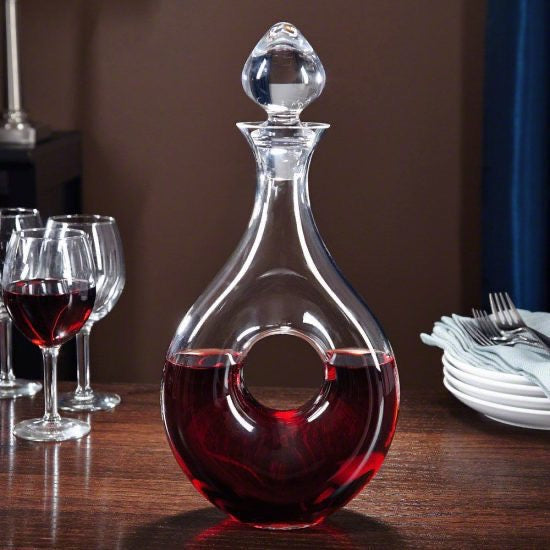 You've probably seen this exact decanter or something similar in a movie before. It's aesthetically pleasing with its fluid shape and unique design. A wine decanter is always a good gift for a wine lover because they're decorative and they make red wine taste better. Like the previous decanters, this one has a two step process that first aerates the wine and then enhances the flavors by toning down the bite of the tannins. When not in use, this beautiful decanter makes a lovely modern decoration.
Show Off Your Love of Wine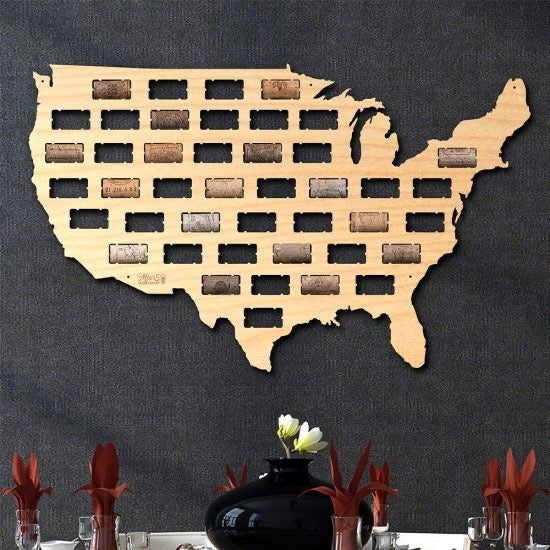 Looking for something unique to show off your wine corks? You need a wine cork map! This unique sign is a fun and creative way to both add a patriotic touch to your home as well as giving you a neat way to display the corks from your favorite wines. You will love filling up the map over time. This sign is perfect for decorating the home bar, kitchen, or dining area and is one of the most unique gifts for wine lovers for Christmas or a housewarming.
The Cutest Way to Bring Wine for a Date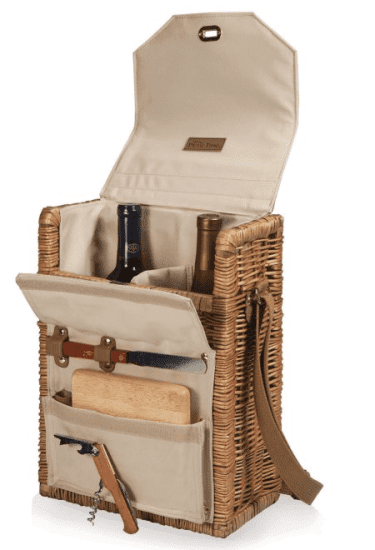 Whether you and your sweetheart enjoy romantic picnics in the park or going out on the lake, you'll need a picnic basket to bring along plenty of wine and snacks! This handy basket comes with a cheese knife, cutting board, and a corkscrew so that all you need to bring is the wine and cheese. Plus, the inside of the basket is insulated to keep your wine cool! This adorable basket set is perfect for date nights, celebrating your anniversary, or Valentine's Day.
Classic Set of Red Wine Glasses
Besides giving actual wine, a set of wine glasses are classic gifts for wine lovers. But don't just get them any old regular wine glasses from the mall, you should get them the right wine glasses for the kind of wine they prefer! For those who prefer full-bodied red wines such as Cabernet and Merlot, they'll need Bordeaux glasses. These gorgeous monogrammed wine glasses will smooth the highly acidic tannins, mellowing the bite and allowing them to enjoy the subtle flavors within. No matter what occasion you're giving them, these glasses are sure to be enjoyed and appreciated.
Gorgeous Wine Barrel Sign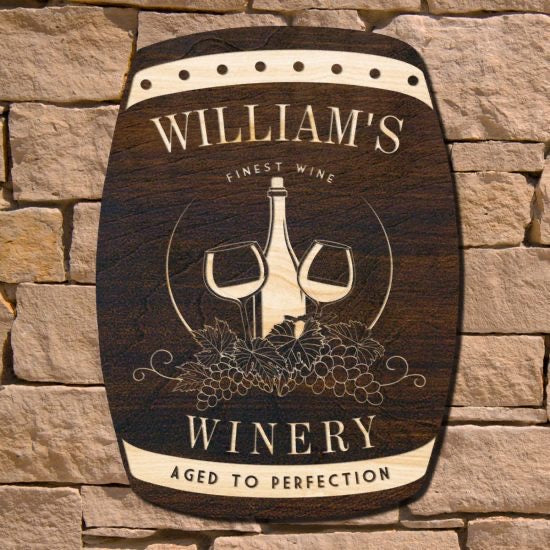 You might not have an actual winery or wine cellar, but you can still decorate your home bar to be a wine bar! This rustic wine barrel sign is a lovely work of art that will add a touch of class and sophistication to your home bar. The beautiful design is elegant and totally customizable so that you can make it truly your own. None of your fellow wine lovers will have decor like it! Made of sturdy American birch wood, the sign is built to last for years to come. This sign would be the perfect gift for a wine lover, especially for a stock the bar party!
Fluidly Modern Wine Decanter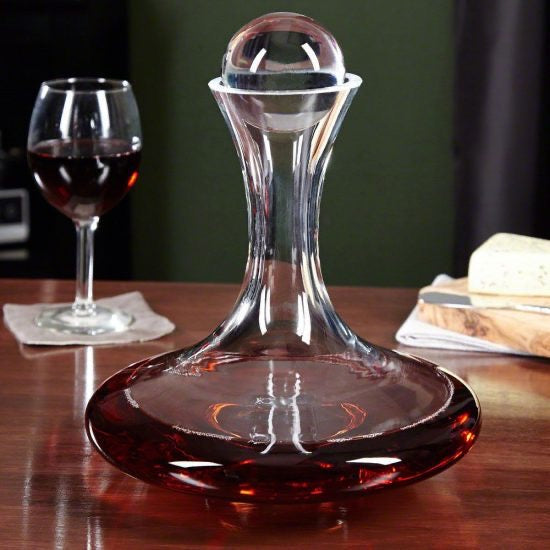 Drinking wine is an experience, and a gift for someone who really loves wine should improve it! This decanter set is a great example: the decanter is great for aerating wine, the glass ball stopper will help keep your wine fresh all evening, the included funnel makes it easy to pour wine in without making a mess, the drying stand ensures there won't be any excess water to affect your wine, and the cleaning beads will keep it extremely clean. This decanter set makes the experience of drinking wine more pleasurable, but it also ensures that you can easily clean and care for the decanter itself.
The Perfect Wine Gift Set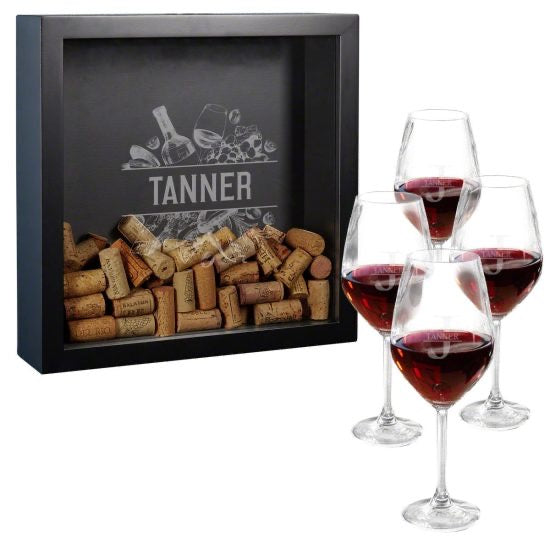 Drinking wine is a fun and relaxing activity to enjoy on your own, but it's best when you share it with friends or family. This set has the best gifts for wine lovers who enjoy sharing their wine time with their loved ones! The four stemmed glasses are great for red wines or white wines with their classic design and are even personalized with the name and initial of your choosing. After opening up a bottle, the wine lover you give this set to can drop it in their new custom shadow box to start a collection. They will love watching the shadow box fill up over time with all of the different corks from the many wines they try over the next couple of years. This fun gift will become something to look forward to every time they have company over!
A Fridge Just for Your Wine
Having chilled wine is a necessity, but it's not always feasible. Some people have small refrigerators or their large fridge is full of food! Solve their problem with their own wine cooler. This cute little fridge is perfect for storing all kinds of wine, not just white wines and champagnes. They can program the temperature to make sure it's just how they like it. This awesome cooler can hold more than enough wine for date nights, parties, or just to have for special occasions.
Personalized Wine Glasses Set
Wine glasses are always appreciated gifts for people who regularly drink wine, but that doesn't mean they have to boring. Whether you're giving a holiday, housewarming, or promotion gift, the wine lover you know will appreciate a gorgeous personalized box set of stemless wine glasses. Giving a personalized gift shows that you really care about the recipient as you put extra thought into the gift instead of just grabbing a set of wine glasses from the nearest department store. They will love having large stemless glasses for their red wines because it will allow the wine to breathe and aerate better than in most standard glasses. Plus, they're gorgeous because of the elegant engraving! They will want to show off this lovely set to everyone you know.
Different Wine Glasses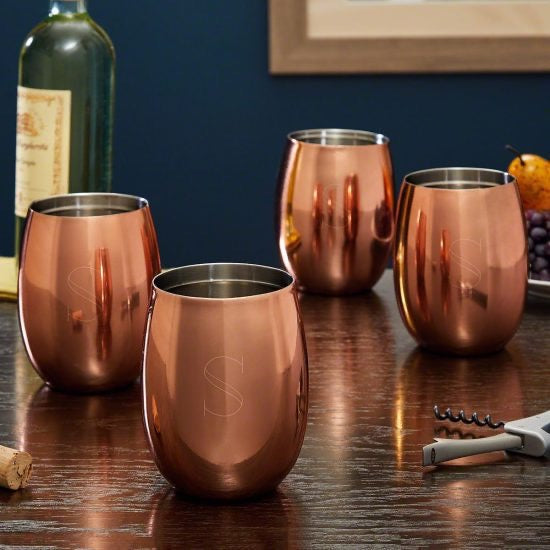 Want to give a really unique gift for the wine lover in your life? Bring back the 2014 copper craze with these cool glasses! Don't worry, they're not actual copper, but stainless steel. The natural coolness of the steel and copper coating help insulate the wine inside the glass, keeping it chilled. They're also quite durable, which means no more broken wine glasses and that they they can travel just about anywhere. Any wine fan would love to get these nifty glasses because of their many useful features!
Dress Up Your Wine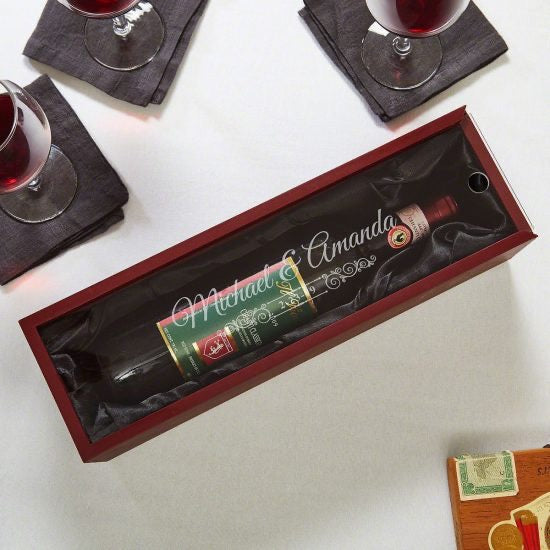 It's a little boring just to give a bottle of wine as a gift, so why don't you dress it up and make it a more beautiful, meaningful gift? With an engraved wine bottle gift box, you're sure to impress whoever you give the wine to! The lovely etching on the glass lid can say anything from "Director Michaels, 9-20-19" or simply "Congratulations! 10-6-20." No matter the occasion, a nice bottle of wine in a personalized gift box is a simple, meaningful gift that anyone who drinks wine will love.