29 Incredible Men's Gifts You Must See
For you, gift-giving is serious. You treat it like a sport, and you always want to win. You always want to get someone the best gift you can possibly find, which isn't always easy, especially when searching for a gift for a man. Men are typically difficult to shop for because they always claim they don't want anything, or they tell you to get them some socks for the hundredth holiday in row. But you're in search of unique, awesome gifts for a special man for an upcoming gift-giving occasion. The kind of men's gifts you're looking for are one of a kind, special things that you know he'll want to use every chance he gets! We've rounded up all the greatest, most unique mens gifts that will definitely help solve all of your gift-giving dilemmas.
A Magnificently Monogrammed Presentation Set of Men's Gifts
When you present him with this presentation set, the excited look on his face will say it all! He'll think this gift is really awesome because not only is it monogrammed just for him, but it makes enjoying his favorite beverages so easy! Having such a fancy glassware set sitting on his coffee table or home bar will make him feel really sophisticated, which he'll appreciate. He'll definitely want to have a drink with you and toast to your phenomenal gift-giving abilities!
Golf on the Go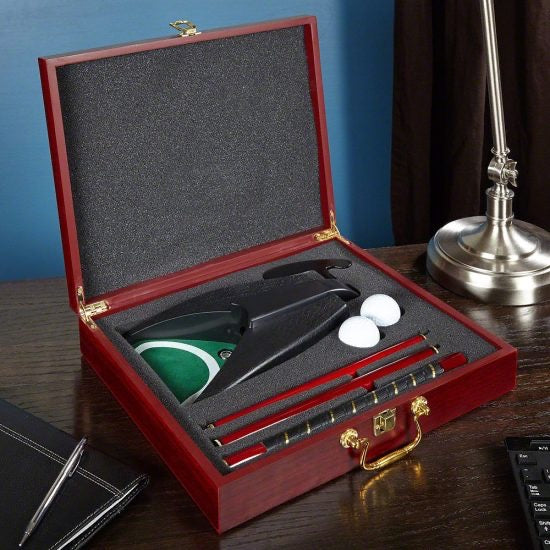 Men's gifts that help them enjoy their favorite hobbies are always awesome choices! This golf putting set is incredible because it allows him to practice his short game no matter where he is! Whether he's at the office, in his home, or anywhere else, he can take out this gift and be practicing within seconds. Next time he's out on the golf course, he'll be much improved because of all his practice with this unique present.
Sustainable Gifts are Amazingly Unique Mens Gifts
Really wow him on his birthday, Christmas, or your anniversary with an incredibly unique environmentally clean gift basket! He'll be a huge fan of this amazing gift that helps him make a difference in helping the world and constantly reminds him to use more earth-friendly products! He'll love that this gift is not only useful, but has products that help the environment.
Best Gift on Earth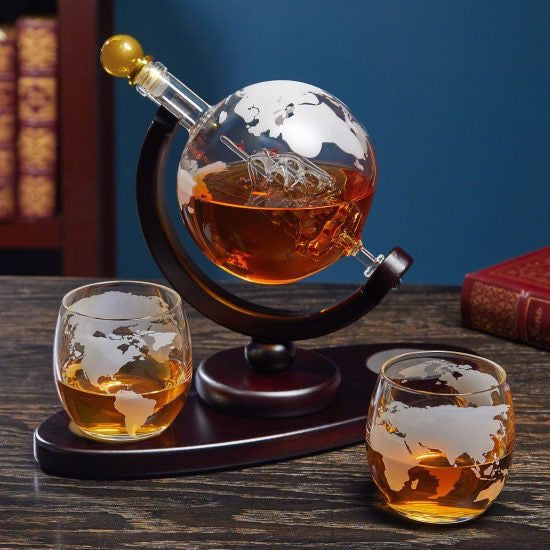 He means the world to you, so get him a gift that symbolizes just that! This globe glassware set is one of the most unique mens gifts that he'll be thrilled to own! The stately globe decanter will look fantastic in his home, storing his favorite scotch until the next time he wants to enjoy a drink. It'll always make him think about his travels and encourage him to plan future ones!
Home Bar Gifts Make Awesome Men's Gifts
Nothing makes a man feel special like seeing his name on something that's manly and rugged. That's why you know he will be obsessed with this wooden bar sign! The fact that this kick ass gift is customized just for him will make him feel incredibly cool each tome he sees it. Whether he has a home bar already or his kitchen doubles as his bar, this sign will make the space feel totally authentic and awesome.
327+ AWESOME PERSONALIZED SIGNS>
Shave with the Best Accessories
There's nothing better than men's gifts that make them feel confident and few things make him more self-assured than when he knows he looks good! This leather grooming kit is a phenomenal present that will help him look his very best! Crafted from the highest quality materials, the tools in this set will make the whole shaving and grooming experience better than ever for him. Whether he is walking down the street with the most perfectly trimmed beard or the most dapper mustache, you can be sure that he will love this gift set!
A Cool, Custom Ammo Can Set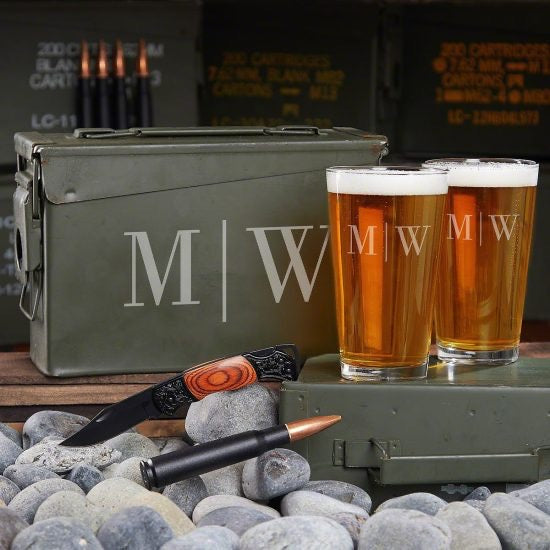 Don't let another gift-giving occasion go by without getting him this incredible ammo can gift set! Any man will immediately fall in love with this handsome, beer-oriented gift set as soon as they see it. The ammo can is awesome for storing some of their own live rounds or home bar accessories, and he'll definitely think it's way cooler than a normal box. The customized pint glasses are the perfect glasses when he wants to enjoy his favorite beer!
Personalized Wine Set of Unique Mens Gifts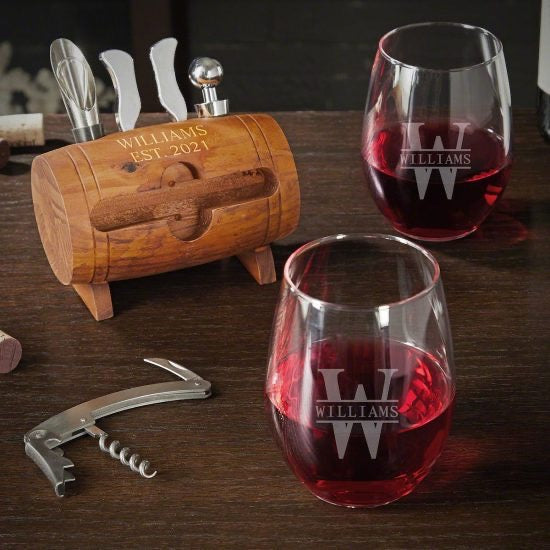 Life's too short to be spending forever looking all over the house for the proper wine tools. Ensure that he never has to do this with one of the coolest men's gifts—this wine tool set! His Merlot or Pinot Noir will taste phenomenal coming from these handsome, stemless glasses after he uses the handy tools to open up the bottle. It'll be such a relief for him to get home from work and be able to drink his favorite wine in seconds!
Soar Above Everything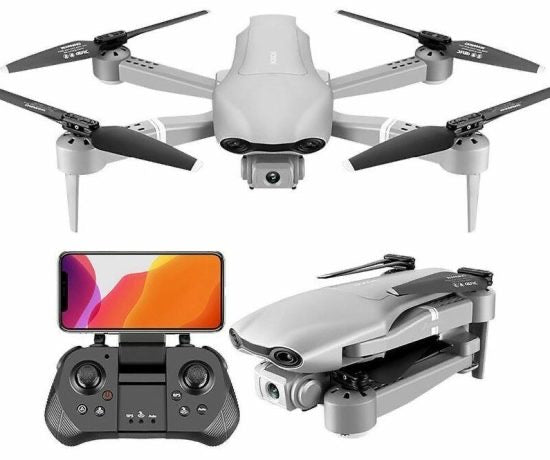 A gift that lets him see things in a whole new way is always an incredible idea! This camera drone helicopter is awesome because he can record video on his phone of what he's flying the drove over! He'll love using this on vacation or simply when he has some free time. Re-watching the footage will be so much fun for him!
Custom Bean Bag Toss Game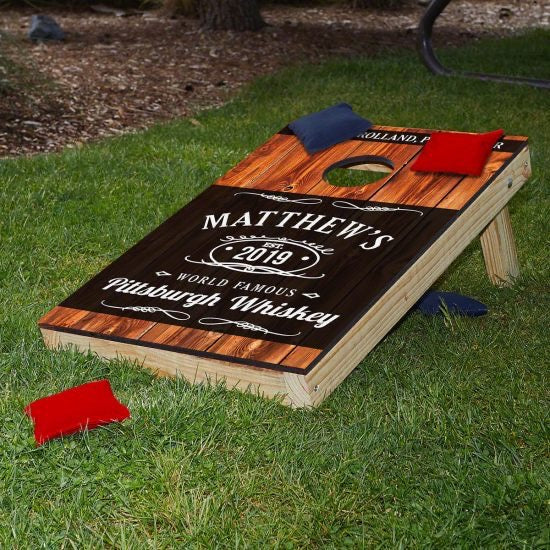 What man doesn't love a little friendly competition? Get him a gift that not only brings out competition between friends but is also a ton of fun! This custom cornhole set is one of the most unique mens gifts that he'll absolutely love! The cool customization on it makes it even more fun as his friends and him play competitive games of cornhole at the backyard BBQ.
A Classy Set of Cigar and Whiskey Men's Gifts
Gifts that help him enjoy two of his favorite things are always awesome gift ideas for men. That's why you can't go wrong with this whiskey and cigar gift set! It's perfect for him to enjoy scotch and whiskey whenever he wants, with the monogram on both the cigar and whiskey accessories makes it even more awesome. Whether he's celebrating a special occasion or simply relaxing at the end of a long day, he'll really enjoy using this gift set.
Cool and Convenient Gift!
Get him a gift that will be a game changer when he has to get up out of bed when it's dark! This motion activated lighting strip is a useful and unique present that will make him feel super fancy. Whenever he gets up out of bed, either in the middle of the night to use the restroom or grab the baby, or early in the morning for work before the sun comes up, he'll be so thankful that this light will automatically come on, ensuring that he doesn't trip on anything and can find his way around the room with ease.
For the Golfer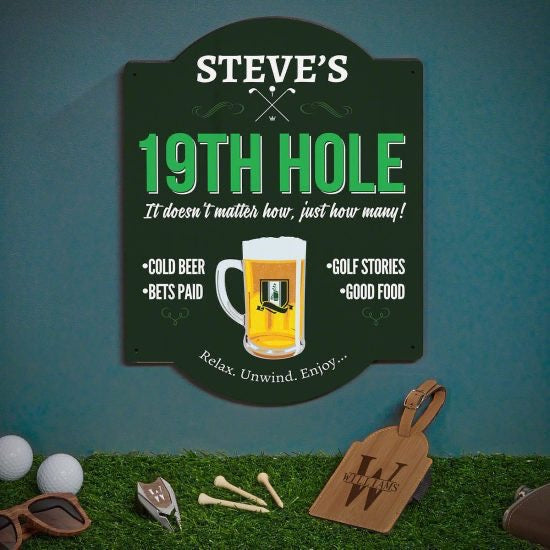 For a man who enjoys golfing, you can't go wrong with this incredible golf gift set! The next time he's on the course, the divot tool and bag tag will definitely come in handy. He'll feel like Tiger Woods with his own personalized golf accessories! But this gift doesn't end on the green, when he and his golf buddies finish their round, he'll feel so proud being able to show off he now has made his man cave or home bar an official nineteenth hole. He'll feel so proud of his unique, personalized sign that's unlike anything he's ever seen!
The Coolest Unique Mens Gifts Let Him Experiment with Whiskey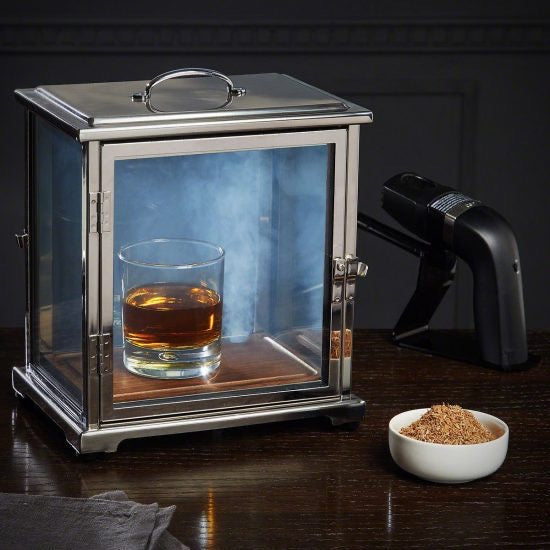 Few gifts he'll receive in his life will literally make his jaw drop, but this drink smoker system is definitely one of them! He'll be really excited to use this gift to infuse his favorite drinks with all kinds of flavors! Whether that's wood chips and scotch, cinnamon and whiskey, or any other flavor and liquor combo he can think of, it'll taste totally awesome. This gift will definitely be the best he's ever received!
A Throwback Gift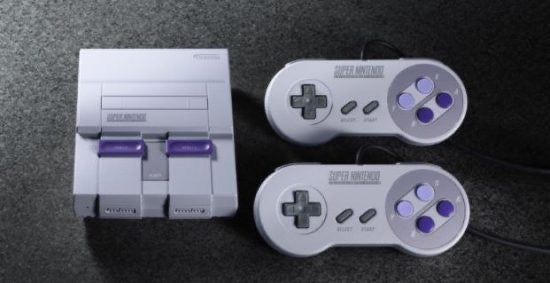 No matter how old he gets, he can always mentally travel back in time to play his favorite video games. This vintage Super Nintendo game is one of the coolest men's gifts ever! He'll have a blast playing his old favorites on this throwback console remembering how he would play as a kid. It might even encourage him to start collecting vintage video games!
A Set He'll Bring to the BBQ
When it comes to gifts that you know they'll be excited to use all the time, this custom set of grilling tools is at the top of the list! Armed with his own tools, he'll do battle with the burgers and brats, grilling them to perfection for himself and his guests. The customization on the case will make him feel like a professional griller, and he won't be able to wait to plan a backyard BBQ so he can show off his skills.
Most Legendary Set of Men's Gifts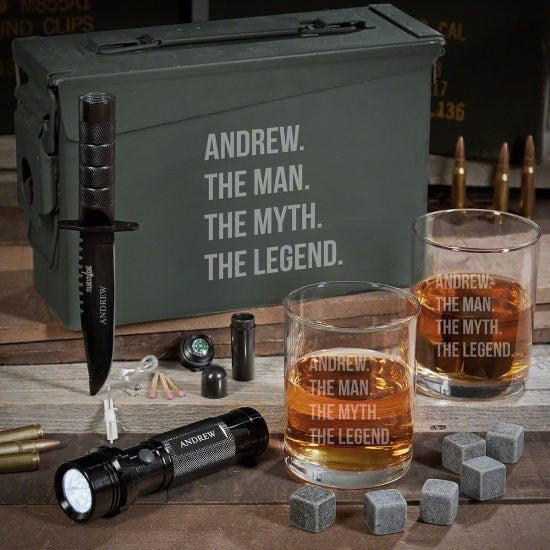 Any gift that makes him feel like a legend is a good gift, and if it's also a useful gift, it's perfect! This engraved ammo can gift set is incredible, and he'll be thrilled when he sees it under the tree, beside the birthday cake, or presented at his retirement party. He'll feel like "the man," when he's using this ammo can on his fishing or camping trip, where the flashlight and knife will come in really handy. Sipping on a drink from the glasses once he gets home will make him appreciate this gift set all over again.
Never Get Lost
Any man will feel so classy pulling out a pocket watch. Whenever he's doing any kind of outdoor activity, like camping, hunting, or hiking, or simply dressed up and wanting a cool accessory, a compass is a must-have. This brass pocket compass is a super fancy compass that any man will love having in his pocket all the time! Not only is it functional and helpful, but the brass makes it so aesthetic and high-quality that he'll feel really cool owning it.
An Engraved Gift for His Memories
Whether it's late night talks with his spouse, quality time with his college friends, holiday drinks with his parents, or any other experiences with the most important people in his life, he wants to treasure those memories forever. With this shadow box, he can do just that. It's one of the most sentimental men's gifts because he can keep beer bottle caps, wine corks, photographs, ticket stubs, or any other small items inside, each one representing a memory. He'll greatly appreciate having such a sentimental gift hanging on the wall of his home.
Personalized Decanter Box Set of Unique Mens Gifts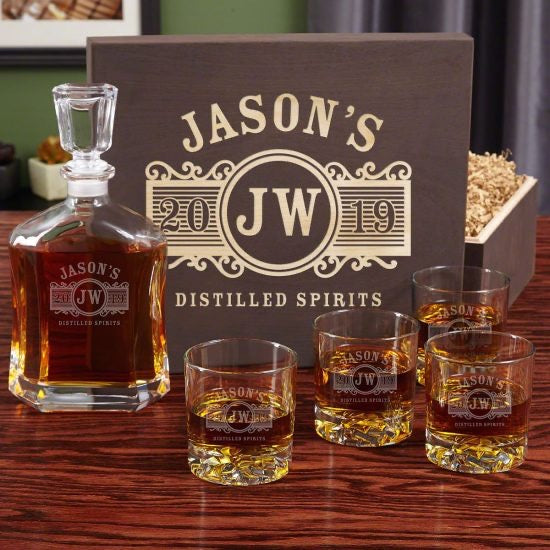 You can't go wrong with getting him the most handsome glassware set ever! This boxed decanter set is incredibly unique because every part of it is personalized just for him. He'll feel really important having a decanter with his name on it filled with his favorite liquor and sitting on his home bar or dining room table. Enjoying a drink after a long work day or during a celebration will be better than ever using this set!
The Ultimate Tech Gift
Here's a high-tech gift that he'll immediately be obsessed with! This Apple Watch is awesome because it makes answering texts and calls more convenient so he can better communicate with people. It also will make any workout way better as it tracks everything from miles ran to calories burned. He'll definitely wonder how he ever lived without this high-tech smart watch.
For Serving Meat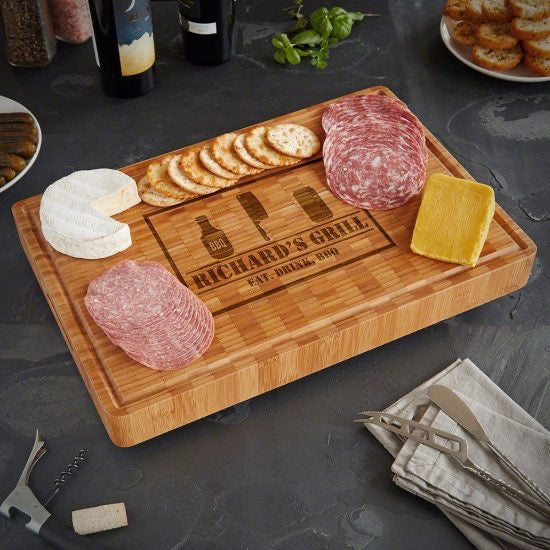 Is there anything manlier than a butcher block filled with meat he's just grilled? This engraved bamboo butcher block is one of the most unique mens gifts that he'll want to use ASAP! He'll think it looks really awesome with his name etched into it, and it'll look even better after he's grilled up some pork chops, bratwurst, and tons of other delicious meats and put them on this board. Having family and friends over to hang out and eat his grilled food off this butcher block will become one of his favorite activities!
Super Sophisticated Set for Him
There's no doubt that a gift as classy as this watch gift set won't be loved immediately. It's a set of fancy men's gifts that he will use all the time. Why? Because it comes with so many awesome gifts! When he is on the go, you know he'll always have his watch on him as well as his trusty flask, but when he gets home, the watch case is one of the first things he'll reach for. He'll be able to relax when he's putting away his classy watch or other accessories, knowing he can pour a drink into his matching rocks glass.
Worth a Thousand Words
This incredibly unique coffee table is a gift you can't go wrong with! The richly-grained teak wood this table is crafted from gives it an authentic, aesthetic look to it that will look fantastic in any living or sitting room. Any man will think this gift is so awesome and be really excited to use it day after day to place their coffee, cocktail, favorite magazines, and more!
Custom Sign and Glassware Combo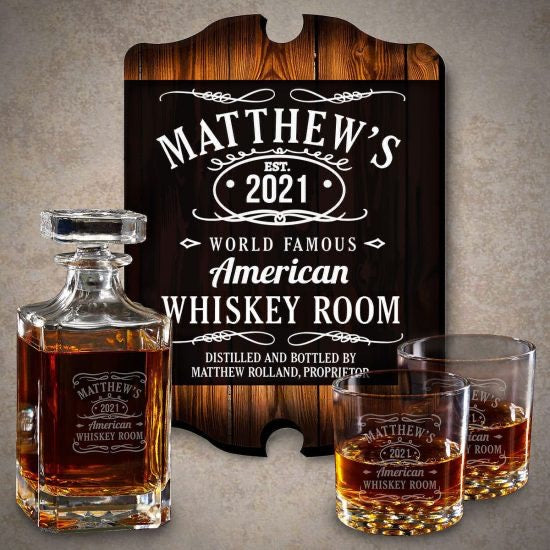 Get him the ultimate whiskey gift set! This sign and glassware set is one of the most unique mens gifts because of the matching personalization! In his home bar or kitchen, he'll hang this sign up and instantly be a huge fan of how it looks and makes the space feel due to its customization and handsomeness. Using the awesome glassware to celebrate a special occasion or when he wants to relax and enjoy time with friends will be perfect!
Cooler than Your Average Gift Box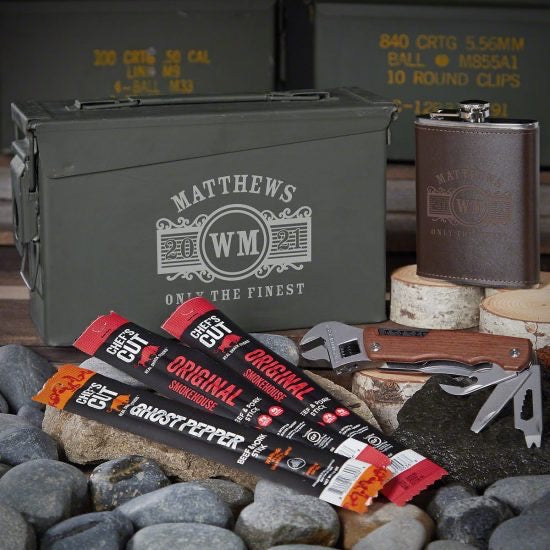 Don't just get him a cool box set, get him one that's so awesome that the box itself would make an incredible present! He'll immediately be obsessed with this ammo can gift set, which is one of the most creative men's gifts out there! The flask and multi tool are two things he can fit in his pocket or bag that will definitely come in handy all the time, and the ammo can makes a handsome display for his man cave or garage.
Spikeball!
There's nothing men love more than a fun new game! This spikeball set is totally awesome, and he'll be so excited to play it! Spikeball involves two teams who take turns spiking the ball into the net. He'll have a blast getting good at this game and inviting his buddies over to play. This game is easily portable, too, so he can bring it to the beach, on a camping trip, or anywhere else to keep the fun going whenever he is!
Bet on this Set of Men's Gifts
What's more fun than a game night? A game night with this incredible poker gift set! He'll love being the game night host because he'll get to use and show off this awesome set. He and his buddies will spend hours playing poker and other card games, enjoying each other's company. Thanks to this monogrammed cigar glass, he'll feel so classy being able to hold his whiskey, stogie, and hand of cards all at the same time!
That One Special Glassware Set
Get him this sculpted glasses and decanter set that's so unique and cool, any occasion will feel way more special when he's using this set! He'll greatly appreciate having such a nice glassware set stored away for celebrations or any other random day when he needs a pick-me-up.
251+ INCREDIBLY UNIQUE MENS GIFTS YOU MUST SEE>