You're here because you're not sure what to get your boyfriend, husband, or dad for Christmas. Men are notoriously difficult to find gifts for, especially for the holiday season. They always say "I don't know," or "I don't need anything," when you ask them what they want. However, you still want to get him something great! Christmas gifts for him are practical, cool items that involve his hobbies, work, or relaxing in his down time. Before you start shopping, think about the things you know he likes, that'll give you a better idea of what the best Christmas gifts for him are. Searching for the perfect personalized Christmas gifts ideas for men who have everything? Struggling to find a nice holiday gift for your dad? Stuck on what to get your husband for Christmas? Not to worry, we found plenty of amazing and memorable Christmas gifts for all of the men you're shopping for!
The Manliest Christmas Gifts for Him
Make your husband or boyfriend feel like the manliest, toughest guy in the world with this incredible whiskey gift set! The engraving on the ammo can alone will make him feel awesome, but when he sips from his custom glass with a couple of whiskey stones, that's when he'll truly feel like a legend. By far one of the coolest and manliest Christmas gifts for him, he will want to use the entire set all the time just because it's so awesome!
Give Him His Very Own Home Bar
Every man dreams of having his own brewery or bar someday. One way you can grant your man's wish is with this custom brewery sign! The rustic, unique look of the sign will look great anywhere he displays it, but it will certainly motivate him to get into home brewing or to start putting together his own home bar after the holidays!
The Perfect Serving Set
There's nothing like gathering around the Christmas tree with your loved ones and opening presents, especially since you get to enjoy a delicious meal afterwards! By giving your husband or dad this stunning crystal decanter set, he'll be happy to serve everyone a celebratory holiday drink to toast to the occasion. When he's not using it to enjoy a relaxing glass or scotch or for entertaining guests, it will look amazing on display in his office!
The Best Christmas Gifts for Him
Even though it's the middle of winter, your dad or husband will want to grill up some tasty steaks or burgers with his new bamboo grilling tools! These unique tools are one of the best Christmas gifts for him not only because they come in a personalized case, but they're definitely a great upgrade from his old ones! He will want to use these lightweight, heat-resistant tools every chance he gets.
Impressive Beer Christmas Gifts for Him
For the man who loves beer, no Christmas gift is more perfect than this tasting set! This awesome set comes with the four most popular types of beer glasses that were designed to enhance the flavors of their corresponding beers. When he tries out each glass, he'll be so amazed by the difference in taste in his custom tasting glasses compared to regular pints!
337+ BEER GIFTS HE WILL LOVE FOR CHRISTMAS>
Must-Have Air Pods Pro
He's got to have a good pair of earbuds, so why not get him some Air Pods for Christmas? These are so much more advanced than the first version as they have additional features such as active noise cancellation, transparency mode to let some outside noise in, better water resistance, an adaptive equalizer, and an even better fit because of the three types of tips. Plus, the charging case is wireless, making them not only the most useful but some of the most awesome Christmas gifts for guys out there!
For the Guy Who Dreams of His Own Whiskey Label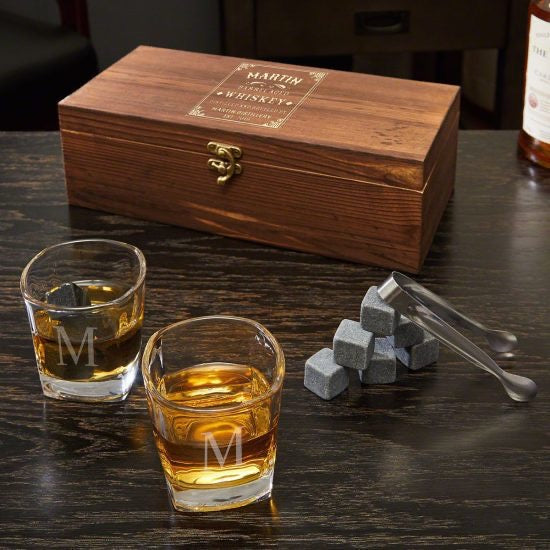 For the guy who dreams of his very own distillery and a famous whiskey label like Jim Beam or Jack Daniel's, this custom whiskey label box set is one of the best Christmas gifts for him! He will love having his very own official brand, and especially a nice set of glasses and whiskey stones to use for his evening drink!
You Can Never Go Wrong with a Watch Case
Even the man who has everything will love this engraved watch case! Every guy has a couple of watches, but most men don't have a good place to keep them stored or organized. He will love that you got him such a personal and practical gift for him for Christmas, especially if you pair it with a new watch under the tree!
The Best Way to Bring Beer Anywhere
Just because it's not tailgating season doesn't mean he can't bring his favorite brew to his friends' house or enjoy a couple of cold ones with you by the fire. However, he needs something to transport those precious bottles of beer. That makes this custom wooden beer caddy the ideal Christmas gift, especially if you were already planning on giving him a six-pack of his favorite brew because you can fill it up before wrapping it.
Celebrate Christmas with Cigars
There is nothing like a freshly lit cigar and a glass of scotch, especially on Christmas Day. Make sure he's celebrating the holiday in style with this unique whiskey decanter and cigar glass set! The awesome glasses actually hold the cigars for him, so he can enjoy a puff and a sip with ease all at once! He might even share the other glass with you after opening up these awesome Christmas gifts for him.
A New Set of Ties Is Always a Good Idea
Does your boyfriend or husband have to wear ties everyday to work? The holidays are the perfect time to get him some new ones! This complete gift set from The Tie Bar comes with four unique new ties, a couple of pocket squares to match, a new tie bar, and even a lapel pin to ensure that he is the best-dressed man in the office. This thoughtful and practical set is one of the most useful Christmas gifts for him ever!
Whiskey Christmas Gifts for Him
Planning on giving a nice bottle of whiskey to him for Christmas? You should also give him this awesome whiskey glass and stone set to go with it! He will love having his very own custom rocks glasses for an Old Fashioned cocktail or a simple Jack On the Rocks. The two of you can even enjoy a couple of holiday whiskey cocktails together with this set after he unwraps it on Christmas Day!
The Most Practical and Manly Christmas Gifts for Him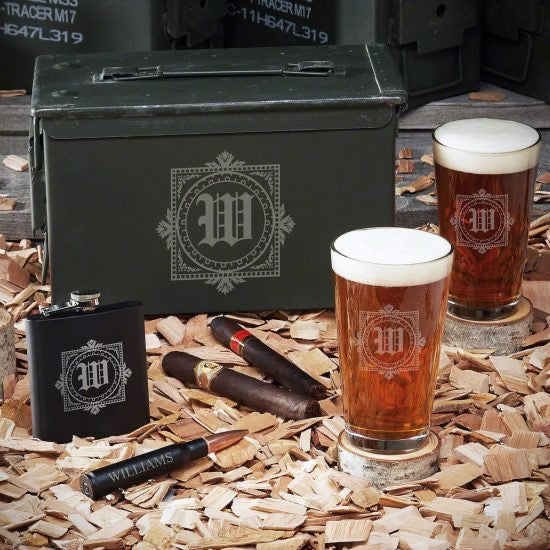 Is he more of a beer drinker than a whiskey connoisseur? Then this awesome ammo box and beer glass set are the best Christmas gifts for him! He will love the distinguished engraving on the entire set, but he will appreciate the fact that every piece in this set can be used in various ways. He'll be sure to use each piece all the time, all year long!
The Perfect Home Bar Decor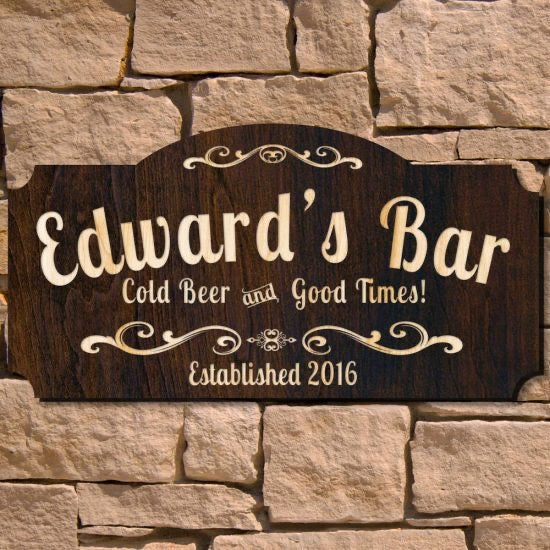 Any man who has a home bar or dreams of having one someday needs this awesome custom bar sign! The fun, welcoming design will add a Cheers vibe to any room he displays it in and will make him feel like he is an official bartender. You could also give him a couple of tap handles for Christmas to complete his home bar!
His Own Official Whiskey Label
Give your guy his very own "official" whiskey brand for Christmas! This complete decanter set will make him feel like a whiskey connoisseur, and he'll love showing this gift off to his friends. He might even be inspired to start distilling his own whiskey because of your incredible Christmas gifts for him!
Must-Have Gaming Console
If your boyfriend or husband doesn't have a Nintendo Switch already, you should definitely get him one for Christmas! The Switch offers three different styles of gameplay as well as hundreds of games, new and older Nintendo classics. The two of you will spend the rest of Christmas Day playing video games together on this revolutionary console, that's a guarantee!
Stunning Liquor Decanter Set
Does he enjoy fine spirits? Every man who indulges himself in the occasion bottle of 50 year old whiskey or a rare brand of vodka should display it with pride! This stunning decanter set is the best Christmas gift for him because it's designed to enhance the various colors of the liquor within, showing off its quality in a way that a bottle never could. Of course, don't forget to get him a nice bottle of liquor with your Christmas gift so that he can display and serve it right away!
The Perfect Christmas Present for the Man Who Loves to Cook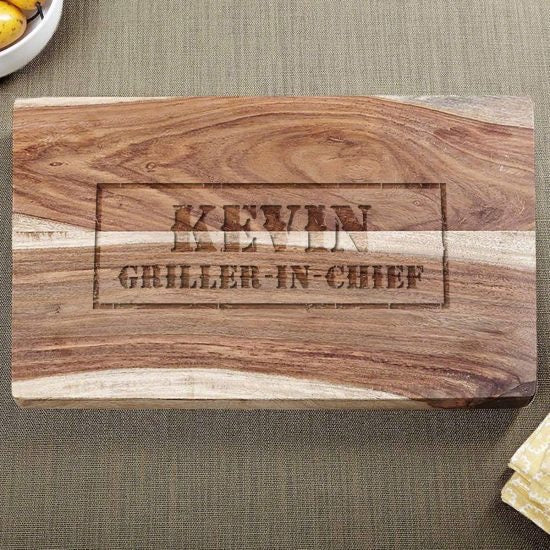 It doesn't matter if he's a professional chef or just likes to cook, this custom hardwood cutting board is a fantastic Christmas gift for him! Not only will it give him a clean, smooth, new place to do all of his food prep, but it looks great in his kitchen when he's not using it. In fact, he'll want to use it to prepare Christmas dinner for everyone as soon as he unwraps it!
Badass Beer Gift Set
Seriously, is there anything cooler than this awesome box set? The custom beer mug on its own is really cool, but the addition of the tactical survival knife is what makes it really stand out! Any guy would be excited to get such a manly and awesome gift set for Christmas whether he's your brother, boyfriend, best friend, or even your coworker.
Now He Can Play Poker With His Friends
The best Christmas gifts for him are those he can share with his friends, like a custom poker set! He's been wanting a set for some time so that he can host a weekly game, but now he'll finally have one to do so. He'll want some practice first, so he'll probably want to play a game or two with the family on Christmas Day!
An Edible Christmas Gift He'll Never Expect
You won't want to put this tasty gift under the tree until Christmas morning! Every man knows that meat is the manliest food of all, especially bacon. This bacon sampler set comes with all kinds of delicious, flavor-infused smoked bacon that he'll be eating for breakfast every day. In fact, he'll want to try some right away with his holiday breakfast!
A Cool New Piece of Decor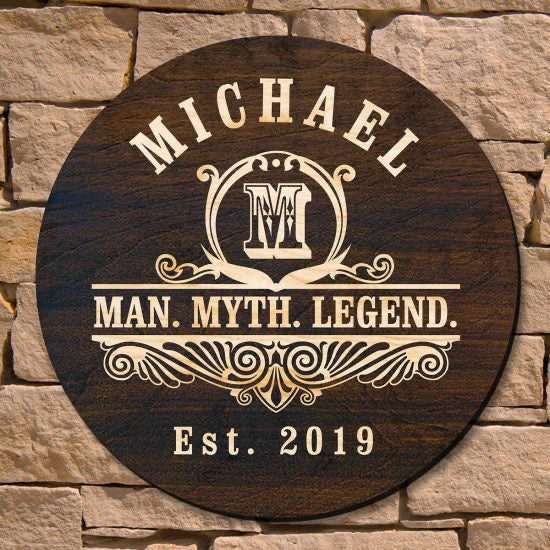 Christmas is the perfect time to get him a new piece of decor, like this custom wood sign! You get to customize the entire thing to make it a one-of-a-kind work of art that he can display in his office or anywhere in the home. He will be so surprised by your thoughtful, unique Christmas gift and he will definitely treasure it forever!
The Most Unique Decanter Set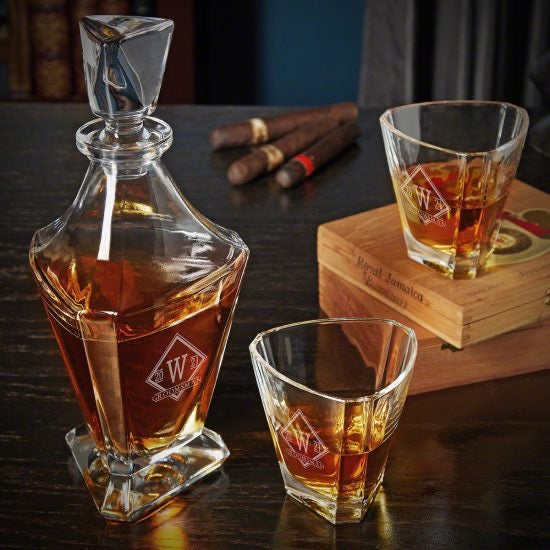 Want to give him a Christmas gift that's really unique? This geometric decanter set is unlike any he's ever seen! The unique shape captures light and reflects it throughout the glass, highlighting the gorgeous hues of his favorite whiskey. He will love using this three piece set for a holiday cocktail with you and for a relaxing drink whenever he likes.
A Fun Game to Play With Friends and Family
Give your husband or father a fun game to play with all of his friends and family for Christmas! This unique bean bag toss game is an easy, simple, and fun game for all ages to enjoy. You'll already have everyone over on Christmas Eve or Christmas Day, after all, which makes it the perfect time to give him his gift. He'll want to bring it out for every family reunion and party in the future!
The Manliest and Most Practical Christmas Gifts for Him
Guys who like to go on adventures and spend time outdoors are always wanting more tools and equipment. Instead of the usual camping gear for Christmas, surprise him with this unique assortment of tools! From the insulated tumbler to the survival knife, he'll be prepared for anything wherever he goes from going snowboarding in the mountains to camping at the lake.
483+ GIFT SETS AND BOX SETS HE WILL LOVE>
The Perfect Gift for the Star Wars Fan
Before putting on your traditional Christmas movie, make sure you give your husband or boyfriend this fun popcorn machine first! He'll love that it looks just like R2-D2 and makes plenty of tasty, buttery popcorn to share with everyone during A Christmas Story. He'll want to have movie nights even more often now that he's got a fun new popcorn maker!
The Perfect Decanter Set for the Man Who Has Everything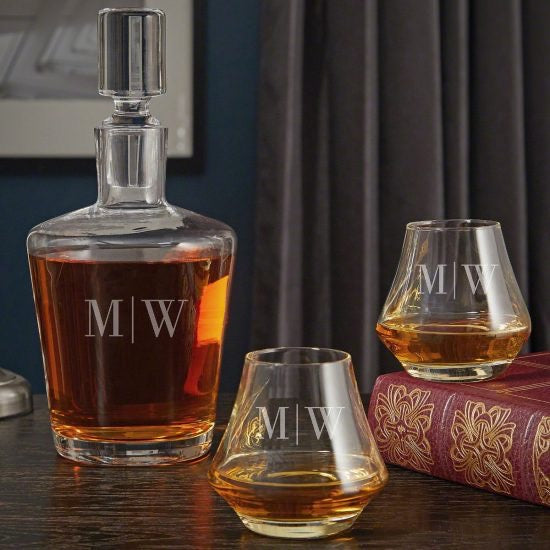 Is your husband the kind of guy who has everything? Well, he certainly doesn't have a decanter set like this! The unique shape of the glasses isn't just for aesthetics, it actually makes his whiskey taste better! Once he tries out the set, he'll never want to use regular old-fashioned glasses again. The modern design of the decanter set will add a classy touch to any room he displays it in, too!
A Humidor Unlike Any He's Seen Before
Yes, you read that right, this ammo box has been converted into a cigar humidor! This incredibly manly humidor is by far one of the best Christmas gifts for him, especially if you fill it up with a pack of his favorite stogies before putting it under the tree! He will love using this awesome humidor to keep his after-dinner cigars in, especially when he has his friends over so he can surprise them by pulling a couple out of the otherwise normal-looking ammunition box.
Classic Christmas Gifts for Him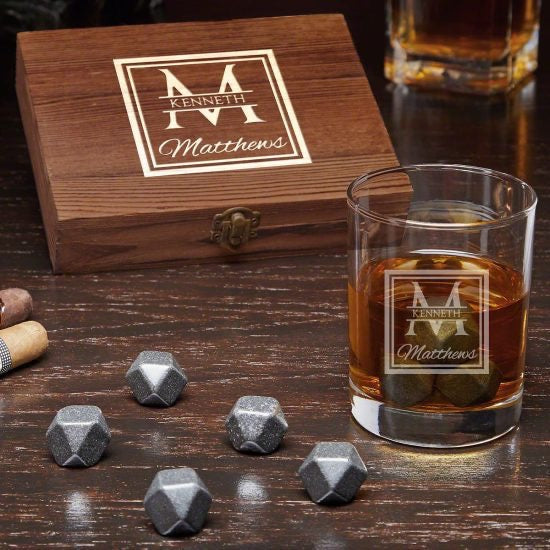 There are some gifts that you just can't go wrong with, like this simple but classic whiskey stone gift set! Christmas gifts for him don't have to be anything extravagant, and any guy in your life would appreciate getting this custom set under the tree or in his stocking. Make sure you also give him a bottle of his favorite whiskey to complete the gift!
The Ultimate Beer Lover Gift Set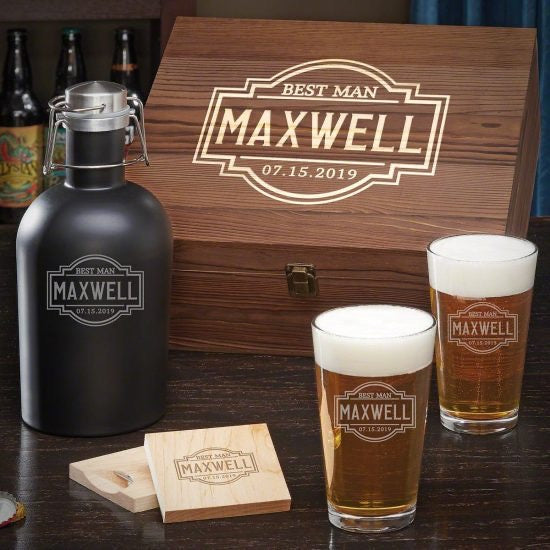 Do you know a man who loves beer more than anything? Any beer lover would be over the moon to receive this ultimate Christmas gift! It comes with everything he could possibly need to enjoy his favorite ales and brews like a true aficionado from the bottle-opening coasters to the huge insulated growler. The only thing that's missing is his favorite beer, so don't forget to grab him a six-pack or two as well.
A Fun Book Every Man Would Love
Looking for a book to give him for Christmas? Even the manliest of men need to read A Guy's Guide to Being a Man's Man. This fun book will teach him everything he needs to know about being a manly man from life advice to decisions he should make in certain scenarios. Once he's finished it, he'll feel more like a man than ever before!
The Best Christmas Gift for the Guy Who Smokes Cigars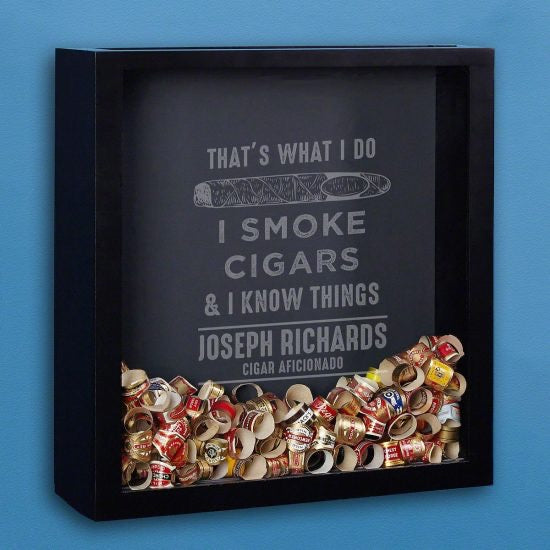 While your usual Christmas gifts for him are a pack of stogies, you should step it up a notch this year by giving him a custom shadow box! He will love having a cool place to show off all of his cigar bands whether he has a collection already or starts one on Christmas Day because of your awesome gift. Every time he drops in a cigar band, he can't help but chuckle at the funny engraving!
A Custom Decanter with Unusual Glasses
You want to give him something really cool for Christmas, right? Well, look no further than this one-of-a-kind whiskey decanter set! The uniquely cool glasses are unlike any others he has in his home bar, and he'll love using them because of their size and design so much that he will only want to use these sculpted glasses! Even the decanter is unique with its customizable design and airtight seal that will ensure his liquor stays fresh in between drinks. He will be so impressed by these unique problem-solving Christmas gifts for him!