A Salty History
A combination of lime juice, triple sec, and of course tequila, margaritas may not be a complicated cocktail but they are an art form. Cursed with a salty past we are still uncertain about the history of the margarita. One of the most popular theories stems all the way back to Mexico in the year 1938 to a bartender by the name of Carlos "Danny" Herrera. It is said at Herrera's restaurant, Rancho La Gloria, a patron by the name of Marjorie King (a well known dancer) was allergic to all liquor but tequila. Danny threw something together, and voila, we have the margarita.
Another popular theory is that a Dallas socialite by the name of Margarita Sames was hosting a get together in her Acapulco vacation home, she could not seem to serve anything that satisfied her party guests and since everyone seemed to like Cointreau and tequila she whipped up a concoction which would become her namesake. However this theory gets often debunked thanks to Jose Cuervo that was running ad campaigns mentioning the Margarita cocktail by name, three years earlier. According to Jose Cuervo, the margarita was invented by a bartender in honor of Mexican showgirl Rita de la Rosa.
Another maybe even more simple explanation of the history of the Margarita is that is a version of a prohibition cocktail "The Daisy". Margarita actually translates to daisy, the only difference is that the Daisy was made with brandy instead of tequila.
And the list goes on.

'Rita Rising
The margarita cocktail was the "Drink of the Month" in Esquire magazine, December 1953. This was the first well-known documentation of the margarita recipe and read-
1 ounce tequila

Dash of Triple Sec

Juice of 1/2 lime or lemon

Pour over crushed ice, stir. Rub the rim of a stem glass with rind of lemon or lime, spin in salt—pour, and sip.
HOWEVER- as it was not yet addressed as the margarita, William Tarling did write in his book "Royal Café Cocktail Book", a recipe called the Picador that was a combination of tequila, lime juice, and Cointreau.
Margarita Variations
The steps to making a proper margarita are simple. Although you may want to reach for the pre-made mixes, think again! A classic margarita whether on the rocks or frozen, is so much more tasty than anything a pre-mix brings to the table. Below are the ingredients and directions to completing a dream margarita. Feel free to have fun with the ingredients, mix it up and use different fruit juices and garnishes. The fun thing about making your own cocktails is there are no rules!
This refreshing margarita recipe is the perfect summer cool off. Now as watermelons are starting to come into season this Watermelon Lime Margarita a simple and cheap yet delicious option to put a spin on our beloved cocktail. Watermelons are also super hydrating so you may not get that awful headache the morning after.
Grapefruit-Jalapeno Margarita
Nothing screams Mexican flavor to me like jalapeno. Growing up with a Mexican mother spiciness is regularly encouraged and jalapeno is always my go to. That heat mixed with the zing of grapefruit makes this Grapefruit-Jalapeno Margarita unique and completely refreshing.
Blood Orange Margaritas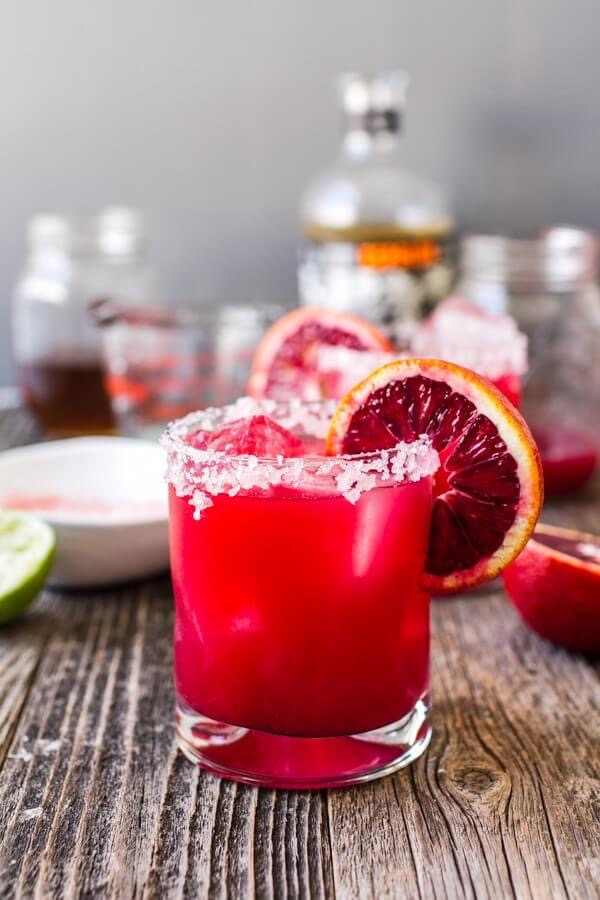 It is no secret that I love blood oranges. One they are absolutely delicious, a true fruit from the gods. And two, they look damn pretty. With their magenta hue, these make a fun and festive cocktail for your upcoming spring grill outs. To add more of a variation, you could even grill your garnishes to add an appealing touch and a subtle smoky flavor.
Note that all of these margaritas may be blended and served frozen as well. Happy imbibing!