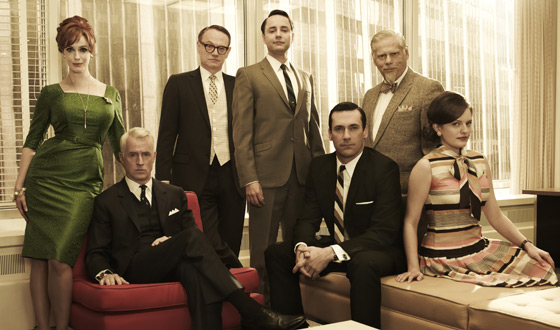 With the Mad Men final season upon us, we can't decide whether to mourn or celebrate. On one hand, what some consider the best series of the last decade is ending, leaving an empty spot in the cerebral cable drama landscape. On the other hand, it's one final chance to pull out all the stops, so there's sure to be an endless stream of TV excitement. As the season premiere gets closer, we want to offer some guidance on how to throw an exciting Mad Men cocktail party. Since the series takes place over many years of Don Draper's life, it's easy to be overwhelmed by dozens of Mad Men episodes to look toward for inspiration, but we've extracted these cool party ideas to make your soiree a success.
Atmosphere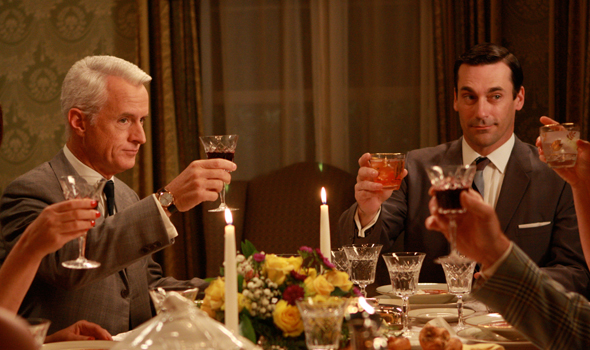 Creating a swinging 60s atmosphere can be tricky. People today are so serious, and have a hard time tapping into their inner free spirit. Create mood lighting with low wattage and colored bulbs. You don't need to buy new lamps, just swap out red, yellow, and orange party bulbs to give the space a warm, incandescent glow. Consider renting a fog machine to re-create a smoky haze. Next, find things around your house that have geometric shapes, and use them to decorate your party zone. Square flower pots, modern art prints, and even fish bowls can give your party space the sleek lines and retro feel of a scene from Mad Men. Finally, you've got to have great carpet. Place a colorful rug in the middle of your party space, or better yet, the biggest piece of shag carpeting you can find. With a few small adjustments, you can make any room feel like mid-century America.
Music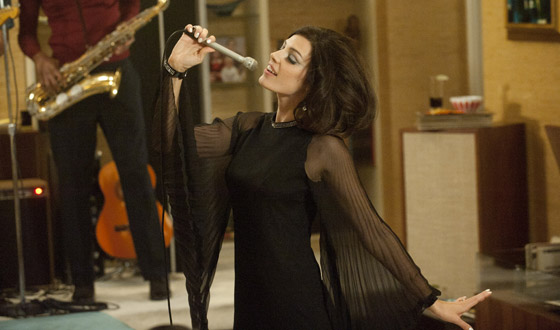 Not everyone has Megan Draper available to sing live, so most parties will make use of a hi-fi stereo and a groovy playlist. There are so many classic songs from the 60s, but Mad Men definitely has a few favorites. Look for iconic tunes from The Beatles, Jan & Dean, The Lovin' Spoonful, and Ella Fitzgerald. Create a playlist that includes rock and roll hits, as well as sultry jazz standards. Try to combine well known favorites with lesser known B-sides to keep things interesting.
Food

The food menu can be a challenge at any party, but this time, you've got it easy. Dinner parties of the 1960s were all about appetizers and finger foods. Some classics included deviled eggs, pimento cheese sandwiches, and olive platters. Look up recipes for things wrapped in bacon. Bacon-wrapped-everything was a staple of the 60s dinner party. For something sweet, go for wafer cookies, or pastries purchased from the grocery store freezer section. Sara Lee pound cake was one of the most popular desserts of the era, so slice one up for a no-hassle party treat.
Drinks

You can't have a Mad Men party without Mad Men drinks. It's best to have a full selection of liquors, including gin, vodka, bourbon, scotch & brandy. Don't forget bubbly drink mixers and fruit juices to add variety. A wide assortment of garnish is also important, so slice up plenty of citrus fruit and drain a jar of cherries to add flavor and color to dozens of classic cocktails. Be sure and stock lots of ice, and have several drink shakers on hand. Keep a bowl of salted nuts on the bar for an added 60s vibe. Create a menu with the recipes for a few classic cocktails for your guests to create throughout the night. Bonus: Everyone knows that Don's go-to libation is the Old Fashioned, and here's how you make one:
Ingredients:
2 oz bourbon whiskey
Dash or two of bitters
Splash or two of water
1 pinch sugar
Maraschino cherry
Orange wedge
Mix bitters, sugar, and water in a double old fashioned glass, then add the cherry and orange wedge. Muddle together. Stir in the whiskey, and add ice.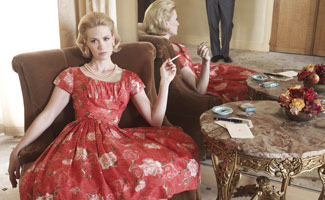 These ideas will make your watch party the envy of everyone in the suburbs. Get out the ice bucket and turn down the lights. The Mad Men final season will be gone before we know it, so we better live it up while we can.