Couples who are getting married will receive a wide variety of gifts from friends and family to congratulate them on their marriage. Many of the gifts a couple get for getting married will help them begin their life as a newlywed couple while some will also be useful and practical items too. However, you want your gift to stand out as one of the nicest, most luxurious gifts that a betrothed couple in your life will receive! But, that is easier said than done because you aren't sure what kind of unbelievable wedding gift idea would be considered luxurious. You also want to know, what kind of luxury gift would a couple find useful? What will help them enjoy married life? Luxury wedding gifts should be unique, aesthetically pleasing gifts that the couple can use to enjoy their time one-on-one whenever they want. Any couple in your life will be stunned by these amazing, expensive wedding gifts and be so thankful you went above and beyond for them.
Personalized Whiskey Presentation Set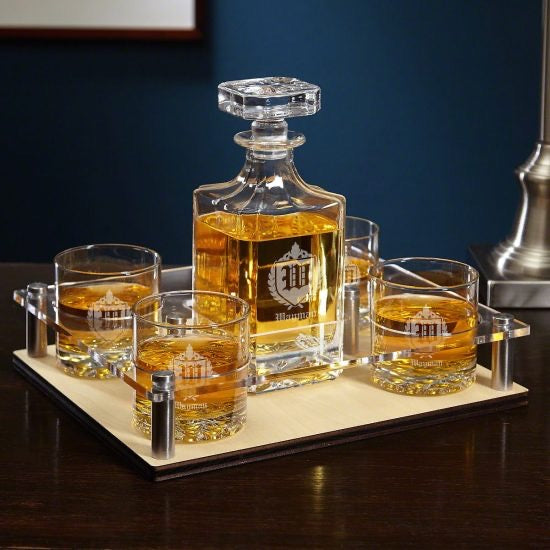 No couple can resist falling in love with this monogrammed whiskey presentation set! It's so sophisticated and aesthetically pleasing that even when they aren't using it, they'll want it displayed on their home bar or dining room table. The stately decanter is perfect for holding their favorite whiskey inside it, and it'll be so easy for them to serve themselves a drink using this unique set. They'll feel so fancy not having to get up from the couch when they want a drink! It's one of the best luxury wedding gifts that will help the two of them enjoy a drink together on the couch whenever they want.
Custom Signs are Amazing Luxury Wedding Gifts
Bar signs are pretty cool, but one that's personalized and designed perfectly for a newly married couple? Amazing! This brilliant bar sign is a phenomenal wedding present that they'll absolutely love having hanging in their home bar or in the kitchen. It'll make the area feel like a fancy, professional bar, and they'll definitely take the advice written on it to heart and remember to have a drink together as often as possible.
Luxurious Wine Decanter Set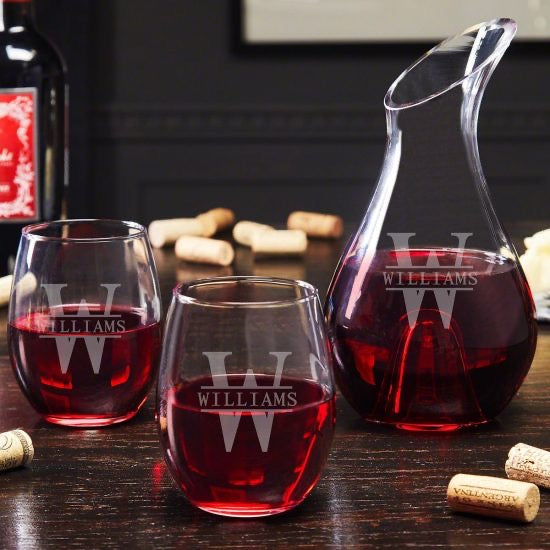 Expensive wedding gifts can certainly pay off, especially when they're as gorgeous as this wine decanter set! The happy couple will be even happier when they see this set that makes enjoying some wine together a million times better than ever before! The classy decanter will aerate their wine quickly so it tastes absolutely delicious as they pour it into their stemless glasses to enjoy some wine together. They'll definitely want this set proudly displayed on their home bar or dining room table because of how gorgeous it is!
An Inexpensive and Fun Wedding Gift
Get them a luxurious gift that they can also use at the wedding for some cocktail hour fun! This beautifully personalized bean bag toss board will be a gift they treasure forever because of how unique it is and the one-of-a-kind personalization that represents their wedding. Their wedding guests will surely enjoy using it to play bean bag toss while enjoying drinks during cocktail hour at the wedding.
Spice Up Their Life
This spices set will make every meal they cook together absolutely delicious! They'll be so impressed with this fantastic set of 24 essential spices for cooking, including Sweet Curry, French Select Thyme, and Saigon Vietnamese Cassia Cinnamo. The happy couple will be thrilled to have such an extensive spices set so all of their meals as a married couple can be full of flavor!
Monogrammed Whiskey Decanter Set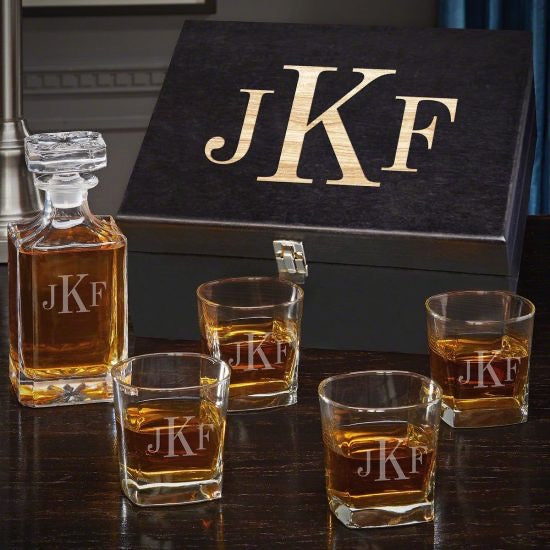 Every newlywed couple needs a super sophisticated decanter set! This monogrammed whiskey decanter and glasses box set is one of the best luxury wedding gifts because it's a super fancy set from which to sip a fancy beverage. You know it'll be put to a lot of use! The two of them will really enjoy having a glass of whiskey together using this classy set to celebrate getting married and on other special occasions as well. You simply can't beat wedding gift box sets like this!
453+ AMAZING WHISKEY DECANTER SETS >
Custom Charcuterie and Cutting Board
Why allow the couple to keep using an old cutting board they've had forever when you can give them an incredibly gorgeous charcuterie/cutting board! It's one of those more expensive wedding gifts that are definitely worth the splurge! They'll feel so special seeing their names and wedding date on this board, and they'll really appreciate how useful this board is when they're in the kitchen, whipping up a romantic meal they can share! They can even put together a charcuterie spread to celebrate their anniversary or when having a few friends over.
Expensive Wedding Gifts for Enjoying Cocktails
As newlyweds, they deserve to enjoy their cocktails in style. That's why this luxurious ice bucket and cocktail glass set is perfect for them! They'll feel so boujee having their own custom ice bucket that they can have by the pool or at the park to keep plenty of ice nice and cold. Sipping cocktails from their matching glasses will bring them so much joy on their honeymoon or when they're celebrating their anniversary somewhere tropical.
Their Own Personalized Stamp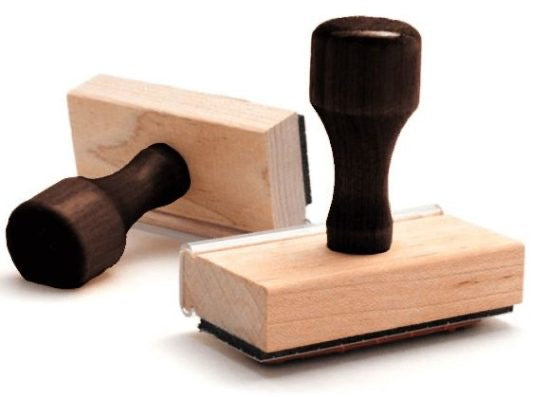 Now that they officially share a last name and address, make addressing any envelope super easy! This one-of-a-kind yet traditional hand stamp is customized with their names and address, so all of those thank you cards and other letters can be mailed with ease. They'll be so thankful for one of the most useful luxury wedding gifts out there.
Classiest Wine Tumbler Wedding Gift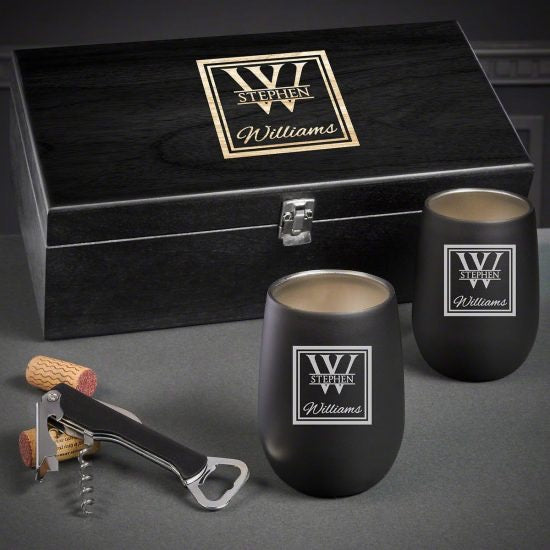 There's no chance this stainless steel wine tumbler set isn't their favorite wedding gift! It's one of the most luxury wedding gifts that will make having a glass of chilled wine feel like a fancy experience! They'll love the fact that their wine will stay chilled until the last drop when using these glasses, and the sleek aesthetic will make their day every time they see them! Give this magnificent gift to them before the wedding and they'll want to use the glasses for their first drink together as a married couple!
This Sign is a Party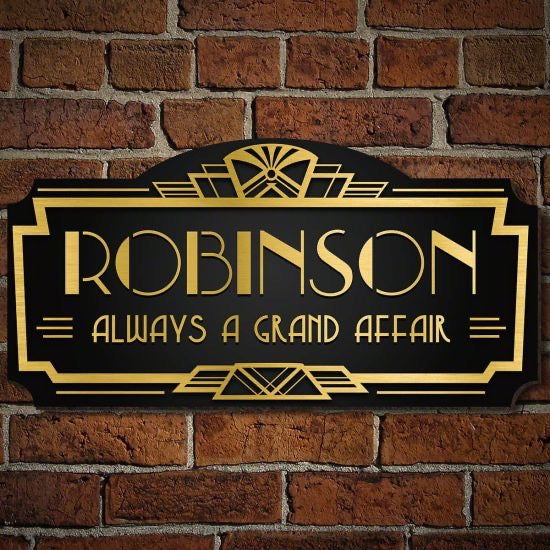 If there's one day of their life that's the biggest party they'll have, it's definitely their wedding day! Make it feel like an even grander affair with this Great Gatsby sign! They'll definitely want this brilliant sign hung up at the wedding reception, creating a party vibe that's unmatched. After the wedding, they'll definitely want this sign hung up in their home so they never forget that fun feeling they had at their wedding!
Best Decanter Set on Earth
Out of 7 billion people on the planet, they found their person. This globe decanter set is an expensive wedding gift that'll help them always to remember that! They'll really like filling this super unique decanter with their favorite liquor and pouring themselves a glass for a date night or when they're celebrating their anniversary. They'll always be reminded of the fact that they found each other in this world and how lucky they are to have done so.
Marital Bliss Set of Luxury Wedding Gifts
Help them get used to being Mr. and Mrs. with this marital bliss gift basket! This basket is the perfect luxurious gift set that they'll love. From the chocolatey treats to the ring holder to the cute mugs, they'll feel so happy sharing these gifts with each other and celebrating being married.
Simply Luxurious Glasses and Stones Set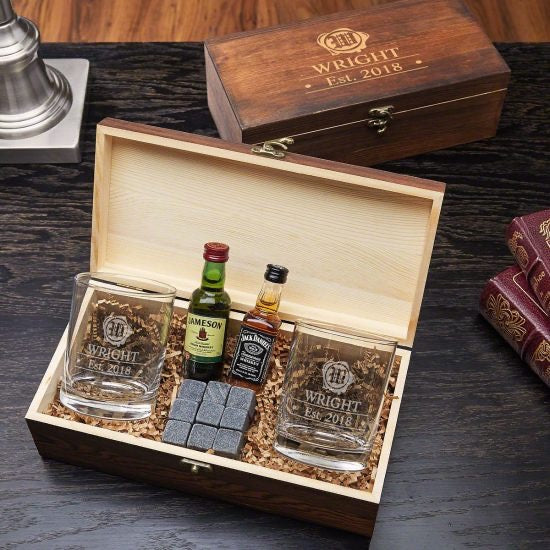 It's a luxury to have the perfect personalized glasses that make enjoying any of your favorite drinks better. The newlyweds are definitely deserving of this luxury! That's why this set of personalized glasses and whiskey stones is one of the best luxury wedding gifts. Enjoying their favorite drinks together from these matching glasses will be one of their favorite pastimes that they share together.
For Cherishing Every Memory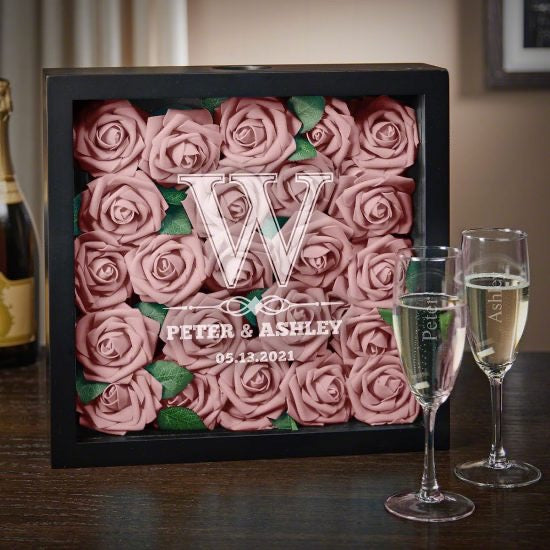 Their wedding is one of the most important days of their lives. Help them treasure the memories from it with this shadow box set! The bridal bouquet will look stunning displayed inside this shadow box, and the couple will love hanging it on the wall in their bedroom or elsewhere in their home as a beautiful memento from their wedding. The personalized champagne flutes can be the ones that the couple uses during toasts at their reception, and they'll love using them each year on their anniversary.
For Their Travels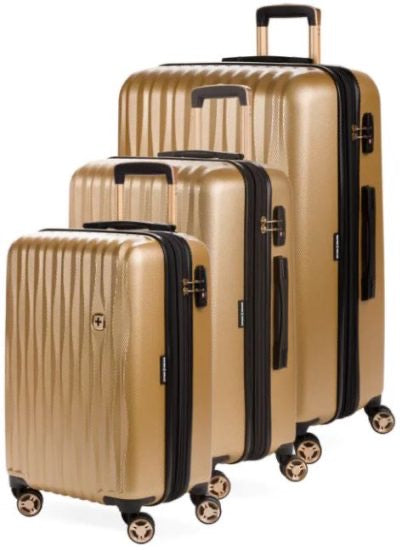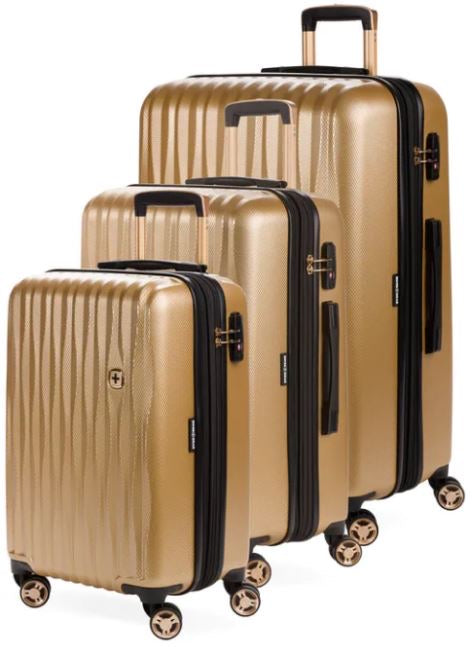 Ensure that on their honeymoon and every other adventure they embark on as a married couple they are fully equipped with this luxurious hardside spinner luggage set! This set is extremely durable, so you know it'll last them for a very long time. It has tons of room for everything they could ever need for trips they take, and it includes an integrated TSA lock for extra security.
Classy, Expensive Wedding Gifts for Wine Lovers
This breathtaking wine gift box set will knock their socks off! The custom wine glasses are some of the most elegant glasses they've ever seen, and they'll absolutely love using them to share a drink together at the wedding and any other chance they get! They'll feel absolutely regal holding the long stems of these amazing glasses. When they aren't using them, they'll definitely keep them safe and sound inside this handsome box or tucked away in a cabinet.
Keep 'Em Organized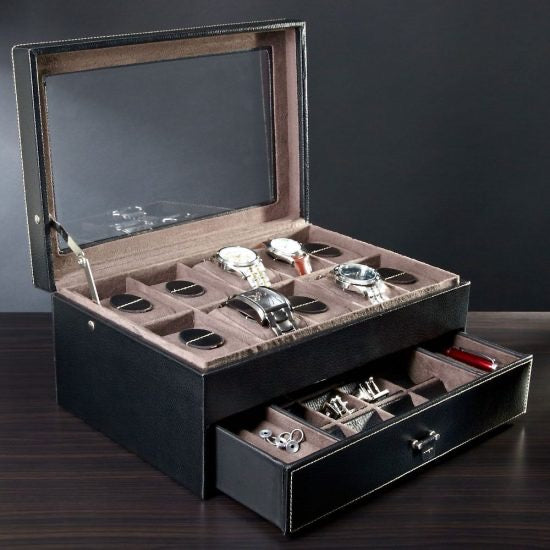 What couple wouldn't love one of the most useful luxury wedding gifts out there? This leather valet box and display case is a phenomenal gift idea for any couple that's getting married and truly combining all of their possessions. This valet box is the perfect place to keep watches, rings, tie clips, bracelets, pins, and any other small jewelry or accessory items. They'll love being able to keep track of every small accessory by placing it inside this valet box.
Personalized Mr. and Mrs. Sign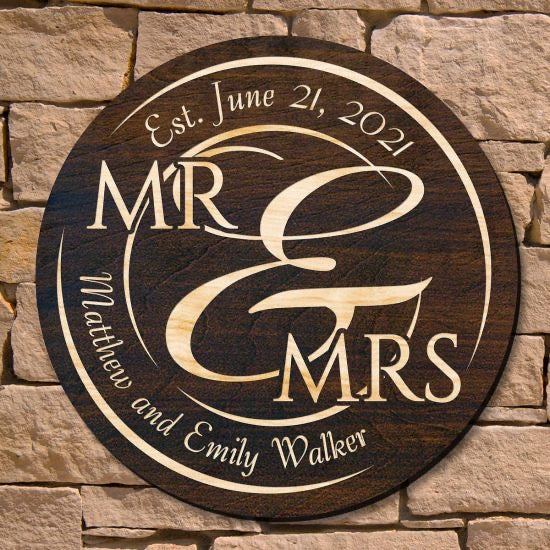 A wooden personalized sign that lets everyone know they're Mr. and Mrs. will always be a phenomenal idea! It's one of those expensive wedding gifts that they'll treasure for the rest of their lives. It'll look fantastic hanging in their entryway, living room, bedroom, or anywhere else in their home. Seeing the customization on the sign that has their name and anniversary date on it will fill them with joy every time they see it. They can even use this sign as decor at the wedding!
Best Blender Ever
This is one of those expensive wedding gifts that is truly worth every penny. This professional Vitamix blender is the best blender for making soups, frozen desserts, smoothies, or anything else they want to make with its ability to blend foods together and create the desired texture. It also has features that set it apart from any other blender, such as a self-cleaning feature. They'll really appreciate you getting them one of the most renowned blenders ever!
Super Special Decanter Set
You're searching for expensive wedding gifts that will be put to good use by the couple. There's no chance they won't want to use this handsome whiskey decanter set all the time! From the special customization on the decanter and glasses to the unique, twisted design of the glasses, they'll be obsessed with how fancy this set looks. It'll most definitely replace their old whiskey glassware they have, and it'll be their go-to set whenever they want to celebrate their anniversary or any other special occasion. It'll always remind them of the day they became a married couple!