You're a wine lover who craves luxury in your life. You prefer to drink your wine out of stemless wine glasses, but you want to be sure you're buying the right ones for you. The best custom stemless wine glasses are those that are best suited for the kind of wine you like. Whether that be dessert wine, dark reds, chilled whites, or any other type, there's a right glass for it—so what kind of wine will you be drinking? The other factor to consider is that when it comes to drinking wine, where will you be drinking it? Solely inside your home while eating a fancy dinner, or perhaps more casually? All this will be covered when you explore these amazing personalized stemless wine glasses.
Gorgeous Aerator and Glasses Set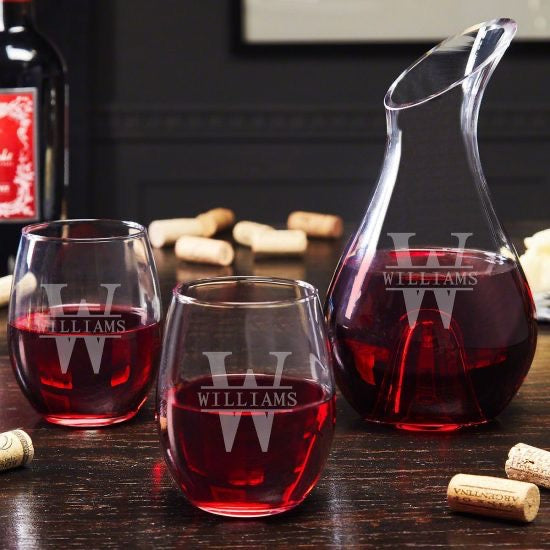 Wine tastes better out of decanters, so purchasing a decanter with your glasses is a no-brainer. This wine decanter and glasses set is a lovely one for any wine lover. Decanters separate wines from sediment, so older wines will taste fresher. They also help to aerate wines to open up aromas and flavors. Highly tannic and full-bodied wines, such as Cabernet Sauvignon and Syrah blends, benefit most from being decanted, so they will taste as delicious as possible to you. This beautiful wine set is a must-have.
You're Golden
The time of day when you have a glass of your favorite red wine is the best time of the day, obviously. Make it even better with this custom wine glass with a gold rim. This personalized stemless wine glass is a lovely glass crafted from premium crystal, making it a high-quality piece of glassware that is also aesthetically pleasing. The gold trim around the rim of the glass adds a beautiful, elegant touch to the glass that you will love to look at while you're sipping out of it.
Stainless Steel Set of Custom Stemless Wine Glasses
A set of wine glasses is a great gift or purchase for yourself. And what's even better than a set of glasses? A set of glasses with a box and corkscrew. This custom stainless steel wine glasses set comes in a stunning wooden gift box. It contains sleek stainless steel tumblers and a black corkscrew for popping open your favorite bottle of wine. The stainless steel wine glasses are perfect for chilled wines or other cold drinks.
Topsy Turvy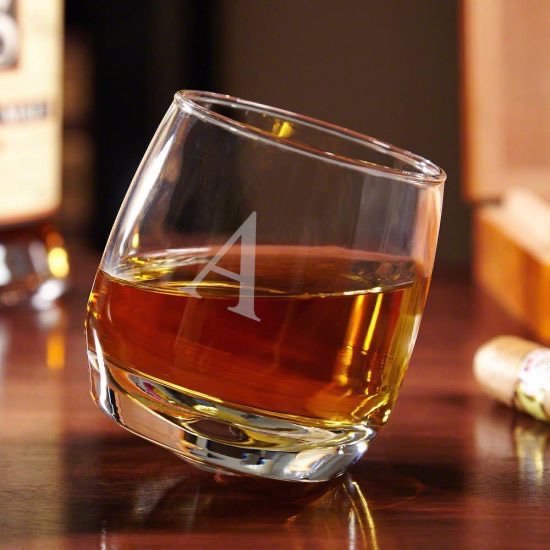 You want to consume your wine as soon as possible, but you know it needs to aerate a bit before you can drink it. Purchase glasses that aerate on their own: these tipsy stemless wine glasses. The bottom of these glasses comes together in the center to form a shape similar to the bottom end of a children's top toy, so these glasses constantly rotate when they are set down. These glasses are the perfect personalized stemless glasses for wines like Cabernet and Bordeaux that taste better after being able to breathe. Buying two is recommended so you can enjoy a glass with a friend.
151+ PERSONALIZED GLASSWARE ITEMS YOU WILL LOVE>
Keep Your Wine Cool With Cool Personalized Stemless Wine Glasses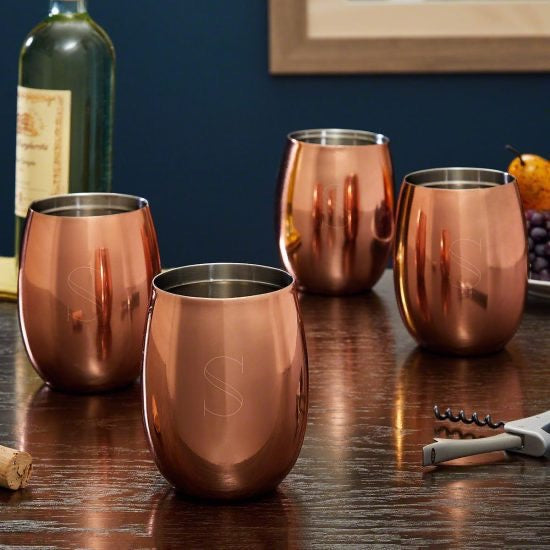 Novelty is a significant factor when it comes to lavish wine glasses. It's also important for wine drinkers who enjoy their chilled white wines that the wine stays cold for as long as possible. These engraved copper wine glasses are stylish tumbler-like wine glasses. Crafted from double-walled, vacuum insulated stainless steel, you can rest assured that your chilled Pinot Grigio will stay chilled for up to four hours inside.
Manly Wine Consumption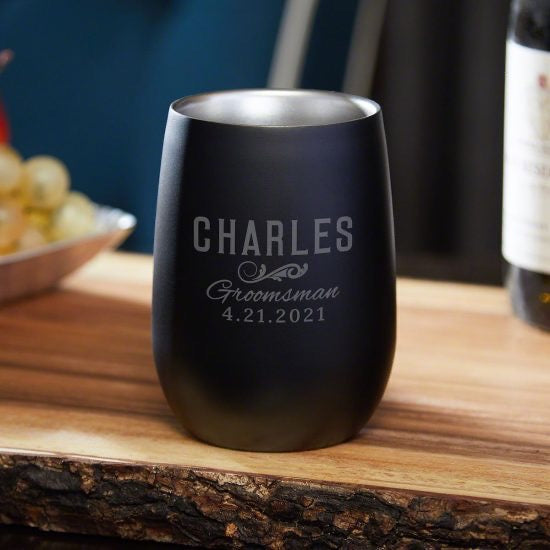 Men love wine, but they may not love the aesthetic of traditional wine glasses. This engraved stainless steel wine glass is ideal for men who want a bit of a manlier appearance and feel to their wine glasses. These tumblers are crafted from stainless steel, so his wine will stay perfectly chilled or at room temperature, depending on his preferred wine. This will become the glass he uses every time when he is consuming wine, or any other drink for that matter.
Colorful and Cool Tumblers
Colorful, fun, one-of-a-kind. If this reminds you of you, then these glasses are for you. These custom wine glasses are crafted from stainless steel and have a double wall construction for insulation to keep your wine fresh and safe from the elements. If you're drinking a chilled wine like Prosecco, then it will stay nice and cool in these tumbler wine glasses. They come in eight different colors, so you can buy the color that best suits you and your wine needs. They can be personalized with text or artwork, making this a fantastic, super unique wine glass.
Dessert Time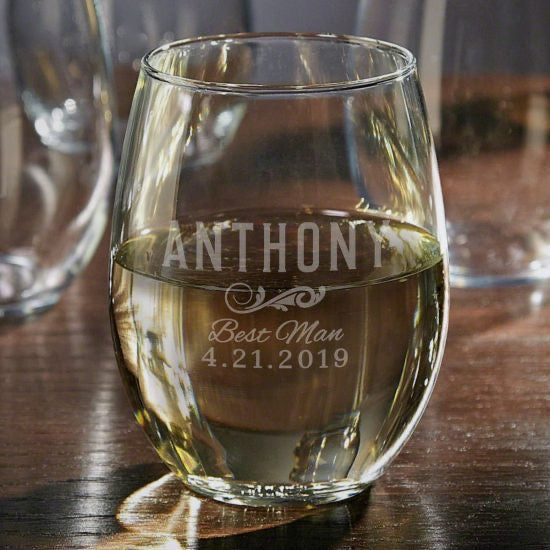 Your biggest wine weaknesses are those delicious dessert wines, such as Riesling or Sauvignon Blanc. The greatest glass to enjoy these sweet wines in is this personalized stemless wine glass. The thin rims of this glass are great for lighter, sweeter wines, because thicker rims impede the taste of those kinds of wines. The calories won't count when you're drinking out of such a beautiful glass!
Home is Where the Wine Is
You love your home, and you are proud to be from there. This home town maps wine glass shows just what its title suggests: a map of your hometown. Submit GPS coordinates and this glass will come designed with a white engraving of the name of your hometown and showing streets, street names, and even rivers or highways. The lettering is bold enough that whether you're drinking bright whites, dark reds, or any color of wine in between, you'll be able to see clearly the map engraved onto the glass.
Elegance is Key
Elegance is important when enjoying your favorite wine, and that elegance comes from whichever glass you're using. This personalized stemless wine glass is the perfect glass for your favorite red wines. The curved profile of the glass is designed to bring out all the aromas and flavors of the wine. You'll appreciate your Cabernet or Merlot in a new light after sipping from this beautiful glass. Have it engraved with your name and initial, and you'll have your new favorite wine glass.
Stainless Steel Perfection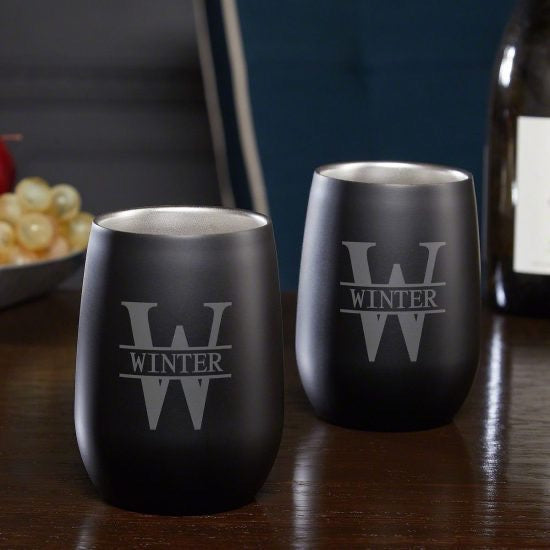 There's nothing like a couple of classy unique wine glasses to make your day, every day. These personalized stainless steel tumblers are the best way to enjoy your favorite wine or other beverage. Especially when glass just isn't cutting it, stainless steel tumblers are what you want to drink your favorite chilled wine out of, such as Pinot Grigio. This double walled steel will keep your drinks cold and won't produce annoying condensation on the outside. They are extremely durable, so these won't break if they're dropped.
Four Classic Custom Stemless Wine Glasses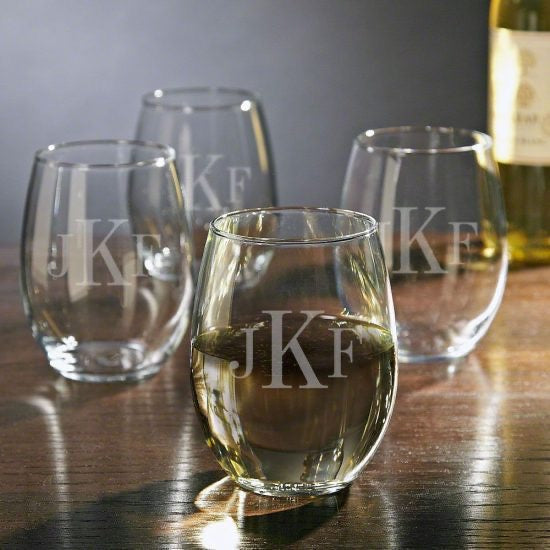 Sometimes all your kitchen needs is a classy set of white wine glasses. This set of four personalized stemless wine glasses is perfect for you and three friends to sit back, relax, and enjoy the deliciousness of Riesling, Moscato, or Pinot Blanc. Your wine will taste as good as ever in this classic-shaped glass, crafted distinctly for white wine perfection. Monogram your four wine glasses with your initials so your friends don't try to steal these amazing glasses.
Don't Drop It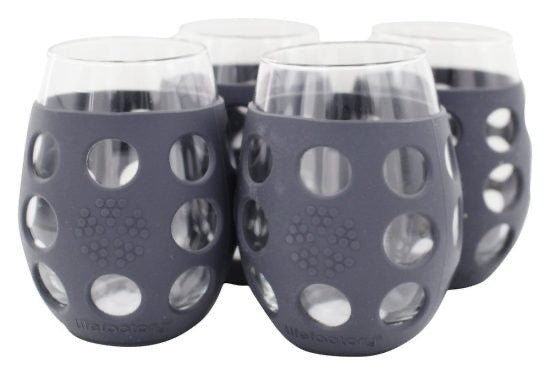 Maintaining a good grip on your wine glass is of the utmost importance so you can avoid spilling your wine and breaking the glass. These ingenious stemless glasses have a silicone sleeve around them to prevent those disasters. The sleeves are designed specifically to enhance your grip on them, with tiny bumps on the sides for enhanced grippage. These awesome glasses are perfect for drinking wine and any other beverage out of them.
Big Huge Glass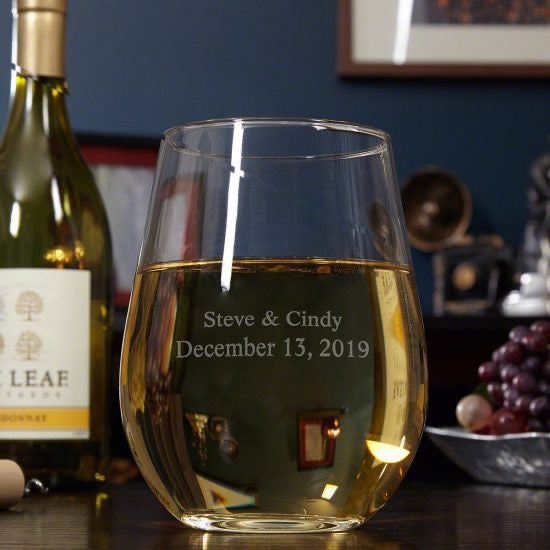 On the other hand, unlike the glass above, sometimes you just want a giant glass for your giant appetite for your favorite wine. This extra large stemless wine glass can hold an entire bottle of wine, so refills are not at all necessary, and you can stay on the couch as long as you want. This sleek design is perfect for any type of wine, and are extremely light in weight, so your arms won't hurt from holding this gigantic glass. In fact, this glass still fits perfectly in your hand despite being able to hold so much wine.
Different Shapes for Different Wines
Different stemless wine glasses are various shapes, best for certain kinds of wines. This stemless red wine glass is best for red wines that need aeration, such as Bordeaux and Barbera. The shape of this wine glass is shorter and with a wider base than typical wine glasses, forming a rounded shape. This unique shape is ideal for perfectly aerating those highly tannic wines so they'll taste as delicious as possible, and the narrowed mouth directs aromas to your nose.
Glass Made of Plastic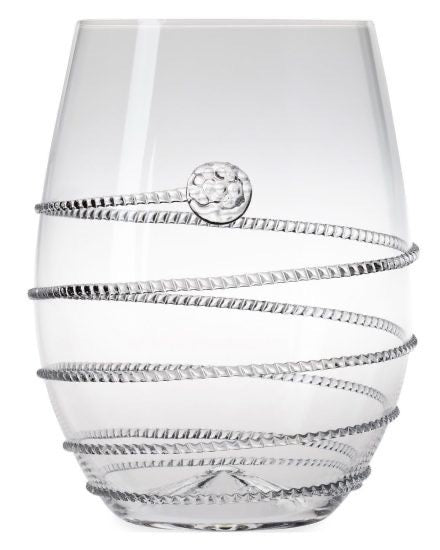 You love drinking out of wine glasses, but in your house with your pets and kids, they often end up falling on the floor and breaking. These plastic stemless wine glasses are a fantastic solution to this issue. These glasses are great for any casual wine drinking experience, such as a regular evening relaxing or by the pool. They are extremely durable and eco-friendly, made from PET material which gives the look and feel of glass. These custom stemless wine glasses can be personalized with a line of text and a logo.
Most Lavish Set of Custom Stemless Wine Glasses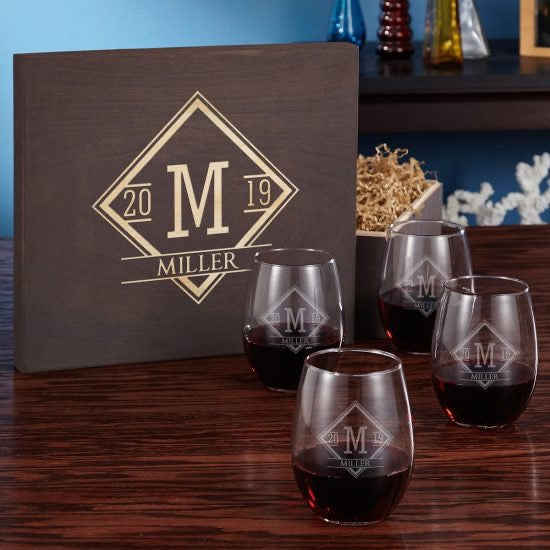 You want a set of wine glasses that will impress any and every guest. This wine glass gift box contains four gorgeous stemless wine glasses that you will adore and your guests will fight over. You'll love pulling these glasses out of this handsome maple wood gift box and then pouring them a glass of Merlot or Cabernet. They'll be extremely impressed and thankful to be drinking out of the most elegant glasses there are.
Stemless Wine Glass With a Groove
Dropping, spilling, and breaking your favorite personalized stemless wine glasses is always tragic. This clever wine glass makes drops less likely with an indention in the side for your thumb! Your thumb will fit perfectly and comfortably inside it, ensuring that you have a solid grip on the glass as to not drop or spill it. They aren't made from real glass either, so they are shatterproof!
Landmark Anniversary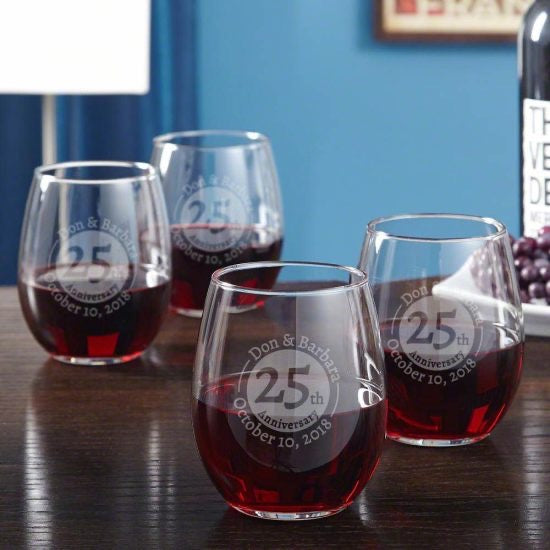 You've been married to your sweetheart for a long time now, and you want to commemorate the milestone by purchasing personal wine glasses. These stemless wine tumblers are perfect for you and your spouse to sit on the front porch and talk while enjoying your favorite red wine, just like when the two of you first met. Don't let your anniversary pass you by without these awesome wine glasses!
Spooky Glass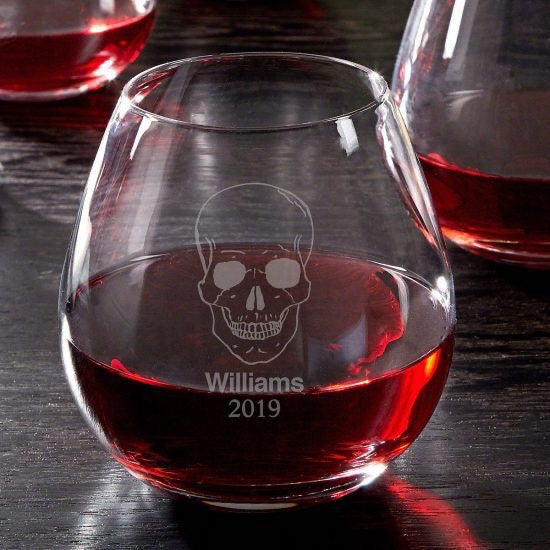 Whether it's Halloween, Day of the Dead, or any other day of the year, spooky wine glasses are the way to go. You'll love sporting this gorgeous glass at your next costume party—it'll really get you in the mood. Your blood-red wine will look very mysterious inside this eerie stemless wine glass, and your guests will be very impressed with it.
Big Red Wine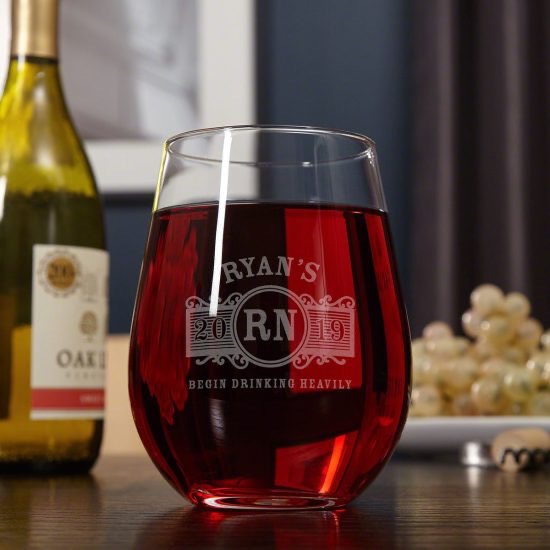 You love red wine—really love it. You like to drink a decent amount all at once, but after a long hard day at work, you don't want to have to get up for refills a bunch of times. This extra large stemless wine glass can hold up to an entire bottle of wine so refills are not necessary. The wider bowl of this glass better accommodates some of the aromas of wine that are a bit more delicate, so full-bodied wines like Pinot Noir and Barberesco are the perfect reds to drink in this stunning custom stemless wine glass.