Hey, you forgot that you needed to get a gift for him. It happens. Although panicking feels like the right thing to do, don't! The last thing you want to do is go to the store and get something generic. If your gift isn't truly thought out, it will definitely give away that his occasion totally slipped your mind. Instead, check out these awesome last minute gifts for him that you can order at a moment's notice, and he'll never suspect a thing! They're all perfect at making his life far more enjoyable and quite frankly, are gifts he'll remember for years to come. So, while other people may get mediocre gifts when they forget, you'll be able to pull through with the best last minute gifts ever!
The Ultimate Set of Last Minute Gifts for Him
When you're trying to make it look like you had his birthday planned out all along, one of the best things you can do is get him an engraved gift just like this pint glass ammo can gift set! When he sees that each piece has his name on it, there is no way he'll think you waited until the last minute. You can even customize this set further by adding a six-pack of his favorite brews, some ammo for his gun or a few tools inside the ammo can that you know he's been needing. Now, he'll have the coolest gift he's ever gotten, even as a set of last minute gifts for him!
The Best Home Decor Gift for a Guy
Give him a last minute gift that he will treasure forever with this personalized pub sign! A piece of decor that is unique to him is the ideal way to disguise your gift as one you've thought out well in advance and not left until the last minute. This royal-looking sign is the ideal way for him to make his home bar or garage the ultimate pub he's always wanted. From enjoying a pint with the boys to kicking back with a stogie, this sign will make every occasion feel royal!
A Last Minute Gift for Cool Guys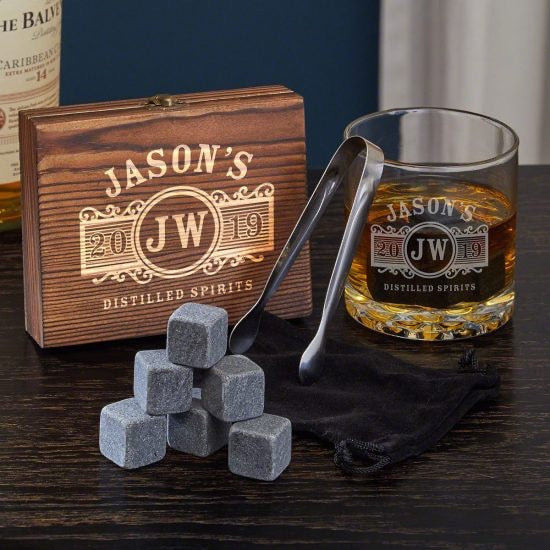 Keep him perfectly chill when he thinks you forgot with this personalized whiskey stone gift set. A gift so unique, classy, and practical is great for any occasion too. From holidays to his birthday, or even just because he'll love getting this gift. Now, he'll never suffer from watered-down cocktails or a warm drink when he wants an ice-cold one. The whiskey stones ensure he will always have a perfectly chill drink, and there is no way better to enjoy a perfect drink than from a glass that has his name on it!
If the Shoe Fits, He Must-Have This Gift
There is never a time when shoes aren't a fitting gift. Why? Simple, every guy wears shoes! These Nobull runners are a great looking shoe for when he wants to be casual but are also comfortable and durable enough that he can train in them every single day! Get him a practical and good-looking pair of last minute gifts for him with an awesome set of sneakers!
A Box Set of the Best Last Minute Gifts
What could be better than a gift box when you're getting him the best last minute gifts? There is a certain allure that a gift box has, even as an adult. You know he'll feel the excitement of opening it up to reveal what's inside, just like when he was a kid. However, these are some very adult gifts: a rocks glass, flask, lighter, and bottle opener. Everything a guy could dream of! Now, whether he is celebrating or unwinding, at home or on the go, he can indulge in any of his vices with ease thanks to this unique, black gift box set!
667+ EPIC WHISKEY GIFTS FOR MEN>
A Sophisticated Cigar & Whiskey Gift Set for Him
Have him feeling like the classiest guy alive with the perfect gift for any fan of cigars and whiskey. After all, this combination is practically the peanut butter and jelly of adulthood. Pairing these two vices together is the best way to enjoy each of them! The strong contrast in flavors brings out the best of both cigars and whiskey. So, have him ready to indulge with a custom cigar whiskey glass as well as a leather-wrapped embossed cigar case! Now, he can easily enjoy his vices with one hand while fist-bumping you with the other for giving him such a great gift!
Tell Him to Read Between the Lines
There is nothing quite like a good book. It is a great way for you to take off to another world while relaxing outside or in your favorite chair. Load him up with all the books he could ever want with a Kindle Paperwhite! These fantastic devices give him access to every book imaginable. You can even pre-load it with classics or books you think he may enjoy such as Moby Dick, Harry Potter, The Da Vinci Code, or Outlander.
The Best Last Minute Gifts for Wine Lovers
Ensure that he looks like a total badass when he is enjoying his favorite drink with these engraved wine tumblers. This set is one of the best last minute gifts for him because he simply won't be able to wait and see what is inside the gorgeous black keepsake. Once he finds a set of tumblers with his name that are as tough as he is, you know you'll see a giant smile on his face. From Martinis to merlots, these glasses will always be the ones he reaches for.
Don't Coast on Your Last Minute Gifts
Coasters may not at first feel like an obvious last minute gift, but when they've been given a copper dip plus an engraving, this will be a gift for him he'll use for decades to come. Aside from the obvious of protecting his tables, these coasters are a super-easy way to class his home up thanks to the elegant gold-dipped corners, making them some of the best last minute gifts.
Hook Him Up with a Rustic Messenger Bag
Every man needs a good quality bag. Although he may still have a backpack laying around from his school days, a leather briefcase or satchel is simply the best way for him to bring his laptop, chargers, and documents with him everywhere he goes. Plus, when it is leather, it'll go with all his outfits and never go out of style! That means he will be able to enjoy your awesome gift for years to come, no matter what fashion trends come and go.
A Gift Fit for a King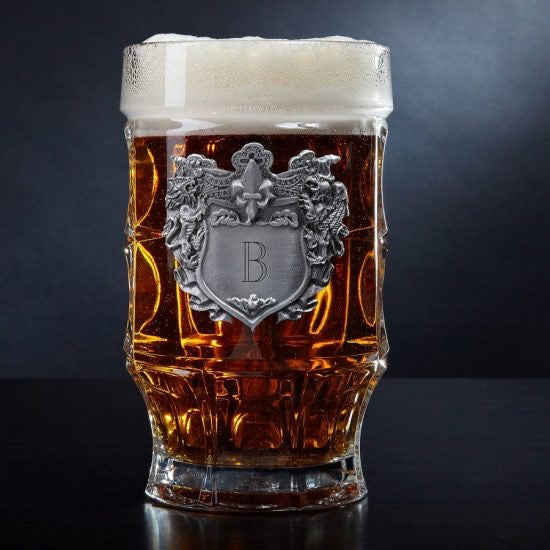 Take your procrastination gift as the ultimate way to get him the coolest beer gift ever! If you weren't looking at this awesome blog you may never have found this royal-crested beer mug. He'll love you for getting him such a kingly gift to enjoy ales, lagers, and stouts from!
Take a Shot at These Last Minute Gifts for Him
Check out this set of some of the coolest and best last minute gifts! A custom bullet whiskey stone set with a bullet bottle opener? Is there any doubt that every guy wouldn't love this gift? Every guy will feel like Arnold Schwarzenegger in The Terminator when they're enjoying a drink from this gift set. Just don't be surprised when he gets off the couch for a refill and says "I'll be back."
Top Golf Gifts Fore Him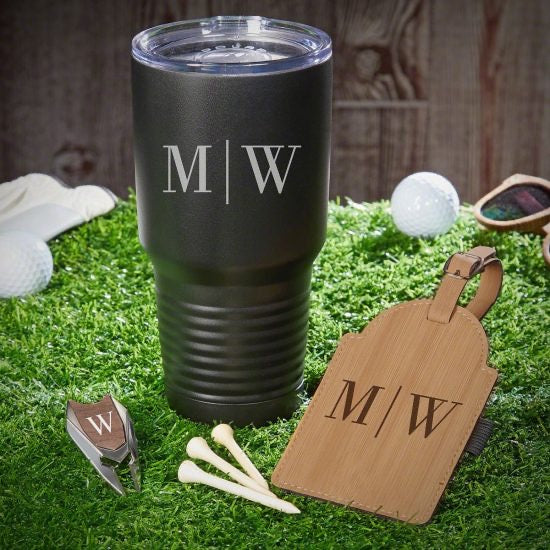 Don't just give him a gift for the house, let him enjoy his last minute gifts while he is out on the green. The coffee tumbler is a great way for him to bring his morning brew with him, ensuring he is on his A-game by tee time. While the bag tag and divot tool are the classy touches that will give him a mental boost by making him feel sophisticated enough to be going to the Master's this year.
Keep Him Looking Fresh Everywhere He Goes
Ensure that his beard is always well kept with his own personal beard grooming kit. Now, he may look as fierce as Black Beard, but his beard will be as smooth as Jack Sparrow talking his way out of trouble, savvy. Thanks to the wash, oil, and beard lube, he'll never suffer any breakage, knots, or mangy beard ever again!
A Sign of the Best Last Minute Gift for Him
Last minute gifts for him are able to look like you spent a lot of time and energy getting him something just right. Take this unique sign for example, what man doesn't want a man cave? Thanks to the rustic cut and gorgeous engraving, it'll look great with any decor and will give him the perfect excuse to either start making his man cave or finally put up all the finishing touches.
323+ CREATIVE CUSTOM SIGNS FOR HIM>
Personalized Whiskey Set of Last Minute Gifts for Him
Got a big occasion that you need this gift for? Look no further than this personalized whiskey stone gift set! There is no better way to celebrate any occasion than with a shot. However, that doesn't mean this set is only good for parties. Thanks to the glass shape and whiskey stones, this gift is also ideal for when he wants to put his feet up and relax with a perfectly chilled drink. He will absolutely love the unique look and feel of the glasses, while the customization on the box will have his jaw absolutely on the floor. When you need a gift for a guy, you simply can't go wrong with this set!
Keep His Desk Clean
A simple but thoughtful gift for a guy when you need something at the last minute is definitely a desktop organizer! These practical gifts are perfect for him, especially if he works from home. Now, he can easily set his phone up to play Spotify or his go-to podcast, while using the catchall for things like his watch, pens, or even his keys when he comes home.
Watch How Much He Loves this Gift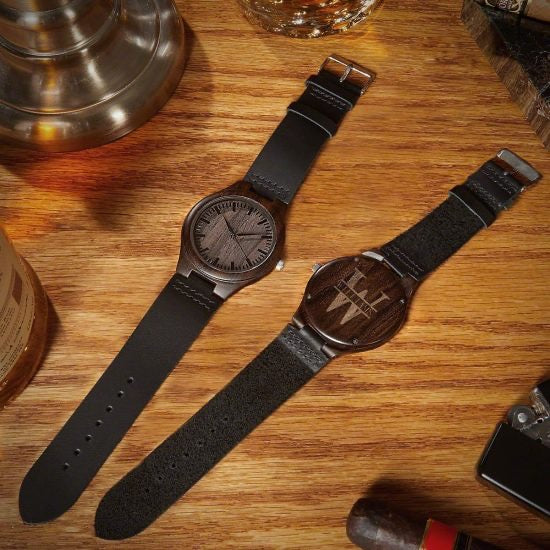 There is no better way to add a bit of classy into a guy's life than with a watch. This engraved wooden watch is ideal for every kind of outfit. The unique-looking watch goes great with formal wear as well as his casual clothes. Plus, the irony won't be lost on you when you get this as one of the coolest last minute gifts for him, and that it is a watch (you may even laugh out loud)!
Bet He'll Love These Last Minute Gifts for Him
Embrace one of his favorite hobbies with your last minute gift with this monogrammed poker set! Now, when he hosts his weekly poker night with the boys, he'll be the top card shark no matter what! With his matching cigar whiskey glass in hand, it'll be hard to not buy his stone-cold poker face each time he lays down a big bet.
Sounds Like a Good Gift
Going with a practical gift for a guy is always a safe bet. In today's day and age, almost everyone is plugged into some form of media 24/7. So, use this opportunity to upgrade his sound game with these Samsung Wireless Earbuds. Now, whether he is at work listening to audiobooks or at the gym with this go-to playlist on, he'll get a crisp clean sound from a comfortable set of wireless earbuds. Talk about a useful set of some of the best last minute gifts!
A Classy Whiskey Gift for Him
Keep him feeling as classy as Don Draper with a set of gifts he will think you ordered for him months in advance with this custom twist whiskey glass box set. From the guy who is casually into whiskey and the true aficionado alike, this set is perfect. The twist glass is ideal for cocktails like Old Fashioneds or Whiskey Sours while also working great for neat or on the rocks thanks to the whiskey stones. Plus, it looks so good that every guy will want to show off the gorgeous glassware on his home bar or in his kitchen.