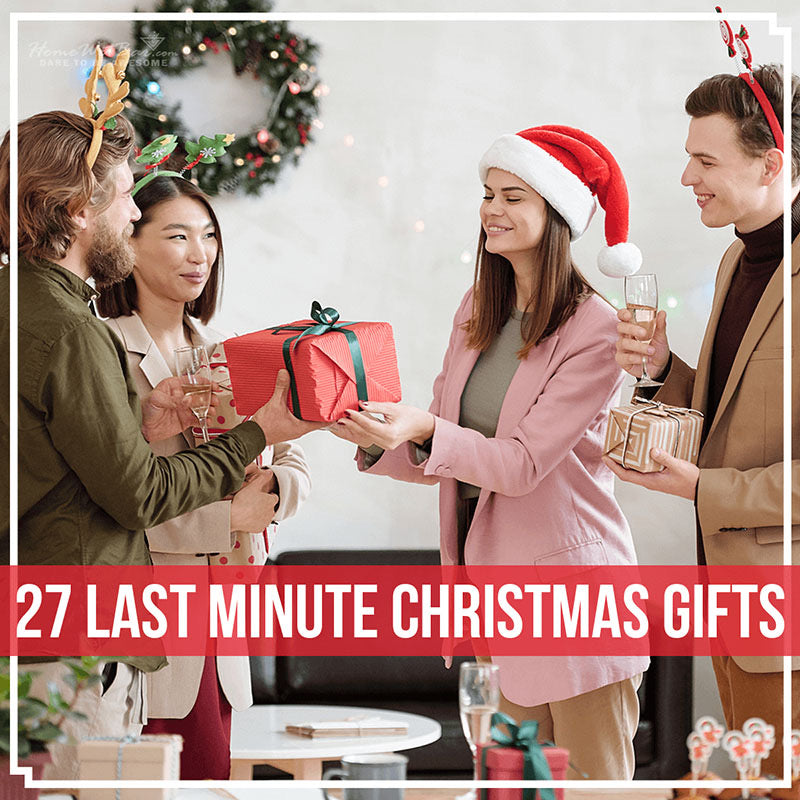 27 Last Minute Christmas Gifts
Last Minute Christmas Gifts Anyone Will Enjoy!
It's almost Christmas and you don't have all of your presents bought yet! Before you start panicking and buying random things from the local store, take a moment and think about what you want to get each of the people on your shopping list. Last minute Christmas gifts don't have to be lame or impersonal, you can get a gift that's just as awesome if not better than the other gifts you got for your loved ones! As long as your Christmas gift is something you know they'll enjoy, they'll never know you picked it up last minute. Looking for last minute Christmas gift ideas for the person who has everything? Wondering what the best last minute Christmas gifts for him are? Not sure what kind of last minute Christmas gifts for coworkers would be ideal for everyone in the office? Don't worry, we picked out the best gift ideas for everyone on your list!
Impressive Whiskey Gifts for Christmas
How classy is this gorgeous whiskey gift set? Anyone from your parents to your significant other will be over the moon to receive such lovely last minute Christmas gifts from you this year. The elegant glasses are perfect for them to enjoy a festive cocktail or holiday-themed whiskey with a loved one on Christmas Day and the wooden gift box is perfect for collecting all of their Christmas cards.
Badass Last Minute Christmas Gifts
Struggling to find last minute Christmas gifts for him? Look no further than this awesome ammo can gift set! Full of practical tools such as a lockback knife loaded with extra features such as a seatbelt cutter and glass breaker and even a cigar-holding flask, this set is perfect for anyone who enjoys the great outdoors. You don't even have to wrap this gift before putting it on the tree because the custom ammo can doubles as the gift box for the whole set!
Unique Last Minute Christmas Gift Ideas
Make this Christmas a memorable one by surprising someone special with this unique decanter set! They will be so in awe of this custom decanter and unique glasses when they unwrap their present on Christmas Day that they won't want to even open any other ones! Make sure you give them a bottle of their favorite holiday spirit to go with it so that they can fill up the classy decanter and try out their sculpted glasses right away. They'll never know that you got their gift in the nick of time right before Christmas because it's such an impressive and thoughtful gift!
Something for Everyone
Whether you're trying to find something to give each of your coworkers for Christmas or you want to get one last gift for your family members to make sure everyone has the same amount of presents under the tree, these state beer cap signs are perfect! You can get a sign for each person of their home state for them to fill up with bottle caps from their favorite beers or sodas. Even if more than one person has the same home state, each sign will be unique because of the bottle caps they place in it, which ensures that everyone has their own one-of-a-kind sign.
For Those Who Love to Grill
When it comes to last minute Christmas gifts, your main focus should be the person receiving the gift and the things they enjoy, not the gift itself. For someone who enjoys cooking or grilling, a set of custom bamboo grilling tools is the perfect Christmas gift! In fact, they'll want to use their new tools to grill up a delicious Christmas dinner for the whole family as soon as they open their gift.
629+ GIFT SETS FOR CHRISTMAS >
A Nostalgic Gift for Video Game Fans
Looking for a last minute video game Christmas gift for the loved ones in your life who love gaming but they already have all of the latest consoles and games? Get them a blast from the past: the Nintendo Game and Watch! This nifty little console is a great gift for adults or kids, but the adults will appreciate the nostalgia aspect as it's a recreation of a console they probably played when they were little. With the classic Super Mario Bros game, The Lost Levels, and even an animated clock, this fun Christmas gift is packed with hours of fun. There's even a Legend of Zelda version! 
You Can't Go Wrong with Copper Wine Glasses
It doesn't matter if the person you're shopping for drinks wine regularly or just treats themselves to a glass on special occasions because these unique copper wine glasses are great last minute Christmas gift ideas for anyone who enjoys wine! The beautiful copper will look great with the rest of their glassware and these unique glasses even keep their wine naturally chilled thanks to the stainless steel interior. Anyone you know who enjoys wine will be using these copper glasses over their normal glass ones once they try them out on Christmas Day for their mulled wine or holiday sangria.
Last Minute Christmas Gift for Someone Who Has Everything
Get the person on your list something truly incredible for Christmas this year with this smoke box system! This unique gadget adds a whole new smoky flavor to any food or drinks they put inside the chamber. Once they try out their favorite holiday cocktail with a hint of hickory or maple, they'll want to smoke everything to see how it tastes with the new flavor addition! The whole family will enjoy trying out their food and drinks in this nifty gadget so much that they will want to keep it out to use for every meal!
Cool Last Minute Christmas Gift Ideas
Bet you didn't expect to see last minute Christmas gifts this awesome! Whether the person you're shopping for is a whiskey drinker, gun enthusiast, or just appreciates cool novelty stuff, they are sure to enjoy this monogrammed bullet whiskey stone set. They will love how badass this Christmas gift is not only because it looks cool, but makes them feel cool, too! Who wouldn't feel like a badass while sipping on whiskey with a couple of bullets in their glass?
Get Them a Custom Sign
Whether they've got a new home bar, just started working on building one, or they've already got an awesome one in their home, they will appreciate a custom wood sign that makes their home bar official! This rustic home bar sign can be customized for anyone to make it their own unique neighborhood bar, which means you can get one for everyone you know! Such a cool last minute Christmas gift is so thoughtful and unique that they'll most definitely treasure it forever.
Blankets Are Never a Bad Gift
It's cold outside, and you can never have too many blankets! When in doubt, the perfect last minute Christmas gift idea for anyone you know is this cable knit weighted blanket. The gorgeous cable knit texture is so cozy and cute that you've probably seen it pop up on your social media feed at least once a week since Fall started, and now you can give one to all of your loved ones! Once they're through with opening up their Christmas presents, they'll want to snuggle up underneath this warm weighted blanket for the rest of the day.
The Coolest Christmas Gift They've Ever Received
No, you're not imagining things, this whiskey glass really does have a built-in cigar holder! Anyone you know who enjoys whiskey and cigars will love getting this awesome glass in their stocking or under the Christmas tree this year. To make this last minute gift a little more special, you can even include a bottle of their favorite whiskey and a couple of cigars with the glass so that they can try it out as soon as they unwrap it!
Fun Christmas Gift They Can Share
Why not give them a Christmas gift that they can enjoy with their friends and family? Just because it's last minute doesn't mean it has to be just for them, after all! This custom poker set is sure to be part of many fun game nights with their loved ones, especially on Christmas Day. Once they unwrap this awesome set, they'll want to start up a game of Texas Hold 'Em with everyone right away!
Practical Gift Set for Christmas
Struggling to find good last minute Christmas gifts for someone who wants nothing? Get them something practical like this awesome ammo can set! From the engraved pint glasses to the handsome pocket knife, everything in this gift set is useful. They will especially enjoy the ammo can because it's perfect for storing anything from live rounds to tools. Talk about a unique Christmas gift!
The Ultimate Whiskey Gift Set
The best last minute Christmas gift ideas for someone who enjoys whiskey (casually or seriously) is this Glencairn whiskey gift set! Designed to be the best whiskey glasses in the world, the whiskey lover in your life will be able to truly taste their favorite whiskeys for the first time on Christmas Day thanks to your thoughtful gift. It may be last minute, but it'll be their favorite Christmas gift of the year!
811+ WHISKEY CHRISTMAS GIFTS >
Something They'll Never Expect
Want to give a Christmas gift to someone who you know enjoys plants or cooking? Either kind of person will enjoy their own countertop garden! This neat little garden is a great way to enjoy some greenery in the kitchen and always have fresh ingredients to add to their dishes. It comes with everything they need to plant and grow herbs, cherry tomatoes, and even some salad! This kind of last minute gift will be appreciated by anyone you give it to, and it will certainly inspire them to cook more so that they can utilize their fresh homegrown veggies!
Must-Have Beer Mug Set
They don't have to be a beer lover to enjoy this mug box set as they can enjoy a tasty root beer or craft soda by cracking them open with the bottle opener and enjoying them in the hefty mug. They'll especially appreciate that you took the time (even if it was last minute!) to make the personalization special just for them, which makes your Christmas gift all the more meaningful. You can even include a six-pack of their favorite beer or soda with your gift so that they can try out the bottle opener and mug as soon as they unwrap their gift!
For the Baseball Fan
Looking for a last minute gift for a baseball fan for Christmas? You can't go wrong with this amazing baseball decanter set! It's truly the ultimate gift for anyone who enjoys baseball because this set is ideal to be the centerpiece of a game room, man cave, home bar, or even their office and even has enough glasses to share a celebratory drink for every home run their team makes. Once they unwrap this impressive Christmas gift, they will be too excited to set it up and try it out that they'll forget to open the rest of their gifts!
Useful Last Minute Christmas Gift Ideas
Struggling to find last minute Christmas gift ideas to put in stockings or to get one more thing for someone who's impossible to buy for? This tactical survival knife is the answer! Not only can you personalize the blade, but this incredible knife comes loaded with features such as two serrated edges, a hidden survival kit, and a durable sheath. Anyone who enjoys the outdoors, goes traveling, or just likes knives would love this last minute Christmas present.
A Gift Set Anyone Will Love
You can't go wrong with this classic whiskey gift set for Christmas! With two glasses and plenty of stones to go around, the person you give this set to can enjoy a drink with a friend or partner using this set. They will love that this set is uniquely personalized just for them as it shows you really put a lot of thought and effort into making your Christmas gift special (even if you did buy it at the last second!).
New Duffle Bags Are Always Appreciated
Whether the person you're shopping for is always on the go for work or pleasure, one of the best last minute Christmas gift ideas you can give them is a new duffle bag! This vegan leather bag has tons of storage to hold everything they could possibly need and even has a handy sleeve that fits snugly over the handle of their suitcase to make running around the airport easier than ever. Perfect for traveling or just everyday use, this handy duffle bag is something anyone would appreciate getting for Christmas this year!
Huge Last Minute Christmas Gift
Want to give them a last minute Christmas gift that's impressive? Everything else they'll get for Christmas this year will pale in comparison to this gigantic beer mug! With a capacity of an entire liter of beer, this huge mug makes sure they're set for drinks through the entire Christmas parade, all of the usual holiday movies, and of course the football game.
Movie Fans Will Love This Last Minute Gift
Anyone who loves movies will be psyched about getting their own custom movie theater marquee sign for Christmas! This custom sign is the ideal last minute Christmas gift idea for a movie buff as it will look fantastic hanging in their home theater, living room, or man cave. They'll be sure to hang it up before the family settles in to watch their favorite holiday movie and will proudly refer to the room as the name you gave it on the sign from now on.
Classy Christmas Gifts
Make them feel cooler than James Bond on Christmas with this classy gift set! They will love the vintage-inspired design on the glasses and ammo can that you customized for them, and they'll definitely be excited to try their favorite whiskey and stogies with the glasses and cigar accessories. In fact, the only thing that would make this last minute gift even better is if you include a few cigars and a bottle of their favorite whiskey!
Christmas Gifts to Take On the Go
Still stumped on what to get them for Christmas? Flasks are always great Christmas gifts, especially for last minute gifts! They're great stocking stuffers, or you can get a nice gift set like this one that they can enjoy with friends. This set in particular is great for taking to the local Christmas light display and having a few shots of their favorite holiday spirit to keep warm as they walk around in the snow! They can even use the leather gift box to store other items such as their watches, jewelry, or small keepsakes.
Tasty Treats Are Always Great Last Minute Christmas Gifts
You can never go wrong with an Edible Arrangement as a last minute gift for Christmas! This tasty holiday platter is full of festive chocolate-covered fruits that they can enjoy themselves or share with their family. Ideal for someone you either don't know well or if they insist on not wanting anything, this kind of gift works well for anyone and is sure to be enjoyed!
A Gift They Never Knew They Needed
Last but certainly not least, everyone you know will love getting a personalized rocks glass and these chilling spheres! The soapstone spheres will keep their drink perfectly chilled without watering it down, and there's even an extra one to share with someone special. No matter how you personalize the glass be it funny, sweet, festive, or simple, anyone you give this lovely gift set will be in awe. To make it even more special, pick up a bottle or an assortment of small bottles of their favorite liquors so that they can enjoy some tasty holiday cocktails with their new glass on Christmas Day!