Ammo boxes are super useful for storage. You can use them for anything from storing fishing gear to important documents thanks to their size, portability, and airtight seals. Ammo boxes are versatile storage containers that have over 50 uses but are typically used for safely storing surplus ammunition rounds. They're usually made of either metal or hard plastic, and most have a seal designed to be tight enough to keep out water. An ammunition box also makes a great gift box! Check out our list of the coolest, kick ass ammo boxes and gift sets we could find. You won't be disappointed!
Sophisticated Ammo Box Gift Set for the Legend in Your Life
You came here looking for ammo boxes, but you probably didn't expect to find a gift set with an ammo can that's this awesome, huh? Whether you're looking for a cool ammo box for yourself or to give as a gift, you have to admit that this legendary gift set is pretty badass. From the custom rocks glasses to the 2-in-1 cigar holder and flask, everything about this set is way too cool. Best of all, the ammo box is personalized too! You can use it to store anything you like from shotgun shells to your basic tools. Anyone who sees you carrying it will know that you are an awesome dude.
The Perfect Gift for an Outdoorsy Guy
Are you the kind of guy who enjoys spending time outdoors? You love going camping, fishing, hiking, and hunting. You normally do yard work during the week, but the weekends are all about fun trips in the great outdoors. Say no more, you need this ammunition box set! The customizable ammo can is engraved with any three lines of text you wish, such as "Jack Graham, Boar Hunter, Pro Fisherman" or Property of, Benjamin Thompson, Silver Lodge." Pretty cool, huh? Just wait. Also included in this set is a razor sharp hatchet, a lock-back knife with a rope cutter and glass breaker built in, and a cigar-holding tube flask. You'll be using each piece in this awesome set all the time!
Patriotic Gift Set for the Hero in Your Life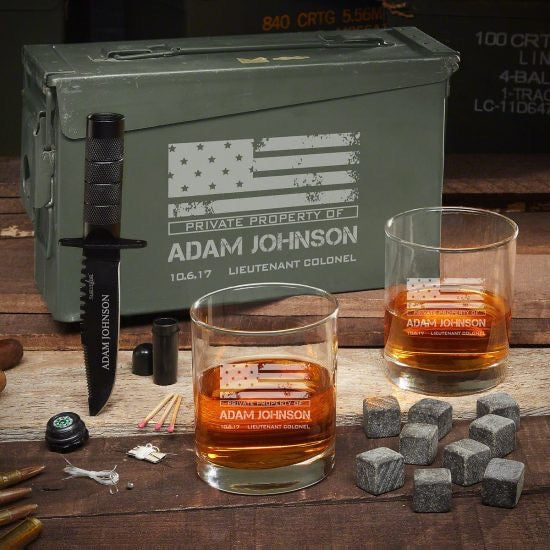 Anyone who loves America will enjoy this awesome ammo can set. By far one of the coolest ammo boxes, this set is perfect for patriots, military personnel, and law enforcement. He or she will love using the glasses and whiskey stones to enjoy a nice scotch on the rocks after a long day of drill. The tactical survival knife has two serrated edges and a hidden survival kit inside the hilt, making it one of the most useful tools on and off duty. Anything from work gear to survival necessities will fit perfectly inside one of these 30 cal ammo boxes.
Classic Ammunition Box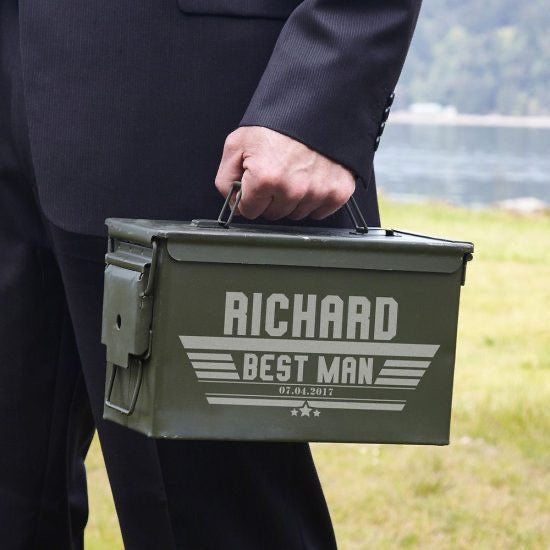 Looking for a classic ammo box without anything extra? Here you go. This 50 caliber military surplus ammunition box is a must-have for anyone with rounds, tools, or small gear to store. The extra sturdy aluminum and secure lock will ensure that anything you store within is safe. Plus, the design on the side will make you feel like Pete "Maverick" Mitchell himself!
Ammo Can Gift Sets for Everyone
Looking for ammo box gift sets for multiple people? Whether they're gifts for your groomsmen, whiskey club members, or your shooting buddies, these ammo can gift sets have you covered. Each whiskey gift set includes a 30 caliber ammunition container, two rocks glasses, and a set of whiskey stones. You can personalize the ammo boxes and glasses with your choice of names, titles, and dates. Anyone you give these awesome gift sets to will be impressed!
459+ WHISKEY GIFTS ANYONE WILL LOVE>
Shotgun Shell Storage Box
Some ammo boxes are made of hard polymer, which can be better than metal sometimes depending on what you want to use it for. This particular ammo box is ideal for storing large ammunition rounds such as shotgun shells, kindling, and tools. The waterproof seal ensures that anything inside will be kept dry and safe. The deeper, thinner design of this particular ammo box makes it easier for storage as it can fit more inside while remaining compact like standard boxes. You can stack them, too!
The Perfect Set for Any Man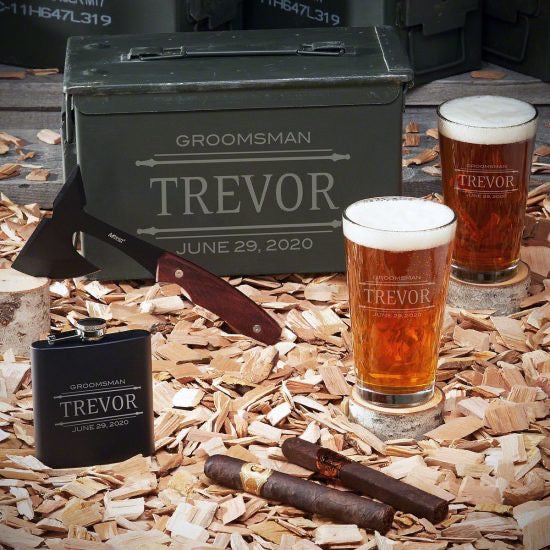 Ammo cans and ammo boxes are unique, versatile tools that are manly and cool. You know what's even cooler? This gift set! Not only is the ammo can customizable, but the set comes with matching pint glasses, a flask, and a hatchet. Seriously, it can't get any manlier than this. You need this set for all of your outdoor activities and then come inside to enjoy a cold, refreshing beer. Bet you didn't expect to find any ammo boxes with awesome additions like this!
Suave Whiskey Gift Set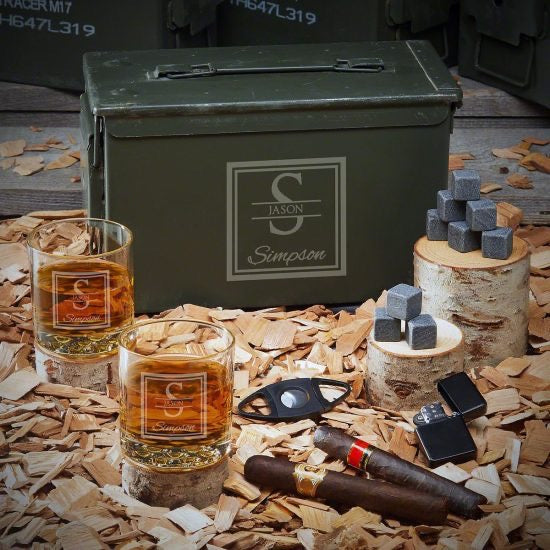 Ammo boxes can be classy when they want to be. Take this set for example: ideal for the sophisticated gentleman who enjoys a glass of whiskey and a fresh cigar, he'll love the elegant engraving of his name on the ammo can and glasses. The lighter and cigar cutter are essential for enjoying a stogie, as are the whiskey stones for a scotch on the rocks. He can use the ammo box to store his rare bottles of liquor that he wants to save for a special occasion, his collection of silver and gold, or even photo albums. See? Even the classy guy who prefers to be indoors can enjoy an ammo can too.
Fancy Beer Gift Set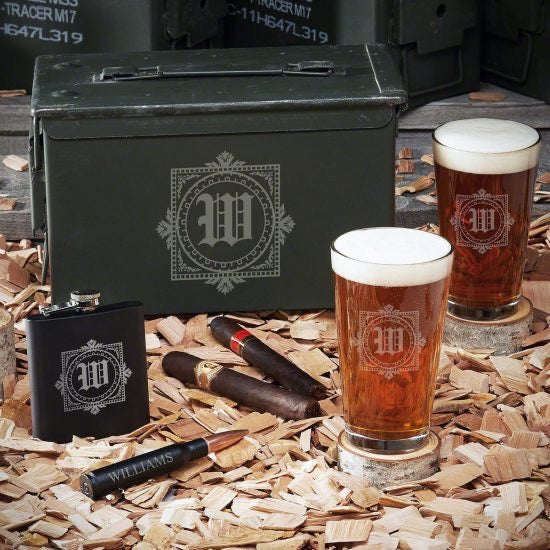 This ammo can gift set is a perfect blend of manliness and class. Perfect for any beer snob, this set comes with two pint glasses, a flask, a bottle opener made from a .50 caliber bullet, and a .50 caliber ammo can. Sounds pretty manly in general, but the elegant calligraphy-style engraving on the entire set is what makes it a touch more classy than the rest of the sets in this list. Any man would enjoy showing off the whole set to his friends as they enjoy a cold beer and a smoke after spending a day at the shooting range where they emptied his new ammo can of pistol ammunition.
Essential Ammo Can Set
Any man who enjoys a stogie and a bourbon after work will love this ammo can. A must-have set that comes with custom glasses and cigar accessories, you will never indulge in your favorite vices without them. Having a custom rocks glass elevates the whiskey drinking experience because no one else can use the glasses except you. It makes the activity entirely your own, which means you can truly relax. Plus, you can use the custom ammo can to store the set for safekeeping when you're not using it.
Triple Ammunition Box
Do you have a lot of things that need to be stored in a couple of ammo boxes? This triple ammunition set is perfect for you. The three .50 caliber ammo containers nestle within the crate for secure storage of ammunition, tools, gear, even food! The watertight seal will keep out any liquid or dust. This set is great for traveling as it can be strapped down four ways onto the back of your car and is compact enough to fit easily in the trunk.
Any Outdoorsman Would Love This
Men who enjoy the outdoors know how important it is to have the right tools. Sometimes it's a good hammer and some nails, sometimes it's a liquor flask and a hatchet. Whether you're into building furniture from scratch or relaxing in mother nature, this set will surely come in handy. The leather-wrapped flask will make sure you have a drink on hand at all times for a celebratory shot after a job well done or to relax by the river on a nice day. The hatchet is great for chopping smaller amounts of wood (and it's safer than a regular axe!), clearing out dead limbs from the large trees in the yard, and even preparing a freshly caught meal. When you get home, your trusty custom whiskey glass will be waiting for you.
The Best Gift Set for a True Legend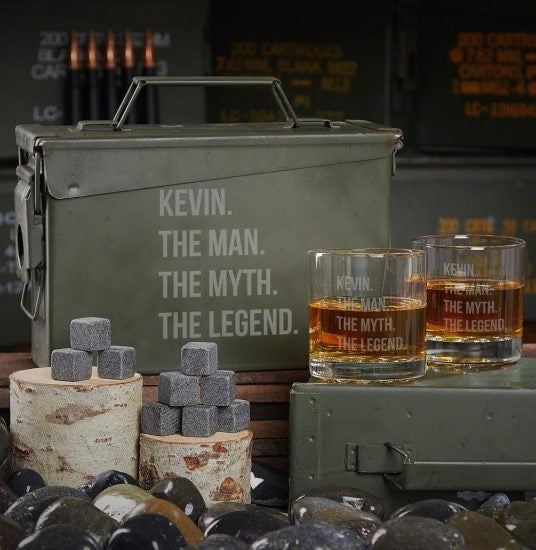 Ammo cans make great gifts, especially for the manliest guys in your life. With this incredibly awesome gift set, he'll feel like the coolest guy in the world! Perfect for a whiskey lover, he can enjoy a quality glass of Jim Beam or Crown Royal with the custom glasses and whiskey stones. The stones will chill his drink as well as ice does, but won't melt or affect the flavor! The .30 caliber ammo can is perfect for using to transport his ammo to the shooting range as well as store his favorite handgun. He could even use it to house his rare bottle of 15 year old Pappy Van Winkle whiskey, which is incredibly difficult to find and crazy expensive. Safe and tucked away in an ammo can, he can make sure that no one else but him can enjoy it when the time is right.
367+ MORE GIFT SETS AND GIFT BASKETS>
Cool Ammo Can Set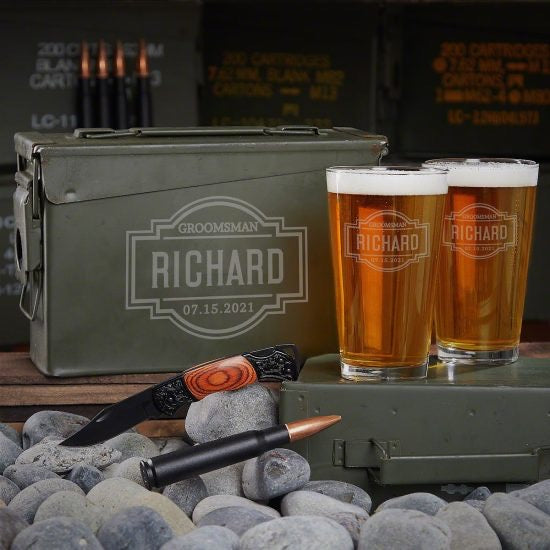 It's one thing to be looking for a regular old ammunition box to store you new gun's ammo in. It's another thing entirely to find a custom engraved ammo can that you'll want to take with you to the range just to show off! Not only that, but this particular ammo box comes with two matching engraved pint glasses, a bottle opener, and a pocket knife. This incredible gift set would make an amazing gift for any guy, and you can definitely customize it to fit any occasion.
Basic Ammo Can with Flask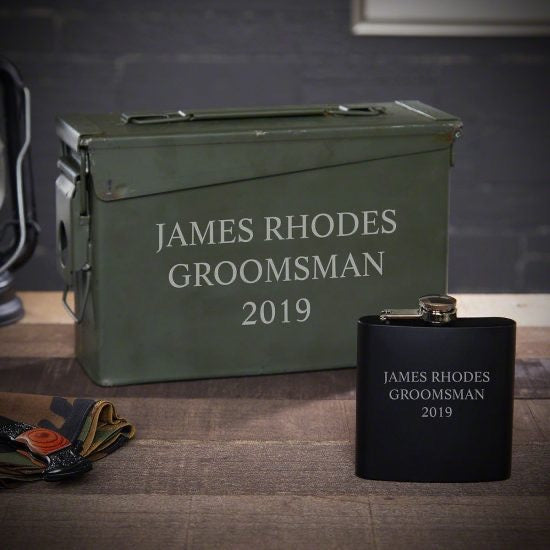 If you're looking for a basic metal ammunition box, here it is! This one just happens to come with a matching personalized flask. You can customize the engraving to be up to three lines of just about any text you want in your choice of font. You can have it say something like "Nate Smith's, Repair Shop, Since 1990" or "Jackson, World's Best Dad, Est. 2003." You'll love using the ammo can to store all of your most-used tools, work gear, or rounds.
Extra Large Ammunition Box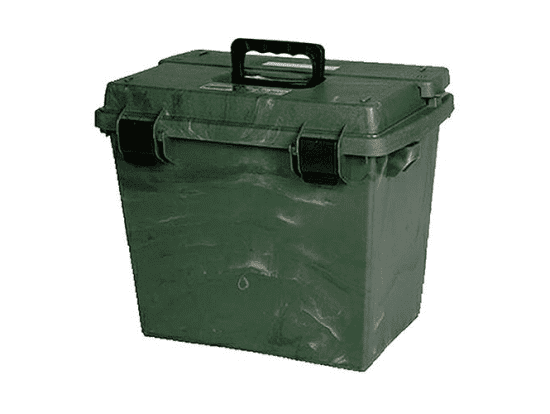 Need something a little bigger than these standard military grade ammo cans? This camo utility ammo box should do just fine! Made of extra thick hard polypropylene and coated with a subtle camouflage design, this large box has plenty of room for storing a week's worth of non-perishable foods, fishing gear, and large amounts of ammo.
All of Your Favorite Things in One Set
Last but not least, the manliest, coolest ammo box set with all of your favorite things: beer glasses, tactical knife, cigar accessories, and more! You'll love everything in this amazing set. Why two pint glasses instead of one? Well, beer is a beverage best shared! Cigars are great for sharing, too, so you'll want to carry your handy new cutter and lighter everywhere you go to keep you prepared. The tactical knife even has a built-in survival kit that includes a compass, matches, sewing kit, and a fishing set. You'll want to bring the awesome knife on every outdoor adventure as it can be used for preparing food, setting up the campground, whittling, and more! Best of all, the custom ammo can will help you out if you need somewhere to put your basic camping gear or to house your assortment of nails in the garage.