Fathers Day is coming up soon, and you're totally stumped on what to get your dad as a gift. He's a great guy who deserves the world, but he can be hard to buy for sometimes. Good Fathers Day gifts are all about making your dad feel as awesome and special as you believe he is. It doesn't have to be something over-the-top like a robotic lawn mower or an insanely expensive watch, it can be a simple gift that he can use with his favorite hobby or a decorative item to display in his office. Of course, he's going to love your gift no matter what you get him, but these cool Fathers Day gifts are sure to make him feel like the world's best dad!
Amazingly Good Fathers Day Gift
When your dad comes home after a hard day's work, he wants to be able to relax with a glass of his favorite whiskey and watch some TV. With this awesome cigar-holding whiskey glass, he can relax even more! This cigar glass is a really good Fathers Day gift, but you can make it even better by pairing it with a couple of his favorite brand of stogies and a nice bottle of whiskey.
Novelty Fathers Day Gifts Related to His Hobbies
Like most dads, your father enjoys grilling and golfing when he has some free time. Combine his two favorite hobbies into one incredibly cool Fathers Day gift with these grilling tools! Designed to look like golf clubs, this fun novelty gift is sure to make cookouts even more fun. He'll love using this set all spring and summer to grill up steaks and burgers for the entire family!
You Can't Go Wrong with a Watch Box
Like most dads, your dad has a couple of watches and probably has them scattered all over his bedside table or dresser. This Father's Day, give him a personalized watch case to organize and keep his timepieces safe! He'll finally be able to find his finest watch on the days he has an important meeting as well as a place to keep his everyday watch safe from dust or getting lost. He can even keep his cufflinks or watch repair kit in the case as well!
Handsome Decanter Set for His Office
Make your dad's office at work or at home even more impressive with this custom three piece decanter set! He will love being able to offer a friend or client a classy drink in style. When he's not using it for classy drinks, this Father's Day gift will look amazing on display.
The Ultimate Father's Day Gift From All of His Kids
Want to give your dad something really special? This sweet sign with the names and birth dates of all of his children is touching enough to make any dad cry! He will proudly display this decor of his legacy in his home for everyone to admire. This insanely good Fathers Day gift is one that he will treasure forever.
299+ PERSONALIZED SIGNS DAD WILL LOVE>
He Can Read Anything Anywhere
eReaders make such cool Fathers Day gifts, especially the newest version of the Kindle, called the Paperwhite, which is waterproof! The dad who loves to read can float in the pool and enjoy a classic or lounge in his favorite armchair and get lost in a mystery. Whether he's on the go for work or for fun, he'll certainly want to bring his trusty new Kindle along!
Badass Father's Day Gifts
Make your dad feel like a badass this Father's Day with a badass gift like this whiskey set! From the custom glasses to the bullet whiskey stones, everything about this set is awesome. Your dad will love coming home and enjoying a drink from this unique gift set every day just so that he can feel cooler than Tom Cruise himself.
For the Dad Who Enjoys Stogies
Is your dad into smoking cigars? Whether he's an aficionado or just a casual cigar fan, he will love this funny sign for Father's Day! The perfect dad joke on a piece of decor, this sign will look great in his home office, man cave, game room, or even just the living room. He'll love it so much that every time one of you kids asks a question, he'll just point to the sign.
The Coolest Decanter for Dads
Fact: dads love cool, unique versions of everyday items. Take this decanter set for example, it doesn't necessarily need to be designed like a ship in a bottle but it is way cooler than an average decanter! By far one of the most unique Father's Day gifts you've ever seen, this cool decanter will become your dad's new favorite way to get his evening whiskey or rum. He'll love having it on display in his office at home or at work, and will love talking about it to every guest who sees it!
Set of Insanely Good Fathers Day Gifts
You know that your dad is the world's best dad, but you want everyone to know as well! Say no more, this ultimate set of incredibly good Father's Day gifts says it for you. Whenever dad is out and about with his new flask or ammo box, everyone who sees him will know that he's the world's best dad to all of his kids. At home, he'll be proud to drink his beer from his custom pint glasses instead of straight from the can!
The Only Tool He'll Ever Need
Multi-tools are the best dad gifts, and this hammer multi-tool is the best of the best! By far one of the most practical and cool Fathers Day gifts, this awesome tool has it all: screwdrivers, a saw, knife, wrench, and so much more. Your dad will want to take this tool everywhere he goes so that he's prepared for anything!
Make Him a Custom Whiskey Label
Wondering what your dad really wants for Father's Day? Like most dads, he probably wants his own whiskey label! You can make his dream a reality with this whiskey decanter set, which is engraved with a label you get to customize just for him! How awesome is that? He will love drinking his usual evening glass out of his own "branded" set, and he'll certainly enjoy showing it off to his friends. When he's not using it, he'll want the entire set on display!
His Own Chip Set for Poker Night
Dad loves his poker nights with the guys. He usually uses his old chip set that he's had for years, but you've noticed it's starting to look a little worn. This Father's Day, surprise him with a brand new poker set! It comes with everything he needs for a good old fashioned game of Texas Hold 'Em with his friends as well as a classic game of Farkle for family game night!
Dad Can Carry His Beer with Ease
Good Fathers Day gifts can be as simple as solving a problem your dad often has. For example, your dad likes to go fishing, camping, tailgating, and hunting so he often brings a six-pack along. Nothing ruins a trip quicker than a broken bottle of beer! With this durable wooden beer caddy, his beers will be safe and sound. It even comes engraved just for him and has a built-in bottle opener! Thanks to your helpful Father's Day gift, he'll be able to enjoy and share his six-pack without worrying about broken bottles ever again.
235+ BEER GIFTS FOR FATHERS DAY>
Funny and Cool Fathers Day Gift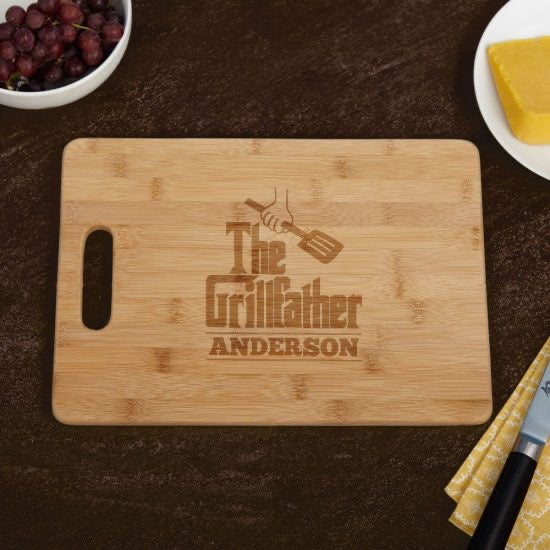 This hilarious cutting board is the ultimate dad gift for Father's Day! He will chuckle every time he uses this fun bamboo cutting board when he's meal prepping or cooking dinner for the entire family. Even something as simple as this funny personalized cutting board is sure to make cooking a little more enjoyable. He'll certainly want to keep it on display in the kitchen, especially when guests come over so that they can laugh at it too!
A Brand New Grill is the Best Father's Day Gift
Speaking of cooking, you can't go wrong with a new grill for Father's Day! This top-of-the-line Father's Day gift is sure to be his new favorite toy. He'll love the simplicity of the propane grill and how easy it is to use to grill up burgers and hot dogs at the next cookout. Once he sees this incredibly good Fathers Day gift, he'll want to try it out right away and make dinner for everyone!
Classy Good Fathers Day Gifts
Your dad is the coolest guy you know who enjoys fine whiskey and a cigar now and then, but also enjoys spending time outdoors like most dads. This Father's Day gift set is the best of both! He'll love having his own custom rocks glasses for his evening glass, but most of all he'll enjoy having an awesome ammo box to store his tools or work gear in. This gift set is a guaranteed win!
Incredibly Cool Fathers Day Gifts
Your dad is by far the coolest guy you know, and you want everyone to know it too! With this badass set of insanely good Fathers Day gifts, anyone who sees him will know he's a legendary man. Your dad will love using every piece in this incredible beer and cigar-themed gift set at home, on the go, or even at work!
Exquisite Decanter Set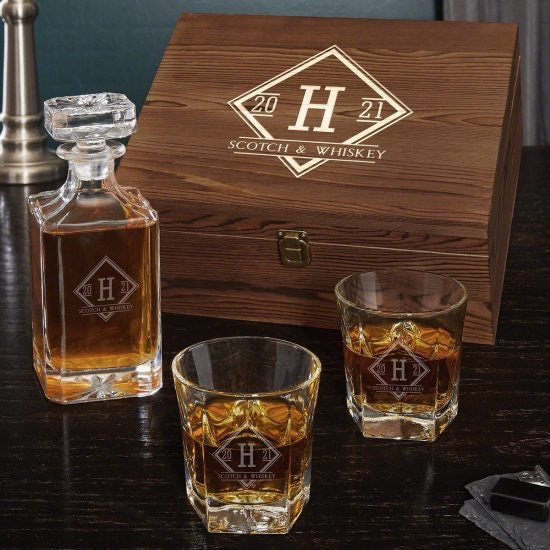 Looking for a really cool Fathers Day gift? This crystal decanter set is beyond impressive! Your dad will love having these large, hefty glasses for a double scotch or a cocktail. The gorgeous decanter will be a handsome new addition to his office or home bar as well, and he'll want to offer every guest a drink just so that he can use it! Thanks to your Father's Day gift, he'll feel like a million bucks every time he uses this exquisite crystal decanter set.
Way Too Cool Beer Mug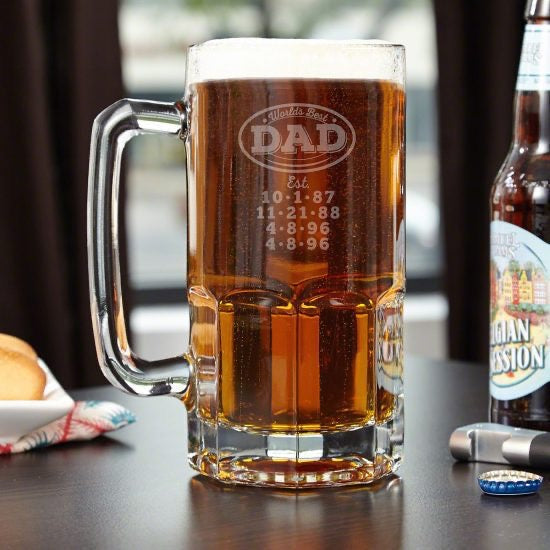 Good Fathers Day gifts are items that he can treasure and show off proudly, like this custom beer mug! Engraved with the birthdays of you and your siblings, your dad will love using this giant beer mug every time he feels like cracking open a cold one. Whenever he looks at the engraving, he'll feel loved and appreciated, especially since it dubs him as the world's best dad. When he's not using it, your dad will proudly display his mug for everyone to admire in his home bar or even on his desk in his home office.
Give Him the Best Razor On the Market
All men need a good quality razor in order to keep their face trimmed or clean-shaven, and it's important to have one that doesn't damage your skin. The Philips Norelco Series 6000 is designed to deliver the best shave of his life every time with its smooth rotating triple head, which contours to the curves of his face. How awesome is that? Starting this Father's Day, your dad will finally be able to enjoy a smooth, fresh shave from now on!
The Ultimate Dad Decor
Your dad has two favorite hobbies: golfing and drinking beer. This fun bar sign combines his two favorite things into one awesome piece of decor as the perfect Father's Day gift! He'll love having this custom sign in his home bar, making it an official 19th hole to go to after playing 18 holes on the golf course with his golfing buddies. When they come over next time, they'll be impressed by this neat sign and will want one for their own home bars!
The Coolest Humidor for Father's Day
Whether your dad is a cigar aficionado or occasionally smokes stogies, one thing is certain: he needs a humidor to keep his cigars fresh and secure! This incredible ammo can humidor is one amazingly good Fathers Day gift that he'll never forget. The custom made humidor will make sure that he not only has plenty of room for a variety of cigars, but that they'll stay the perfect humidity and freshness in between smokes.
Classic Whiskey Gift Set
You can't go wrong with a box set of shot glasses and a set of whiskey stones for Father's Day. Your dad will love using the double shot glasses for a proper double serving of his favorite bourbon, but the whiskey stones will really make his drink perfect. Whenever he comes home from work, the first thing he'll reach for is this set so that he can enjoy a relaxing drink!
Toast to Dad's Awesomeness with These Beer Mugs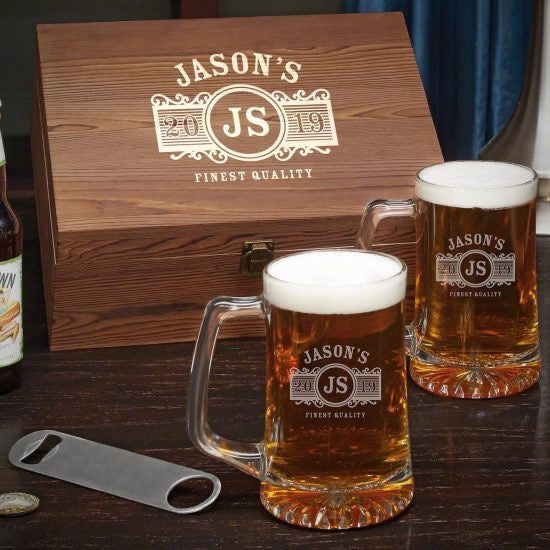 It's not just about the gift for Father's Day, but how you choose to celebrate it as well! Your dad wants nothing more than to spend time with his kids, so why not kick back and watch a game on TV with a couple of beers? Even better, do so with this custom beer mug set! Your dad will love having his very own beer mugs that are just like the ones at his favorite pub, especially since he can enjoy a proper beer with you or a buddy.
The Best Dad Shoes
Since Father's Day is in June, it only makes sense to give him a gift that he can use in the summer! Every dad needs a pair of these all-terrain sandals whether he's doing yard work, going hiking, on vacation to the beach, or even just to the grocery store! These sandals are incredibly comfortable and durable so that your dad has the perfect summer shoes for years to come.
Sweet Gift From Daughter
Even though you're grown, you'll always be daddy's little girl in his eyes. This Father's Day, give him a gift that shows him just how much you care with this thoughtful decanter set! The heartfelt personalization might even make him cry because it's so sweet! Every time he uses it to enjoy a glass of whiskey, he'll think of you. Pair this three piece decanter set with a really nice bottle of whiskey and it's sure to be the best Father's Day he's ever had!
A Place to Store His Cigar Bands
Good Fathers Day gifts are practical and related to his interests, but they should also be unique! If your dad likes to collect cigar bands, a custom shadow box is the perfect gift for him. He will love having a place to show off his vast collection of colorful cigar bands and watching it grow over time. This unique piece of decor will look fantastic in his office and is sure to make him feel classier than James Bond himself.
Unique Grilling Tools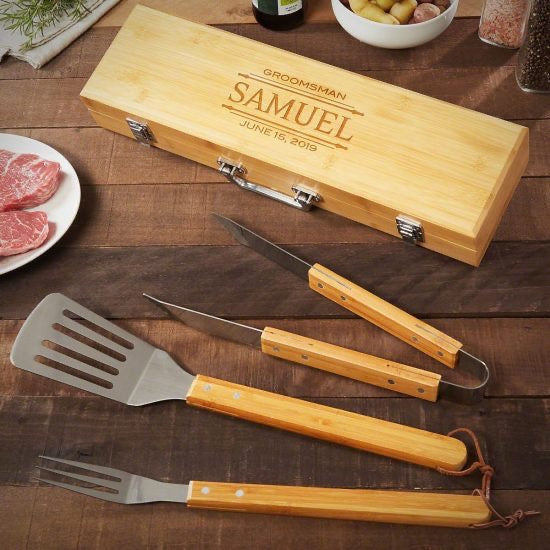 What does your dad really want this Father's Day? A new set of grilling tools! It's summertime, after all, and he's spending more time behind the grill than ever. His tools are probably bound to be replaced soon anyway, and these lovely bamboo grilling tools are the perfect upgrade. The lightweight, heat-resistant bamboo will ensure that he never accidentally burns himself again. Plus, he can take his trusty new tools anywhere from the park for the family reunion to the campground with his buddies thanks to the handy traveling case. Talk about the ultimate cool Fathers Day gift!
199+ INSANELY GOOD FATHERS DAY GIFTS>