23 Insanely Fun Gifts for Men
Giving gifts for men is never easy. They don't like getting cheesy or cutesy things, clothes, or anything that's just decorative. Men enjoy getting gifts that are useful, fun, and creative! Fun gifts for men are items that have multiple uses, are entertaining, and most importantly, super cool. Get the guys in your life something cool, not just a regular old run-of-the-mill present. You want to get them something that no one else will have so that they can show it off to their friends. Naturally, you're wondering, what are some creative gifts for him? Do you get wooden gifts for him? A box set? How do you know if it's the right gift for him? Let's find out, shall we?
The Manliest and Most Fun Gift for Men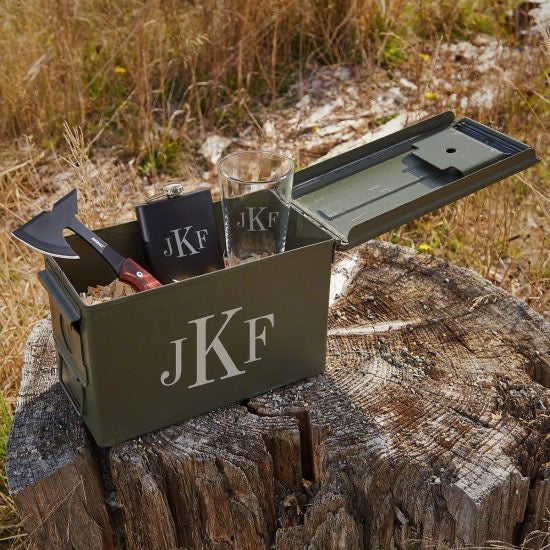 Still struggling to find the perfect, fun gift for the men in your life? Think about their interests. Does your dad enjoy spending time gardening? Is your husband always in the garage, fixing up his first car? Does your brother often go to the lake or the mountains on the weekends? The perfect gift for any of them is this awesome ammo can set! Completely versatile and useful, any guy you know will love this entire set of unique gifts for men. The hatchet will come in handy whether your brother needs to build a fire or your dad has some tree-trimming to do in the yard. Having a flask on hand is always nice because it allows you to enjoy a drink on the go, which any guy would enjoy. At home, his monogrammed pint glass will help him cool down and relax. Ammo cans can be used to store just about anything from camping equipment to tools as they are durable, compact, and very secure! Seriously, get this set for every single man in your life!
You Won't Find a More Fun Gift for Men Than This
Finding fun gifts for men who love beer can be a challenge. They love beer, but how can you get them a gift that makes drinking beer more enjoyable? One year you got your beer lover a home brewing kit and he loved it, but got bored after using it just once. This time, your gift is going to be so fun and enjoyable that it never gets old! What's the secret? Giving him multiple gifts related to his love of beer that have different functions: Beeropoly is a fun beer-themed board game to play with friends and family, the monogrammed pint glasses are great for serving beer from a keg in his home bar, the bottle-opening coasters ensure that he has a bottle opener on hand and keeps his furniture safe from condensation stains, and the shadow box allows him to start a bottle cap collection! Every time you come over, you'll see that he's been using each and every piece in your incredible beer gift. Next year, you'll be hard-pressed to get him something more impressive than this!
A Fun Gift for Men With a Little Bit of Everything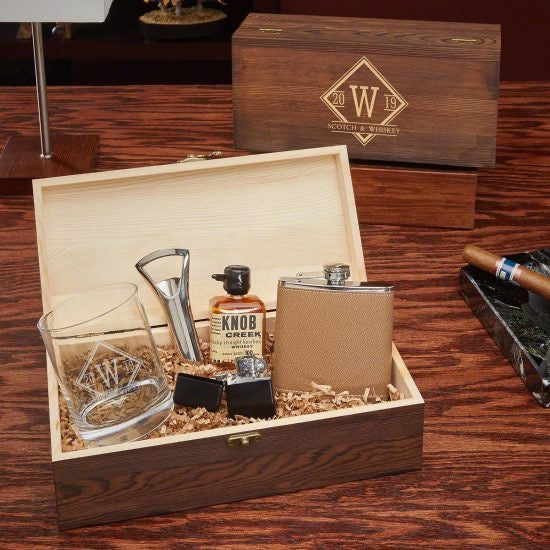 Some men don't have favorites of anything. They enjoy trying new things, have many different likes and dislikes, and all kinds of hobbies. Finding the right gift for this kind of man can be a struggle because you're not sure which one to focus on. You don't have to worry about that with this variety gift set! It's got a little bit of everything he likes: a custom whiskey glass, bottle opener, lighter, flask, and a wooden gift box. He will enjoy using each and every piece in this set whether he's in the mood for a glass of scotch on the rocks, a beer, cigar, or a drink while on the go. He'll love that you got him something with many different parts that he can use and enjoy with his various interests as it shows that you are considerate and thoughtful. Best of all, such a unique and creative gift for him is great for any occasion from his birthday to an anniversary!
The Coolest Whiskey Decanter Set Ever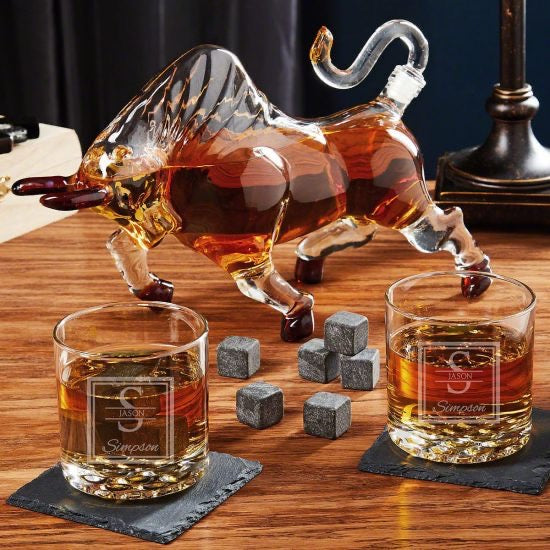 Drinking whiskey doesn't have to be a boring pastime. In fact, it can be a really good time with the right tools and the right people! Grab your fellow whiskey-loving friend and pour a couple of drinks with this stunning decanter set. The incredibly cool decanter is shaped like a powerful bull and is sure to be a conversation-starter as you and your friend pour your drinks. You don't have to worry about ice watering down your scotch on the rocks thanks to the chilling stones, allowing you to fully enjoy the entire glass. Whiskey tasting has never been more fun!
Give Him the Gift of Beer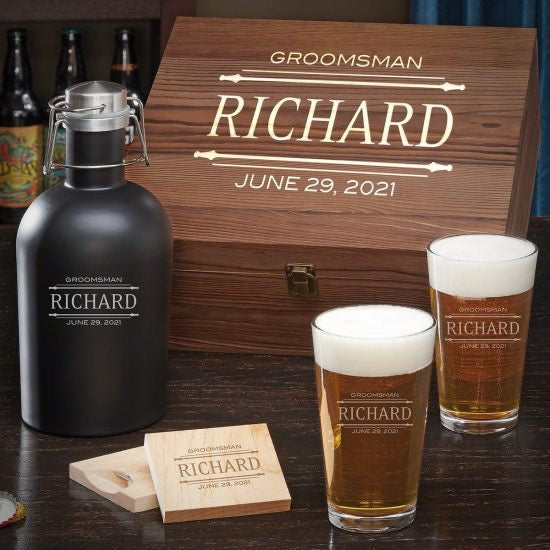 Sometimes, giving a gift to a man who loves beer can be easy because he'll love getting a case of his favorite beer or a beer-themed novelty gift. However, you've run out of ideas on what to get him! Does he have a growler? If not, you should get him this growler gift set. Whether he frequents breweries or not, beer growlers are awesome and super useful. This particular growler is made of vacuum-insulated, double walled stainless steel which will keep his beer ice cold the entire time he's at the lake or his hunting lodge. He'll also enjoy having custom pint glasses to use at home, as well as convenient coasters that have bottle openers on the bottom. This way, he'll never have to hunt through the house for a bottle opener again! Is this set one of the most creative gifts for him or what?
395+ GIFT SETS AND GIFT BASKETS HE WILL LOVE>
Fuel His Love for the Outdoors
Most guys enjoy spending time outdoors. They like going on adventures such as camping, fishing, and hiking, but they also enjoy building things and doing repair projects. When it comes to finding fun gifts for men who love being outside, you usually go with a set of tools or some new camping equipment. However, you've noticed that he needs something a little more interesting and fun to enjoy on his treks into the wilderness. How about a subscription all about his love for the outdoors? Whether he's really into camping, hunting, or fixing up cars, he will enjoy getting all kinds of cool stuff each month in this wild subscription. Giving a subscription that's all about his favorite things is one of the best birthday, Father's Day, or holiday gifts you can give because it just keeps on giving!
Help Him Become a Poker Legend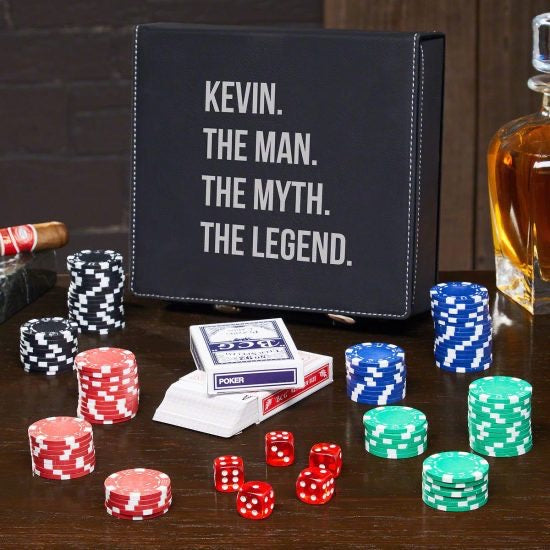 For men who enjoy playing poker, board games, and card games, the best gift you can get him is something that either gives him a new game to play or makes his current games even better. Get him an awesome personalized poker set that he can use to play all different kinds of poker, card games, and dice games! He will love using this awesome set for his weekly game nights with friends, and he'll want to bring it along on every trip. Thanks to your amazing gift, he'll play poker more and more, enhancing his skill and helping him become unbeatable!
Experiment with Your Liquor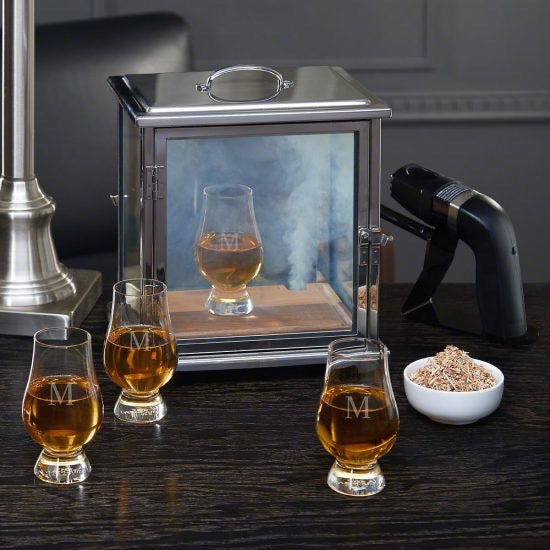 The guy in your life enjoys drinking whiskey, but he's not the type to just stick to a specific one. He likes to try new types, brands, and blends from all over the world. Why not give him a gift that will make his whiskey tasting even more interesting? With the smoke box system, he can infuse any whiskey with a new delicious smoky hint! He will love trying different wood chips with different kinds of whiskey to figure out which pairings taste best together. The smoke box system also comes with a set of four Glencairn glasses, which are specially crafted to deliver the best-tasting glass of whiskey every time. By far one of the coolest and most fun gifts for men, he will enjoy this nifty gadget and the Glencairn glasses for years to come! Thanks to your incredibly awesome gift, you also gave him something new and exciting that enhances his hobby.
Unique Grill Lover Gift Set
Grilling is a fun activity in and of itself, but you can make your master griller's cooking even more fun with these novelty tools! He loves golfing just as much as he loves grilling, so why not combine the two into an awesome tool set? These grilling tools are designed to look like golf clubs, and even have a fun golf caddy carrying case. The perfect gift for your dad or husband, he won't want to use any old regular tools after giving these golf ones a try. He will also love the miniature steak thermometers which allow him to cook multiple steaks at once and monitor the temperature of each one so that everyone can get the perfect steak that they want!
A Fun Decanter Set for His Home Bar
Decanters are often thought of as classy, crystal pieces of decor that add a touch of luxury to a home bar. Well, that can be boring. The man in your life is all about adventure, traveling, and trying new things, so he definitely doesn't need a regular old decanter. He loves whiskey, rum, and brandy, but doesn't have any cool decanters to display his spirits in. Solve his problem with a cool, creative gift for him: a ship-in-a-bottle decanter! This awesome piece looks like something you'd see in a pirate captain's quarters, and the adventurer in your life will love having it on display in his home bar or office. He can use it to store and dispense any liquor of his choosing into the included shot glasses to share a drink with a friend. He'll want this incredibly badass decanter to be seen by everyone who comes to his house just to show off how cool he is for having it!
A Puzzle That Will Keep Him Occupied
Know a guy who loves to solve puzzles? He's all about brain teasers, riddles, puzzles, pattern games, and more. Give him the ultimate fun gift for men who love to challenge their brain: the world's largest puzzle! Featuring the many great wonders of the world, this humongous puzzle has 51,300 pieces. That's insane, right? He'll have to clear off the entire dining table to tackle this monstrosity over the next several months. Once it's complete, he can boast that he's completed the world's largest puzzle to everyone he knows! Next year, you'll have to get him the most difficult one.
Complete Entertaining Set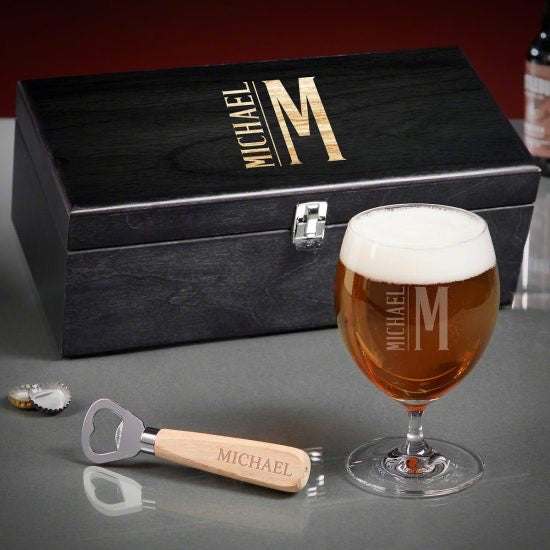 A fun gift for men is one that keeps on giving long after they've had the present, and that is exactly what this beer tasting box set will do! The glasses in this set are a great way to take a casual fan of beer and turn him into a walking encyclopedia of flavors and aromas. Now, he can enjoy his IPA, ale, lager, stout, or pilsner from the glass it was always supposed to be. Who knows, because of this awesome gift he may even branch out to try all new beers or even revisit ones from the past to see how much their taste has changed. One thing is certain though, which is that this gift set will keep him busy for a quite a while with tasting beer he can!
A Fun Gift He Can Share With Everyone
You've probably noticed that there aren't any conventional video or board games in this guide. That's because they're not as cool as a personalized bean bag toss game! Seriously, this timeless game has been around for decades because of how fun and easy it is. The man in your life will love playing cornhole with his friends, kids, siblings, coworkers, everyone! He can easily take it anywhere he likes whether it's the park for a family day out or to his buddy's barbeque. He will love sharing this game with his loved ones for years to come, especially since he can teach his kids how to play as soon as they're able to walk! See? Fun gifts for men can be meaningful too!
Glasses You Can Play With
Whiskey is a refined liquor that is meant to be experienced rather than gulped down or sipped. It usually involves professional glasses and discerning the different flavors, but it can be even more fun! Remember when your mother told you not to play with your food? Well, why not play with your drinks? Grab a couple of friends and have the most entertaining whiskey tasting ever with these fun rolling glasses! These gravity-defying glasses roll all around the table, swirling the whiskey for you and aerating your drink. You and your friends will absolutely love watching the glasses roll around, challenging each other to see which ones will spin the longest.
Practice His Putts Indoors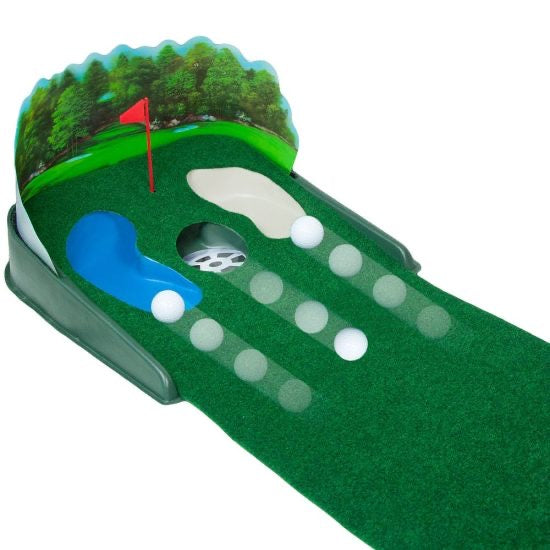 The golfer you know loves to spend all of his free time on the green, but that's not always possible. Sometimes it's the weather, sometimes he only gets a few free minutes in the evening, or some other circumstance. Help him out with a fun putting set that he can use at home or the office! This electronic putting green will help him hone his skills and conveniently returns his ball to him. He will love being able to golf during the winter and on his lunch break at work!
Learn How to Program a Robot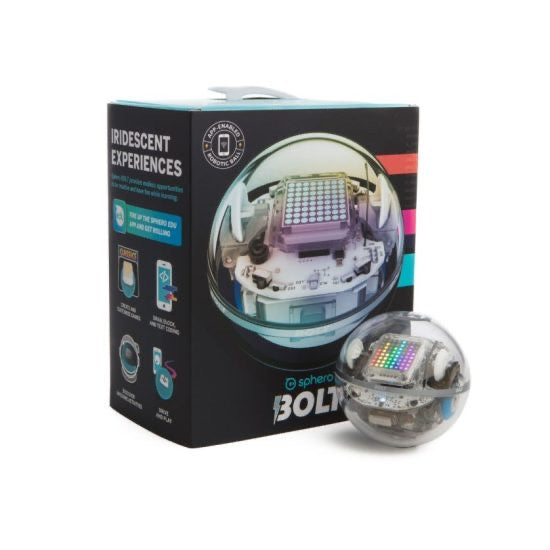 Naturally, a fun gift for a guy is typically thought to be something to do with technology. Well, how about a programmable robot that you can teach to play games and solve problems? Sphero's Bolt is an ingenious little robot that any guy can try his programming skills on. He'll enjoy using the many different apps it's compatible with to play with his high-tech companion. If he doesn't know how to code, don't worry! It can help him learn how, or he can just use it for fun with the Sphero Arcade app.
The Ultimate Beer Lover Gift Set
How can you make drinking beer more fun? The guy in your life already goes to breweries, beer fests, and has a home brewing area at home. There's always something more, like this ultimate beer lover set! With this set, he can make a brand new hobby out of his love for beer. He already frequents breweries, but with a growler, he can fill it up with his favorite kind and bring it home to enjoy. He can always use more pint glasses, especially custom ones! Once he's opened a bottle of beer, he can pop it in the USA sign and show off all of his favorite beers. He'll love every single piece in this incredible set and how they make drinking beer even better.
Complete Bartending Set for Unlimited Fun Drinks
Going out to bars with friends and getting crazy cocktails or shots like a Pop Rocks Rita or a Flaming Doctor Pepper is always a good time. But, what if you could create awesome cocktails for everyone in your own home? Now you can become a pro bartender using this complete bar tool set! It comes with all of the tools you need to make Margaritas, Whiskey Sours, and Hurricanes. All you need are the ingredients and a couple of good recipes to serve your friends awesome cocktails!
Fun Gifts for Men Who Love Cigars and Whiskey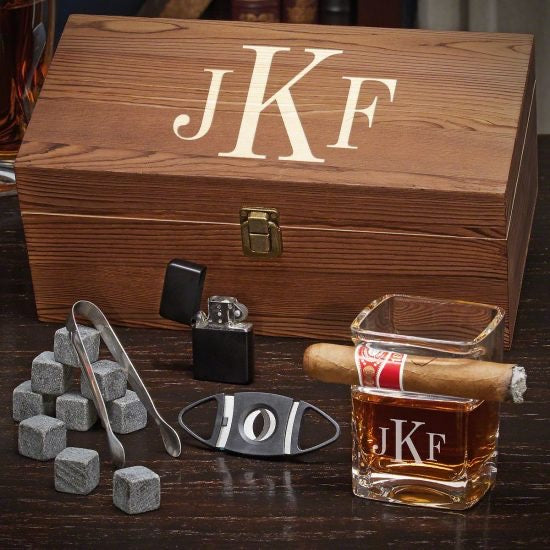 Your husband or father loves to come home, pour a glass of whiskey, and light up a stogie after work to unwind. How can you make a guy's favorite relaxing hobby a little more enjoyable? This set is one of the most creative gifts for him! He'll never want to use any other glass besides his new cigar-holding rocks glass. This unique square-shaped glass is easier to hold, and frees up his usual stogie hand for a book or the TV remote. He'll love having a set of whiskey stones instead of ice to chill his whiskey as they don't water down his drink. Plus, you can never have too many cigar cutters or lighters. No matter what the occasion, this unique gift set will make his routine a little more fun!
A New Way to Drink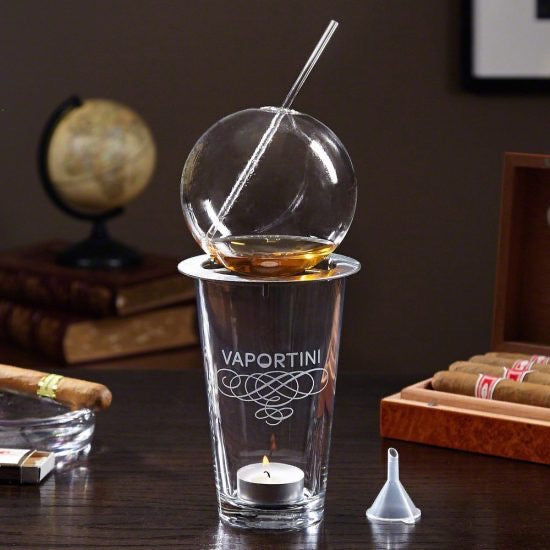 Did you know that there is a different way to enjoy alcohol that doesn't involve drinking it? For people who don't like the taste of alcohol or just want to try something new, the Vaportini allows you to directly inhale liquor. How awesome is that? The nifty gadget is easy to use: pour an ounce or two into the globe, light the tealight at the bottom of the glass, and inhale the vapors through the straw. The liquor goes straight into your bloodstream, which means you'll feel the effects fairly quickly. The Vaportini is a really fun and creative gift for him that he will enjoy entertaining his friends with for sure!
Give Him a New Hobby: Lock Picking
The guy in your life has a lot of interests and hobbies, but you've noticed that he's been pretty bored lately. He's beat all of his video games, mastered the instruments he wanted to learn to play, and even taught himself how to code. Now, he's got nothing new to do. Surprise him with a whole new hobby to learn, like lock-picking! He will enjoy learning how to do the cool skill with the help of the Hobby Box, which provides everything he needs to master it. Once he's mastered it, he might use his new skill to get into your house and leave a gift in return! Plus, now you'll have someone on call to help you get into your house or car the next time you lock yourself out.
Take His Favorite Card and Dice Games Anywhere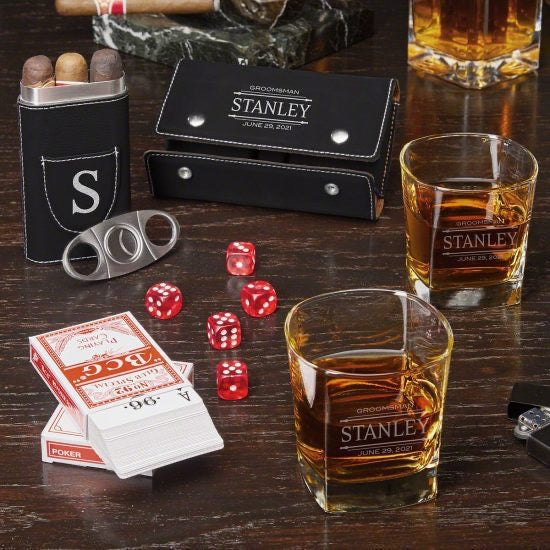 Whether he has a knack for card tricks or just really enjoys playing dice and card games, he will certainly enjoy this conveniently portable game set! He'll be the hit of every family reunion and guys' night as he gets everyone into playing Blackjack or Farkle. He'll love teaching his friends how to play non-virtual solitaire and showing them complex magic tricks. What really makes this a creative gift for him is the personalization on the faux leather carrying case! It adds a personal touch that any old board game just can't compete with.
A Gorgeous Bar Cart for His Kitchen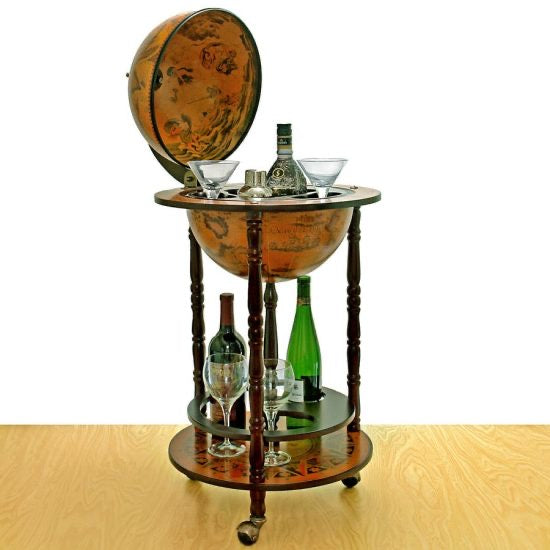 In today's day and age, modern homes don't always come with built-in home bars and you have to get a bar cart. Most bar carts are pretty standard two-level shelves on wheels that you can position anywhere you want in the house. The guy in your life wants a really cool home bar, and you can give it to him with this totally awesome globe bar cart! This incredibly fancy bar cart looks like a priceless antique globe at first glance, but once you open it up, it has plenty of storage for liquor and glassware. He will love inviting guests over and bringing them over to the bar cart, casually opening the globe mid-conversation and watching their reactions. Such an amazingly fun gift for men who want a home bar will make all of their friends jealous!
229+ FUN GIFTS FOR MEN WHO HAVE EVERYTHING>