29 Incredibly Unique Personalized Gifts
When you're looking to buy a fantastic gift you can't go wrong with a personalized gift! Everyone loves it when they get a gift that has been made specifically for them. Unique personalized gifts are a great way to get a special someone something that is memorable. These presents get them may have their name, initials, or even a cool design engraved on it! We've collected the most incredible and unique personalized gifts out there. So, no matter who you are looking to get a gift for, you can find super special gifts for him, her, or whoever, right here!
Most Gorgeous Glassware Set
Make them feel incredibly special with a personalized decanter set that will make a fantastic unique gift. They'll love unwrapping their box to see their name, initials, and a date have been engraved. If they love that, you know they'll be blown away when they open up their keepsake box to find that a decanter and four matching glasses have the same engraving. Perfect for any major celebration, you can be sure this incredibly unique gift will become their new favorite way to enjoy a glass of whiskey.
A Home Bar Necessity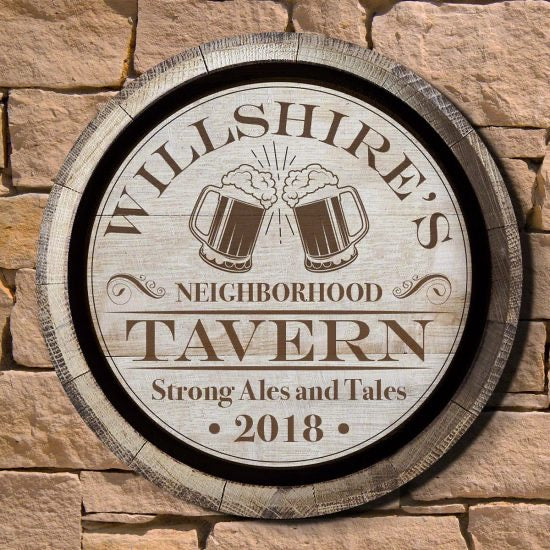 Getting special gifts for him is the perfect opportunity to get him something unique and something he'll never forget. A part of a great gift is how it'll make him feel, and having his own personalized bar sign that makes his home feel like he is now running the neighborhood bar is one that will have him jumping for joy. Ideal for his home bar, kitchen, man cave, or even in the garage, he can hang this sign anywhere and celebrate your amazing gift by tending bar and cracking open a few cold ones.
Take It On the Go
Give a unique gift that anyone can enjoy on the go, this custom flask set! This flask is perfect for any jacket pocket or bag, and can easily be taken out for a sip of their favorite liquor. However, take this gift a step further by engraving the flask, making it a special present they can always keep on their person. This set of unique personalized gifts even comes with extra shot glasses, this way, when they feel like celebrating a special occasion (such as the one where you just gave them this gift) they can pour everyone a shot!
A Band of Bands
Know a person that enjoys cigars? Turn their hobby into a unique collection with a gift they'll never see coming, this engraved shadow box! This gift is even engraved to look like they've got their own cigar brand! Turn this single gift into a whole set of unique personalized gifts by adding in a few stogies, so that they can take off the bands and start their new collection of cigar bands inside the shadow box. Now, no matter if they display this in a hallway, in their office, or even on a table, they can see how much their collection has grown over time!
Badass Box Set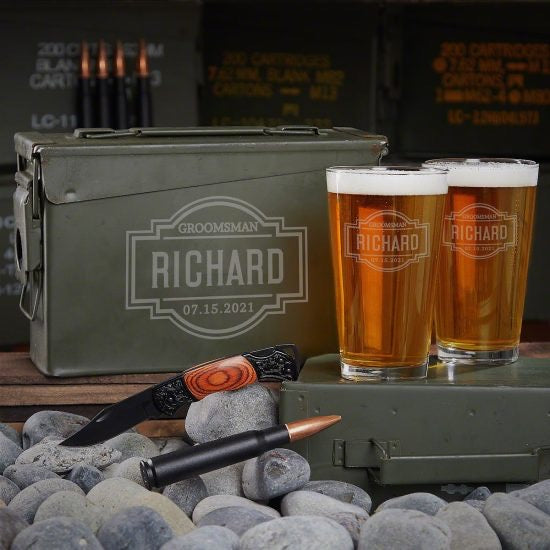 A couple of beer glasses are cool and all, but what about some personalized ones that come in an ammo can? SO MUCH COOLER! They'll absolutely love this awesome gift with their name on it, and they'll definitely use it to enjoy beer and carry things around all the time inside the unique can.
93+ COOL CUSTOMIZED AMMO CANS>
Home is Where the Map Says
There is something about your city, your town, or your state that makes you feel proud to live there. This personalized poster map is a phenomenal gift because it lets them represent and see the place they call "home." They'll absolutely love having this map displayed in their house so every time they see it, they'll think of their beloved city.
Beautifully Decant Wine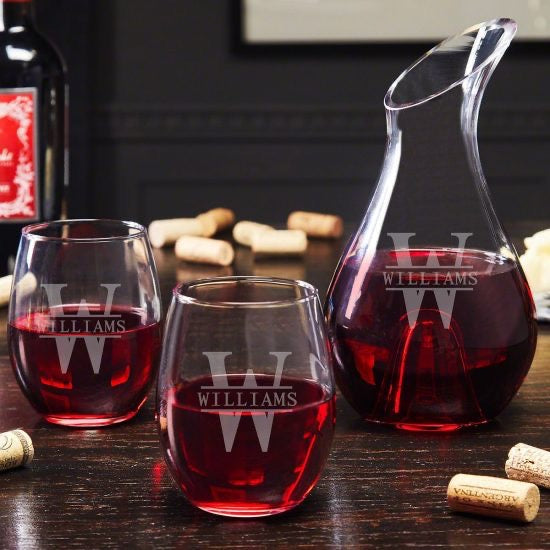 You simply can't go wrong with an elegant set of wine must-haves as a special gift for him or her! Using these beautiful personalized glassware pieces to drink their favorite wine will make them incredibly happy, and they'll thank you over and over again for such a lovely gift.
A Gift for Grilling
Not all unique personalized gifts are just for play. This personalized barbecue tools set is an awesome custom gift that will help anyone feel like a grill master as they make loads of delicious foods. When they gaze upon their name on the bamboo case, they'll feel motivated to make tons of scrumptious burgers, brauts, chicken, ears of corn, and more on the grill, ASAP!
Special Gift for Him to Enhance Beer Enjoyment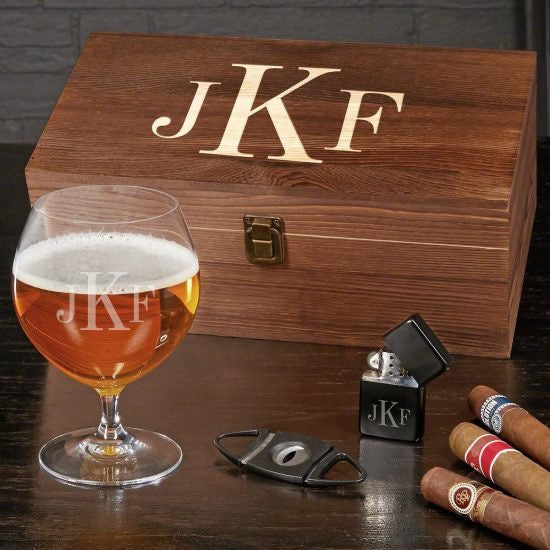 He may think he has learned to enjoy beer to the fullest extent, but once he sees this beer set, he'll question everything! He'll love the novelty of this beer glass that will make drinking beer so exciting! The cigar accessories are the icing on the cake to such a cool, personalized gift box set.
Personalized Shots for Unique Personalized Gifts
Perfect for shooters of tequila, whiskey, or vodka, a set of personalized shot glasses make a fantastic gift. This set puts a fun and classy touch onto something that is already fun to do—shots! When they're hanging out with friends or hosting a party, you can be sure these personalized shot glasses will always be the first set of glasses they reach for!
Classy and Comfortable
A fancy throw blanket can bring somebody's mood from zero to one hundred really quickly, especially when it's this monogrammed acrylic throw blanket! The one initial on this blanket makes it extremely classy-looking, and they'll really love having it laying on their couch for all to see. Besides, who doesn't like having their own blanket?
Incredibly Unique Personalized Gift for Drinking Whiskey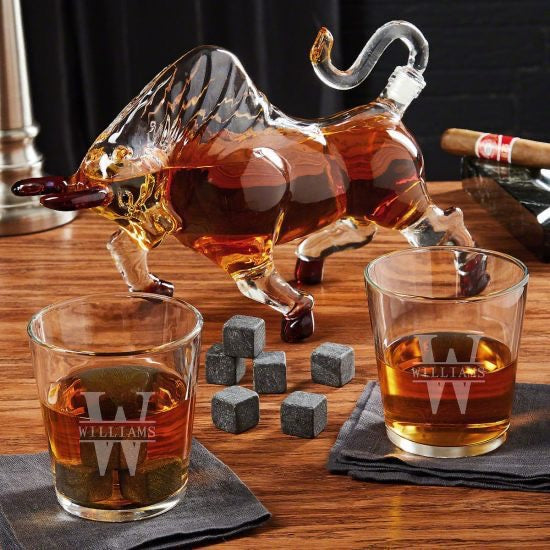 This bull decanter set is an absolutely stunning gift that a friend or other loved one would love having in their home. With the bull displayed on their home bar or mantle, they'll feel incredibly cool, and the glasses will make their whiskey-drinking experiences even more awesome because of the special customization.
Pub Sign He'll Love
Bar signs are all the rage for a good reason—they're awesome! This personalized bar sign is a special gift for him that's made even more awesome because it has his name in large letters at the top. How cool will he feel each time he looks up at his sign while he has a cocktail, beer, or even a glass of wine? This gift is the perfect touch to anyroom of the house to make his home feel like the pub he's always wanted it to be!
Keep Their Stuff Safe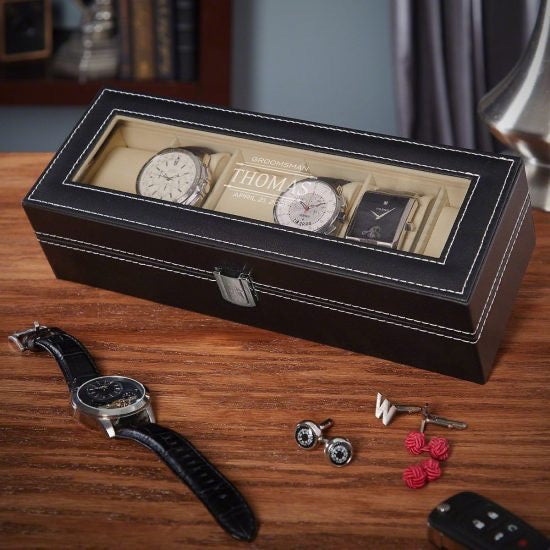 Awesome personalized gifts can be functional too! Unique gifts can make their lives so much easier, so why wouldn't you want to do that? Keep them organized with an engraved valet box! This makes the perfect gift for anyone! If they have one watch they can make room for cufflinks, tie-clips, or other jewelry, or they can use the whole box to keep all their watches in one spot. No more will they be searching for their accessories! Now, thanks to your gift, they'll always be ready to look more dapper than ever!
Monogrammed Magnificence
Having their monogram on a cigar glass is super impressive, but having it on a marble ashtray as well? That's beyond amazing! This personalized cigar gift set is such a fantastic and unique personalized gift not only because of the novelty of the monogram but because it's just what they need to be able to fully enjoy cigars and whiskey together.
Time for a Customized Clock
What time is it? Time for this beautiful customized clock to make its way into the kitchen! This wall clock will look fantastic hanging on their walls, and they'll smile every time they see it, especially with their family name engraved at the top.
A Unique Personalized Gift for Moonlighting Mixologists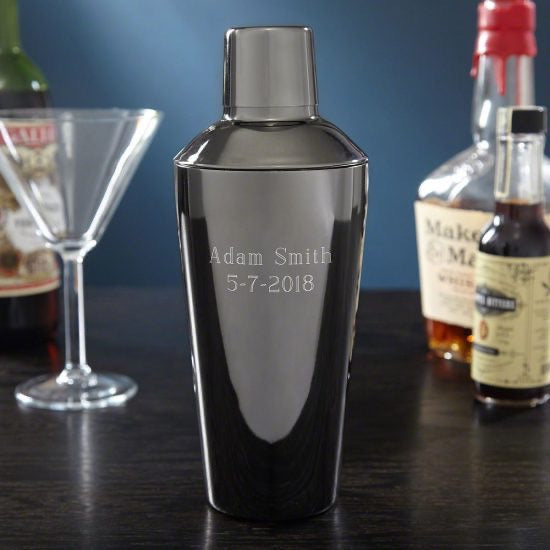 No gift can make someone feel like a talented mixologist quite like this personalized gunmetal cocktail shaker. Whoever wields this magnificent tool will have the power to make the most delicious cocktails ever, and they'll be so grateful to you for buying them such an amazing gift they'll use to make Mojitos, Bloody Marys, or any other cocktails!
Serve on Slate
Whether they're hosting a party or having a quiet night in, they'll love how easy it is to serve food on this custom slate cheese board! They'll feel very classy using this unique personalized gift to serve cheeses, hors d'oeuvres, and more. They will definitely appreciate having such a fantastic gift that will look gorgeous no matter what they're serving on it.
Twisted and Elegant Glassware Gift
When they see this gift, they won't be able to believe it's even real! This gorgeous personalized whiskey decanter set will sit elegantly on their home bar, kitchen table, mantle, or wherever else they choose to keep it. The decanter will slowly decant their whiskey, making it taste more delicious than ever before. It's a fantastic gift because not only will it enhance the taste of their whiskey, but it will look just lovely displayed in their home with their name on it!
383+ PERSONALIZED WHISKEY DECANTERS FOR THEM>
Two Vices is Better than One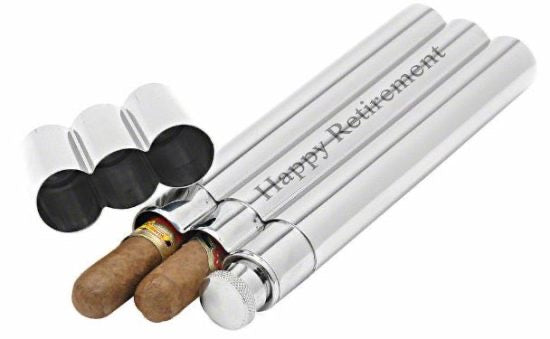 Transporting liquor and cigars sounds like it would be a difficult task, but it's made so easy with this stainless steel flask with cigar tubes! They'll love showing off this unique, personalized gift to all of their friends, and they'll appreciate how much this creative gift simplifies their lives. Now, no matter where they go, they can always enjoy their favorite spirit and a cigar!
A Unique Home Sign
Make their home and garden even more personal with a classic, beautiful decor piece that is absolutely perfect for their front yard. Perfect for by the front door, in their garden, or even out toward a mailbox, this unique burlap sign is the accent piece that will have the whole neighborhood wanting to get their own custom garden signs too!
Can + Contents + Customization = Cool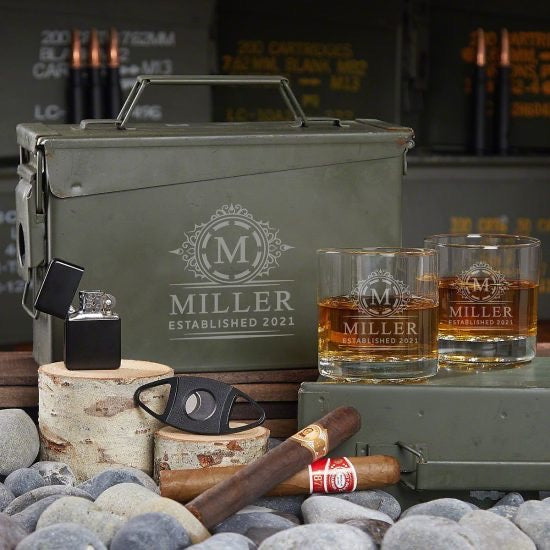 It's not often that there's a gift so awesome that the recipient wants to carry it around with them wherever they go, but this ammo can gift set is one of them! The cool ammo can, which is made even cooler by the engraving, will be their new favorite gift ever that they can use to store any items they want. From bringing ammo to the range to even storing their whiskey and cigar accessories, this gift is perfect! Plus, at the end of the day, they get to enjoy their favorite stogie and whisky thanks to the glass and cigar accessories too!
Full House Gift
Turn a small fish into a card shark by giving him his own personalized poker set. This will be such a special gift for him. Now, he can become the stone-faced bluffer and gambling expert he's always wanted to be. Plus, who else will show up to game night with their own engraved poker set?
Unique Personalized Gift for the Best Man Cave Aesthetic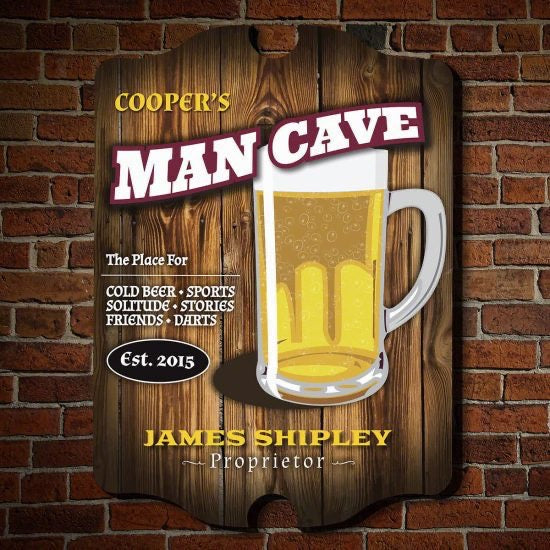 Help him really embrace his special space in the house with this wooden man cave sign. Whether it's a large room in his house or simply a small nook in the living room or bedroom, he'll feel so proud of it with this handsome special gift for him hanging in it, and all his guests will admire it when they see it!
Beautiful Engraved Accessory for Wine
Is this customized black marble wine chiller the most beautiful thing they've ever seen? Yes! They'll love this gift because it will look absolutely breathtaking no matter where it's placed in their home, and it will keep their wine cold for hours. This convenient gift means they'll never have to suffer a warm bottle of white or Rosé ever again!
Most Legendary Personalized Gift
This customized beer mug set is the ideal way for anyone to enjoy their favorite beer. You can be sure they will feel "legendary," every time they enjoy one of their favorite beers, thanks to your awesome, unique personalized gift! Also, since every beer from now on will come from their awesome mug, they've now got a sweet keepsake for their beer cap collection or anything else they want to put in there!
Only Travel With this Special Gift for Him
Everyone has to travel at some point in life, and even if some do it more than others, that doesn't mean they shouldn't look good while being on the move. Never have them travel without looking stylish ever again thanks to this monogrammed duffle bag!! Since it's so stylish, they'll feel like a million bucks carrying it. Not only will the monogram look great, it will ensure that no one else mistakes it for their own bag!
Wine in a New Personalized Way
Have his enjoyment of wine reach an all-time high when he uses this stainless steel glasses set! He'll love drinking chilled wine from the coolest and most unique wine glasses he's ever seen; plus, they even have his name on them. This is a special gift for him because it will help him enjoy his favorite wine in a whole new way!
Charming Custom Cutting Board
Give them a cutting board that looks as good as the food they are going to make on it, with this unique gift! Perfect for slicing, dicing, mincing, and other cutting "ings," this cutting board is the ultimate gift for any kitchen. Why? Because everyone can use a cutting board, and this one is way cooler than any other since their name will be engraved on it!
239+ INCREDIBLY UNIQUE PERSONALIZED GIFTS>