Did you know that the only difference between "whiskey" and "Whisky" is where it's made? The whiskey connoisseur in your life probably does, and that's why you're here shopping for the perfect gift! The best whiskey gifts are, naturally, related to their spirit of choice but should also improve their drinking experience. It's their favorite, after all, and you want them to thoroughly enjoy it to the fullest. You're probably wondering whether whiskey stones are good gifts or not, if you should get a decanter, or maybe even a glass set. Stuck? Don't worry, that's what we're here for. We searched far and wide for the most impressive and incredible gifts for whiskey lovers whether they exclusively drink Irish whiskey or enjoy trying new blends. We even threw in a couple of genuine customer reviews so that you don't have to seek a second opinion! By the end of this article, your shopping cart will be full of plenty of incredible whiskey gifts.
The Ultimate Whiskey Glass Set
Each glass of whiskey needs to feel unique or special. There was a lot of time and effort put into creating that delicious golden-brown liquor, especially if it was a small batch. Have your glasses reflect that rarity with this amazing custom sculpted glass and decanter gift set. This unique set makes your choice whiskey just as cool looking as your glass set because of the gorgeous sculpting of each pairing of glasses. Any aspiring whiskey connoisseur will be overjoyed to have such a glassware set on display on their home bar or man cave.
A Unique Whiskey Gift Unlike Any Other
Anyone who drinks whiskey is familiar with Jack Daniels. The most popular American bourbon by far, its trademark black and white label is widely recognizable. Now you can have your own Jack Daniels-inspired label custom made on this bean bag toss game! Anyone who sees it will immediately recognize the style, but will be surprised when they see your name, year, and city of choice on it instead! This unique game is the perfect addition to your home, and makes a fantastic holiday or housewarming whiskey gift to any Jack Daniels fan you know! It also makes a great gift for any occasion: "I bought this as a going away gift for a SMSgt that was leaving the office that enjoys Jack Daniels. Instead of using the name of his city, we used a reference to the people he supported and added our unit designation instead of his name at the bottom. We also had everyone signed the back to wish him well. He loved it and we got lots of compliments for sending him out with something unique. He showed it off on Facebook that night."
Add a Whole New Flavor to Your Drinks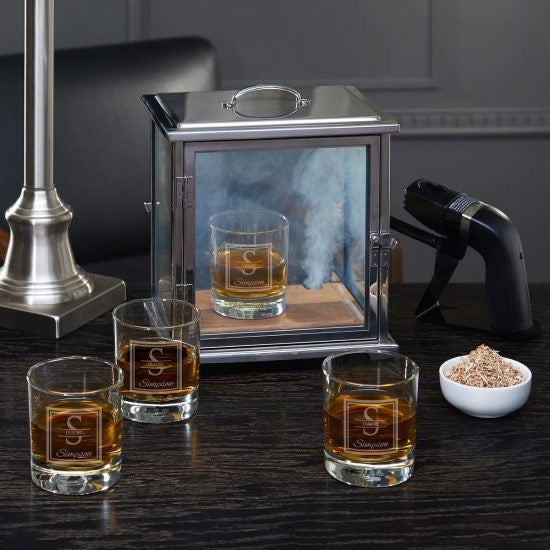 That's right, this nifty gadget really does infuse a delicious smoky flavor to your drinks! The smoke box system is a unique piece of technology that utilizes a smoking gun and wood chips (kind of similar to a smoke box for grilling) to surround your glass filled with the liquor of your choice to give it a unique new flavor. This high-tech gift is perfect for whiskey tastings and parties so that you and a couple of friends can try out different liquors to see which kind of smoke pairs best with each one! This incredible gift set comes with four personalized whiskey glasses, the smoke box system, smoking gun, and two kinds of wood chips. You'll be hard-pressed to find cooler gifts for whiskey lovers than this!
The Manliest, Classiest Whiskey Gift Set You've Ever Seen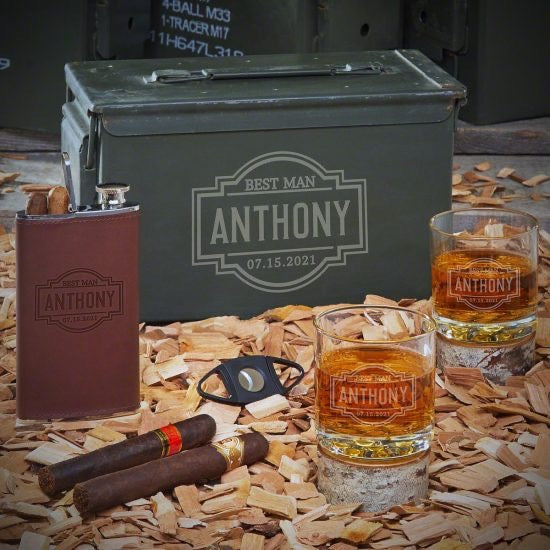 Looking for a unique and stylish gift for the man in your life? He's suave, classy, but still manly, which makes him super hard to shop for. He enjoys a scotch on the rocks and a good book just as much as he loves spending a weekend in the outdoors either camping or hunting. Look no further, this amazing whiskey gift set is the ideal gift for him whether it's his birthday, your anniversary, or Christmas! This set includes a personalized military surplus ammunition box and matching whiskey glasses along with a flask that holds cigars, plus a cigar cutter. That's a lot of really cool stuff! Whether your guy feels like a romantic after-dinner drink with you or is spending the day with his bros at the shooting range, he'll have everything he needs to enjoy his favorite things and more.
You Can't Go Wrong with A Set of Glasses and Whiskey Stones
Gifts for whiskey lovers don't have to be extravagant and fancy like the above items, they can be simple too! Take this classic set for example: a beautiful engraved wooden box, two shot glasses, and a set of whiskey stones with accessories. What's not to love? Anyone who enjoys the popular liquor can either use the glasses for double shots of cheaper bourbon or use them to sip top-shelf scotch that's chilled with the whiskey stones. The set can be stored inside the box for safekeeping, or it can be re-purposed to become a storage box for small items such as photos or even a watch collection! Seriously, this whiskey set is versatile and ideal for any occasion, such as retirement: "Absolutely terrific to work with and SUPER fast shipping! Was the perfect retirement gift!!:):)"
407+ AMAZING WHISKEY GIFT SETS AND GIFT BASKETS>
Whiskey & Coffee for Breakfast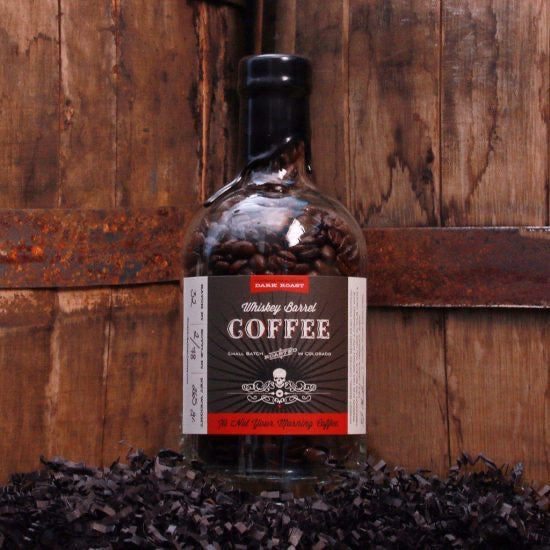 Spiked coffee is delicious and all, but it's not always a good idea to enjoy some before a long work day. With the whiskey infused coffee, you can enjoy a "spiked" cup of Joe every day without the effects of alcohol! How is this achieved? The coffee beans are aged inside whiskey barrels and then roasted with the liquor, burning off the alcohol but retaining the flavor. This way, you can enjoy a classic Irish Coffee every morning!
A Glass that Holds Your Cigar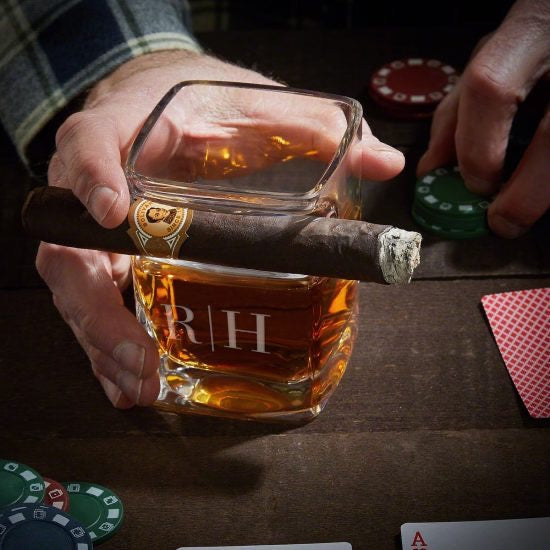 James Bond wishes he could have a glass as cool as the cigar glass. You're not seeing things, this unique glass really does hold your cigar for you! It has a special indention on the side that can hold up to a 46 gauge cigar so that you can puff and sip with one hand, freeing up the other to hold your poker cards or TV remote. Such a classy drinking accessory will make you feel like the coolest guy in the world whether you're slowly sipping Michter's 10 Year Rye or knocking back a couple of glasses' worth of West Cork Irish Whiskey. You can see for yourself how well-liked this incredible whiskey glass is: "The personalization was exactly as I asked for, with a sleek design. I am very impressed with the quality/thickness of the glass itself. It came within a reasonable period of time, in a well-insulated and marked (i.e., Fragile) box. Overall, a great purchase! "Cigar glasses make the best whiskey gifts for all of your friends, coworkers, or even family members!
Unique Whiskey Sign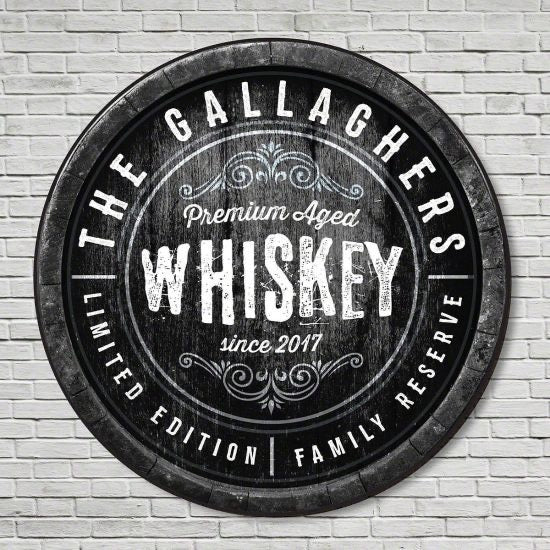 Sometimes, all a home bar needs is a piece of decor to tie it all together. This unique wooden sign is inspired by a vintage sign you'd see in old black-and-white photographs. This sign is especially ideal if your home bar is vintage-themed, but it will go great with any kind of decor you have! Best of all, you can customize the text on the top half of the sign as well as the year in the middle. Any whiskey lover would be honored to get this neat sign as a gift, no matter the occasion, or you can treat yourself to a new piece of decor for your home bar: "This item turned out exactly as shown in the picture. This is going to make a great decoration for my Uncle's newly remodeled bar. Thanks for the quick turn around time and shipping. Highly recommended!"
Must-Have Glencairn Set
Did you know that the Glencairn glass is specially designed to enhance both the taste and the smell of whiskey? Despite its small size, this professional glass packs plenty of features. The curves and wide bulb of the glass are not just easy to hold, but allow the subtle flavors of vanilla and caramel within your Speyburn 10 Year Single Malt Scotch to be exposed fully. The tapered mouth guides the delicious aroma straight to your nose and creates the perfect sip so that you can fully enjoy every hint and note of your whiskey. Any whiskey connoisseur knows that Glencairn glasses are must-haves, so if you know someone who loves the liquor but doesn't have a set you should surprise them with this personalized set of four Glencairn glasses!
The Perfect Whiskey Gift for the World Traveler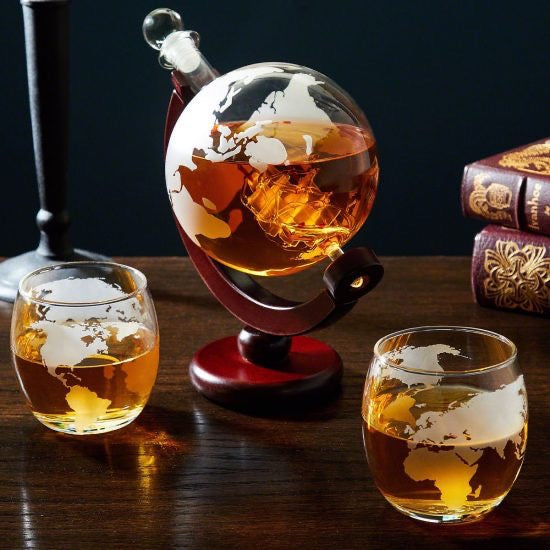 Know a whiskey drinker who often travels the globe for work, leisure, or both? This stunning decanter set is one of the most spectacular gifts for whiskey lovers on the go. This three piece set is carefully etched with the silhouette of Earth's lands, with the oceans being the whiskey! If you look closely at the decanter, you'll notice a delicate hand-blown glass ship sailing through the amber liquid. This set really can't get any cooler! The person you're shopping for will be in awe of such magnificence, and will want to fill up the decanter with their favorite whiskey and serve it with the matching glasses as soon as they unwrap your incredible gift. Such a stunning gift is ideal for an anniversary, retirement, or even a promotion! "Purchased this for a retirement gift after many hours of pondering and searching for the best idea I could possibly find to express my gratitude for so many years of friendship and working together and mentorship. He absolutely was thrilled with the gift, and that made me very happy. Worth every penny spent!"
A Whiskey Gift Unlike Any Other
Surprised to see jewelry as a recommendation? You're not alone. This handsome ring looks like an ordinary, stylish piece, but it's actually quite unique! The secret? It features wood created from the whiskey barrel of your choice. This way, your whiskey lover can carry a little piece of their favorite liquor in style. You can choose from all kinds of metals and whiskey barrels to create a truly one-of-a-kind accessory. Or, you can send in your own wood like one reviewer did from an extra special distillery or brewery to create a heartfelt gift that will be treasured forever: "We absolutely LOVE the ring Wedgewood created for my husband. We sent in a piece of a whiskey barrel used to age a beer in at the brewery my husband and I met at and Steven made the most beautiful ring with it. 100 out of 100 we recommend to everyone that asks!"
Nothing Goes Together Better Than Whiskey and Cigars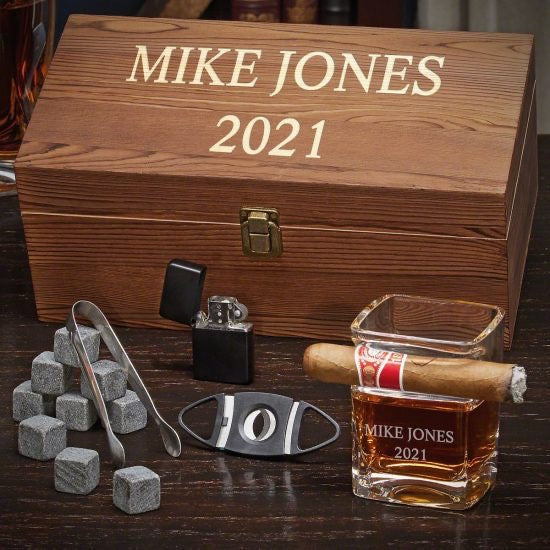 Ah, there's nothing like a freshly cut Partagás and a glass of High West Bourye to help you wind down after a long, hard day. For the ultimate relaxation, you should enjoy your two favorite things in the best way possible! This gift set has you covered with a unique personalized whiskey glass that will hold your stogie, a set of whiskey stones, cigar cutter, lighter, and a matching personalized wooden gift box that will hold it all. Place this set on the table next to your favorite armchair and you'll have everything you need close by to help you relax whether it's been a rough Monday or a particularly slow Thursday.
A Unique Decanter Unlike Any Other
The whiskey lover you're shopping for has plenty of glasses and crystal decanters, but they don't have anything like this! Anyone who sees this incredibly awesome decanter set will go "Wow, that's so cool!" The delicate glass-blown ship inside the decanter makes it look as if it's sailing through your whiskey. It's also the easiest decanter to serve from thanks to the spigot attachment. Such an amazing decanter set will look awesome in any room of the house.
Essential Whiskey Connoisseur Set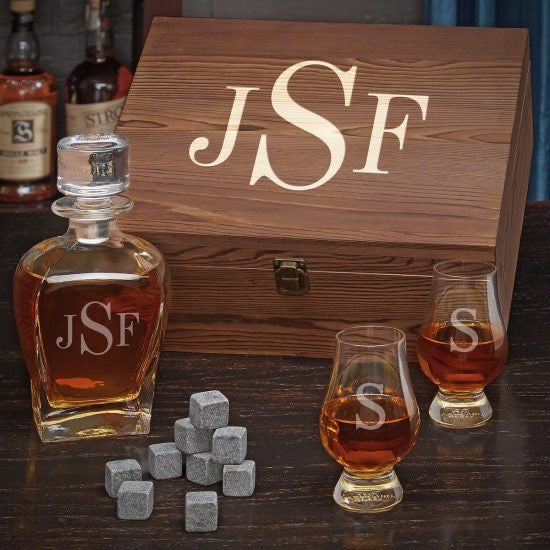 Looking for a gift to help the aspiring connoisseur along? They'll need this set! It comes with everything they need for a proper glass of American bourbon or Scottish whisky: a custom monogrammed decanter, whiskey stones, two Glencairn glasses, and a wooden gift box to store the set when not in use. The ultimate gift for whiskey lovers, this unique set is perfect for two friends or a couple to enjoy a quality glass of Glenmorangie after dinner. The decanter both shows off the gorgeous molten honey hues of the liquor, and adds a touch of class to a home bar. The Glencairn glasses will allow the subtle ingredients to come to the surface so that the whisky can be enjoyed properly.
Have Your Own Whiskey Label
Like most whiskey drinkers, you've likely fantasized about having your own distillery and cool whiskey label just like Jim Beam or Jack Daniels. Your whiskey would be renowned all over the country, maybe even the whole world! You may not be able to make that happen right now, but you can certainly have your own whiskey label on an old-fashioned glass and a box set of whiskey stones. You can customize all of the text on this unique design to make it a truly one-of-a-kind, official label that you can show off to everyone you know. Whenever you drink your evening bourbon from this set, you can't help but imagine that you're drinking something you created yourself. Any whiskey lover, novice or connoisseur, would be overjoyed to get this classic whiskey gift set that's engraved with their very own whiskey label.
The Most Luxurious Whiskey Decanter Set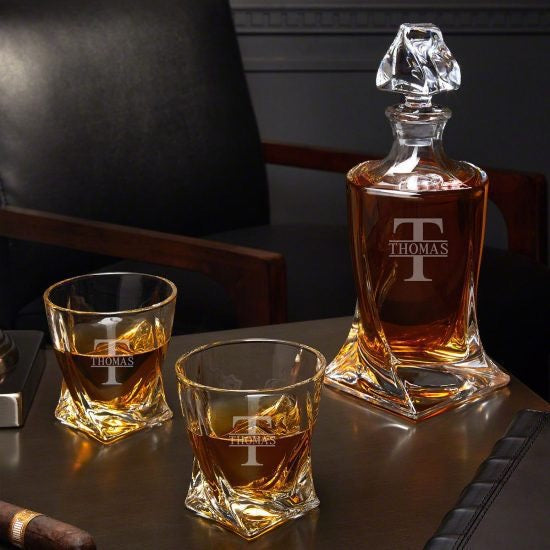 A spirit as distinguished as WhistlePig Old World Whiskey or 18 Year Jameson deserves an equally luxurious decanter set to serve it in. Forget antique crystal decanters that still have lead glass, your whiskey needs a gorgeous new crystal decanter like this twisted set! The elegant curves of the decanter and glasses beautifully reflect the golden hues of your finest whiskey so that you can appreciate its beauty. Such an exquisite decanter set belongs in a prominent place front-and-center so that everyone who sees it will instantly be drawn to it and admire its elegance.
317+ WHISKEY DECANTERS AND SETS YOU NEED>
The Perfect Whiskey Gift for Someone Who Loves Trying New Brands
Whether they're in an official tasting club or just like to get together with a couple of friends and try new whiskeys, this personalized whiskey taster flight set is perfect! It comes with a customer engraved wooden paddle and four small taster glasses. Designed similarly to the Glencairn glass, the glasses feature a wide bulb and a narrowed mouth that directs the aromas straight to the nose and unlocks the hidden flavors within. This impressive flight set is sure to be a hit at any whiskey tasting!
Officiate Your Own Whiskey Bar
Do you have a designated whiskey bar or your own home distillery? Make it official with this awesome personalized wooden sign! Perfect for scotch lovers, the sign features a decanter engraved with your name surrounded by rocks glasses. You can also personalize the name, phrase, and date at the bottom of the sign. You can truly create a one-of-a-kind gift for whiskey lovers to make their home bar or home distillery official! Such a unique gift makes a great birthday, Christmas, or housewarming present.
Give the Gift of Whiskey in Style
Looking for a good way to give a nice bottle of whiskey as a gift? Get a custom wooden gift box for it! This way, you can give a really nice whiskey gift in style. You can customize the two lines of text on the lid to be just about anything you want to make it special. Texas A&M used these boxes with their logo on it as gifts for their 12th Man Foundation donors: "We really enjoyed working with HomeWetBar. Their customer service is amazing and our donors love the quality products."
Make Him Feel Like a Legend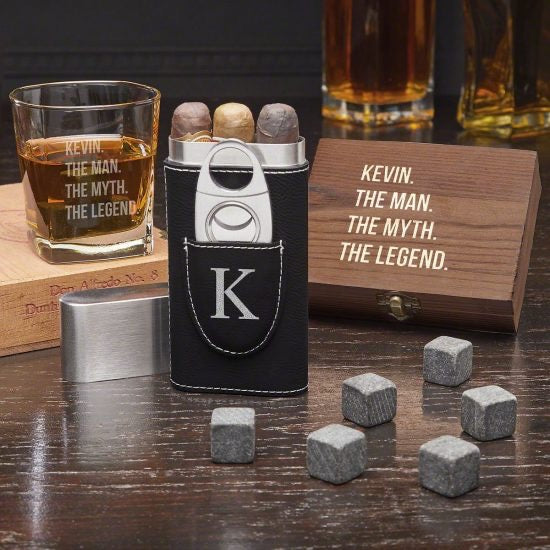 The guy in your life is a bonafide whiskey expert, and he's known for his vast amounts of whiskey knowledge everywhere he goes. He's got his own website and social media all about the newest and best scotch, bourbon, and imported whiskeys that's become quite popular over the years. Such a man can be quite difficult to find a good gift for, especially since he's picky about the types of whiskey he enjoys. If your budget doesn't allow for a bottle of Pappy Van Winkle's 23 Year, get him this personalized gift set instead! He'll love that the glass and box set of whiskey stones is custom engraved with his name followed by "The Man. The Myth. The Legend." Anytime he uses the set for a quality scotch on the rocks, he'll feel cooler than Elon Musk himself. The handsome cigar holder will keep up to three of his favorite cigars fresh and secure, and the cigar cutter that fits on the site will certainly be handy. Everything about this incredible gift for whiskey lovers is awesome, what are you waiting for? Spoil the whiskey-loving man in your life with this set for his birthday, your anniversary, or just because.
Almost As Good As Actual Whiskey
Speaking of Pappy's whiskey, how about maple syrup with a kick for your morning pancakes? This awesome whiskey gift is pure maple syrup that's been infused with the famous whiskey by aging the syrup within bourbon barrels. Talk about luxurious! Your whiskey lover will use this delicious syrup carefully and sparingly for only special occasions so that they can enjoy the bottle until its very last drop. When a bottle of actual Pappy's is hard to secure, this maple syrup will be the next best thing until you find it!
The Coolest Whiskey Gift for Your Groomsman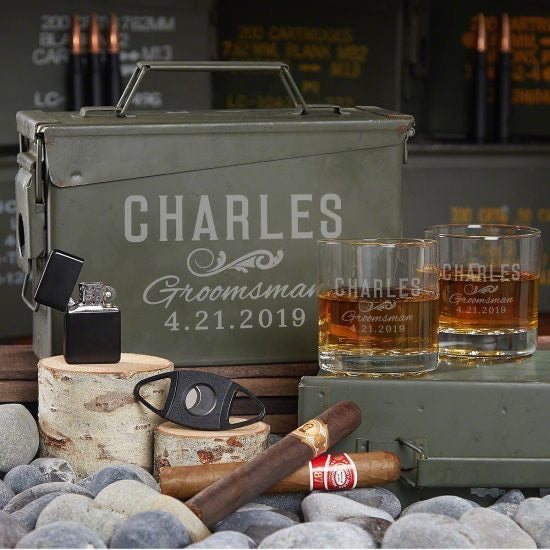 Your best man is a cool guy who loves whiskey, and you're trying to find the perfect gift for him. The Internet led you here, to this very item, and you're rejoicing for finding the coolest groomsman gift! This awesome gift set has it all: a personalized ammo can, engraved rocks glasses, a lighter, and a cigar cutter. Your best bro can enjoy a quality glass of Crown Royal with these unique glasses as well as a nice Macanudo that's been freshly cut and lit by his new cigar accessories. Seriously, whiskey gifts can't get any better than this: "This company makes high quality products and has even better customer service. I am beyond thrilled with my order!"
Your Own Fireball Whiskey Sign
Are you a fan of the popular cinnamon whiskey? Now you can create your own Fireball logo on a custom wooden sign! This cool wall art is the perfect pop of color for your home bar or man cave. Anyone who takes shots of Fireball every time they go out will enjoy this fun piece of decor. One reviewer said "Exactly as described, looks awesome and speedy shipping was an added bonus!" Just make sure you also give your whiskey lover a bottle of Fireball Cinnamon Whiskey to make it a complete gift!
Create Your Own Whiskey Label on a Decanter Set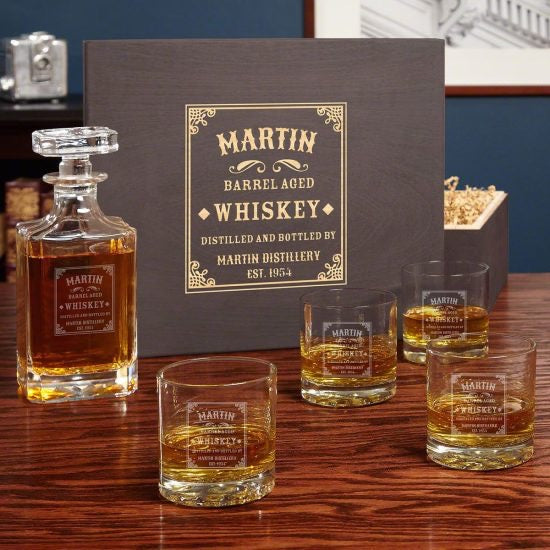 Since enjoying your first glass of Jack Daniels, you've imagined what it would be like to have your own distillery. Don't worry, you're not alone! Every whiskey lover has thought about it too. While you may not be able to give someone a whole distillery as a gift, you can certainly give them a decanter set featuring their own custom whiskey label! This amazing gift set includes a gorgeous crystal decanter, four old-fashioned glasses, and a handsome wooden gift box all featuring a Jack Daniels-inspired whiskey label. You can personalize the design with the name and year of your choice and voila! You've got your own official distillery and merchandise. Any guest who visits will be impressed, and it makes a fantastic gift for whiskey lovers everywhere.
The Ideal Gift for Someone Who Likes Liquor and Beer
Looking for a whiskey gift for someone that also enjoys other spirits and beer? Put down that bottle of tequila and beer cooler, this gift set has everything you need! Included is a classic old-fashioned glass, a nickel-plated bottle opener, lighter, and a faux leather-wrapped flask. That's a lot of stuff! Such a unique variety set is even cooler since the glass and gift box are personalized with an initial, name, and year, and you can get the flask engraved to match. The person you're shopping for will be in awe of all of these cool things, just like this reviewer's son: "This was absolutely amazing!! Everything was beautiful, just like the picture. It was the perfect birthday present for my son. When he first opened it he thought it was just an engraved box, he said, 'no way!' After opening the box and everything in it, there were 4 more 'no way!'s before he was done lol. He loved it!!! I wish I'd taken a picture beforehand…"
The Tastiest Way to Enjoy Bourbon
Have you ever had bourbon truffles? They're a holy matrimony of gourmet chocolate and fine bourbon, creating absolute heaven in your mouth. Whether you're shopping for a nice gift to treat yourself or a special gift for a fellow whiskey lover, you can never go wrong with a set of bourbon truffles! The Museum Box at CellarDoor Chocolates is gorgeous and comes with a variety of flavors from a familiar Bourbon and Coke to a delectable Baked Apple. Anyone you give this box to will be in chocolate whiskey bliss!
The New Centerpiece of Your Home Bar or Office
Since you're here looking for whiskey gifts, why not step it up a notch from a personalized glass or two to a high-class presentation set? One look at this six piece set and the first thing you think of is "Wow!" Each item in this set is made of the finest materials from Italian crystal to sturdy birchwood and is monogrammed to make it specially unique. "I purchased this as a housewarming/early Christmas present for my boss. It is beautiful! Shipping was so fast and it was packaged delicately. I highly recommend this shop." This decanter set is a spectacular retirement, promotion, or housewarming gift to anyone who enjoys whiskey. You're sure to get something incredible in return!
The Ultimate Cocktail Set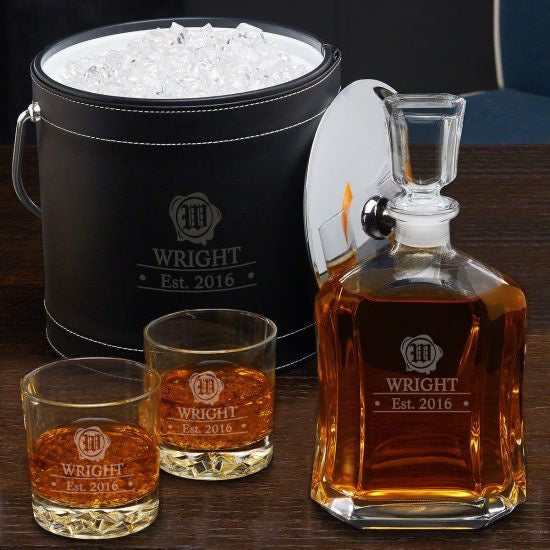 Don't settle for a cocktail shaker and a set of mixers for the cocktail fan you're shopping for, get them this complete decanter and ice bucket gift set! Their home bar or bar cart will have plenty of class thanks to this set. The gorgeous decanter has an airtight seal, keeping their whiskey secure and fresh until the very last drop is poured. The unique double old-fashioned glasses have a cool glacier-like design in the base that creates a spectacular illumination effect inside the glass, reflecting the color of the Whiskey Sour or classic Old Fashioned within. With the insulated ice bucket close by, they'll have easy access to ice all day and night without having to make repeat trips to the kitchen. This set is perfect for date nights and parties!
Minimalist Whiskey Sign
Not seeing anything that quite fits the whisky fan you're shopping for? They're simple, not into anything really fancy? Not to worry, they'll love this cool sign! The modern style is perfect for their home bar, and the subtle pop of orange will complement any decor or theme they have. Best of all, the person you're giving this awesome art will be honored that you gave them something uniquely personalized just for them.
An Exclusive Whiskey Club
Don't have a local whiskey club? You can join Flaviar! This exclusive membership is all about trying new liquors, buying rare bottles, and sharing your thoughts and opinions with like-minded individuals! Each quarter, you can get a sampler set of liquors to try before you buy the full bottles. This luxurious club is a fun, unique experience that you won't find in your average tasting club! Best of all, you can gift the subscription to the aspiring connoisseur in your life so that they can curate their selection of liquors and finally find those rare bottles of whiskey they've been searching for.
The Manliest Whiskey Gift Set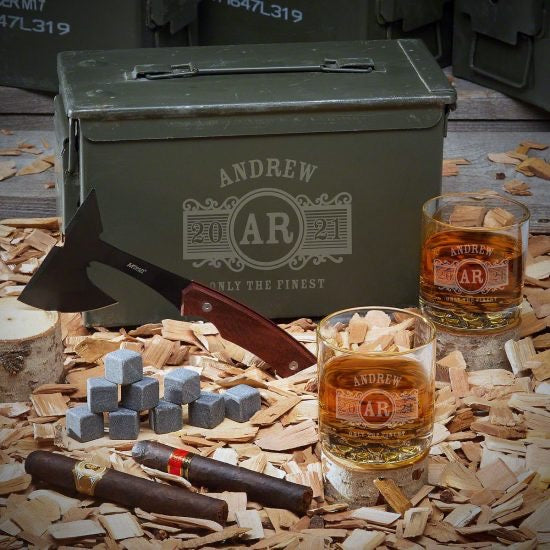 Well, you've made it this far! Last but certainly not least, this awesome whiskey gift set is perfect for the manly scotch lover in your life. He's all about the great outdoors and loves going hunting, camping, backpacking, fishing, you name it. As soon as he gets home from an adventure, he likes to toast a glass of Johnnie Walker to a good trip and relax. This awesome gift set makes both his adventures and his routine afterward even better! He'll love taking the hatchet and ammo can along to use for chopping up firewood and going through the woods on a less-traveled trail. The ammo can is perfect for storing live rounds, of course, but also for any tools or gear he brings along. When he comes home, his personalized rocks glasses and whiskey stones will be waiting for him so that he can enjoy a chilled glass of scotch and regale his family with tales from his exciting trip. Such a magnificently manly gift is ideal for any occasion to your father, husband, boss, or best friend who loves whiskey.