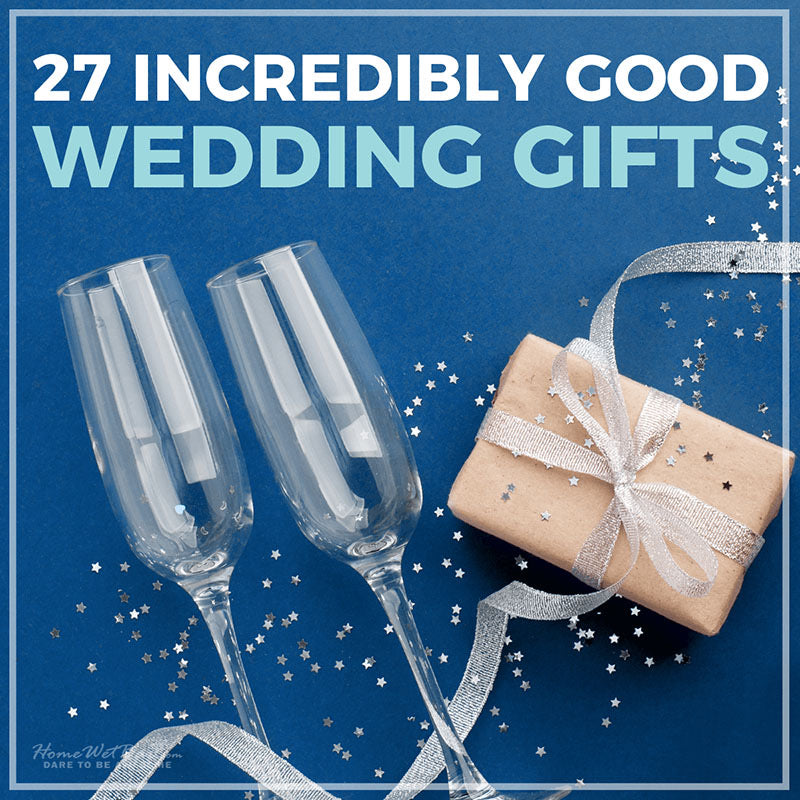 27 Incredibly Good Wedding Gifts
When it comes to buying wedding gifts, you usually want to stick to the couple's registry for ideas so that your gift is something they really want. However, sometimes there aren't many items on there, they've all been bought, or they don't have a registry at all! When in doubt, stick to these incredibly good wedding gifts to be your guide as the best, most practical, and uniquely personalized gifts that any happy couple would be excited to get! The general rule of thumb is the more unique and practical your gift is, the more it will be appreciated by the bride and groom.
Crystal Glassware Always Make Good Wedding Gifts
Crystal is one of the most popular types of wedding gifts to give, but not every couple needs a nice platter or clock for their home. Instead, get them something they'll actually use: this gorgeous personalized decanter set! The bride and groom can enjoy a drink together as newlyweds using this beautiful set, celebrate their first anniversary with it, and toast to many special occasions over the years. When not in use, this stunning decanter set is a spectacular centerpiece for their home bar or dining room. Plus, the large wooden gift box is perfect for storing their wedding keepsakes!
Thoughtful Wedding Gifts They'll Treasure Forever
How beautiful is this champagne flute gift set? The bride and groom can use the custom champagne flutes at their reception for their wedding toast, and they'll definitely want to use them for holidays and every anniversary from now on. The gorgeous engraved gift box is ideal for storing the flutes in between uses and will look beautiful as a decoration in their dining or living room! This lovely gift set is one of the most unique wedding gifts you can give and is sure to be treasured for the rest of their lives!
You Can't Go Wrong with a Monogrammed Cutting Board
Kitchen items, like cutting boards, are often on wedding registries but don't just buy that run-of-the-mill cutting board you found from a department store. Instead, go the extra mile and get them one that's personalized! This unique monogrammed acacia cutting board displays the bride and groom's initials in a cool design, and the cutting board itself is fantastic for any kind of food prep or even using as a cheese board. Personalized gifts are always good wedding gifts, and the couple will definitely appreciate that you got them something so unique and special!
Adorable Wine Gift Set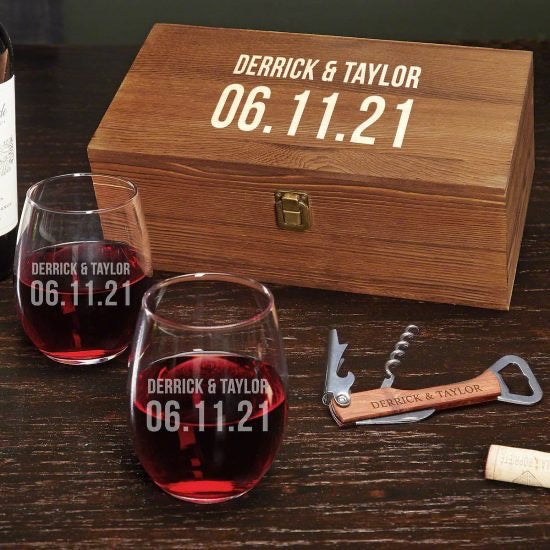 Every couple needs a pair of wine glasses for evening drinks together, romantic dinners on date nights, celebrating holidays, and of course, toasting to their happy marriage! This custom wine gift set has everything they need to enjoy a bottle of wine together from large engraved stemless glasses to a handy multi tool that has all of the tools they need to open the bottle. The cute design of their names and wedding date is the cherry on top of these thoughtful wedding gifts!
A Whole Set of Good Wedding Gifts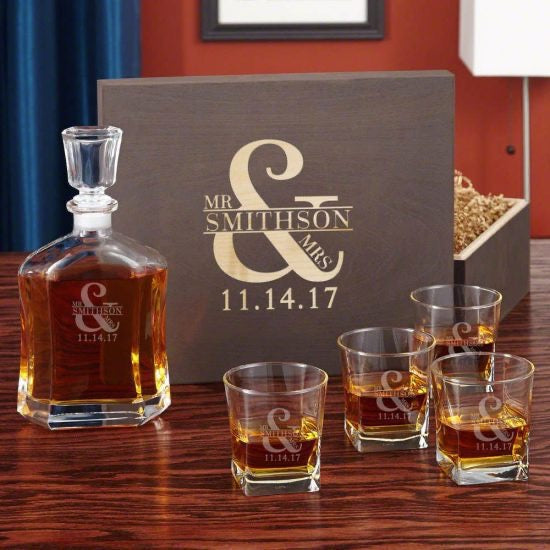 When the bride and groom open up your wedding gift, all they will be able to say is "Wow!" Each and every piece in this spectacular decanter set is personalized with the happy couple's new last name and wedding date so that they have a one-of-a-kind keepsake from their wedding that they can enjoy forever. In fact, they can use the wooden gift box to store items from their special day as a wedding keepsake box such as the bride's shoes, the groom's cufflinks or tie, their wedding menu, and even the bouquet!
499+ INCREDIBLE GIFT SETS FOR WEDDINGS>
The Sheets They Actually Want
Sure, you could buy some regular old bed sheets as your wedding gift. Or, you can give them a set of zip-on sheets that makes their lives easier! Yes, you read that right, these sheets are zip-on so that the bride and groom no longer have to constantly tug and pull the corners of the pesky fitted sheet over the mattress all the time. In fact, these sheets should be your go-to for good wedding gifts for every couple you know!
For the Couple That Loves to Cook
Looking for thoughtful wedding gifts for a couple who enjoys cooking together? Whether the bride is known for her amazing kabobs or the groom grills steaks like no one else, you can't get a gift any better than a personalized set of grilling tools! The bride and groom will love using these beautiful tools for backyard BBQs, weekend trips to the lake, and family reunions with the in-laws. They will especially love that the case is custom engraved and that it makes traveling with their grilling essentials super easy. Thanks to you, they'll be grilling everywhere and all the time!
His and Hers Custom Glasses
How cute are these his and hers wine and whiskey glasses? Perfect for any bride and groom, this adorable pairing is sure to be enjoyed often during date nights and drinks after dinner every evening. You can even make this cute wedding gift better by including a bottle of her favorite wine and a bottle of his favorite whiskey so that they can try out their glasses right after opening your gift! Or, you can pair them with this custom sign below!
Custom Signs Are Good Wedding Gifts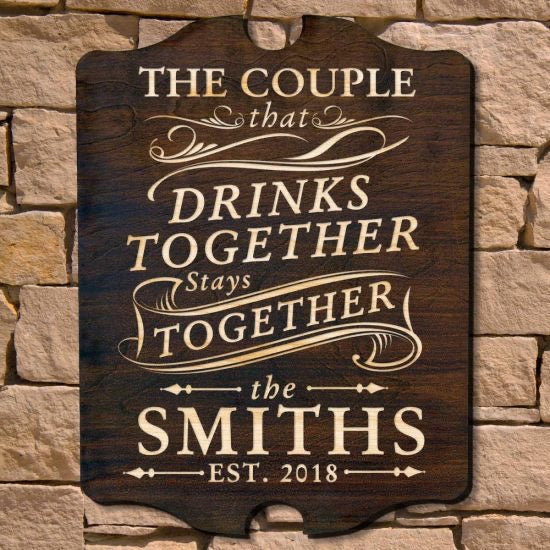 Congratulations, you just found your new go-to wedding gift! Any bride and groom would be over the moon to receive this adorable custom sign. The beautifully stained wood and unique personalization make it a one-of-a-kind decoration for their home that they will treasure forever. This sign pairs well with the cute his and hers glasses above or a nice bottle of champagne!
Essential Decanter Set
Every bride and groom needs a decanter set! This simple but elegant three-piece personalized set is perfect for sharing their first bottle of whiskey together as a married couple or having celebratory cocktails together before setting off on their honeymoon. When they're not using it for romantic drinks with one another, this set makes a lovely centerpiece for their home bar or kitchen.
The Coolest Coffee Table
Furniture can make really good wedding gifts, especially if you get a piece as cool as this coffee table! The lift top makes it so much easier to eat, drink, use a laptop, read, and more. Plus, all of the extra storage on the bottom of the table and under the lift top is super handy! Perfect for any newlyweds, this coffee table will soon become their absolute favorite wedding gift and piece of furniture they'll ever own.
A Unique Wedding Gift They'll Enjoy Forever
Give the gift of always having chilled wine with this beautiful marble wine chiller! The newlyweds will definitely appreciate this unique chiller, especially since it means they never have to worry about remembering to put the bottle of white wine in the fridge a few hours before their dinner. All they need to do is keep the chiller in the freezer and it will ensure that their next bottle of wine is perfectly cooled within minutes and stays the right temperature until the last drop. The chiller even makes a great decoration for their dining room when they don't need it!
A Fun Game for Their Wedding and Family Gatherings
How cute is this custom cornhole set? Perfect for giving before the wedding so that the couple can have it out at the reception, this classic game is easy and fun for all ages! It's usable indoors, outdoors, on the go, and is built to last for years. The newlyweds will be teaching their kids and grandkids how to play on this set in the future, and for now it's perfect for playing with their friends and family!
Thoughtful Wedding Gifts They'll Love to Share
Check out this impressive monogrammed decanter set! Ideal for serving guests at parties and gatherings, the bride and groom will be so excited to use this set for every occasion. The lovely monogram of their initials on the entire set makes it such a thoughtful and personal gift, but the fact that this amazing set is so practical and decorative truly makes it one of the best wedding gifts ever.
Adorable Custom Sign for Their Home
Make the bride and groom's home as a married couple official with this personalized sign! A sweet reminder of their special day, this lovely sign is one piece of decor they'll be certain to hold on to for the rest of their lives. Every time they look at it, even 50 years from now, it'll remind them of their wedding day. This personalized sign is truly one of the most thoughtful wedding gifts you can give!
319+ PERSONALIZED SIGNS THE NEWLYWEDS WILL LOVE>
His and Hers Watches
One of the most practical wedding gifts you can give the bride and groom is a set of matching watches! These classic silver and gold Fossil watches will go with literally anything they wear so that they can wear them all day, every day. Plus, if you're not sure what type of metal they're using for their wedding rings, these watches will match either way! The happy couple will appreciate this stylish set more than any of their other wedding gifts for sure!
Romantic Wine Gift Set
This beautiful wine set is a must-have wedding gift! The newlyweds will enjoy using this set on their wedding day, for their first anniversary, and every date night. They can even use the included gift box to store all of their keepsakes from the wedding in or use it to store the set in between uses. The only thing that would make these good wedding gifts even better is if you pair a nice bottle of wine with them!
Every Couple Needs a Charcuterie Board
Charcuterie boards or cheese boards are pretty typical wedding gifts, but this is not your ordinary department store charcuterie board! Made of high-quality end-grain bamboo, this gorgeous personalized charcuterie board is so beautiful that the newlyweds will want it on display in the kitchen at all times! When they have friends or family over, this lovely charcuterie board will be the first thing they reach for to prepare hors d'oeuvres and they might even just use it on date nights because it's perfect for snacks.
Create Their Own Whiskey Label
Want to give the happy couple a truly unique wedding gift that they'll never forget? You can't go wrong with this incredible custom whiskey label set! The design is fully customizable so that you can make them a one-of-a-kind "label," that they will enjoy showing off to all of their loved ones. This stunning decanter set is perfect for having evening drinks together as newlyweds and for entertaining guests at parties and holidays! Everyone who sees it will think it's a real brand at first, making it a fun conversation piece.
Coasters Are Always Good Wedding Gifts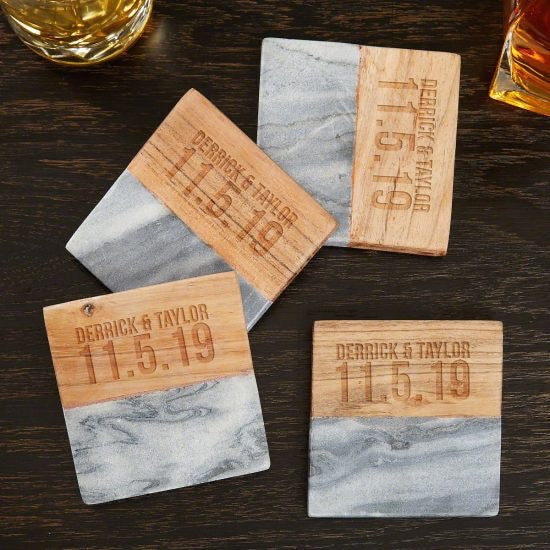 This simple set of coasters is small and cute, but they will be one of the most appreciated wedding gifts you can give! Everyone needs coasters, after all, and these are custom engraved! The bride and groom will love using this set in their bedroom or living room and the fact that they remind them of their wedding day every time they see them. You could easily pair this set of four coasters with a matching set of glassware if you want to go all out for their wedding gift!
Towel Warmer > New Towels
Instead of getting the happy couple their fourth set of bath towels (you know they'll be getting several sets!) get them something they really want: a towel warmer! This amazing gadget will make showers and baths so much more enjoyable because there is nothing better than stepping out of a hot shower and then wrapping up in a toasty, warm towel. The bride and groom will be using this luxurious gadget every day for sure, and it's certainly one of the most practical and thoughtful wedding gifts you can give!
The Perfect Gift for the Bride and Groom Who Travel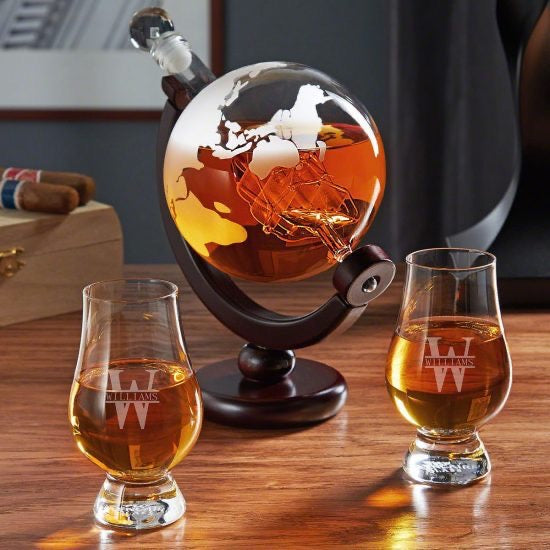 Forget that boring set of luggage, get the bride and groom that loves to travel this amazing globe decanter set! They will love having this stunning decanter in their home as a beautiful representation of their travels all over the world together. In fact, they can use it to decide on their next adventure together as they sip on their exotic whiskey from the custom Glencairn glasses. This amazing gift set is a unique wedding gift for any newlyweds, especially for the couple that loves to explore the world together!
The Cutest Decoration In Their Home
When the bride and groom open up this adorable sign after their wedding, they're guaranteed to go "Aww!" This sweet piece of decor is one of the cutest and most thoughtful wedding gifts for any couple. They will love having this sign hanging in their entryway or bedroom as a testament to their love for one another, no matter where they are in the world. This would be an especially good gift for a couple that doesn't get to be together 24/7 due to one of them traveling frequently for work, and it shows that you care about their relationship as much as they do!
Good Wedding Gifts Are As Unique As This Bar Cart
How incredibly cool is this bar cart? Certainly more unique than the one the couple has from a popular online furniture store in their registry, this globe bar cart is sure to be the coolest piece they'll ever own! When the globe is closed, it looks like a nice, antique globe. When it's open, it's the perfect place for the bride and groom to find their favorite glasses and bar tools. Sure to be a conversation piece at every gathering they host, this bar cart is one gift that will be around for a lifetime!
The Perfect Decanter Set for The Bride and Groom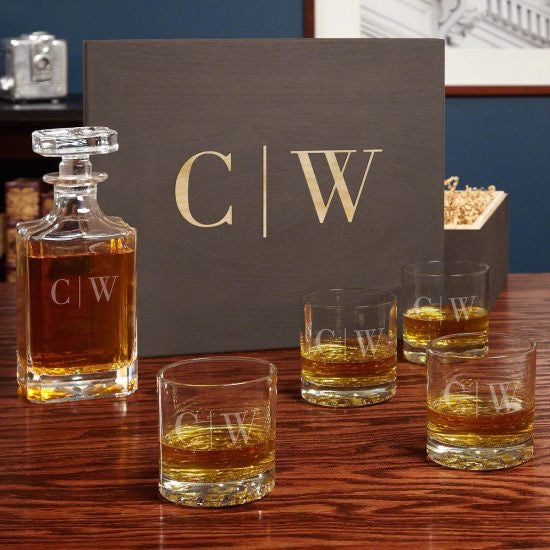 What a stunning decanter set! From the luxurious crystal decanter to the lovely engraving of their initials on every piece, this decanter set is one of the best wedding gifts out there. The newlyweds will enjoy using the set for cocktails with friends, romantic drinks together on date nights, and for serving guests at parties. They can even store the entire set in between uses in the wooden gift box, or use it instead to keep all of their wedding photos!
Silicone Wedding Bands Are More Popular Than Ever
One of the best wedding gifts you can give is a pair of silicone wedding bands! This way, the bride and groom can leave their priceless new wedding rings at home and wear these cheaper, more travel-friendly rings on their honeymoon. They're also great for wearing outdoors when the newlyweds are doing yard work or at the neighborhood pool. Not only will these silicone bands ensure that their beautiful wedding bands stay in great condition, it also won't be the end of the world if one of the silicone bands falls in the ocean or gets accidentally buried with the new garden!
When In Doubt, a Bottle of Wine Is Always a Good Wedding Gift
Are you still totally stumped on what to get as a wedding gift? Get a nice bottle of wine, put it in this custom engraved gift box, and voila! You've got a nice and practical wedding gift that any couple will enjoy. Inside the beautiful gift box is a set of wine tools so that they have everything they could possibly need to open and enjoy their wine whether they're more into Merlots or stick with a crisp Riesling. You can get really creative with the engraving, too, to make it a lovely gift box they can use to store the very first bottle of wine they drank together as a married couple!
179+ INCREDIBLY GOOD WEDDING GIFTS>