31 Incredibly Cute Valentine's Day Gifts for Him
Valentine's Day is here again and you're in search of the perfect gift for the special guy in your life! While a teddy bear or a pair of boxers covered in hearts are adorably tempting, you want to get your man something he'll like. Cute Valentine's Day gifts for him can be a romantic activity or item you can enjoy together or something thoughtful that really shows you care without being too over the top. After all, showing your love for him is the point of Valentine's Day! Valentine's gifts for him can be simple, extravagant, an entire gift basket of many things, or a single item. What matters most is that your gift shows your love and appreciation for him. With these sweet Valentine's Day gift ideas for him, even the manliest man can't help but say "Aww!"
Remind Him of Home with This Cute Valentine's Day Gift for Him
Whether he's recently moved out of state or has lived in another state for some time, one of the sweetest things you can give him for Valentine's Day is something that reminds him of home. Don't just get him a Homesick candle, you need to get him a beer bottle cap sign shaped like his home state! Not only does this unique piece of decor allow him to show off his pride for where he comes from, but he'll be able to display a collection of bottle caps. How awesome is that? This is such a cute Valentine's Day gift for him, just make sure you also get him a six-pack of his favorite beer so that he can get started on his collection right away!
Make His Usual Glass of Whiskey Even Better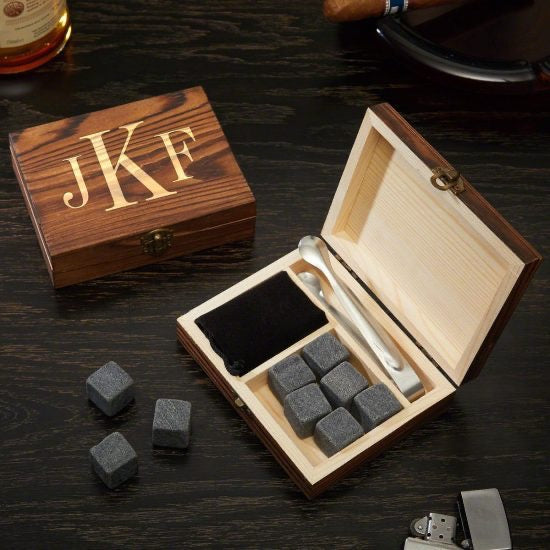 You want to give your man something sweet and thoughtful for Valentine's Day, but you're totally stuck. One way to give him a great, romantic gift is with something that makes one of his hobbies more enjoyable! For example, if he enjoys a glass of bourbon most evenings then this monogrammed whiskey stone set will make it even better. Whiskey stones will keep his drink chilled without affecting the flavor, ensuring that he can enjoy his glass to the fullest. He'll love that the set is engraved with his initials too, signifying that it's just for him to use. This set is one of the best Valentine's gifts for him, but you could make it even better by pairing it with a bottle of his favorite whiskey!
Customizable and Cute Valentine's Day Gift for Him
Looking for a Valentine's Day gift that you can get creative with? This custom flask set is perfect! The flask can be engraved with just about any three lines of text you wish, allowing you the freedom to make it say something super mushy or even just his name. He will be amazed by how much thought you put into customizing the flask, and he'll want to carry it with him wherever he goes to keep a part of you with him at all times. Plus, the set comes with a handsome gift box to store it in for safekeeping as well as some handy shot glasses to take shots with you or his buddies! You just can't go wrong with a gift like this for Valentine's Day.
Three Piece Decanter Set is the Perfect Valentine's Gifts for Him
The best Valentine's Day gifts are those that you can use and enjoy with your sweetheart! This three piece decanter set is a prime example: your man will love having his very own monogrammed whiskey decanter set, especially since he can pour you a glass on Valentine's Day to celebrate the occasion! Whenever date nights at home come up, you two will be enjoying after-dinner drinks with this decanter set. Plus, it looks fantastic on display in your home bar! Seriously, this gorgeous set is one of the best and sweetest Valentine's Day gifts for him.
Romantic Decor for the Home
Even the manliest guy can't help but say "aww!" when he sees this adorable sign. As soon as he opens it up on Valentine's Day, he'll want to pour the two of you a drink and toast to your love. This custom sign is a really cute Valentine's Day gift for him that he will treasure forever. Every time he looks at it, he'll be reminded of when you gave it to him and how much he loves you! This sweet decor would look fantastic in your kitchen or dining room so that whenever you enjoy a drink together, you can toast to the true quote and your everlasting love!
299+ PERSONALIZED SIGNS FOR VALENTINES DAY>
Manly Bouquet
It's traditional to give flowers to your Valentine on Valentine's Day, but most guys don't want actual flowers. Why not surprise your guy with his own manly bouquet made of beef jerky? He'll laugh at first when he sees this awesome gift, and then he'll want to dig in right away and devour the whole thing! The "vase" it comes in is also a pint glass, which makes this bouquet doubly cool. He'll love this tasty arrangement so much that he'll want one for your anniversary, too!
Custom Grilling Tools for the Guy Who Loves to Grill
For the guy who can't get enough time behind the grill, only a gift related to his favorite hobby is ideal. Last year you got him a smoke box and the year before you got him a set of hot sauces, but this year you're going to top those gifts with a custom set of grilling tools! This awesome gift set will make your man so happy that he'll want to use them immediately to cook up a delicious grilled Valentine's Day dinner for you. He'll enjoy having a handy carrying case to store and transport his trusty tools in, especially when he goes to his parents' house for a reunion so that he can grill up some hot dogs and burgers for the whole family or host a neighborhood cookout at the park. Just make sure you have some steaks or ribs in the fridge before you give the tools to him so that he can use his Valentine gift for him right away!
Show Him Your Love is as Strong as a Bull
Want to give your man something really unique for Valentine's Day? This cute bull decanter is quite the statement piece! Such an impressive piece of decor will be the new centerpiece of his home bar for sure. When you give it to him, make sure you say something like "My love for you is stronger than an ox" so that he knows you're giving him an extra meaningful gift! The special guy in your life will proudly display this awesome decanter and will want to store his finest liquor in it so that he can pour you a classy drink in style.
Awesome Valentine's Gift for Him Any Guy Would Love
You want to give your Valentine a gift that's really personal and sweet, but nothing too cheesy. This flask gift set is the best of both! You can have the gift box and flask engraved with almost anything you want from: "I Love You Forever," "To My Valentine," "From Your Wife," to something as sweet as "Ben's Flask of Liquid Courage, JK It's Just Water." You can get super creative with this set, and he'll love everything in it! From a new pocket knife to a cigar box for his stogies, what's not to love? There's even plenty of room inside the box to add an extra gift of your choosing such as his favorite candy, a couple of cigars, or a fun card. Whatever you choose, this set of cute Valentine's Day gifts for him is sure to show him how much you love him!
Make Him Feel Like a Whiskey Connoisseur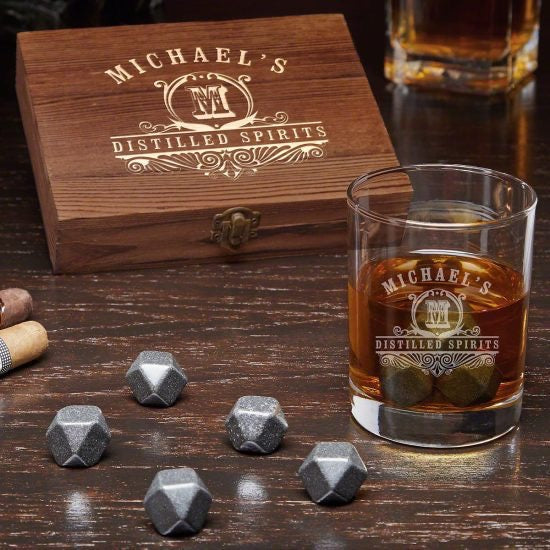 Even if he's the kind of guy who only drinks whiskey on occasion or he regularly attends a whiskey tasting, this lovely whiskey gift set is one of the coolest Valentine's gifts for him! He will love having his own custom rocks glass for his Jack and Coke or scotch on the rocks. The unique whiskey stones will keep his drink perfectly chilled, but won't affect the flavor. He'll look so cute drinking from his personalized glass on Valentine's Day, just make sure you get him a bottle of his favorite whiskey so that he can try out his new gift right away. Once all of his friends see his custom glass and whiskey stones, they'll all want one too!
Geeky and Cute Valentine's Day Gifts for Him
Cheesy, cute Valentine's Day gifts for him don't have to be boring or quirky! Whether he's really into Star Wars or a casual fan, he will crack up the moment he unwraps these his and hers pillowcases on Valentine's Day. These cute pillowcases are simply adorable, and super soft, too! This set is a great extra Valentine's Day gift for any budget, or even if you're looking for an additional item for your gift. Whether you've been dating a little while or married for many years, these super cute pillowcases are the ideal Valentine's Day gifts for the Han to your Leia.
Custom Daily Essentials Every Man Needs
Are you still totally stumped on what to get that special guy in your life for Valentine's Day? Perhaps you've only been dating for a little while or you're looking for a non-romantic gift. When in doubt, go with something every guy likes: a custom pocket knife! Men love their pocket knives and most of them carry one with them everywhere they go. Giving a custom engraved one with their name on it makes it an extra special gift! This box set also comes with a cigar cutter and lighter for the occasional celebratory cigar. You could get him a couple of stogies to celebrate the holiday, or he can use the gift box to store them in for a special occasion. Seriously, this is one Valentine's Day gift you cannot possibly go wrong with!
Monogrammed Gun-Themed Cute Valentine's Day Gifts for Him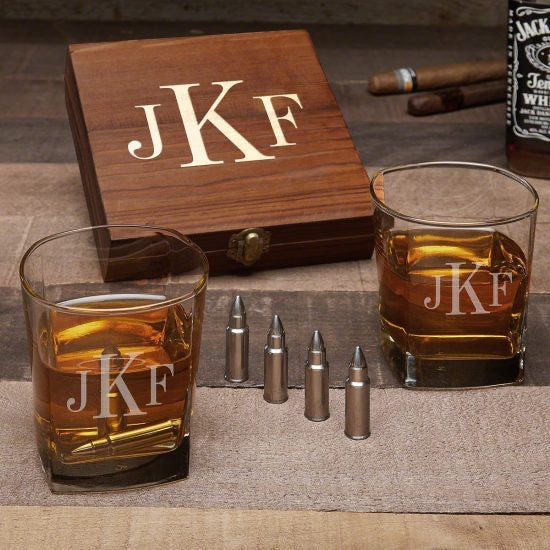 It doesn't matter if he's an avid gun lover or a regular dude who thinks guns are cool, this bullet whiskey stone set is just too cool! Every guy would think this monogrammed whiskey gift set is badass, especially because of the bullet whiskey stones. The cute little whiskey stones are a novel and fun way to chill his whiskey. While this may not be a traditionally romantic Valentine's Day gift, he'll love having a glass of bourbon with you after dinner on the holiday and on every date night afterward! Plus, he'll want to offer his friends a drink with this set every time they come over, just so that he can show off its awesomeness.
Sweet Valentine's Gift for Him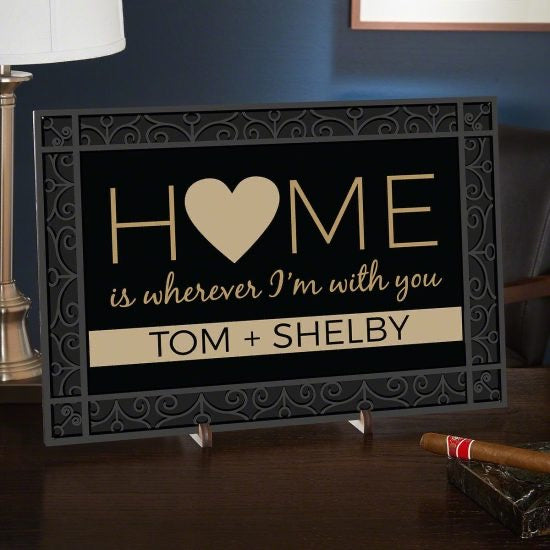 You want to give a really sweet gift for Valentine's Day to your other half, but you don't want to give him something he won't like. Forget those heart-patterned socks, he will love this romantic piece of decor! This sweet, personalized sign is especially ideal for a man who often has to relocate for work or if you've just moved in together so that no matter where you two are, it's home. This adorable sign is sure to make him tear up as soon as he unwraps it, and he'll want to hang it up right away. Whenever he looks at it, he'll be reminded of how loving and thoughtful you are. This sign is a cute Valentine's Day gift for him that he'll never forget!
He'll Never Need to Get Up for Refills Again
Any guy who likes drinking beer knows the struggle of having to leave the comfort of their chair to get a refill, especially if it's in the middle of a game on TV. With this gigantic beer mug, your Valentine will have twice the amount of beer in one convenient glass! Thanks to your thoughtful Valentine's Day gift, he can kick back and relax with plenty of beer to get him through the game until halftime. Once he realizes that this huge beer mug holds three bottles' worth of his favorite brew, he'll never want to drink it any other way.
His and Hers Journals
You've seen those journals that couples fill out together by answering a question every day, but have you seen these adorable his and hers journals? Whether you both enjoy traveling and recording your adventures or just keeping a daily planner, these sweet journals are such cute Valentine's Day gifts! He'll be touched that you got him something so unique and personal.
The Perfect Gift Set for Valentine's Day Dinner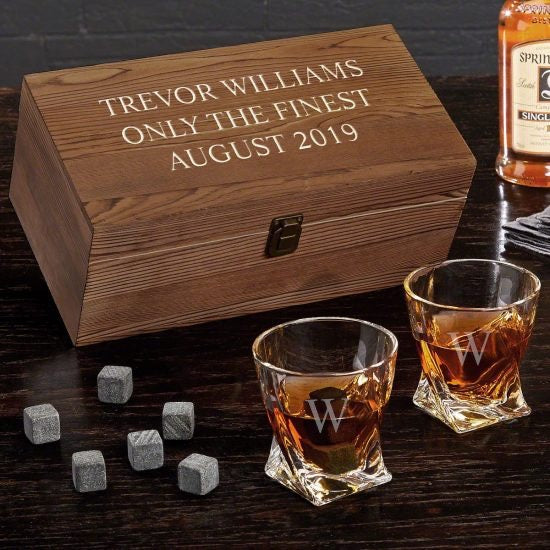 There's nothing like a romantic drink by the fire with your sweetheart, especially on Valentine's Day! Make sure your after-dinner drinks are extra special for the holiday with this beautiful gift set! The elegant twisted glasses and personalized gift box are sure to make your drinks more enjoyable than ever. The unique glasses beautifully reflect the colors of your drink whether you're having a Jameson on the rocks or a martini, and the whiskey stones will ensure that your drinks are just the right temperature without watering them down. You can get creative with the engraving on the gift box and make it say something sweet or something funny! No matter what, your Valentine will absolutely love using this gorgeous glass set with you on this romantic holiday and every date night from now on.
Upgrade His Kitchen with a Custom Cutting Board
Is your man a great cook who enjoys making you a romantic Valentine's Day dinner every year? Surprise him with a brand new personalized cutting board before he gets cooking! He'll love the unique style of the cutting board that looks like you cut it from the tree yourself. This large, hardwood cutting board ensures that your Valentine has plenty of space and a clean, smooth surface to do all of his food prep on. Even if he's got a hefty chop for his veggies, this sturdy cutting board will stay smooth, especially if he regularly treats it with board oil. When he's not using it to cook, it adds a lovely personal and rustic touch to the kitchen!
Personalized Beer Mugs for You Both to Enjoy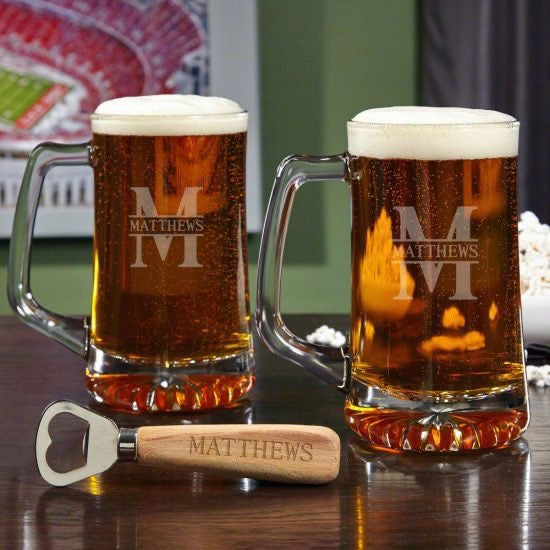 There's nothing like having a couple of beers with the one you love. You and your man enjoy having the occasional beer together on movie nights or when you have friends over for board games, but you can make those beers even better! With this pair of custom beer mugs for Valentine's Day, you and your sweetheart can kick back, relax, and enjoy plenty of beer in style without needing a refill for a while. These large, hefty mugs hold quite a bit of beer, and they'll keep your drinks cold too! Whether you're re-watching the extended edition of the Lord of the Rings movies or playing Rocket League, you two can enjoy plenty of beer and each other's company thanks to these custom mugs.
For the Poker Fan
Is your Valentine the kind of guy who's always wanted to host a weekly poker night with his bros? He's got an old poker set that he used a lot in college, but it's looking pretty rough. For Valentine's Day, surprise him with this custom new chip set! He'll be so excited to play poker with his buddies that he'll finally get around to hosting a weekly game thanks to you. If you don't know how to play his favorite poker games, Valentine's Day is the perfect time for him to teach you so that you can join in on the fun every week! Even the simplest things can be cute Valentine's Day gifts for him.
Everything He Needs for a Movie Night In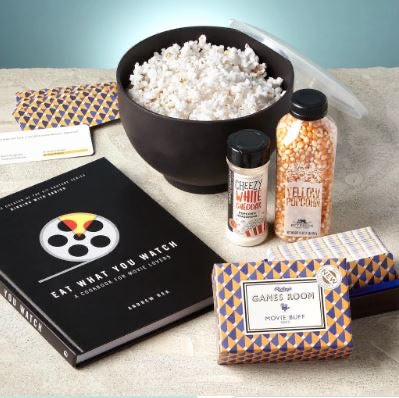 Movie date nights at home are always fun, so make Valentine's Day an extra special movie night! This unique gift set has everything you both need for a romantic, fun night with your favorite films: popcorn, white cheddar toppings, a cookbook with film-inspired recipes, and even a fun movie trivia game you two can play together. While extravagant, expensive dates out on the town are fun once in a while, this thoughtful and sweet Valentine's Day gift shows him that you love having simple movie nights just as much!
His Own Custom Beer Essentials
For a guy that likes beer, there's no better Valentine's gifts for him than a case or two of his favorite brew. That is, except for this awesome beer gift set. Your beer-loving man will be stoked to get this custom pint glass for Valentine's Day! In fact, he'll want to crack open a cold one right away so that he can try it out along with the tasty beer peanuts. Bonus: the custom gift box is great for storing special mementos, keepsakes, or just for displaying!
487+ GIFT SETS AND GIFT BASKETS HE WILL LOVE>
Welcome Him Home with a Personalized Piece of Decor
Make your Valentine feel right at home with his own custom name sign for his house! You could even hang it in the entryway before he gets home on Valentine's Day and see if he notices the new decor when he walks in. Having your name on a sign like this makes a house or an apartment feel like a home, which is one of the best feelings you can give someone. This thoughtful, lovely Valentine's gift for him is something that he will cherish for years to come!
Wine Set for Two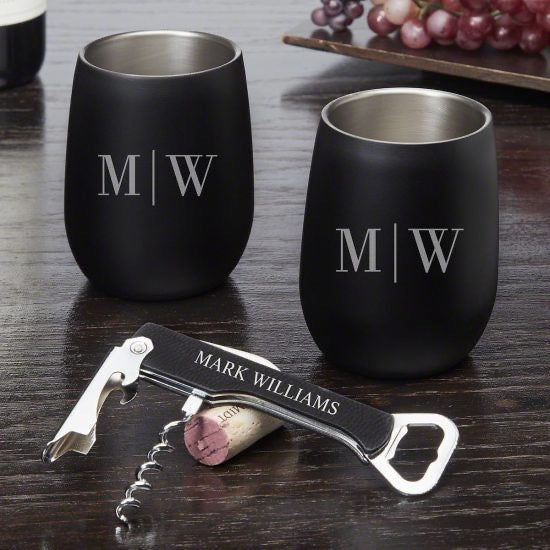 There's nothing more romantic than drinking a glass of wine with your love on Valentine's Day, which makes these custom wine glasses such cute Valentine's Day gifts for him! These awesome glasses are insulated, unbreakable, and portable, making them the ultimate manly wine glasses. Even if you're cuddled up together next to the fire, your drinks won't get warm. The custom bartender's key is the cherry on top of this awesome tumbler set, ensuring that your beau will never be without a bottle or wine opener.
A New Way to Store Memories
You came here in search of cute Valentine's gifts for him. Well, this custom shadow box is one of the cutest, most romantic gifts you can give! Engraved with your names, a special date of your choosing, and "Forever & Always," this lovely piece of decor is simply adorable. You two can start a collection together on Valentine's Day, looking for pieces to add to it for every date night until it fills up as a unique representation of memories. How cute is that? A shadow box is both a one-of-a-kind piece of decor as well as a fun new hobby to share with your love.
A Print of the Night Sky on That Special Night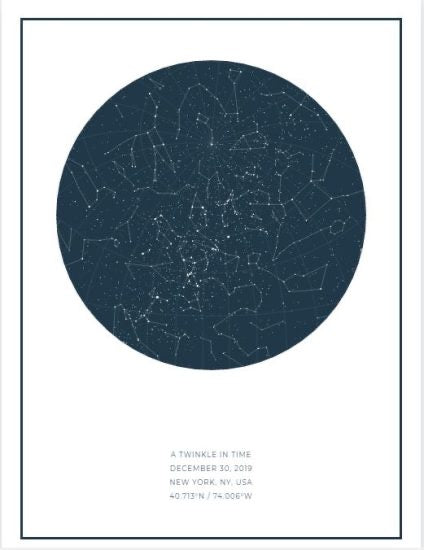 The shadow box wasn't cute enough for you? Then this night sky map of a special date and location should do it! That's right, this sweet print is what the night sky looked like when and where an important part of your relationship took place. How cute! It could be when you had your first date, your first kiss, when you got married, or any other special moment. Your sweetheart will have a special keepsake that he will treasure forever with this unique Valentine's Day gift.
Custom Watch Case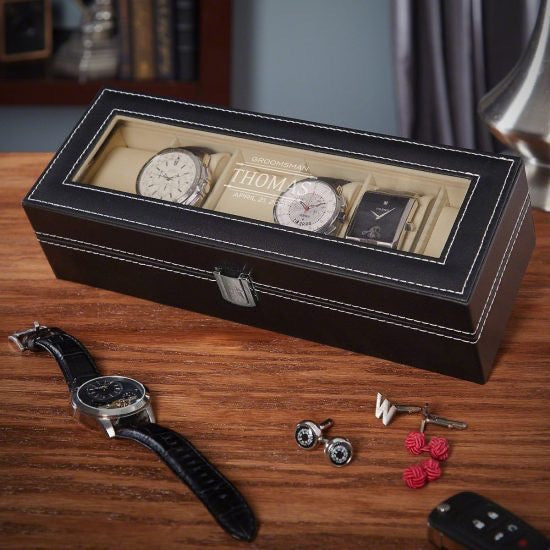 Does your Valentine have several watches? For Valentine's Day, the perfect gift for him is this custom watch case! Finally, his timepieces will be organized and kept safe from dust. He can also take out the pillows inside the case to keep his cufflinks, keys, jewelry, or other small items if he wants. This thoughtful Valentine's Day gift is both personal and practical, making it a guaranteed win for any guy with multiple watches and accessories!
The Perfect Whiskey Set for Two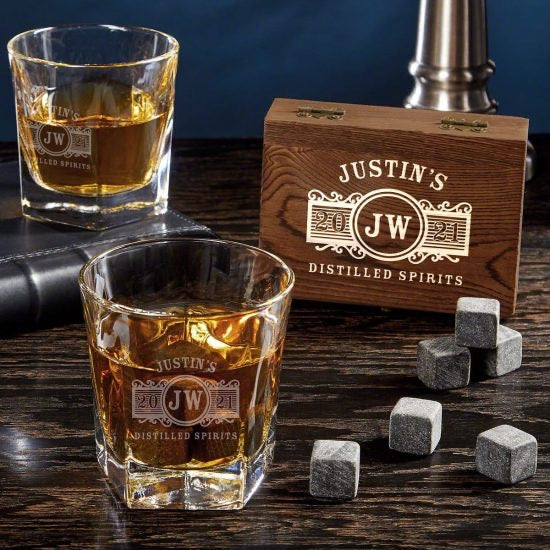 Enjoy a romantic Valentine's Day cocktail in style with this unique custom glass set! Your man will love these large, hefty rocks glasses for his Jack and Coke or Jameson on the rocks. The beautiful glasses are perfect for after-dinner drinks together on date nights as well as to offer his bros a hefty drink when they hang. The vintage-style design on the entire set will make him feel like a classy gentleman from an old black and white film. Make sure you get him a bottle of his favorite liquor as well so that he can test out the set and see for himself that the whiskey stones are better than ice!
Awesome Valentine's Gifts for Him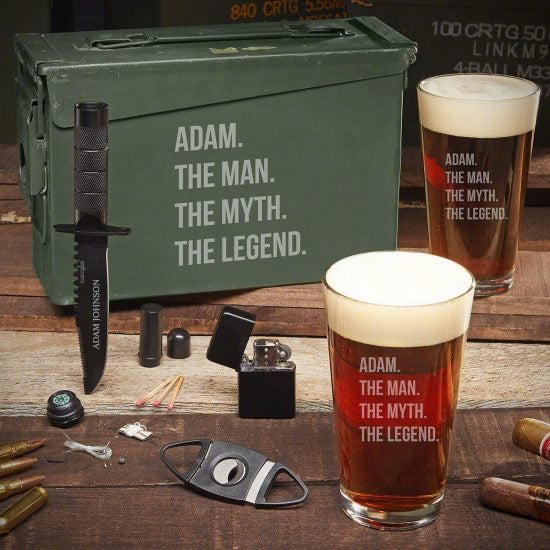 You want to give your sweetheart something nice for Valentine's Day, but he's a manly man and the typical cutesy Valentine's Day gifts like teddy bears and heart-shaped things aren't really his style. How about a manly gift set with a cute engraving? The set declares him as the coolest, most legendary man alive. He'll think it's downright awesome, and it will be so cute watching him light up with excitement as he discovers the many amazing gifts inside the ammo box! You just can't go wrong with such a badass gift, and you can be sure that he'll want to use everything in the set as often as possible!
Surprise Him with a Dinner Cruise
Want to do something really romantic and spectacular for Valentine's Day? Give him an amazing experience as a gift! This awesome sunset cruise is the perfect gift for Valentine's Day, especially since you two can enjoy an exciting and romantic evening together for the special holiday with dinner, dancing, and a fun boat ride.
For the Craft Beer Fan
Any guy who enjoys going to breweries wants one thing for Valentine's Day: craft beer! Sure, you can get him a six-pack of local beer, but you know what's even better? Pairing that beer with this custom gift set. He can enjoy his favorite seasonal concoction in his own monogrammed snifter just like he would in his favorite brewery. Plus, he can light up a stogie in celebration of this romantic, special occasion!
329+ INCREDIBLY CUTE VALENTINE'S DAY GIFTS FOR HIM>