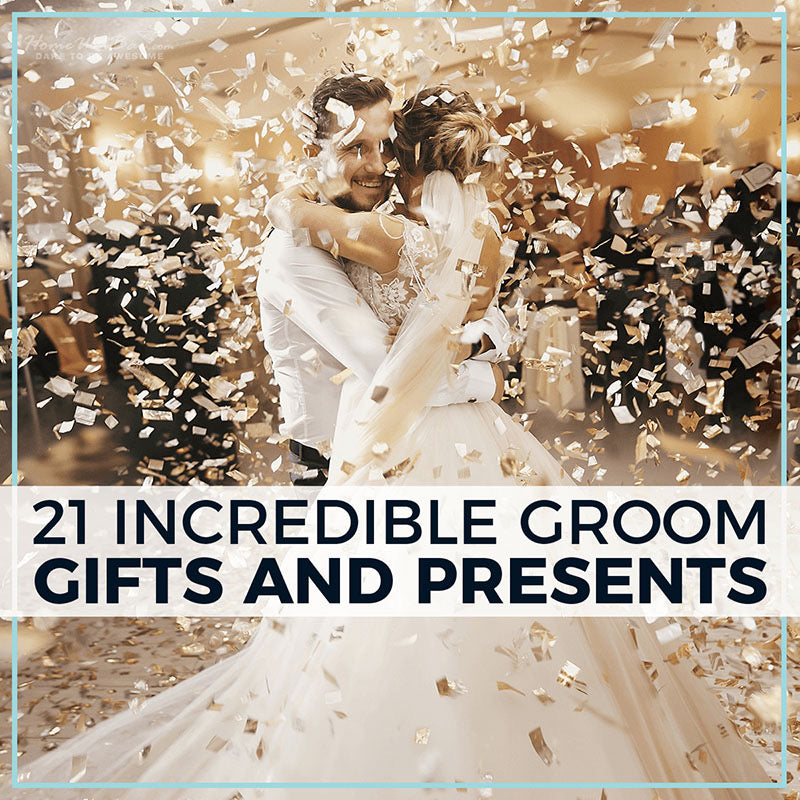 21 Incredible Groom Gifts and Presents
Check Out Our Most Incredible Groom Gifts!
His wedding day is fast approaching, and you want to get him a special gift! Groom gifts are special presents just for him to enjoy either before, during, or after the wedding. They can be anything from a relaxing gift to relieve him from the stress of wedding planning, something unique to use on his wedding day, or a cool gift that he can enjoy after the ceremony. Groom presents make sure that he feels just as special as the bride on his wedding day, and he will greatly appreciate getting a unique gift just for him! Are you looking for something to give him to enjoy before he walks down the aisle? Or are you in search of an awesome wedding gift for the groom to enjoy once he starts life as a married man? We have everything you're looking for and more!
The Ultimate Groom Gifts
The groom's mouth will drop in shock when he opens up this incredible whiskey gift set! From the custom ammo can to the matching rocks glasses, he won't know which part is his favorite. This unique set of gifts are perfect for giving him on his wedding day so that he can enjoy a drink and a stogie with you, his dad, or his best man before walking down the aisle. After the wedding, this set will be his go-to for when he needs a relaxing drink after a long day!
The Perfect Groom Presents
While most wedding gifts are all about the bride, the couple, or their home together, your gift is going to be all about the groom! One way to make sure he gets something special is with this custom set of grilling tools. He will love using this quality set of rosewood grilling tools to make delicious burgers, hot dogs, kabobs, and more for his bride and their whole family! The custom case the tools come in doubles as a wedding keepsake and a convenient way to bring his tools anywhere.
A Special Gift Just for Him
Personalized gifts at weddings are fairly common, but they're always featuring both the bride and groom's names or their new shared last name. With a custom gift that's engraved with his name, the groom will have a unique gift all to himself! This classic whiskey glass and stone set is sure to be his favorite gift and his new preferred way to enjoy his evening glass of bourbon. You can give him this awesome set of groom gifts right before the wedding, give it to him at his bachelor party, or surprise him with it at the reception!
Something He Can Share with His Bride Or a Friend
Not all groom presents have to be something only he can enjoy. In fact, the best kinds of gifts are those he can share with his loved ones! This set of custom beer mugs is perfect for him and his new wife to enjoy a couple of cold ones together, for him to share a brewski with the best groomsmen any guy could ask for, or to offer his new father-in-law a quality drink. These hefty mugs are uniquely engraved just for him and he is sure to enjoy using them instead of drinking his favorite brew straight from the can!
The Ideal Groom Gifts to Give Before He Says "I Do"
Want to present the groom with a gift that will help calm his nerves on his wedding day? Get him this awesome shot glass gift set and bring along a bottle of his favorite whiskey so that you two can enjoy a drink together. He will greatly appreciate these thoughtful groom presents and how they help him prepare for the most important day of his life. After the ceremony, he'll have a gift box that he can use to store the set in between drinks with his buddies or to keep mementos from the wedding!
479+ GIFT SETS THE GROOM WILL LOVE>
Make Sure He Looks His Best On His Wedding Day
Whether he's going clean-shaven or needs to touch up his impressive beard, the groom needs to make sure he looks great on his wedding day. Help him out with this high-quality shaving kit! He will love how easy this shaving set is to use, and will be impressed by how soft and smooth his skin is after! After trying out this vintage-inspired set, he'll never want to shave any other way and both he and the bride are sure to thank you for it!
The Coolest Groom Gifts
When you give the groom this badass gift set, make sure you have a six-pack on hand so that he can pop a couple of them open with his new bullet bottle opener and pour them into his custom pint glasses! He will love using this set to knock back a couple of cold ones with a friend or relative when they come over to hang out after the wedding. The groom can even use the awesome ammo can to store his favorite tools, a bottle cap collection, or his own keepsakes from the wedding!
Essential Groom Presents for His Wedding Day
It doesn't matter if you're a groomsman, the bride, or a relative of the groom, you can definitely get the groom a special gift to use on his wedding day! He will be so surprised when you show up with this nifty whiskey gift set and a bottle of Jack to enjoy a drink together before he walks down the aisle. Not only will a glass of whiskey help him relax a little before his big day, but he'll appreciate that you got him such a thoughtful gift that he can enjoy on his wedding day and afterward!
A Place to Start a Collection or Keep Mementos
Give the groom something he can use to start a collection of keepsakes, cigar bands, ticket stubs, or bottle caps with a shadow box! He will love starting a new hobby on the day of his wedding and watch his collection grow over the years. By far one of the most unique groom presents, he will treasure this interactive gift forever! He and his bride will love seeing how much his collection has increased on every anniversary!
An Exquisite Decanter Set He Will Love
Any groom would love to get this handsome monogrammed decanter set as a wedding gift! Whether you have it engraved with just his initials or a monogram of his and his brides's initials, he will love using this set for drinks with his loved ones. It will look awesome in his office or home bar and is sure to be the first thing he reaches for when he gets home from a long day so that he can relax with a quality glass of whiskey.
Help Him Tie the Knot with These Cufflinks
Pardon the pun, but aren't these sterling silver cufflinks the perfect groom gifts? The elegant knot style of these cufflinks is the perfect accessory for the groom to wear on his wedding day! He will look even more awesome in his tux with these stylish cufflinks, and they make a great gift to surprise him with before he walks down the aisle.
The Ultimate Set of Relaxing Gifts
Whether you want to get him a gift to use before or on his wedding day or something nice he can enjoy after he's married, this incredible set of whiskey and cigar gifts works for all three! Regardless of when or how you give it to him, he will thoroughly enjoy every piece in this set for a relaxing stogie and a refreshing drink. However, don't forget to include a couple of stogies in the cigar case and a bottle of his favorite liquor so that he can enjoy the set right away!
The Perfect Gift for the Groom from a Groomsman
The groom will be delighted to pour all of his groomsmen a round of shots to take together before the ceremony with this custom flask set! With a flask that's custom engraved for him and four shot glasses to share with the groomsmen, this set is a must-have for any groom. You can give this set to him at his bachelor party, the wedding reception, or even on the day of the wedding (just make sure to fill the flask for him ahead of time)!
A Complete Decanter Set He'll Love
The groom will be stoked to use this five piece decanter set! Not only will it look awesome on display in his home bar, office, or living room, but it's perfect for sharing drinks with his new wife or his friends. Once the wedding is over, he'll want to pour a round of drinks and toast to his best bros for being his groomsmen. Then, on his wedding night, he and his wife can enjoy a couple of romantic drinks together as a married couple for the first time. Everything about this decanter set makes it one of the all-time best groom gifts you can possibly get him.
657+ INCREDIBLE WHISKEY GIFTS FOR THE GROOM>
A Gift He'll Never Expect
After he gets married, the groom probably won't have as much time to hang out with his bros. As his friend, you should get him a gift that will remind him to have a guys night now and then with this wooden beer caddy! Fill it up with a six-pack of his favorite brew so that he can pop a couple open with the handy attached bottle opener when you give it to him. He'll love using this handy caddy to bring a couple of beers over to your house on the next guys night or when you all get together at the lake. Plus, it makes a great keepsake that will remind him of his wedding day!
Practical Groom Presents Are Always a Good Idea
What do you get the groom who has everything? Something a little more practical that he definitely didn't think to ask for: a bedside organizer! Also called a charging station or a valet tray, this handy little organizer will keep his and his bride's daily essentials close by and orderly. The sheer amount of compartments on this organizer that can hold anything from jewelry to his tablet means that he never has to worry about having enough space to keep his essentials ever again.
A Great Big Gift He is Sure to Love
Looking for a gift for the groom that's a little simpler? Give him this gigantic beer mug at his bachelor party so that he can chug all the beer he wants to his heart's content! He will laugh at the mug at first for being so comically huge, but then he'll fill it up and realize that it holds a whopping three bottles of beer! After the wedding, he'll be able to enjoy plenty of beer with this mug and not have to get up for a refill, this way, he'll never miss a second of his favorite show ever again!
The Ideal Gifts for Any Groom
Can this set of groom gifts be any more perfect? With a custom flask, rocks glass, and even a watch case, the groom will be absolutely speechless when he sees this incredible gift set! He'll love that he can bring the flask along with him on his wedding day for a little liquid courage before the ceremony, but when he gets home he can enjoy a drink with his new wife in his own custom glass. The bride will especially appreciate the watch case so that she doesn't have to keep picking up his watches that he leaves around the house!
His Very Own Poker Set
Make sure the weekly poker game with the groom continues by giving him this custom poker set! He'll finally be able to host the game at his house instead of having to go to yours or your friend's houses every week. He will enjoy using this set for poker, card games, or even dice games with his friends and family! The handsome personalized carrying case is the cherry on top of this exceptional set.
A Fun Gift He Can Enjoy On His Wedding Day
Sure, the bride and groom have a wedding photographer that will take incredible photos of them and their special day, but a polaroid camera allows for fun pictures behind the scenes! The groom will have a blast taking candid pictures with all of his loved ones on the day of his wedding, and these pictures will be the ones that he and his bride will enjoy looking back on in the future. In fact, you could also get him a picture album so that he can have a place to put all of the polaroids he'll take!
Must-Have Gift Set for the Groom
Make sure that the groom has everything he needs to relax with this whiskey and cigar gift set! These unique groom presents are perfect for when he wants to celebrate his wedding day with a drink and a cigar or to relax after the wedding. He will love the handy acrylic cigar holder and the cigar accessories that he can take everywhere with him, but the rocks glass will always be waiting for him at home for when he is in need of a relaxing drink.