Everyone knows at least one person in their life who has started their own business. It's certainly not an easy feat, and they often need a lot of help in order to get it going! Gifts for entrepreneurs should be items that help a new business owner have everything they need for success, something nice to make their business look good, or even a special gift that celebrates their hard work! Entrepreneurs are all about practicality, so make sure that your gift serves a distinct purpose like being a useful item that they can utilize every day or a beautiful decoration that makes their new business look amazing. Looking for gifts for business owners that deserve some recognition? Wondering what kind of gift would be best for someone who just opened their business? Not sure what to get the entrepreneur who is in the process of getting their start up ready? Don't worry, we have the best gifts for all types of business owners!
The Perfect Gifts for Entrepreneurs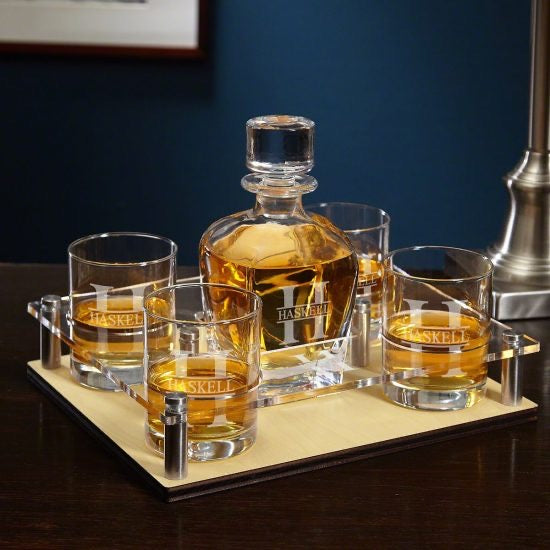 You know how in movies there's always a rich, classy CEO and they have a beautiful decanter set in their office? Make the entrepreneur you know feel just like a distinguished boss with their own personalized decanter set! This stunning six piece presentation set is the ideal centerpiece for their office and will instantly make them look classy to anyone who visits. They can use the set for offering new clients a celebratory drink or to have a toast with their team after a successful quarter! By far one of the most impressive gifts for entrepreneurs, this decanter set is sure to be enjoyed for years to come.
Make Them a Beer Aficionado
As an entrepreneur, they're expected to know a great deal of unique facts on a variety of subjects. Make sure that the aspiring business owner you know is fully prepared to be an expert on beer, too, with this complete set of beer tasting glasses! With a special glass for each popular type of beer, they can fully experience IPAs, craft brews, malts and stouts, and even pilsners or lagers. This unique gift set is one of the most impressive gifts for business owners, and would be ideal for giving as a congratulatory gift on opening their startup or for having a successful first quarter.
Desk Organizer Sets are the Best Gifts for Entrepreneurs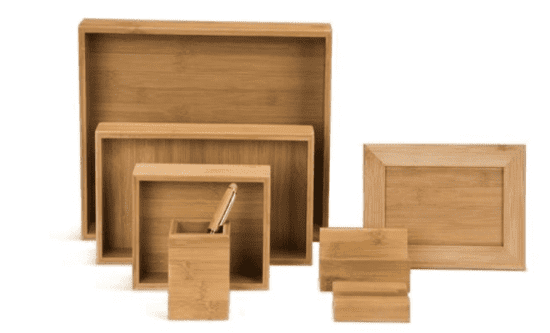 As the CEO of a brand new company, any new entrepreneur is expected to have an impressive office. With this complete bamboo desk organizer set, their entire desk and office will have a handsome and cohesive look. From various sizes of file holders to a matching pen holder that comes with a cool pen, this set has everything a new business owner needs to make sure their office is in order.
Create a Cool Sign for Their Business
Every business needs an eye-catching sign! Why not surprise the entrepreneur with a custom, one-of-a-kind wooden sign that they won't find anywhere else? This unique art deco sign will give an elegant and modern feel to any new business whether it's displayed at the front of the building or hangs in the owner's window. You can customize all of the text on it so that you can include the name of the business or even the CEO's name!
Impressive Gifts for Business Owners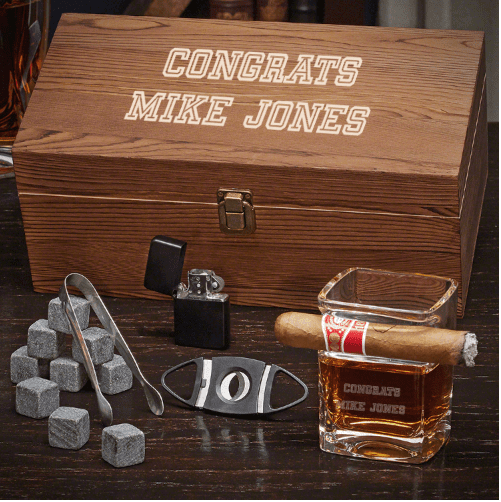 Show the successful entrepreneur in your life how proud you are of their business with this unique whiskey and cigar gift set! Perfect for celebrating a great first year of business or to give them on their opening day, this set is all about toasting to the occasion with a stogie and a glass of whiskey. That's not even the best part! You get to customize the two lines of text on the gift box and the awesome glass so that you're giving them a one-of-a-kind, creative gift unlike anything else they've received.
517+ AMAZING GIFT SETS ENTREPRENEURS WILL LOVE>
Every Entrepreneur Needs a Quality Keyboard
Most business owners spend a great deal of time on a computer every day, which means they need a quality, dependable mechanical keyboard! This incredibly unique mechanical keyboard is wireless and has an incredible battery life too. Thanks to your thoughtful tech gift, they have a dependable keyboard and mouse that will allow them to conduct everyday business from their computer with ease whether it's a PC or a tablet!
The Gift that All Entrepreneurs Want
Gifts for business owners don't always have to be about their work, they can be for their down time too! For the busy entrepreneurs who don't always have time to spend a few hours on the golf course, this awesome portable putting set will make sure their skills stay sharp. This set is perfect for keeping at the office to enjoy on lunch, taking with them on business trips, or even at home! Any entrepreneur who enjoys golf would love to get this set for Boss's Day, the anniversary of their company, or even for the holidays.
Stunning Decanter Set to Give Their Office a Touch of Luxury
Whether they need a stunning set of glassware to display in their office at work or you want to get them a nice gift to have at home as a reminder of their success, this spectacular decanter set is perfect! No matter what type of liquor they prefer, it will look absolutely stunning in this gorgeous decanter set thanks to the unique curves that illuminate the spirit inside. When they want to have a drink with their spouse to celebrate a new success or the anniversary of the company, this set will be the first thing they reach for.
Reusable Notebook Bundle that Lasts Forever
Yes, you read that right. These notebooks are reusable and are one of the coolest and most practical gifts for entrepreneurs! Once they've filled the pages and need more space, all they need to do to erase them is to apply a drop of water and the words will disappear so that they can keep jotting down notes as many times as they want. Each notebook comes with a special pen that allows them to reuse the notebooks forever! Whether they use them for daily reminders, planning their schedules, or new ideas, they'll never want to go back to using regular notebooks again.
Classy Wine Decanter Set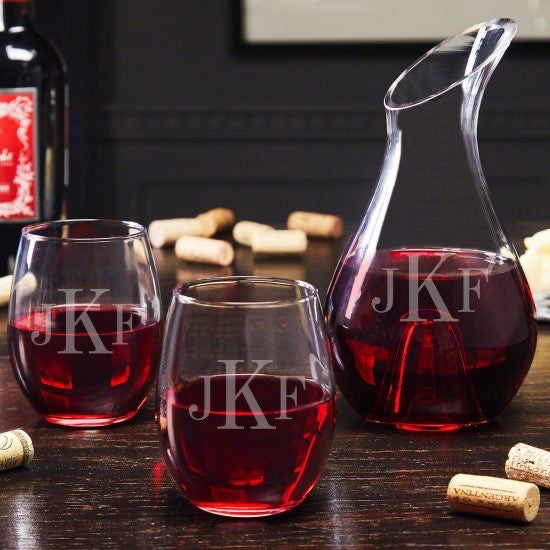 Make sure that the aspiring business owner you know has everything they need to enjoy a well-deserved glass of red wine after a long day with this lovely monogrammed wine decanter set! They will love how much better their favorite Cabernet tastes after being decanted, and the stemless glasses are perfect for enjoying all types of red wine. This set will even look stunning on display in their office, adding a classy touch that instantly makes them look more impressive.
An Impressive Gift Set They'll Never Forget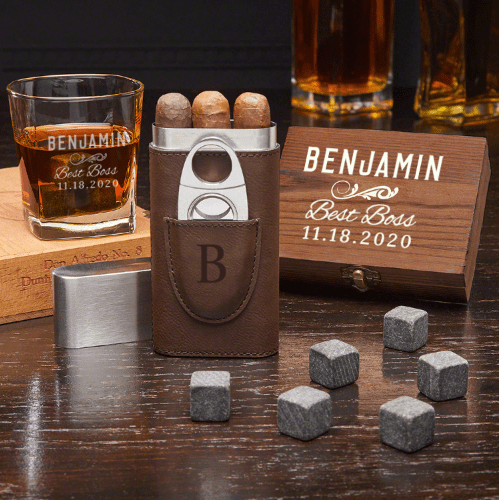 One of the best gifts for business owners is this awesome cigar and whiskey set! Perfect for Boss's Day, their birthday, or grand opening, this set is ideal for relaxing with a refreshing bourbon and a stogie after a long day. The fact that you customized the entire set will show them just how proud and appreciative you are of their hard work, and they'll want to enjoy a cigar with you using this set right away to thank you for such an awesome gift.
The Perfect Office Chair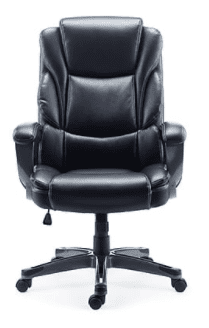 Whether they spend most of their time in the office or not, every entrepreneur needs a good desk chair! This handsome leather chair is not only impressive when they're sitting in it, but it's also super comfortable! With lumbar support, adjustable tilt, and an extra cushioned seat, they will never want to get out of this chair.
Worldly Gifts for Entrepreneurs
As soon as you give the business owner this incredible globe decanter set, all they'll be able to say is "Wow!" This stunning etched decanter set will become their new favorite centerpiece to display in the office, and it will definitely be the first thing they reach for when they get a big client or close a major deal so that they can celebrate with a drink in style. Perfect for keeping on the coffee table in their office or on a shelf behind their desk, this eye-catching decanter set will instantly make any entrepreneur feel like a luxurious and powerful CEO you see in movies.
Every New Company Needs a Sign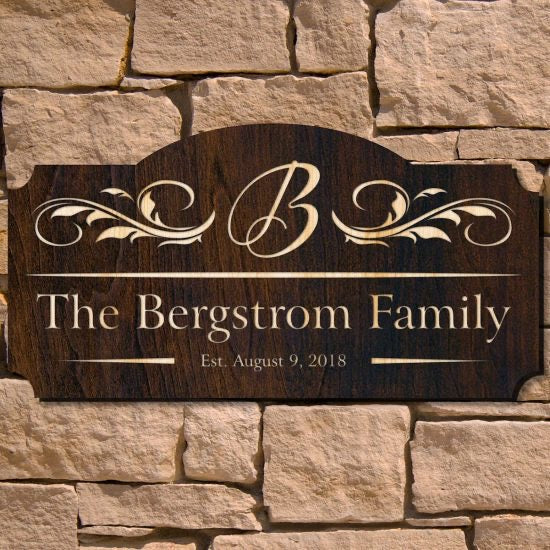 One of the most thoughtful gifts for business owners is a custom sign with their company name on it that they can display for all to see. This beautiful stained wood sign is perfect for displaying in any type of company's font window or in the owner's office. You can customize all of the text on the sign so that it's entirely unique to the company, making it a one-of-a-kind decoration that the owner will treasure forever.
319+ UNIQUE SIGNS FOR THEIR BUSINESS>
Everyone Loves a Gift Basket Full of Treats
Are you stuck on what to get the entrepreneur in your life as a gift? You can't go wrong with this amazing gift basket! Full of many different types of sweet and savory snacks and treats, this lovely gift basket is a great way to congratulate a business owner on a great quarter, their anniversary, or for the holidays.
A Unique Gift Set Unlike Any Other
Any entrepreneur who enjoys playing golf will be absolutely amazed when they receive such a cool gift set like this one! From the cool divot tool to the 2-in-1 cigar holding whiskey glass, every item in this set is perfect for a business owner to enjoy on their down time. Just make sure to include a couple of their favorite stogies in the cigar case so that they can light one up as soon as you give them the set for their birthday or anniversary!
A Unique Piece of Decor for Their New Office
No matter what kind of company they're running, every business owner needs a sign with their name on it! This custom sign will look amazing wherever they display it in their office and they will love how you went to all of the effort to make it a unique piece just for them. Whether it says their name, the company's name, or both, this lovely wood sign is one of the most thoughtful gifts for entrepreneurs.
Must-Have Briefcase
What is a business owner without a briefcase? An unprepared one! Make sure the entrepreneur you know has a reliable place to keep all of their proposals and important documents by giving them a briefcase as a gift! This handsome black leather briefcase has tons of handy pockets inside to keep everything organized and secure, and it even has locks on it and an ID tag so that even if it gets lost that it can never be broken into. Thanks to your awesome gift, they'll be dressed to impress all potential clients!
The Best Gifts for Entrepreneurs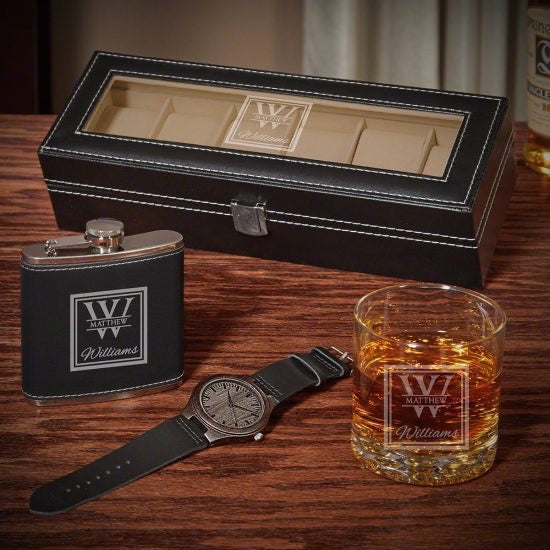 Speaking of being dressed to impress, one of the most important accessories to have as a successful entrepreneur is a reliable watch. Luckily, this unique gift set comes with a cool wooden watch and additional gifts for business owners that make sure they're prepared for anything! The handsome watch case will allow them to find the watch they want to wear every day with ease. When they get home, take off their watch, and settle in for the evening the first thing they'll grab is their new custom rocks glass. On the go, the matching flask is sure to come in handy when they're hanging out with friends or need a sip of liquid courage!