21 Incredible Gift Ideas for Couples
We all have couples in our lives, whether they are older family members or younger friends, who we adore. Oftentimes, you want to buy the couple a gift that they both will enjoy rather than buying two separate gifts. Anniversaries and weddings are two popular occasions for these kinds of gifts. The best gifts for couples, young or old, will help them reminisce about the times they've spent together. They will also make their time together in the future even better by providing them something they can do together. These gift ideas for couples will give you plenty of ideas for any couple you are shopping for.
Whiskey Gift Ideas for Couples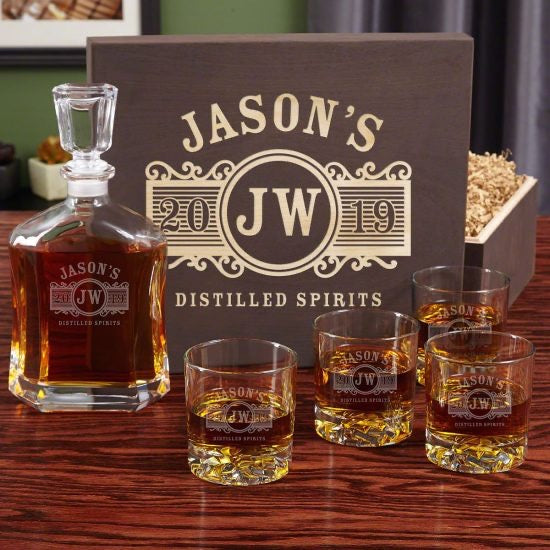 Every couple that is a fan of whiskey needs their own whiskey glassware set. The two love each other and love spending time together, so they want to share their favorite drink together in the best way possible with the nicest glassware. This gift is great for newlyweds, but it also makes a fantastic anniversary gift idea for couples. They'll love pouring their favorite whiskey into their new glasses and relaxing on the front porch, talking and laughing, reminiscing about their relationship.
Chill Their Wine
Beautiful housewarming items make terrific gift ideas for couples. A gorgeous yet useful gift is this marble wine chiller. This stunning, sleek black chiller will look fantastic sitting on their kitchen table as they enjoy dinner and wine together. All the couple has to do is place the chiller in the freezer for an hour or two and then put their wine bottle inside it. Then their wine will stay nice and cold for hours, and all their guests will be jealous of this beautiful gift.
One-of-a-Kind Gift Idea for Couples
The happy couple loves uncommon bar accessories, and you want to add their favorite one yet as a gift. This spigot decanter is an extremely unique item that all of their friends will be very impressed with. They'll love spending time together with close friends, all drinking whiskey and making memories that will last a lifetime. The two will be really glad you got them this gift that provides them a great way to serve whiskey.
Commemorate their Love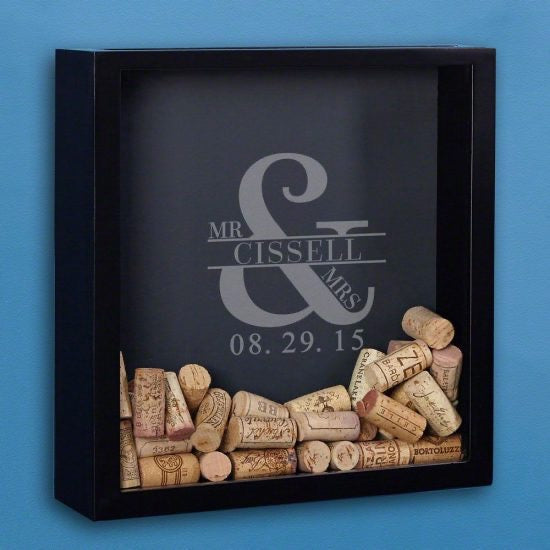 Their wedding day is a day that they'll cherish forever. You want to buy them a gift that reminds them of their special day whenever they see it. This wine cork shadow box is a fantastic gift idea for couples. Its engraving will always remind them of their precious wedding day. This black-framed box can hold wine corks from bottles they share together as a way to collect mementos from their time together. They'll love hanging this up on their wall, filled with corks that represent so many memories.
Wine Decanter for Couples
Statement decor pieces can make or break a home's decor, so it's important to have only the most beautiful items on display. The couple in your life will go crazy for this breathtaking wine decanter. The unique shape of this decanter will stand out from across the room, and all their guests will be in absolute awe. The stopper will ensure that their wine stays fresh for longer inside. They'll love this functional and stunning wine accessory and want to stare at it all day long.
163+ GIFTS ALL WINE LOVERS NEED>
Breakfast Food Forever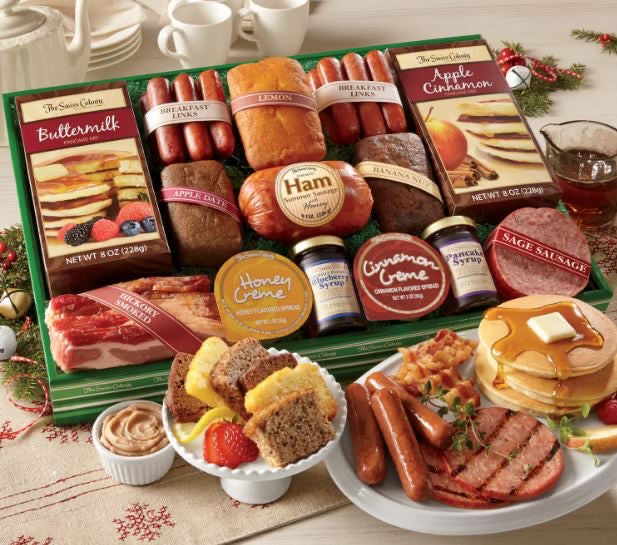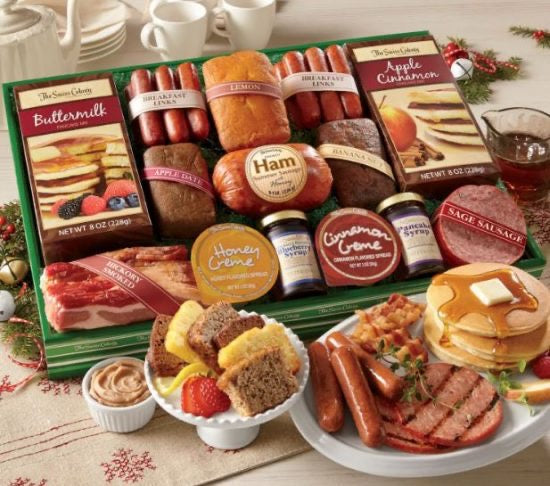 Leslie Knope from the show Parks and Recreation said it best when she said, "Why would anybody ever eat anything besides breakfast food?" Any couple you gift this scrumptious gift to will definitely love it! This gourmet breakfast assortment includes several delicious foods such as pancake mix, maple ham links, hickory smoked bacon, multiple flavored maple syrups, and more delectable breakfast foods. You'll want to buy one of these sets for yourself after the couple talks about how amazing it was to eat!
Wine Box Gift Set for Couples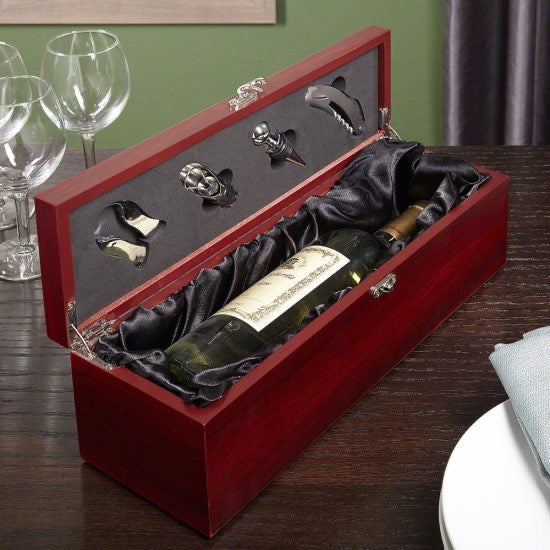 Enjoying a bottle of wine together is a special experience for couples, and the couple in your life is no exception. Help them enjoy this great time with a bottle of their favorite wine gifted in this amazing gift box. This gorgeous red box is lined with cushioned satin, so a standard 750 ml bottle will fit snugly inside. Inside the lid are four tools that are necessities when it comes to enjoying wine. This is a fantastic wine gift idea for couples, and the special one in your life will be very grateful for this beautiful set.
Around the World Bar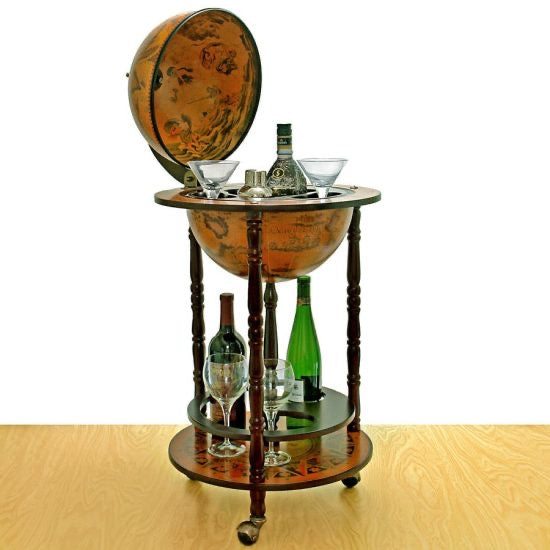 The couple you are buying for really loves hosting get-togethers at their home and serving delicious drinks. This awesome 16th-century Italian globe replica is a small bar cart that their guests will get a kick out of. It moves around on wheels for easy transport around the house, making it very convenient to store drinks and glasses on. Whenever they have guests over, they'll stock this cart with their favorite drinks, easily accessible to their friends. They'll absolutely love receiving this bar cart as a gift.
Drink Whiskey Together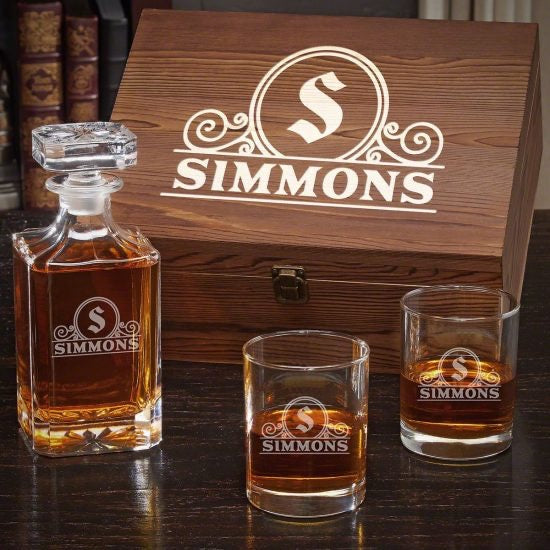 The best gift ideas for couples who recently wed are those gifts that bring them together. This is a perfect gift that the bride and groom can enjoy together. This whiskey decanter set is the perfect gift for them. They love drinking whiskey together, so they'll love receiving this phenomenal gift set. They'll share so many fantastic memories in the future when they're drinking their favorite whiskey.
Beauty in the Kitchen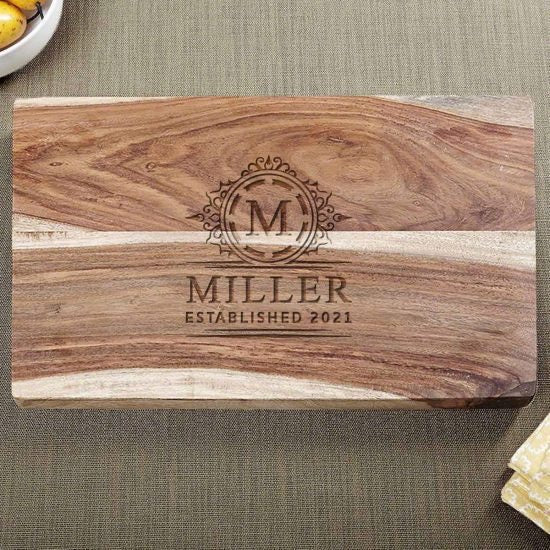 Couples who cook together stay together, right? This handsome cutting board is the perfect gift for the married couple in your life as a wedding or anniversary gift. They'll love using it in the kitchen to chop vegetables or slice meat on. Even when the couple isn't cooking, they'll want this board displayed in their home somehow. You can't go wrong with this stunning gift.
Good-Smelling Anniversary Gift Idea for Couples
The smell of a space can improve the vibe so much, and a great way to make a room smell fantastic is an aroma diffuser. For the young newlywed couple in your life, buy this wooden aroma diffuser for their new home. All they need to do is add a couple drops of water and their preferred essential oil, and the whole room smells great and makes everyone feel more at home and relaxed. This diffuser is also extremely attractive, so everyone will be jealous of how cool it looks.
Chilled Wine for the Happy Couple
Life's too short to consume your chilled wine at room temperature, so don't allow the couple in your life to have to suffer through that. These stainless steel, stemless wine glasses will ensure that their Chardonnay stays cold for hours, and they'll look awesome drinking it, too. These unconventional glasses come with a corkscrew as well, so they'll be able to pop open a bottle of their favorite chilled wines whenever they want. They'll absolutely love this ingenious gift idea for couples.
A Sign of Love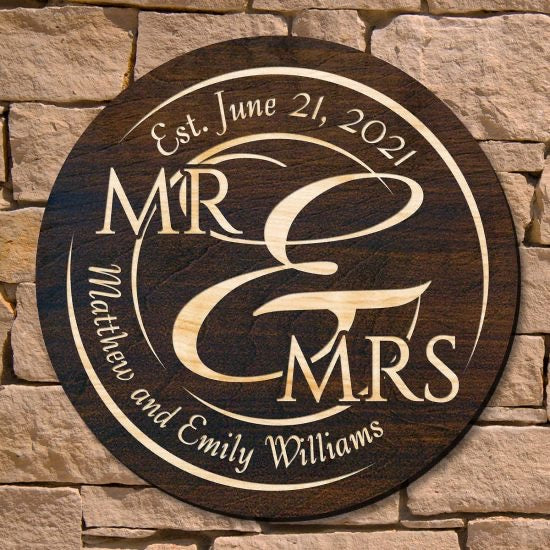 Love is an amazing thing that deserves to be celebrated. Help an amazing couple in your life celebrate their love with this wooden sign. This sign is a perfect circle too, making it a beautiful sign that will stand out across the room to their guests. You can have it customized with their names and their wedding date so they'll have a beautiful sign to commemorate the big day. This sign is a great anniversary gift idea for couples.
Do Not Pass Go
When you truly love the person you are with, every day is a fun adventure. Help a couple you know have even more fun with a really cool gift: Beeropoly. A beer enthusiast's version of the game Monopoly, this ultra fun game consists of doing silly things like dancing, rhyming, and of course, drinking! The couple that receives this game will create hours and hours of fun memories that will last them a lifetime.
303+ TOTALLY AWESOME BEER GIFTS FOR MEN>
Gift Idea for Couples Who Want to See the World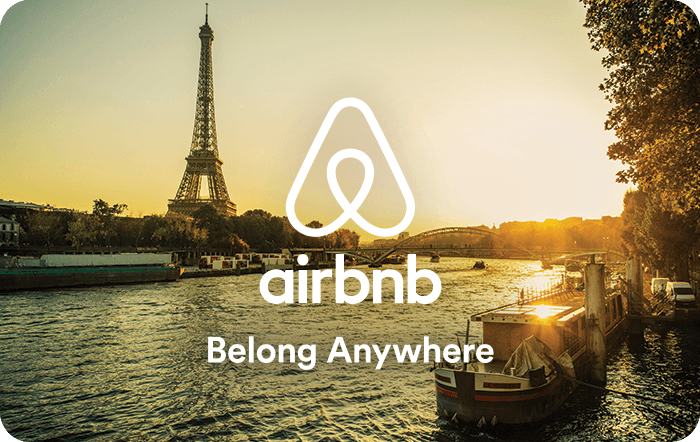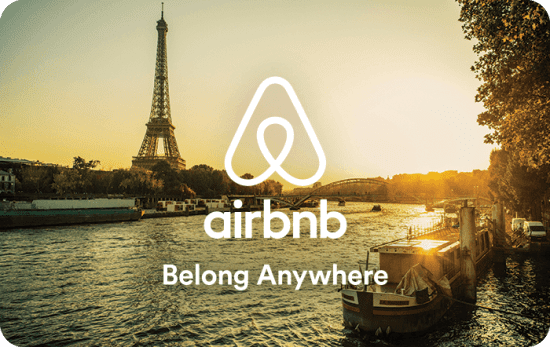 One of the greatest joys in life is going on a trip with your favorite person. As an amazing gift, buy the awesome couple in your life an Airbnb gift card. Airbnb is an online marketplace for finding a place to lodge during a trip. Help lighten the expense for the couple while allowing them to stay in an awesome house while they're on vacation with this gift card. They'll be so grateful to you for the fun opportunity to get away and enjoy each other's company on an exciting trip.
Beer All Around the Map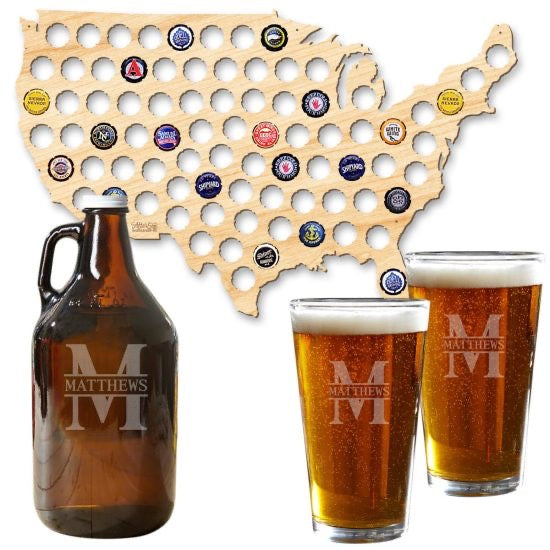 This gift set is the absolute perfect gift for that beer-loving couple in your life. They not only love drinking beer, but they love talking about the different kinds they've tried. This beer cap map is a great way for them to show off their favorite beers to the world. This map contains many slots where the couple can easily insert the caps to their favorite beers. The included growler is a great way for them to transport beer from the brewery as well as on a camping or other kind of trips. They'll love pouring their beer into these two awesome pint glasses and toasting to a long and happy marriage.
Around the Globe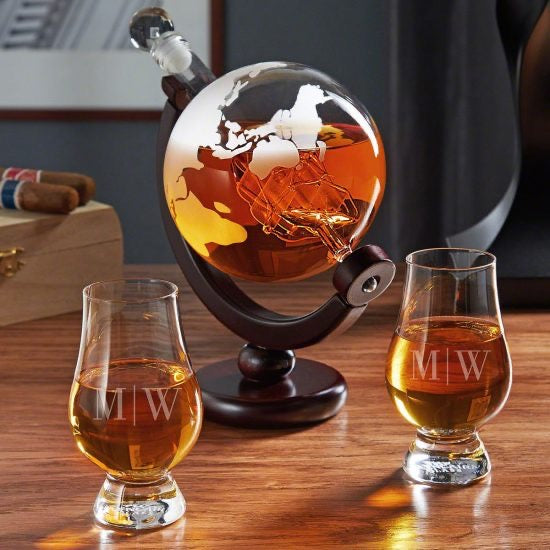 This anniversary gift idea for couples is one that they'll love displaying for all the WORLD to see. This globe decanter set will look incredible sitting on their home bar, filled to the top with their favorite whiskey or other liquor, keeping it fresh inside. They can use these Glencairn glasses to lightly sip their liquor, fully appreciating the rich flavors. They'll love drinking their favorite liquor together while they look at their awesome decanter.
Gift Idea for Couples Who Cook
Newlywed couples need sharp knives for their food-preparing needs. This cutlery set and block is a great, high-quality knife set that the couple will feel lucky to have. These knives are crafted from titanium meaning they are extremely durable, sharp, and will last them years in the kitchen. Eleven knives are included in the set, comprised of different shapes and sizes to accommodate the couple in your life. They will feel like master butchers when they're using these knives to cut meat, vegetables, and any other foods in the kitchen.
All Beer, All the Time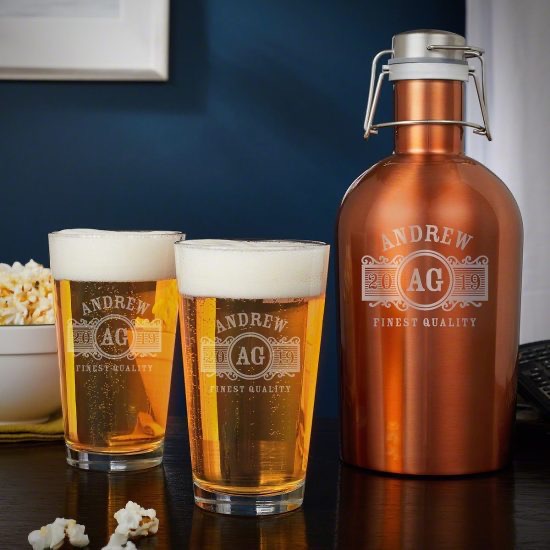 Everyone knows how much your parents like beer, and it's their anniversary. Buy them the greatest beer gift they could imagine: this pint glass set. The growler is crafted from stainless steel with copper plating, so beer inside can stay cold for up to 24 hours. That's right, an entire DAY of ice cold brew for your parents. The two pint glasses are extremely classy and modern, and your mother and father will greatly enjoy drinking their chilled beer in these glasses.
Life's a Picnic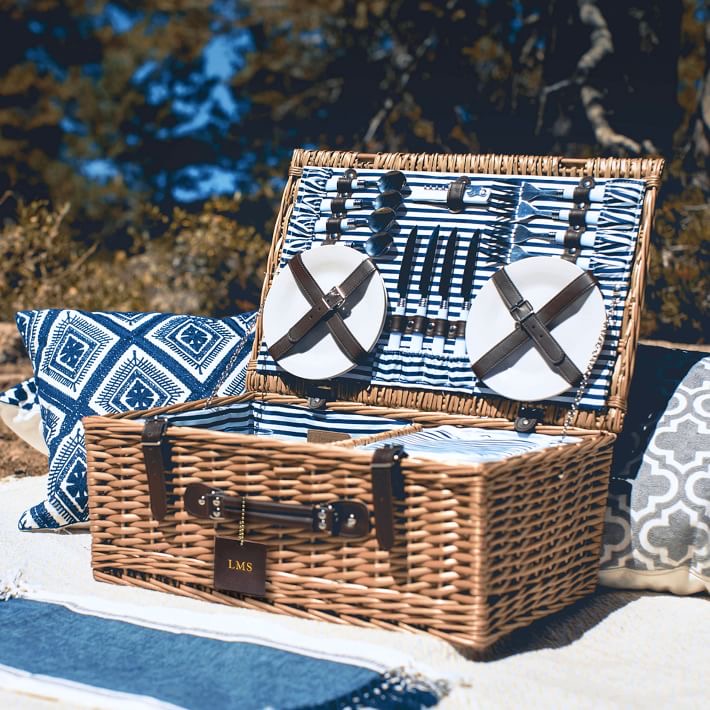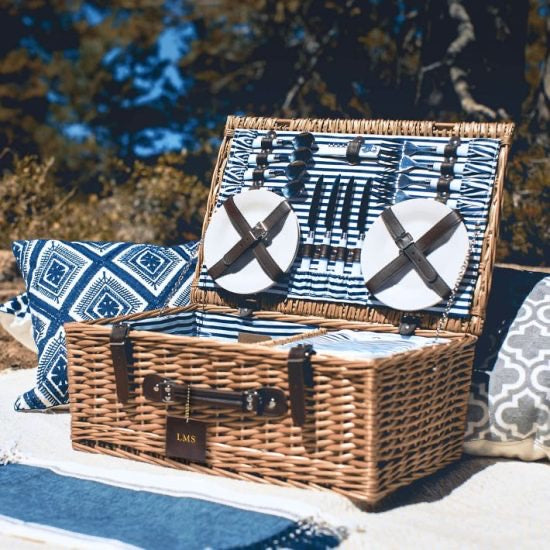 Going on a picnic is a timeless activity that couples have been enjoying for hundreds of years. A great anniversary gift idea for a couple you know is this picnic gift set. This set has all the tools they need to go on an amazing picnic in the park, by the lake, or wherever else they go. Plates, silverware, wine glasses, and more come inside this lovely wicker basket that has a clasp and convenient carrying handles. The couple will make so many lovely memories with this set, and they'll think of you every time they do. 
Beautiful Welcome Sign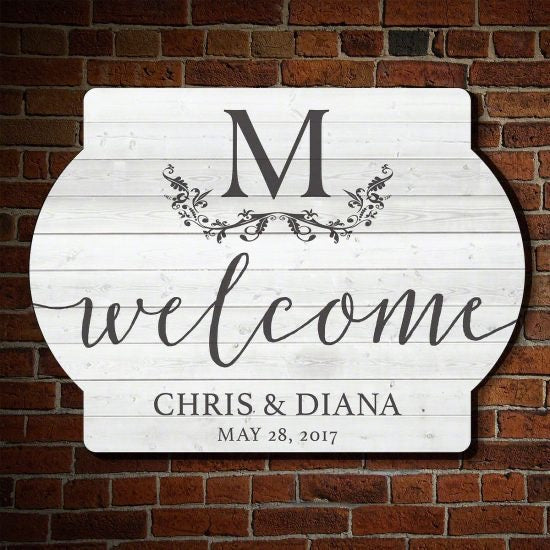 A couple in your life recently married, and now they're beginning their lives together. Buy them a wedding sign that they can hang in their place of residence that will welcome all their guests to their happy home. All the couple's guests will stand in awe when they see this beautiful sign and will immediately feel welcome and happy. The couple will be very grateful to you for gifting them something so lovely.
305+ INCREDIBLE GIFT IDEAS FOR COUPLES>