Like most people, your dad is your hero, and you know that he deserves only the best gifts when his birthday or Father's Day comes around. A good gift for dad shows him just how much you love and appreciate him by being something personalized, a present that's practical and can be used for years, or even a gift that will make an everyday task or a hobby easier. Dads appreciate gifts that are useful, but they often say they don't need or want anything when you ask them. Sometimes you have to think outside the box to find the right dad gift: What are his favorite hobbies? Do any of his tools or gadgets need an upgrade? Is there something he's always talked about wanting but has never gotten around to actually buying it? Keep these questions in mind as you look through our amazing gifts for dad, you're sure to find the perfect one!
The Classiest Gift for Dad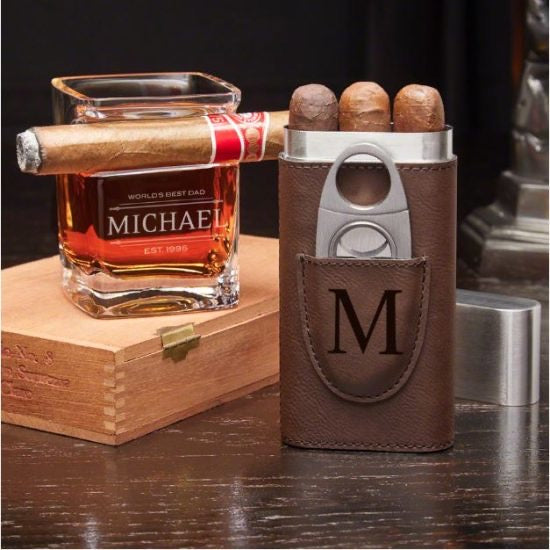 Whether he only treats himself to them on special occasions or regularly enjoys the perfect pairing, he will love this awesome cigar and whiskey set! He will be in awe of the personalized cigar-holding whiskey glass that allows him to puff and sip with one hand while using the other to flip through TV channels on the remote. He'll certainly enjoy having a sturdy cigar case to keep his stogies safe and fresh in between smokes, and the fact that it comes with a cigar cutter is the cherry on top of this classy duo!
The Best Dad Gift
Bigger is always better, and in this case it's especially true! This giant beer mug holds an entire liter of beer so that your Pops can kick back in his favorite chair and relax with enough beer to get through the football game on TV until halftime. He will definitely get a kick out of how comically large this awesome beer mug is, but once he tries it out he won't want to drink straight from the can ever again! Perfect for Father's Day or his birthday, make sure you pick up his favorite beer before you give him this amazing gift for dad.
The Coolest New Sign for His Home Bar
Does your dad have an amazing home bar or plans to have one someday? Then he needs this custom bar sign to make it official! The regal lion and striking pops of color in this unique art make it the perfect centerpiece for his home bar. He will especially appreciate all of the effort and creativity you put into this custom sign to make it a one-of-a-kind gift just for him. Once his friends see his new sign, they'll all want one of their own because it's so awesome!
Unique Gift for Dad He'll Never Forget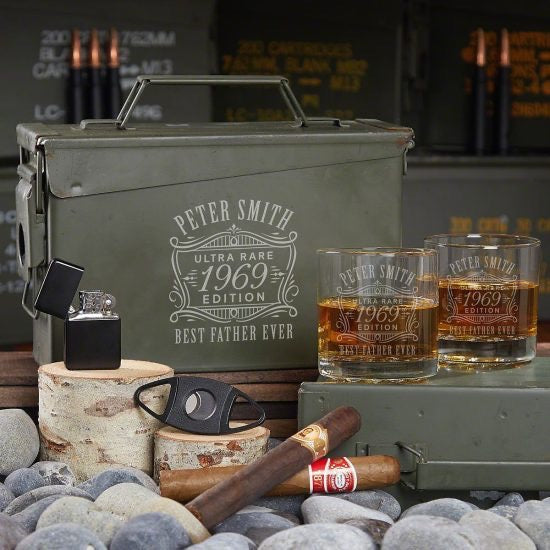 Your dad will be speechless when you give him this incredibly cool whiskey ammo can set! He will feel like James Bond as he sips his whiskey from the custom glasses and enjoys a stogie with the cigar accessories. Best of all, he will love using the personalized ammo can to fill up with his trusty tools, gear, or supplies so that he can bring his essentials along when he goes camping or fishing. Such an amazing dad gift is ideal for his birthday or retirement!
Gifts You Can Share With Dad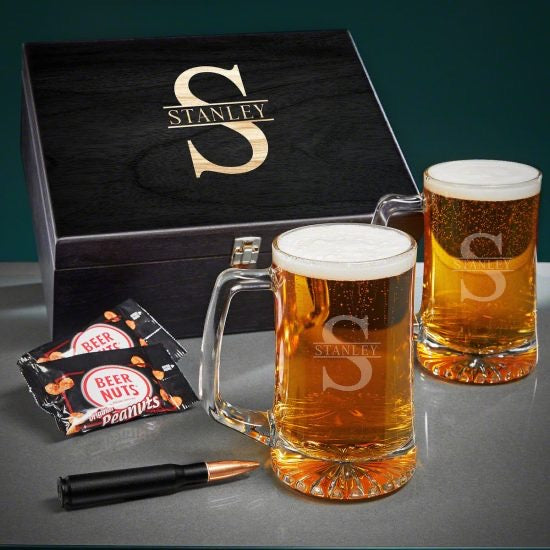 One of the most thoughtful gifts you can give your dad is something you two can share together, like this beer mug set! You and your dad can enjoy a couple of cold ones and some tasty beer nuts together thanks to this gift set. He will love having a set of bar-quality mugs in his own home to enjoy his favorite brews the right way. Especially since he can use them to have a drink with you whenever you come to visit.
The Ultimate Golf Accessory
Help keep his score as low as possible on the green with this handy range finder! Easy to clip onto his cap, shirt, or even his golf bag, this nifty gadget will make sure that he knows exactly how far his swing should go to make it to the center of the green. To use it, all he needs to do is tap the button and it will tell him how far away he is from the next hole. Thanks to your amazing gift, he'll be a better golfer than ever!
Must-Have Gift for Dad
Your dad appreciates a good glass of whiskey now and then, but he deserves to treat himself to a quality drink whenever he likes! With this essential whiskey gift set, every drink he has in his new custom glasses along with a couple of the whiskey stones will taste top-shelf. From a classic Jack and Coke to a more complex Whiskey Sour, you and your dad can toast to his birthday, Father's Day, or his retirement using this set as soon as you give it to him!
Upgrade His Poker Game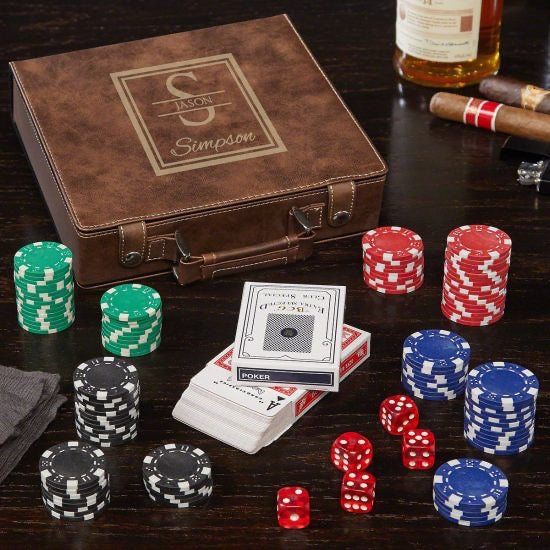 Remember the very first time your dad taught you how to play poker? Bring back those fun memories by giving him a brand new poker set! He will love that the handsome leather case is personalized just for him and that the entire set is easily portable so that he can take it to his buddy's house or even your house for a classic game of Texas Hold 'Em. Plus, now he can pass down his old poker set to you since he has this fancy new set!
A Dad Gift Unlike Any Other
For as long as you can remember, your dad's home bar has been referred to as "The 19th Hole" by him and his golfing buddies because they always come over for drinks after a round of golf. With this unique sign, you can make it official! Your dad will get a kick out of the fun design and will be so excited to hang it up so that he can invite his golfing buddies over to have a drink in his official 19th Hole bar.
Dad's New Favorite Beer Glass
How cool is this custom beer stein? Your dad will love how this unique stein looks like it's straight out of an antique store in Germany because of its traditional style even though it's brand new. The vintage-style design adds to its traditional style and your dad will love that it's customized just for him, but his favorite part about this stein will be using it for drinking his beer because it tastes better in the stein than in the original bottle!
His BBQ Will Be Next Level with These Spices
Once dad opens up this incredible box set of BBQ sauces and meat rubs, he'll want to try them out right away! These gourmet sauces will make his famous steaks and delicious burgers next-level good. He will love trying out each jar and experimenting with flavors to create delicious new dishes that he can share with the whole family.
Every Dad Needs a Flask
Whether he's out at the lake with his friends or on a camping trip with you, your dad could definitely use a drink as he relaxes. Make sure he's prepared on any trip he goes on with his very own flask! This suave set even comes with shot glasses that he can use to pour shots for his friends to enjoy a drink as well. He'll love being able to take a few ounces of his favorite spirit anywhere thanks to your generous gift!
The Coolest Way to Store His Cigars
You know your dad enjoys the occasional stogie, but he's always talked about wanting to have his own humidor someday so that he can keep a few on hand rather than only enjoying them on special occasions. So, why not buy him a cigar humidor for Christmas or his birthday? This ammo can humidor is a handcrafted, uniquely personalized humidor that will keep his stogies fresh and secured in the coolest way. He can even take them to his buddy's house or along with him on his next cross-country road trip as the ammo can is easily portable!
The Coolest Gift for Dad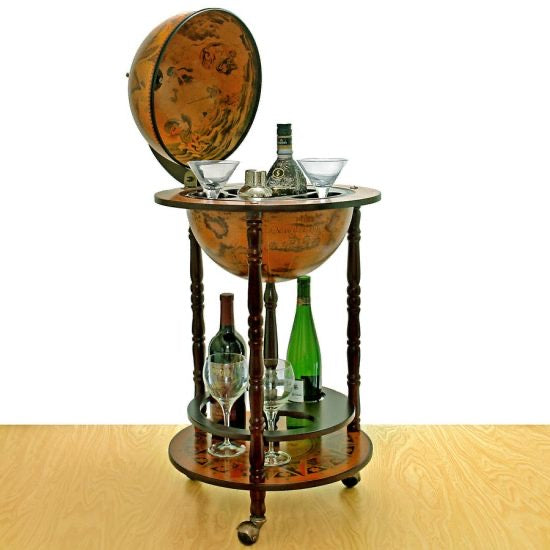 What dad wouldn't want a bar cart that's disguised as a luxurious antique globe? This incredible bar cart will be your dad's new favorite piece of furniture for sure! Whether he keeps it in the man cave, dining room, office, or changes up the location based on where the party's at, this globe bar cart adds a touch of class to any room it's in. He will love surprising guests with the hidden bar tools and liquor inside the globe and how it makes him feel like a cool, fancy, and rich man.
For the Dad Who Cooks
Is your dad's cutting board looking a little worse for wear? After all, he's been using it for a while so it is likely full of nicks, stains, and maybe even missing a few pieces. Every chef needs his prep surface, and he deserves a sturdy cutting board like this handsome personalized acacia board. On its own, this cutting board is a great dad gift but if you pair it with a new set of knives or a matching cheese board, you've got a complete set of awesome gifts he'll love to get for Father's Day or his birthday.
The Ultimate Set of Tools Every Dad Wants
Any dad who enjoys Marvel will be over the moon for this Thor toolset! With the mystical hammer as the toolbox, this amazing gift for dad will be his new favorite toolset to use around the house. Every time he picks up the toolbox that's shaped like Mjolnir he will feel as worthy as the Mighty Thor, God of Thunder, whether he needs a wrench to fix a leaky sink or the actual hammer to build your mom a new table.
The Best Gifts for Dad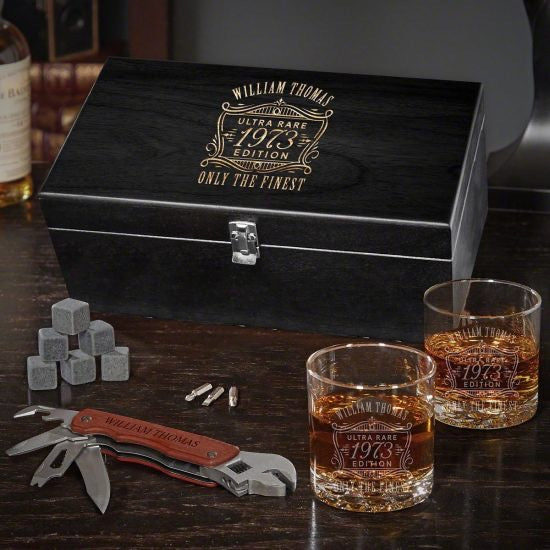 A good gift for dad doesn't get any better than this! From the unique design to the practical multi-tool, every part of this amazing set is awesome. Your dad will want to fill the custom glasses up with his favorite whiskey and chill it with a couple of the whiskey stones right away so that the two of you can share a drink together on his birthday or Father's Day.
A Thoughtful Gift from All of His Kids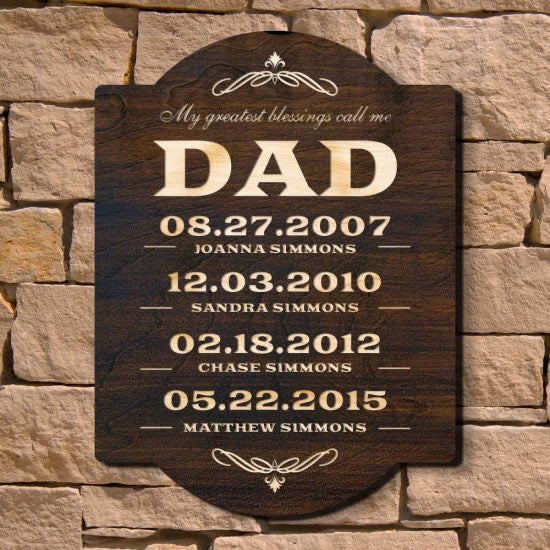 Looking for a dad gift that you and your siblings can give him together? This personalized sign of all of the kids' names and birthdays is perfect! He will proudly display this unique sign in his office, the kitchen, or even the living room for all to see. In fact, he'll be so touched by your thoughtful gift that he might shed a tear! This is one gift he will treasure for the rest of his life. When he has grandkids, you'll have to get him one of all of the grandchildren's names and birthdays too to go with it!
All the Practical Gifts in One Awesome Set
For as long as you can remember, your dad has always been the outdoorsy type and loves taking you and the rest of the family on adventures. You won't find a more awesome and outdoorsy gift that's as perfect for him as this ammo can set! Every piece in this set is great for bringing along when he goes camping, to the lake house, the hunting lodge, or even fishing. No matter what occasion you're giving him this set for, he will enjoy each and every item in this set for years to come.
Impressive Decanter Set for His Office
Show your father that you think he's the world's best dad by giving him this stunning decanter set to display in his office! He will be amazed by the luxurious crystal glassware, and he will especially love seeing his initials on every piece. This set will look impressive on display, and his boss will certainly appreciate using it when they celebrate a new deal or client!
A Quality Shave Kit
Whether he keeps an awesome beard at all times or just grows one around winter, your dad needs a proper shaving kit to take care of it! This complete kit from Gillette, a brand he knows well and loves, will ensure that his facial hair is always well-kept and looking its best. In fact, he'll enjoy this kit so much that he'll only want you to get him refills from now on as gifts! This way, you're getting him a gift that keeps on giving!
Unique Whiskey Glass Set
Treat your dad to a set of whiskey glasses that are unlike any other he's seen! This unique set of glasses and whiskey stones are perfect for his usual double bourbon on the rocks or his occasional Old Fashioned. The sculpted design fits snugly in his grip, but the thick glass makes sure that the heat from his palm doesn't warm up his chilled whiskey. Thanks to your gift he can finally enjoy a drink that won't be watered down or ruined by the wrong temperature!
The Best Way to Travel with Beer
What do you get a dad who drinks beer? A wooden beer caddy that lets him bring his favorite beers wherever he goes with ease! He'll never have to worry about accidentally breaking any of his beer bottles again even when he's on the boat, riding his Jeep through the mountains, or just hanging out at the lake thanks to this sturdy caddy. It even has a built-in bottle opener so that he has one less thing to remember to bring before he goes on his next adventure.
A Decanter Every Dad Wants
How awesome is this decanter? He'll feel like a million bucks as he enjoys a drink from this amazing piece, and he'll be sure to pour one for you as well as soon as he opens up your incredible gift for dad. The delicate glass-blown ship sailing through his favorite rum or whiskey is sure to be a conversation starter the next time he hosts a party, and all of his friends will want to know where he got such an impressive decanter. When he's not using it, this stunning decanter looks like a priceless work of art wherever he displays it!
For the Dad Who Enjoys Cigars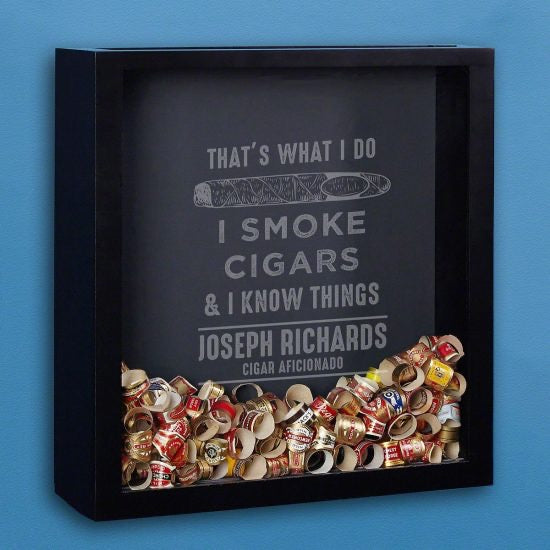 Instead of just getting your father a pack of his favorite stogies, you should step it up a notch and get him this custom shadow box as well so that he can show off the cigar bands he saves! This creative shadow box is a fun decorative piece to display as well as a unique way to store the cigar bands he saves from every stogie he has. He'll love watching his collection grow over the years!
A Smart Thermostat is the Perfect Gift for Dad
Like most dads, your father is very particular about the thermostat. By getting him an Ecobee Smart Thermostat, he can customize and control the temperature of the house like never before! He can adjust the thermostat from his phone whether he's on the couch or away on vacation with the family, rest easy knowing that its unique technology helps him save money on the utility bills, and customize the settings so that the house is just the right temperature when he comes home from work. There will be no more family meetings about the thermostat ever again, that's for sure!
Put His Gift in a Nice Box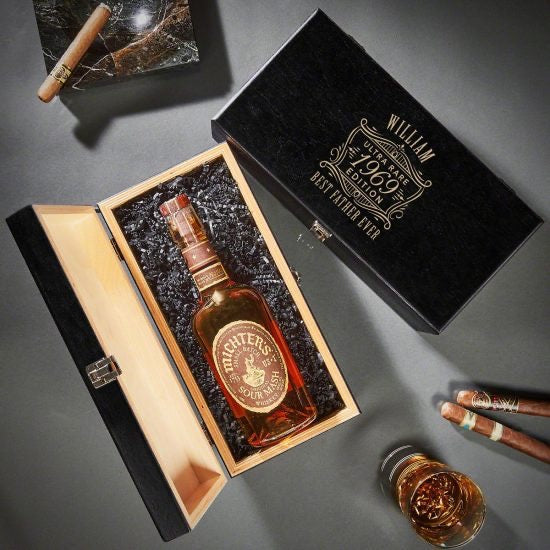 So you already got your dad a gift but it's missing something. Give it to him in this handsome personalized wooden gift box! Or, if you're still stumped on what to get him, you could get him a nice bottle of his favorite liquor and present it to him in the gift box. Either way, he will appreciate your thoughtfulness and creativity you put into making him such a cool and unique gift for dad.
Sophisticated Gifts for a Sophisticated Dad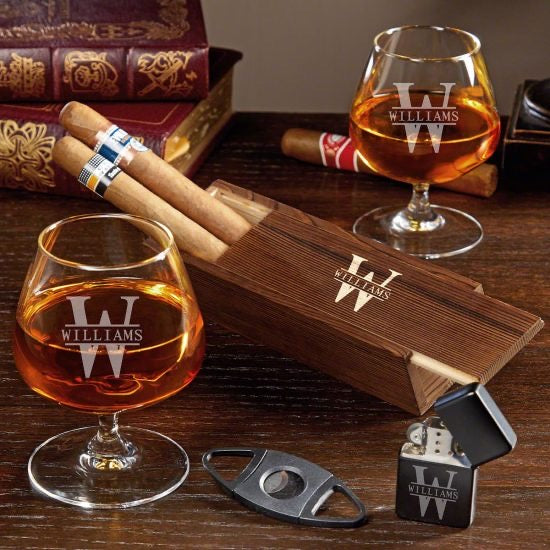 Treat your dad to a luxurious day of pampering on his special day, starting with this classy cognac gift set! He will love using his new cognac snifters and cigar accessories to enjoy a smooth glass of cognac and a fresh stogie as he sits back and relaxes in his favorite chair. He will feel like he's on cloud nine thanks to you, and will be sure to use your gift whenever he needs to relax from now on!
Keep His Golf Skills Sharp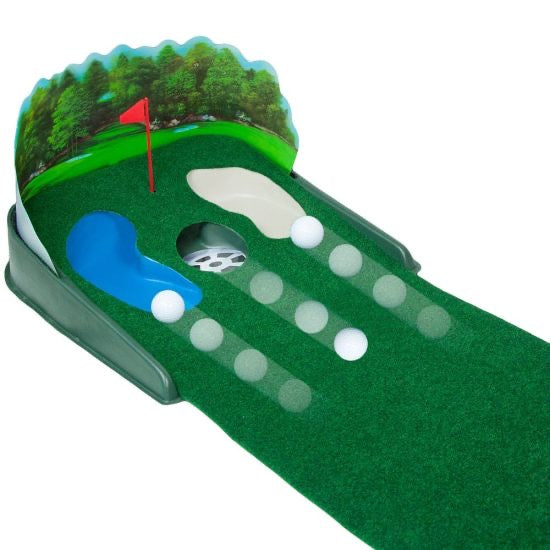 Your dad goes golfing as often as he can, but sometimes the weather or his schedule prevents him from doing so. Make sure that he can practice his skills whenever he likes by getting him an indoor putting green! This nifty gadget will even return his ball so that he can keep practicing swings and putts all through his lunch break or when he's stuck at home on a rainy day. Now when he actually gets to the green, he'll be as sharp as ever and will impress his friends with his finely honed skills! This thoughtful gift for dad is ideal for celebrating his retirement, Father's Day, or even Christmas!
For the Dad Who Likes Wine
Upgrade your dad's wine glasses with this unique tumbler set! Made of insulated, double-walled stainless steel, these nearly indestructible tumblers will give your dad a whole new wine experience. They'll make sure his fine Cabernet stays the perfect temperature even if he's forgotten about his drink halfway through the evening, and he'll never have to worry about accidentally dropping a wine glass ever again!
His Own LEGO Set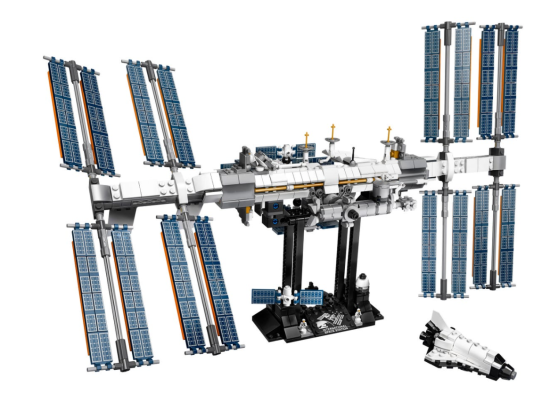 Remember all of those Christmas Days spent putting together your new LEGO set with your dad? It's time that he gets his own set to put together! Whether it's an impressive International Space Station or a cool Stormtrooper Helmet, he will feel like a kid again as he puts together his LEGO kit. He would definitely appreciate a helping hand, so make sure you stick around and help him organize the LEGOs so that he can put together his impressive creation. Once it's built, he'll be sure to display it with pride in his office!
A Place to Keep His Watches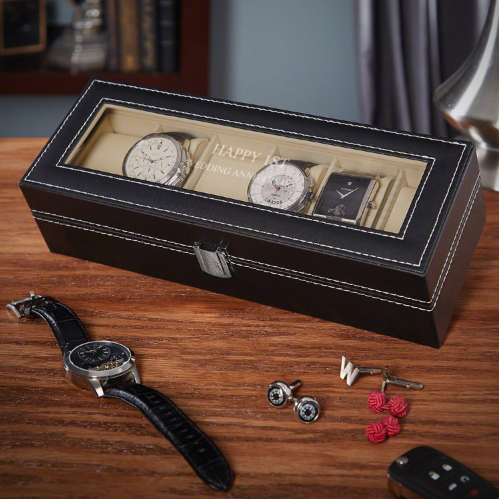 Now, you've probably given your dad a watch or two over the years. So has your mom, your brother, your aunt, and now he's got quite a few! Instead of getting him yet another watch, you should give him a watch case! He'll finally have a place to store his many timepieces instead of dealing with them cluttering his nightstand or the top of his dresser. Plus, he will be touched by the custom engraving you put on the glass!
The Best Decanter Set
When in doubt, your dad will never say no to a custom decanter set! It doesn't matter what his favorite liquor is, either, because any spirit will look magnificent in this beautiful decanter. He will especially enjoy using the custom glasses to enjoy his evening drink from, especially since he can share a drink with you or your mom! When he's not using the set, it will look classy on display whether he keeps it in the dining room, the home bar, or his office.