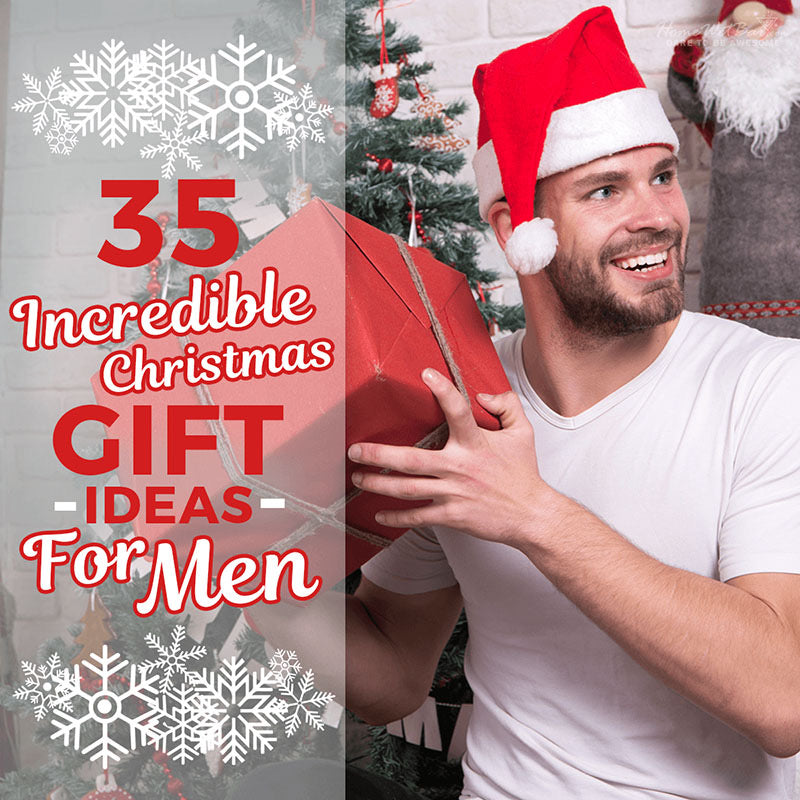 35 Incredible Christmas Gift Ideas for Men
The holiday season is here again and you're in search of great gifts for the men in your life, who are always hard to buy for. Your dad always says he doesn't need anything, your brother is really picky, and your boyfriend or husband can't figure out what they want. Still, you want to give them incredible Christmas presents that they'll all love. An incredible Christmas gift idea for men is a thoughtful item centered around their life passions such as monthly subscription boxes, the latest tech gadgets, and personalized products just for them. Those are the types of thoughtful gifts that make Christmas exceptional and memorable. Before you start shopping, you have some things to consider. Are there incredible Christmas gifts in every price range? Are there Christmas gift ideas for hard-to-shop-for men? What kind of gifts can they use year round? Don't worry, these 35 incredible Christmas gift ideas for men have plenty of options for all of the men in your life.
Whiskey Decanter Set Christmas Gift Ideas for Men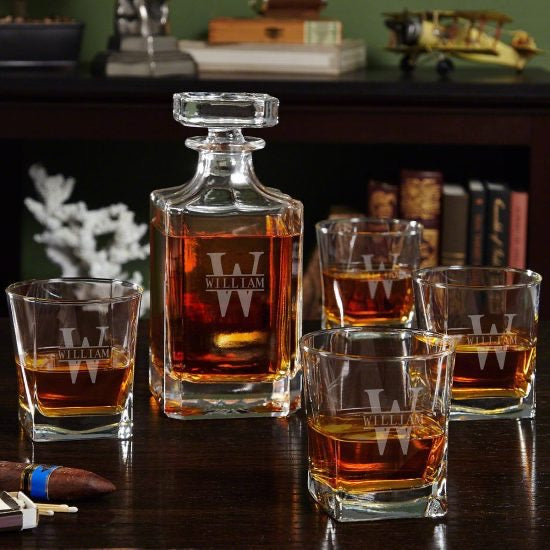 Looking for an incredible gift for a man who loves whiskey? This is the best whiskey decanter gift set. Included is a handsome decanter and four rocks glasses, all of which are engraved with his name and an initial. With this five piece set, all of his friends or family can have enjoy a glass of scotch or bourbon together. After a long day of playing in the snow or singing Christmas carols around the neighborhood, nothing is better than a glass of brandy to warm everyone up. This is the perfect gift for the dad or husband who loves whiskey.
Beer Christmas Gift Set for Beer Loving Men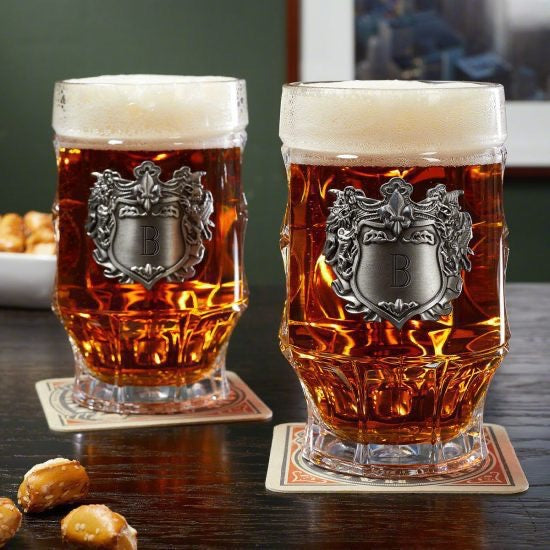 This awesome gift set is for the beer lovers out there. Included are four pint glasses and a copper beer growler. This set is one of the best Christmas gift ideas for men who are home brewers, like to travel and bring their beer with them, go to a lot of BYOB events, or just love beer. Each piece in this set is also engraved with a monogram to make this a thoughtful and personal gift. The pint glasses are great for entertaining, such as beer-tastings, parties, family gatherings, cookouts, and movie nights. The growler is the best part of this set, though. Made of double-walled, insulated stainless steel with a beautiful copper finish, this growler will hold 64 ounces of cold beer or hot chocolate to enjoy wherever he goes. This incredible beer gift set is the perfect Christmas gift for any man in your life.
Smoke Box System 
Does your dad or spouse enjoy fine liquor? Then he'll absolutely love this awesome drink smoker system. Now he can spice up his drinks with the fresh, smoky taste of many different kinds of wood. All he has to do is place his drink in the box, choose some wood chips, hook up the smoker, and his drink will have a whole new flavor. He'll want to use it right away, so make sure you include his favorite liquor as an extra Christmas present. This incredible gift is unlike any other and will improve any man's drinking experience. He can experiment with different kinds of rum, bourbon, scotch, or cognac and the included various wood chips. This is a fun and cool gift that dads will absolutely love getting this Christmas.
Ammo Can Gift Set for Christmas
Gift sets are always great Christmas presents, especially if they are themed around a guy's favorite things. This gift set has the whiskey and cigar lovers in mind, and includes a repurposed military ammunition can, two rocks glasses, a cigar cutter, and a flip-top lighter. This set is the perfect Christmas gift for men who are veterans, active military, cigar lovers, or whiskey aficionados. The ammo can is perfect for storing ammo, liquor bottles, camping gear, fish bait and tackle, and more. The new whiskey glasses are ideal for sharing a drink with you, his wife, or a friend. He can smoke his stogies with professional style thanks to the high quality cigar cutter and lighter, which are both easily portable. Toss in a couple of his favorite cigars and a bottle of whiskey and you've got a really incredible Christmas gift for him.
Oculus Go VR Headset Christmas Gift Idea for Men
Virtual reality is the latest in incredible technology that allows users to fully immerse themselves into movies, games, music, and more. The Oculus Go is the perfect Christmas gift idea for all men, and will make this holiday season the best yet. He can lose himself in his favorite TV show, play an awesome 3D game, explore space, and relax on a beautiful beach with guided meditation. The best part is that this VR set is easily portable so that he can take it anywhere he goes and share it with you, all of his friends, and everyone in the family.
Legendary Whiskey Set for a Legendary Man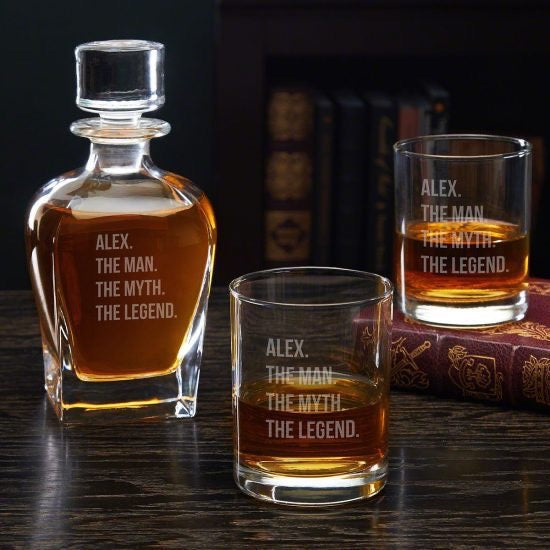 Nothing says "I think you're really awesome" this Christmas more than this incredible whiskey gift set for men. The set comes with a whiskey decanter and two rocks glasses that each are engraved with his name followed by "The Man. The Myth. The Legend." This set is the perfect gift for the most extraordinary man in your life, such as your husband or boyfriend. He'll want to keep it on display in his dining room, home bar, or home office. He can make a legendary toast and share a drink with you or a friend with the two awesome glasses that are included.
201+ WHISKEY DECANTERS MEN WILL LOVE>
Beer Making Kit Christmas Gift for Men
If the man you're shopping for is a beer lover and has always dreamed of making his own, this home beer making kit is the best Christmas gift you can give him. This kit has everything he needs to make one gallon of his own IPA. You can get him a new kit every following gift-giving occasion! He'll have so much fun creating his own concoctions and he might even want to start pursuing it as a new hobby. By next holiday season, he might have his own brewing room thanks to this incredible gift you gave him to get started. This is an awesome Christmas gift idea for men that is perfect for any beer loving man in your life.
Flask Set for the Holidays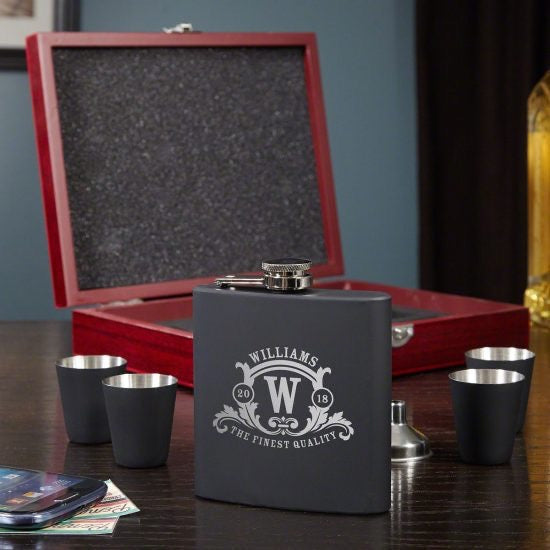 The holiday season is all about sharing, and this flask set is perfect for sharing a couple of shots with loved ones. Any man who enjoys having his favorite spirit on hand when he's out and about will love this great flask set. Liquor flasks are the best way to conveniently carry a few ounces of liquor to concerts, family gatherings, cookouts, hiking trips, and weddings. With the included 4 shot glasses, he can share some of his favorite liquor with friends or family members. The flask is even personalized with a handsome design that features his name, initial, a year, and phrase all of your choosing. Now he can have his favorite liquor with him wherever he goes and be able to share it with a few friends.
Cutting Board for Dad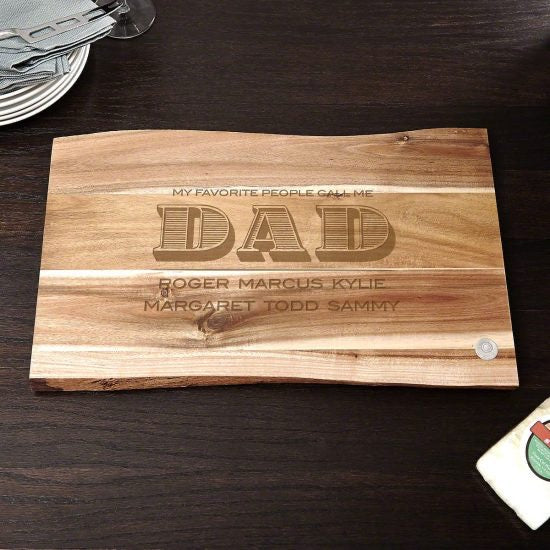 If you're looking for a unique Christmas gift for your dad, how about a cutting board? If he loves to cook, then this hardwood cutting board will be the perfect present. This cutting board is engraved with "My Favorite People Call Me Dad" followed by the names of his children. This is an incredibly sweet gift for your dad this holiday season that he'll treasure forever. It'll look fantastic in his kitchen and he can use it for anything from chopping to seasoning. Your mom will definitely appreciate having clean counters again! You and your siblings can pitch in all together and give this to him on Christmas as a group gift from all of you. Personalized gifts like this incredible cutting board is one of the best Christmas gifts for men because they show him how much you care through something he can treasure for years.
A Gift for Movie Nights
Everyone has a favorite holiday movie that they watch every year with their loved ones, like How The Grinch Stole Christmas, The Nightmare Before Christmas, or Frosty the Snowman. This year, give him this ultimate movie sign! This holiday season will feel like the best one yet when he is hanging out under his new gift while he is on the couch, watching holiday movies, drinking eggnog, and enjoying some Christmas cookies with this family!
Legendary Christmas Gift Ideas for Men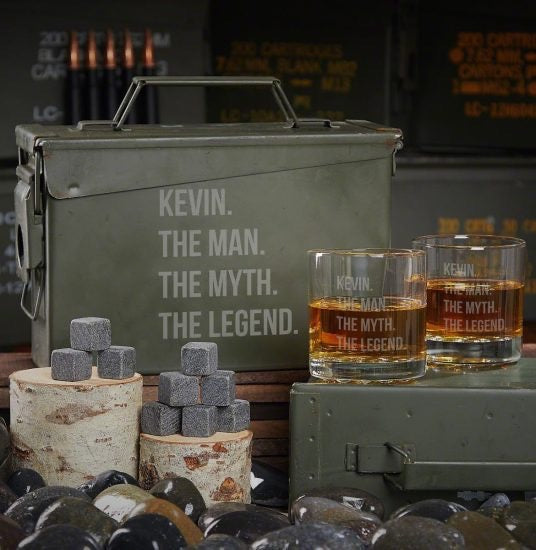 He's an absolute legend, and he deserves a Christmas gift that demonstrates that. This ammo can gift set is completely awesome, and he will love using the whiskey stones to make his favorite whiskeys stay ice cold in the glasses. On special occasions like Christmas, he'll love nothing more than spending time with his family while drinking his favorite whiskey. He won't be able to talk about anything else other than this amazing present for months on end.
Custom Neighborhood Bar Sign for Beer Lovers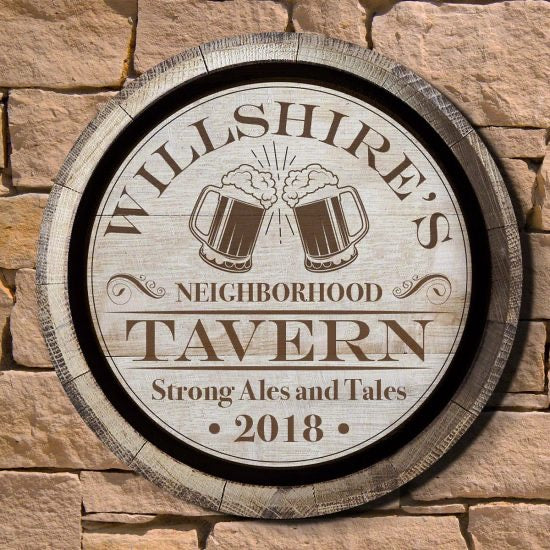 Is the man you're shopping for a beer lover who has always wanted his own home bar or already has one? Now you can make his dreams come true with this official sign. Designed to resemble a beer barrel, this sign is completely customizable. You can have it say his name, a year, and 2 lines of text. This sign will look awesome in his home bar, lounge area, or man cave. The classy design will go with anything in his home and give the room a more personal touch. This is also a fantastic gift for home brewers who want to make their hobby more official and aspire to make their own brand.
149+ MORE HOME BAR SIGNS FOR MEN>
Incredible Golf Tracking System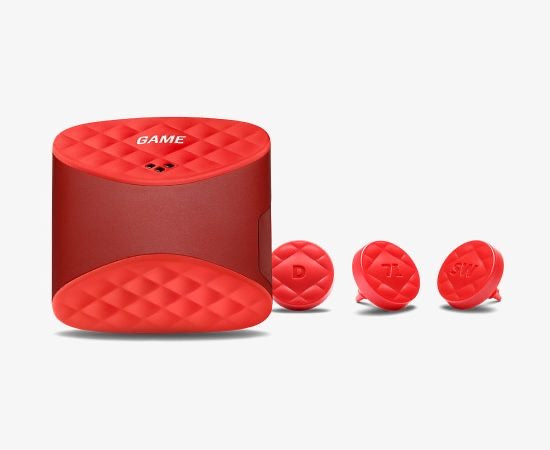 Is the man you're shopping for a big fan of playing golf? Whether he's a professional or an amateur, he'll love this awesome tracking system. How does it work? The Game Golf Live works with an app he can get on his smartphone. The largest device hooks onto his belt or pocket while the smaller button-like devices attach to his clubs and golf balls. As he plays, the system tracks his stats such as his shots, how many putts, where the ball goes, his scores, and so much more. This system can be used on any course in the world for the professional golfer in your life. This incredible Christmas present is ideal for your father, husband, father-in-law, or even your grandpa! Now he'll know exactly how his game is going and never lose another golf ball again.
The Vaportini – An Incredible New Way for Him to Drink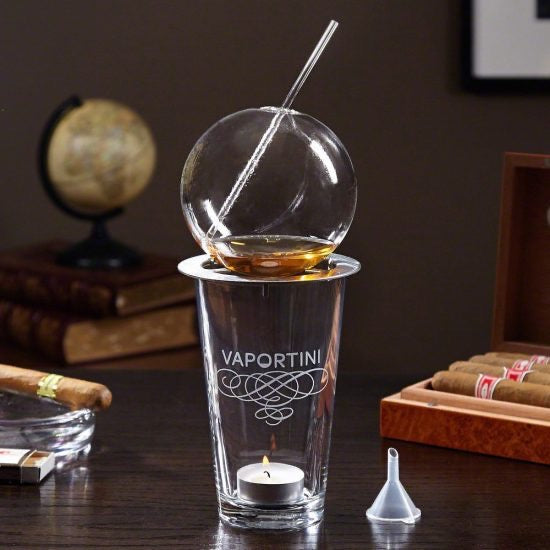 If you want to give the man in your life something truly unique this Christmas, then the Vaportini will be a fun new way for him to drink. The Vaportini is a revolutionary gadget that enables the drinker to inhale rather than sip their liquor. It's a really cool thing to try at parties and especially nice for people who don't like the taste of alcohol. This is a great gift for the man in your life who enjoys trying new things and fun gadgets. He can use any liquor with this too, so the options are endless. He'll want to use this right away after unwrapping it, so make sure you have a lighter and his favorite spirit on hand!
Flask Gift Set for Brother or Boyfriend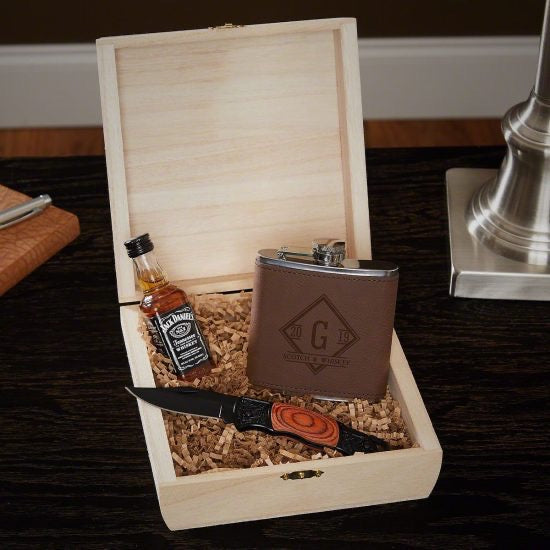 Brothers and boyfriends are always hard to buy Christmas gifts for, so a gift set is always a great idea. This incredible gift set comes with a cool wooden gift box, an engraved leather flask, and a handsome lockback knife. There is also plenty of room inside to add his favorite candy or a sample bottle of liquor. The best thing about this awesome gift set is that your brother or boyfriend can repurpose the gift box to store his watches, jewelry, cigars, pocket knives, bottle caps, anything that'll fit. Now he has a handy hip flask to bring a few ounces of his favorite liquor along when he goes to a concert, the lake, hiking, a wedding, and more. The lockback knife is great as an everyday knife to have on hand as it's easy to use for opening packages and the like. This flask gift set is one of the best Christmas gifts for men, especially your brother or boyfriend.
Cool Aerating Wine Decanter
Does the man in your life enjoy red wine? If he doesn't have a proper aerator, then this will be a great Christmas gift for him. This gorgeous piece of art isn't just a beautiful decoration, but it also aerates his red wine through a two step process. First, when he pours the wine into the decanter, it cascades through the specially designed curves, oxygenating it and enhancing the flavors. When he pours the wine into a glass, it aerates a second time. This allows a thorough and beautiful way to aerate even the cheapest wine to taste better than ever. He'll love this incredible decanter to improve his wine and want to try it right away, so make sure to include a bottle of his favorite merlot or cabernet to pour at Christmas dinner.
Take His Breath Away with this Christmas Gift Idea for Men
When a man is out-of-this-world, he deserves a gift that is just as amazing. This globe decanter is totally cool, and he'll want it displayed in his home at all times. The glass ship inside the decanter adds an extra, awesome touch to the gift that is unmatched. He could sit and stare for hours at these breathtaking glassware items, and he'll be so grateful that you bought him this stunning Christmas gift for men.
Classic Beer Stein for Him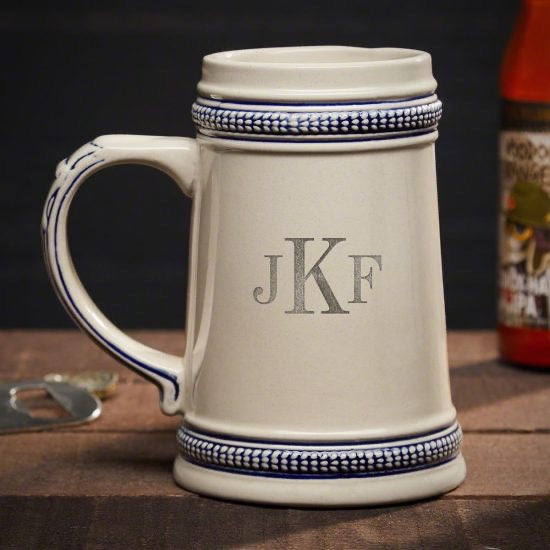 Give the beer-loving man in your life this awesome ceramic beer stein this Christmas so that he can drink beer as his ancestors did. The natural coolness of the stein helps keep his beer nice and cold so that he can enjoy every drop. This stein is perfect for beer, mead, ale, grog, and cider. It's inspired by 14th century German beer steins, so it has a vintage appeal for the antique lover as well. This is one of the best Christmas gifts for men who love beer and its incredible history, such as your father, brother, grandfather, boyfriend, husband, father-in-law, or even your brother-in-law!
All in One Entertainment Center Christmas Gift for Him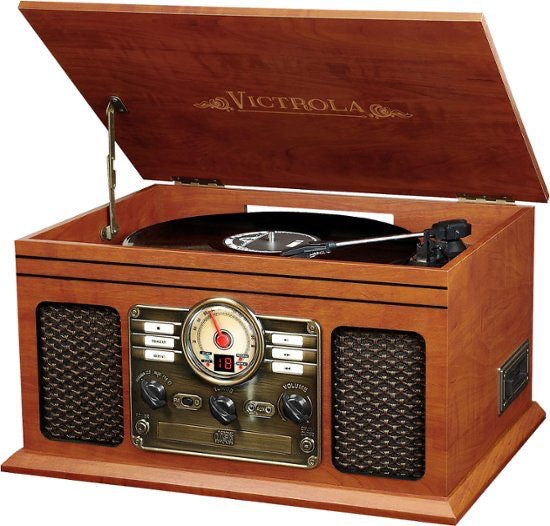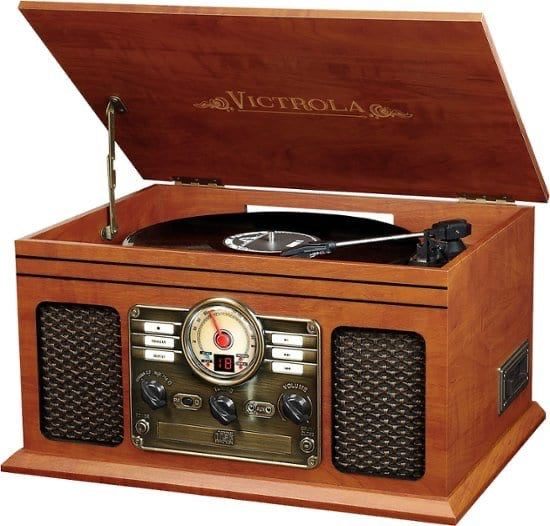 Want to play a classic record, old cassette, your favorite CD, the radio, or Spotify? Now the man in your life can with this incredible, ultimate entertainment center. He can play any kind of music he wants all with one gadget! Antique lovers will especially love the vintage look of this awesome gadget. This is the perfect Christmas gift idea for men who have an extensive music collection. You dad, brother, husband, or boyfriend will go crazy for such an amazing Christmas present! Plug it in right away and play Christmas music for the whole family to enjoy all day long.
Beer Flight Set
A beer-tasting party is never complete without an incredible beer flight set. No more juggling cups and telling his friends over and over what this batch is thanks to this set. The sturdy acacia serving tray that holds the four included engraved glasses has a chalkboard strip so that he can write what each glass or what this beer is. This set will make his beer tastings go smoother than ever, and it's also great for serving beer at his other events. This flight set is one of the coolest Christmas gifts for him because it's a versatile, handy set that the craft brewer or entertainer will use all the time.
The Ultimate Beer Gift Set for Christmas
If you want to give the beer loving man in your life a really incredible Christmas present this year, then this is the set for you. This incredible set is the ultimate beer gift: a beer bottle cap map of America, an engraved beer growler, and two custom pint glasses. Now your father, brother, boyfriend, or husband can bring plenty of their favorite beer with them wherever they go with the growler. The pint glasses are perfect for sharing a cold one this holiday season and watching a classic Christmas movie together. He can display his favorite local craft beers with the awesome bottle cap map that doubles as a fun decoration. This incredible gift set really has it all, and is one of the best Christmas gift ideas for men who love beer.
Useful Christmas Gift Ideas for Men
It's often said that a man is only as good as his tools. You know men that wholeheartedly believes this, and they love receiving practical, useful tools as gifts. This ammo can tool set is the perfect Christmas gift for men like that. The knife and hatchet will both come in handy time and time again. They'll be useful for cutting through tough material in so many situations. The ammo can is not only incredibly awesome, but he can use it to store whatever object he prefers. This fantastic set will be the greatest useful Christmas gift he's ever received.
Awesome Cigar Holding Glass
Nothing is cooler than this incredible cigar holding whiskey glass. This Christmas, the man in your life will be the classiest man around. Your father, husband, or father-in-law will love getting this suave glass this Christmas. With his favorite Cuban resting in his glass of scotch in one hand and his other free to check his poker hand or answer a phone call, he can multitask like never before. Forget the Dos Equis guy, this glass will make the man in your life the most interesting man this holiday season. Pair this awesome glass with a couple of his favorite cigars and a bottle of his preferred spirit to make it a complete Christmas gift for him.
Super Awesome Christmas Decanter
A man that's above average deserves an above average decanter, too. This stately decanter is a fantastic Christmas gift for men because it will look incredibly impressive sitting on the home bar he's worked so hard on. It's tall and elegant, with the pewter crest adding to the attractiveness that he will admire so much. He'll love keeping his liquor in this awesome decanter.
LootCrate Subscription Box for Men for Christmas

If you're not sure what to get the hard-to-shop-for man in your life for Christmas, a subscription box is the answer. LootCrate is an incredibly cool subscription box for men! There are several different kinds: pop culture, gaming, film, TV, sci-fi, fantasy, anime, horror, and clothing. Every month, he'll get a box full of awesome stuff that he'll love: exclusive collectibles, t-shirts, home goods, and more. This subscription is one of the most incredible Christmas presents you can give the nerdy guy in your life, and it keeps on giving!
Help Him Host
His favorite thing to do is be a host. He truly enjoys serving friends and family members food and drink. He especially loves showing off his fancy liquors to his guests, and you can help him do that with this astounding presentation set for a holiday gift. The decanter holds the perfect amount of his vodka, scotch, gin, or whatever liquor he desires, and he can pour it into the glasses to serve his guests. This presentation set will make his serving experiences all the more enjoyable which is why it's such a great Christmas gift idea for men.
Bar Sign for Christmas
One of the things he's most proud of in his life is his home bar. He's worked so hard on it and deserves recognition of that! Buy him this personalized bar sign for Christmas! With his name on it, he'll feel extremely appreciated and admired for his work. He'll love the wooden look and feel that his sign adds to the space, and he'll be even prouder of his bar with this hanging in it.
Best Cigar and Whiskey Set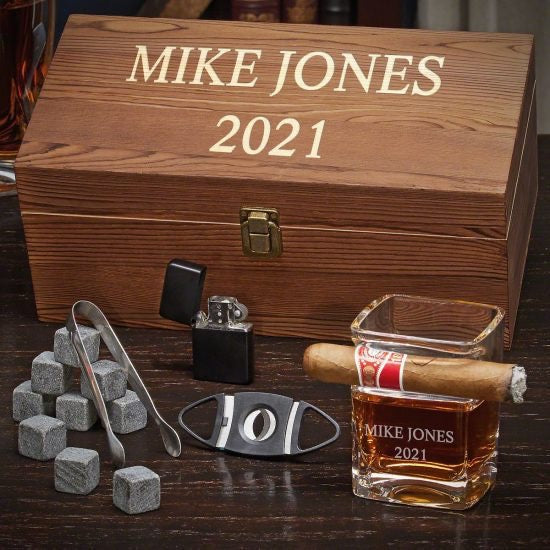 The ultimate whiskey and cigar gift set is hard to find, but congratulations, you've found it! This is one of the best Christmas gift ideas for men out there. The cigar glass is so perfect for enjoying whiskey and cigars at the same time, and he'll have such a great time doing that because he loves both so much. Throw in the cigar accessories and whiskey stones and you've got the most complete cigar and whiskey gift set around that any man will absolutely love receiving for Christmas.
Cause Pure Excitement with this Christmas Gift for Men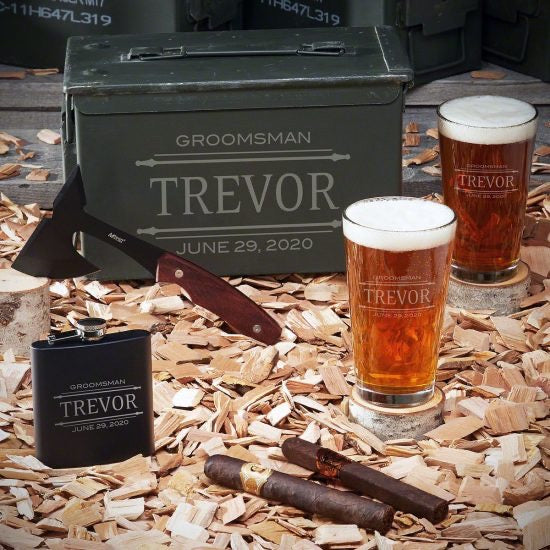 There's no better feeling on Christmas morning than when someone gasps with excitement when they open their gift from you. This gift set will have that effect on any man who opens it up. He'll immediately dash to the kitchen, take a beer from the fridge, and fill up these pint glasses. He'll find the nearest liquor bottle and fill the flask to the brim and promptly put it in his pocket. Be sure to calm him down, or he may start gleefully hacking the Christmas tree with this hatchet!
FitBit Charge 3 – The Perfect Christmas Gift for Active Men

Fitness trackers are all the rage this year, but the FitBit Charge 3 is unlike any other. Now the man in your life can swim with his trusty FitBit and accurately track his laps while being able to get his text messages and e-mails! This revolutionary fitness tracker is the first touch screen and completely waterproof tracker out there, which is pretty incredible. This is the perfect Christmas gift for men who are already active or want to start exercising regularly. You can challenge each other through the FitBit app to beat each other's exercise goals and work off all that delicious holiday food together.
Christmas Gift Ideas for Men Who Love the Classic Cigar and Whiskey Combo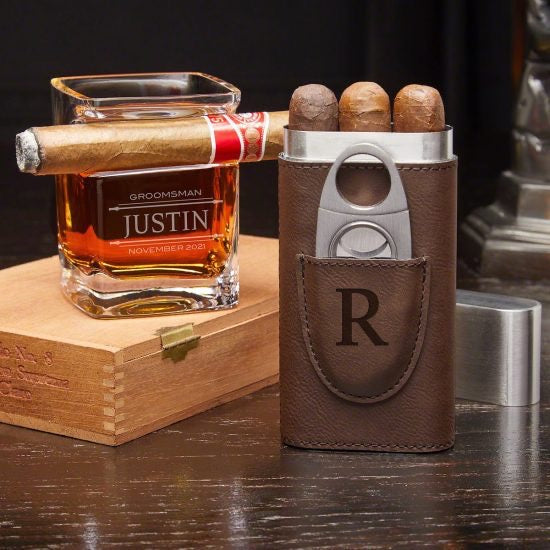 For him, there's no better way to relax than with his favorite stogies. With this cigar case, he'll always know where they are, and that they'll stay secure inside it always. When he's in the mood to pair his cigars with some delicious whiskey, this cigar glass makes combining the two incredibly easy. He'll love indulging in the two on Christmas day after he opens this awesome gift.
Wine Gift Box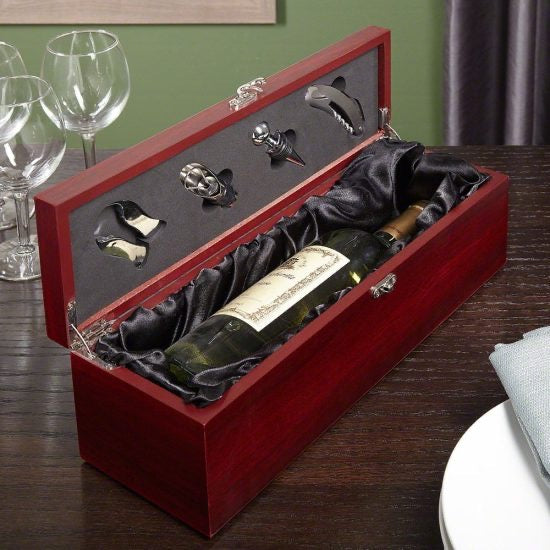 If you're looking for an extra special Christmas gift for a man that shows you care, why not this lovely wine box set? This gorgeous wine box is personalized and comes with the four essential wine tools cleverly embedded on the inside of the lid. Just include a nice bottle of wine and this gift is good to go! He'll be so touched when he unwraps this beautiful gift set on Christmas and want to open the bottle right away. Thanks to the handy tools, he can! Then you two can enjoy a glass together. This is one of the best Christmas gifts for men who love wine, such as your significant other.
Tasting the Holiday Whiskey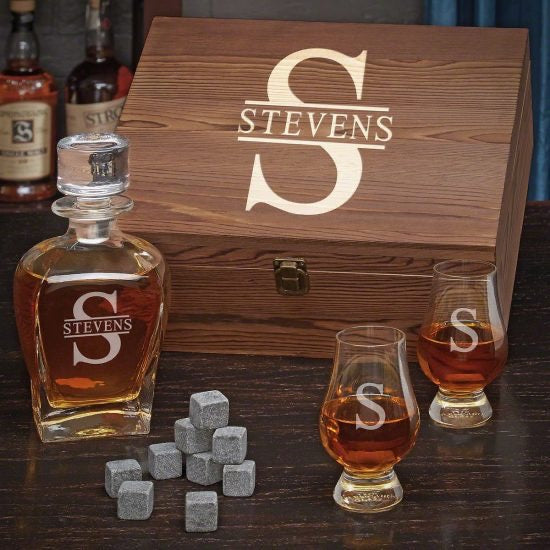 Whiskey tasting can't be done properly without the correct glassware. These Glencairn glasses are specifically shaped to enhance each nuance in whiskey, being sure that the whiskey lover you know is capturing the full taste of his whiskeys. When he's not tasting whiskey, he can store it in this awesome decanter that will look terrific displayed on his home bar.
Amazon Echo Show
His home will be smarter than ever this holiday season after he unwraps the incredible Amazon Echo Show. Now Alexa can actually show him the weather forecast, do video calls, how to make that new recipe, and directions. He'll love being able to see the answer to everything he asks Alexa instead of just having to listen. He can set it up right away and have Alexa show him how to make a hot toddy for everyone to warm up with while they wait for the delicious holiday meal after unwrapping presents. This Amazon Echo Show is one of the best Christmas gift ideas for men who are into smart technology because of its display capability, setting it apart from the popular speaker platforms. You can give him a new accessory each year and turn his home into a smart house!
16th Century Italian Globe Bar Christmas Gift Idea for Him
Have you noticed that the man in your life is always having to search for his liquor bottles and proper glassware when you come over? Or is his dining room or home office missing something? Then this incredible globe bar is one of the coolest Christmas gift ideas for men to give this year. Both useful and decorative, this 16th century Italian globe bar houses all of his liquor bottles and necessary glassware both inside the vintage globe and at the base. It's an awesome rolling cart that adds some luxury to any room. When he unwraps this magnificent present on Christmas morning, he'll want to put it together right away and show it off to everyone. Your father, grandfather, or husband will absolutely love such an awesome Christmas present.
283+ MORE UNIQUE CHRISTMAS GIFTS FOR MEN>