Sometimes, just saying, "thank you," doesn't feel like it's good enough. Whether you're thanking them for being a great friend, helping you with a task, or anything in between, there's no better way to show your appreciation than with an awesome gift! Thank you gift ideas should always be personal gifts that show them just how grateful you are for them while also making them feel incredibly appreciated. Make sure your thank you gifts have their interests or wants in mind, this way they know you worked hard to find the perfect gift to tell them thanks! Now, to help you get the perfect gift to help show your appreciation, we've tracked down the greatest, most unique thank you gifts that will make anyone in your life feel properly thanked.
Specially Personalized Thank You Gift Ideas
A phenomenal way to say, "thank you," for someone helping you out on a big project or assisting you in some of your responsibilities is with a gift that's so personal it actually has their name on it! They'll love seeing the personalization on the glasses and on the box of this whiskey gift box set. The fact that you took the time to find one of the best thank you gifts out there and have it personalized will make them feel so appreciated, especially when they're enjoying a cold drink.
A Thank You Gift They Can Grill With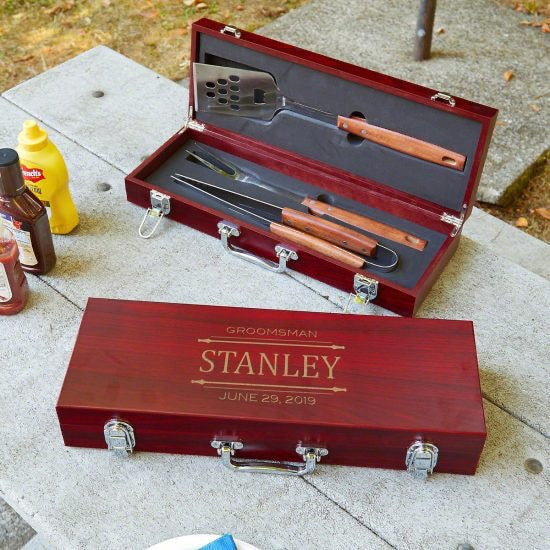 When you feel so appreciative of a friend, family member, or anyone else it can be stressful making sure the gift is good enough. Once you see this personalized grilling tools set, all your worries will be out the window! They'll absolutely love seeing their name engraved into the gorgeous wood on the box, and using the wood grilling tools for every backyard barbecue they have will make them so happy.
An Ammo Can Gift Set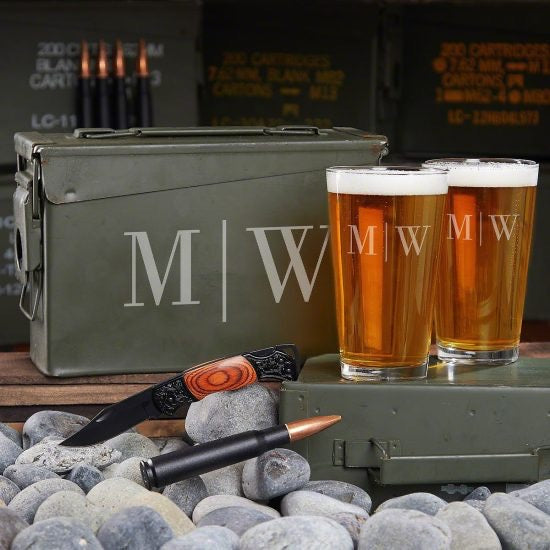 Super unique thank you gifts do a great job showing you appreciation for someone, especially when they're as incredible as this customized ammo can set. Seeing their initials on the handsome ammo can and pint glasses will make them feel your gratitude fully. They'll love sharing a drink with you and other loved ones with this manly thank you gift.
Brighten Up Their Space
They've made your life better in some way, like by helping you with your garden or babysitting your kids, so make theirs a little bit better with this succulent garden! They can place this anywhere in their home or office and let it brighten up the space like never before. They'll love these brilliant plants and the vibe they give the space.
A Classic Gift with a Twist
Nothing's better than a modern twist to a classic thank you gift! A bottle of wine is a tried and true thank you gift, but with this wine gift box set, it becomes an unbelievable gift! They'll love storing a bottle of wine in this gorgeous box and having all the tools they need to enjoy it right inside, too!
Simple Yet Awesome Thank You Gift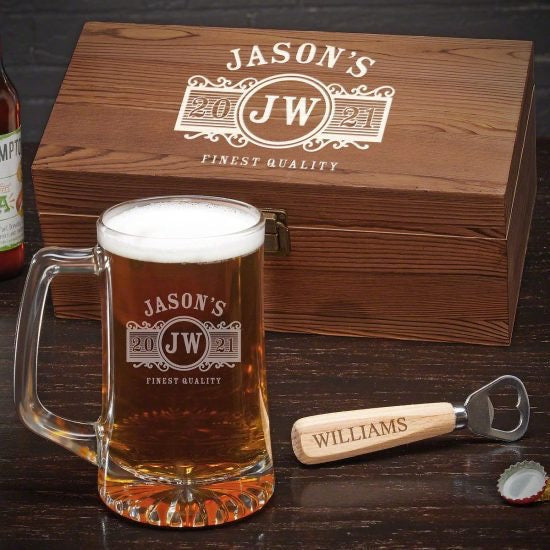 Sometimes, a simple yet awesome gift is the best way to thank someone for all their help and support. That's why this beer gift set is definitely one of the greatest thank you gift ideas out there! Whether you're thanking your dad, husband, coworker or anyone else, they will love the simplicity of using a nice mug for their favorite drinks and using the handsome wooden box to store any small items they desire.
283+ TOTALLY AWESOME BEER GIFTS>
Monogrammed Unique Thank You Gifts
When someone has been working hard to help out others, they deserve nothing more than to relax with a fun time with friends. That's where this poker gift set and cigar glass come in! When they're playing poker and spending quality time with friends and enjoying whiskey and a stogie, they'll definitely know how appreciative you are of them!
Let Them Treat Themselves
Gratitude comes in many forms, and one of the best ones is in the form of a spa gift basket. Let your neighbor or coworker have a guilt-free spa night with this gift set because they deserve it! They'll know how thankful you are for them as they're exfoliating, moisturizing, and having the most relaxing evening of their lifetime using one of the greatest thank you gift ideas ever!
Time Well Spent
Maybe they've been teaching you something or helping you out with a tough task. Maybe they've even helped you with your golf game! Regardless of how you've taken up some of their time, help them make the most of their time every day with this golf putting set as a way to thank them! This gift is one of the coolest thank you gift ideas because they'll absolutely love using this set to practice their short game wherever they go, and they'll look forward to playing a round or two on the course with you!
Thank You Gift Ideas Anyone Would Love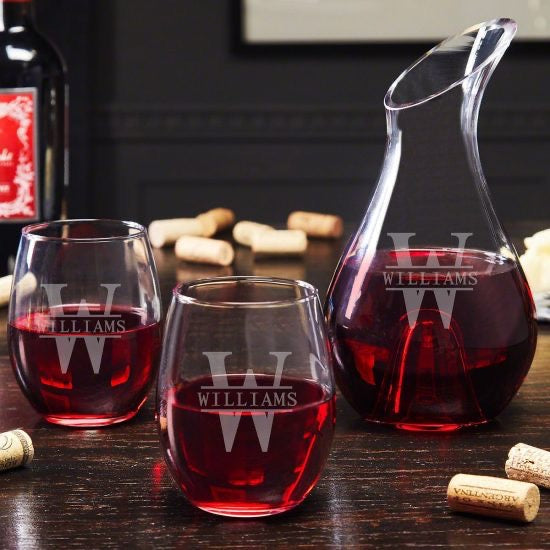 No matter what your spouse or friend has done for you or helped you out with, as soon as they see this wine glass set, they'll feel more than thanked enough. This gorgeous, personalized glassware will not only look lovely in their home, but it'll make drinking their favorite wine more enjoyable than ever before, which makes it a terrific thank you gift idea.
Incredibly Delicious Thank You Gift
Who wouldn't love a delicious basket of desserts as a thank you gift? Nobody! This cookies and brownies gift basket is definitely one of the most delicious thank you gift ideas in existence! They'll be able to feel your gratitude with each scrumptious bite of these goodies, and they'll definitely want to help you out even more!
The Legendary Glassware Set They Deserves
Their help has made them an absolute legend in your eyes, and you want to show appreciation with the perfect gift just for them. This customized whiskey box set is the perfect thank you gift that will make them feel your gratitude fully! They'll love seeing their name etched into the handsome box, and the awesome drinking accessories will help them experience their favorite beverages more than ever before.
Kitchen Thank You Present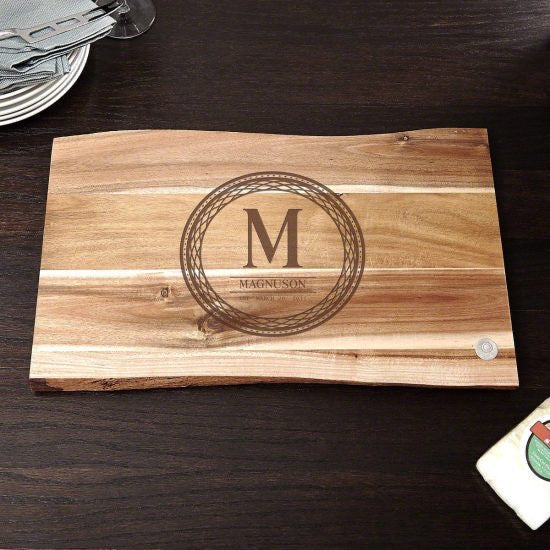 Your parent, sibling, or anyone else will always feel appreciated by really unique thank you gifts that are also personalized just for them. This engraved cutting board is an awesome gift idea because it'll show them that you went to the trouble to get a personalized gift that they can use both when cooking and as decor in their kitchen! They'll be a big fan of this cutting board and will be so appreciative of this thank you present.
Unique Thank You Gifts for a Leader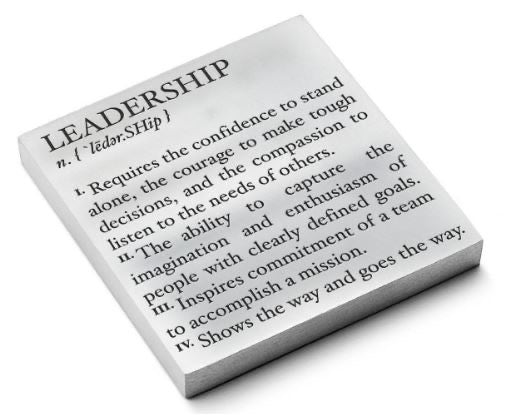 Whether they're a parent, boss, mentor, or any other leader in our life, you greatly appreciate their guidance in your life. Show them how thankful you are for their leadership with this personalized metal paperweight! Every time they see it on their desk, they'll be reminded of how thankful you are and how influential of a leader they can be!
Coolest Gift Ever
Why not thank them with the coolest gift they've ever seen? This ammo can gift set is an incredible gift idea that will definitely send the message that you appreciate them! From the awesome storage that the ammo can provides to the perfectly personalized glasses for any spirit or cocktail, they'll adore this gift and will feel very appreciated because of the customization and high quality.
101+ INCREDIBLE AMMO CAN SETS>
Thank You Gift Ideas That Will Last Forever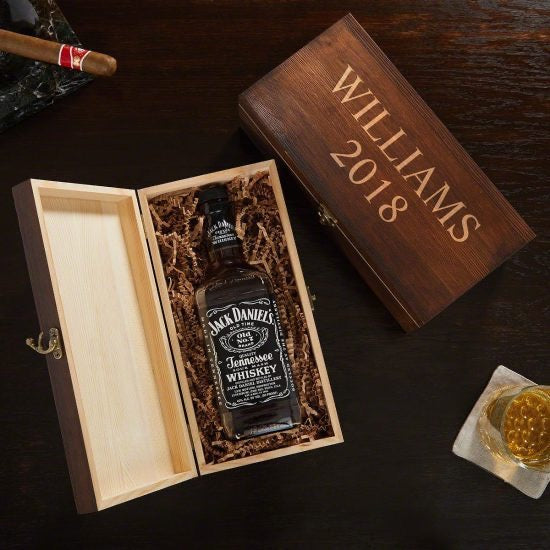 An expensive bottle of their favorite whiskey is a good thank you gift, but that doesn't last forever. For a thank you gift that will keep on giving, this wooden liquor gift box is the way to go! They'll love seeing their name on this handsome box that can store their favorite bottle of liquor for them. Every time they see it, they'll feel your thank you over and over again!
Thank Them with a New Game
They've been hard at work helping you out with something, such as your home remodel or a task for work, so the perfect unique thank you gifts are those that help them relax and have fun! This bean bag toss game is an amazing choice because they can use it with friends or you to have a little competitive fun after spending so much time helping you.
Spread the Thankfulness
They mean so much to you so you know there are few gifts out there that will really demonstrate your gratitude. Show your appreciation properly with one of the more unique thank you gifts out there. This weather predicting storm glass is incredibly uncommon and amazing, letting them know what kind of weather is coming. With every weather change, they'll be reminded of your immense gratitude for them.
An Initial Gift
A token of your gratitude can come in all shapes and sizes—including the shape of the USA! These beer cap maps make awesome thank you gift ideas because the recipient will feel so special when they see it! They'll immediately hang it up on the wall in their home and have a blast filling it up with bottle caps.
As Many Beverages as They Want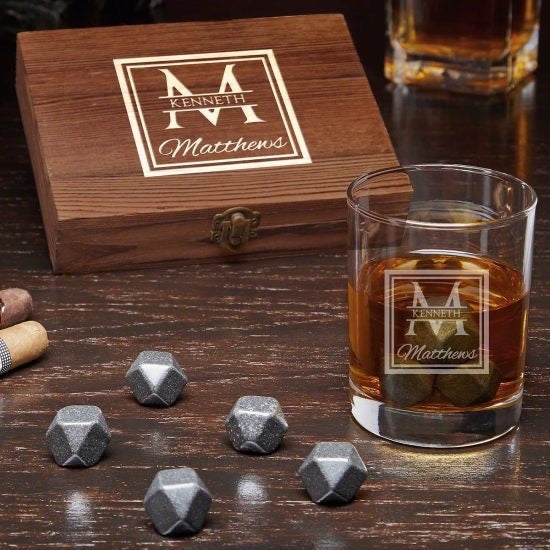 Who wouldn't want to be thanked with a delicious glass of their favorite spirit? With this whiskey stone gift set, they can enjoy that delicious glass over and over again! They'll feel so loved and appreciated sipping chilled whiskey from this glass that's personalized just for them, and they'll never want to stop using it.
Candle for Their Kindness
When a parent or friend deserves a thank you, you should think outside the box for a useful gift they'd love. This handsome reed diffuser is so amazing and useful that it's definitely one of the most special thank you gift ideas you can find! Whenever they smell the alluring, full-bodied scent, they'll remember helping you out and how thankful you were!
Gift Just for Them
Their friendship is so important and special to you, so thank them for always being there with a gift that is also very important and special! This wine tumbler gift set is the perfect choice for a thank you gift because not only does the personalization show you got this gift just for your friend, but it provides them with the right tools for enjoying a delicious drink whenever they want!
They Can Use this Gift While Helping You
Whether it's a coworker, friend, or even your spouse, when someone has been helping pick up your slack, they deserve an awesome thank you gift. This drink tumbler is a simple yet useful and attractive gift that they can enjoy while they're helping you out. Whether they're working with their hands or giving you advice, they'll love having their favorite drink in their hand.
One of a Kind
You know your father or husband well, so you know they'd feel more appreciated with a super unique gift that makes one of their hobbies even better. This ammo can humidor is one of the most unique thank you gifts out there for anyone like your dad and husband who enjoys cigars! It's incredibly classy and awesome, with personalization on the side that will make them feel very cool. It'll send the thank you message loud and clear to him!
Useful Thank You Gift Ideas
When the person you're thanking refuses to accept anything super fancy or expensive, go with a gift that's useful while also being really great. These bamboo coasters are the perfect balance between a classy but simple gift. Besides, everyone needs coasters, so you know it is a gift they can't refuse!
Even For Someone You Don't Know Well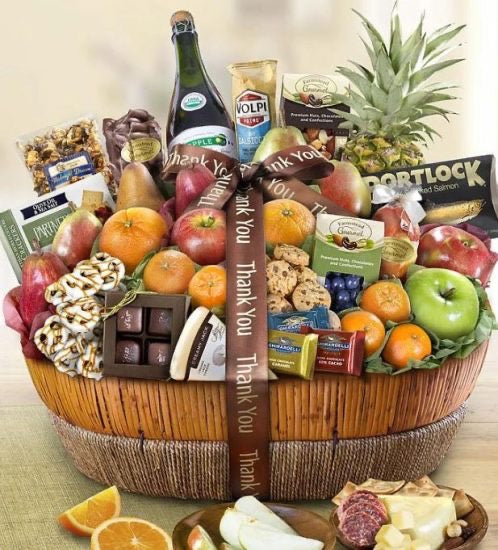 Perhaps the person you want to thank with a gift is someone you don't know very well at all. That's why a gift you know everyone will love, like this fruits and sweets basket, is the perfect gift idea! When they see the amazing array of treats in this basket, they'll definitely know how thankful you are!
Enjoy a Drink Wherever They Are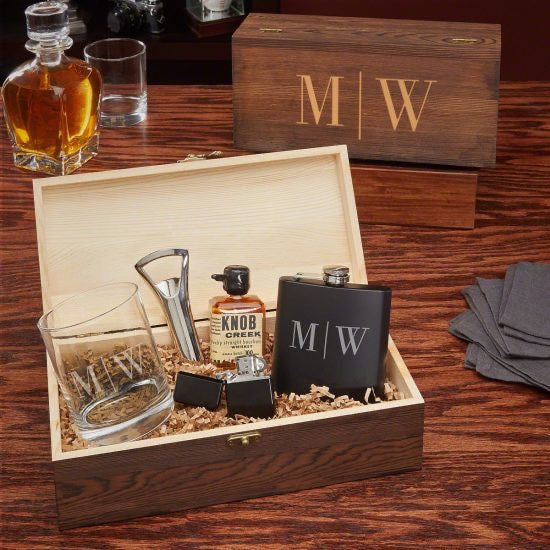 The ultimate thank you gift is something that they can use all the time to indulge in their favorite things, including their favorite drink. After all, they're so busy being so helpful that they're bound to work up a thirst! With this liquor gift set, whether they're on the go or at home, they have the perfect flask or glass for enjoying a drink during or after helping you out.