Retirement is a huge achievement in a person's life and deserves to be celebrated with an amazing gift. Don't just get the retiree one little gift, though, you should get them a whole basket full of things to enjoy in their golden years! Retirement gift basket ideas should be unique and fun sets of items that a retiree can enjoy during their newfound free time such as gifts related to their hobbies or something that will come in handy during their travels. From outdoorsy gift sets to golf crates, a retirement gift basket is by far the best way to tell someone "Congratulations and thank you for your many years in the workforce. Now go have fun!"
The Coolest Retirement Gift Basket Ideas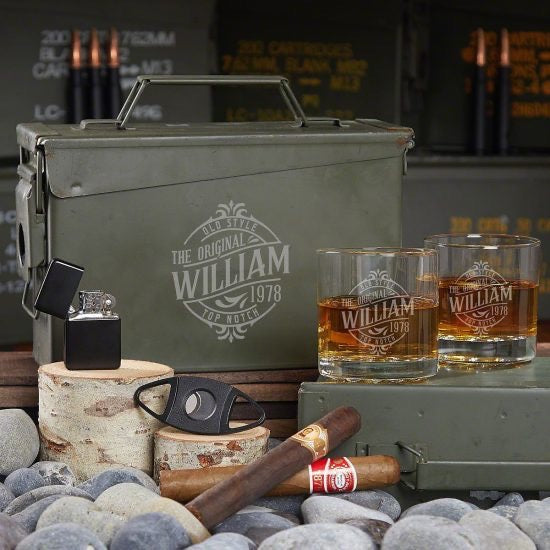 The retiree in your life will be prepared to enjoy many relaxing days by the fire as they finally read those books they've been putting off for years with this ammo can gift set! There's nothing better than a nice stogie, a good book, and a smooth scotch by the fire after all. Every time they use their custom whiskey glasses and ammo can, they'll think of how thoughtful you were for giving them such amazing retirement gift basket ideas, even several years from now.
A Retirement Gift Basket Unlike Any Other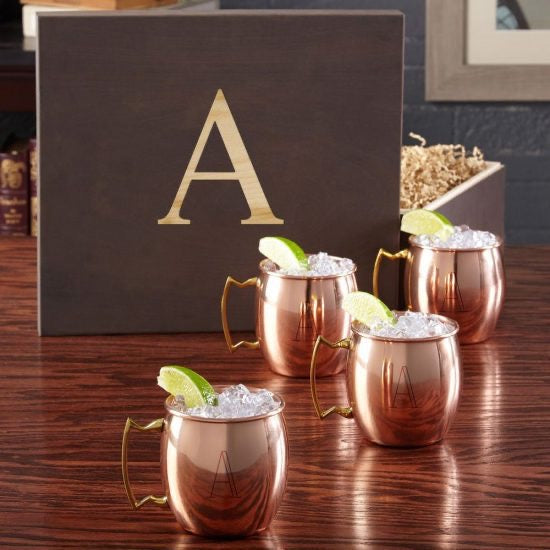 Go the extra mile and get the retiree in your life something truly unique: a Moscow Mule gift basket! Whether a Moscow Mule is their favorite cocktail or you just noticed that they enjoy getting them at most company events, they will love having their very own set of copper mugs. Don't worry, these mugs are copper-plated so that they are safe to use and won't tarnish over time. This way, they can enjoy their cocktails the right way forever thanks to your awesome retirement gift!
Retirement Gifts Don't Get Better Than This
For a retiree who loves playing golf, this portable putting set is by far one of the best retirement gift basket ideas you can get! You know they'll be spending plenty of time on the green in their retirement, but with this putting set, they'll be able to practice their putts whether they're at home on a rainy day or traveling the country. This way, their skills will stay sharp and they can enjoy their favorite hobby anytime, anywhere!
Classy Whiskey Box Set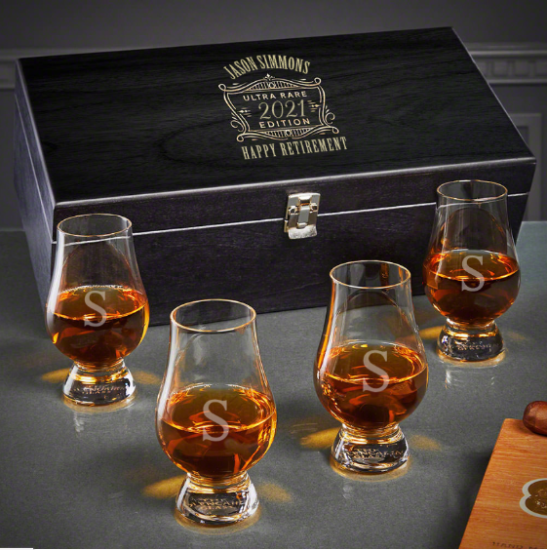 Does the retiree you know enjoy whiskey from time to time? Make sure their drink is always top-shelf quality from now on by giving them this incredible Glencairn whiskey set for their retirement! The unique glasses are designed to deliver the most flavorful and aromatic whiskey experience possible, which means that every sip is absolutely perfect. Thanks to your thoughtful retirement gift, they'll be experiencing their favorite whiskey in a whole new way as well as getting a feel for whiskey tasting which might end up being a new hobby for them!
More Time to Grill Means They Need Better Tools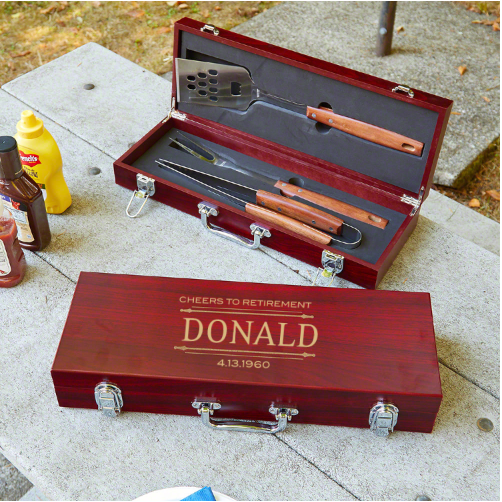 Sure, they've probably got some grilling tools lying around, but they don't have this awesome personalized set! This professional-quality rosewood tool set is lightweight, heat-resistant, and easier to use than the name brand ones so that they can enjoy the grilling experience to the fullest during their retirement. Plus, the custom case makes sure their new tools stay in perfect condition and means they can take them anywhere from the lake to their neighborhood park. Whether they're making gourmet burgers from scratch for the whole family or serving up steaks for their buddies, they'll be using this handsome set of grilling tools.
509+ AMAZING GIFT SETS AND GIFT BASKETS>
A Gift Basket All About Golf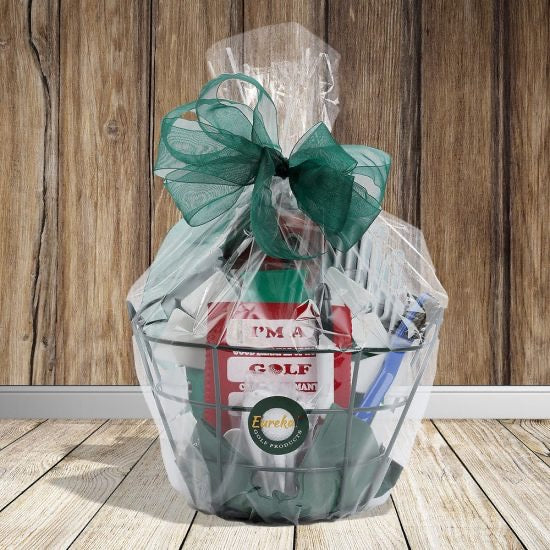 Anyone retiring who plans on spending plenty of time at the golf course will appreciate this retirement gift basket! It has everything they need for some quality tee time with a divot tool, ball marker, towel, tees, a glove shaper, and more! They'll be so excited to try out all of their new golfing accessories that you should just take them straight to the golf course before giving them their amazing gift.
Toast to Their Retirement in Style
Are you looking for cool retirement gift ideas to help them celebrate that they are finally done working? Look no further than this awesome decanter set! Their favorite part will be the cigar-holding whiskey glasses that let them puff and sip at the same time, not to mention the fact that they'll feel like James Bond while doing so. The handsome gift box is perfect for storing all of the keepsakes they'll be bringing home from work like their nameplate, favorite mouse pad, and more. As soon as you give them this amazing gift, they'll want to try out the glassware right away so that you two can toast to their retirement together.
Complete Wine Gift Basket
Anyone retiring who enjoys wine will be over the moon for this stunning wine gift basket! With everything they need to have a perfect glass of merlot or moscato, this impressive gift basket is sure to be enjoyed often during their retirement. Best of all, this set is ideal for them to share with their significant other or a friend! Just don't forget to include a bottle of their favorite type of wine with this gift basket so that when they get home from their last day at work, they can celebrate the beginning of their retirement with your gift.
Outdoorsy Retirement Gift Basket Ideas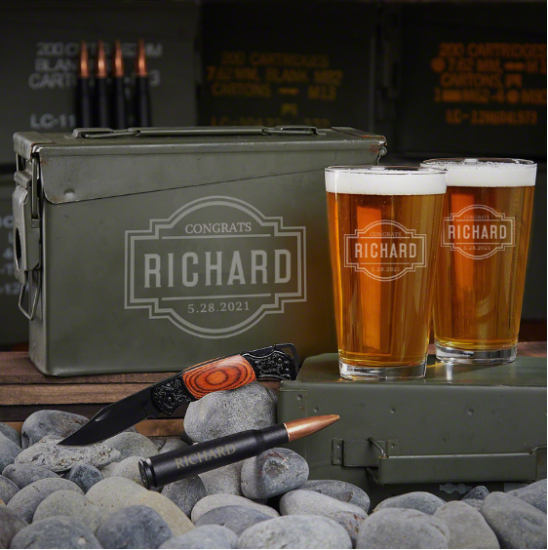 Anyone you know who is retiring that enjoys spending time in the outdoors will be over the moon for this awesome ammo can set! The ammo can was once used by the US military and is perfect for storing fishing, hunting, or hiking gear. They will especially appreciate the handsome new pocket knife to carry with them on every adventure, and the custom pint glasses are the first thing they'll reach for when they get home!
Relaxing Cognac Set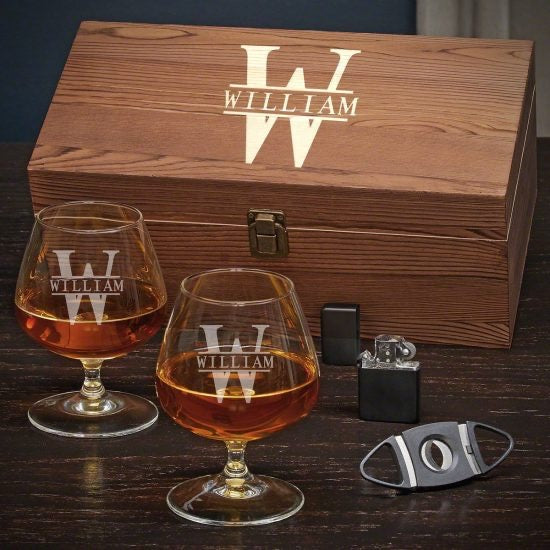 There's nothing like sitting by the fire with a warm glass of cognac, reading a good book, and enjoying a nice evening. The retiree in your life certainly plans on doing exactly that as often as they can, so make sure they're enjoying their cognac the proper way with this cognac gift set! The snifters enhance the tastes and exotic aromas of cognac or brandy so that they get the full experience with every sip, which means their evening drink will be better than ever before thanks to your thoughtful retirement gift.
Travel Gift Basket to Enjoy On the Go
Is the retiree you're shopping for planning on traveling as soon as they finish their last day of work? Get them a retirement gift basket that they can enjoy on the go! The "basket" is actually a large tote bag perfect for carrying their snacks, beach towels, or to use as their carry-on bag on the plane. The sweet and salty treats in this set definitely won't last long after you give it to them, and they're the perfect travel-size snacks no matter where they're going. Whether they're heading to the nearest beach, a beautiful lake in the mountains, or going on a cross-country trip in the RV they just bought, this gift basket will certainly come in handy!
Impressive Decanter Set
You want to send off your coworker or employee to their retirement with a great gift that says, "You're awesome and will be missed!" How about this stunning crystal decanter set? The elegant engraving on the entire set is impressive and classy, ensuring that no one else will try to use the decanter set without the retiree's permission. It makes a beautiful display piece, but is also great for sharing drinks with friends and loved ones at parties! Any retiree who receives such an amazing retirement gift will be proud to display and enjoy this set for years to come.
Create a One-of-a-Kind Retirement Gift Basket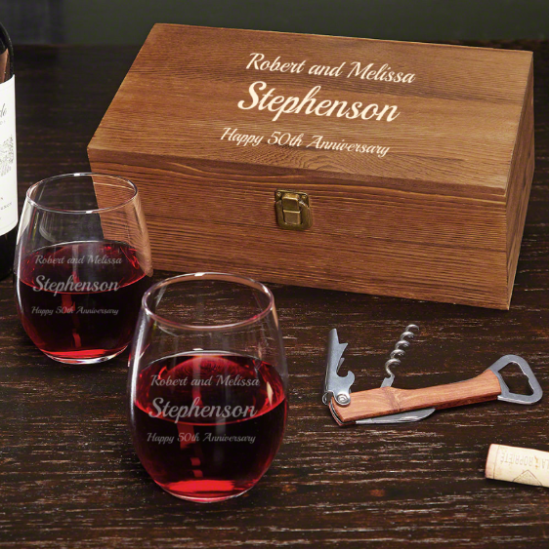 One of the best retirement gift basket ideas is this customizable wine set! Not only is this lovely wine gift sure to be a hit with any retiree, but the fact that you can make it a one-of-a-kind gift with the personalization makes it truly special. You can have the lid and glasses engraved with a quote, the retiree's name and retirement date, the company logo, or even an inside joke! Even if you get one of these for every retiree you know, each and every set will be a unique gift just for them that they'll enjoy sharing with a friend or their significant other for many years.
Unique Whiskey Set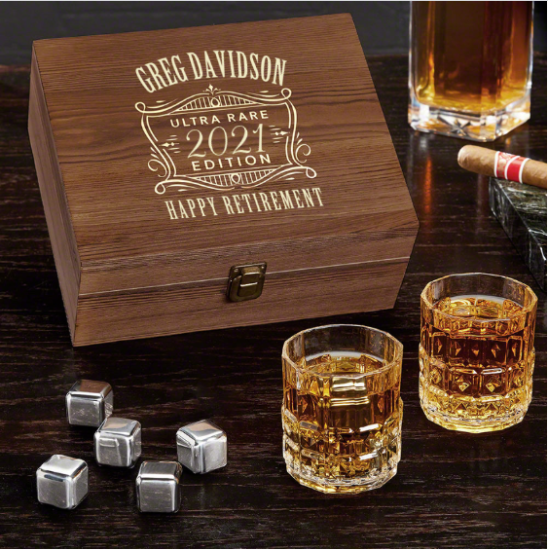 The best way to toast to someone's retirement is with a glass of fine scotch, which makes this whiskey gift set a great retirement gift! They will love using the beautiful crystal glasses and stainless steel whiskey stones for their celebratory scotch or even an Old Fashioned cocktail. The set can even be stored in the handsome engraved gift box, or the box can be reused to store their keepsakes and mementos.
599+ IMPRESSIVE WHISKEY GIFTS>
The Ultimate Beer Gifts for Retirement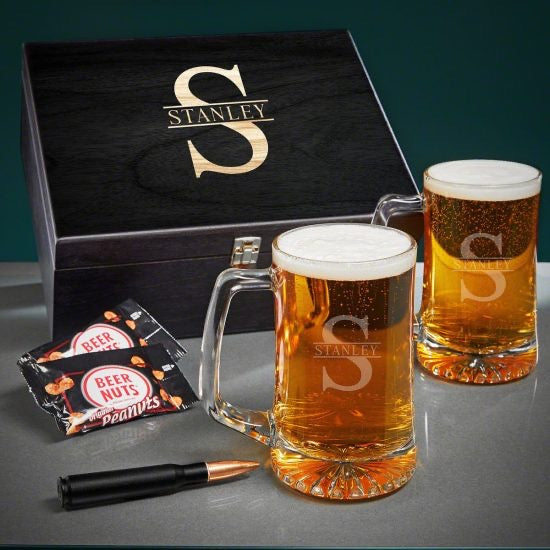 Go all out for their retirement with this incredible beer gift basket! They will be so amazed by each gift in this set that they won't know which part is their favorite: the custom beer mugs, the bullet-turned-bottle opener, the handsome gift box, or even the tasty beer nuts. Whoever you give this incredible retirement gift will want to have a beer with you right away, so make sure you pick up a six-pack of their favorite beer before you give it to them. Once they try their beer in these awesome new mugs, they won't want to drink straight from the can or bottle ever again!
A Relaxing Gift Basket
Retirement is quite an achievement that involves many years of hard work, so it's about time they get pampered and enjoy some well-earned relaxation. Help them get started with this thoughtful spa gift basket! With everything from a plush robe and soothing essential oils to a massage roller and lotion, the retiree in your life will feel like a whole new person after trying out everything in this basket.
Retirement Gift Basket Ideas Unlike Any Other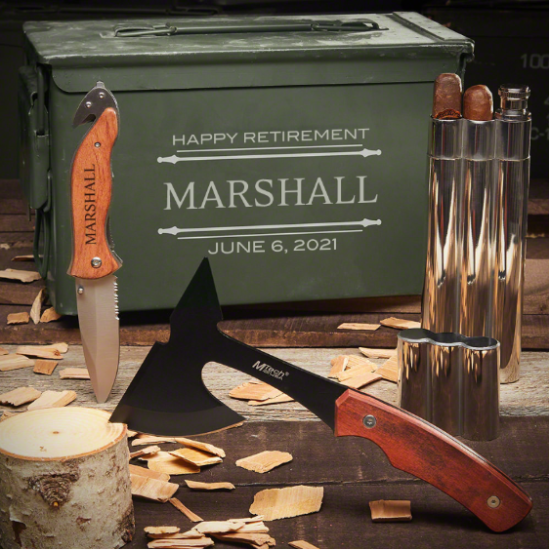 How awesome is this ammo can gift set? Perfect for retirees who love to travel or spend time outdoors, this set has everything they need for a fun adventure! Whether they're hiking, fishing, hunting, or camping, each item in this unique gift basket will come in handy. The hatchet is great for hacking their way through the woods or to collect firewood, and the cigar flask is perfect for celebrating a successful day of fishing with a sip and a stogie. They will especially enjoy the customization on the ammo can and hunting knife so that they never mix up their gear with their son's or a friend!
Fun Wine Tumbler Set
Want to get a retirement gift that's fun and unique? This cool wine tumbler set is perfect! The insulated stainless steel tumblers ensure that their favorite wine stays perfectly chilled even while they're lounging by the pool on a hot day, and they're great for traveling too because they're super durable! Plus, the design on the set is a subtle jest at the retiree's age which is sure to get a chuckle out of them.
Flask Retirement Gift Basket
Still not sure what to get the retiree in your life? They will love this handsome leather flask set! Perfect for taking with them to the golf course, a buddy's house for a BBQ, or to the cabin by the lake, this flask set is great for having a drink wherever they go. The leather box can even be reused to store small items instead of the flask set such as their watches, photos, or other keepsakes. As soon as you give them this amazing retirement gift, they'll fill up the flask right away and offer you a drink in the shot glasses!