Coffee lovers can be people that seem impossible to buy for. Usually, they fall into two camps. You've got the coffee lovers who love their one go-to brand and haven't changed a thing in years or you have the person who is maybe just a little bit too into their favorite drink and are always looking for the freshest way to enjoy a good cup of Joe. However, it doesn't matter if you need a basic gift or something more unique, no matter the occasion, we've got you covered when you're in need of a great gift for coffee lover. These unique gifts are a surefire way to elevate, enhance, and overall make each sip of coffee even better! So, no matter what kind of coffee lover you're getting a gift for, you can be sure these will be the best coffee gifts they've ever seen!
The Most Practical Coffee Gift Ideas Ever
What could be a more fitting gift for coffee lover than their own engraved coffee mug and carafe set? This is the perfect gift for any level of brew aficionado! Whether they love their Folgers in their cup every morning or have unique and hard to find beans they grind themselves. This set allows them to easily enjoy a drink in the morning as well as a second cup that they could share with a spouse or leave at the office. Plus, thanks to the carafe, they can travel anywhere they want with a whole 64 ounces of their favorite brew to go in tow!
A Brewtiful Sign
Do you want to know what is great about getting a sign for a coffee lover as a gift? You can't go wrong! While getting them a bag of grounds, beans, or a stack of K-Cups may seem troublesome since you may not always know the exact flavors they're drinking, a personalized sign will always be perfect. It is the best way to transform their kitchen, breakfast nook, or living room into the coffee bar they've always wanted!
Get Frothy with Your Gifts
Coffee gift ideas don't need to be crazy expensive, they simply need to improve how they enjoy coffee. This milk frother is a gift they'll ever wonder how they lived without, and better still, it costs less than any drink on a Starbucks menu. A cheap gift that they'll get endless flavor and use from that doesn't break the bank? Talk about a win-win!
Take Their Joe Everywhere They Go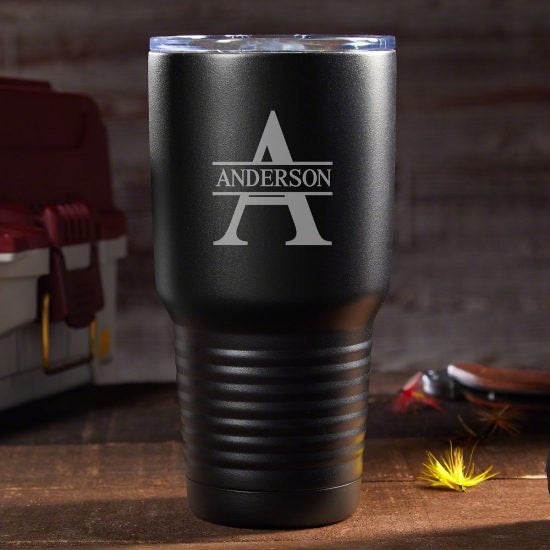 Coffee must be one of the most common drinks people take with them. However, lots of people either have a basic tumbler or get a to-go cup from their staple coffee shop. Make them feely classier when they show up to the office or to that important meeting with this custom stainless steel tumbler that won't just be the perfect way for them to take their cup of Joe on the go, but it also comes with their name and initial engraved right into it! Nothing shows that you have things together and ready to rock in the morning like a custom tumbler full of piping hot coffee.
Custom Coffee Mug is a Perfect Gift for Coffee Lover
Upgrade them from that one random mug they were given at a conference years ago to one that holds some true meaning. A personalized black coffee mug is a simple, but thoughtful gift to give to any coffee lover. It doesn't matter if they're enjoying some simple pour-over coffee or a more complex drink, they'll love enjoying their favorite morning beverage from a mug that has a meaningful message engraved right onto the side.
89+ PERSONALIZED COFFEE MUGS AND TUMBLERS>
A Reusable K-Cup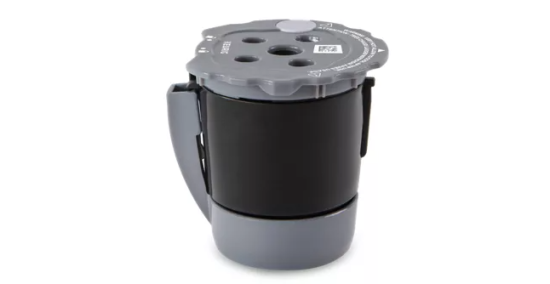 K-Cups are a great and easy way to make coffee every single day; however, many have started to realize the waste disposable K-Cups create. So, for the environmentally-minded friend who loves coffee, you can't go wrong getting them a reusable K-Cup! Great for thousands of uses, they won't ever have to fill their trash with disposable cups ever again!
A Set of Unique Coffee Gift Ideas
Sometimes, you may not have to satisfy just one coffee lover, on rare occasions, it is like you're surrounded by them! Do not panic though. When you are home for the holidays with family or at the office, you can hook everyone up with one of these personalized tumblers as a fantastic set of coffee gift ideas. Thanks to this awesome set of tumblers, you get to do one-stop shopping while everyone has their own custom gift, how cool is that?
For the Couple Who Loves Coffee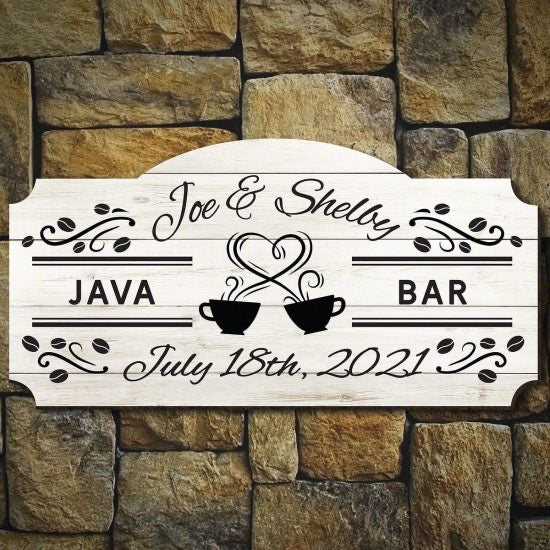 Help the couple who is into coffee as much as everyone else is into today's top TV show with their own custom java bar sign! They'll love sitting in their breakfast nook while they hear the machine bubble as it brews their favorite cup of Joe. Once that is ready, you can be sure they'll sit next to each other admiring their custom sign that makes their home feel more like a luxury coffee shop than merely a house.
Grind Out the Best Gift for Coffee Lover
When grinding your own beans is the only way to go, make sure they are able to feel like a top-tier barista with this premium coffee grinder! From the finest to the roughest of grounds, they'll be able to make their cup of coffee exactly how they've always wanted it, thanks to your premium gift for coffee lover!
A Personalized Coffee Sign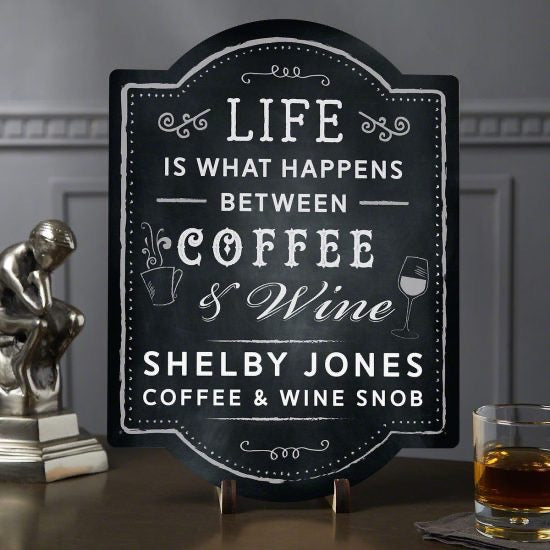 Know a couple who at night are a regular set of winos but in the morning are some of the biggest coffee aficionados you know? Then this personalized coffee and wine sign is the ideal gift for them! Perfect for their living room or kitchen, they'll love having this sign on display each time they sit down together to enjoy one of their favorite aromatic drinks!
For the Office Who Needs to Be Alert
One group of people who are known for consuming coffee more than anyone else are of course the police. Make sure the office in your life can make it through their graveyard or early bird shift with a this custom mug for their cup of Joe to get them going as well as a flashlight to help them look for clues! Better still, if you love the set, here is another version of the same set but with a different design.
Arm Them with Top-Quality Grounds
Of course, what gift for coffee lover list would be done without a few bags of gold old fashioned coffee? However, you don't want to get them just a plain old bag of coffee as a gift. Instead, introduce them to a new world of coffee with Black Rifle Coffee. With an array of flavors, strengths, and caffeine, they've got the perfect blend for anyone. Plus, it even has a coffee quiz to make finding the ideal flavor easier than ever!
Help Them Survive the Day
Make sure that no matter what comes their way, they can survive through the day. Thanks to this spec ops set, survival will never be a question again! The tumbler and flask will always have their back, while the survival knife is the backup plan they never knew they needed. Plus, if the day is going truly rough, there is nothing a little Irish coffee (thanks to the flask and tumbler) can't make better!