Your employees have been working so hard this part year. Whether you have a huge office full of employees or just a couple at your small business, you want to show your appreciation this holiday season by getting them some fantastic presents that they'll love. You might wonder, though, what kind of presents would an employee like to use? Would a work-related gift be a good idea? What would make their time at work more enjoyable? The best holiday gifts for employees help them relax while off the clock, celebrate a major achievement, and even sometimes make their time at the office more enjoyable and productive. We've found some amazing holiday gift ideas for employees that will show every person who works for you just how much you appreciate them.
Whiskey Box Set of Holiday Gifts for Employees
Help them truly rest during their holiday break and any other time out of the office with this whiskey stones and glasses set! This simple yet sophisticated box set is just what your employees need when they want to sip on a chilled glass of whiskey or another spirit as they sit around the Christmas tree or relax on the couch. With all of their hard work and dedication, they couldn't be more deserving of a nice gift that not only relaxes them but makes them feel classy as well. They'll feel incredibly special and appreciated each time they use the custom glasses you got them!
You Can Bet They'll Love this Gift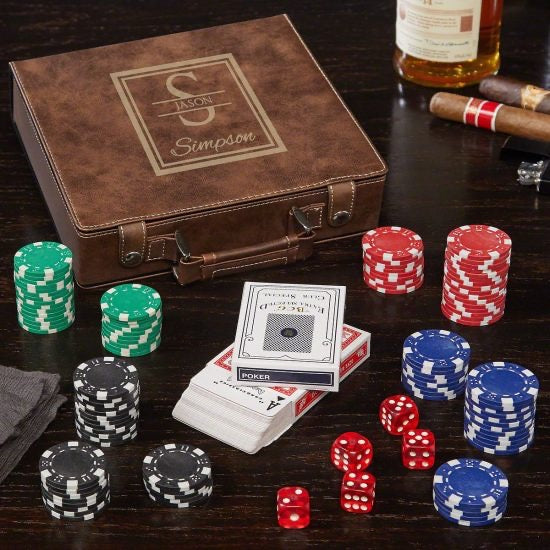 Holiday gifts for employees that remind them to have some fun once in a while are always a great choice. This custom poker gift set is absolutely perfect, and your employees will be so excited to use it to play poker with their families over the holidays or have game nights with their coworkers from time to time. It'll be a welcome way to relax and have fun after working so hard for you.
Personalized Wine Tumbler Box Set
Make your employees feel super special by getting them a gift that's so unique and fantastic they'll actually be shocked! This stainless steel tumbler set is one of the best holiday gift ideas for employees that they'll be thrilled to have. Their favorite chilled beverage will stay nice and cold until the last drop using these fantastic tumblers so they can really enjoy their down time. They can even keep these sets in the office and use them to celebrate landing a huge client or having a terrific quarter!
Organize Your Employees Desks this Christmas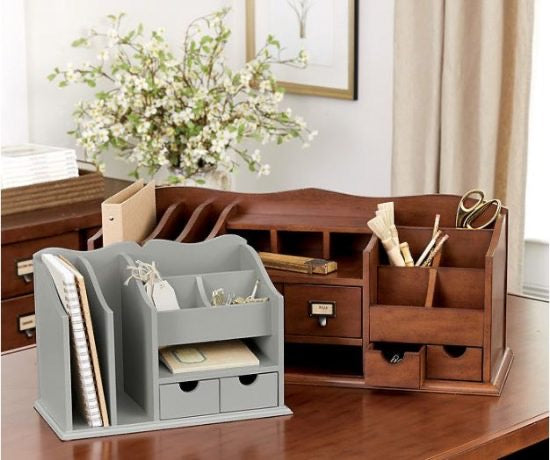 Help them keep their desk or cubicle clean and organized by getting them a wooden desk organizer! This will definitely be much appreciated by all of your employees because it'll help them store pens, pencils, thumb tacks, or any other items to keep their work space feeling neat and tidy. It'll boost their mood whenever they're at the office to have such an organized work area.
Super Fun Flask Set
Once your employees open up this gift, they'll probably start to think you know Santa Claus personally! This personalized flask set is just the kind of fun, one-of-a-kind present that'll really make the holiday office party interesting! They'll think it's awesome to have their own custom flask to use when they want to enjoy a sip of their favorite liquor whether they're at home or on-the-go.
Most Charged Christmas Present for Employees
Few things are more annoying than your phone, laptop, smart watch, or wireless headphones dying and not being able to charge them back up! That's why this portable power bank is one of the most useful holiday gifts for employees! They'll really appreciate having a way to charge their devices when they're on the go or even while they're in the office.
For Keeping Coffee in a Carafe (and Mug)
Coffee is an absolute must when everyone is at the office, and you know your employees are constantly drinking it. Give them a way to enjoy it even more with this coffee mug and carafe set! They'll really enjoy having a personalized mug to use to sip their coffee from, especially when it's their favorite coffee they've brought from home inside this carafe! A whopping 64 ounces of coffee will stay hot for hours in this carafe so they can enjoy as much as they want throughout the work day!
Monogrammed Cutting and Charcuterie Board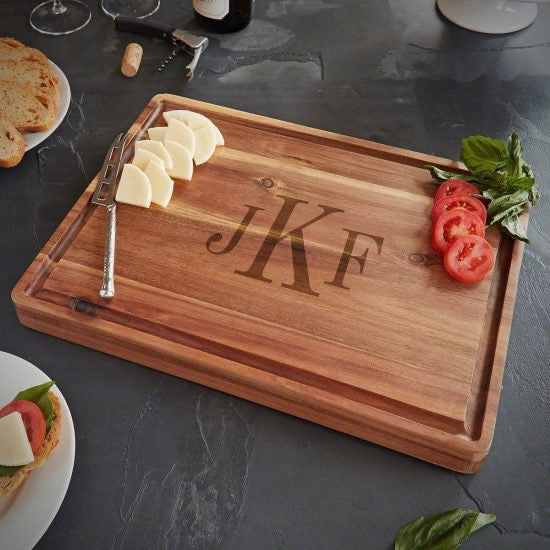 Make their holiday dinner a bit easier to prepare this year with this monogrammed butcher block cutting board! It's one of the most useful holiday gift ideas for employees because it'll make slicing that ham or chopping up the lettuce for the salad easier than ever. Plus, when they want to bring a delicious charcuterie spread to a Christmas party, this awesome gift acts as the most handsome charcuterie board they've ever seen!
Holly Jolly Thank You Set
Let them know how thankful you are for them and their hard work in the past year with a thank you gift box! They'll be delighted to receive this incredibly creative gift box set that includes goodies such as a pine tree kit and a pack of delicious hot cocoa, which is absolutely perfect for the cold Christmas months!
Wine Glass and Tool Set of Holiday Gift Ideas for Employees
This wine tools and glasses gift set is not only one of the greatest gifts they've ever been given from a boss, but it's probably one of the most awesome they've ever been given by anyone! They'll fall in love with these monogrammed glasses that let them enjoy a glass of wine on Christmas and other special occasions with their spouse or a loved one. They'll be a big fan of the small wine barrel and the fact that it keeps all of the necessary wine tools all in one spot so they don't have to hunt around the house for them.
Simply the Best Gift for Christmas Cheer
The best employee holiday gifts don't have to be complicated or showy. This whiskey glass and stone set is absolutely perfect and will make your employees feel so appreciated. Seeing their name on the glass and whiskey stone box will absolutely bring them Christmas cheer, and they'll definitely want to use this set to have their favorite Christmas whiskey or cocktail when December 25 rolls around. This simple yet phenomenal gift set will become their go-to for every holiday and celebration, and they'll have you to thank for that!
173+ EPIC HOLIDAY GIFTS FOR EMPLOYEES >
David Harrington is a seasoned researcher with a degree in English literature. He uses his extensive training and research skills to evaluate thousands of gifts a year. He then narrows that list down to a select few, choosing unique gifts that will surprise and delight his readers and their gift recipients.