Mom and dad have been there for you throughout your entire life, and now it's your turn to take care of them as they retire and grow older. You probably have some ideas on what kinds of things they need to make everyday activities a little easier on them, but when it comes to gifts for their birthday, anniversary, or Christmas, you're stumped! Gifts for elderly parents should be nice items that either help them relax or something sentimental that they can enjoy for the rest of their lives. You don't have to stick to gifts that they can both enjoy, mom would love something extra special for Mother's Day or your dad would appreciate a neat gift that gives him a new hobby. Are you searching for gifts for retired parents? Wondering what kinds of gifts would help your parents out at home? We've found all types of great gifts for your parents that they are sure to love!
Elegant Whiskey Gifts for Elderly Parents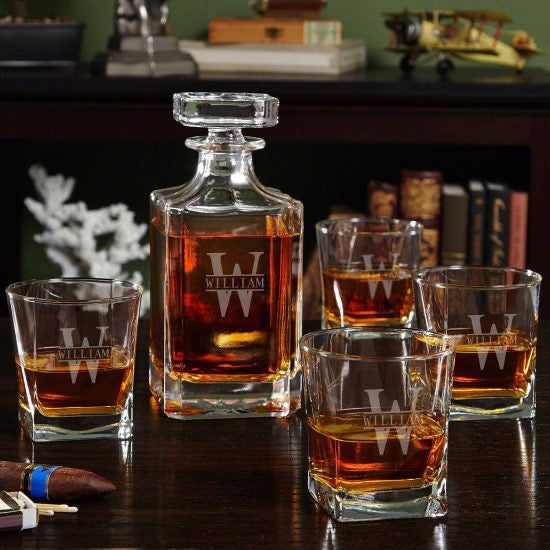 Just because mom and dad are along in years doesn't mean they don't still enjoy the occasional drink! This stunning personalized whiskey decanter set is great for a couple of drinks with their friends or relatives when they come over to visit. Even when your parents aren't using this gorgeous decanter set, it makes a beautiful centerpiece for their home bar or living room as the entire set features their last name and initial. The thick, sturdy glasses are built to last for years to come as gifts for elderly parents should!
The Sweetest Wine Gifts for Retired Parents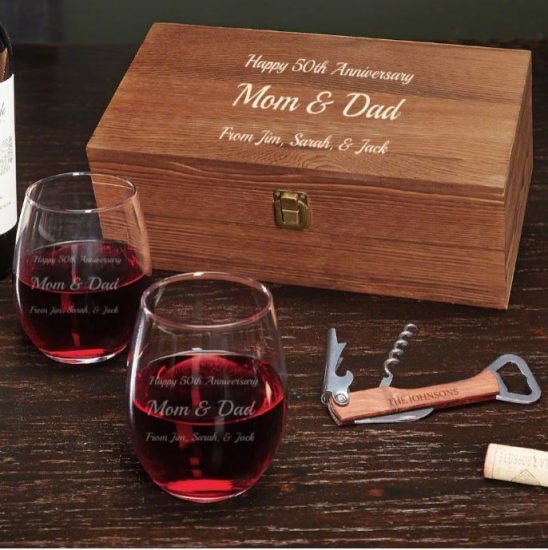 Whether you're in search of nice gifts for retired parents on their anniversary or for Christmas, you can't go wrong with this customizable wine gift set! You can choose up to three lines of text to be engraved on the glasses and gift box, which means you can customize your special message to your parents and the occasion! This thoughtful gift is perfect for mom and dad to enjoy on celebratory events or even just to unwind with a nice glass of wine.
Diamonds Are Forever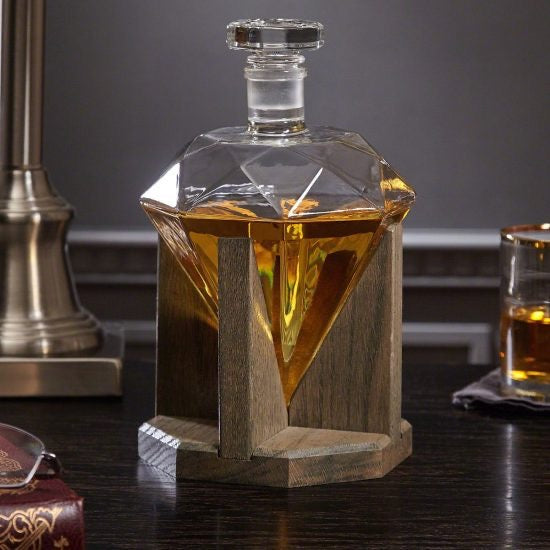 Whether it's their diamond anniversary and you want to tell your folks they're going to be around as long as a diamond, this beautiful decanter is a lovely gift for them! They will enjoy the unique and elegant touch it adds to the room when they're not using it to pour themselves quality drinks after dinner. Everyone who visits will be amazed by it and it makes a great conversation starter!
Something That Makes Their House Feel Like Home
Since you and their other children are all grown up and they're feeling the emptiness of the house, give them a gift that makes it a little more homey like a custom sign! This handsome wood sign will make them feel like newlyweds all over again every time they look at it whether it's displayed in the entryway, living room, or even the dining room!
The Coolest Gift for Dad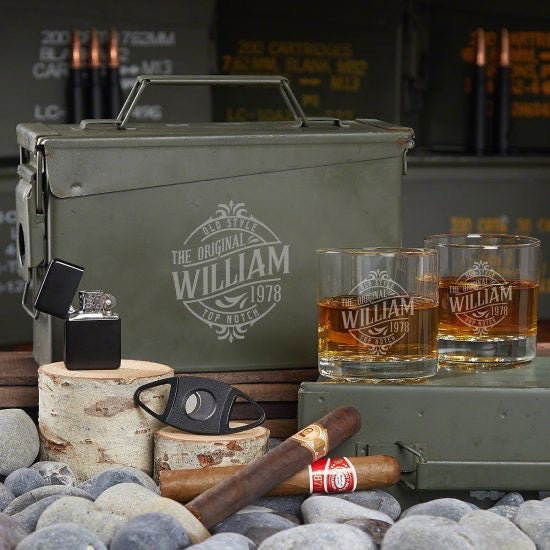 Want to get your older dad something really special for his birthday, Father's Day, or retirement? He will feel like the classiest man around with this suave ammo can gift set! The two of you can enjoy a nice glass of whiskey with his new custom rocks glasses as he prepares a couple of stogies with the cigar accessories. He'll especially love that he can store all of his tools, cigars, or best bottles of scotch in the ammo can! This awesome gift set is one of the best gifts for retired parents like your dad.
477+ AMAZING GIFT SETS FOR MOM AND DAD>
The Coziest Gifts for Elderly Parents
You've noticed that your parents are always saying they're cold, even when it's the peak of summer! Why not get them something nice that will keep them warm and comfortable, like this heated wearable blanket? This plush, cozy blanket will ensure that they are perfectly warm and toasty, and the heat will even soothe their aches and pains! Both of your parents will want one, so make sure you get two! Bonus: you can also get each blanket monogrammed!
Classic Hardwood Cutting Board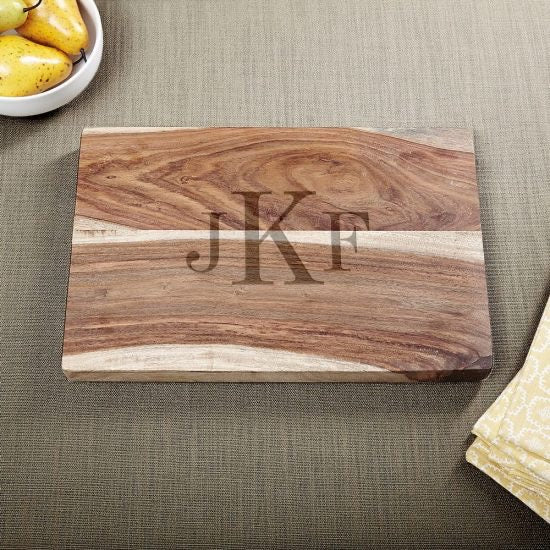 Now that mom and dad are older, they're probably doing less cooking than they used to. Still, when they do prepare a meal, they deserve to have a clean, dedicated place to do so! This beautiful monogrammed hardwood cutting board is perfect for chopping, dicing, slicing, seasoning, and more. Your parents will love that they won't have to make a mess of the counter tops when they cook anymore, and they will enjoy having a beautiful new decoration in the kitchen when it's not in use.
A New Experience is Always a Great Gift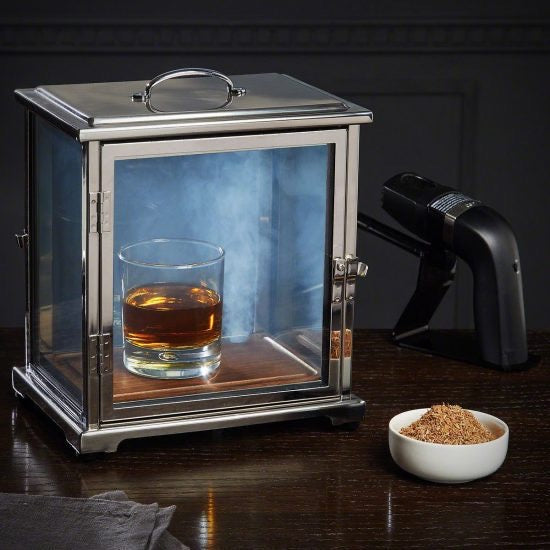 The best kinds of gifts for elderly parents are those that provide a new way to experience life. Mom and dad might have their preferred drink of choice, but they've probably never experienced their favorite drink with a whole new flavor added to it! This unique gadget can take any drink (or anything, really) and add a new, delicious smoky hint of flavor to it. They will have so much fun experimenting with this nifty gadget and showing it to their friends that they'll feel like kids all over again trying out different drinks like they just turned 21!
The Most Unique Gift for Parents Who Love Their Whiskey
Whether your older parents are super into whiskey or not, they'll be in awe of this amazing whiskey decanter set! They will love that you went to all the trouble of creating a unique whiskey label just for them on this entire set as it will make them feel like they have their own famous whiskey like Jack Daniels. This beautiful set will look awesome on their home bar and will certainly be the envy of all of their friends! In fact, they might start telling people that they made their own whiskey to serve with this set as a joke.
Make Sure Their Wine Always Tastes Amazing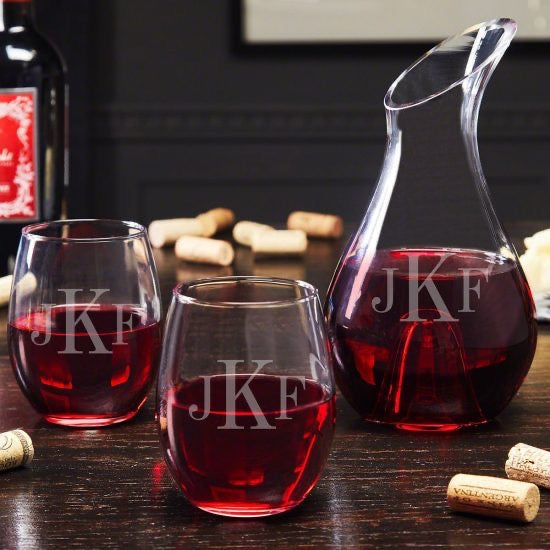 Older couples tend to enjoy red wine more than younger ones, so your mom and dad have probably already started trying out various Merlots and Cabernets! Make sure that they can enjoy their new hobby properly with this lovely wine decanter set, which will aerate their wine perfectly. They will certainly love the elegant engraving of their initials on the set, and they might even be inspired to get some friends together for a wine tasting!
Gifts for Elderly Parents That Show Them You Care
As your parents have gotten older over the years, you've noticed that they cook and eat less. You occasionally do some grocery shopping for them, but you can do something even better by gifting them Hello Fresh! The highest-rated meal delivery kit on the web, this thoughtful service will make sure that your parents are well-fed with delicious and nutritious meals several times a week.
Unique Cognac Gift Set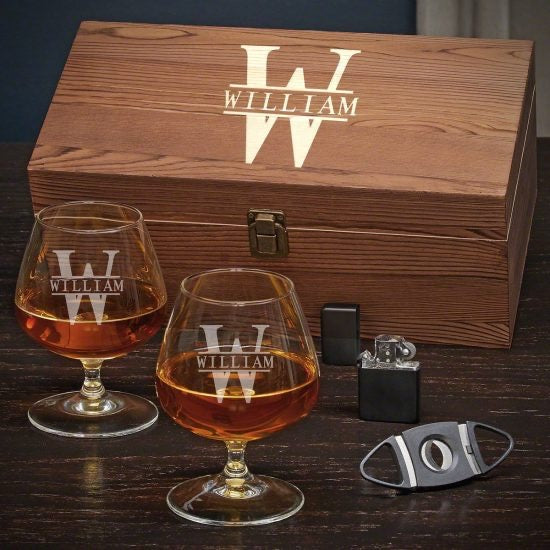 Some of the best gifts for retired parents are those that you can share and enjoy with them. For example, your dad has always wanted to start drinking cognac once he retires because he's always seen it as a luxurious, special liquor that only retired men drink. Why not surprise him with this amazing custom cognac glass set as a retirement gift? He will be so touched that you remembered, and especially that you want to try his new favorite gift set with him.
499+ MORE AMAZING GIFTS FOR DAD>
Beautiful New Decoration for Their Home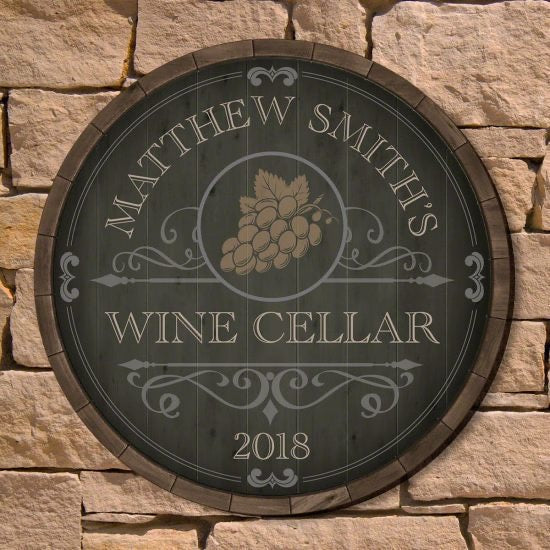 It doesn't matter if mom and dad have started getting into wine or they occasionally enjoy a glass, they will absolutely love this gorgeous wine-themed sign! The perfect new decoration for their kitchen, dining room, or home bar, this lovely wine barrel sign will make them feel like true wine sommeliers. Who knows? They might even want to build a wine cellar or get into wine making because of your lovely gift!
A Place To Keep Their Watches
Mom and dad probably have quite the assortment of watches that they've bought or have been given as gifts over the years, but nowhere to put them! Make sure they have a secure place to keep all of their watches organized and free from dust with this beautiful watch case. Thanks to your thoughtful gift, they'll never lose another timepiece!
Impressive Gifts for Elderly Parents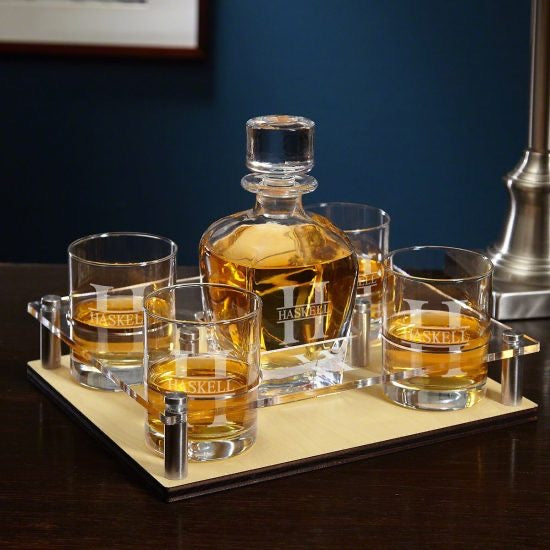 Is there anything older parents appreciate more than a luxurious set of glassware that they can show off to their friends and family? This stunning presentation set is sure to be the classiest and most practical set of glassware they've ever owned. Mom and dad will be so excited to try out this amazing decanter set that they will invite all of their friends over drinks and snacks just so that they can go around to everyone and serve them a drink from this impressive set. When it's not in use, the set looks gorgeous on display in their home bar or dining room.
A Fun Family Keepsake You Can Make Together
Gifts for retired parents should be something that they can enjoy with their kids, especially if it's something fun and memorable like this DIY hand casting set! Designed for a family to create together, you and your parents can use any kind of pose you like of all of your hands to make a one-of-a-kind sculpture they'll treasure forever. It might even be passed down to you someday, and you'll always remember it too!
Something Special for Dad
Looking for an extra unique gift for dad for Christmas, his birthday, or Father's Day? He will love to kick back and relax with this sophisticated set! Perfect for celebrating special occasions or just indulging in a glass of scotch and a stogie after a long day, this amazing gift set will become dad's new favorite way to relax. Just don't forget to get him a bottle of his favorite scotch and a couple of stogies to put in the cigar case before you give it to him!
Something Special for Mom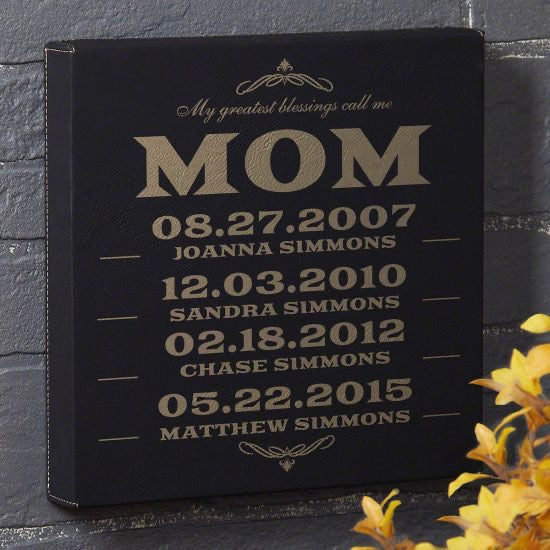 Make your mom's day with a gift that is so sweet, she might just cry. Is there a gift she could love more than a custom canvas print featuring the names and birthdays of all of her children? A great gift for Mother's Day, her birthday, or even Christmas, your mom will proudly display this lovely canvas in the living room. Even though you kids are all grown up and she's a grandma (or about to be), her kids will always be her greatest blessings.
Unique Decanter Set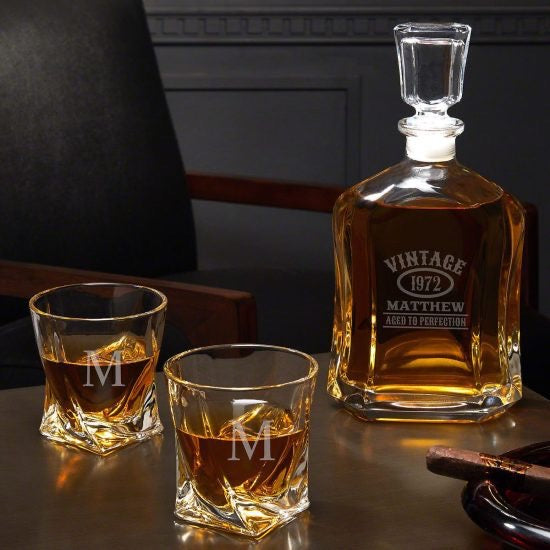 Your parents may be along in years, but they still have a sense of humor! This custom decanter set proclaims mom and dad as "aged to perfection." They will love using this set for drinks after dinner, celebrating special occasions such as their anniversary or retirement, and for catching up with friends and family. Pair this set with a nice bottle of their favorite kind of liquor and you've got the perfect gifts for retired parents!
211+ GREAT GIFTS FOR ELDERLY PARENTS>