27 Great Gifts for Dad this Christmas
Dads, sometimes they are so easy to shop for that it almost becomes a challenge not to get them the same thing you got them last year or the year before. To give unique gifts for dad this Christmas, you need to do something personal and focus more on ways for him to relax. While he loves a good detailing kit for his car or a power tool, those don't really help him put his feet up. Make your dad comfortable with a better Christmas gift this year. Get him something that makes him sit down, take a deep breath, and truly enjoy the holidays. He'll always remember the present you got him this year because it is different, it is personal, and it is guaranteed to be something he'll love!
Ultimate Dad Christmas Gift Collection
You see your dad as the ultimate man's man. You remember all the hours he has spent in the wood shop building the furniture for your house, you've seen him lift incredible amounts of weight at home; things you could never imagine moving. And all he wants at the end of the day is a way to relax. This .50 caliber ammo can embraces everything he is about. It has a hatchet for his masculine ways, a flask, and two pint glasses so he can have a swig of his favorite drinks. After gifting him this for Christmas, wait for him to ask for you to get him a new beer because he's tired. You'll finally be able to swoop in and say "Hi Tired, I'm (Insert awesome gift giver name here)."
Liquid Holiday Cheer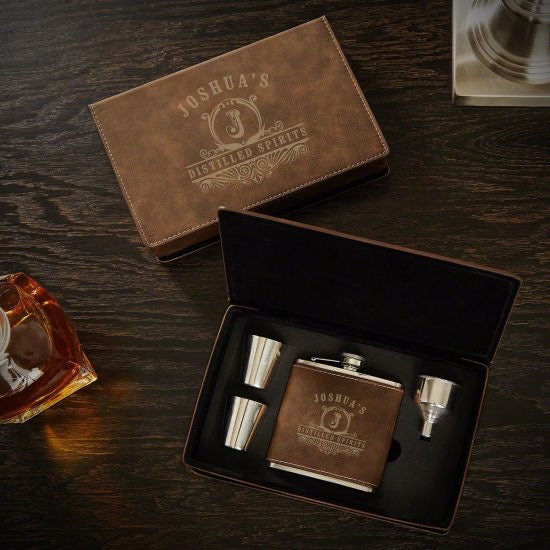 He's always been the cool dad, so much so that he seems more like your buddy than your dad. Presents for dad have always been sort of difficult because of this. A flask box set is the perfect gift so you and him can share some holiday spirit together! He can fill his new embossed flask with his favorite whiskey and the two of you each have your own shot glass to enjoy his favorite liquor! This is a great gift for during the holidays, and a practical gift that he can use all year long!
A Decanter for Dad
He's always fancied himself as a bit of a Don Draper. He comes home from work in a clean suit and enjoys having a nice drink at the end of his work day. However, he also loves aesthetics, he wants his things to have a clean and stylish look to them. Give him what he wants with a visually stunning decanter and bourbon glass set. The matching set feels solid in the hand and is sturdy on the table. He'll love the styling of the glass that gives a feeling of fluidity without motion. Gifts for dad on Christmas should be something he can use and will love, so match his desire to a great present!
The Next Best Gift Other Than Beer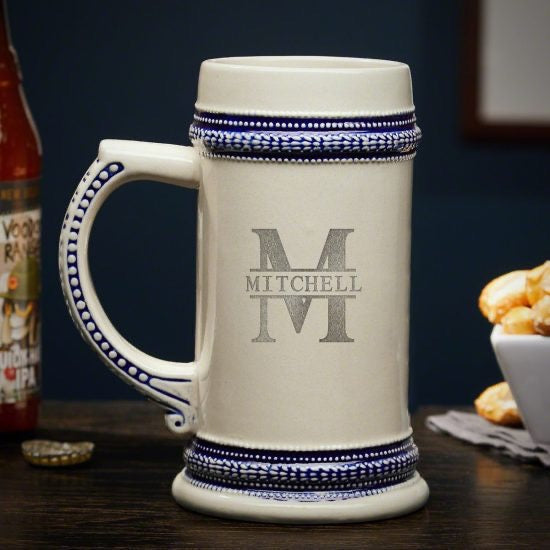 For as long as you can remember, Dad has always been a beer guy, but you can't just give beer as a gift for dad's Christmas (you could, he'd be happy, but Mom would be so disappointed). Instead, heighten his beer drinking experience with a mug straight from the Fatherland. Beer steins are one of the best ways to enjoy all beers from a macro-brew all the way to craft beers. There's just something about this method of drinking that men love, and your dad is no different! Even the dad who has everything would love this custom ceramic beer stein for the holidays.
An Amazing Office Golf Set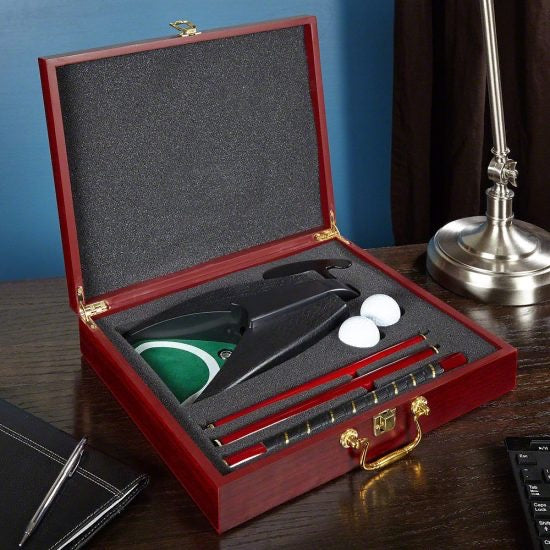 Your dad is more than just a golf enthusiast, he lives and breathes for the sport. You've spent countless weekends on the couch watching the TV in silence as some guy in funny clothes taps a ball and gets what can only be described as "the golf-clap." As you've grown, you now understand it is a game of passion for your father. This present for your dad should be something he can use and will fall in love with. Make him feel like an executive or CEO with a monogrammed golf putting set. He'll love the quality of the material and that he can either use it in his office or around the house!
A Hot New Hobby
Food dehydrators, they're one of those gifts for dad that don't always jump to the forefront of your mind. However, you start to sit back and think about your dad's favorite food, and what is it? Jerky, of course it is beef jerky. Instead of always going to the store and buying one bags of different brands. He can now make this a new hobby! He'll be able to make as much as he wants and as a bonus his house is going to smell like delicious meat whenever he is making his favorite food! Now as the holidays come and go, instead of eating turkey for days on end, your dad will enjoy all the jerky he can handle.
A Pretty Chill Gift
Growing up, your dad was never much of a beer guy. He preferred to make his own cocktails or mixed drinks. To this day, that is still one of his favorite things. He may even enjoy making his drink more than having it. A set of custom engraved stainless steel tumblers will surely put a smile on his face. These are double walled as well so he can keep all of his drinks chilled far longer than with his other glassware!
Relaxation at its Finest
Dad's favorite way to relax is to quietly watch old war movies with his favorite drink in hand. Presents for your dad should match what he really wants to do in his free time, so help him out where you can! This set will make him feel refined as his sits back with his chilled scotch, flask as a refill by his side, as he watches Bridge Over the River Kwai for the 100th time. Letting him use your Christmas gift to make his favorite movie even better will surely make this one of the best gifts he gets all year!
Personalized Scotch Set
He's always enjoyed a good glass of scotch but the glasses have always looked so small in his hands. It sort of looks like Andre the Giant holding a beer can. To remedy this, get him the largest manly glasses and decanter set when looking at gifts for dad this Christmas. Add a personal touch with personalized engraving on the whole set too! The decanter will make his staple whiskey take on a new aesthetic look that pairs well with his new glassware. These gigantic glasses hold over 12 ounces and are huge! Aside from their size, they match the decanter nicely and will give him that refined scotch experience he's been looking for.
A Great Growler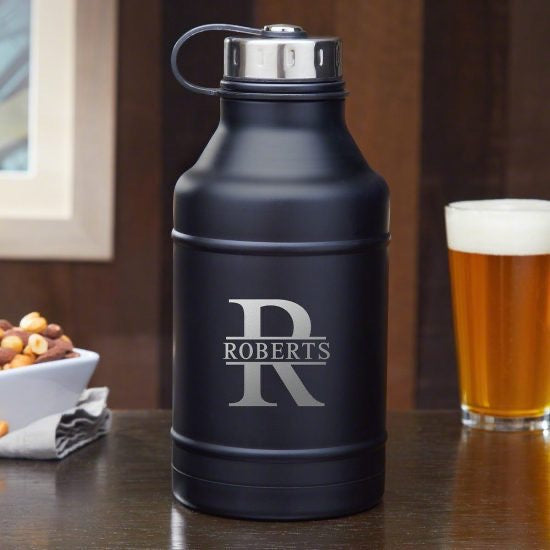 One of the best presents for Dad is to keep his drinks cold or hot, depending on his need for that day. This double walled growler is able to keep a full six-pack chilled for 24 hours and will keep his favorite coffee piping hot for six. Make it special for him by engraving his name on it too! Whether he is outside for house work or something else, his drink will stay just how he likes it! For Christmas he'll be able to keep all the cocoa hot and the eggnog cool through the rest of the holiday season!
An Awesome Way to Watch Holiday Movie
The holidays are a fantastic time for your dad to catch up on some of his favorite television shows and movies. What better way to find everything he could ever want to watch than with his own streaming service with thousands of hours of entertainment at this finger tips! He can buy, rent, or steam and be able to watch almost any show or movie he wants over Christmas!
The Manliest Gift Box
He's never shied away from a day of hard work in his life and to relax at the end of the day he's all about nature and guns. If he isn't building a bonfire, he's likely getting ready to go to the range. Presents for your dad are things that he needs to find useful. An ammo can full of his favorite things is pretty damn useful. A hatchet lets him work and cut, while he can sit back and relax by the fire with his favorite drink! And the 50. caliber ammo can itself can be used outside, inside, or even at the range to carry everything he needs!
That's the Holiday Spirit
Wine, it's one of those drinks that is perfect for almost every occasion. Your dad finds any excuse he can to break it out. A great gift for dad this Christmas will be to take his wine game to the next level. Get him a decanter with a matching set of glasses. The decanter will oxidize his wine, making it taste even better than before! Once he has this set, you'll know he'll want to take out his gift and show off how great it makes his wine!
Signs of a Christmas Miracle
Dad has always been sort of funny with his rules and at his home bar, things are even stranger. Give him a custom sign for his home bar and put on some of his favorite goofy home bar rules! He'll love having a sign with his own personal rules. Embrace what makes your dad such a character and get him the personalized rule sign he has always needed! Make the sign attuned to his sense of humor and personalize it further with his name at the top!
Whiskey & Cigars: Dad's Milk & Cookies
You've always gotten gifts for Dad on Christmas related to cigars or whiskey somehow. He has an extensive collection of ashtrays and bottles. He enjoys all of them, but still feels like he could have something added to his cigar and whiskey ways. What if you made it so he didn't need an ashtray to set his stogie down on? These unique glasses let him keep his cigar in hand the whole time he smokes and drinks! He'll get a ton of use out of this gift and he'll still be able to use the ashtrays you've gotten him in the past!
Teeth as White as Snow
Now, you may want to be ready with an explanation with this Christmas gift for dad or he might take it the wrong way. This dental service supplies him with an electric toothbrush and toothpaste every three months. He'll never let his toothbrush go months on end without changing it again! A year subscription for this will be one of those gifts that he'll appreciate more and more since he gets to use his gift twice a day! Make his smile as white as the Christmas snow outside!
A Neat Gift
If he is a man who enjoys the simpler things in life and is organized, a whiskey glass and stone set may be right up his alley. He doesn't want a decanter because they're just not his thing. However, some stones to keep his whiskey chilled with a glass that has his own name on it is perfect for his kind of drinking. He is the kind of man where one set is enough. He wouldn't even want the second glass if you had gotten it for him. This set will be perfect for the organized and simplistic guy. He is the dad who loves his whiskey without any mixers or ice, which will make the stones perfect! Once he is done, his personalized box will be his favorite way of keeping his stones in one place.
The Heat Is On With This Cool Gift
Make the presents for dad this holiday season the coolest ones he can possibly get! Whether he sees himself as Maverick or Goose, he is sure to be the Iceman this Christmas with his very own set of bullet whiskey stones! This engraved gift is sure to wow him for not only being the "Top Dad" but for referencing one of his favorite movies of all time, Top Gun! He'll feel like the heat is one with a gift that takes him on a highway to the "Dad Zone!"
Dad's Winter Whiskey Glass and Decanter
These unique glasses and the stylish decanter are a perfect gift for Dad this Christmas. He is able to decant his best scotch and drink out of a brand new set of glasses. The shape of these contour to fit his hand perfectly! This set will surely be a talking piece both as he opens it and when he uses it as other family comes over throughout the holiday season. Give him the gift that keeps on giving, a perfect whiskey glass and decanter set!
His Holiday Flight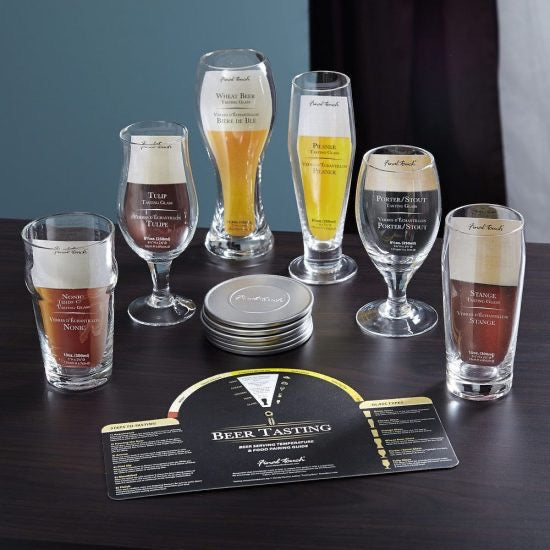 Your dad loves his beers. The newest hobby he began embracing over the past few years has going to beer tasting. He always comes back and talks about how great it was and he wishes you would join in on the experience. Make that experience part of his home life now with a personalized beer tasting set! These six glasses come with a facts sheet to help him know what beer should go in which glass! Embrace his new hobby and let him bring that brewery tasting experience home with his own beer glass set!
Nostalgia Entertainment System
Originally made in 1985, this may have been your dad's first gaming console. This machine will bring back all of the nostalgia of when he first discovered video games and he'll plug it in as soon as he opens it, probably forgetting to open the rest of the presents labeled "For: Dad." Goomba stomp the rest of your family's gifts with the one that brings him back to what made him the gamer he is today!
Copper Christmas Greetings Growler
Growing up, you remember your dad having a glass of beer every night; either during dinner, while he watched television, or while he read a book. What is a better beer gift for dad this Christmas than his own personalized pint glasses and growler? He'll be able to take his favorite beer with him anywhere he goes, and this baby carries a whole 64 ounces! The glasses will ensure he always gets his favorite drinking glass and that he doesn't get stuck with anything less!
Projector Present for Dad
Whether he loves films or wants to watch the big game, nothing makes a viewing more special than seeing it through a projector. For Christmas make sure he can use an entire wall as his television with this home theater quality projector! He'll be able to see everything in exact detail as this projector shows everything in 4k resolution and has built in color balancing! This Christmas gift will give your dad the biggest and best screening experience he's ever had! Just make sure when he starts it up that all of the popcorn and drinks are ready, because no one will want to walk away from this viewing experience!
A Coffee Christmas Story
Your dad absolutely loves beans, and not the gassy kind, but the beautifully roasted kind. He is all about his coffee, so much so that he doesn't even go to Starbucks. Every morning he makes his own brew from his own selection. Help him enjoy his best cup of coffee from morning to night with personalized cup and a 64-ounce growler! He'll never start getting tired if he fills this bad boy up every day!
One Smokin' Gift
Cigar aficionados love a way to show off either their favorite brand or all the different kinds of cigars they have tried. A great way to show this is with a shadow box. For your dad's Christmas present, a shadow box embracing his favorite way to celebrate and relax is perfect! He'll have his name engraved on the removable glass and slowly be able to fill the box with the best cigar wrappers he's got!
Seasons' Meatings
Every meal you've ever seen this man eat consisted of at least 50% meat. He loves meat more than almost anything else in the whole world. For the meat loving gift for dad this Christmas sign him up for a holiday gift box from Butcher Box. He'll get a box full of pounds of his favorite cuts of meat that is of the highest quality. If he wants salmon, chicken, bacon, beef, sausage, anything, he can have it. He even gets to choose the exact cut he wants, how cool is that?
Merry Mugs for Christmas
He may not have been able to make Oktoberfest this year, but it isn't too late for you to bring some of that magical October beer cheer as a gift for dad this Christmas. He'll finally have his own set of personalized Oktoberfest beer mugs! Frosty won't be the only jolly soul on Christmas when he is able to fill both of these mugs up with his favorite Pilsner or Weizen. Make your dad smile with the best beer mugs he could ever get!
153+ AMAZING CHRISTMAS GIFTS FOR DAD>