31 Great Gift Ideas for Husbands
Husbands tend to have a lot of things in life they'd like to get. Unfortunately, life sometimes gets in the way and they may never have time to get around to pursuing their hobby. Great gift ideas for your husband should be something you know he wants, but wouldn't get for himself. Be the person in his life that pushes him to fully embrace his favorite hobby or form of relaxation. You know you want to get a stand out gift, one that he will remember years down the road. To make this anniversary or birthday truly special, make sure your gift idea for your husband is something he gets to use as often as possible! He'll love getting his new gift even more if he knows that he'll get a chance to use it almost every single day!
The Most Unique Cigar Set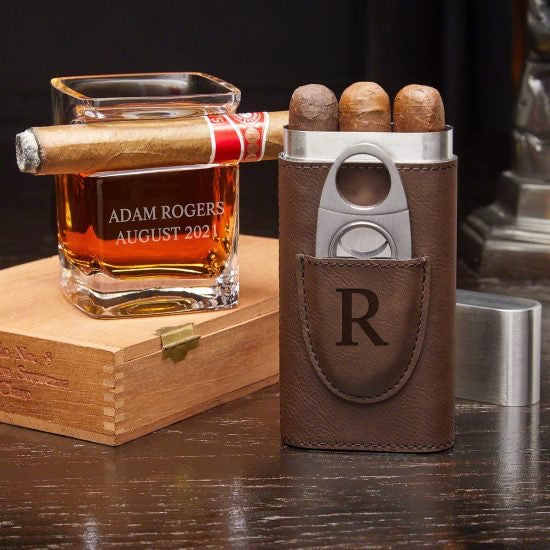 Some guys really enjoy their whiskey and cigars. A lot of the time, they like to partake in both at the same time. For the guy who loves both, check out this awesome cigar holder paired with this unique cigar whiskey glass. You know he'll love a cigar set like this, so don't let any other birthday ideas cloud your judgement! His birthday should be a time to celebrate what he loves, cigars! Gifts like a new shirt or a new motorcycle part are nice, but if you hit him with something to relax with, he will never forget! The case gives him the ability to carry three of his finest cigars anywhere he wants or to even keep them sealed up inside the house. The final piece that he will truly love is the unique old-fashioned whiskey glass that will make him wonder where you went to get such a cool piece! The glass is made with a cigar holder on the side, this way he can drink and smoke with ease!
What's in the Box?
He's been saving his beer caps in a desk, in a bag, or in a shoe box. Someday he wants to show off his collection, but he's never figured out how. You've been trying to find that perfect thing for your husband's birthday idea, but keep coming up with blanks. So, to really make his birthday special, give him a display piece that can be where he shows off his beer cap collection. This sturdy shadow box is made of solid wood with a removable glass face. So, when he fills it up (which he will) he can remove the old ones and start again! Put this gift at the top of your list and don't forget that the case is personalized. Slap his name at the top and let him show off his new shadow box because what husband doesn't want to be known as legendary?
Sign Up for This Gift Idea for Husbands
Nothing quite says "Happy Birthday" or "Happy Anniversary," like a personalized sign for his man cave. With his name, a line of text, and the date available for personalization this gift will blow him away. You'll have made it so he can mark his man cave with an official wooden sign! And if space on the wall is tight, it looks amazing resting on a stand as well. Make your husband's day with a sign that lets him claim his space as his own!
Can He Do the Twist?
Some guys like to put a twist into the way they drink. Bad puns aside, when coming up with gift ideas for your husband's birthday or anniversary consider this unique glass and decanter set. The stunning glasswork means that this set should always be on display, not just for drinks, but as a center-piece for guests. The twist in the glass not only looks great but adds a nice bit of comfort in the hand. If you have a man that is serious about his liquor, give him the most aesthetic vessel for drinking and pouring you can find, but with a twist!
The Alpha Ammo Set Is A Great Gift Idea for Your Husband
He's the alpha of his group of friends, by the time he's dried his face from shaving, he's already grown another beard; yet, he still has that refined quality to him. Gift ideas for husbands like these are tough, you don't want to get them something they'll deem not manly enough but buying them an adult bear to wrestle seems just a little too dangerous, for the bear. Well worry no more. This ammo can set is perfect for the most masculine of men. The flip-top lighter, cigar cutter, two old-fashioned glasses, and personalized ammo can will suit any alpha-male. The set pairs the refinement of cigar and whiskey-loving with the rugged exterior that you love him for.
Organize a Great Gift
Almost all guys love to work with their hands. To do so, they generally need to know where their tools are. And what better way to stay organized than a mobile tool bench? A great birthday idea for your husband is one that lets him create or fix things. This will be the gift that keeps on giving for him. You'll be sure to find him in the garage every weekend making a new table or wrenching on his ride. The best part is, he'll be more efficient than ever with his new organized tool bench!
A Raise From Last Year's Gift
Your husband has been an avid poker player for years. This year's gift can reignite his love for poker. Nothing reunites him with his buddies like a couple of drinks, some cards, and the competition of they find in poker. As he unwraps this anniversary gift, he'll see himself as the curmudgeon-like bulldog in the famous "Dogs Playing Poker" art piece. To top this set off, the case can be personalized with a name, date, initials, year, and phrase; allowing you the ability to give your husband that "just for you" touch. This won't be just a gift for him, it'll be a reason for him and the guys to get together.
Mark His Territory for Him
The perfect gift idea for your husband may be to give him the best piece of decoration for his home bar. Is a bar even truly a bar until it has been dubbed as one with a sign? Without something to mark it, a home bar may as well just be a couple of dudes drinking by themselves in the basement. Make your home watering hole official with this bold sign! The custom leatherette wrapped canvas is laser engraved with the name, two lines of text, and a date; all of which are able to be personalized to what suits your husband best. Give him a sign that will be the talk of all your guests when they come into your bar.
Ultimate Manly Adventure Kit
Your married dude is probably rocking an unironic flannel and beard combo right now. He's always outside and comes in smelling like pine or cedar. These are the kind of guys that need an adventure kit. When you're trying to come up with the perfect gift this year, you may come across some camping stuff or maybe some shirts. But you know this is a guy that will go outside in any weather with whatever shirt is on his back. Arm him with a hatchet and a flask for his adventures and when he comes home, you and he get to share an ice-cold pint of his favorite brew.
A Sweet Snifter Set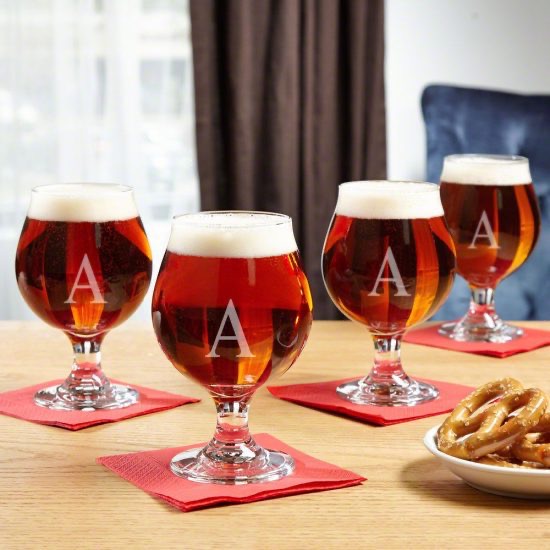 For the beer aficionado you are married to, nothing can be sub-par. A regular drinking glass is just too pedestrian for his taste. When narrowing down the choices for your husband's birthday, give him a set of snifter glasses that will make him look as high-class as he feels. The snifter glass will be his primary craft beer glass as its tulip shape enhances the aroma of the hops as he sips on, Battered Boar Bazil Twins, his favorite brand of liquid gold!
Awesome Audio
Everyone appreciates good sound, but your husband lives for it. He loves the crisp sound of theater speakers or the piercing cries of guitars at a live concert. But the TV has never quite given him that same satisfaction. Fix that situation with a sound bar that turns things up to 11! The top-level audio design will have him wanting to stay at home for all of his entertainment since nothing else can match this quality!
Score Him Scotch Glasses
Each night your husband comes home and pours himself a glass of scotch. For his birthday, why not give him a custom set of glasses for his favorite form of relaxation? Every man deserves his own set of scotch specific glasses. Yeah, he can drink out of that department store cup he got years ago, which is fine, or you could let him get as classy as Ron Burgundy. The scotch will go down into his belly either way, but it'll taste all the sweeter when he has initials engraved on the front of his very own whiskey box set with old-fashioned glasses and stones.
A Day-To-Day Survival Set
Some men like the simple but functional things in life. For those men, a unique set of tools that can be used on the daily are exactly what they need. A great gift idea for your husband should be something that he can get use out of every single day. Both the tumbler and flask are able to be engraved and will keep his drinks at just the right temperature; meaning, no matter if it is day or night, the love of your life can use the gift you got him. Need some coffee? He has his tumbler ready and waiting, and the same goes for if he needs a quick drink with his flask! That's not even to mention the pocket knife which he can find endless uses for!
For Cigar Lovers
He loves nothing more than a good cigar at the end of the week. Stogies are his favorite form of relaxation, so why not make them even better? For your husband's birthday idea, give him everything he'll ever need for his cigars! He'll have his cigar box, lighter, and ashtray for his at home enjoyment and his case for when he's on the go. For the husband who loves cigars or is just getting into them, this set is essential!
Fit for a King
A solid drinking glass goes a long way to how the drink itself makes a guy feel. To make him feel like a king in his own home, get him a decanter set with a large and solid pair of glasses. The decanter will oxidize his whiskey to bring out some of the more subtle flavors while his new glasses will make him feel like the manliest man on the earth. Their weighty feel combined with the fact they can hold over 12 ounces of whiskey means he'll feel great while drinking from this set!
253+ WHISKEY AND BOURBON GLASSES HE MUST HAVE
Cutting Edge Gifts
Food culture has exploded in recent years. not only are people eating less processed foods, but they're learning more styles of cooking. The love of your life is one of those people who have recently taken a huge interest in quality cooking they're going to need this high-end chef knife set. This set of Shun knives are a gift idea for your husband because this set will start his collection with a wood-block, chef knife, and honing steel. He'll be making meals right way just so he can play with his new gift. Invest in a great kitchen knife set and the both of you will not only eat better, but you'll be starting his hobby with some of the best steel around!
The Gift for the Husband Who Has It All
Some guys seem to just have everything. They buy everything they need in their life, never leaving room for you to get them a great present. A gift idea for your husband should come from a place he'll never expect. This personalized set is the perfect gift for the husband who seems to have it all. The decanter holds 23 ounces but is ergonomically shaped to still allow the classic one-handed pour. Make your man feel like a man with his personalized decanter, whiskey glasses, and wooden box.
A Sign of a Great Gift
The love of your life seems to spend all of his free time in his garage. He's covered in grease and oil and loves every second of it. A wall plaque is a fantastic thought for a husband birthday gift idea because he'll keep it and have it mounted for years to come! It doesn't matter if he is wrenching on his ride or cutting wood; he's always out there. A personalized garage sign will make his workshop official and add a little piece of you to his space. His projects will come and go but the garage and that sign will always be right there for him.
Ammo-Can You Dig It?
A gift set for any man. This set comes packaged inside a 30 caliber military grade ammo can with everything your husband could ever want. He's got probably the world's best beer bottle opener, a 50 caliber bullet, this way he can top off his own personalized beer glasses. When he's done that, he still has a knife for any use he can think of and even then, he still has his own personalized ammo can! He can store all his gift in the ammo can, put other things in there, or if he loves guns, he could always store ammo in the ammo can!
The Coolest Whiskey Stone Set
Your husband is a mirror image of Ron Swanson, or maybe, Ron Swanson is a mirror image of your husband. Either way, he makes boats by hand, hates small talk, and loves his whiskey. Gift ideas for husbands like this may be difficult, but they will undoubtedly enjoy their whiskey. However, they think water is strictly a medium for boats to travel on or for washing their car. They don't want something so weak and common in their drinks. No, give them their own personalized whiskey glasses that come with stones to keep their alcohol cold. He may have just had a heart attack thinking that some frozen water might be touching his precious brown spirit. You will want a whiskey set for this kind of man's birthday.
A Hot Gift This Year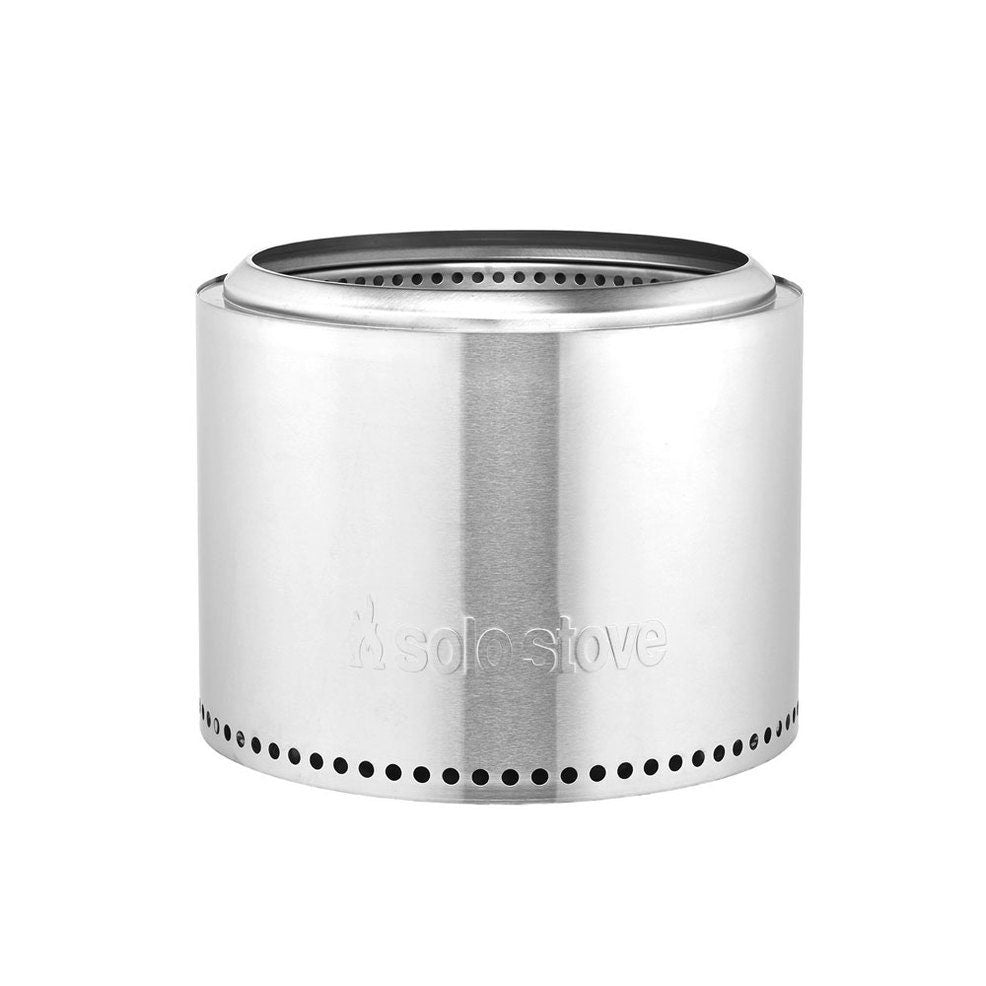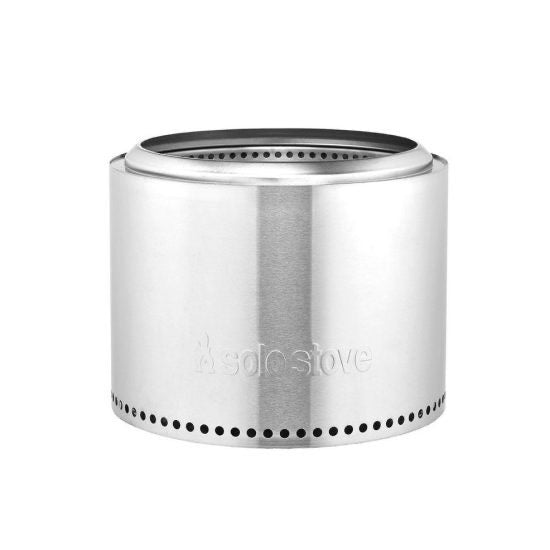 Lots of guys like nothing better than being outside fire as often as they can; whether that means with the grill or with a bonfire. They call their buddies over for bonfires or are always going to the other guy's house who has a fire pit. Have him embrace that love of fire with a portable bonfire. Unlike the stationary pits, this one creates very little smoke and is super easy to clean up. Instead of having him go to the party, he can bring the party wherever he goes!
Tap into What Gifts He Wants
Does your husband have aspirations for his own home bar packed with different brews on tap? When thinking of gift ideas for your husband, consider these handcrafted in the USA beer tap handles. Think about it, can he really call it a bar if he can't even pour from the tap? Anyone can have a stack of liquor and a few bottles of beer and call it a bar, but there will be no question when he pulls down on the walnut and pours a glorious beer
A Classic Drinking Experience
Sometimes the basic beer mug is exactly what he is looking for. He wants to feel like he is back in the fatherland, in Germany, drinking where the stein originated. Your husband is function over form every day of the week, so you can pass up all of the fancy options and get him back to the classic beer drinking method, a ceramic stein. These timeless vessels can be engraved so you can make it a more personal gift. If he loves beer and loves it being simple, give him a taste of the old country with these classic mugs. There's nothing better than a ceramic stein knock back a handful of his favorite pilsners or hefeweizens.
One for the Wino
Wine sets are ideal for a husband birthday gift idea. Why? Because he'll get to feel incredibly fancy while sharing a drink with the woman he loves. The decanter itself holds 40 ounces while each glass takes up to 20 ounces. That means you two get to share almost a bottle of wine each! The decanter will provide aeration to the wine, giving both of you a new flavor experience with your favorite drink!
Just Tossing Out an Idea
Your husband loves to be outside so why not let him play a game with everyone while he's out there? A fantastic husband birthday idea is a game of cornhole. This patriotic set is perfect for any occasion. A game in the front yard with the kids? Yup! Tailgating? You got it! A bonfire with all your friends and family? These will accentuate any evening and can be used at any time.
Feature His Film
Movie posters often take up a lot of room in the house but he loves his movies and wants to show off what kind of films he watches. For gift ideas for husbands who love film, check out these minimalist movie posters. They also give him a unique way to show off his favorite move. Rather than the box art or theater poster, he'll have a design none of his friends have seen before but will instantly recognize that it's for his favorite Tarantino or Kurosawa film!
A Total Smoke Show
Some guys just want to combine their favorite loves in life. In this case, they want to combine smoke and whiskey (which, yeah, is pretty damn cool). The smoker set allows him to take his favorite wood chips, like cedar for example, and combine the smokiness of the charring wood with his best whiskey. If he wants to change it up, he can use things like thyme as well. The combinations of smoke and whiskey are endless. He'll be experimenting with flavors for weeks and you'll have given him his newest hobby!
For the Outdoor Husband
Your husband is a regular Paul Bunyan. You see him going outside every day in a red flannel, jeans, boots, and axe over his shoulder. Or, that's just how you like imagining him. For these kinds of husbands who are mythical manly men, a 50 caliber ammo set with their own set of tools is an amazing gift. He'll have a hatchet combined with the most important things for survival, a cigar and liquor combo flask and his very own pint glass!
A Wine(ing) Gift Set
When red wine is more up his alley than whiskey or beer, a personalized wine set becomes the perfect gift idea for your husband. The box set is a perfect display piece when you and he doesn't have a bottle out. However, when you decide to uncork and unwind you have everything you'll need! A personalized set of glasses, cork remover, and a wine stopper to savor whatever you and he manage to drink that night!
A Record of a Gift
A recent boom in vinyl is bringing record players back to the market and your guy has already started buying records without even having a player yet, you might want to get a jump on it for him. He is probably lining up a player right now, but as a birthday gift idea for your husband, surprise him with a top-of-the-line record player that allows him to jam out all the music produced over the decades.
Your Husband's Birthday Mug
Few things will make a guy happier than coming home to a frosted mug of his favorite beer. Make that dream a reality with his own personalized mug set! He'll be thrilled that he will always have a bottle opener on hand, because with his new display set for the mug, he'll always have a spot to store it. Make your husband grin ear to ear in anticipation of a full 25 ounces of beer he can drink in one sitting now!
303+ GIFTS YOUR HUSBAND WILL LOVE