Whether you're trying to find a nice retirement gift for one of your bosses or you're looking for a really nice holiday gift for your grandpa, we've got you covered. Gifts for old men should be above average, practical, and most importantly, personal. Seniors are the kind of people who have everything, so you have to get them something useful and unique. Naturally, you probably have a couple of questions. How much should you spend on gifts for elderly men? Do gifts for older men need to remind them of their youth? How can you give a great gift without making him feel old? Relax! We thought of everything, now get shopping!
The Best Gifts for Old Men
The older guy in your life is a man of many tales. He's got legendary stories about his adventures over the years that could be turned into the next big blockbusters, funny stories about his crazy college days, and war stories that could give you chills. Such a man deserves only the best gift, like this whiskey and cigar set! He will be so touched that you gave him a custom engraved gift that will make his two favorite vices even more enjoyable. You can show him how to use the whiskey stones, which will give him the best tasting glass of Buchanan he's ever had in his life. He will especially love taking the fancy cigar flask everywhere he goes, which will tell everyone he sees that he is a seriously cool and classy guy. Thanks to your incredible and thoughtful gift for old men, he'll feel like the awesome young guy he once was back in the day!
Make His Favorite Place After Golfing Official
His favorite pastime is golfing, and has been for years. Ever since he retired, he spends plenty of time on the green with his fellow older gentlemen. After a couple of rounds, they like to come over to his house for a beer. This has been a ritual they've followed since before you were born! One of the best gifts for elderly men who enjoy golfing is a custom sign for his home bar that makes his and his friends' favorite after-golf stop official. After you give him his gift, he and his friends will start calling his home bar "The 19th Hole!"
The Most Elegant Gift for Old Men
Decanters are timeless works of art that are not just decorative, but they can actually improve the flavor of the liquor stored within. The older guy in your life has one or two vintage crystal decanters that are made of lead glass, so he can't actually use them to decant spirits anymore. Why not get him a brand new decanter set? No matter the occasion, this gorgeous twist decanter set is a luxurious addition to his home. He'll be in awe of the delicate curves and beautiful reflections the glass makes! Once he sees this set, he'll want to store his finest top-shelf whiskey inside just so that he can admire the lovely golden hues reflected throughout.
Refresh His Kitchen
You're probably thinking, "A cutting board? Why would an older guy want a cutting board as a gift?" Think about your dad or grandpa's kitchen. Now that he's a little older, his kitchen has aged gracefully with him. He's had the same cutting board for as long as you can remember! It's time for a new one. This handsome hardwood cutting board is a perfect gift for elderly men because it has a timeless appearance, it'll last for many years, and will certainly be easier to use than his old one. This brand new board will be smooth and clean so that he can easily season, chop, carve, and so much more without anything getting stuck in all the nicks and gouges from past preps. After all, there's nothing better than a home-cooked meal!
Give Your Old Man a New Twist on His Favorite Drinks
Does he enjoy drinking a glass of scotch every evening? He sticks to his favorite blends: Wild Turkey Bourbon 101 Proof, Seagram's 7, and Jameson Irish Whiskey. Now that he's along in his years, he enjoys sticking to his routine but often laments the lack of new things to try. One of the best gifts for older men you can possibly give is a new experience or a new twist on something he enjoys often! When it comes to drinking, the smoke box system is by far the best. The nifty gadget is easy to use and will give his drink a whole new flavor! How awesome is that? Here's how it works: pour a drink, place it inside the glass box, choose the wood chips you want and load them into the smoking gun, light them, press the trigger, and watch the box fill with smoke. Now his Jameson has a delicious new smoky oak flavor! The older man in your life will absolutely love this incredible gift and trying out different wood chips that would taste best with his favorite whiskey.
397+ GIFT SETS AND GIFT BOXES>
You Can Never Go Wrong with Giving Food as a Gift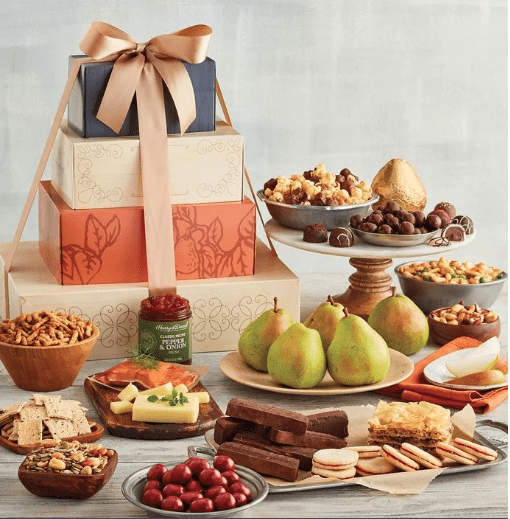 Older men love getting edible arrangements and gift baskets. It's a classic gift that has kind of lessened in popularity these days, but older people like to keep the tradition. For the older guy who has everything, get him a deluxe gift basket full of yummy snacks that are salty, sweet, savory, and spicy! This set has it all: popcorn, pears, pepper and onion relish, mixed nuts, chocolate truffles, Baklava, and so much more! Whether he's your dad, granddad, or your boss, he'll have plenty of things to snack on for several days.
Unique Gift Set Unlike Anything He Has
You've been stressing about the right gift for the elderly man you're close with for a while now. You can relax! This unique gift set is sure to be so different that it'll be a nice breath of fresh air compared to the usual gifts he gets such as slippers and new clothes. He likes beer, right? He'll pour a glass or open a bottle, take a few swigs, and then he tends to forget about it for a while. When he remembers, his beer has gone warm! Thanks to this stainless steel insulated pint glass, he'll never have a warm beer again. This double walled glass is not only super durable, unbreakable, and super insulated, but it's also easier to hold than a regular glass because of the special coating. This glass won't sweat, won't fall from his hand, and won't get broken if it gets knocked over. But wait, there's more to this set! He will love the awesome bottle opener that's made from a real .50 caliber bullet because it looks super cool, and is easier to work than a typical flat bottle opener. If he's not feeling like a beer, his new liquor flask will be on hand to satiate his thirst with a couple of sips of his favorite liquor.
A Decanter to Smooth His Cabernet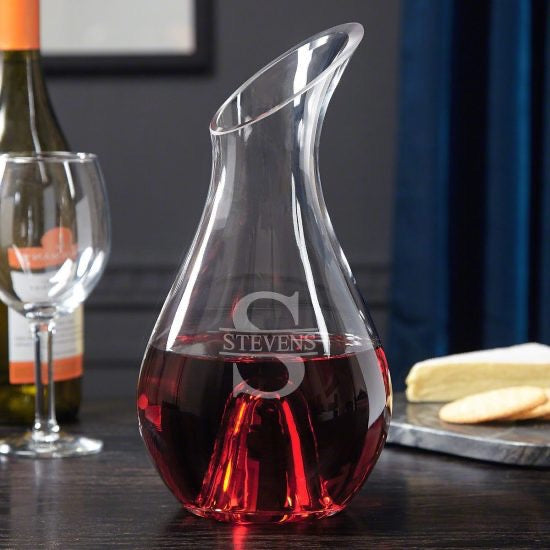 Is he more of a wine drinker than a liquor guy now that he's in his golden years? He's come to appreciate the complex flavors of red wines from the tang of the tannins to the beautiful floral notes. He has wine glasses, of course, but does he have a wine decanter? No? Then he needs one! Wine decanters are must-have gifts for old men who can't get enough Cabernet Sauvignon. The two-step process allows the wine to swirl and breathe, smoothing the tannins and opening up the bouquet so that he can appreciate all of the flavors to the fullest. Plus, when it's not in use, it is a lovely piece of decor for his home bar!
The Coolest Gifts for Older Guys Who Love Cigars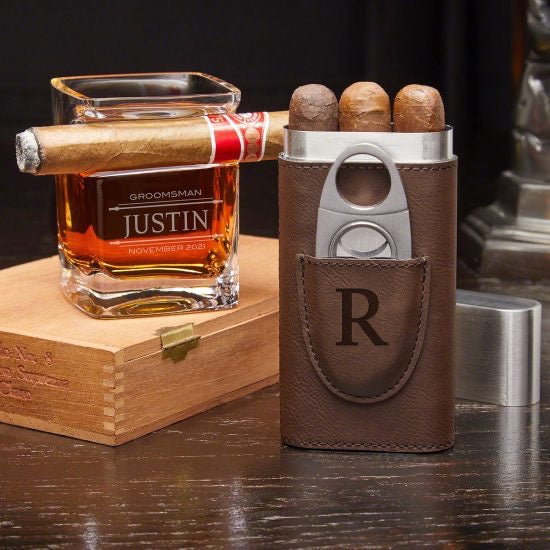 Older men appreciate simpler, practical gifts than anything.. They also enjoy drinking scotch and smoking cigars! The senior in your life needs this cigar gift set. He will be amazed by the awesome rocks glass that holds his cigar for him, and will definitely appreciate the sturdy cigar case that comes with a cigar cutter. He'll want to use the cigar glass all the time, especially when he hosts poker nights with the guys just so that he can show off his awesome new multi-tasking glass to everyone. Taking cigars on the go with him will be easier than ever thanks to the cigar case, which will ensure that he never has crushed-up stogies in his pockets ever again.
Give Him the Gift of Relaxation
Aches and pains are a part of the aging process, it's only natural. It's a pain to deal with, but you can help out your old man with a massage at home, whenever he wants. This massaging chair will soothe his joints in his neck, shoulders, back, hips, and upper legs. It uses heat, shiatsu, and has two different reclining features to get all of those hard-to-reach spots. Plus, it doesn't have to take up constant space in his home as he can easily fold up it up for convenient storage. How cool is that? Thanks to your thoughtful gift for elderly men, he'll be relaxed and pain-free all the time.
The Ultimate Gifts for Old Men Who Are Really Into Whiskey
Whether he knows it or not, the Glencairn glass is the ultimate whiskey tasting glass. He hasn't had a proper glass of whiskey without one! Even if he considers himself a whiskey connoisseur and is head of the whiskey tasting club in his city, he needs this awesome Glencairn set. The decanter is great for storing and displaying his favorite bourbon, of course, but the glasses are really the main feature of this gift set. He will love having proper whiskey glasses to taste all of the exotic and hidden flavors within the liquor. Plus, the whiskey stones will eliminate the need for ice as they will perfectly chill his drink without watering it down as normal ice tends to do.
Make His Cigar Lounge Official
As soon as your boss or grandfather sees this awesome sign, he'll be instantly reminded of his favorite cigar brand: Arturo Fuente. The famous Floridian cigar has been his stogie of choice for as long as you can remember, and this neat sign is the perfect piece of decor for his cigar lounge. Whether it's an enclosed patio or where his office used to be in the house, it's his favorite room to relax in. He'll especially love that you went to the trouble of customizing the two lines of text on the sign to be specially unique for him, making it an even more meaningful and personal gift for the old man in your life.
Make Sure He Knows He's Aged Like Wine
You want to find a gift for old men that won't make your senior feel like an old man. How about something fun? This complete set has a fun design centered around the year he was born. It comes with a unique travel game set containing two decks of cards and a set of dice for a quick game of Farkle or Solitaire wherever he is. He'll definitely enjoy the two rocks glasses and the cigar case for a glass of scotch and a smoke with an old friend. He can't help but chuckle every time he sees your fun gift!