Shopping for your dad is harder than anyone else you know. He never says what he wants and always gets himself what he needs. And whenever you ask him, he just says he doesn't need anything. Thankfully, we've put together a list of amazing gifts that your dad will cherish every day. You won't have to work on being a mindreader. We've taken care of that for you.
Classy Cognac Gift Set
Your father has become very particular in the way he likes to consume his favorite drinks. He knows brandy shouldn't be consumed in a regular glass, but doesn't have the solution. Give your old man a good gift for dads that's an experience he'll never forget. This brandy glass set even comes with everything he needs to enjoy a nice glass of brandy's perfect companion: a quality rolled cigar. This gift won't be your mom's favorite, but your dad won't mind at all as he enjoys a nice glass of brandy and a cigar on his back porch.
Keep His Beer Cold Everywhere
When you think back at your old refrigerator in your house, you vividly remember the same kind of beer cans your dad always had on hand. That's why great gift ideas for dads employee their love of beer. You've heard your dad grumble about how quickly his beer warms whenever he's enjoying a drink. Put a smile on his face when you show how koozies have evolved. This stainless-steel koozie is double-walled, comes with a bottle opener, and works for cans and bottles. Your dad will never have to suffer through a lukewarm sip ever again. It will be cold to the very last drop.
Whiskey Glass for the Adventurous Father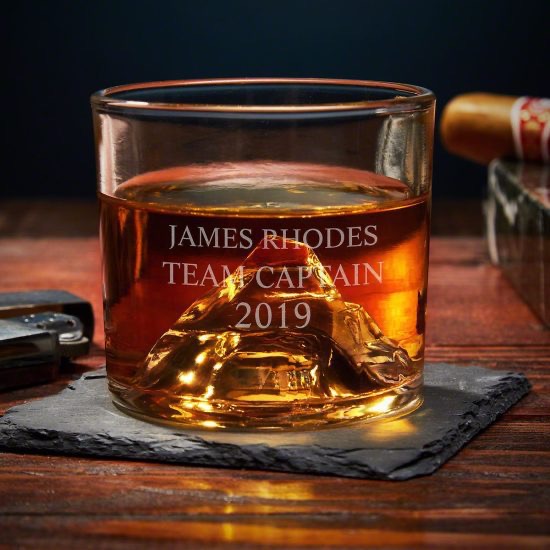 There's still some part of you that believes your dad could conquer a mountain if he set out to do it. Now you may not want to get him the gear to survive arctic temperatures, but you can get him an incredible Matterhorn whiskey glass. With each sip, it will be like he's conquering the mountain as he slowly descends. Your dad has never experienced a whiskey glass like this. It's almost as incredible as the whiskey itself.
Let Dad Golf in the Office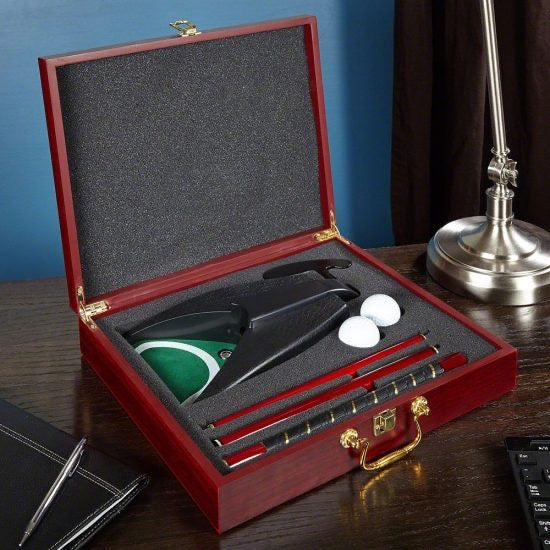 Any guy knows it's rough being trapped in the office all day when you'd rather be getting a quick nine holes in. That's what makes this executive putting set such a good gift for your dad. He'll be able to discreetly work on his short game in the office in between meetings or on particularly slow days. His friends won't know what happened whenever he's sinking putts left and right on their next outing.
Timeless Decanter Set
Your father has always been a bit more conventional. It's one of the reasons why you love him. It's even what makes him a great husband. If you're wanting a more classic approach when it comes to good gifts for Dad, a handsome decanter with four rocks glasses and a box for keepsakes is something every dad needs. It doesn't matter if you're shopping for his birthday, a holiday, or even retirement. This is a gift your dad would love to receive for any occasion. He'll even have a specific liquor in mind from his collection to use right away.
Robotic Lawnmower
Your parents already have a robot vacuum doing all the heavy lifting to make sure their floors are clean. Get your dad a gadget that will do the same for his lawn. This robotic lawn mower will make sure your dad always has the best-looking lawn in the neighborhood. The days of walking up before the sun rises or getting beet-red from the glaring sun are over. Now he can just enjoy a nice drink and cigar while this incredible gift does the grunt work.
Beer Lovers Box Set
For far too long your father has been far too basic in his beer approach. He thinks popping open a sixer he just got from the gas station is good enough. Get a gift that will put a smile on his face when he unwraps this personalized beer gift set. He'll love cracking open a bottle with his opener and pouring it into his own mug. The way the head foams over the edge of the mug will give him a whole new experience that he will swear by.
Elevate Your Father's Wine
Everyone has that dad that likes to peruse the wine menu at a restaurant and act like he's taking his time discerning which bottle will go best with his meal. Now you can at least better his wine experience at home with this Modena wine aerator is exactly what your dad is looking for even if he doesn't realize it. It's one of those stellar gift ideas for your dad because he will use it with every single bottle of wine he drinks. Aerating before he drinks will unleash tannins that give his wine the exact flavor it was meant to have before it was bottled.
Manly Ammo Can Set
Show that you still think your dad is the manliest of all guys with this Sharpened Tools gift set. If he's about to retire he'll love to have an ammo can that he can take with him on fishing or camping trips. The knife and the axe are the perfect accessories for these trips. He can even kick back and relax with a cigar and a shot of his favorite liquor with the included flask. Let your dad show off his rugged side.
Artistan Popcorn
One really cool gift idea for dads that never gets old is getting them the perfect snack. This artisan popcorn and craft salt crate will be the perfect companion for your dad when he's getting ready to watch the big game. He'll love the sound of this popcorn popping as it gets closer to kickoff or tipoff. Even if his team doesn't win, this clever gift will at least soften the blow.
Monogrammed Whiskey Box Set
Every whiskey drinker needs the perfect set of glasses to really enjoy their spirits. If your dad loves to have a nightcap or share a drink with friends this monogrammed whiskey set is a great gift choice for him. These square glasses are sure to be a hit with your dad because they're designed so he can enjoy his whiskey neat, on the rocks, or with a mixer. It's the perfect solo or hosting set. So gift him this set and raise a toast in his honor.
Personalized Man Cave Sign
Your dad's man cave isn't what it could be. Sure, he's got the flat screen, his favorite chair, and a beer always within reach. But it lacks the thing that truly makes it his. This Signature Series sign can be personalized for his favorite place to do just that. This is one of those good gifts for your dad because it will show you're paying attention to the things he's passionate about, especially after you customize it just for him. Even if he just has a home bar it will still look great in that space. At the very least, you'll have earned a permanent open invitation.
Universal Socket Wrench Every Dad Needs
Every dad needs the right tool for the job. Let him cut his time scrounging this toolbox in half with this awesome universal socket wrench. It's unique design automatically adjusts to any shape or size. It's a professional grade tool so it's built to last. Your dad might even shed a single prideful tear when he gets a chance to use this gift for the first time. Plus any chance he gets to lighten his toolbox is always a win.
Let Dad Show Off His Watch Collection
Over the years your dad has amassed an impressive collection of watches, but he still throws them on top of his nightstand and dresser because he doesn't know what else to do with them. Thankfully, this Italian leather watch case remedies his issue and gives him a handsome way to display all of his watches. Your dad will love being able to easily find the right watch for each occasion and he certainly won't mind showing off his carefully selected assortment.
Stainless Steel Wine Glass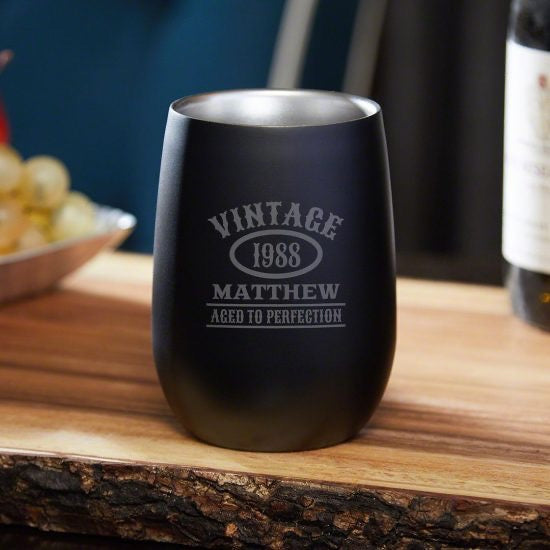 Your father is the kind of guy that does a ton of research before he makes a single purchase. He knows not all wine glasses are the same. For instance, this stainless steel wine tumbler helps keep wine at the ideal temperature for long periods of time. You just can't get that from a standard wine glass. So get one of those good gifts for your Dad that will completely revolutionize the way he enjoys his wine. If you're looking for a great gift for his birthday or retirement, the Aged to Perfection design on this tumbler makes it even better for the occasion.
Rugged Knife Set for the Rugged Man
Your father was never content with just sitting around the house, making permanent indentations in a recliner. He was always on the go. That's why you need one of those great gift ideas for dads that won't sit still. Get him this bold gift set that will appeal to his lifestyle. He'll love finally having a pint glass in the house to enjoy his beer. The tactical knife is perfect for working in the garage, getting stuff done in the yard, or when he needs to enjoy the great outdoors. He can even do this all in style with the included cigar cutter and Zippo-style lighter. You could even throw a couple of cigars. He'd love to get the chance to share one with his son or daughter.
Keep That Vinyl Pristine
Does your dad have a huge collection of vinyl? If he does then he needs this deep grove record washer. Preventing skips and hiccups in records is hard enough, even for the most pristine collector. Each hiccup is a painful reminder that the record might not last forever. Thankfully your dad can wash away those painful moments with this revolutionary system. His records will look and sound just like when he first purchased them from the record decades ago.
Custom Beer Tap Handles
If your dad has taken up homebrewing or has his own personal beer keg in his house then he needs a custom beer tap handle. This gift can be customized to a great degree by finding the perfect design that matches your dad's personality. He'll especially appreciate being able to write whatever's on tap on the chalkboard handle. Plus, it gives you an excuse to share a beer with him after he installs it.
Glencairn Glasses for the Scotch Conniseur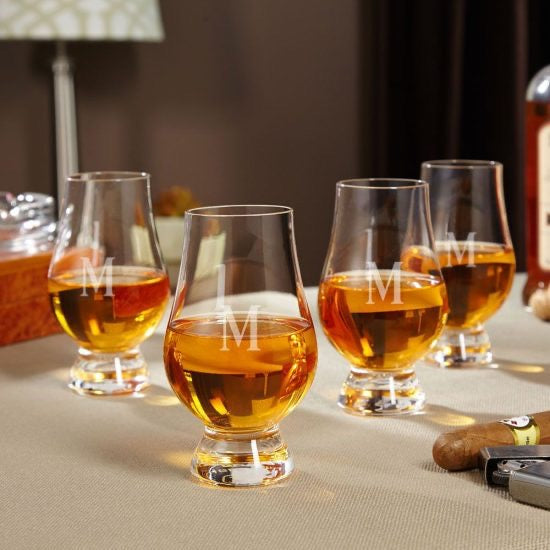 Your dad has discerning tastes. He can't be bothered to drink his scotch from whatever's lying around. Whether he knows it or not, he's practically begging to have these Glencairn glasses in his life. That's what makes these good gifts for your Dad. They're designed to allow him, and whoever else he chooses, to nose the scotch, experiencing the full range of notes and aromas. It completely changes how one drinks their scotch. Your dad will love cycling through different brands and bottles to experience all the notes he's missed.
Marble Monogrammed Ashtray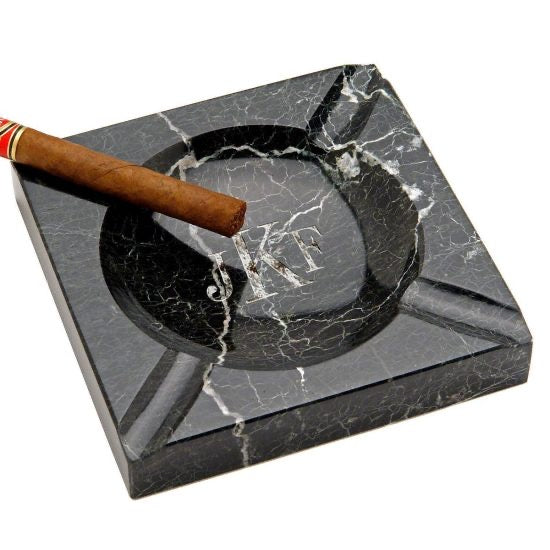 Does your old man appreciate a flavorful, robust cigar above all else? This black marble ashtray is the perfect choice. It's durable enough to be used outdoors and survive the harshest of storms, but also stylish enough to blend into an office, study, or man cave. Adding your father's monogram gives it a touch of class you don't get from a standard ashtray. This gift will give your dad an extra reason to indulge in a cigar and your mom won't mind that she can encourage to smoke them outside with his new ashtray.
Custom Ceramic Beer Mugs
The beer stein has persisted for centuries for a reason. It gives beer drinkers a fun, timeless way to get the most out of their brews. Don't let your dad be left in the dark. This is one of those gift ideas for your dad that will have him grinning. He'll love the way the ceramic steins feel in his hand. The head will rests perfectly at the top, giving avid beer drinkers the experience they were meant to have. With two mugs, you can toast to his retirement, another anniversary, or whatever the occasion. It doesn't matter because beer is always called for.
Build Your Own Impenetrable Safe
Have a bit of a mechanical father? Then this mechanical safe is a good gift for your dad. Not only will he have a safe where he can store any of his valuables, but he gets to build it himself piece-by-piece. It's way more exciting than a 500 piece tabletop puzzle. This gift is a fully functional safe after he gets the last piece set. The only problem is he may way to build again and again once he completes it.
Globe Glassware for the Worldly Father
A lot of dads have always had a bit of wanderlust. Your father already has his next two trips planned out. Get him this globe decanter with matching glasses to get him a taste of what he feels whenever he travels the world. He'll love taking a sip of his liquor of choice and pinpointing what country it was distilled on his decanter. This set is striking enough to become a centerpiece in a home or office. This is one of those gift ideas for dads that they love showing off. It's okay if he brags about you and your gift giving skills.
Portable Stainless Steel Growler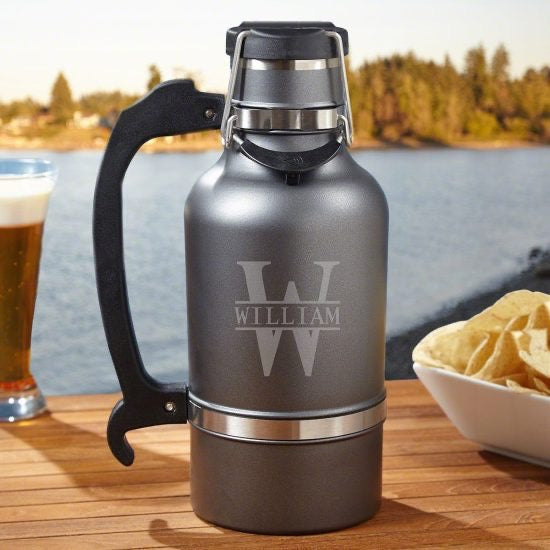 Your father's brew of choice shouldn't be limited to what he can find in his refrigerator. He needs to be able to take it with him wherever he goes. Does he have a favorite local brewer? He can now get this enormous growler filled there whenever he likes. Does he have a special cocktail he wants to share with the world? This growler will keep that cocktail cool for hours on end. Your dad will find endless uses for this incredible gift.
Let Dad Get His Grill On
No matter how many burgers you've tasted nothing compares to what your father can do behind a grill. Show how much you admire his skills as a grillmaster with this set of personalized grilling tools. It has everything he needs to make the perfect steak, kebab, pork chop, or whatever he likes to grill. With the portable nature of this gift, he might even volunteer to stop by your place and grill for you whenever he'd like. It's a win-win situation.
Portable Camp Stove
Show your dad that the days of wood and lighter fluid or long gone for camping. Get him this awesome Biolite camp stove. It creates a smokeless fire that can boil water and even cook food. It's portable, so it won't ever be a hassle to take with him and it even charges his devices. He'll be able to play his music directly from his phone if he'd like without the battery dying. Show your father that he'll no longer have to run two sticks together.
Classic Presentation Set
Some dads are great at playing the host. Your dad is the kind of guy that's always the life of the party. Get one of those good gifts for your dad that lets him be the finest host on the block. This monogrammed presentation set allows your dad to take his top-shelf liquor, display in a beautiful decanter, and stride over to his friends with the decanter and matching rocks glasses in tow on an amazing serving tray. It's five-star service from your dad's living room.