23 Shockingly Good Christmas Gifts for Dad
The holidays are a great time to give creative gifts to your friends and family. But, one of the toughest people to buy for is your dad because he never gives you any clue as to what kind of present he wants. Don't let this be another year where you have to take a shot in the dark as to what present he may want. Instead, trust our expertise on the gifts that every dad loves to get during the holidays. So, to help you find good Christmas gifts for dad this year, you should be looking for presents that are useful, manly gifts that will make your dad as excited as a little kid on Christmas morning. Don't let another holiday season pass by without finding really cool Christmas gifts for dad!
Classy Glassware Set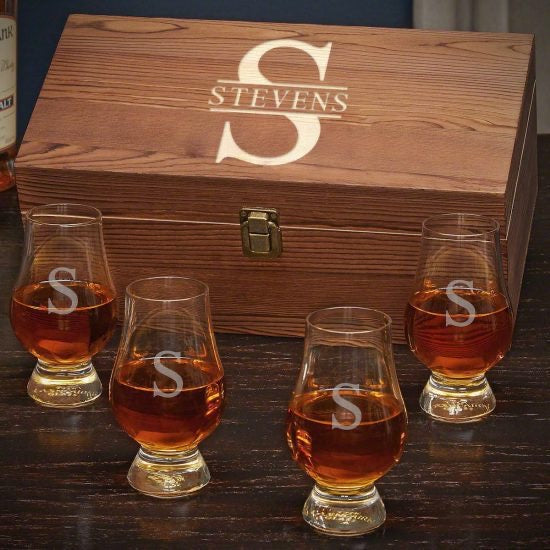 Your dad isn't the type of guy to ever buy nice things for himself. So, for Christmas, get him one of the nicest whiskey gift sets he's ever seen! This classy set is one of the most magnificent examples of good Christmas gifts for dad because he'll feel so cool having glassware that's this fancy and sophisticated. Having a Christmas drink using this set will make the holiday even more special!
Dad Sign Makes One of the Best Good Christmas Gifts for Dad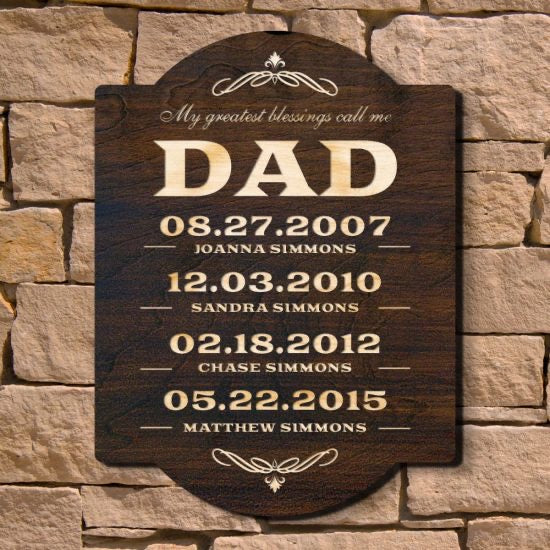 One of your dad's favorite things is, of course, being a dad! That's what makes this personalized wooden wall sign such a special holiday gift idea that will make him so excited when he sees it under the Christmas tree! He'll absolutely love hanging this on the wall in his home, reminding him of how great of a father he is to the best kids in the world.
A Personalized Ammo Can Set
Because your dad is the coolest guy you know, you want to find cool Christmas gifts for dad. This custom ammo can gift set is perfect! He'll feel so cool owning this set, not only because it's unique, but because it's personalized just for him! He'll find using the ammo can to store important items like cigars or whiskey stones is super convenient. Sharing a drink with you using the new glasses will make this holiday season the best yet!
Perfect Golfing Gift Set
Make your father's next outing at the golf course better than ever before with this golf gift set! It's one of the most useful, cool Christmas gifts for dad that he'll definitely appreciate! His whole golf game will change when he is able to warm himself with a steaming tumbler full of coffee on a cold morning when he is out at one of his early rounds. Also, you know after he hits a monster drive, when he walks back to his bag and sees the custom bag tag, he'll keep his confidence and swagger riding high all round!
Easily Charge it All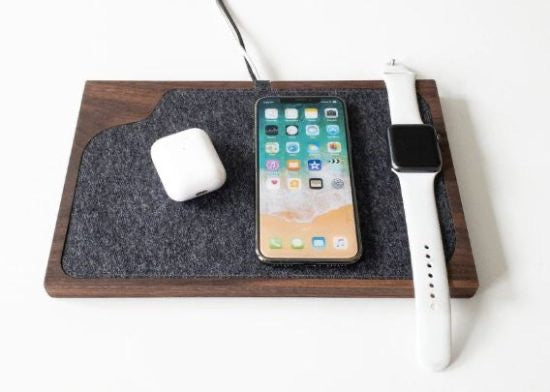 Throughout your life, your dad has always helped you out whenever he could. So, make sure you help him out with a cool docking station because they make really good Christmas gifts for dad! With this practical present, his smartphone, smart watch, and wireless earpods can charge in one spot! This eliminates the annoying problem of having too many wires and chargers, which your father will really appreciate.
Classy and Cool Christmas Gifts for Dad
Make your dad feel like the classiest man ever on Christmas this year with this custom cigar and whiskey set. This present will be better than anything even Santa Claus got him! Sipping on his favorite scotch from the unique glasses and smoking a stogie with the awesome cigar accessories will make him enjoy these two vices more than ever before. It'll be the perfect way to cap off Christmas Day and every other special occasion from here on out.
713+ INCREDIBLE WHISKEY GIFT SETS>
Two Hefty Mugs
Your dad isn't a complicated man. You know that a simple yet awesome gift like this beer gift set would make his whole year on Christmas morning! The handles of these customized mugs will fit just right in your dad's hands, and storing mementos from Christmastime in the wooden box will become one of his new favorite holiday traditions.
Like a Little Kid Again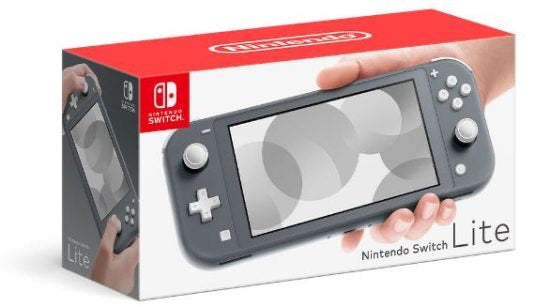 Nothing will make him feel like a super excited kid on Christmas morning quite like a Nintendo Switch Lite! He'll have such a blast playing different games, remembering what it was like to play them as a kid when he unwrapped his N64 that he may forget to even open his other presents! For the guy who casually games to one that plays daily, he'll be absolutely in love with this unique Christmas present.
Infuse His Drinks with Flavor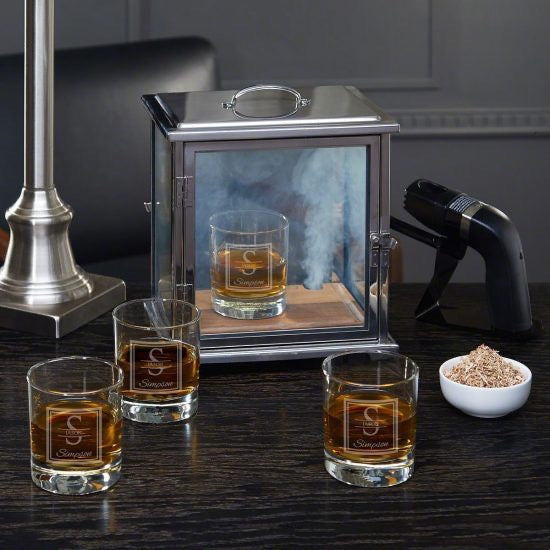 Want to get your dad a Christmas present that will blow his mind because of how incredible it is? That's what will happen as soon as he sees this smoke box kit! He'll be so excited to try all the different flavors he can think of with this smoke box, infusing different whiskeys with thyme or cedar. This is a fun Christmas gift he can experiment with for years since he has unlimited flavor combinations to try!
Everything Dad Wants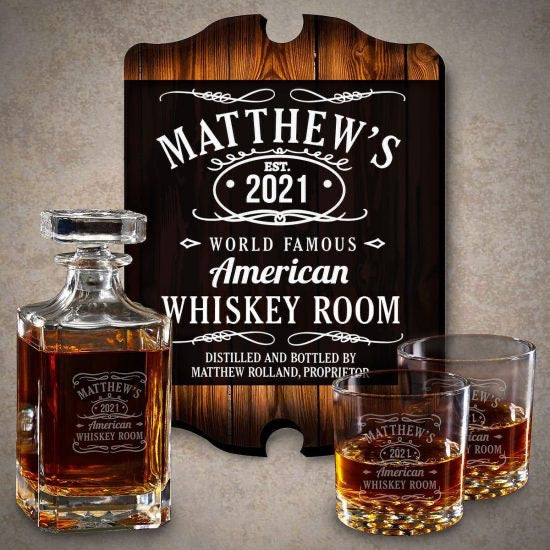 When you think he'd like a new glassware set but also think a personalized bar sign is really cool, get him both! This personalized whiskey gift set is everything your dad could dream of. He'll love hanging up the sign in his home bar or kitchen, and nearby, he'll definitely have this gorgeous glassware displayed. Any time he wants to relax or celebrate, he'll use this customized glassware to enjoy a drink.
Wine Set of Cool Christmas Gifts for Dad
When your dad sees this gorgeous wine decanter set waiting for him under the tree, he'll immediately be filled with glee! He'll think it's appearance is absolutely beautiful, and he'll think the personalization makes it the most special gift he's ever gotten. He'll really enjoy sharing wine with you or with your mom during Christmas dinner as well as on any other special occasion!
Manliest Coffee Table
It isn't only moms who like beautiful furniture. This whiskey barrel coffee table is a phenomenal example of good Christmas gifts for dad. It'll look so incredible in his living room, man cave, or home bar, giving the whole room a vintage, rustic vibe that the whole family will love. Your father didn't know he could ever love a coffee table so much!
An Awesome and Versatile Box Set
There are a lot of gift box sets out there, but this multi tool and flask box set is one of the best cool Christmas gifts for dad. He'll love having the multi tool handy to assemble a relative's new gift or fix the faucet. The personalized glass and flask ensure he always has a way to enjoy a delicious sip of his favorite spirit whenever he pleases, such as on Christmas Day.
All Bets are On this Gift Set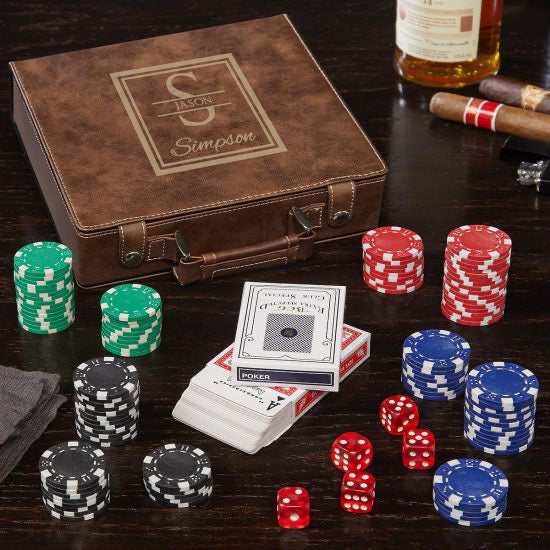 Good Christmas gifts for dad are often gifts that you can picture him having fun with. That's why you know this poker gift set is the perfect holiday present! He'll have a blast playing cards with family on special occasions or hosting game nights with his friends. While he's playing games with his favorite people, he'll make amazing memories that will last a lifetime.
Best Tool Set of Good Christmas Gifts for Dad
Get your dad a cooler version of a tool box with this ammo can gift set! He'll be obsessed with the handsome, personalized set that makes any outdoor adventures amazing. Storing important items when he's hunting or camping will be made easier with the ammo can, and the hatchet and knife will definitely come in handy in the great outdoors for cutting things open or chopping through brush.
Take the Meat's Temperature
Got a dad who prides himself on his grilling abilities? This handy meat thermometer will ensure that he is a better grill man than ever before! This nifty tool makes it easy to see if the meat he is cooking is finished. He can even monitor the meat's progress using an app on his smartphone or tablet that the probe inside the thermometer is connected to!
Stunning Glassware Set
You want good Christmas gifts for dad that will stun him by how amazing they are, right? Look no further than this whiskey box set! He'll feel like the classiest dad of all time owning such a fancy, sophisticated glassware set. He'll be so excited to use this set to have a drink of their favorite scotch on Christmas evening, and being able to have a handsome box to keep his special glassware safe inside will bring him comfort.
Manly Charcuterie Board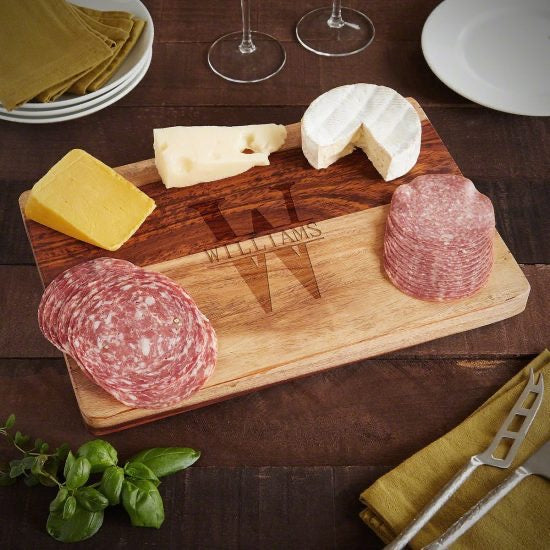 One of the reasons you love your dad is that he really likes playing host for his family and friends. Cool Christmas gifts for dad don't get better than this rustic charcuterie board which is any host's dream! This handsome board will look even more awesome covered with your dad's favorite hors d'oeuvres to serve. He'll want to have people over even more often so he can use this board!
Young, Hip Shoes Make Cool Christmas Gifts for Dad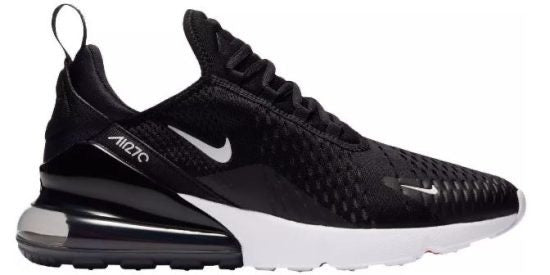 Make your dad feel young again this Christmas with these handsome Nike Air Max shoes! He'll feel so cool sporting these shoes on his feet when he's out and about! Your father will feel like a whole new man while strutting around wearing this unique present. These are definitely not your typical set of dad shoes!
Your Whole World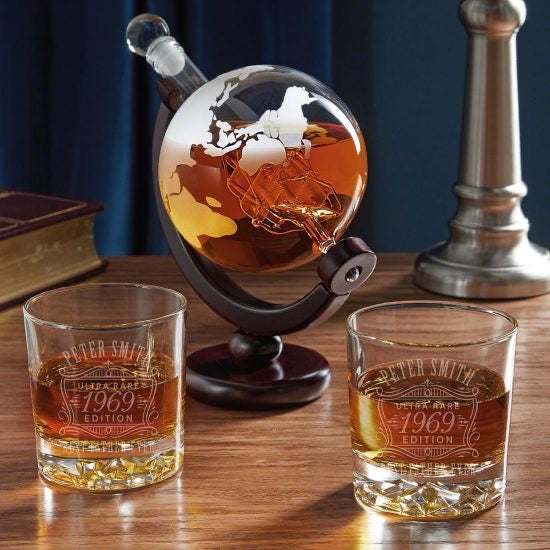 Your dad means the absolute world to you. Make sure he knows that by getting him one of the best good Christmas gifts for dad—this globe decanter set! He'll greatly enjoy relaxing with a glass of his favorite spirit on Christmas, reminiscing on his past travels and dreaming of the adventures he'll have in the future. Maybe he can plan a trip for next Christmastime!
Awesome Bar Sign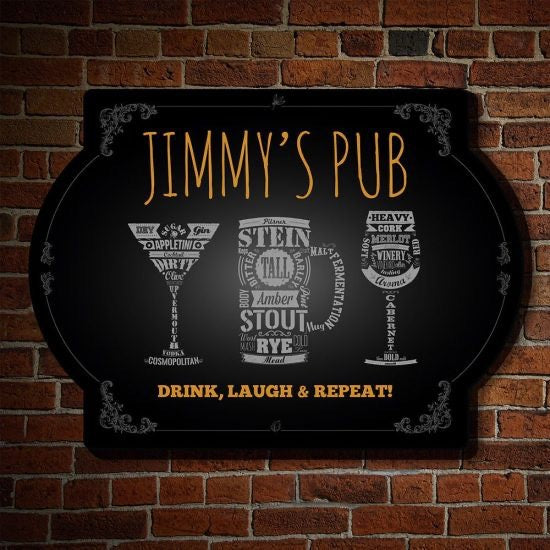 Maybe your dad has had a home bar for years, or perhaps he's always thought about starting one. Whatever his situation is, you know that he'd love this personalized bar sign for Christmas! It'll look awesome hung up on the wall in his home bar or even in his kitchen near where he keeps the alcoholic beverages. He'll love seeing his name on the sign, and it will make it feel like the space belongs to him, and what dad wouldn't love that?
Uncomplicate Dad's Life
As entertainment technology advances, most households acquire a wide array of entertainment mediums, from an old-fashioned DVD player to a Roku to cable. Because the amount of remotes for these things can be overwhelming, help your dad out with this universal remote control! It's one of the most insanely cool Christmas gifts for dad because he'll really appreciate feeling in control of every single thing his TV can do with just one remote.
Stupendous Stogie Set
Your pops deserves the highest quality gift that will help him enjoy two of his vices. For Christmas, get him this awesome cigar gift set! He'll be so thrilled when he sees this set because it'll help him enjoy stogies along with his favorite spirit more than he ever has before, and he'll be so excited to use it! This present will make every celebration here on out better than ever for your dad.
663+ SHOCKINGLY GOOD CHRISTMAS GIFTS FOR DAD>