You're searching for the perfect present for a man who really enjoys golfing. But, that is much easier said than done. You aren't really sure on which direction to go for this gift because you know he already has the basics, such as golf clubs and golf balls and probably a few clothing items designated for golfing. Don't worry, there are tons of incredible golf gift ideas! These unique gifts men who golf are those that both make his time on the golf course more enjoyable! From cool useful items on the course to awesome gifts for the golf fiend to enjoy at home, we've got you covered. With presents this good, he will absolutely love these one-of-a-kind, personalized golf gifts that will make his love for the game stronger than ever!
His Own Nineteenth Hole
Personalized golf gifts are always good choices, especially when they're as incredible as this nineteenth hole sign. Nothing will make him happier than returning home from the golf course with a golfing buddy and having a celebratory beverage at his very own nineteenth hole where this handsome sign is hanging. It'll make him feel like a professional golfer with his own bar, created simply for celebrating, watching, and talking about golf.
Handsome Ammo Can Set of Personalized Golf Gifts
This personalized ammo can pint glass set is the gift the golfer in your life has been missing! He'll love how unique this ammo can is, especially if you fill it with his favorite golf balls and other small items he needs to make his experience golfing the best it can be. You can even include some snacks in this can that he can bring with him in case he's hungry in the middle of a round. When he gets home, he'll love celebrating a successful day at the course with a delicious pint glass of beer using his custom glasses. Talk about a set of cool gifts for guys.
A Gift for His Short Game
No matter where he is, he'd always rather be on the golf course. Give him the opportunity to golf wherever he wants with this golf putting set! It's one of the best golf gift ideas because he'll love bringing this classy-looking case to the office or on a trip and taking it out whenever he gets the itch to putt. He'll love the improvement this gift gives to his putting skills, and the next time he's actually on the golf course, he'll definitely notice the difference in his game!
Classiest Bag on the Golf Course
He's been lugging around the same golf bag for years now, and although he loves it, his bag is starting to look a little worse for wear. Make him overjoyed by getting him a brand new golf bag and stand! This handsome, spacious bag will be the fanciest one on the course, and he'll feel so proud to have such a nice bag. After all, with all the time he's put into getting good at golf, he's deserving of the nicest bag out there!
Amazing Personalized Gift Set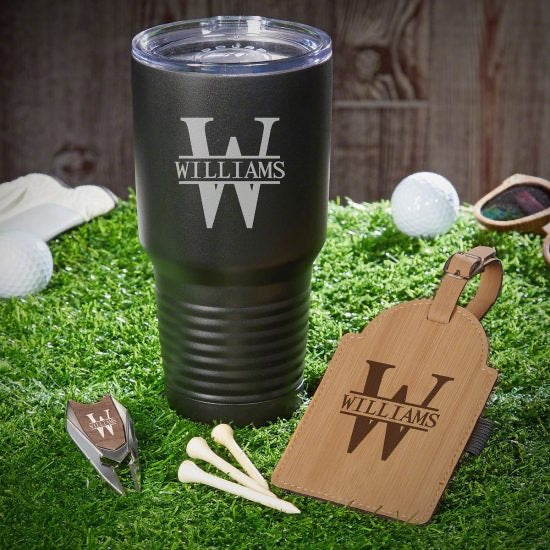 There's just something about using accessories that are customized just for you that makes any activity more enjoyable. Wow him with this personalized golf gift set! It's one of the best golf gift ideas because he'll feel like a million bucks using these items on the golf course. The bag tag and divot tool are super useful for marking his bag and his ball's spot, with each definitely coming in handy as he plays the game. He's bound to work up a thirst out there which is why he'll love having a nice cold drink inside this stainless steel tumbler.
Golf Gift Ideas for Taking Notes
He's always thinking about golf, even when he's doing a task at work, writing a grocery list at home, or any activity in between. That's why this golf pen set is such a unique and cool golf gift for him! He'll really enjoy using these unique pens every chance he gets, and he'll like how it makes everyday activities seem more fun!
Keep Diligent Notes with this Golf Gift
He is such a big fan of golf, he wants to remember every score from every round. This leather golf log is the perfect way for him to do so! He'll love how handsome this leather bound notebook is and how easy it is for him to keep track of scores while playing or for him to look back fondly on old rounds too. You can even pair it with the pen set above!
Punny Golf Glasses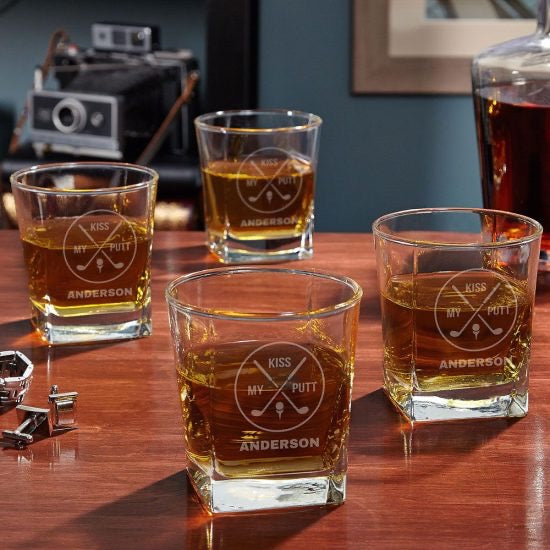 Get him the perfect gift to use when he and his golf buddies want a celebratory drink at the end of a round! This set of golf glasses is one of the best personalized golf gifts that he'll absolutely love having. The customization plus punny words on these glasses will make them the best glassware he's ever owned, and he'll have a great time using them to toast to more days on the golf course with his friends.
643+ OUTSTANDING WHISKEY GIFTS FOR HIM>
Practicing Putting Makes Perfect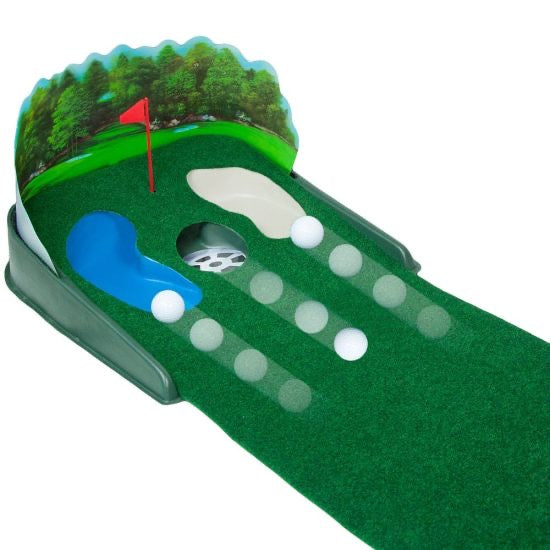 He's serious about honing his golfing skills, so get him a golf gift that lets him do just that, even when he's at home or at work. This electric putting green is a fantastic gift because not only does it give him the opportunity to practice putting wherever he is, but it also is technologically advanced enough to return the golf balls to him so he doesn't have to go get them. He'll have putting skills that rival Tiger Woods' in no time!
Snacks to Fuel Him
Want to wow him with the best golf gift he's ever received? This golf snack basket is just what you need! It's filled to the brim delicious goodies like a protein bar and cheddar and jalapeno spicy peanuts. These snacks are sure to keep him fueled on the golf course so he can be at the top of his game or even when he is relaxing at home while watching the Masters!
Personalized Golf Gifts that will Make Him Feel like a Pro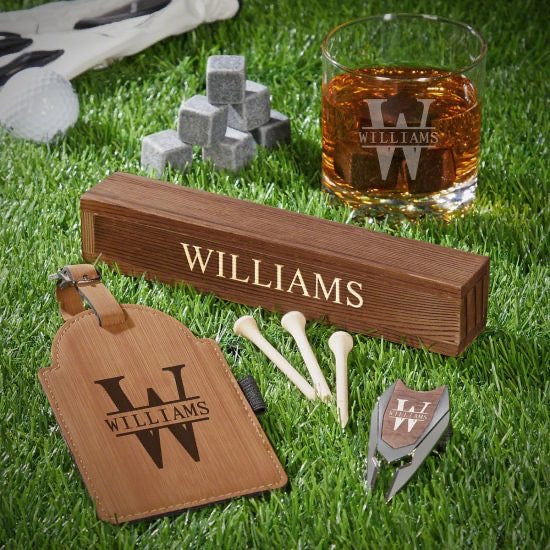 He deserves to fully enjoy himself each and every time he's on the golf course, which he definitely will with this whiskey and golf gift set! It's the perfect gift both on and off the golf course. The customized bag tag and divot tool are the perfect accessories that'll make a big difference in how cool he feels on the course because they're of the highest quality and unique. When he wants to come home and relax while celebrating his round of golf, he'll love using the personalized glass and whiskey stones to have a nice cold beverage.
For the Memories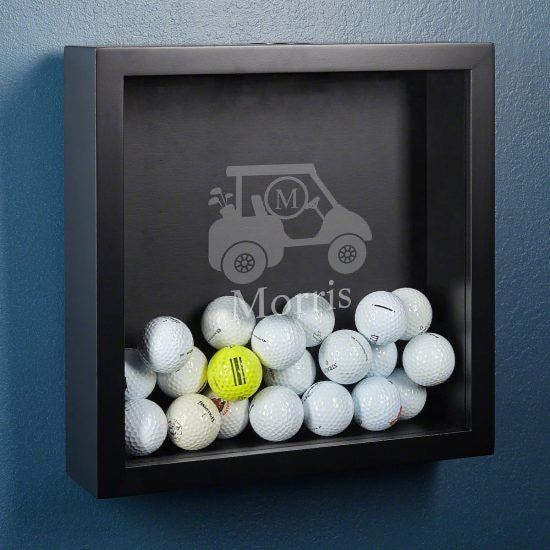 You know he'd love a way to keep all the golf balls from memorable rounds of golf, such as when he gets a new best score, shares the round with a good friend or loved one, or even if he gets a hole in one. This golf ball shadow box is the perfect way to do so! It's one of the best golf gift ideas that he'll love having displayed in his man cave or living room. Each golf ball will carry a memory from the course with it, which will mean a lot to him.
Keep Cool on the Course
The only bad part about golfing is spending hours in the hot sun with little to no shade. Make sure he never feels too hot the next time he golfs with this golf cart cooling fan! He'll definitely appreciate this cool gift every time it turns into a scorcher when he is on the green.
A Celebratory Drink and Stogie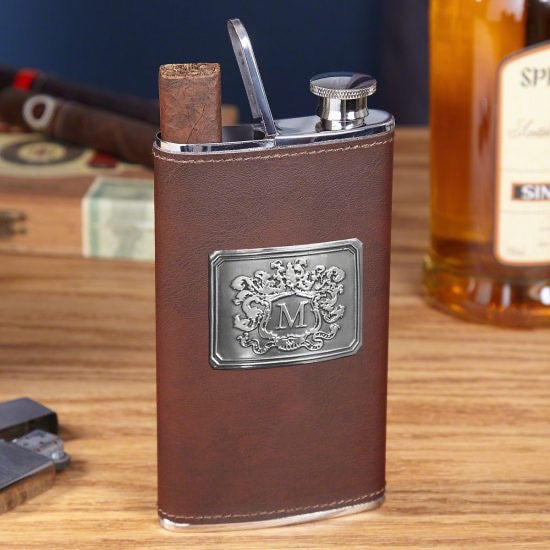 A celebratory sip of his favorite beverage and a cigar is just what he wants when he's just finished up a great round of golf! This custom leather cigar flask is one of the greatest personalized golf gifts that he'll always be sure to bring with him to the golf course so he can have the perfect way to celebrate if he plays really well! Plus, thanks to the sleek design, it easily fits inside his jacket pocket, how cool is that?
165+ INCREDIBLE PERSONALIZED FLASKS>
A Golf Gift for Transporting Beer
He and his buddies love to relax after a round of golf with a beer. When it's his turn to bring the brews, he'll be so grateful you got him this engraved wooden beer tote! It perfectly fits a six pack of beer so he can bring all the beer they need inside it. You know he'll appreciate such a useful present that makes it easy for him and his friends to enjoy themselves after a round or two golf!
Never Lost that Ball
Make sure he doesn't lose a golf ball ever again! These golf finder glasses are some of the most useful golf gift ideas because they are designed with a special tint that filters out colors that make it difficult to spot the ball. He'll wonder how he ever lived without this useful, ingenious gift and be very thankful for the ability to spot every ball.
Set of Golf Gift Ideas for Classy Golfers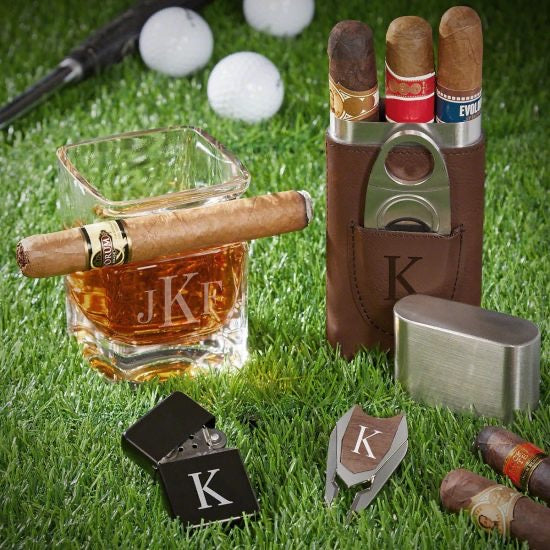 After he's spent hours golfing, all he wants to do is sit down in his favorite chair with a glass of whiskey and a cigar. With this custom cigar and whiskey gift set, he can do just that! He'll feel incredible having a monogrammed glass that holds a cigar as well as his favorite beverage so he can feel like a classy gentleman, enjoying both at the same time. He'll be a big fan of the professional golfer feeling this set gives him, like he's celebrating after winning the Masters.
Two Games is Better than One
Put a twist on the game of golf by combining it with another game! He'll get a kick out of this golf billiards putting game and be excited to play it with his friends! It'll be tons of fun for him to practice his short game hitting these golf balls that look like billiard balls into the "pockets." He'll also love that this game is portable, so he can bring it to a buddy's house or even to the office!
Make Him a Club House Owner
Give him the coolest man cave or home bar decor he could ever imagine! This custom golf sign is one of the best personalized golf gifts that will look fantastic hanging on the wall wherever he pleases. He'll love coming back from a round of golf and sitting by this sign with his golfing buddy as they enjoy celebratory drinks and snacks. What gift could be better than one that makes it feel like he has his very own club house?
Practice His Swing at Home
You know he'd love to practice his swing every chance he can get. This golf hitting net is the perfect present for a golfer because it makes it so easy for them to get tons of practice on his swing when they're at home. He'll also greatly appreciate that the net can fold down and fit in a bag, making it much easier to store in his home or even bring it to his golf buddy's house.
Get Caffeinated
Whether it's for pre-round fuel or post-round celebration, he needs his caffeine! This personalized mug and coffee carafe set is one of the most awesome personalized golf gifts. He'll be very impressed with the sleek, handsome carafe that keeps tons of his coffee hot. He can even take it to the golf course if he wants to stay caffeinated while he's golfing! He'll love pouring his favorite steaming hot coffee into the handsome, personalized coffee mugs.